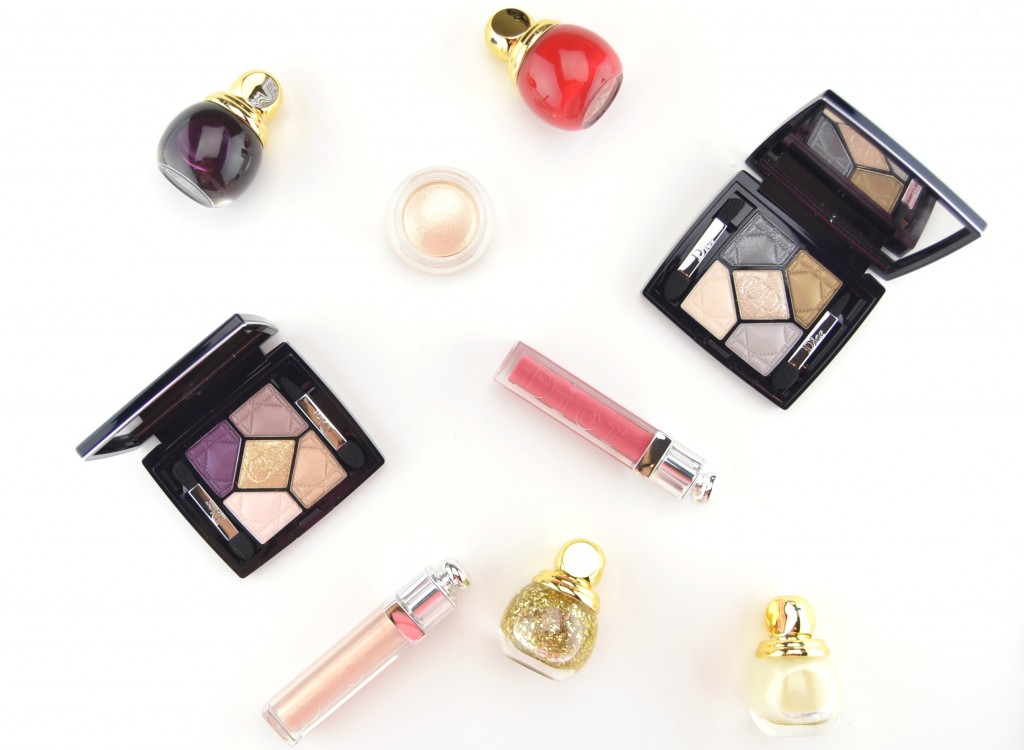 Modern-yet-timeless look
Dior has created another stunning collection, yet again. This holiday get ready to be blown away with rich shades of reds, pinks, blues and plums, accented with beautiful metallic golds and warm yellows. "From the inception of the House of Dior, gold has been a signature colour of the brand. From Mr. Dior's first creations, which incorporated highlights of rich gold as luxurious accents, to the modern-yet-timeless looks of Raf Simons, which feature metallic gold elements to balance audacious shades of red, pink, blue and yellow, gold remains a constant theme. Now, the Dior Golden Shock Holiday Color Collection draws inspiration from Dior's past and present by incorporating pops of color with dazzling gold accents."
Dior 5 Couleurs 756 Golden Shock features several darker neutral shades, along with a few lighter shades, that act as the perfect highlights and blending colours. Like all Dior Couleurs, this palette is based around the center shade and allows you to create endless amounts of look. Each shade is creamy, smooth and velvety soft and applies almost effortlessly to the lid with little to no fallout (besides the glittery shade). The three darker shades are extremely pigmented and truly opaque in one easy swipe, whereas the two lighter shades do take some building up to provide true colour. It's buildable, blendable and lasts throughout the day without creasing or fading. This palette has the perfect combination of satin, matte and shimmery finishes. The first shade is a rich plum with a matte finish, second shade is a medium warm mauve with a satin finish, middle shade is a glittery gold, forth shade is a pale pink with subtle gold shimmer throughout and the fifth shade is a soft golden tan with a slight iridescent pink throughout.
To create a natural, every day, daytime look use the brown shade on the entire eyelid, followed with the plum shade on the lower lash line and follow up with the pale pink as a highlight and blending colour. For a more sophisticated, daring, nighttime look use the golden tan all over the lid, the plum shade in the crease and along the lash line, followed by the mauve in the outer corner and a pop of gold glitter in the center of the lid.
Dior 5 Couleurs 046 Golden Reflections features steely greys, icy silvers and muted bronze, that although may look like a nighttime palette, can just as easily be worn in the day. It too has creamy, velvety shades that apply easily and effortlessly, but the pigmentation of each shade is a lot more subtle. Two of the shades provide opaque colour in a few easy swipes, whereas the other three shades take some building up to see true colour. It also has the perfect combination of satin, matte and shimmery finishes and because even though it has darker shades throughout the palette, the shades are sheer, making them easy to wear any time of the day. The first shade is a deep grey with a frosted finish, second shade is a coppery almost statin bronze, middle shade is a sheer platinum glitter, forth shade is an off white, almost beige with a satin gold effect and the fifth shade is a greyish taupe with a shimmery finish. It retails for $61 each.
To create a wearable daytime look try pairing taupe shade all over the lid, followed by the bronze shade in the crease and lower lash line and the beige shade as a highlight. For a dramatic nighttime look take the taupe on the lid, the grey in the crease and outer V and lower lash line and pop a little glitter on the center of the lid.
Dior Addict Lip Gloss are my favourite lipglosses of all time. It comes with a short brush tip for easy application and its lightweight texture feels extremely comfortable on my lips the entire day. It's moisturizing without feeling sticky and its silky smooth, ultra-shimmery formula provides a sheer wash of colour to the lips. It wears for about 3 hours without fading and provides just the right amount of sparkle without looking too dramatic. It retails for $31 each.
Dior Addict Gloss 164 Gold Rain is a beautiful sheer shimmery gold with pink iridescent shimmer throughout it. It gives a sheer wash of colour to the lips and makes them appear fuller, plumper and kissable. Overtop of a nude, pink or red lipstick, the golden shimmer really comes to life.
 Dior Addict Gloss Pink Excess is a stunning sheer rosy gold with shimmery micro specks of pink and gold. It gives a sheer pop of pink to the lips and also looks gorgeous overtop of a rose, red or pink lipstick.
Dior Diorshow Fusion Mono in 621 Mirror is unlike any other mono shadow I've used in the past. It comes with the same great brush applicator for precise application on the lid and the same mousse-gel like texture, but with an extremely shimmery, multi-dimensional effect. Depending on the way the light hits the skin and how much product you apply, you can achieve anything from a soft, subtle highlighted luminous glow to a stronger, more intense gold illuminating look. It's extremely lightweight, blends beautifully into the skin and lets you create endless amounts of looks. Not only will it look beautiful as an inner corner and browbone highlight, it will look stunning paired over your favourite eyeshadow for an evening look or applied to the décolletage to add a little shimmer. It does fade pretty quickly, which is expected with any sheer, shimmery shadow, but it offers little to no fall out, making it easy to apply throughout the day, if need be. It retails for $32.
 Every Christmas I get excited for the Diorific Vernis, I mean how cute are these gold cap retro bottles? They remind me of snow globes and get me in the holiday spirit. This collection features 4 shades that add a burst of radiance to the fingertips along with a gold leaf effect top coat. It has a perfectly rounded brush and extremely flawless consistency for easy application. The formula isn't too thick or too thin and for the most part, has excellent pigmentation, often with full opaque colour in one easy coat. It dries almost instantly, getting you out the door sooner than other polishes and gives a natural shine to the nails. It provides a solid 5 to 6 days' worth of wear time before chipping.
Diorific Vernis in 762 Shock is a rich, medium cream red that's very similar to last year's Diorific #751 Marilyn.
Diorific Vernis in 990 Smoky is a rich eggplant, almost black cream that will help you achieve the perfect vampy nail.
Diorific Vernis in 002 Mirror is a very sheer, almost clear shade that even after 3 coats shows up almost invisible on the nails. It also tends to be a bit streaky, so this might be best used as a top coat to add extra shine to a coloured polish.
Diorific Vernis in 001 Golden Shock is a super unique top coat that gives a gold leaf effect to the nails. Whether you apply it on its own, or paired over another colour, the different sizes of the golden leaves are easy to pick up and apply to the nails. It applies evenly without having to re-dip your brush back into the bottle several times.
Also in the collection Diorific Vernis, is 241 Gold Equinoxe and retails for $28 each.
Also in the Dior Golden Shock Holiday 2014 Collection, is 4 different shades of Diorific Golden Shock lipsticks.