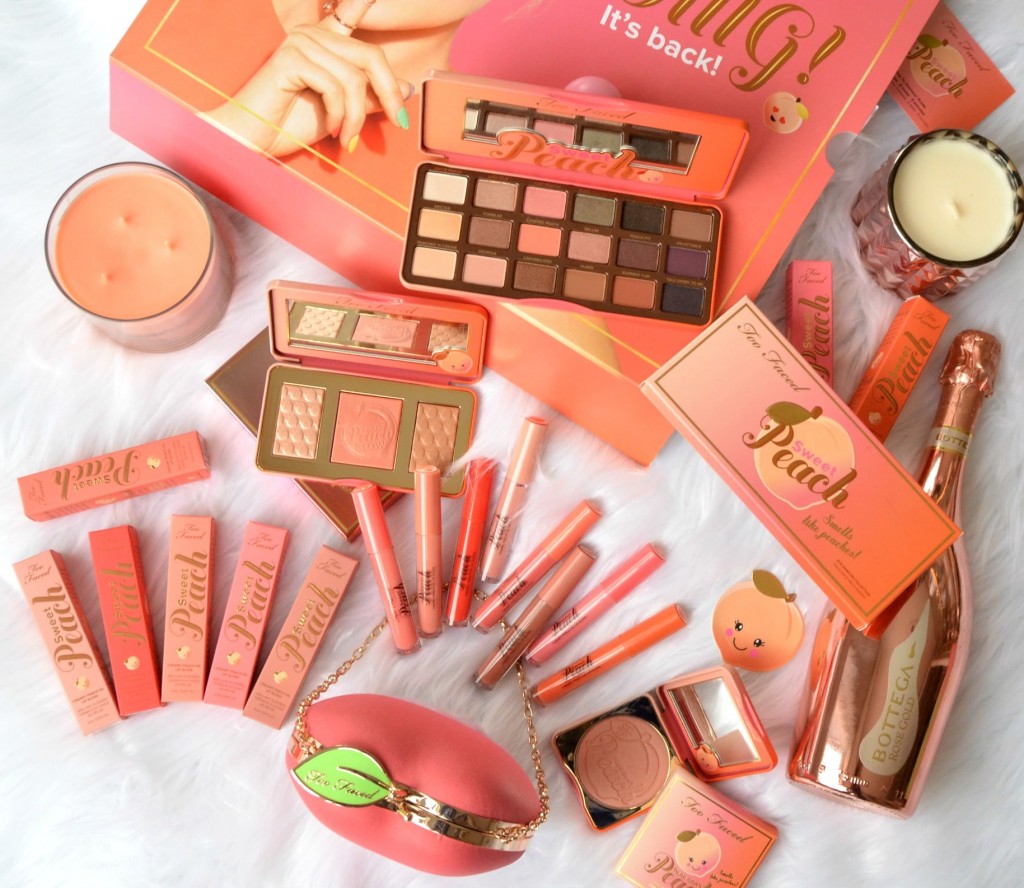 Sweet As A Peach
There's no denying that the Too Faced Sweet Peach Palette was the most talked about and hyped about product of 2016. Every blogger was raving about and every consumer was trying to get their hands on one. It took the beauty industry by storm and sold out within minutes. I'm happy to report, it's back and in even more exciting, it comes alongside some new family members. The palette that people lost their minds over, is now an entire collection. It's time to get peachy with the iconic Sweet Peach Palette, Sweet Peach Glow Palette, Pap Don't Peach Blush and 8 Sweet Peach Creamy Lip Oils.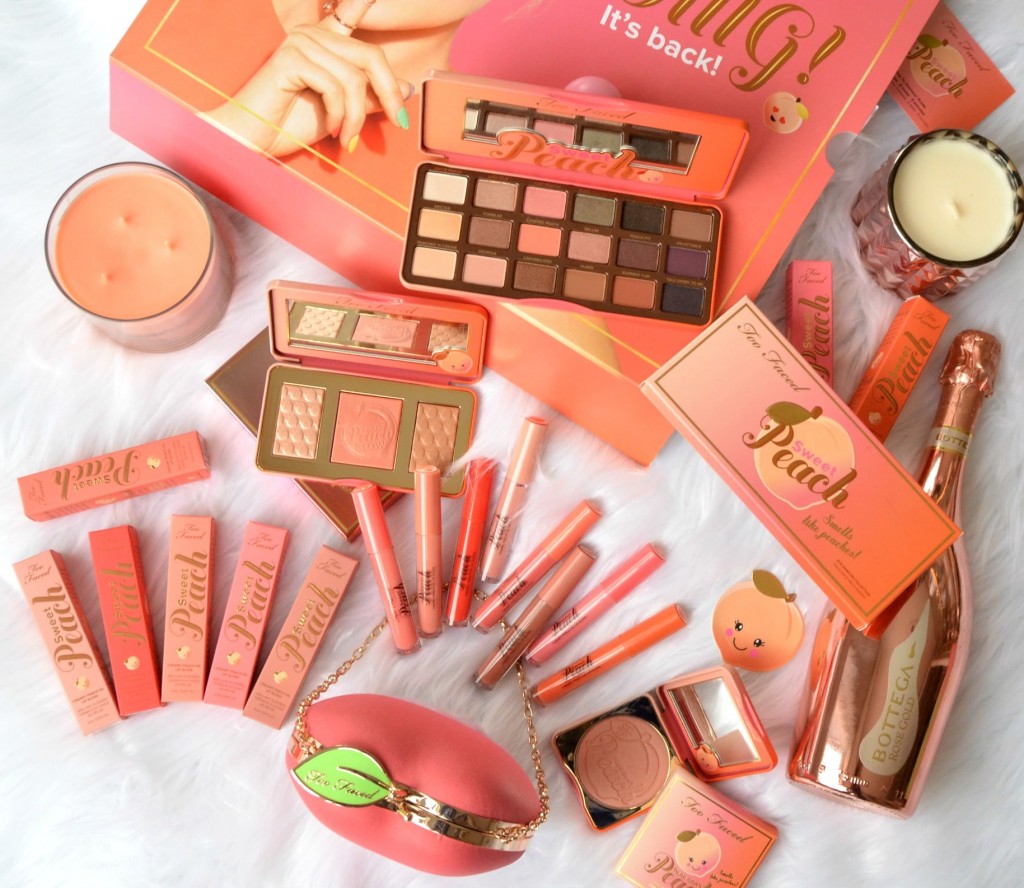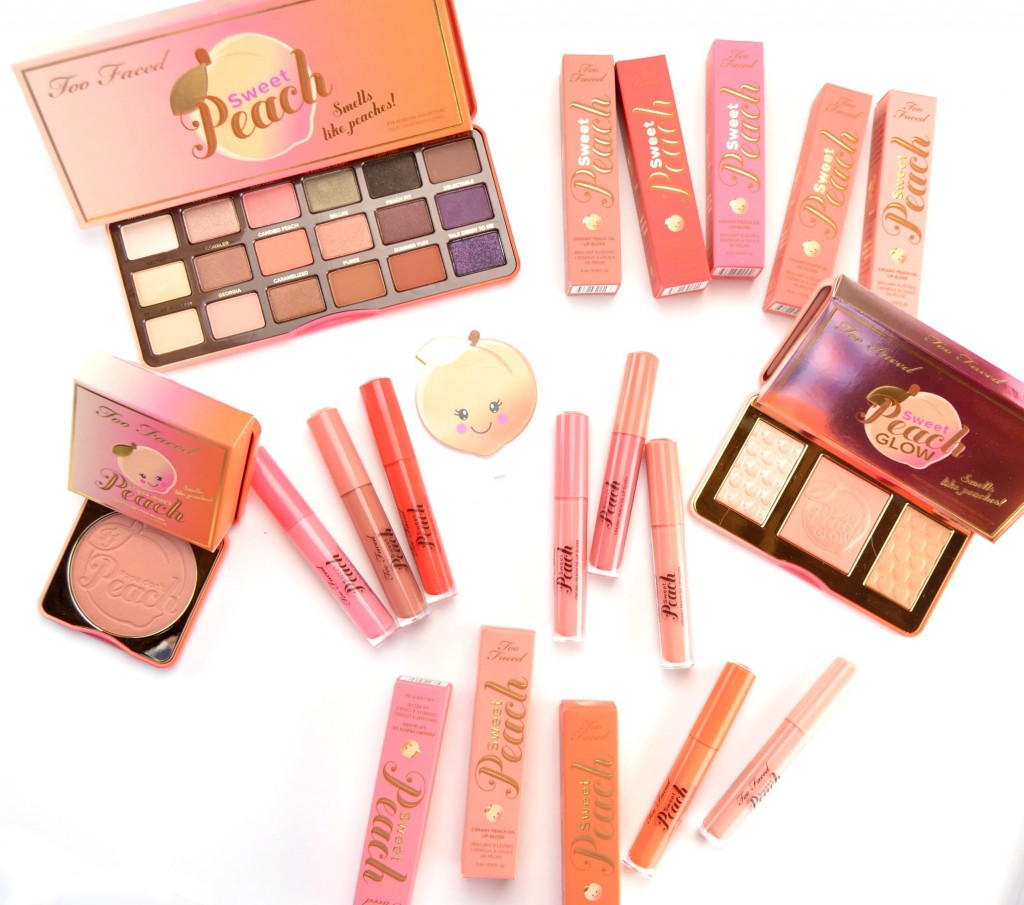 You're probably already read a million reviews on the Too Faced Sweet Peach Palette, or maybe you have already gotten your hands on it, either way, here's a quick rundown on it. It comes in the most adorable pink, coral and orange ombre metal, tin-like compact with magnetic closure. The palette features tiny peaches that are slightly raised all over the entire lid and full-size mirror on the inside lid. It comes with 18 freshly picked shades of peachy pinks, corals, bronzes and pops of purple. Each shade is infused with a juicy scent that smells exactly like a fresh peach. Each shade is designed to compliment one another in an array of finishes from shimmer to mattes. You'll be able to create endless springtime and summer looks all year round thanks to a glamour guide that allows you to achieve 3 different looks with ease.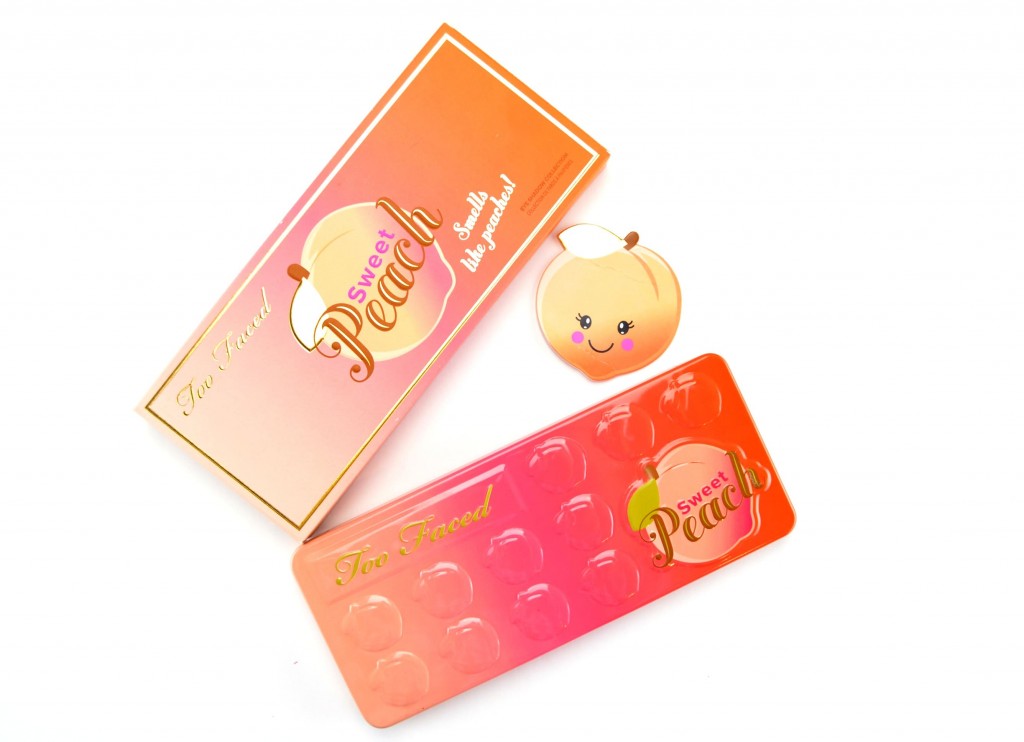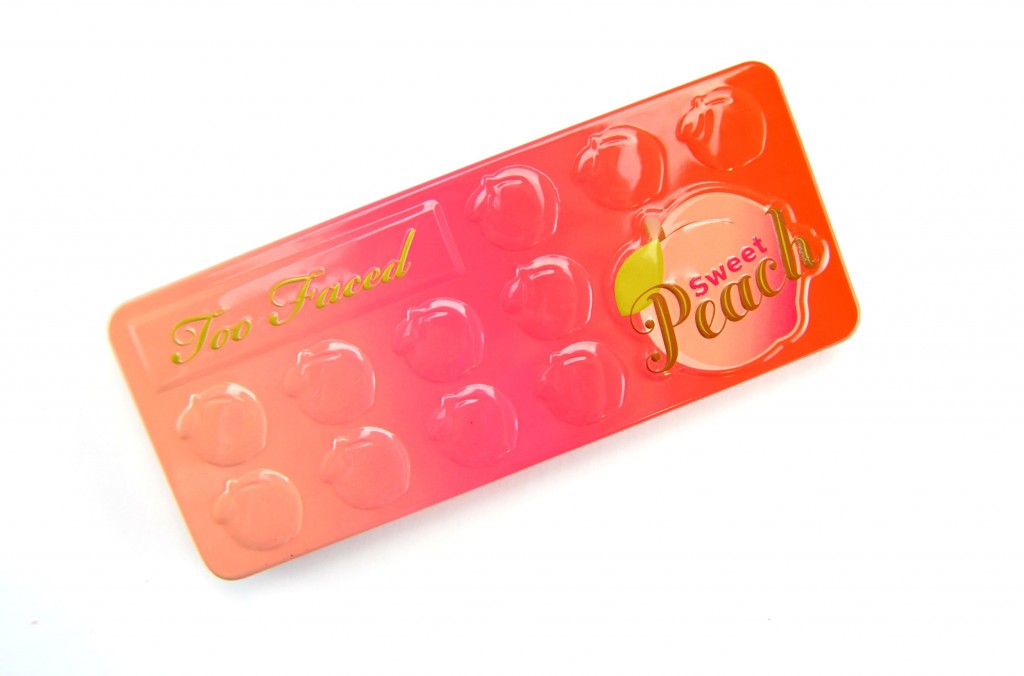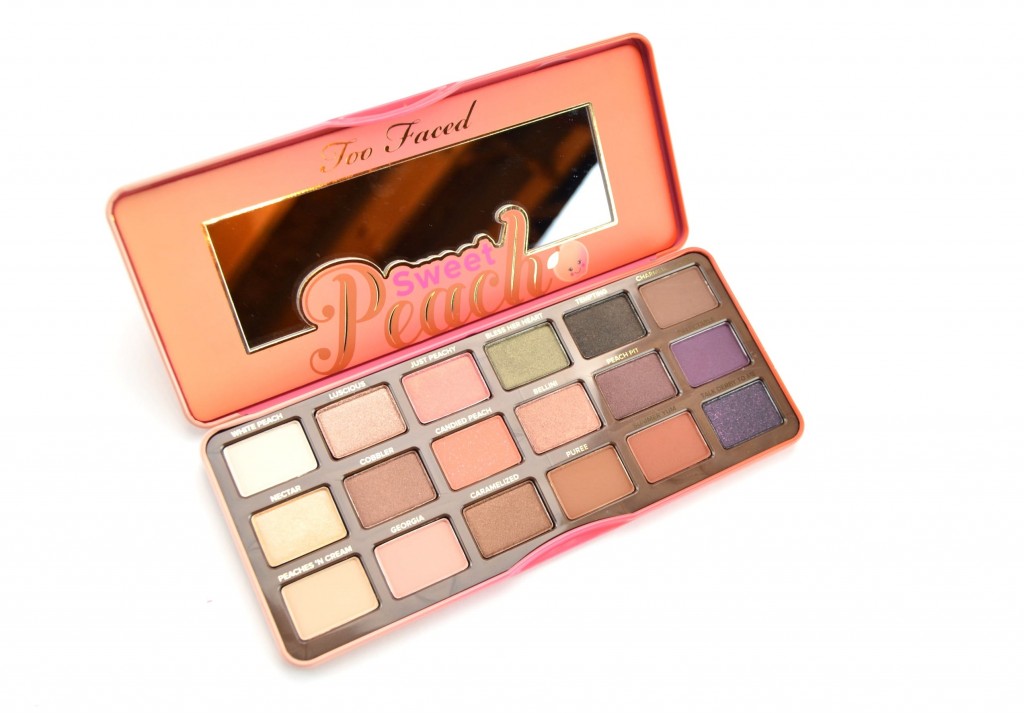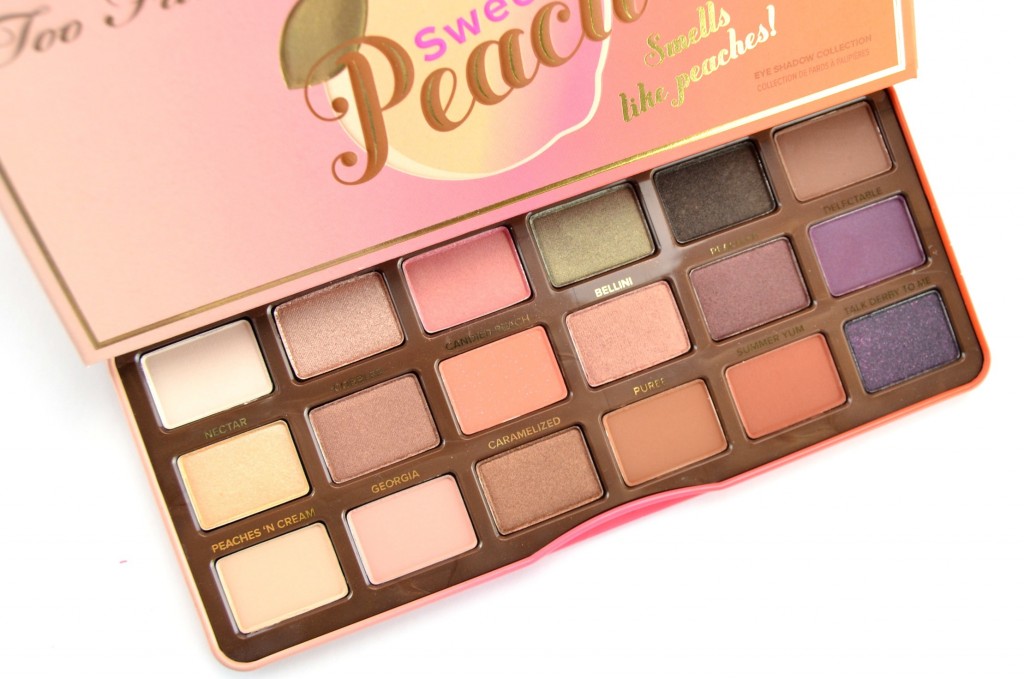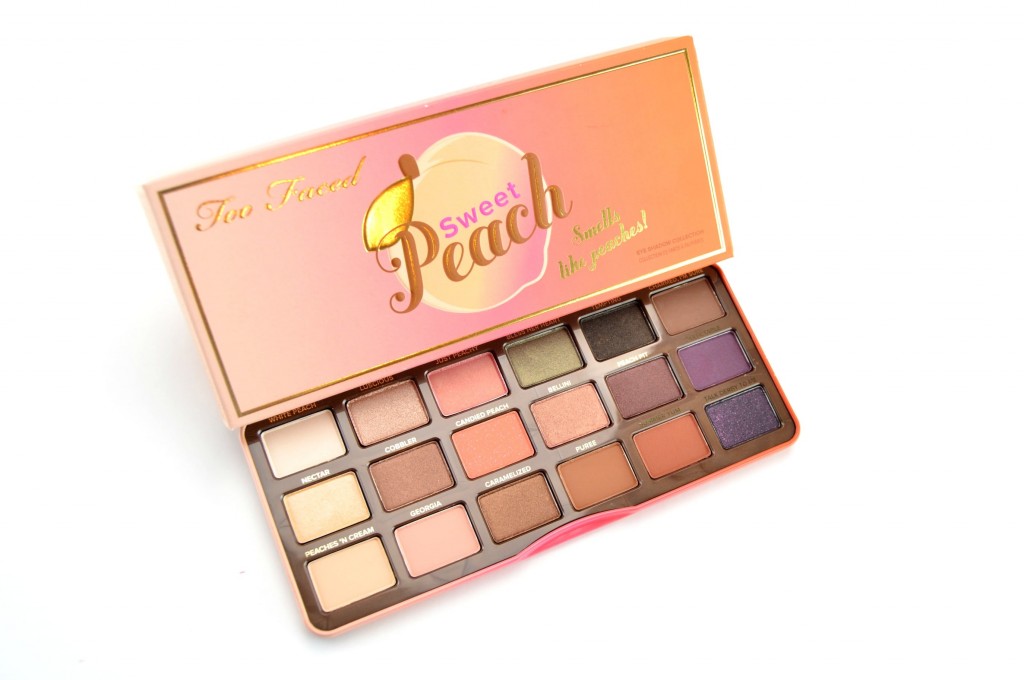 Like all Too Faced shadows, each shade found within the Too Faced Sweet Peach Palette is buttery soft, incredibly creamy and glides on smoothly. It's finely milled formula blends into the skin seamlessly with absolutely no fallout. Each shade is pigmented, opaque and with beautiful colour payoff that stays put all day. When paired with a primer, it will stay in place without budging, smudging, creasing or fading upwards of 15+ hours. It's created to provide you with an array of looks without having to reach for another palette. It retails for $59.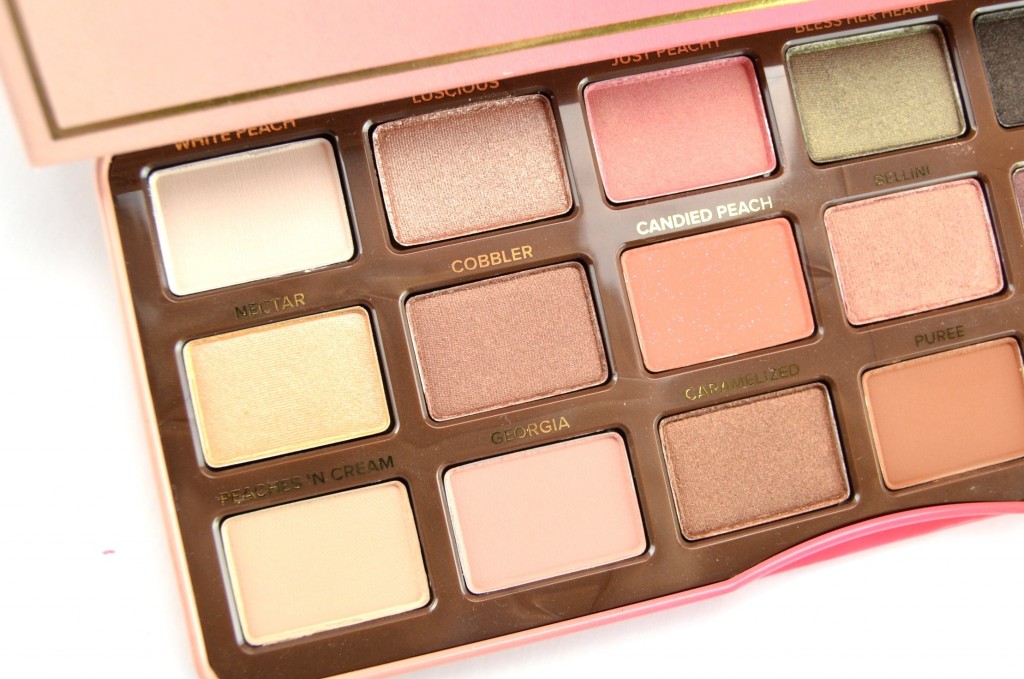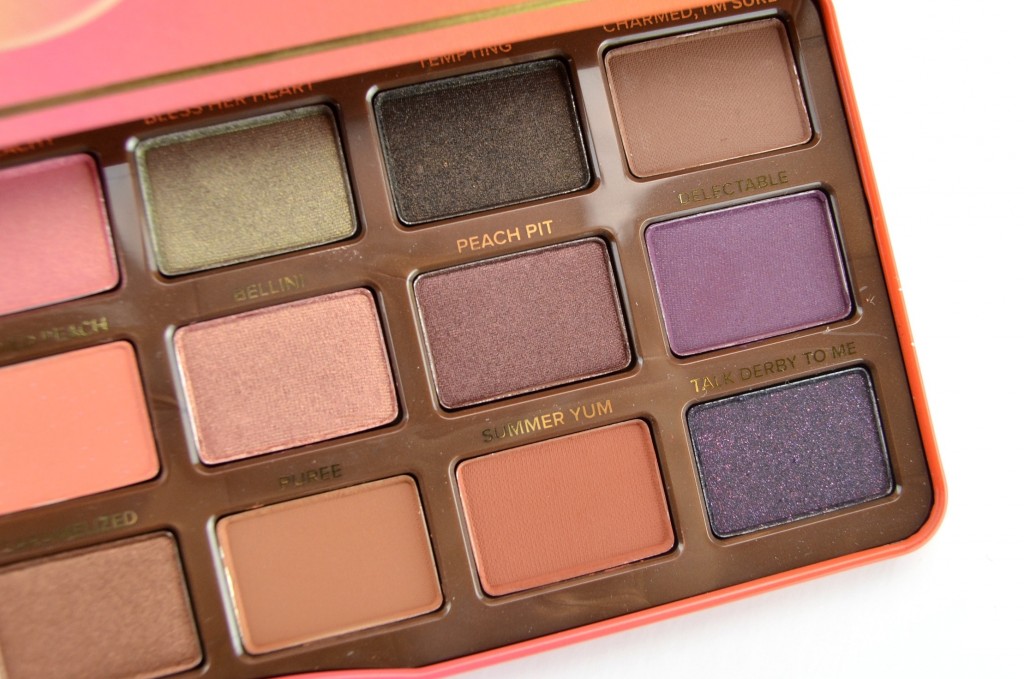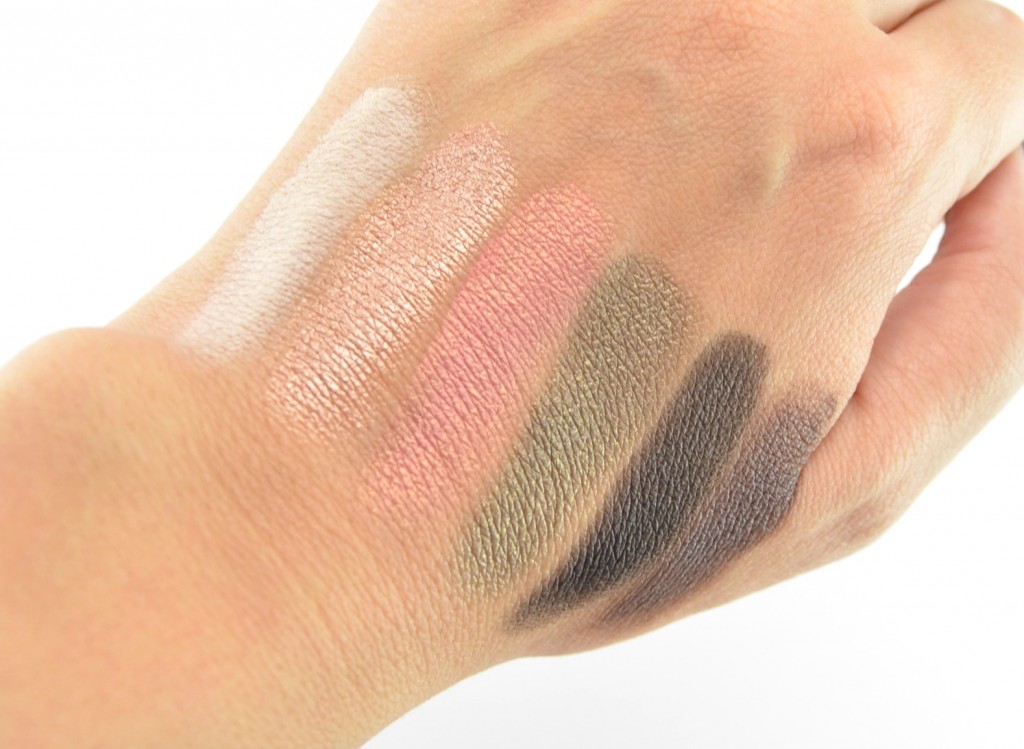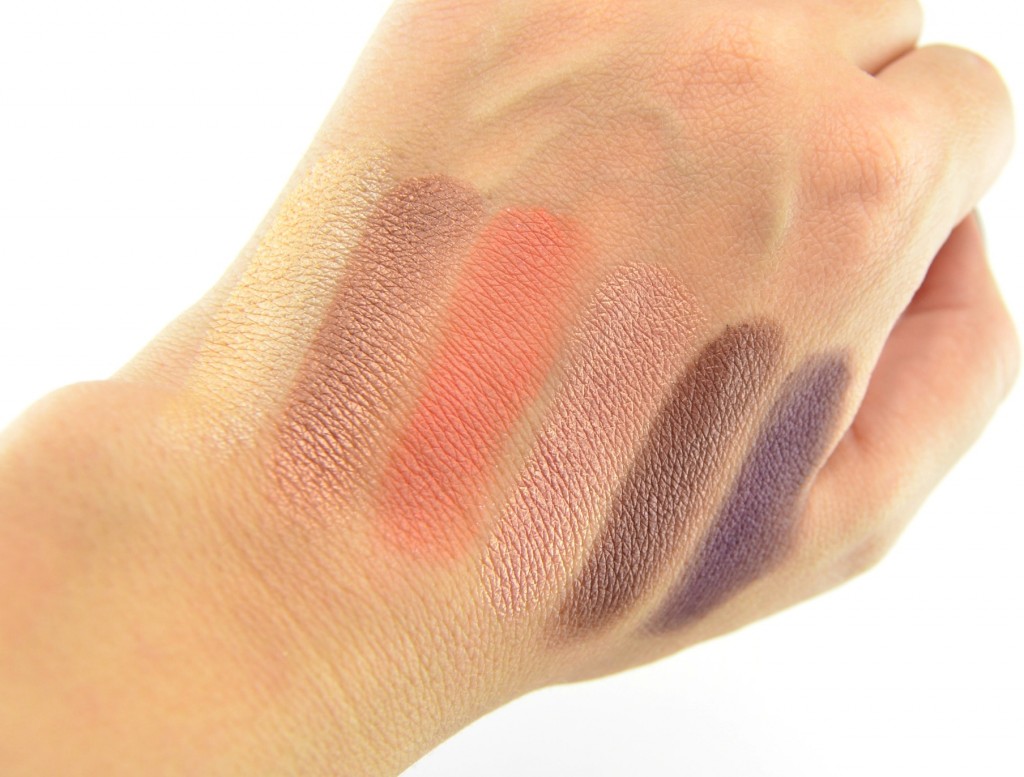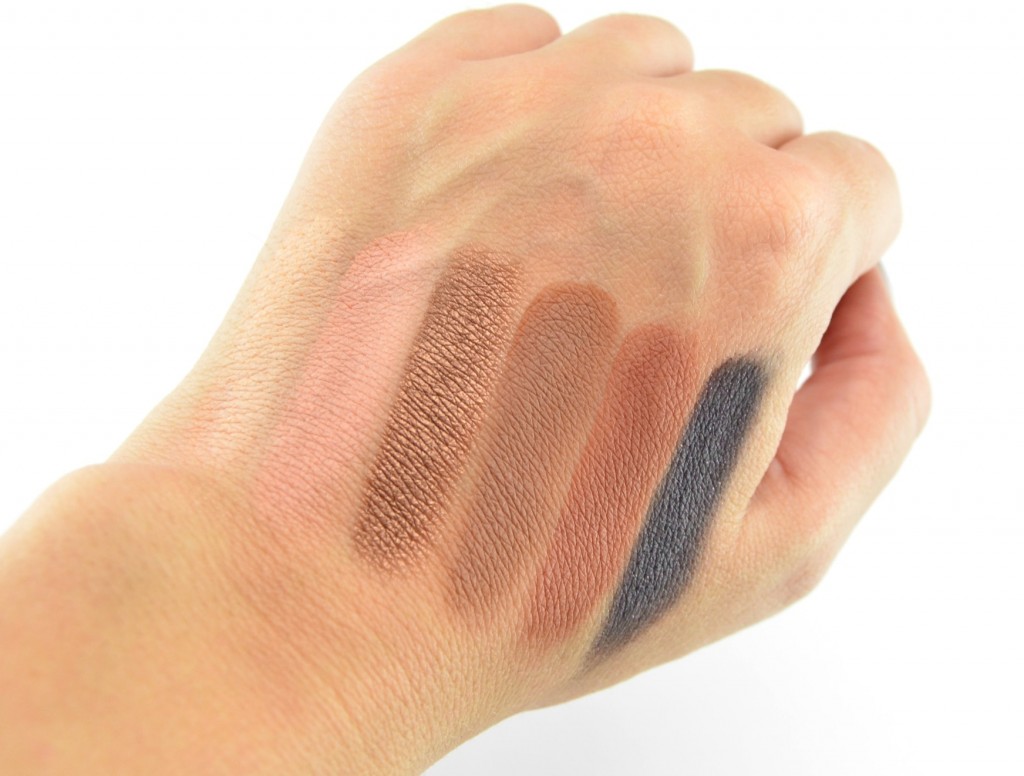 Too Faced Sweet Peach Glow Palette is a peach-infused highlighting, blushing and bronzing palette. Its designed to provide you with an illuminating, radiant natural, peachy glow. It too is infused with a juicy scent, along with skin-loving essence of peach. It can can be used separately or blended together for an all-over soft glow. The palette comes in a slightly smaller pink, coral and orange ombre metal, tin-like compact than the eyeshadow palette, and features a peachy highlight, a coral blush and golden bronzer. Each shade is embossed with either a large peach or several tiny peaches. The highlight is applied to the cheekbones, browbone and bridge of nose for an instant brightening effect. The blush is applied to the apples of the cheeks for a natural flushed look and the bronzer can help warm up any complexion.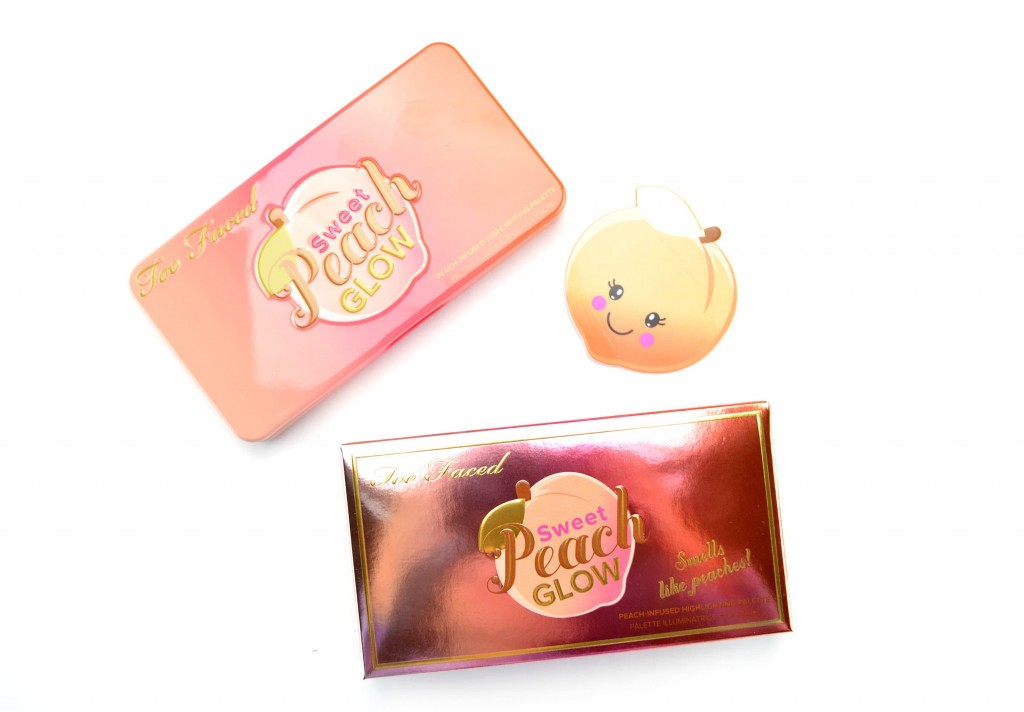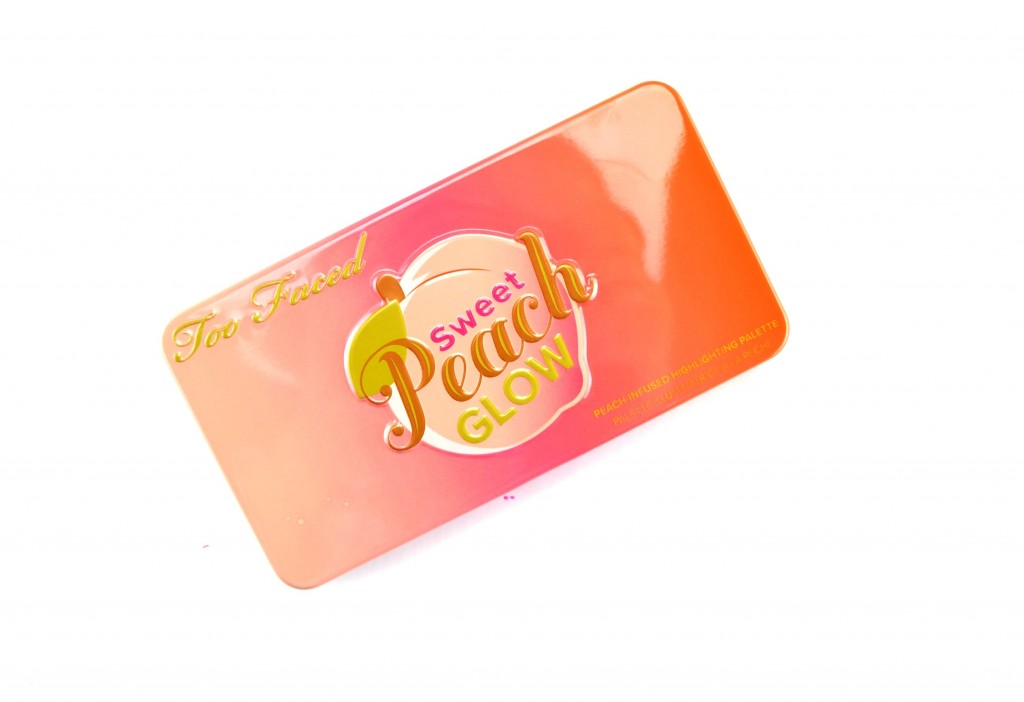 Each shade found within the Too Faced Sweet Peach Glow Palette is slightly stiff, firm and dense, yet easy to work with if you have the proper brush. I suggest using a slightly denser brush to effortlessly pick up the powder. Although not overly pigmented, each shade is  buildable and blends out nicely. The consistency was smooth, easy to work with and lasts for upwards of 8 hours without becoming blotchy or patchy.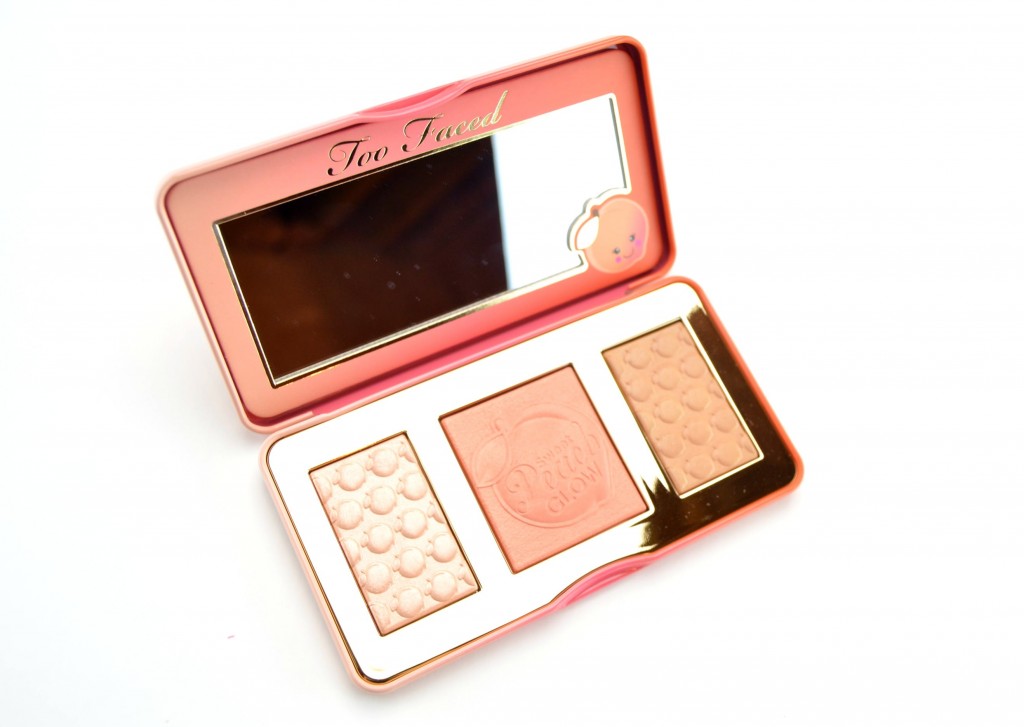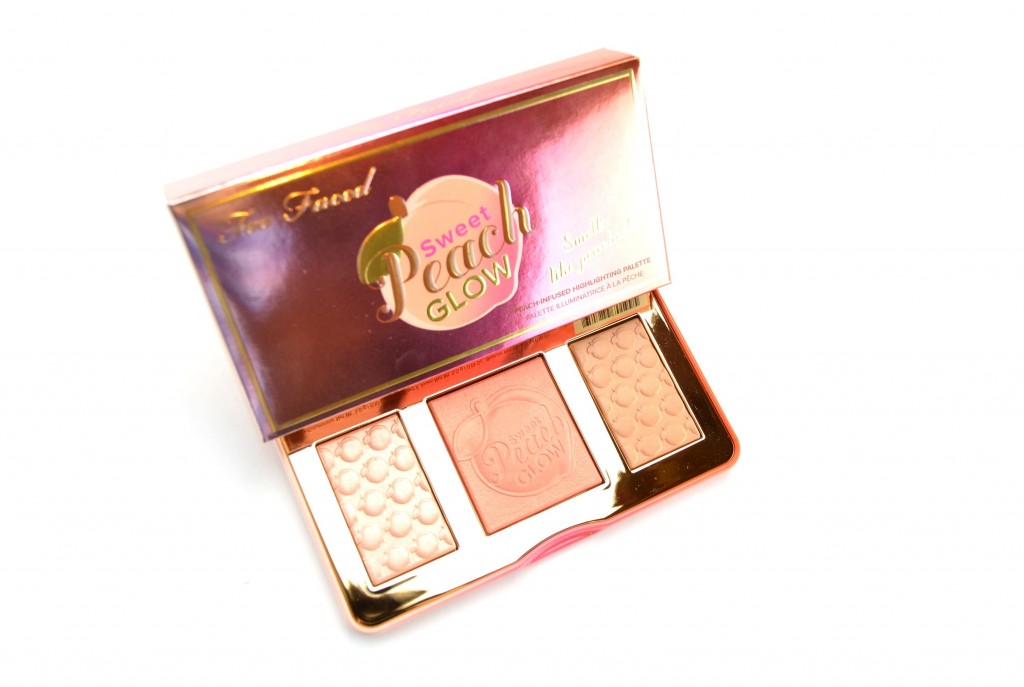 The illuminator shade found within the Too Faced Sweet Peach Glow Paletteis a lovely golden peach with a metallic sheen. It helps to instantly provide a radiant glow. The blush is a coral, almost warm orange with a golden shimmer throughout. It gives a slightly luminosity to the cheeks without being obnoxiously sparkly. The bronzer is a medium brown with a pearly sheen to it. It too has a slightly luminosity to it that provides an extremely natural warmth to the skin, without being noticeably shimmery. It retails for $52.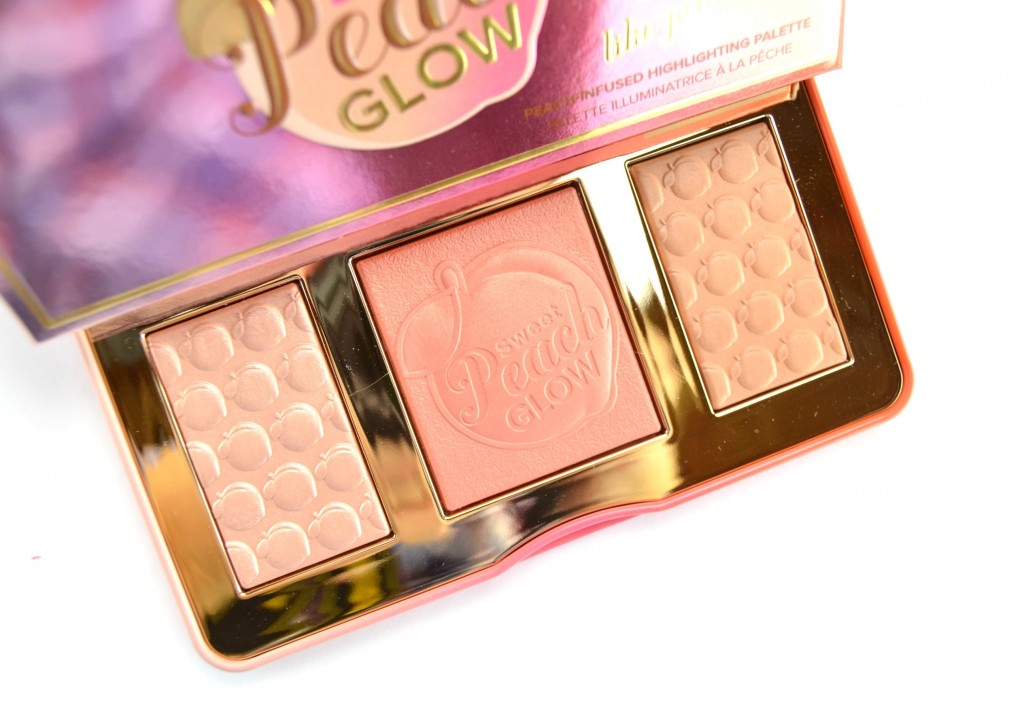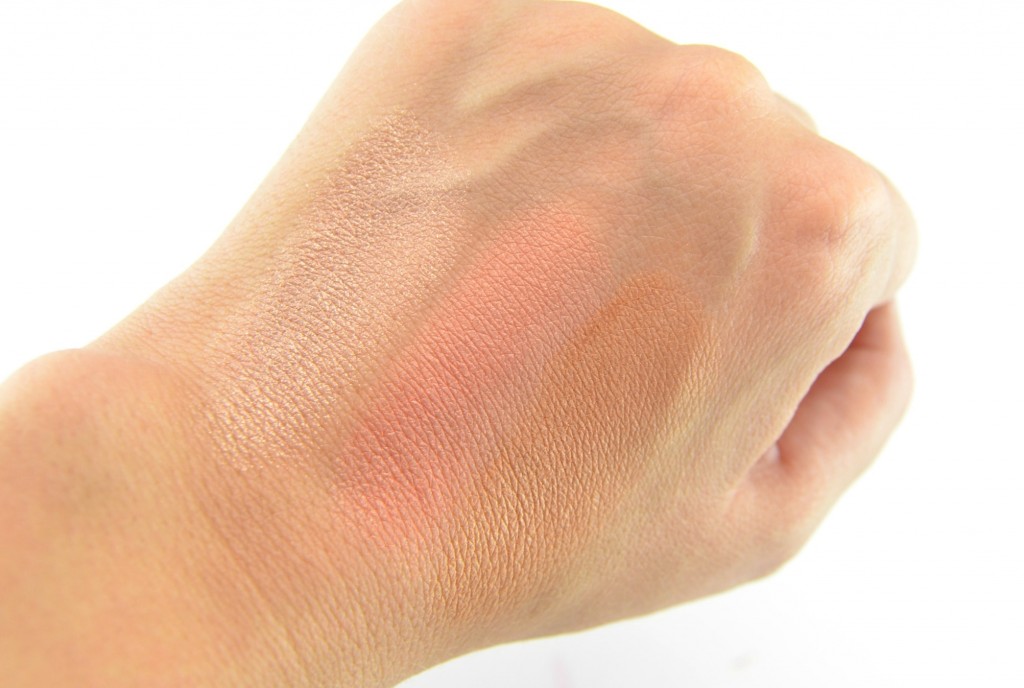 Too Faced Papa Don't Peach is back. It was originally released way back in 2009 and now comes repacked in the cutest little pink, coral and orange ombre metal tin. This blush features a darling little peach emoji on the outside with a peach infused blush on the inside. It was created to provide a warm bronzy peach to any complexion with a sexy, healthy glow.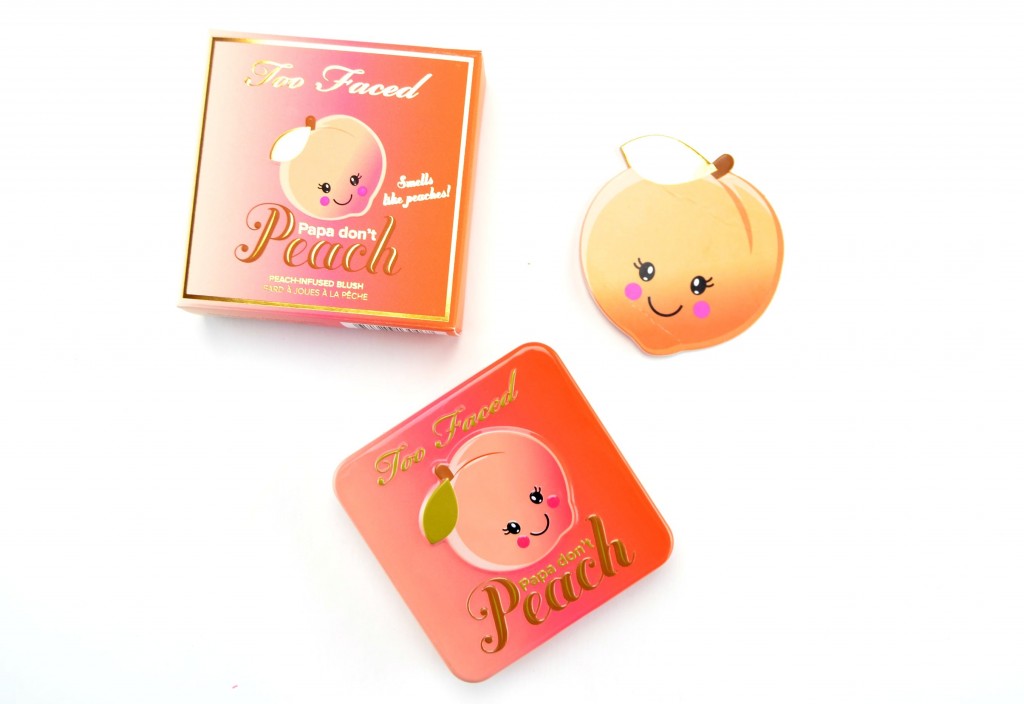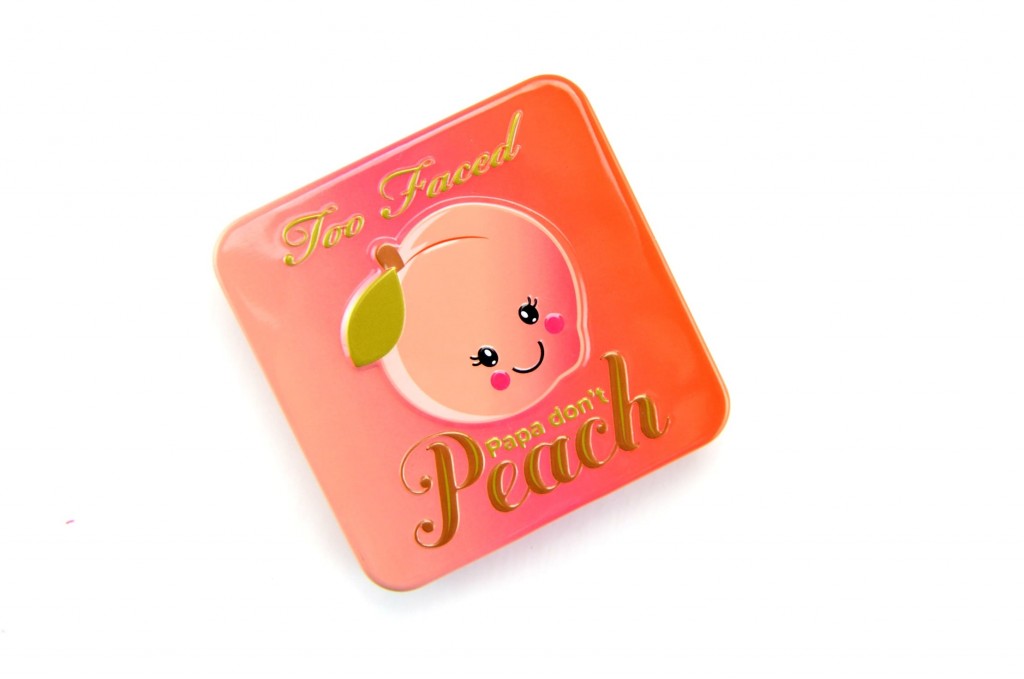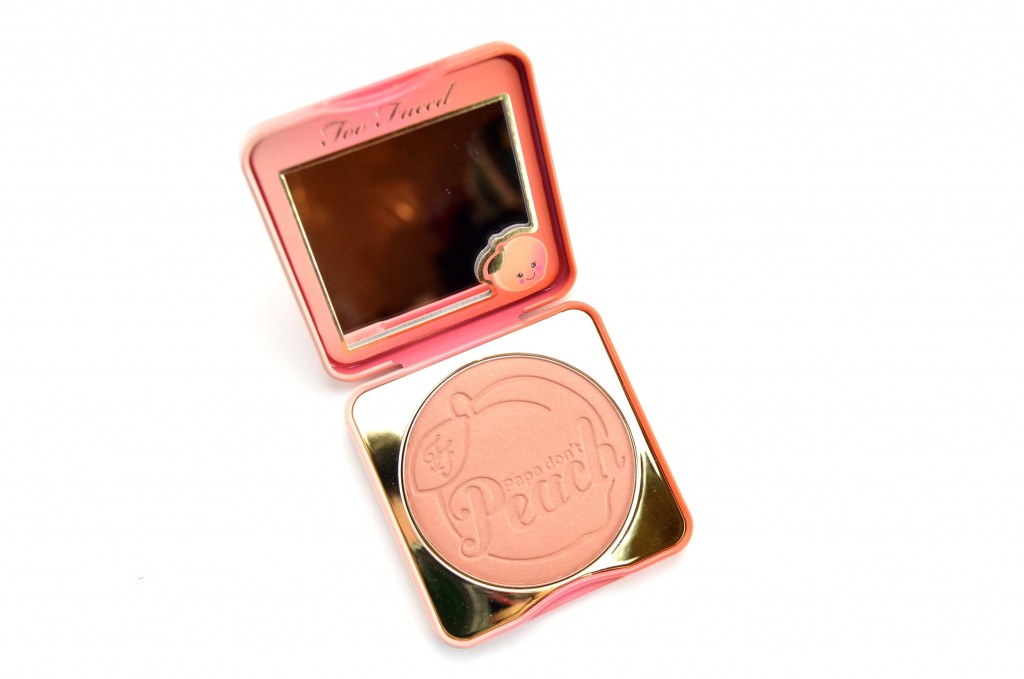 Too Faced Papa Don't Peach features a silky, smooth, creamy texture that's highly pigmented. It blends out beautifully to provide a sheer wash of colour and is easily layered for added intensity. It has little to no fall out, doesn't accentuate pores nor does it cling to dry areas. It's the perfect natural blush with just enough warmth and luminosity to wear both day and night. It wears for a solid 12+ hours without fading. This medium peach gives a satiny finish to the cheeks with almost a frosted sheen. It provides a slightly brightening finish with a pink pearl effect. It retails for $38.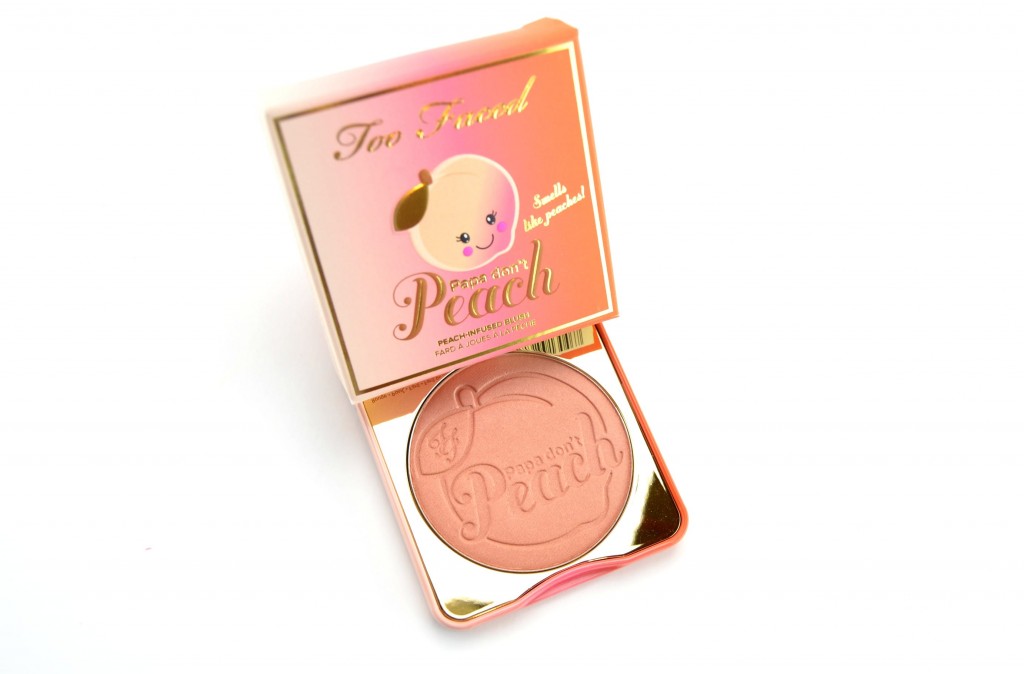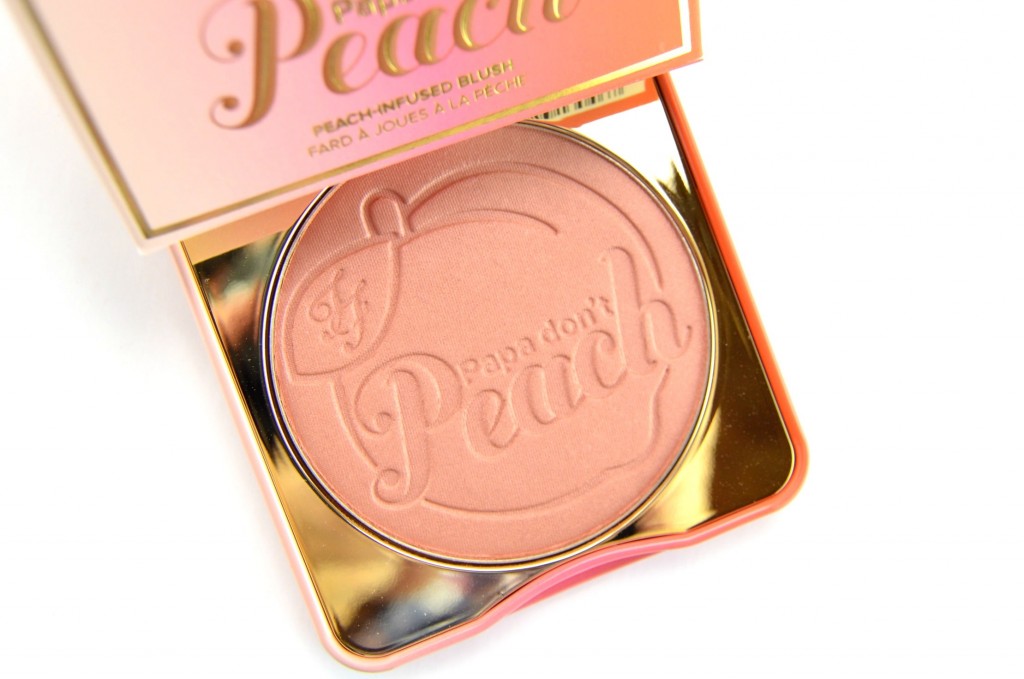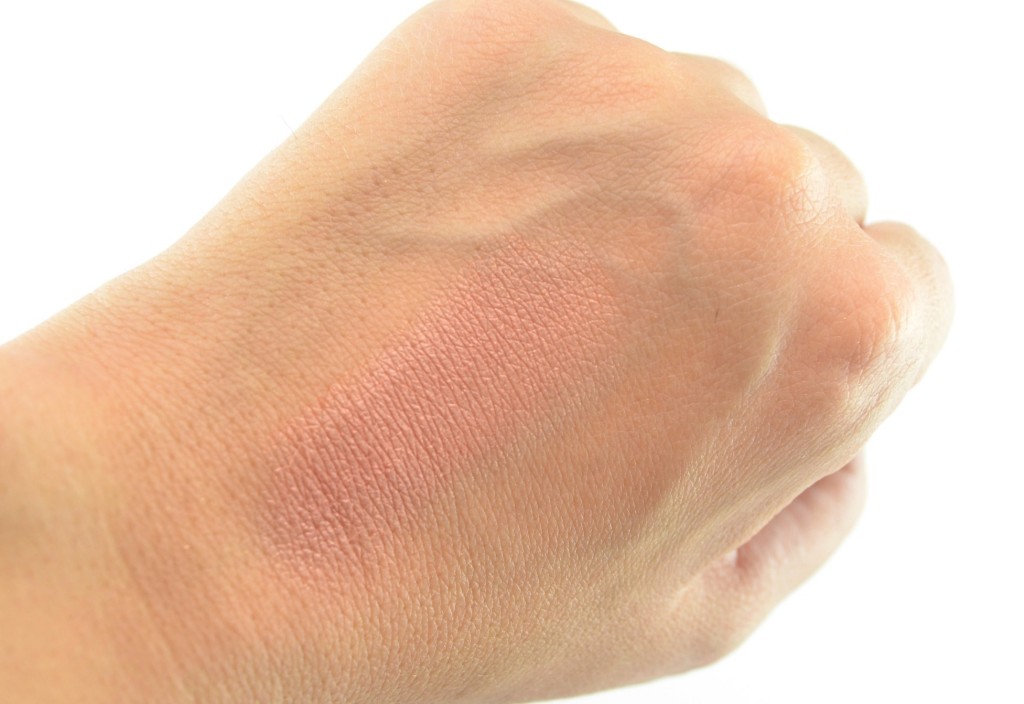 Too Faced Sweet Peach Creamy Lip Oil is a lightweight, moisturizing lip gloss that's infused with peach oil, coconut oil and vitamin E. It helps to soften and hydrate the lips. It features a silky, smooth and creamy formula that glides onto the lips like butter. Depending on the shade, it ranges from semi-opaque to mostly opaque. It has a strong colour payoff than your typical lip oil. It's more of a pigmented lip gloss with the added benefits of an oil. It smells like a sugary peach that isn't too overwhelming or strong.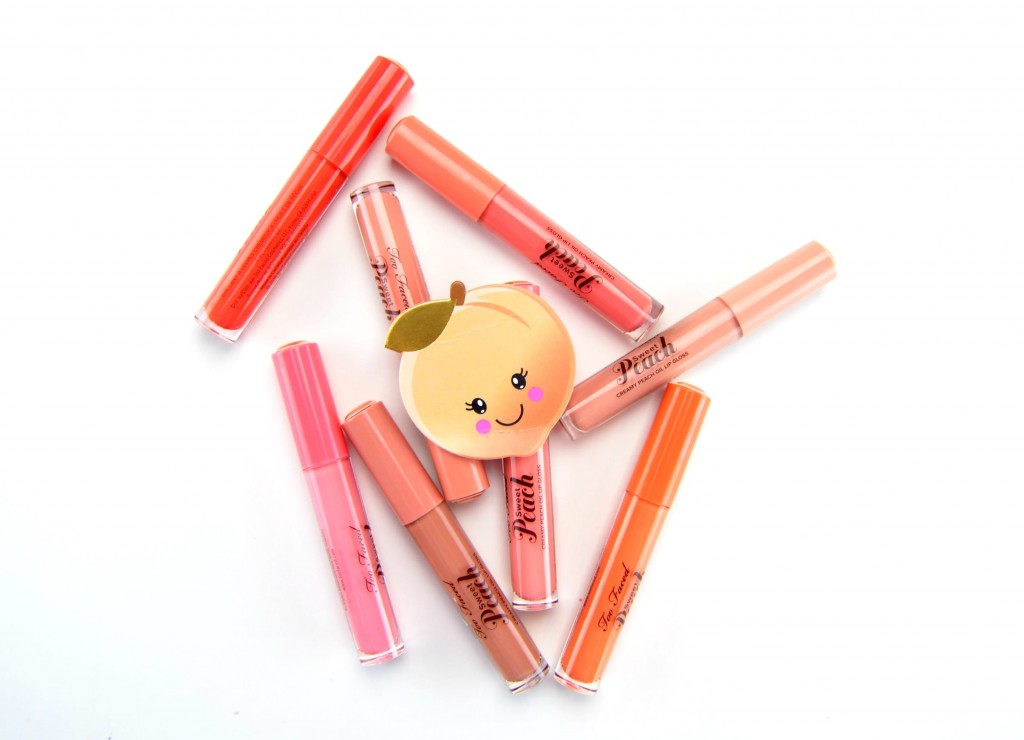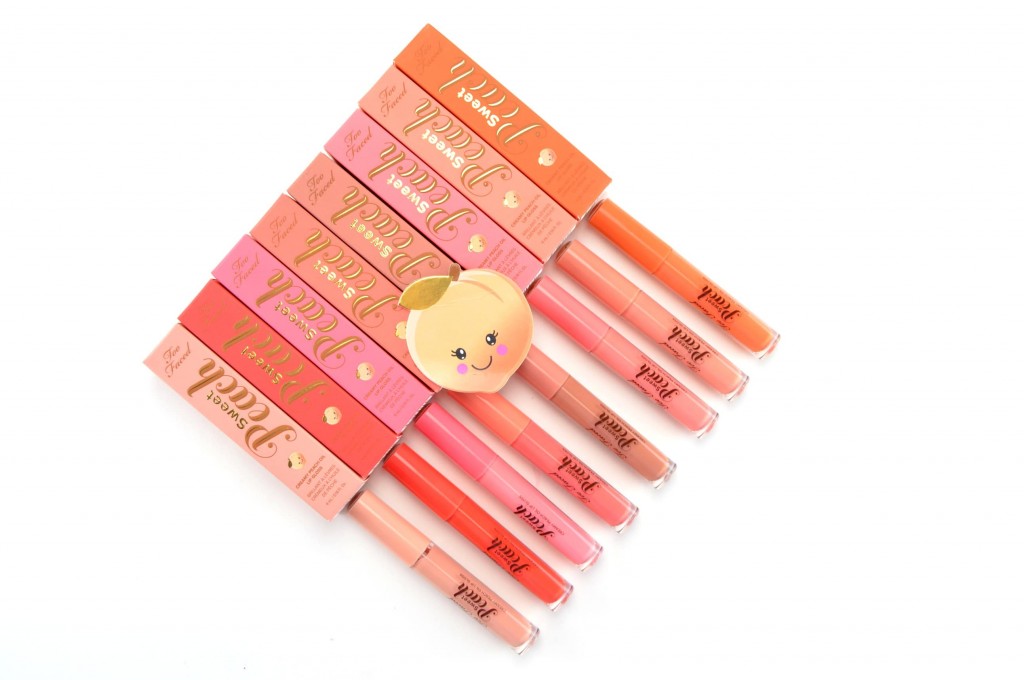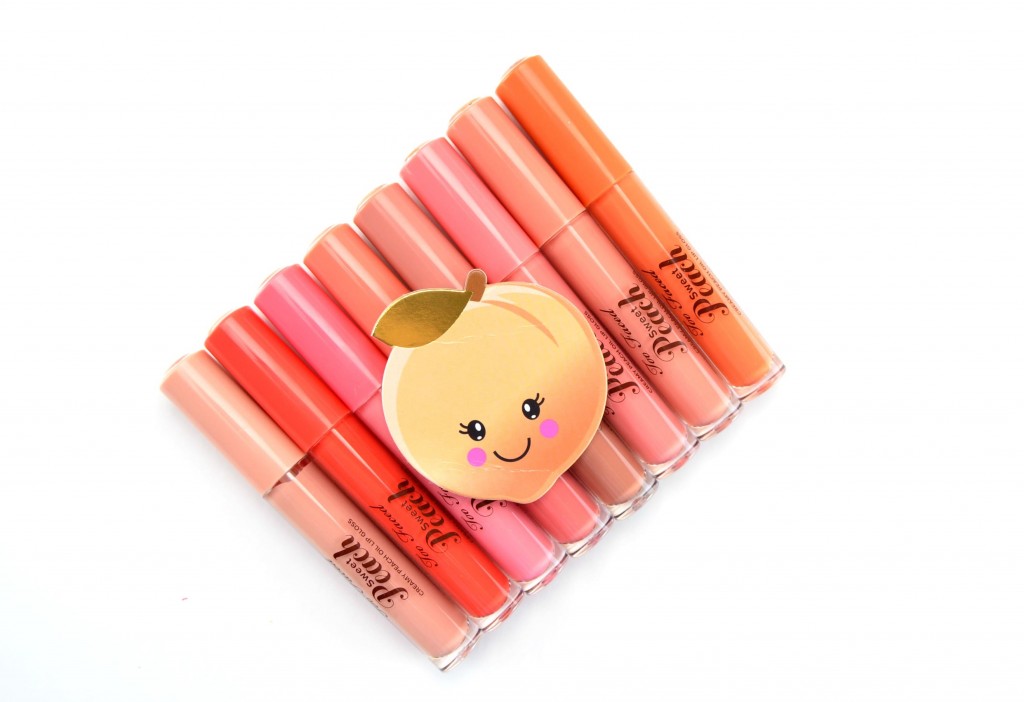 Pucker up this season with peach infused lip gloss that tastes like fresh peaches. Too Faced Sweet Peach Creamy Lip Oil features a creamy and smooth consistency that's comfortable to wear. It provides extra hydration for dry lips on cold winter days. It doesn't settle into fine lines nor does it tend to slide around on the lips. Although it starts to wear after a few hours, the colour payoff, smell and shine leaves you coming back for more. This gloss can be layered over your favourite lipstick to provide a bold, intense shine. It can simply be worn on its own to help enhance your natural lip colour. The gloss gives your lips an extra boost of moisturize they so desperately need in these cold winter months. It also gives your lips a slight pop of colour that slowly fades into a beautiful, subtle stain.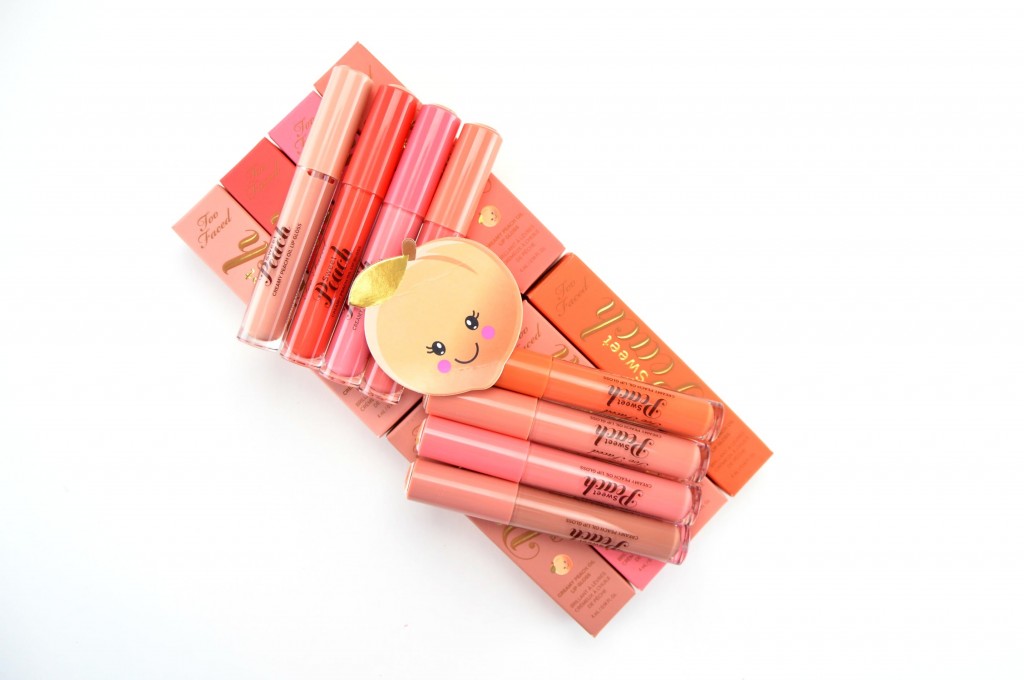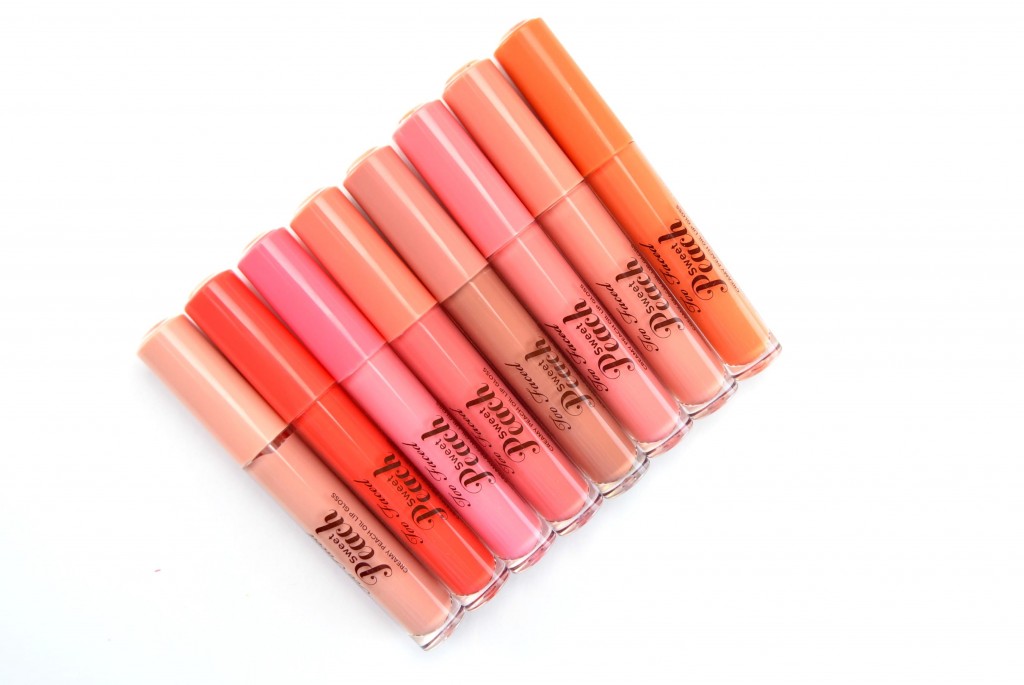 Too Faced Sweet Peach Creamy Lip Oil retails for $24 each in 8 delicious shades, Peach Fuzz, Tickle-Me-Peach, Peach Please, Peach Tease, Papa Don't Peach, Pure Peach, Peach Side and Poppin Peach.