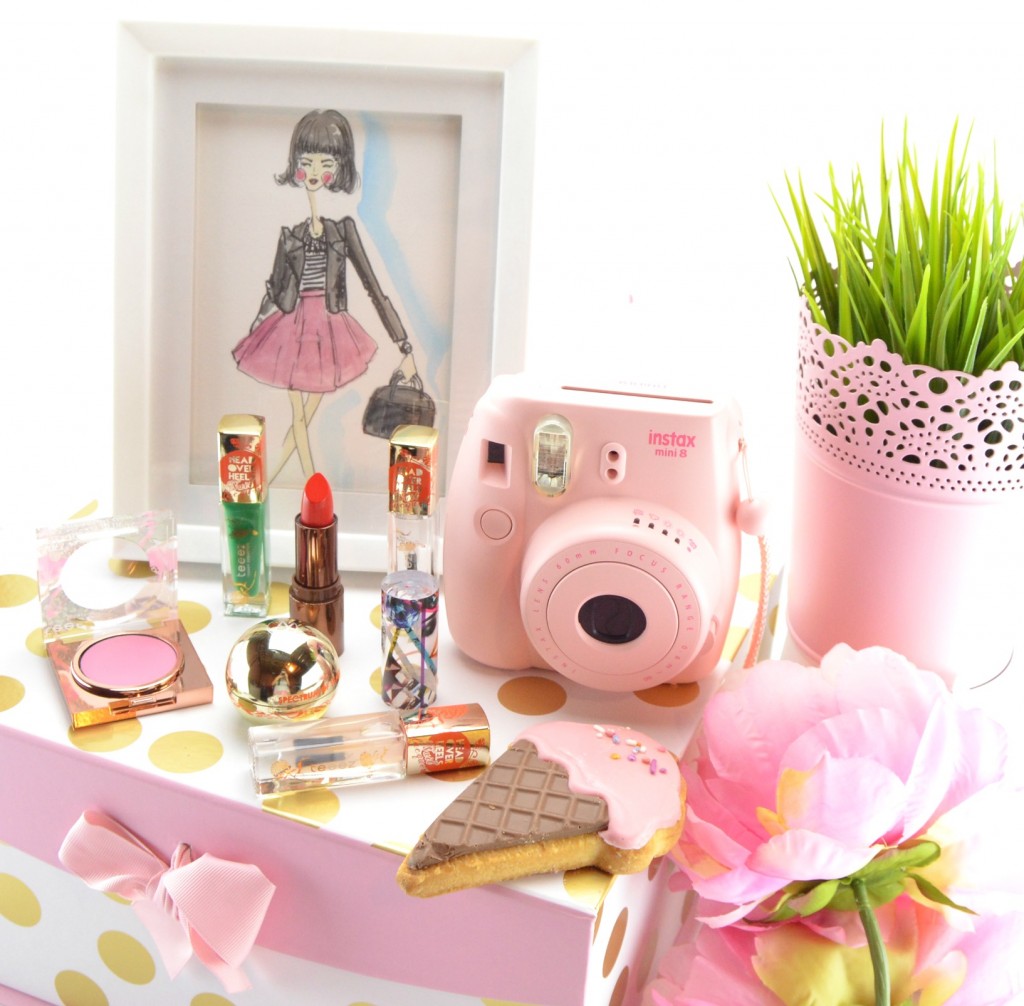 Number one perk of running this fashion blog, getting to introduce new products to my readers. Talk about perfect timing, since I'll be traveling to Europe next month, but for the past few weeks I've been playing with European brand, Teeez Cosmetics. The brand has officially launched in Canada at Hudson's Bay (and online at The Bay) to be exact, and features a wide lineup for both your face, eyes, lips and nails.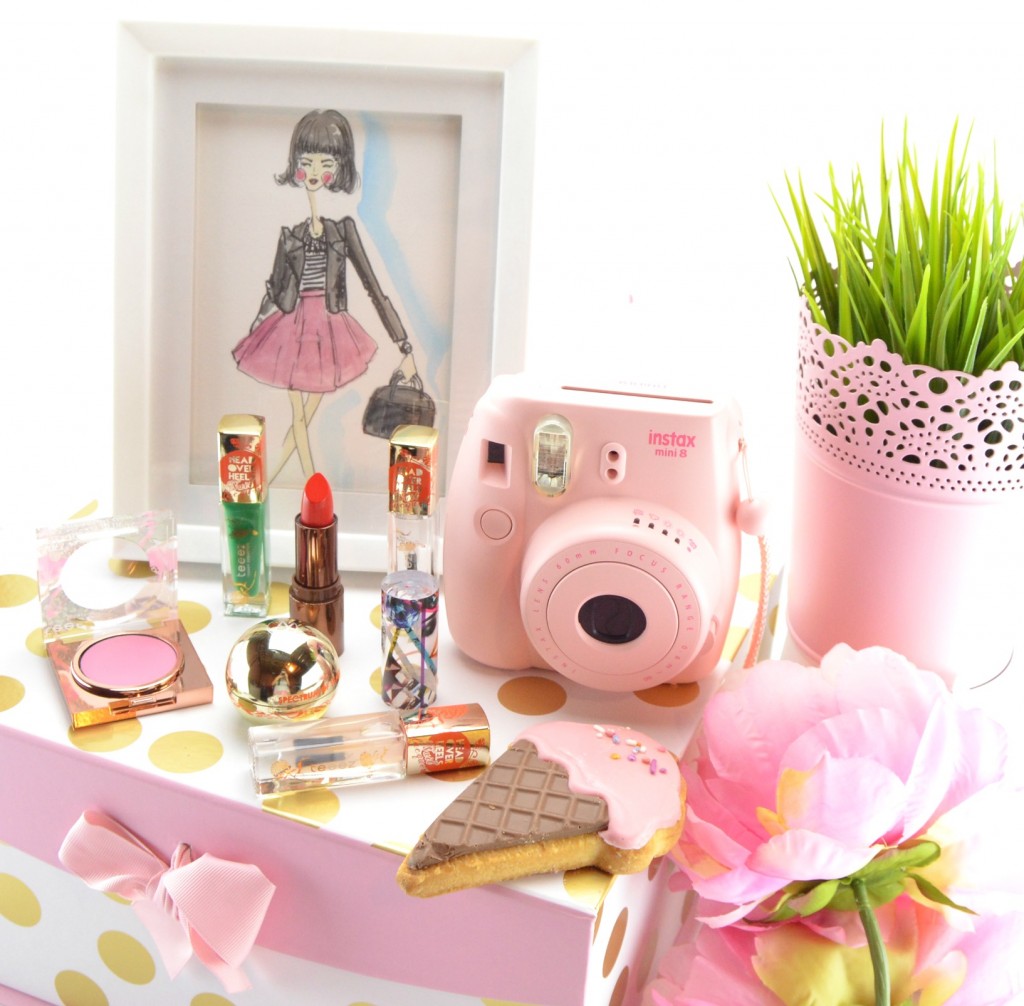 I've actually never head of this brand, but from the moment I opened the press-release box, I was in love. If you're into classic, chic and average packaging, this collection isn't for you, but if you're into having fun, love trendy, playful, bold and bright colours, you'll love this brand. It's full of life, is extremely fun and instantly puts a smile on your face.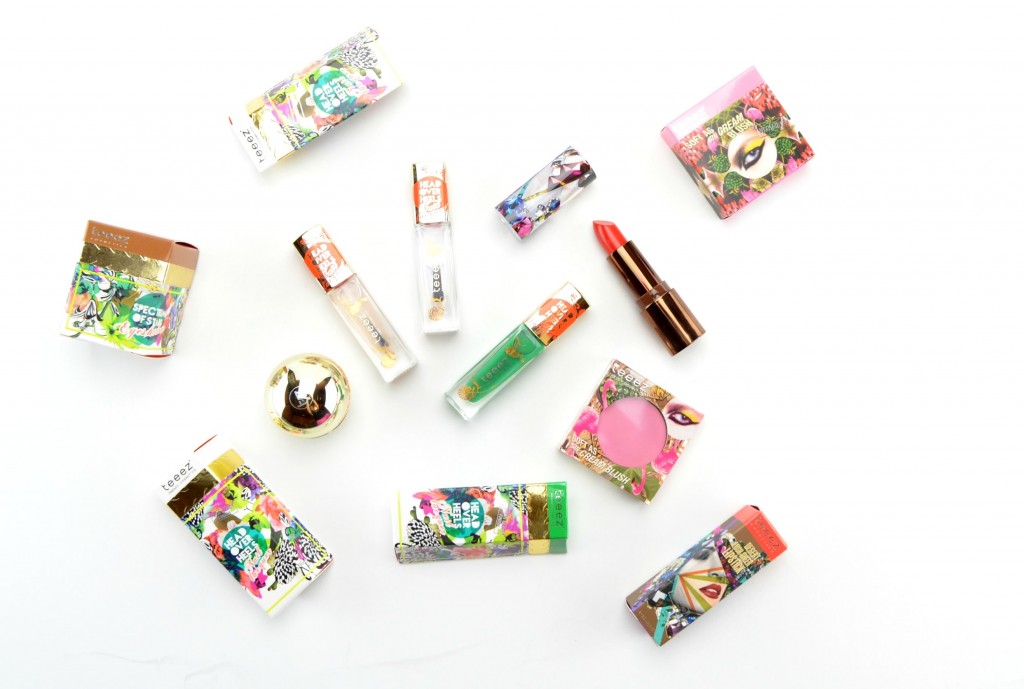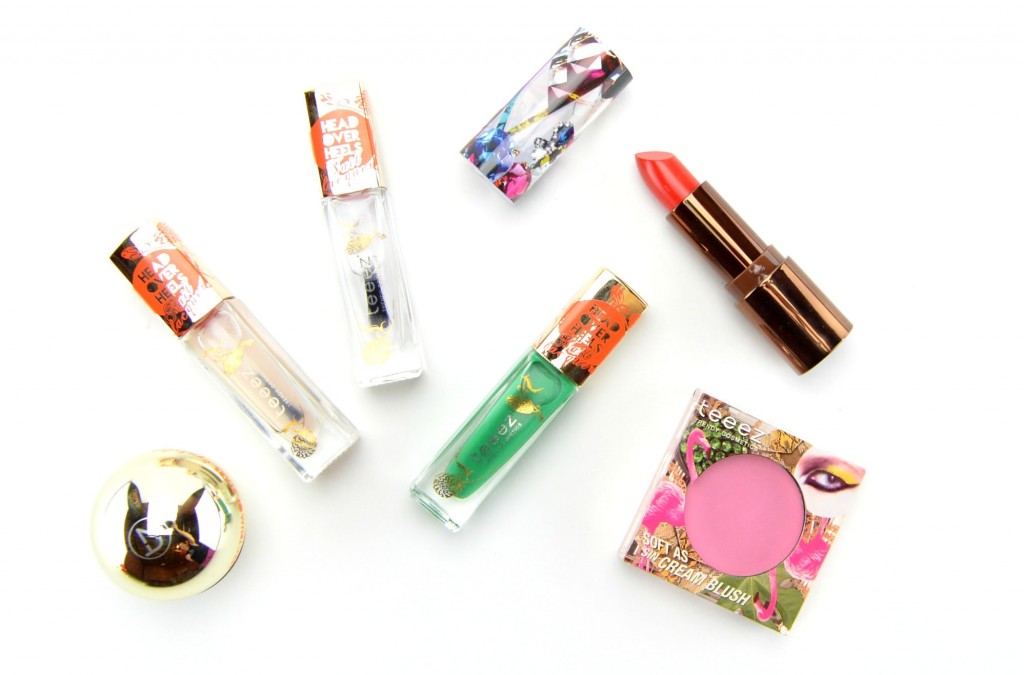 Teeez Cosmetics Spectrum of Stars Eyeshadow is an exceptional shadow that features anti-aging properties to help moisture your skin for a smooth, silky texture. Its innovated finish, shifting between shimmer and metallic to high gloss, gives it a luminescent effect that's quite unique. It comes housed in the most adorable gold round, almost sphere-like pod with twist off lid.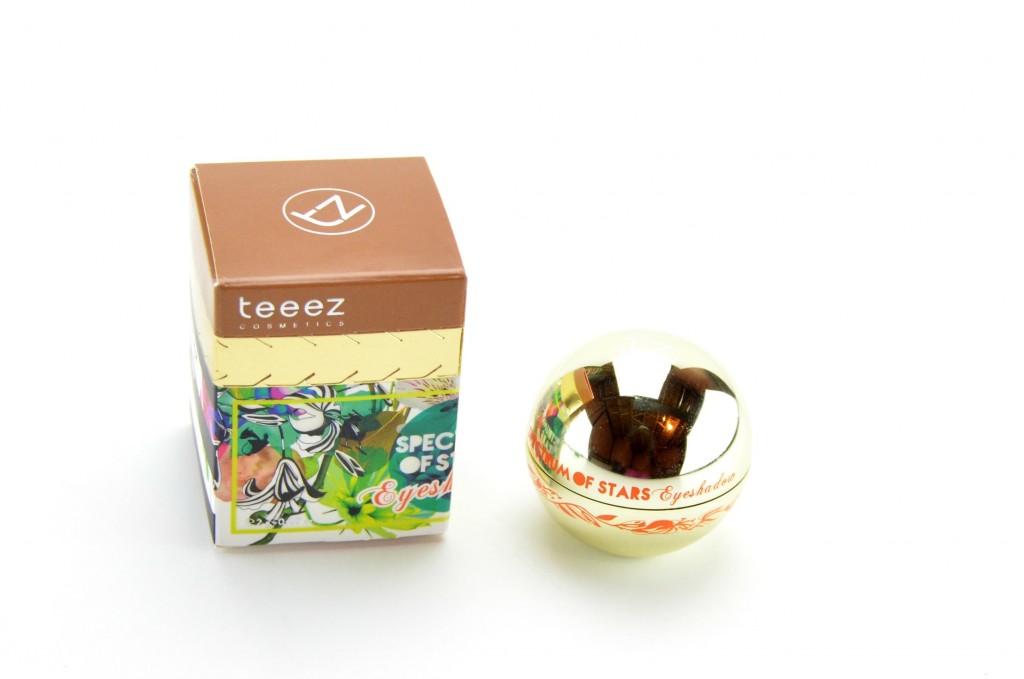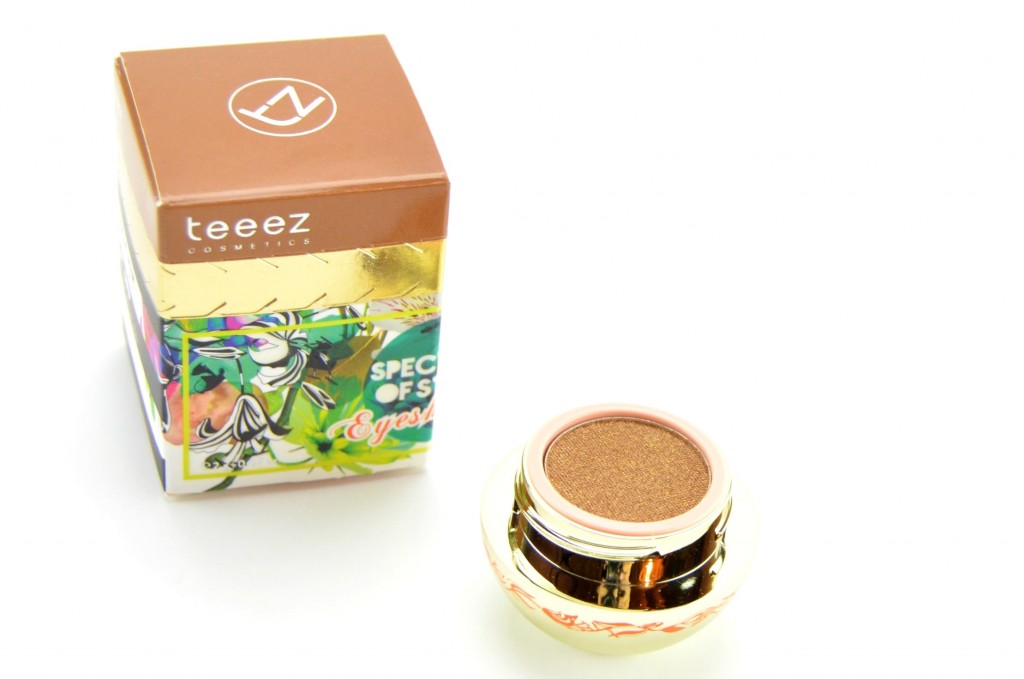 Teeez Cosmetics Spectrum of Stars Eyeshadow although not the most practical packaging, when it comes to travel or storage, it's incredibly rich and creamy formula is worth it. It's enriched with argan oil to help give it its silky smooth, slightly hydrating consistency that glides onto the lid like butter. The velvety, almost suede like texture is a dream to work with and blends into other shades wonderfully. It's extremely pigmented, doesn't kick up any powder and is truly opaque in a single swipe. It features a duo-chrome finish that like any other shifting product is best paired with a primer. When worn over a base it's extremely long-lasting, we're talking upwards of 10+ hours. It's rich, dense and true colour stays put without fading, creasing or budging. It retails for $24 in 18 shades (Golden Fudge) shown below.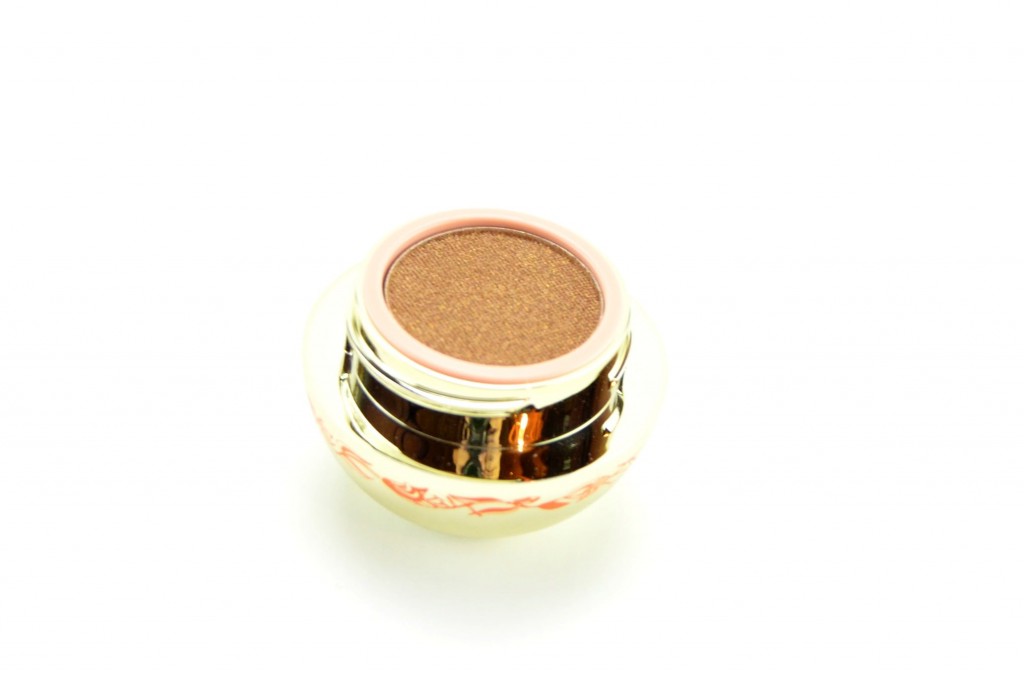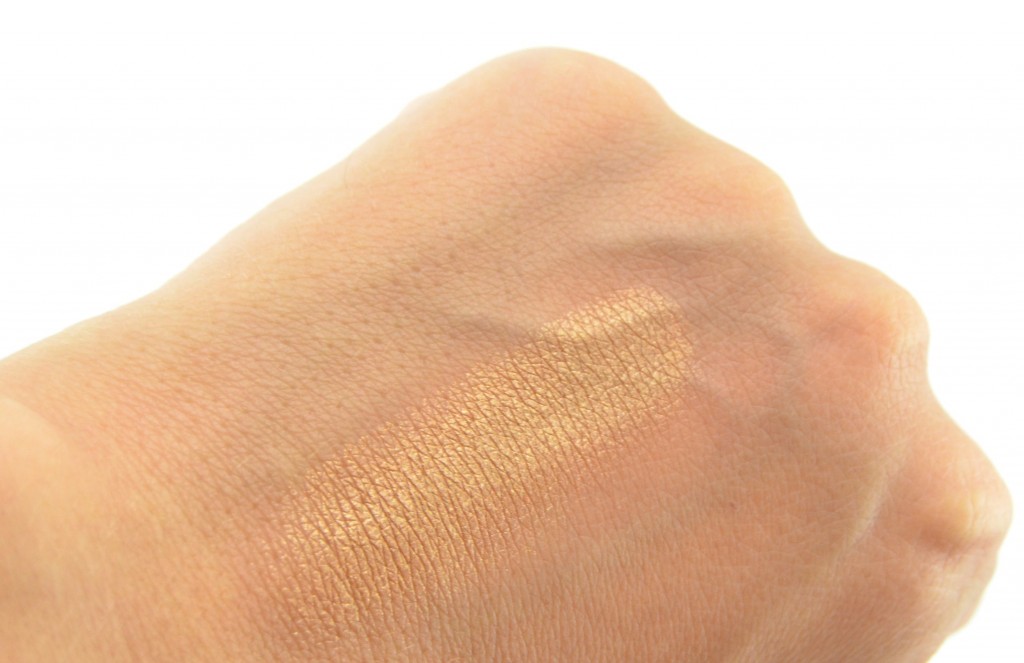 Teeez Cosmetics Soft as Sin Cream Blush is a cream blush that features vitamin E to give it a nourishing and skin loving formula. Its unique consistency can be applied with both your fingertips and brush depending on your look and mood. Its buildable texture can be applied sheer for a more natural sheen effect, but can easily be built up if you want to inject more colour to your cheeks.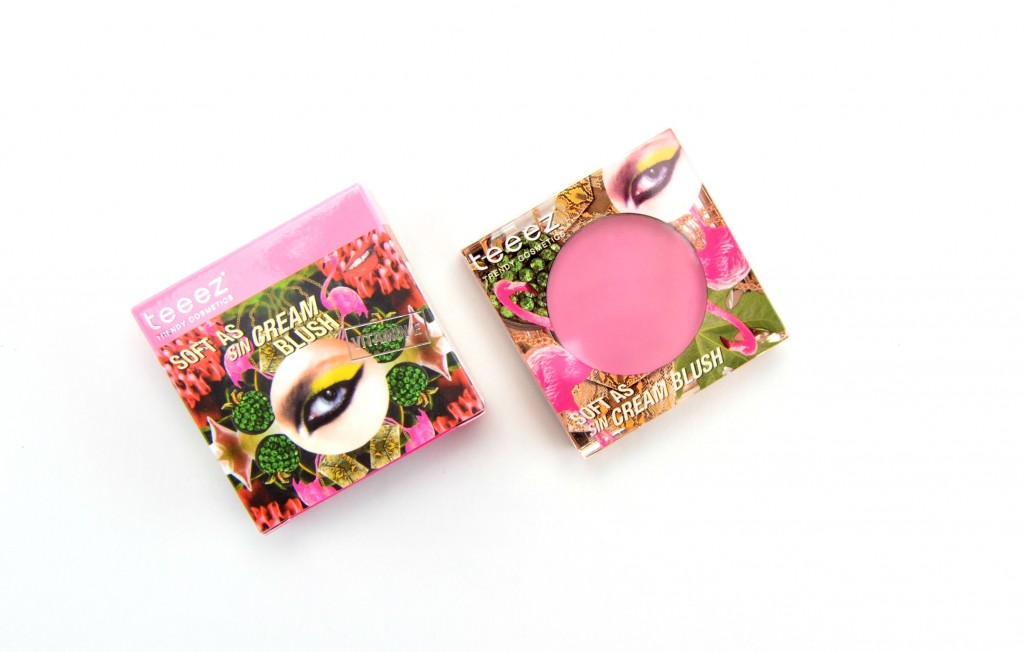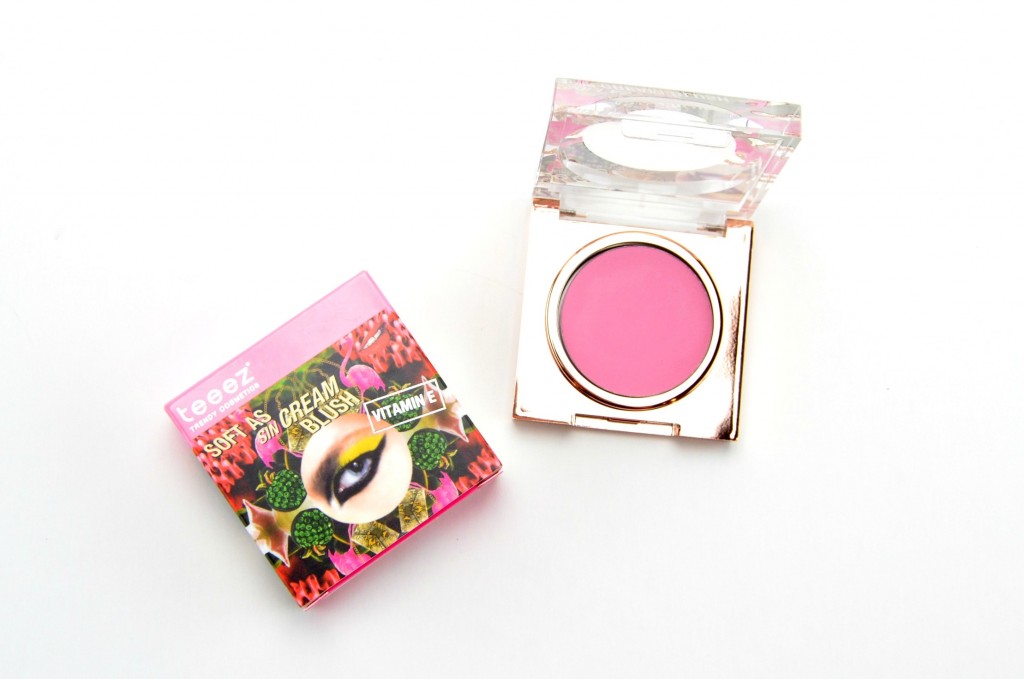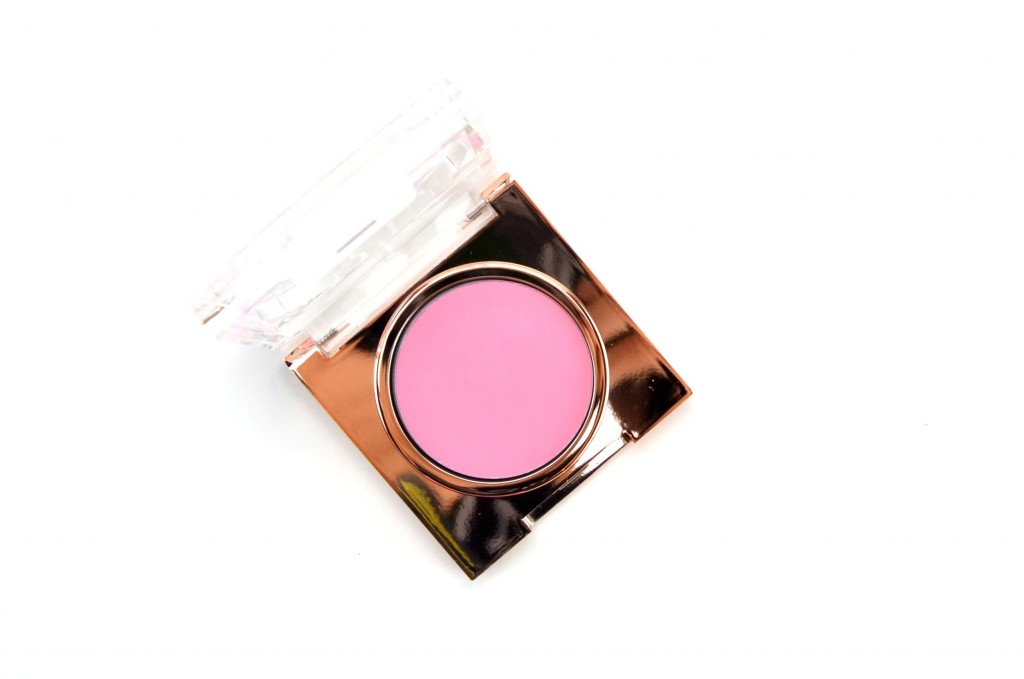 Teeez Cosmetics Soft as Sin Cream Blush also comes in an adorable package, designed with cute flamingos all over it. It features a cream to powder texture with a velvety finish that feels super soft and amazing on the skin. It effortlessly melts into the skin for a natural finish and a second skin effect. When first applied to the cheeks, it feels like a traditional cream blush, but after about 30 seconds it turns into a powder like finish. It's highly pigmented, opaque and applies evenly and smoothly to the skin. It's extremely buildable for more intense pops of colour, but you can just as easily apply less for a softer, sheerer, more natural look. It's easy to work with, blends beautifully into the skin and lasts a solid 12 hours without fading. Added bonus, it's completely weightless. I love that I can wear it over or under powder for a flawless, luminous, radiant, healthy glow. It retails for $27 in 4 shades (Flirty Pink) shown below.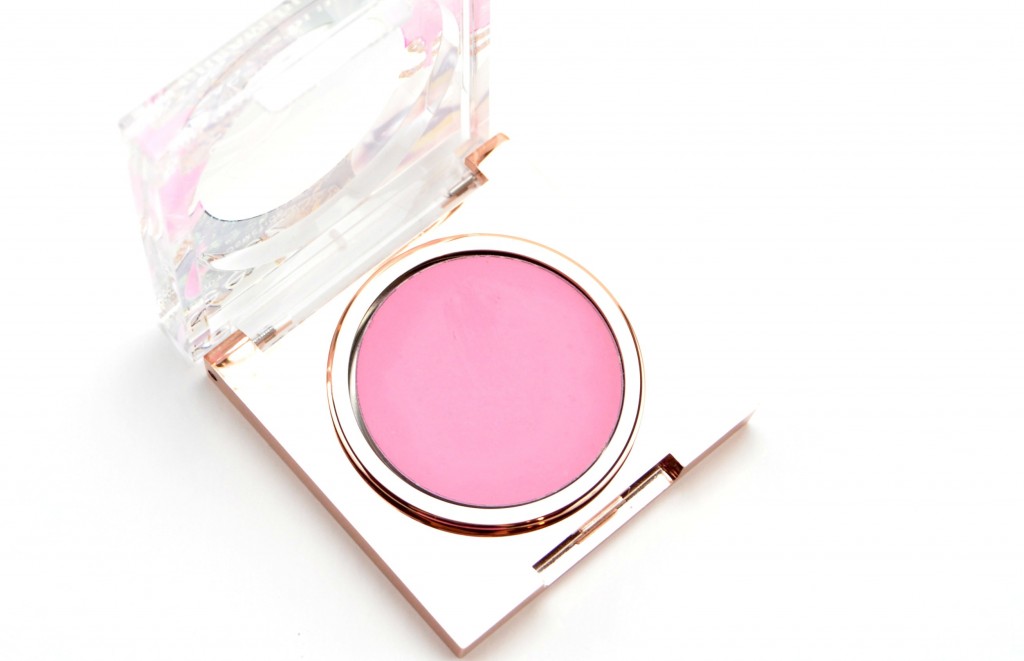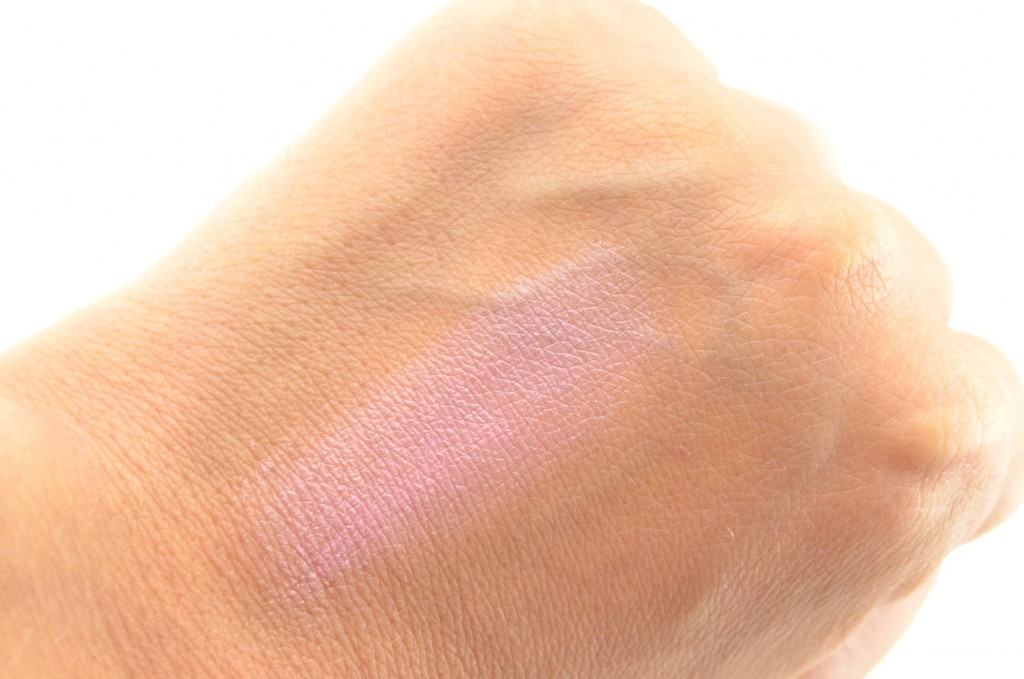 Teeez Cosmetics Desert Lush Sheer Lipstick is the perfect lippie for summer as it features SPF 10. Not only does it protect your skin from the harmful effects of the sun, it provides a semi-transparent pop of colour to your lips. It features a nourishing and hydrating formula and thanks to its subtle water gloss finish, lips are left looking extremely healthy and juicy.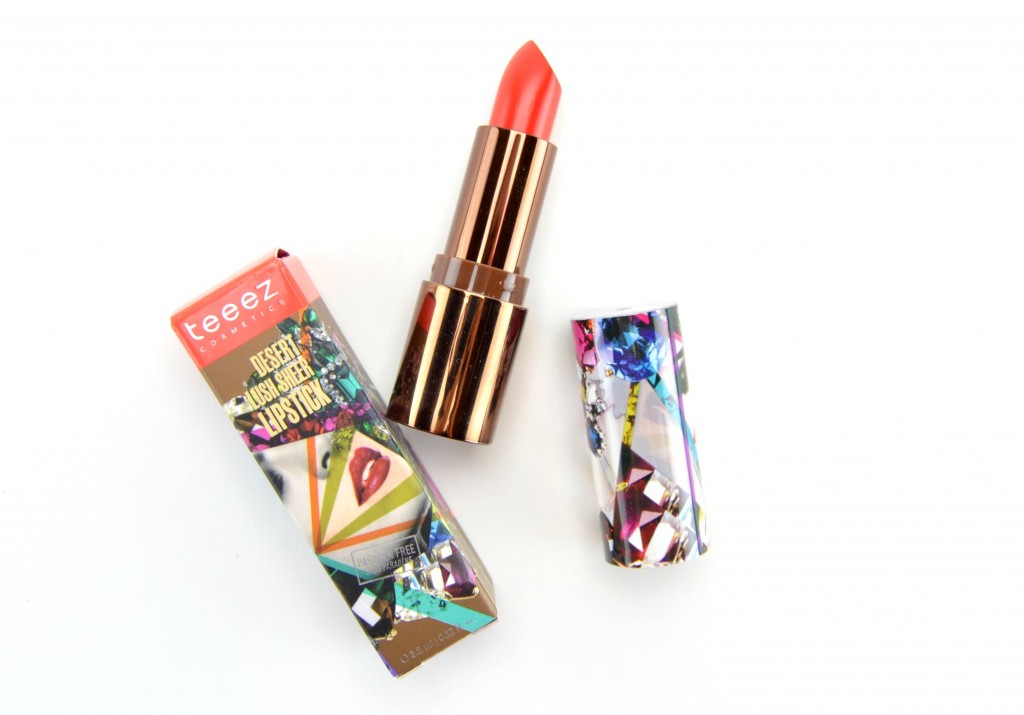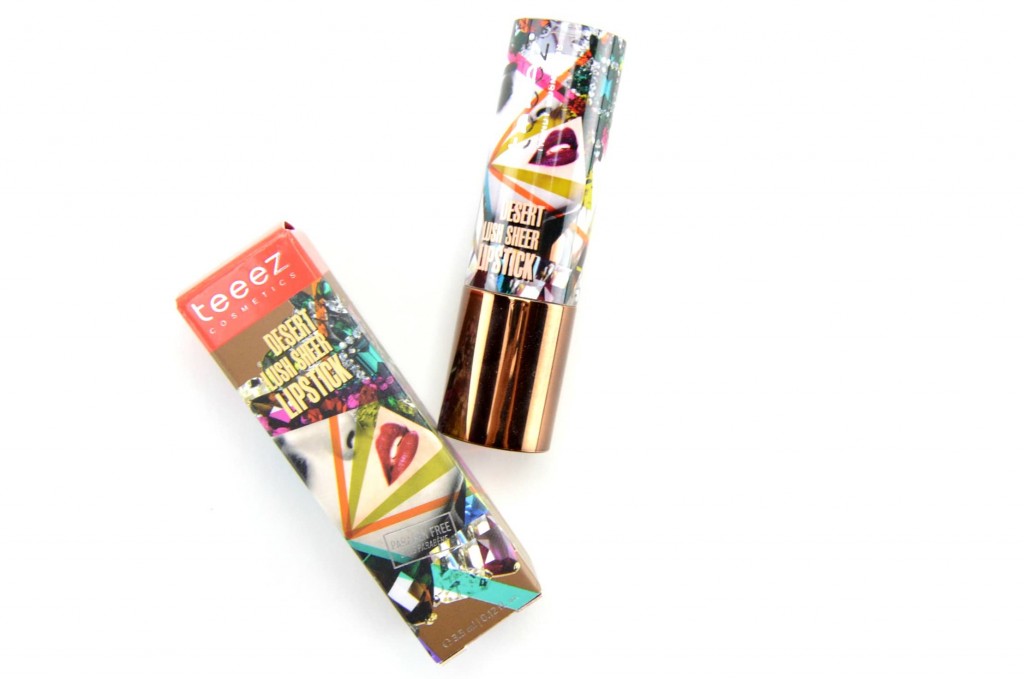 Again with the packaging, but how cool is this clear yet beautifully designed Teeez Cosmetics Desert Lush Sheer Lipstick tube? This lipstick provides colour, moisture and shine, does it get any better than that? Although the formula is quite sheer, it still manages to give an intense punch of colour to your lips in a single swipe. It's rich, silky-smooth texture glides over the lips with ease and provides a semi-sheer finish. It's extremely comfortable to wear the entire day and lasts for a few hours before wanting to reapply. Its smooth formula helps to keep lips moisturized, without clinging to dry areas, or feathering or bleeding outside the lines. Its buttery formula adds the perfect pop of colour to the lips while keeping them extremely hydrated. It drenches your lips in a layer of luminous shine that's wearable both day and night. It retails for $24 in 12 shades (Ruby Red) shown below.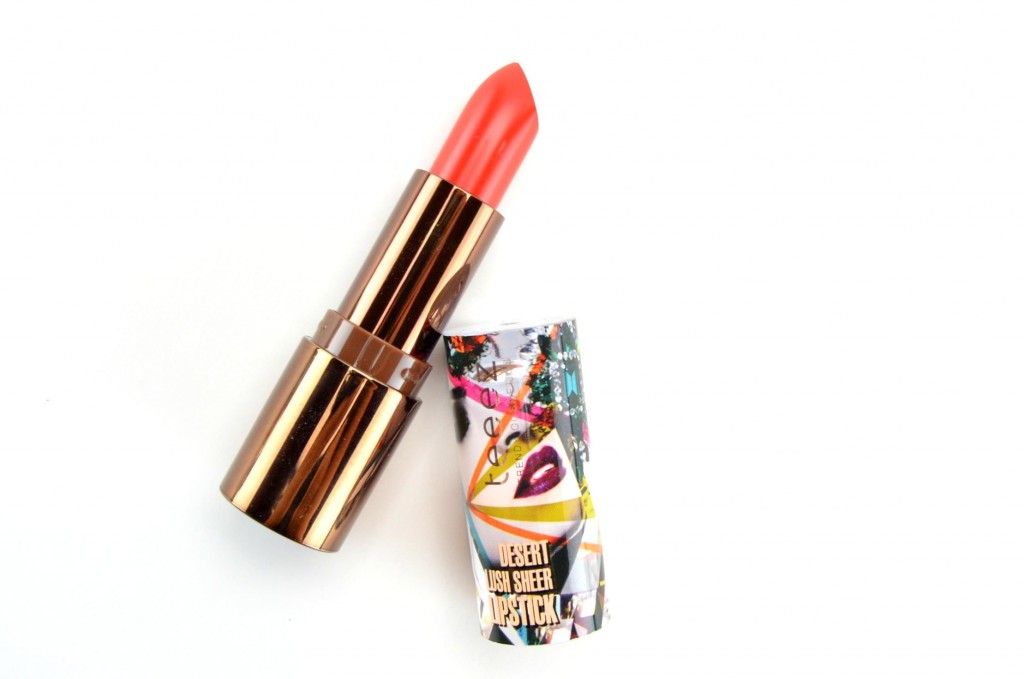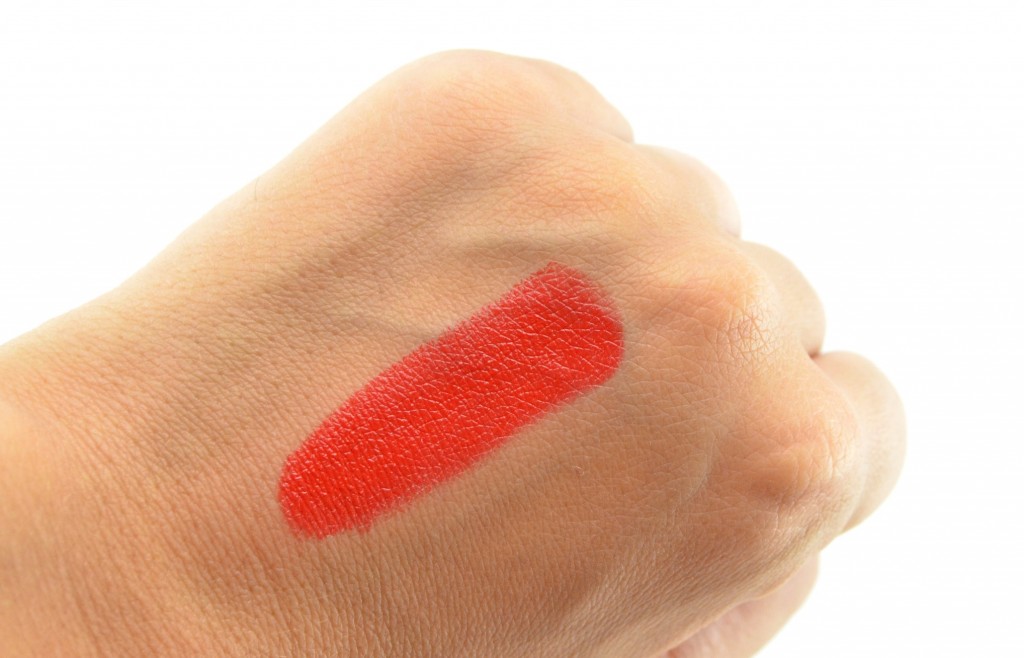 Creating the salon at-home manicure is easy when you start with Teeez Cosmetics Head Over Heels Base Coat Nail Lacquer ($15) paired with and one of Teeez Cosmetics Scandalous Nail Lacquer ($15) and then topped with Teeez Cosmetics Head Over Heels Top Coat Nail Lacquer ($15). This 3 piece system promises to provide up to 5 day wears with full-on shine. All of Teeez Cosmetics Scandalous Nail Lacquers feature a quick drying, long-lasting, and precious pearl finish. In a single coat you'll instantly achieve full pigmented, truly opaque coverage that stays put for up to 5 days without chipping. Although it promises high shine, I find Candy Apple to run a little flat (or maybe it's just the shade I'm not sold on)? Either way, if you have the time to apply all 3 coats, you can easily get almost a week's worth of wear before fading or chipping. It comes in 6 fashion shades and retails for $15.