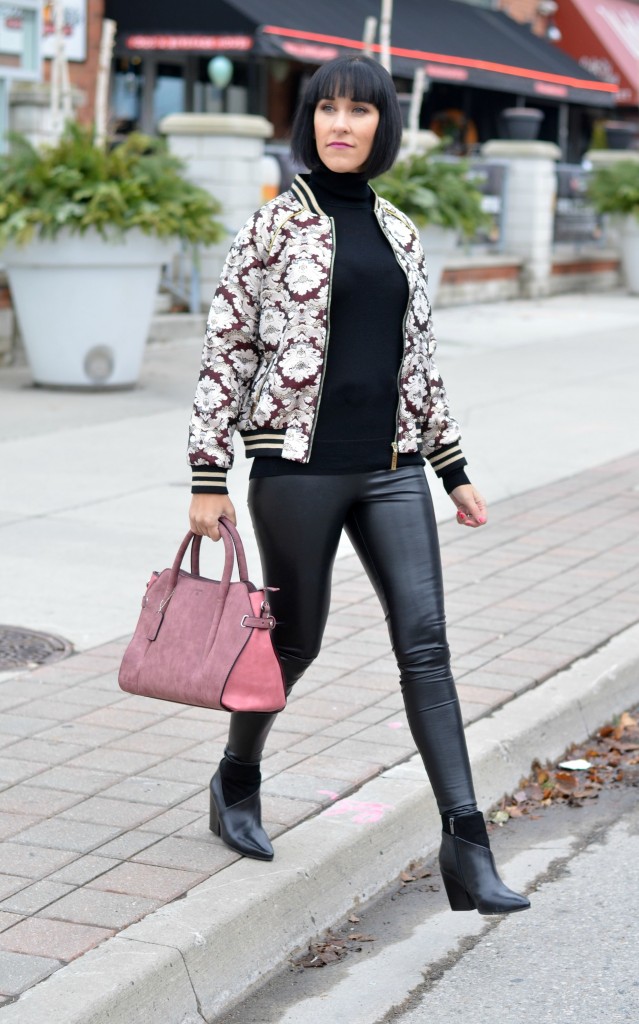 Wilfred Free Daria Pants
I'm totally obsessed with these Wilfred Free Daria Pants from Aritzia. I was eyeballing them last year, but thought… is it worth the money? I'm not one to usually wear leggings, so dropping a $150 on a pair seemed like a lot. Then when I was offered the opportunity to work with First Canadian Place on a fun photoshoot, I knew these would be perfect. The thing I love about them the most, besides the fact they are made from incredibly stretchy vegan leather material, is that it contours to my unique body shape without bagging out. I don't say it often, but these are honestly an excellent investment and one of my favourite purchases all year.  
Frist things first. Cover it up. Leggings are not meant to be worn as pants. That's the biggest mishap I see when girls are styling their fave leggings. Leggings are truly meant to be worn with something you cover up a little of your booty. Since these are already incredibly sexy on their own, no need to bare it all. It doesn't have to cover your entire behind, but a slightly longer top, shirt, blouse or jacket will do the trick.
Of course, faux leather leggings are such a versatile piece and will go with pretty much everything in your wardrobe, but looking for a safer option… stick to neutrals. Your classic whites, ivory, blacks and greys will complement them perfectly. Black goes with everything and instantly creates a timeless, chic and classic look. If you are looking to add a little colour, think pastels, even in the dead of summer. You could also have fun with textures and patterns, like this bomber jacket.
Another thing to keep in mind, the cut and shape. A high waisted pair of pants, like these leggings, will give the appearance and illusion of longer, leaner, slimmer legs. For a causal look, you can combine them with your oversize, chunky sweaters and a pair of short booties. For a more elegant and evening look, try a button-down blouse and over-the-knee boots. The possibilities are endless.
What I Wore- Turtleneck- The Gap, Bomber Jacket- LM Lulu, Vegan Leather Leggings, Wilfred Free Daria Pants from Aritzia, Purse- c/o Pinkstix, Booties- Vince Camuto