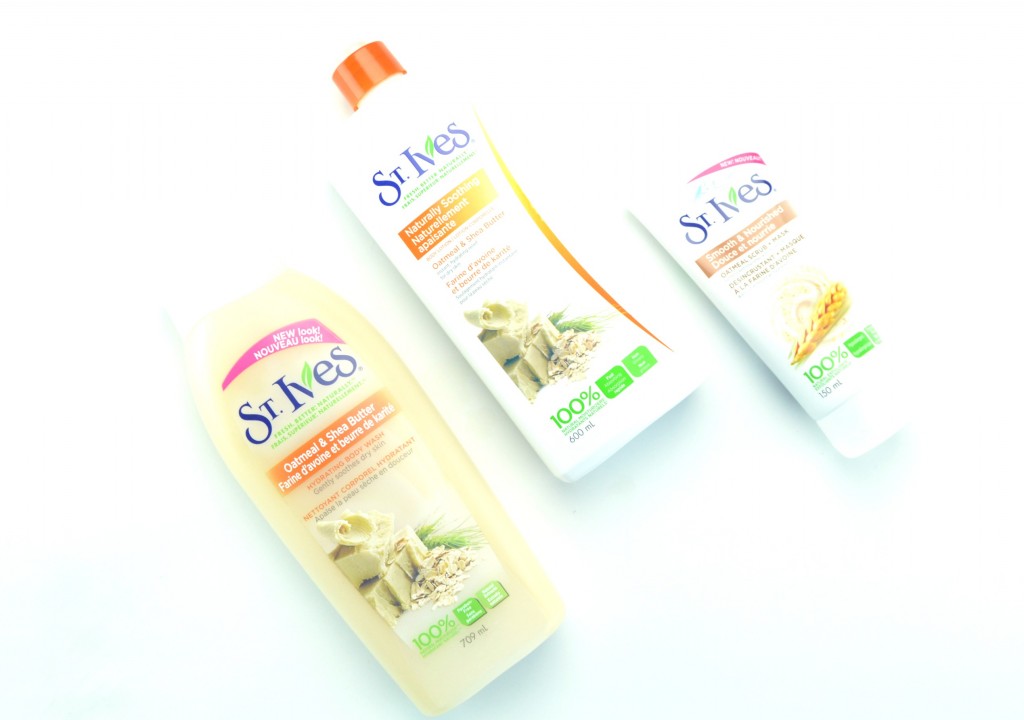 3 must have skin care products
Hydrate with St. Ives this season. We all know the health benefits of incorporating oatmeal into our regular diet, but did you know it's equally beneficial for our skin. It's excellent for addressing dry skin symptoms such as itchiness, rashes, scales and peeling. It's a natural exfoliant that gently removes unwanted dead skin, while replenishing skin's moisture barrier.
St. Ives Oatmeal Shea Body Wash is a rich and creamy, soothing and hydrating body wash that contains oatmeal and conditioning shea butter to help create a gentle lather for clean, soft and moisturized skin.
I found St. Ives Oatmeal Shea Body Wash to be an extremely gentle body wash that does an excellent job at cleansing my skin without stripping it of its natural oils. It lathers up fairly nicely, especially on a body puff or luffa, and rinses clean away. No greasy, sticky or oily residue left behind. I wouldn't say it's a highly moisturizing body wash, but it doesn't leave the skin feeling tight or dry either. It's the perfect balance between a gentle body wash and light moisturizer. It gives the skin just the right amount of hydration and leaves it ready for my daily moisturizer. It's perfect for my dry, irritated and sensitive skin, as it's not heavily scented. Hard to put my finger on the scent, as oatmeal and shea butter doesn't necessarily have a smell. It does have a subtle refreshing fragrance that lingers on my skin for a few short minutes. It retails for $6.99 for 709ml.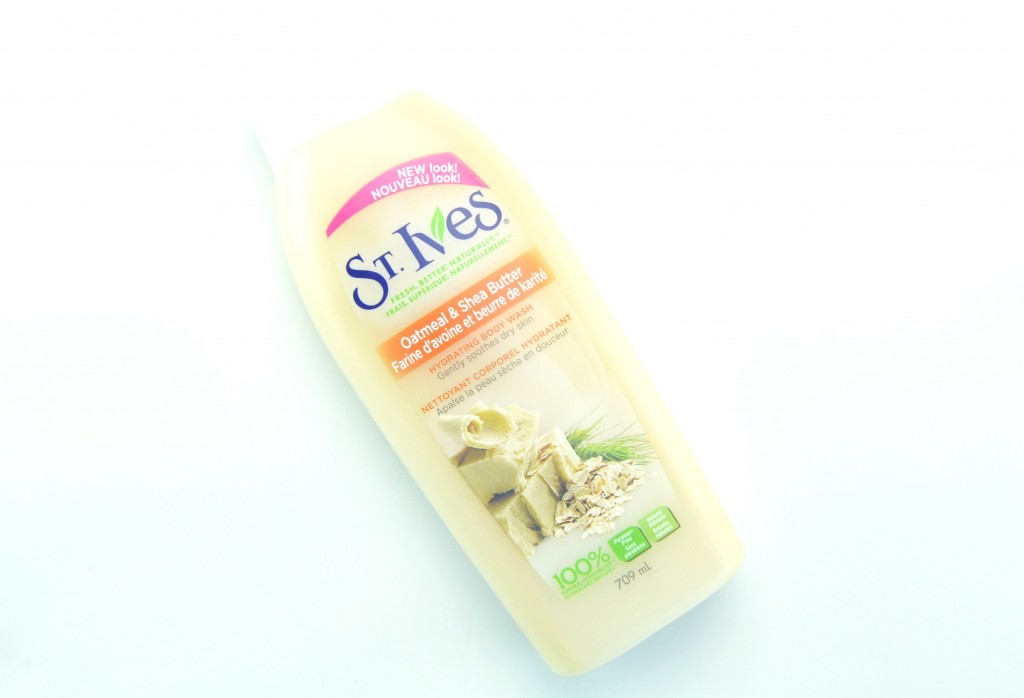 St. Ives Naturally Soothing Oatmeal & Shea Body Lotion is the perfect partner to the St. Ives Oatmeal Shea Body Wash. When combined together you'll instantly achieve soft, smooth and healthy looking skin that your body so desperately deserves. It's also formulated with oatmeal and naturally rich shea butter to help soothe, hydrate and relieve dry, itchy skin. It helps to restore your skin's natural moisturize barrier for a highly nourished, healthy and calm skin.
St. Ives Naturally Soothing Oatmeal & Shea Butter Body Lotion has been a lifesaver this winter. My skin has been extremely dry and this body lotion has done an excellent job at keeping it fairly moisturized. Even though it has a lightweight, creamy texture, it instantly absorbs into the skin and seems to penetrate deep down for all day hydration. It dries fairly quickly, I can get dressed within a few minutes and not have to worry about it being greasy, oily or transferring onto my clothes. It has the same light scent as the body wash, that's fresh and clean, but doesn't interfere with my daily perfume. If you're looking for an inexpensive way to hydrate and nourish the skin, while being gentle and almost fragrance-free, this lotion is for you. It retails for $7.99 for 600ml.

It's no wonder St. Ives is America's number one scrub brand, this St. Ives Nourished and Smooth Oatmeal Scrub + Mask is pretty amazing. It features a dual purpose formula that combines oatmeal extract, known for its hydrating benefits, along with 100% natural exfoliants to gently scrub away dead skin. It can either be used as a treatment mask to help nourish dry, itchy, irritated skin, or as a scrub to gently sloth off dead skin cells and smooth away fullness for a soft, radiant, even complexion.
St. Ives Nourished and Smooth Oatmeal Scrub + Mask has a lightweight, creamy texture that's not too thick, nor too runny and contains tiny brown exfoliating particles throughout. It has a medium consistency that's gentle and mild enough for daily use. It gently scrubs away dead skin without being too harsh or abrasive. When using as a mask, leave on for 5 to 10 minutes. It dries fairly quickly, without feeling tight or dry and washes clean away. It has the sweet scent of cocoa butter. It adds a burst of freshness to my dry, tired, dull skin and adds a visible glow after the first use. It instantly removes dry patches and flakes, which in return, makes my makeup application process a lot easier. It also helps to draw out skin impurities from the skin surface without causing irritation, leaving behind a soft and silky skin. Again, not the most moisturizing scrub, but it doesn't leave the skin feeling parched or dehydrated. I did, however, have to apply a moisturizer afterwards, which I would do anyways. It retails for $5.99 for 150ml.