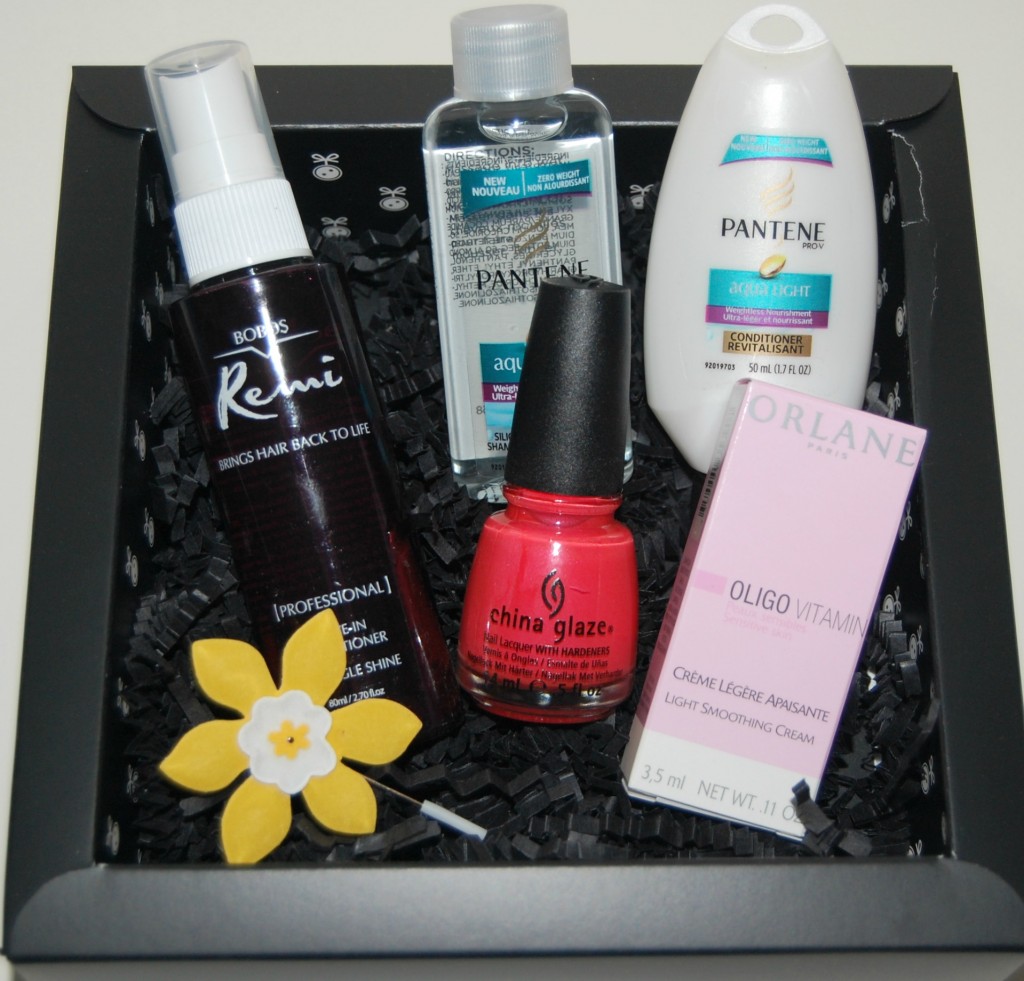 Again great job Loose Button on this month's Luxe Box, really happy with it. It was like it was meant for me, from the pink nail polish to the yellow daffodil flower in supporting cancer research! Perfect!
First up we will have to start with the China Glaze Nail Polish in Flirty Tankini. It's a pink/ coral mix and it's perfect. I put it on right away and could not believe how fast it dries. This was my first time using China Glaze, and I'm hooked. This might be my new go to nail polish over OPI???
It's the full size that retails for $8
Next up Orlane Oligo Light Smoothing Cream. Never heard of this before, but I'm happy it does not have a harsh smell like most skin creams. It claims to soothe, soften and hydrate the skin and infuses it with the strength to defend itself against daily external aggression.
My sample size is 3.5ml & the full size bottle is $80 for 50ml, putting a value at mine at $5.6 (wow that seems like a lot for such a small little bottle)- maybe 3 uses, max!
Third up is Bobos Remi Leave in Conditioner. Wow it smells amazing! It's made with macadamia oil, panthenol and jojoba oil that penetrates deep into the hair shaft… sounds good to me!
My same size is 2.7oz & the full size bottle is $10 for 10oz, putting a value at mine at $2.70 
Last up, and my least favourite (as I'm not too sure how Luxe it really is) is Pantene Pro-V Aqua Light Shampoo & Conditioner. I'm not a fan of drug store brands, as I find they do nothing for colour treated hair, I never really like the smell, they always leave my hair feeling greasy after only a few hours, the list can go on. I will probably just give this to my husband- hehe.
My sample size for the shampoo is 50ml & full size bottle is $6 for 375ml, putting a value at mine at $0.80
Sample size for the conditioner is also 50ml & full size bottle is $6 for 375ml, again putting a value at mine at $0.80 
As a bonus everyone also got a Yellow Daffodil Flower pin to show our support for all the amazing, strong, brave people living & fighting with cancer!
Total value on my box this month is $18