Marc Jacobs Beauty introduces air blush soft glow duo that's dancefloor ready, foolproof, is light as air and provides a late night radiance to the skin. Marc Jacobs Beauty Air Blush Soft Glow Duo is an innovated powder that features 2 shades, done in a unique striped pattern that was inspired by the Marc Jacobs dress and allows you to totally customize the colours you want and need. It's infused with Japanese air powder that not only gives it an ultra-lightweight texture that is nearly undetectable to the touch, but provides the skin with a sexy, oh-so natural radiant glow. It comes in 5 shades, each of which consists of 2 complimentary blush shades within. There are slightly wider blocks of colour at the opposite ends leading into alternating thin strips of colour in the middle. This allows you to pick up each shade on its own or swirl them all together to create a softer, natural look.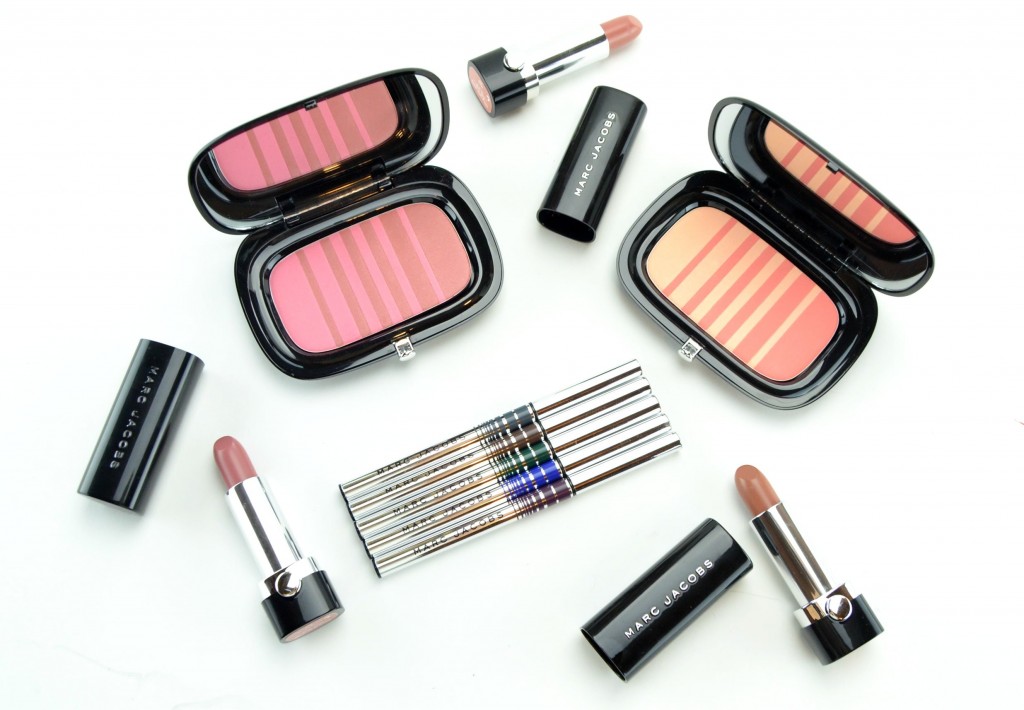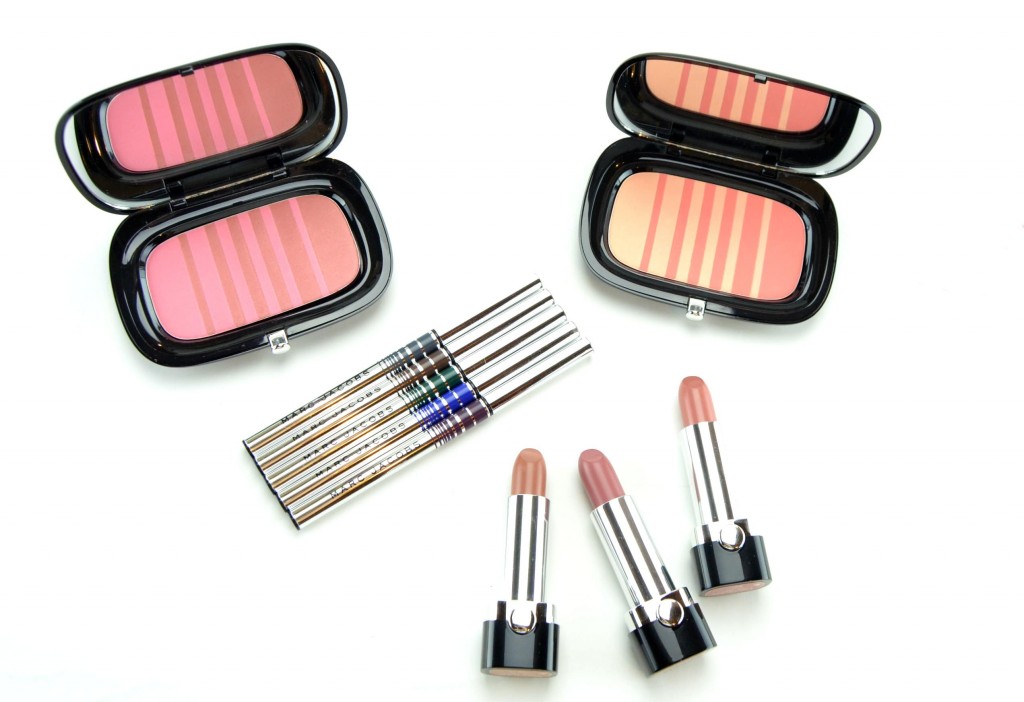 Marc Jacobs Beauty Air Blush Soft Glow Duo comes in a sleek, shiny black, palm-size compact that was inspired by a vintage cigarette case. Its air-whipped, silky-soft, cream-like texture blends effortlessly into the skin for a seamless complexion. It's incredibly finely milled formula glides onto the skin and almost melts into the skin upon application. It's innovated two colour strip allows each shade to band to extend beyond the surface, for even stronger colour with each brushstroke. They do tend to kick up a bit of powder when you first dip your brush into the palette, so I suggest using an extremely large, slightly oversize, soft brush to help control the colour for a more natural look.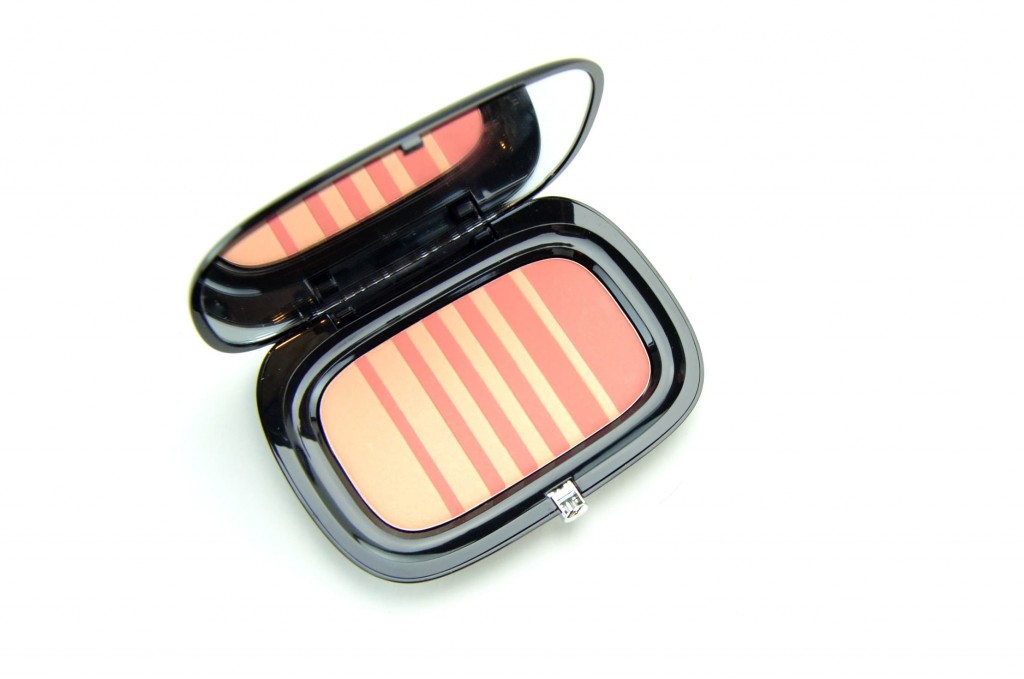 I love that I can use the lighter shade found in the Marc Jacobs Beauty Air Blush Soft Glow Duo to highlight with and then go in with the slightly deeper, darker shade to contour. I can easily customize my look by swirling the colours together or layer over top of one another to tailor my look depending on the time of day and/or occasion. I can effortlessly layer the shade, thanks to its buildable formula, yet is still easy to blend out. It's incredibly pigmented, so just be sure to go light handed, otherwise you can end up with too much product on your cheeks. The colour lasts throughout the day, allowing me to create 15+ hours of glowing radiance. These are extremely versatile blushes than can easily take you from day to night, season to season. It retails for $57 in shades 500 Lush & Libido, a cool baby pink and cool hot pink, 502 Lines & Last Night, a soft creamsicle and deep tangerine, 504 Kink & Kisses, a soft light coral and a bright peach/coral pinky rose, 506 Flesh & Fantasy, a soft ivory shimmer and a light bronze and 508 Night Fever & Hot Stuff, a cherry red and a bright warm deep plum.

Marc Jacobs Beauty Air Blush Soft Glow Duo in 502 Lines & Last Night and 508 Night Fever & Hot Stuff

Marc Jacobs Beauty Fineliner Ultra-Skinny Gel Eye Crayon Eyeliner is an ultra-skinny eyeliner that provides the same glide and colour payoff as the brands famous Highliner Gel Eye Crayon, only in a thinner, ultra-fine 2mm tip design. It helps to provide wide eye definition by giving the illusion of more voluminous lashes.

Marc Jacobs Fineliner Ultra-Skinny Gel Eye Crayon Eyeliner comes in a sleek, reflective silver design with built-in sharpener and features a gel, crayon formula. Its unique gel transformative, waterproof formula glides on smoothly for a completely flawless finish. Its precise small tip allows you to create the thinnest line possible and once set, it stays in place the entire day.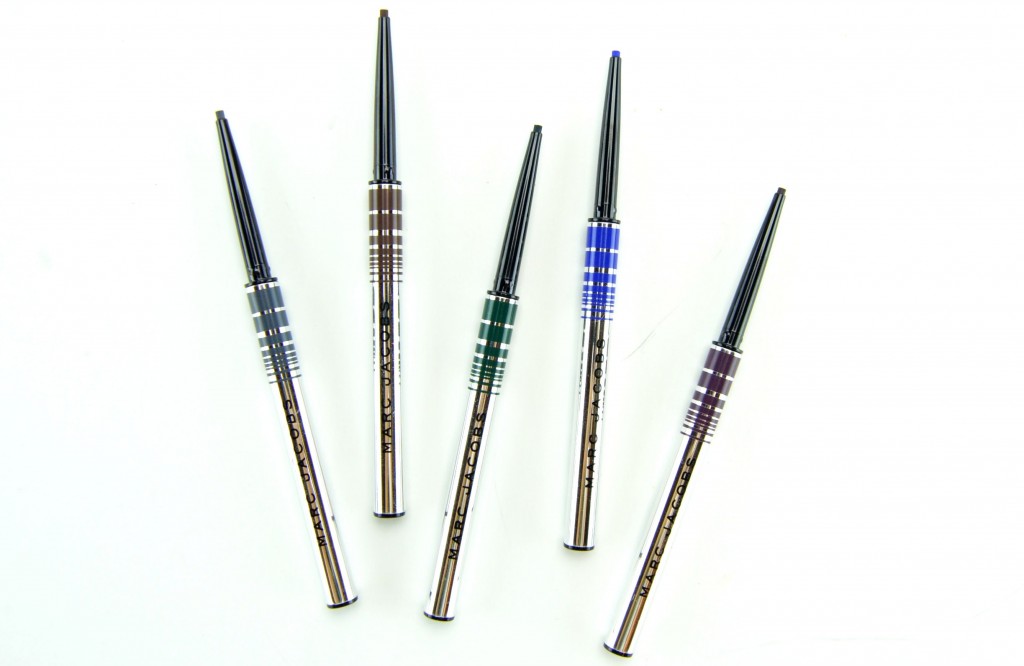 I love that it always stays sharpened, the extremely precise tip, the buttery formula and the effortless application process. It has the same incredibly soft and smooth formula, as the Gel Eye, but with almost an even more gel-like consistency, yet in the format of a crayon. It couldn't be easier to use. I never have to press too hard to see true opaque colour, nor does it tug or pull on my delicate lash line. It's intensely pigmented, we're talking bold, rich and vivid colour payoff in a single swipe. Although it sets and dries fairly quickly, I still have enough time to smudge or blend out if I'm trying to achieve that perfect smokey eye. It stays in place for a solid 10+ hours without creasing or fading. It retails for $30 in 7 shades.

Marc Jacobs Beauty Fineliner Ultra-Skinny Gel Eye Crayon Eyeliner in (CINDER)ELLA, a deep smoky grey, (TRUFFLE)D, a golden brown, CODE BLUE, a cobalt blue, CO(VERT), a deep evergreen and BLACQUER(BERRY), a berry-violet.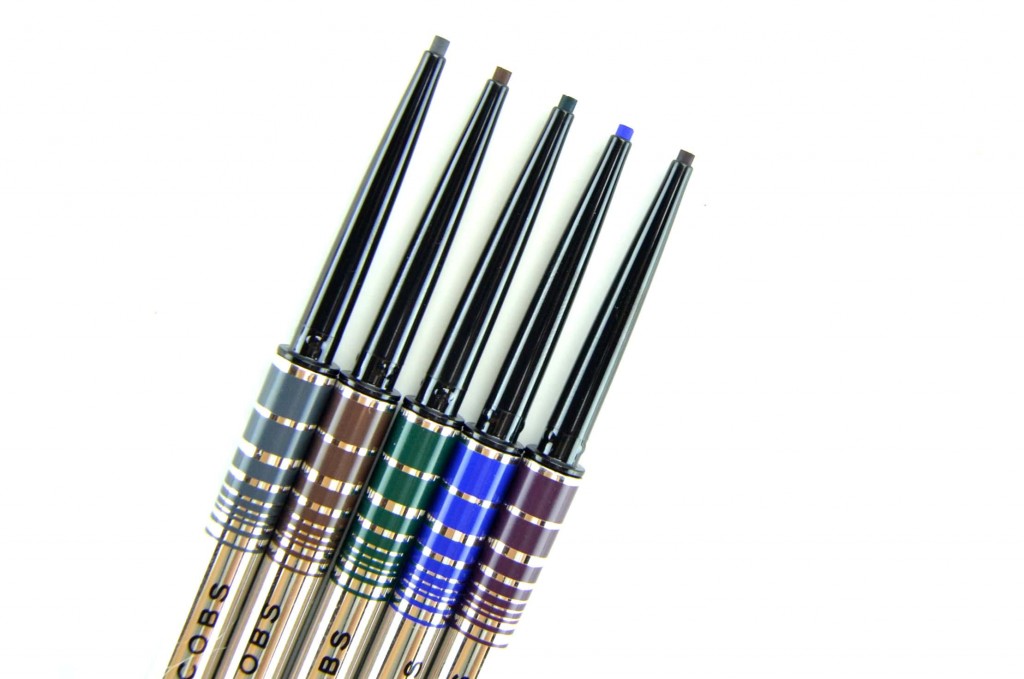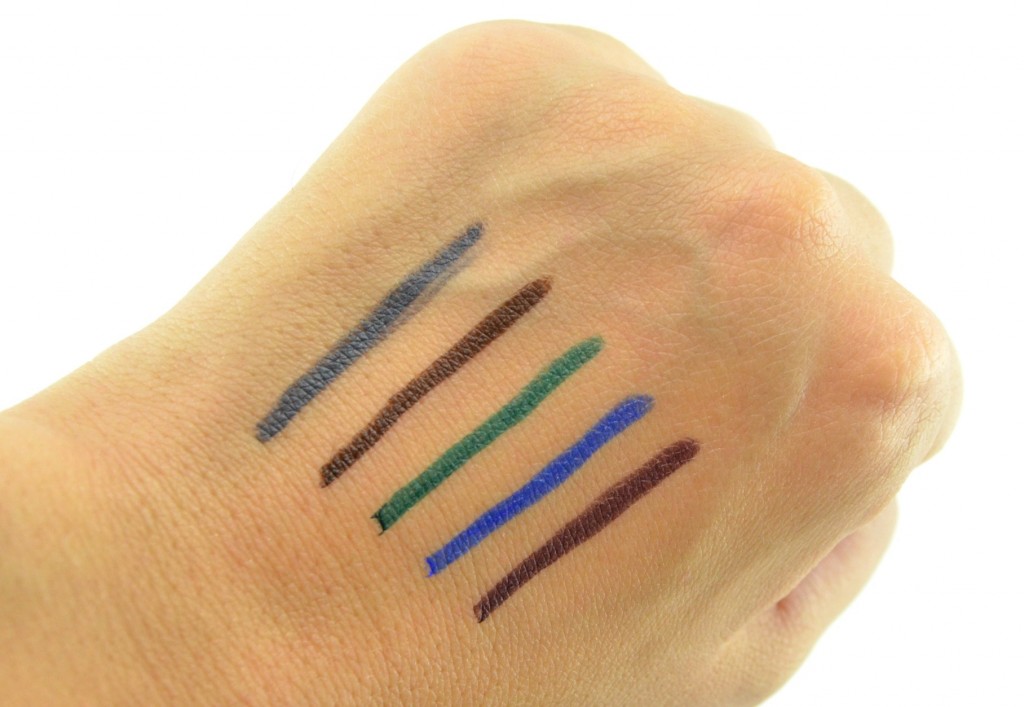 Although not new, I've been loving my Marc Jacobs Le Marc Lip Crème these past few weeks. Thanks to its proprietary peptide complex that helps to stimulate the collagen found in my lips and combines ultra-hydrating, Meranti and Cocoa Butters to provide firmer, smoother and more defined lips after each use, it's all I've been reaching for lately. Its triple-milled formula is not only enriched with hydrating ingredients to help keep my lips moisturized all day, it also packs vibrant pigments to provide true colour payoff in a single swipe. Its long-wearing formula ensures I don't have to re-apply my lipstick for upwards of 8+ hours.

Marc Jacobs Le Marc Lip Crème comes in a sleek and classic black lacquered tube with a magnetic clasp and Marc Jacobs embossed on the front. It has a rich, creamy and extremely buttery texture that glides onto the lips with ease, without pulling or tugging on the skin. It's lightweight, comfortable to wear and lasts throughout the day without feeling heavy, tight or dry. It provides a full coverage, opaque and true colour payoff in a single swipe. It gives a semi-matte finish with a slight sheen, that's not shiny whatsoever, but gives a natural look to the lips. It's fairly hydrating and leaves behind a slight tint as it starts to fade. It doesn't settle into fine lines, bleed outside the lip line or transfer. It stays put the entire day without smearing or budging and lasts for a solid 7 hours. It has a very subtle sweet floral scent that is un-noticed once applied to the lips. It retails for $38.

If you're looking for that perfect, every day, classic nude, here are a few of my favourites. Marc Jacobs Le Marc Lip Crème in No Angel 242, a lovely apricot nude, Slow Burn 246, a creamy rosy nude and the limited edition True, a classic 90's lippie.