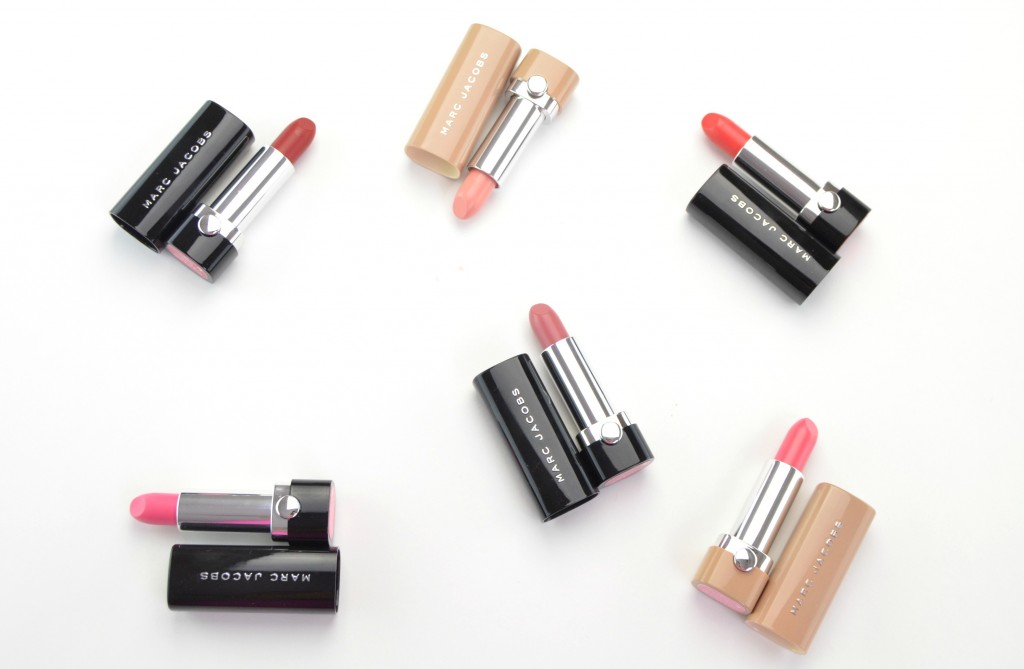 Lip Service
Marc Jacobs Beauty delivers the ultimate lip service this spring with luxurious new formulas in captivating new shades ranging from sheer nudes to deep colour-drenched pinks and reds with their new Le Marc Lip Crème and Nudes Sheer Lip Gel. Le Marc Lip Crème is a luxe, long-wearing lipstick saturated in vibrant pigments for a one swipe application. Nudes Sheer Lip Gel is the perfect nude for all skin tones with an irresistibly nourishing formula and a shiny, glossy finish.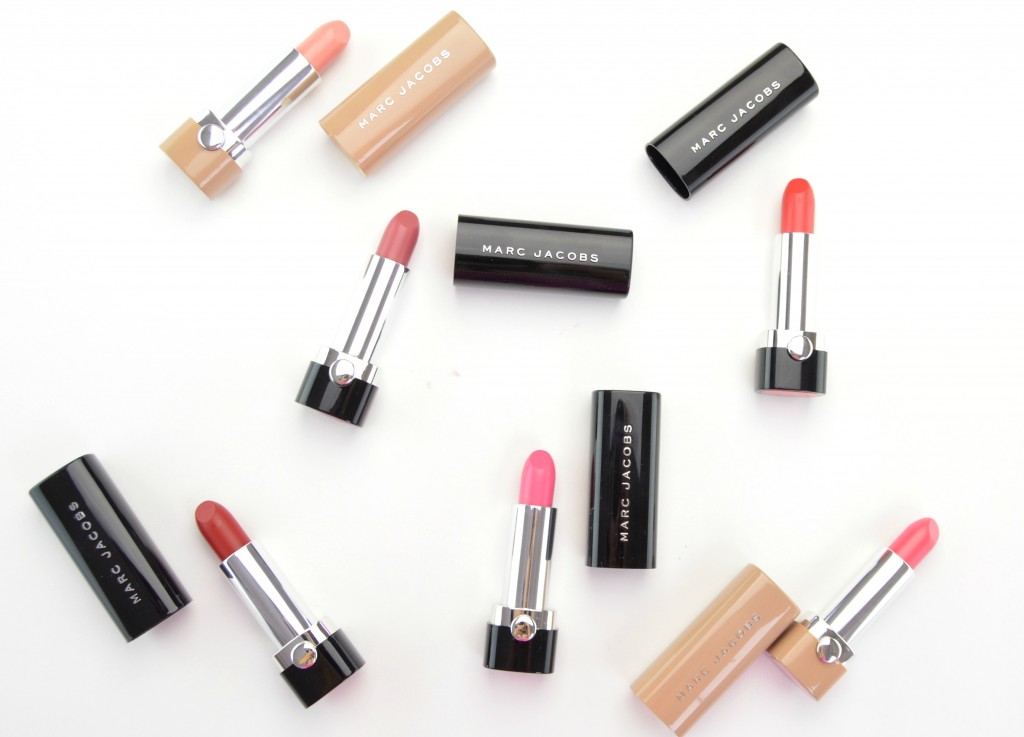 Marc Jacobs Le Marc Lip Crème features a proprietary peptide complex that stimulates collagen and combines ultra-hydrating, Meranti and Cocoa Butters to provide firmer, smoother and more defined lips after each use. Its colour boost, vibrant pigments are tripe-milled and enriched with hydrating ingredients, to not only keep lips moisturized, but provide a single swipe application with a long wearing formula that lasts up to 10 hours.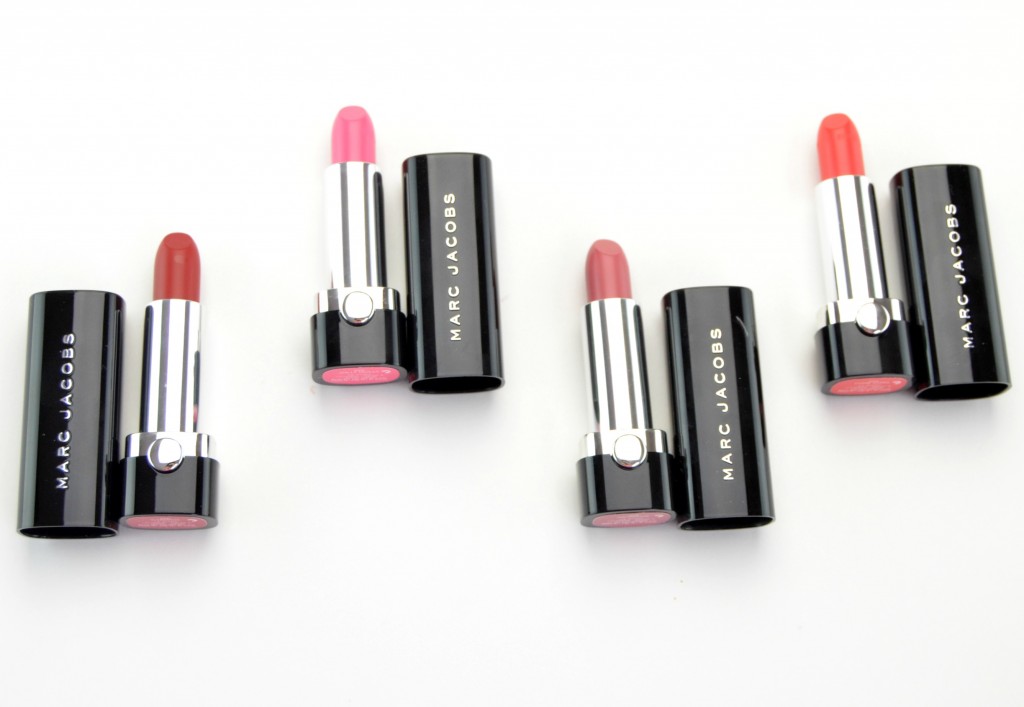 Marc Jacobs Le Marc Lip Crème comes in a sleek and classic black lacquered tube with a magnetic clasp and Marc Jacobs embossed on the front. It has a rich, creamy and extremely buttery texture that glides onto the lips with ease, without pulling or tugging on the skin. It's lightweight, comfortable to wear and lasts throughout the day without feeling heavy, tight or dry. It provides a full coverage, opaque and true colour payoff in a single swipe. It gives a semi-matte finish with a slight sheen, that's not shiny whatsoever, but gives a natural look to the lips. It's fairly hydrating and leaves behind a slight tint as it starts to fade. It doesn't settle into fine lines, bleed outside the lip line or transfer. It stays put the entire day without smearing or budging and lasts for a solid 7 hours. It has a very subtle sweet floral scent that is un-noticed once applied to the lips.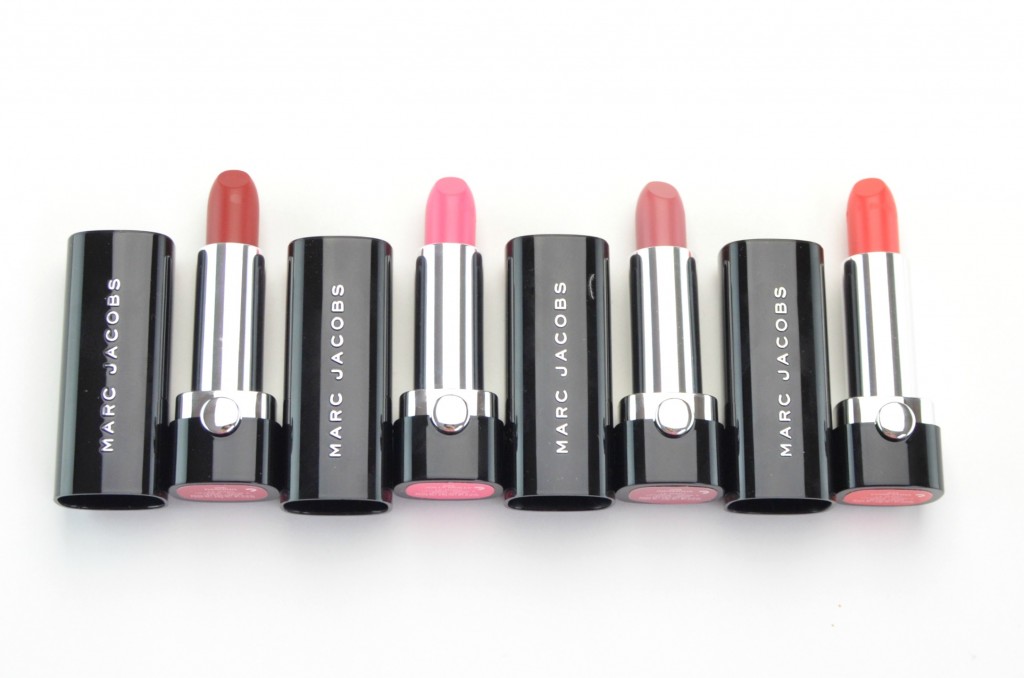 Marc Jacobs Le Marc Lip Crème Dashing is a pigmented rich red with slight brown/brick tones, Jolly Molly is a bright cool-toned pink cream, Infamous is a neutral medium rose pink with a hint of mauve and Core Cora is a vibrant hot coral.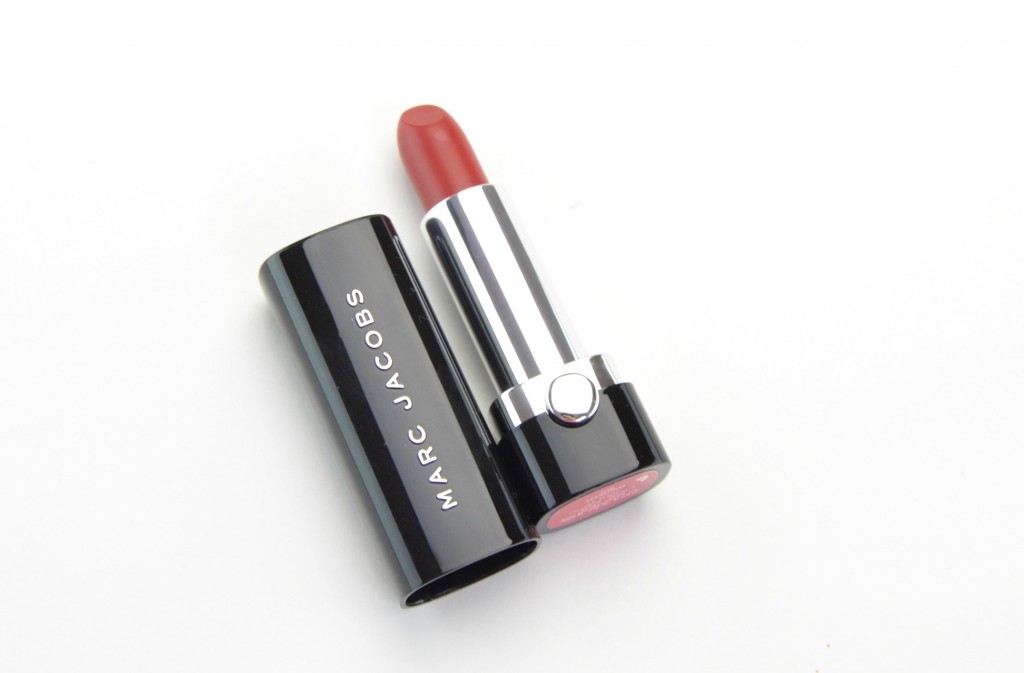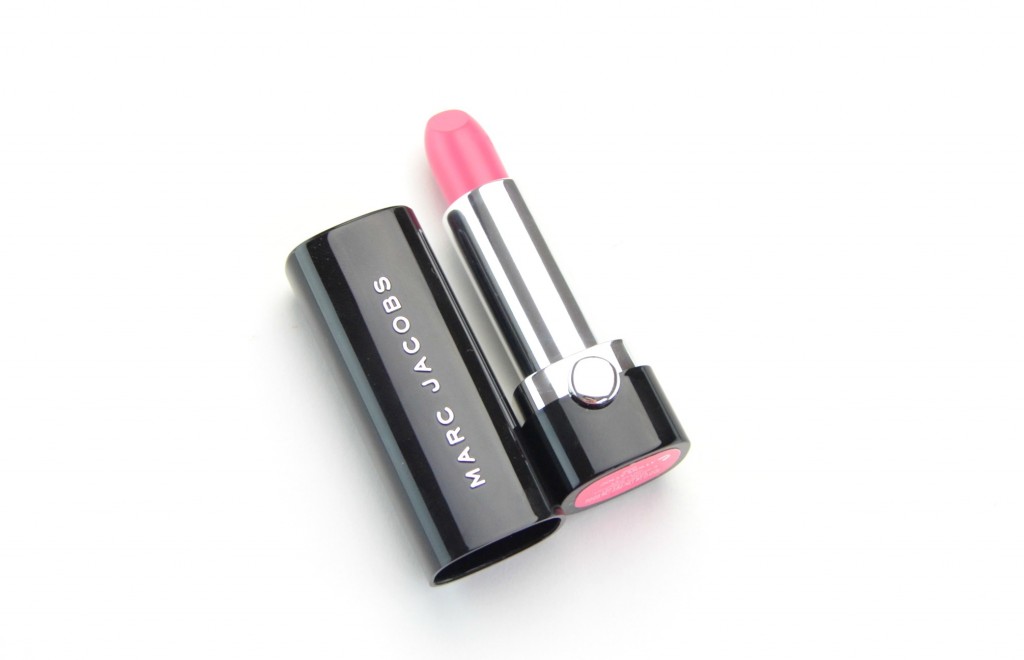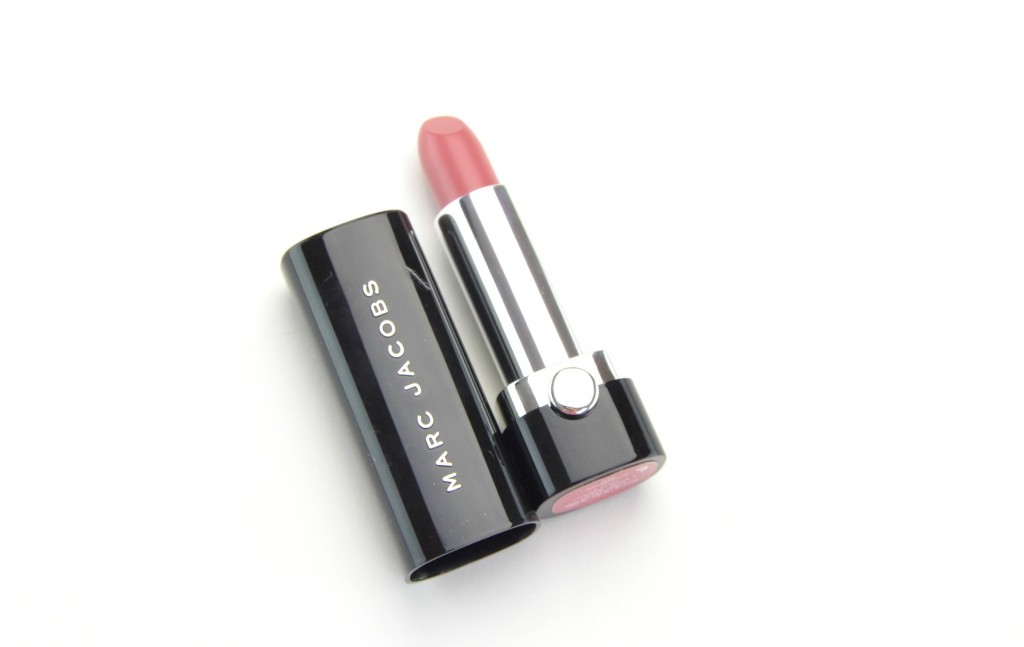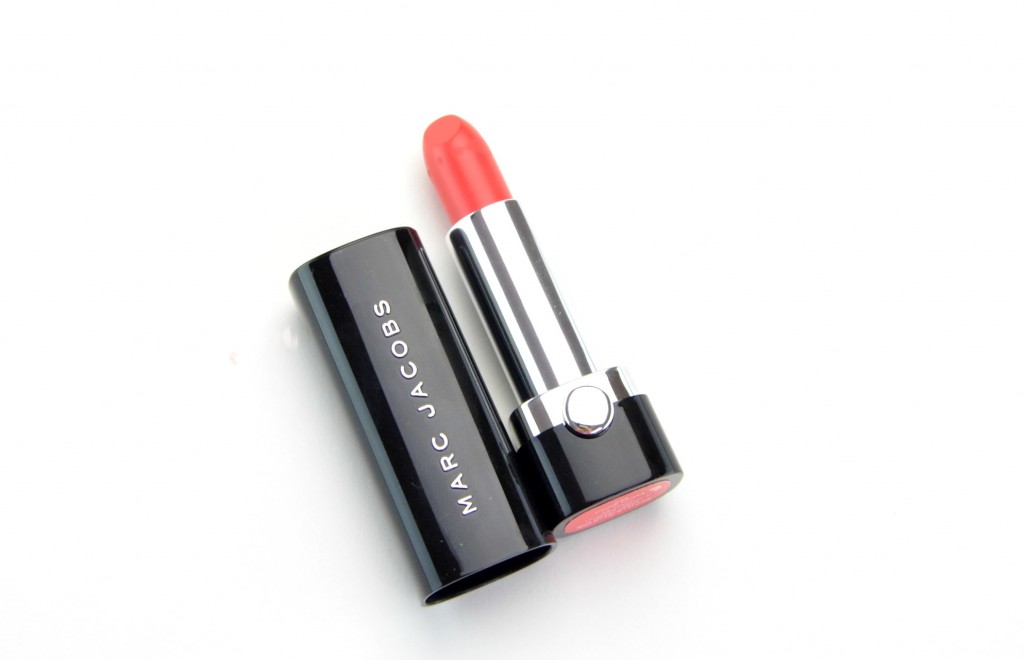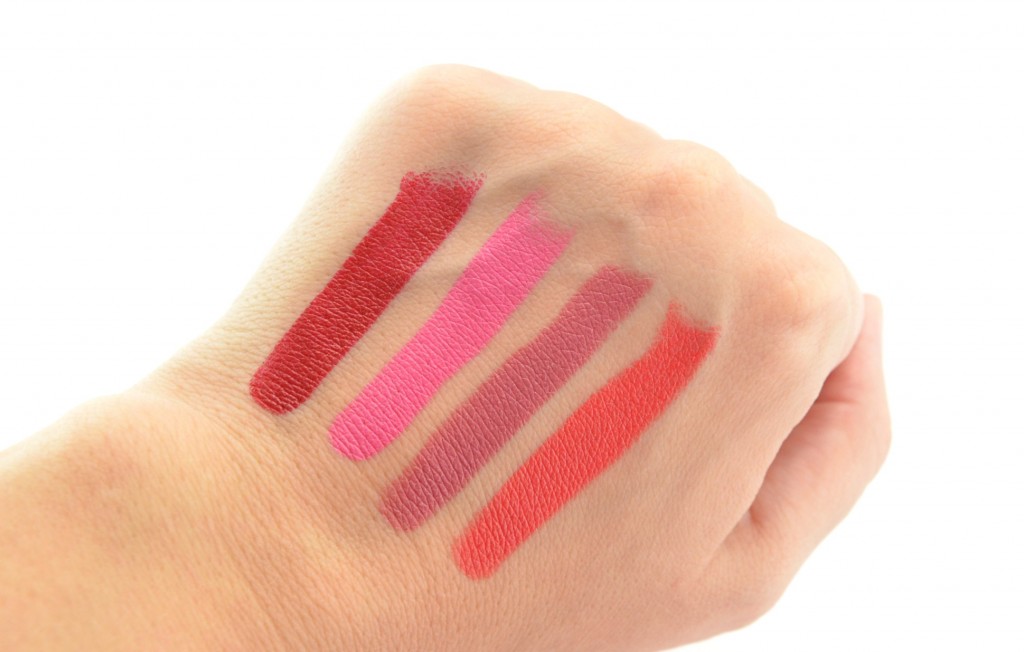 Marc Jacobs Le Marc Lip Crème is definitely a one-swipe lipstick thanks to its richly pigmented formula. I don't know about its claim to be 10 hours, but I had no problem getting a solid 6 to 7, even with constant eating and drinking. Immediately after applying, my lips instantly feel plump and nourished thanks to its powerful peptides and rich antioxidant. Although it has a semi-matte finish, it has almost a velvety finish with a slight sheen that keeps them from looking flat, like other matte lipsticks. I love how each shade gives depth to the lips without having any shimmer. The colour adheres extremely well to the lip, which prolongs the wear time, but can emphasize dry patches, like all mattes. If your lips are on the dry side, you're going to want to prep them with a balm before applying. If you love matte, long wearing, moisturizing lipsticks, you're going to love these. It comes in a variety of 20 irresistible shades, ranging from medium browns, neutral pink, hot pinks, basic nudes, vibrant oranges, rich plums and electrifying reds inspired by the men and women who've influenced Marc over the years and retails for $38 each.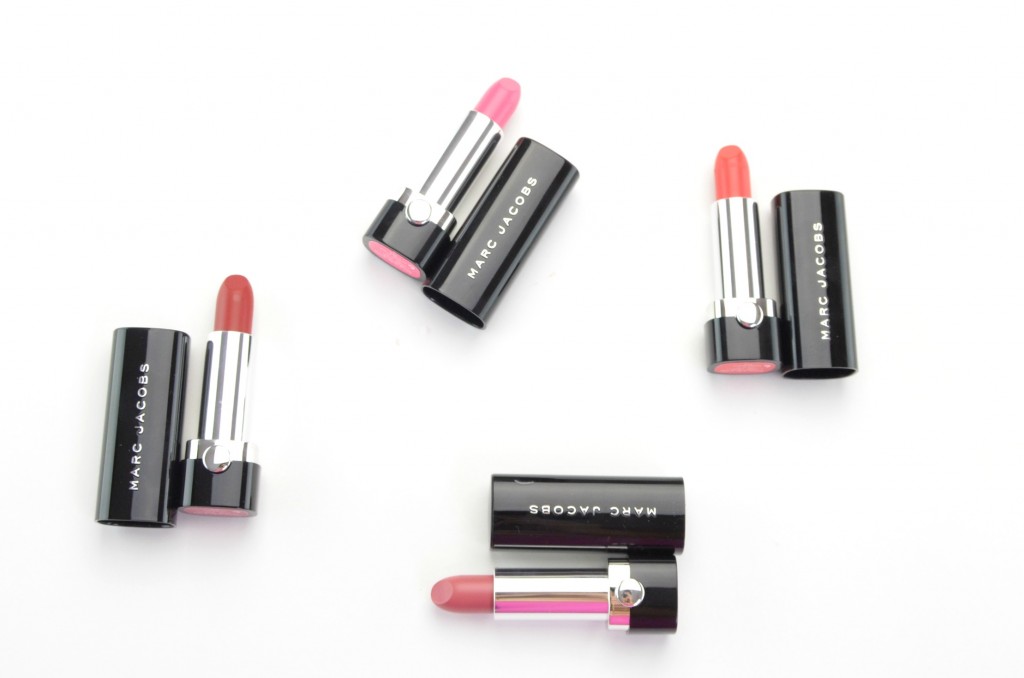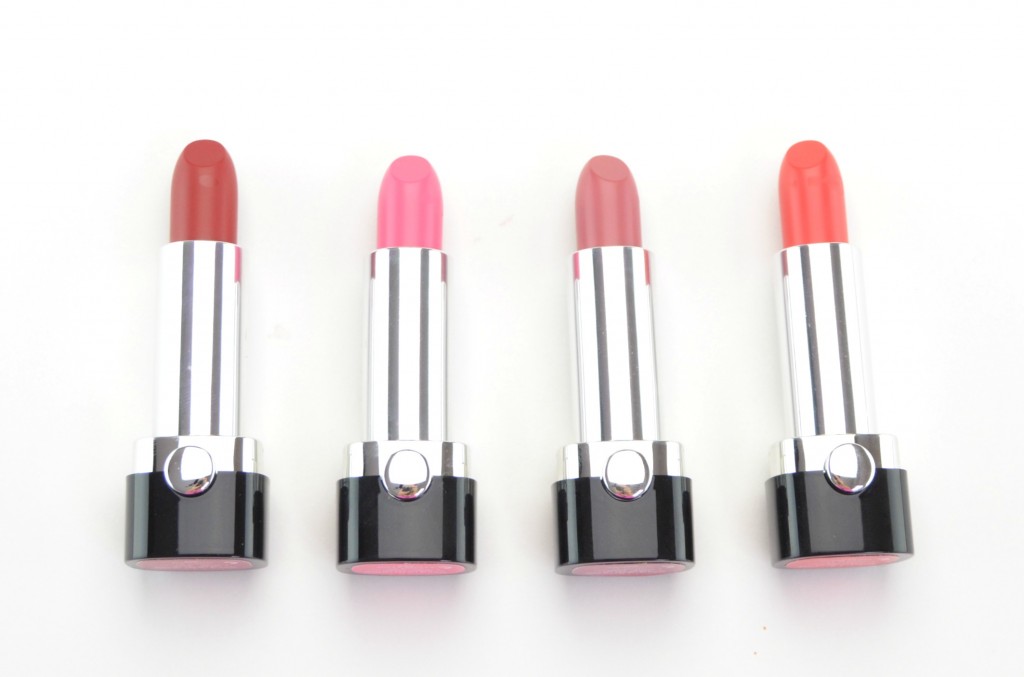 Marc Jacobs Nudes Sheer Lip Gel is an irresistible, nourishing lipstick that's formulated with moisturizing Monio butter to keep lips kissably soft and smooth, along with myrrh extract and antioxidant vitamin E helps to minimize and fight the appearance of aging.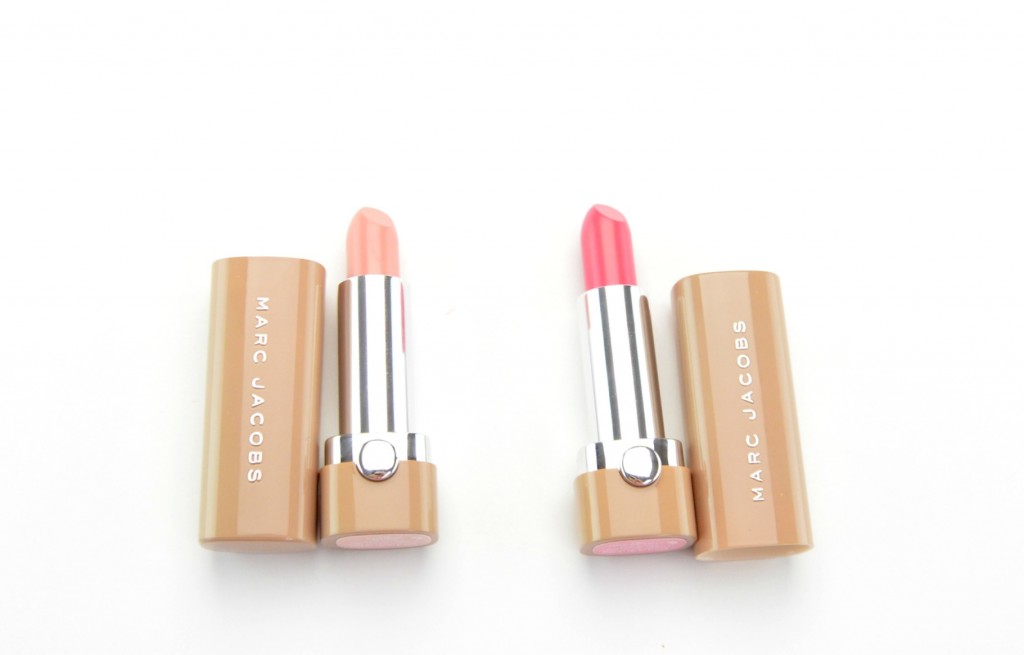 Marc Jacobs Nudes Sheer Lip Gel comes in a sleek, pale nude beige lacquered tube with a magnetic clasp and Marc Jacobs embossed on the front. It has a weightless, creamy, buttery smooth texture with an innovative gel formula that simply glides across the lips with ease. It doesn't skip, pull or tug on the skin. It has excellent pigmentation that provides completely opaque coverage in a few swipes. It does have somewhat translucent sheen, but still gives full coverage (if that makes sense)? It's moisturizing, hydrating and has a decadent vanilla scent. It gives a luminous, shiny finish without any shimmer or sparkle. It didn't seem to settle into fine lines or bleed outside the lips and lasted a good 5 hours before slowing starting to fade.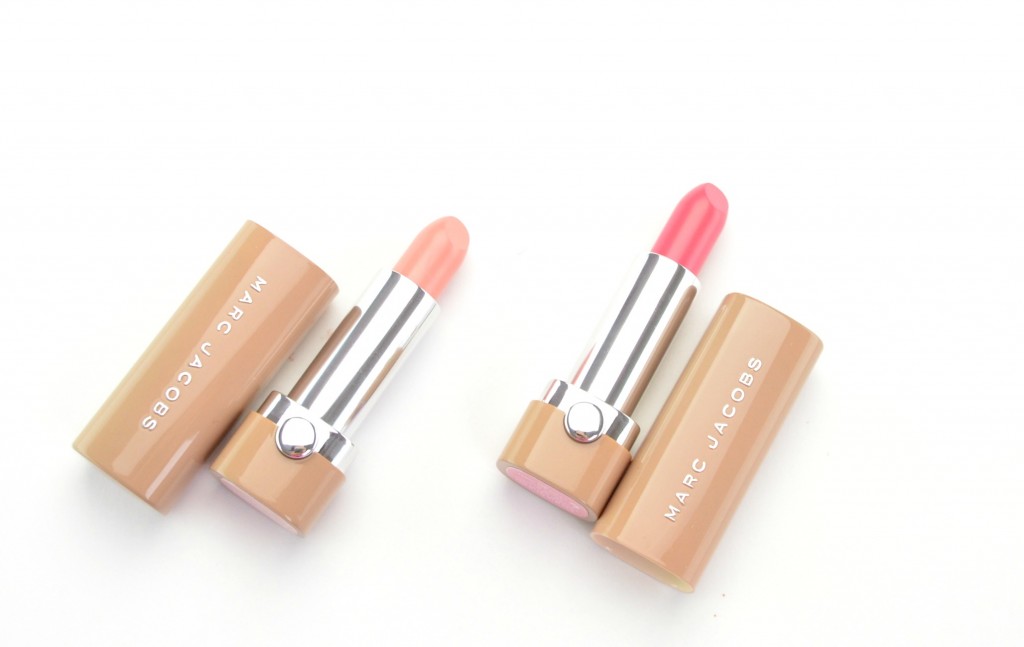 Marc Jacobs Nudes Sheer Lip Gel in Have We Met? Is a beautiful warm pink and Strange Magic is a warm nude pink.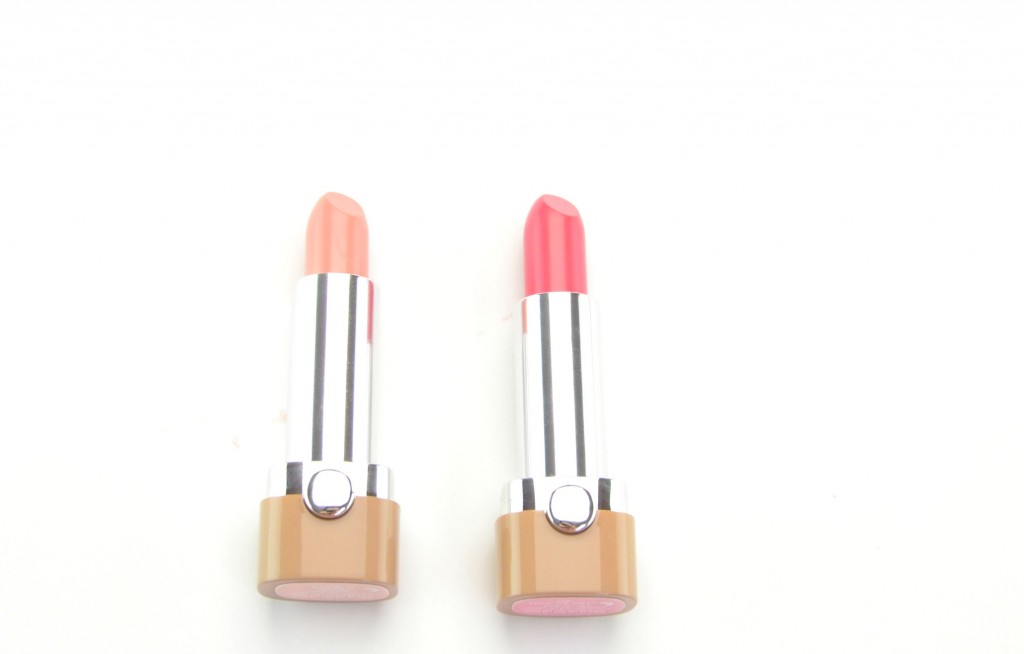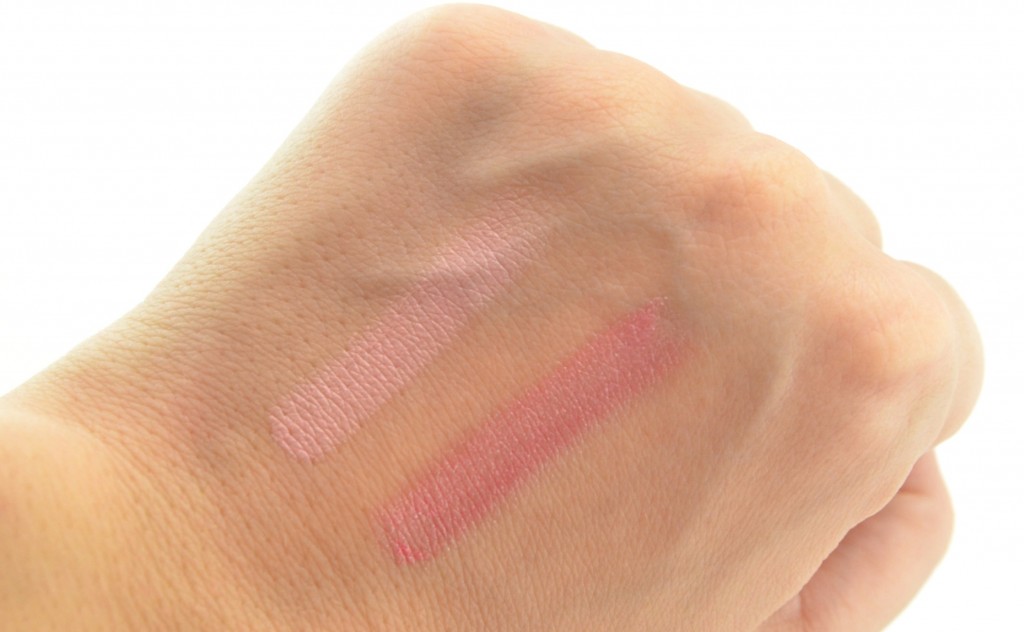 I thought because these Marc Jacobs Nudes Sheer Lip Gels have such a unique gel-like texture, it wasn't going to provide true colour payoff, but it's just the opposite. It actually gives fairly opaque coverage, but with a glossy, shiny finish. For someone who doesn't reach for her nudes that often, partly because I am so fair and pale, both these shades work extremely well with my complexion. I can see these shades working beautifully on a lot of different skin tones. These are extremely moisturizing, so hydrating that I don't need to even apply a lip balm before. As it starts to fade, you lose some of the shine, usually within an hour or so, but the colour remains for a few more hours. These nudes come in 7, expertly curated shades to create gorgeous, neutral lips that's perfect for all skin tones and any makeup look and retail for $38.