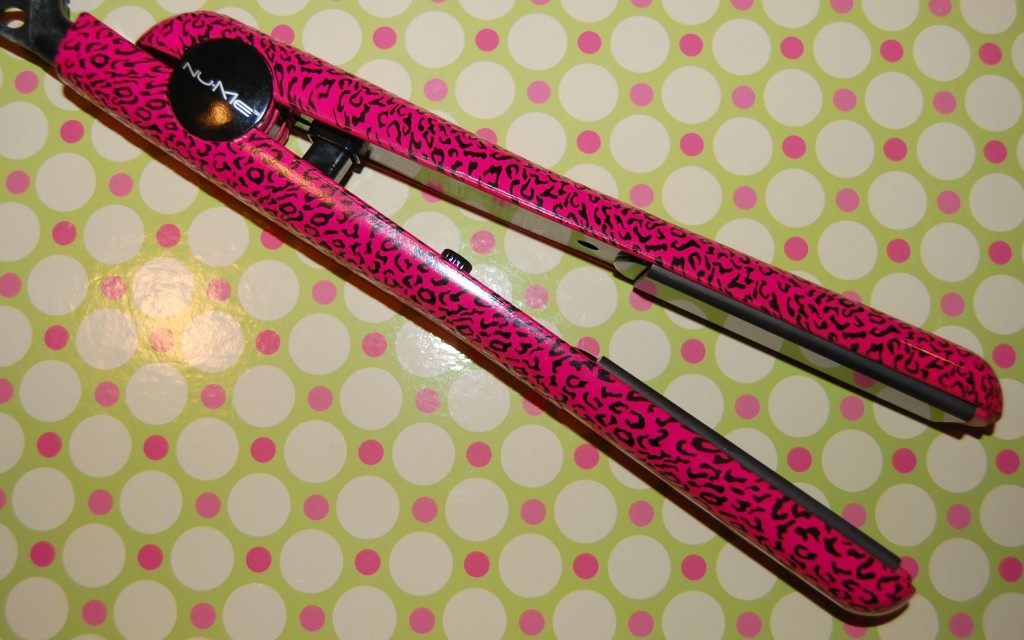 I was given a Nume Flat Iron to test out and all I can say is amazing! I like this iron a lot more than my current one (which I paid almost double for, yikes!). One of the key features I love about the Nume Vintage Iron is that it comes in a ton of cool, bright, funky colours and let's be honest well it doesn't have any styling benefits to it, why not have our style accessories as fashionable and trendy as we are? Surprise, surprise I picked a hot pink leopard one! This retails for only $145. 
From the moment I opened the box, I was in heaven. The box was very durable and also a great place to host your iron when not using is, it has a magnetic flap on the top to make sure everything stays in side. When opening the box, on the top of the inside, it gives you some tips and tricks on how to use your new flat iron. I thought this was a special little add on for those using a flat iron for the very first time, or for those who need a little extra help with their everyday styling technique. 
Let me first off by saying I love the temperature setting on this iron, I can set it to a lower temperature for my thin, short hair and I feel like I'm not damaging it as much as my old one, which only has one heat setting….. crazy super hot! My new iron has a temperature as low as 250F and as high as 410F. I keep it around 320F, and it seems to be perfect- saving my hair about 100F- less heat means less damage to your hair overall. This iron heats up amazingly fast; it only takes about 30 seconds so keep that in mind. I've had ones in the past that are still warming up after I've already finished blow drying my hair. Again Nume added a little something extra to their iron by placing a small light dot on the top of your iron and when you first plug it in and turn it on the light will be red, when your iron is ready to go it turns green, takes the guess work out for you. 
Next up, which I've never had on a flat iron before is this new technology called a floating plate, what this means is the ceramic plate is actually floating and can be tilted back and forth, side to side which means your hair will never be pulled, pinched or caught again, yippee! That's amazing! 
My Vintage Iron is 100% solid ceramic with a rounded barrel design, it also has a unique alignment system that ensures ideal contact between your hair and the solid ceramic plate. You may ask why do you need a ceramic plate (and be sure to keep this in mind when buying a flat iron) as I've bought ones in the past that did not, and what a waste of money. Using pure ceramic plates ensures even heat distribution, eliminating the hot spots and chipping associated with conventional irons. This will make sure your hair is always shiny, healthy and smooth. Also because of the round barrel design it makes it perfect for curling your hair also, a 2 in 1 product if you ask me? 
Overall this product did an excellent job on straightening my hair, even on a lower temperature setting, it got rid of all those annoying fly-a-ways and leave my hair extra shinny every time. One last thing that I think is pretty wonderful is that it comes will a full 3 year warranty, now what company will offer you this. 
Right now they are offering a suprise discount to all my fans on thier Vintage with Clips Flat Iron (let me just tell you its almost 50% off) 
Code: CanadianFashionista2012
Effective til: 4/30/12 
Here's the link for that style
***Disclosure: product was sent to me for review consideration***