And the winner of my Marchesa Madness by Revlon is…….. Diane Lee
Marchesa Madness is here! You may remember my post about the Revlon by Marchesa 3D Jewel Nail Appliqués (found here) back in October and now the much-anticipated second collection from the Revlon by Marchesa partnership is finally here. This 7 piece, limited edition collection of beauty tools are inspired by the Marchesa runway and have a glamorous, feminine meets artisan craftsmanship feel to them. It features a File n' Peel 6-in-1 File, Box O'Files, Slant Tweezer, Mini Tweezer Set, Compact Mirror, Manicure Essentials Kit and Starter Brush Kit. It comes in 3 different, sophisticated, elegant, runway inspired designs done in black and gold, navy and silver and pink and black (shown below).


"Our Revlon by Marchesa beauty tools collection includes an extensive range of products that are absolutely essential to a woman's beauty routine. The three designs we chose for this collection are quite romantic with an intricate lace pattern inspired by the dresses from the Spring/Summer 2014 runway show. My favorite item is the mini box-of-files, which I always carry with me. " say Keren Craig, Marchesa co-founder and textile director.
Revlon by Marchesa File n' Peel 6-in-1 File features a layered sharper that peels off when used to reveal a refreshed filling below. It's 2 sided, one for shaping and the other side for smoothing. The kit contains 6 files in 1 (3 count per side) and retails for $4.49.


Revlon by Marchesa Box O' Files comes in a mini matchbox style packaging, which is perfect for traveling and features 6 small nail files for on the go shaping, filing and smoothing. It retails for $4.49.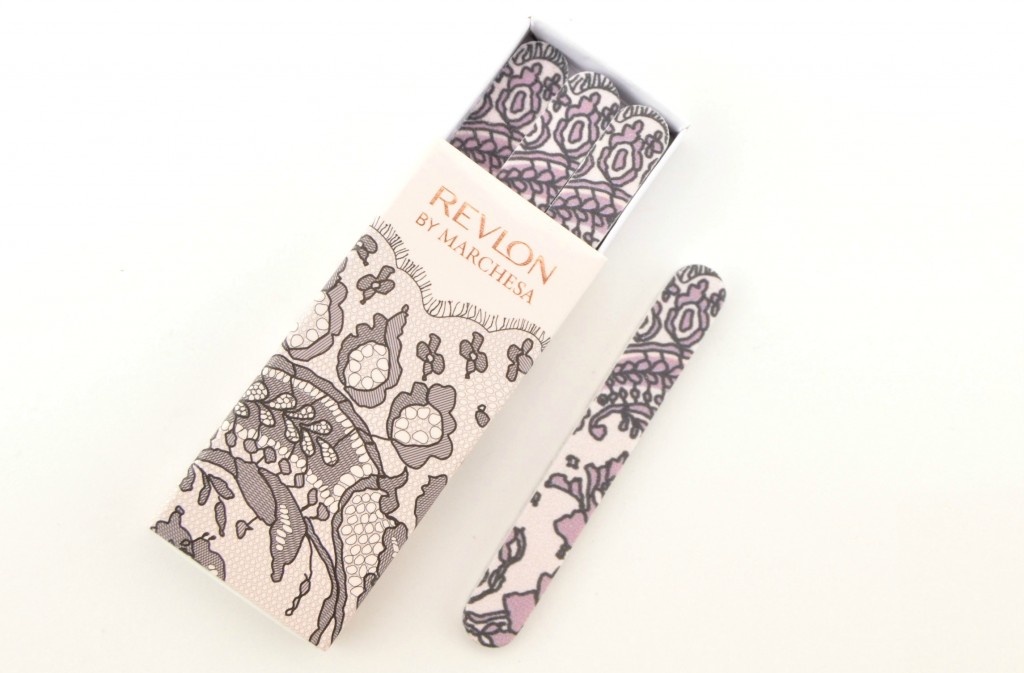 Revlon by Marchesa Designer Slant Tweezer features a slanted tip for all your tweezing needs done in a high quality stainless steel that will last forever. It retails for $9.99.



Revlon by Marchesa Mini Tweezer Set to Go features a slant and point tip for high precision tweezing. It too is also done in a high quality stainless steel and comes in a cute, travel size pouch. It retails for $10.99.


Revlon by Marchesa Compact Mirror is sleek, lightweight and compact and might be my favourite piece from the collection. It's perfect for on the go touch-up, fits beautifully into your purse and is high quality so you don't have to worry about it breaking or cracking. It retails for $6.49.


Revlon by Marchesa Manicure Essentials Kit is an all in one manicure kit that features a nail clip, cuticle trimmer, buffer and compact emery filer all packaged beautifully in a chic, travel pouch. It retails for $12.99.


Revlon by Marchesa Starter Brush Kit features 3 essential brushes needed for your everyday makeup routine. It contains a powder brush, shadow brush and a double usage concealer/ lip brush for perfect application packaged perfectly in a cute travel pouch. All brushes are make-up artist quality, expertly crafted using ultra soft, premium fibers and natural birch wood handles. It retails for $15.99.


My lovely friends are Revlon want you to get into Marchesa Madness and is giving one of my lucky followers the chance to win the entire Revlon by Marchesa Beauty Tools Collection, along with the entire Revlon by Marchesa 3D Jewel Nail Appliques (which are already sold out in all stores across Canada). Both these limited edition collections are valued at over $130, and that's if you can even get your hands on them.