We don't have to talk about how much I love Soap & Glory, might just be one of my favourite brands to date? I not only love them for their pretty pink, vintage style packaging, cheeky product names and yummy fruity citrus, but simply because their products work. The brand is launching 3 new products in Canada this spring, Soap & Glory Sit Tight Intense XS Targeted Skin Firming Body Serum, Heel Genius Foot Cream and Sexy Mother Pucker Gloss Crayons and I couldn't be more excited to share with you.

Soap & Glory Sit Tight Intense XS Targeted Skin Firming Body Serum is a multi- action serum that is formulated with an exclusive Firmigen Caffeine Complex and has a level between 27-33% of caffeine, which is known for its extended lipolytic, firming and draining actions. Detoxyboost Technology helps to stimulate circulation with a massage-on application of Sit Tight that helps to stimulate more efficient movement of fluid. Pressocapsular Firm Plus System has microspheres of extended-release caffeine that activates when you sit on them and Puffdrain 82, a special combination of peptides that, in conjunction with massage, helps to support the body's natural circulation process, visually smooth bumpy areas, and reduce the appearance of puffiness. Skin is left looking firmer, tighter and less dimply after 4 short weeks of daily use.
Soap & Glory Sit Tight Intense XS is a body serum that primarily aims to boost circulation and in the long run help to reduce the appearance of cellulite. It has a clear, lightweight, gel-like texture that glides onto the skin with ease. As you roll the serum onto the skin, it absorbs almost instantly, but does have a somewhat sticky feeling to it. It's best to wait about 5 minutes for it to fully soak into the skin before putting on clothes. It has a strong, fresh menthol scent that lingers for a few hours. It's simple to use, just twist the head to ON, press rollerballs against the skin and squeeze the gel onto the skin. Massage the problem areas for as long as you like, the longer you massage, the better the results.
Soap & Glory Sit Tight Intense XS initially feels cool on the skin, but as you massage it into the skin, it provides a light heating sensation during and after the application. The skin instantly feels a little tighter, however, the slow release molecules that help fight fat cells, are even better performed if sitting down, so grab a chair and relax.
I'm kinda in love with Soap & Glory Sit Tight Intense XS body serum, I love anything that heats up once on contact with the skin. The brand clearly states that using this serum alone with not tighten and firm skin on its own and should be used in conjunction with exercise and a healthy diet. I love it when a company doesn't promise miracles, nothing will ever get rid of cellulite, but this can help diminish the appearance of them. I notice my skin does look a lot smoother and more even after only a few short weeks. It keeps my skin hydrated and moisturized, which makes my legs appear tighter and firmer. It retails for $38 for 125ml.
is a miraculous moisturizing mix of allantois for its soothing effect, menthol for its cooling properties, macadamia oil for its antioxidants and essential fatty acids that helps protect skin and promote healing, glycerin to attract and lock in moisture, along with bilberry, orange and lemon fruit acid smoothers.

Soap & Glory Heel Genius Foot Cream has a rich and creamy, thick, pale blue texture that, as soon as you start to blend it into the skin, transforms into a somewhat gel-like texture. It gives a slight cooling effect as you apply and absorbs fairly quickly into the skin. It does have that traditional Soap & Glory citrus scent with a hint of mint that's very refreshing. It leaves skin noticeably softer, smoother and suppler than ever. It conditions the skin, helps heel dry, flaky, rough spots while absorbing quickly without a sticky residue or greasy feeling to the heels.
Soap & Glory Heel Genius Foot Cream is better than any pedicure you'll ever receive, it renovates rough feet in a single overnight session and doubles as a foot cream. It's perfect for applying right after a nice, warm, hot bath and then put on your favourite snuggly socks before bed, to really help lock in the moisture. It's also works miracles on rough, dry cuticles. After only a few short weeks my heels are now ready for sandals, I just need the weather to catch up to my feet. It retails for $16 for 125ml.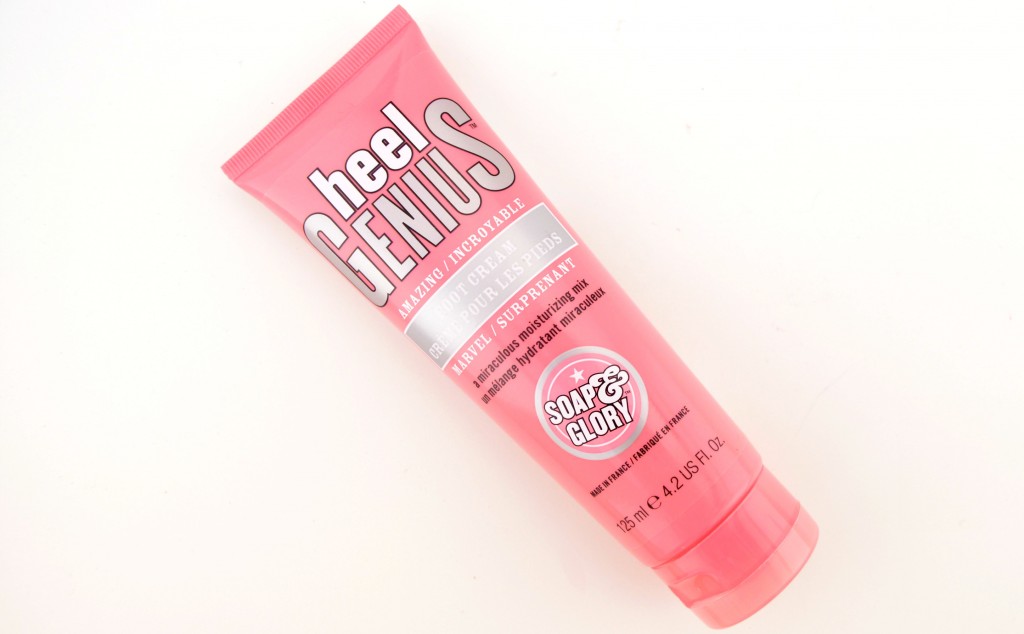 Sexy Mother Pucker in a crayon form, yes please. You know I can't live without my Sexy Mother Pucker lip glosses, these work wonders on my lips and I love everything about them. Soap & Glory Sexy Mother Pucker Gloss Crayons are collagen boosting lip crayons that offer 3D volume and intense colour payoff. It's buzz-free, but still visually plumps and boots the lips without the tingle. It's packed with collagen boosting pre-peptides to create a fuller, plumper looking lip with incredible shine.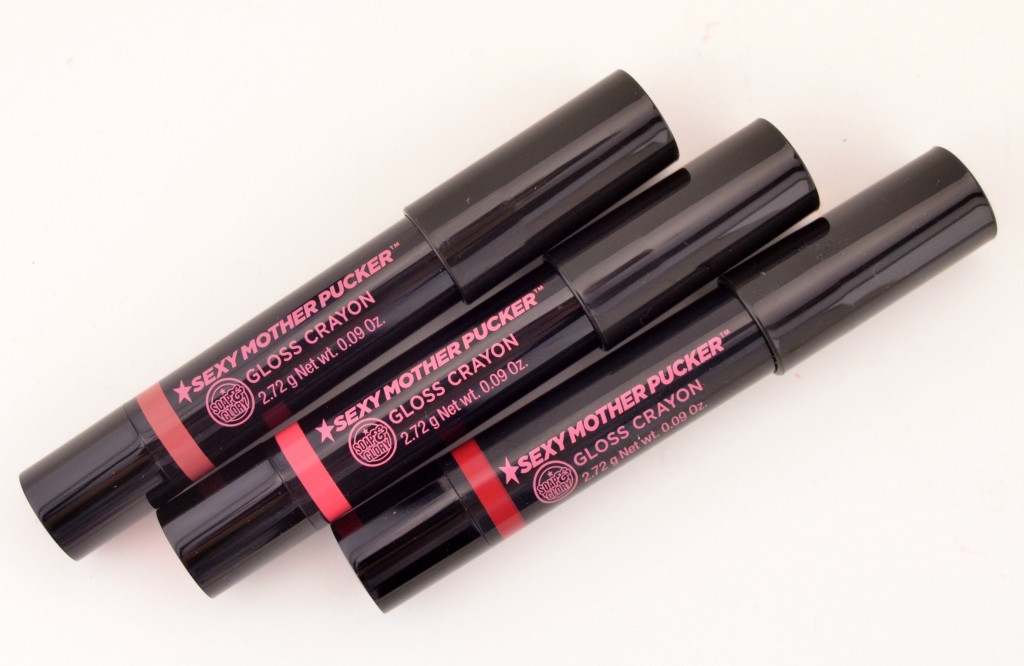 Soap & Glory Sexy Mother Pucker Gloss Crayon comes in a chic, high gloss, black, twist up packaging, something totally different from the brand. It has a rich and creamy, balm like texture that glides across the lips with ease. It's comfortable to wear, provides a sheer wash of colour and takes about 3 to 4 swipes for true colour payoff. Its balm formula keeps lips moisturized and hydrated throughout the wear and lasts about 3 hours on the lips before fading. It has a sweet vanilla scent and flavor to it, think fresh baked cupcakes.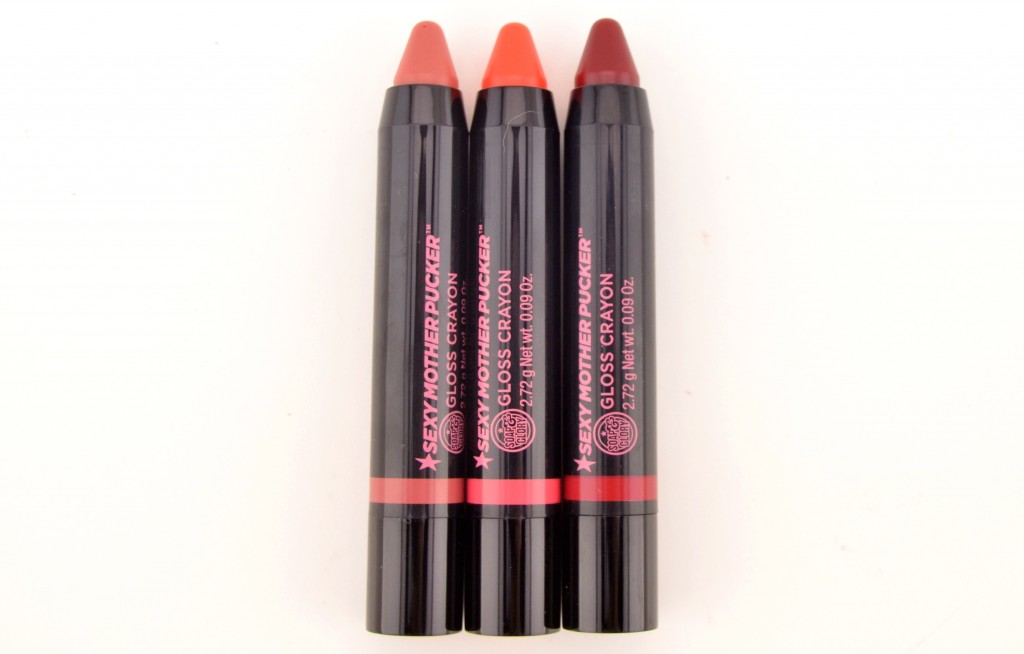 Soap & Glory Sexy Mother Pucker Gloss Crayon gives a sheer pop of colour to the lips with a high gloss shine that helps make my lips appear more luscious and plumper. Its balmy texture is comfortable to wear without feeling drying or cakey, is easy to apply without a mirror and keeps lips hydrated throughout the day. Its high sheen finish, with a light wash of colour, is perfect for the days when you don't want to fuss with a lipstick, while keeping your lips moisturized. It comes in 3 new shades and retails for $16.

Soap & Glory Sexy Mother Pucker Gloss Crayon in Natural is a soft neutral pink with a sheer tint, giving the appearance of your lips, only better.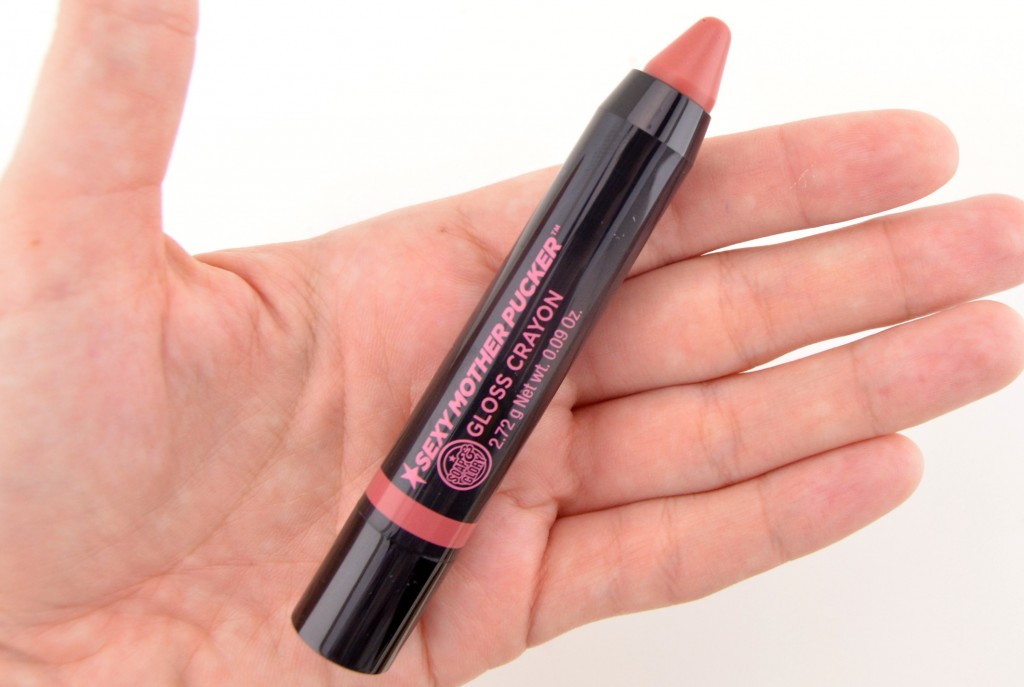 Soap & Glory Sexy Mother Pucker Gloss Crayon in Fuschia-Ristic may look like a coral shade in the tube, but once applied to the lips, it becomes a vibrant, bright, sheer pink.

Soap & Glory Sexy Mother Pucker Gloss Crayon in Plum Jam is a deep, burgundy, sheer berry shade, that isn't as scary on the lips as it looks in the packaging.

Soap & Glory Sexy Mother Pucker Gloss Crayon in Natural, Fuschia-Ristic and Plum Jam


Which of these 3 amazing products are you most excited about?