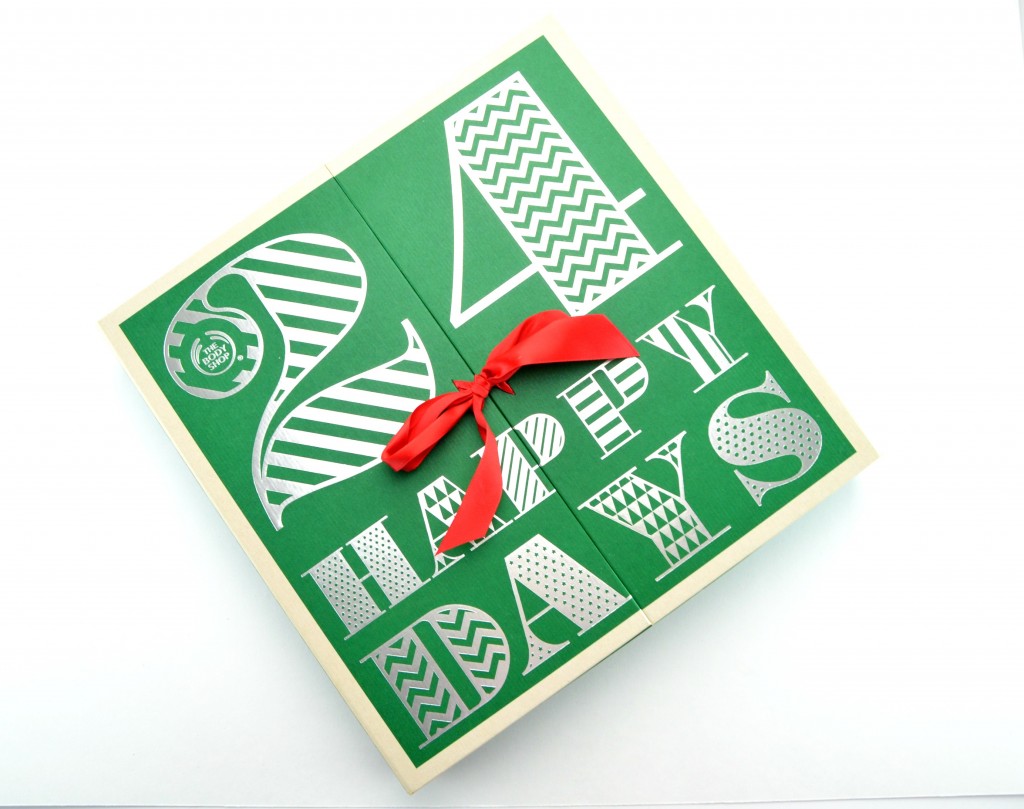 In place of my traditional holiday gift guides, I'm doing something a little different this year. I'll still be rounding up my favourite presents for the season, but instead of combining them into a few posts, I'll be featuring a new company daily. Make sure to check back every day as I'll be showcasing a new brand and my must-have holiday gifts for the season. Come follow along over the next 24 days and be prepared to be inspired.
Let's kickoff December with The Body Shop. Now, I could talk about a hundred products I love from them, but why not get their top 25 fave products all at once? The Body Shop 24 Happy Days Advent Calendar is just about the prettiest advent calendar I've ever seen and it comes with a ton of beautiful goodies. It comes beautifully packaged in a green shutter style box with a large red bow holding the shutters together. This Christmas countdown calendar comes individually boxed and stacked like a jigsaw with 24 presents within. This makes opening each day a complete surprise and ultra special. It comes jammed backed with 24 generous sized favourite Body Shop favourites, including mini tubs of moisturizer, little heart-shaped bars of soap, nail polish and so much more. Although it's intended to be a Christmas countdown, I think it would make the perfect holiday gift for someone to open daily in the New Year. I know I'd love to start each January morning with a Body Shop treat. Hint hint, you might actually get 25 gifts. It retails for $99.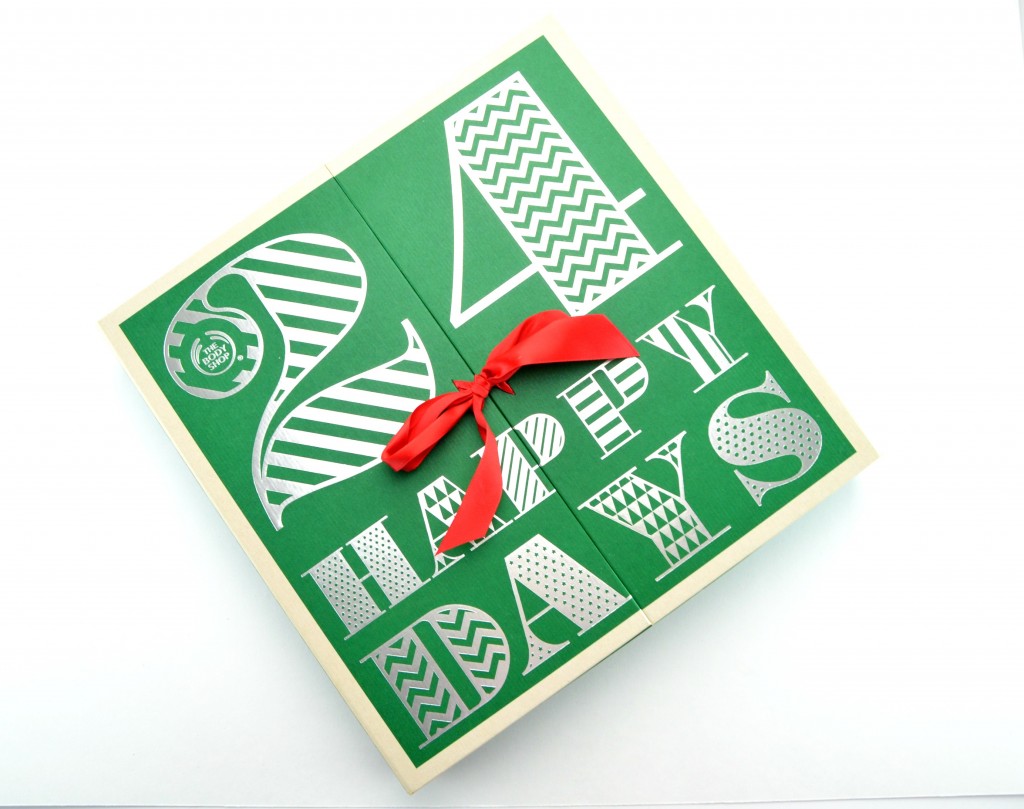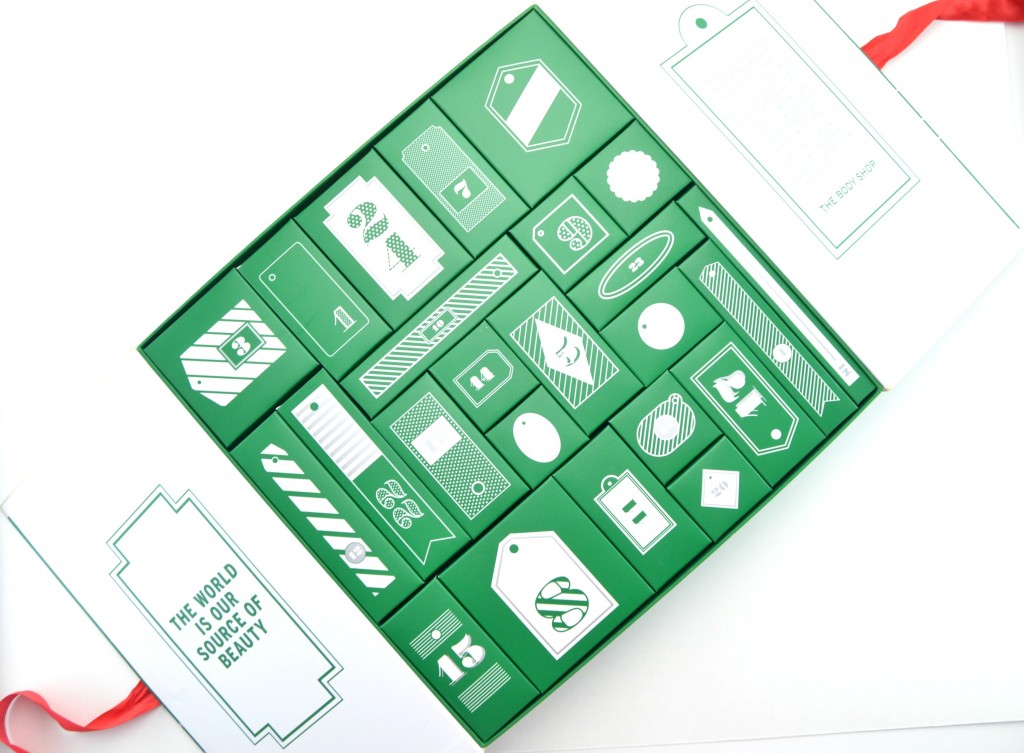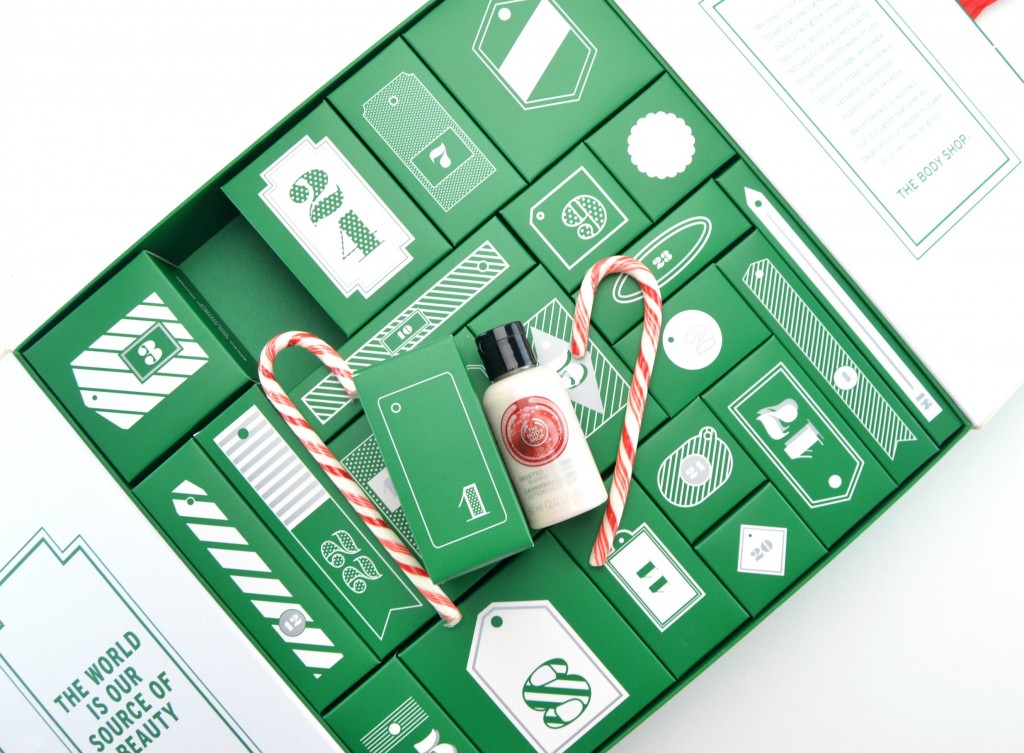 Without giving too much away, cause I do want each box to be a surprise, it comes with Frosted Cranberry Heart Soap 0.88 oz, Frosted Cranberry Shimmer Lotion 2.0 oz, Elderflower Unperfumed Eye Gel 0.50, Color Crush Nail Color (Relish the Moment) 0.23 oz, Eye Definer Black 0.04 oz, Mini Nail File, Almond Hand and Nail Cream 1.0 oz, Shea Shower Cream 2.0 oz, Shea Body Butter 1.69, Shea Heart Soap 0.88 oz, Eyeshadow Brush, Wild Argan Oil Shower Gel 2.0 oz, Vitamin E Moisture Cream 0.50 oz, Vitamin E Nourishing Night Cream 0.50 oz, Fuji Green Tea Shower Gel 2.0 oz, Fuji Green Tea Body Lotion 2.0 oz, Green Mini Crinkle Bath Lily, Italian Summer Fig Eau de Toilette 0.33 oz, Chamomile Waterproof Eye & Lip Make Up Remover 0.50 oz, Eyelash Curler, Strawberry Lip Butter 0.33 oz, Strawberry Hand Cream 1.0 oz, Honeymania Lip Balm 0.33 oz, Frosted Plum Body Lotion 2.0 oz and Frosted Plum Heart Soap 0.88 oz.