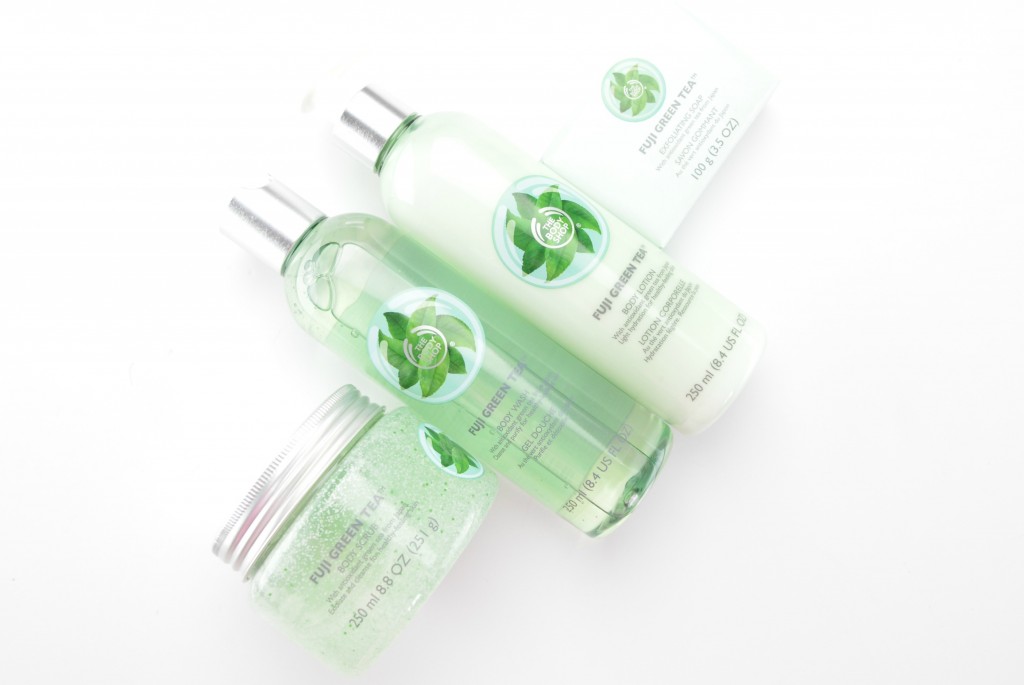 Revive the body, detox the mind
Although green tea is probably best known for its amazing antioxidant qualities and detoxifying health benefits, but is now not just used for the inside, but the outside as well. This popular beauty skincare secret has been loved by Japanese women for years, and is slowly making its way into the North American market. Not only does it help retain moisture, it helps to tighten pores. The Body Shop Fiji Green Tea, the first body range infused with whole green tea leaves, to awaken the sense and give a healthier, radiant glow to the skin while providing a garden-fresh, clean, refreshing scent. The lineup features 8 new products, an exfoliating soap, body scrub, body butter, body sorbet, body lotion, body wash, eau de cologne and bath tea.

Fuji Green Tea Exfoliating Soap is made with shea butter and infused with green tea leaves to help exfoliate and sluff off dead skin. For someone who never uses bar soap, this one is actually pretty nice. It helps to wash away the stress of the day thanks to its refreshing and relaxing scent, while detoxing both the body and soul. It does a wonderful job at gently exfoliating the skin, leaving it silky soft and smooth. It retails for $6 for 100g.

Fuji Green Tea Body Scrub is a slightly more intense exfoliator than the Exfoliating Soap. It's the perfect scrub for not only cleansing the skin, but exfoliating too. It has a silky, almost gel-like texture with tiny micro beads throughout that's mild enough to use daily, but abrasive enough to really sloth off dead skin cells. It leaves almost an oily residue behind, but in a good way, that keeps your skin extra hydrated and moisturized. It leaves skin feeling supple, smooth and soft and ready to take on the day. It too has the crisp and refreshing scent of green tea, just stronger and more of an herbal fragrance than the soap. It retails for $22 for 250ml.

Fuji Green Tea Body Wash has a unique soap-free formula, yet still comes to a rich and creamy lather once in contact with water. It helps to gently cleanse and purify the skin without stripping it of its natural oils. It's lightweight, gel-like texture washes away dirt and daily grime and washes clean away. Skin is left feeling refreshing, moisturized and squeaky clean. It doesn't feel tight, dry or irritated in the slightest way. Although it has the same green tea scent as the rest of the collection, it's slightly sweeter, almost like honey. It retails for $9 for 250ml.

Fuji Green Tea Body Lotion is enriched with sesame seed oil from Nicaragua, along with green tea from Japan to provide lightweight hydration, perfect for summer. Although not the most hydration body lotion out there, this is perfect for every day summertime use. It provides just the right amount of moisture to keep skin happy without any dry patches, but is almost weightless so you don't have to worry about it leaving your skin feeling greasy or oily in the heat. It retails for $13 for 250ml.