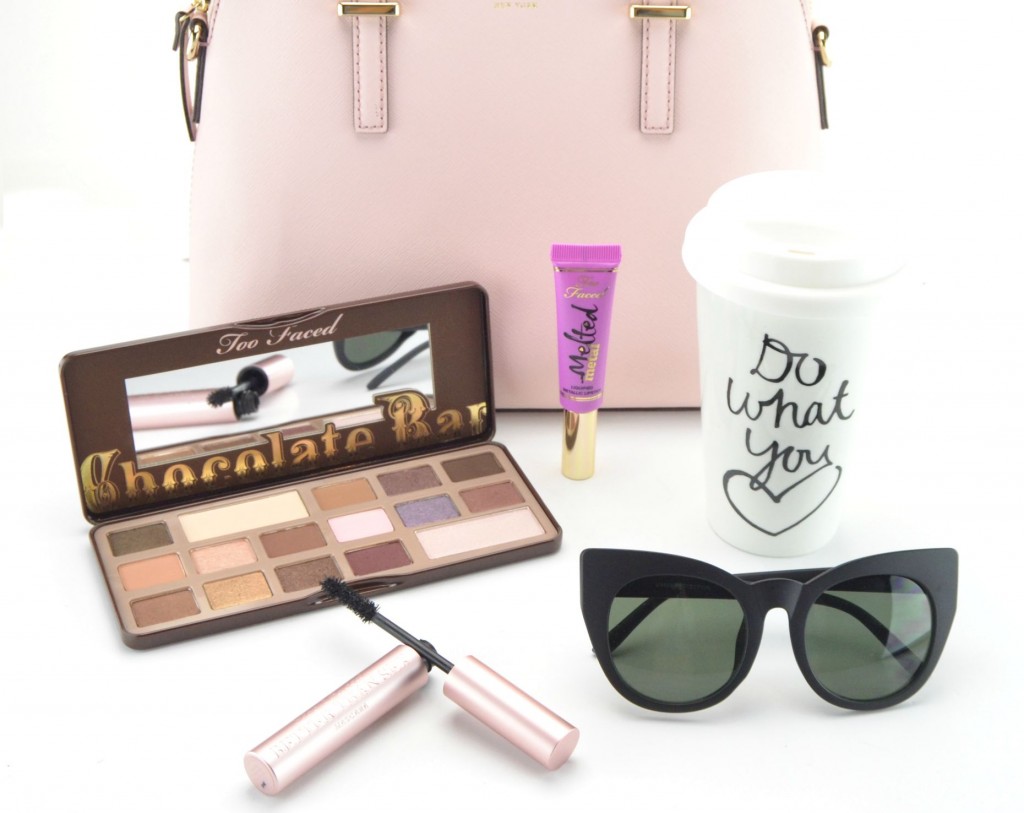 Although not a new product, Too Faced The Chocolate Bar Eye Palette has been a favourite of mine for years. While I was browsing my local Sephora last month, I picked up another, cause I hit pan of so many of my favourite shades found within it. Since I have a fresh, unused palette, I thought this would be the perfect time to show you all 16 stunning shades.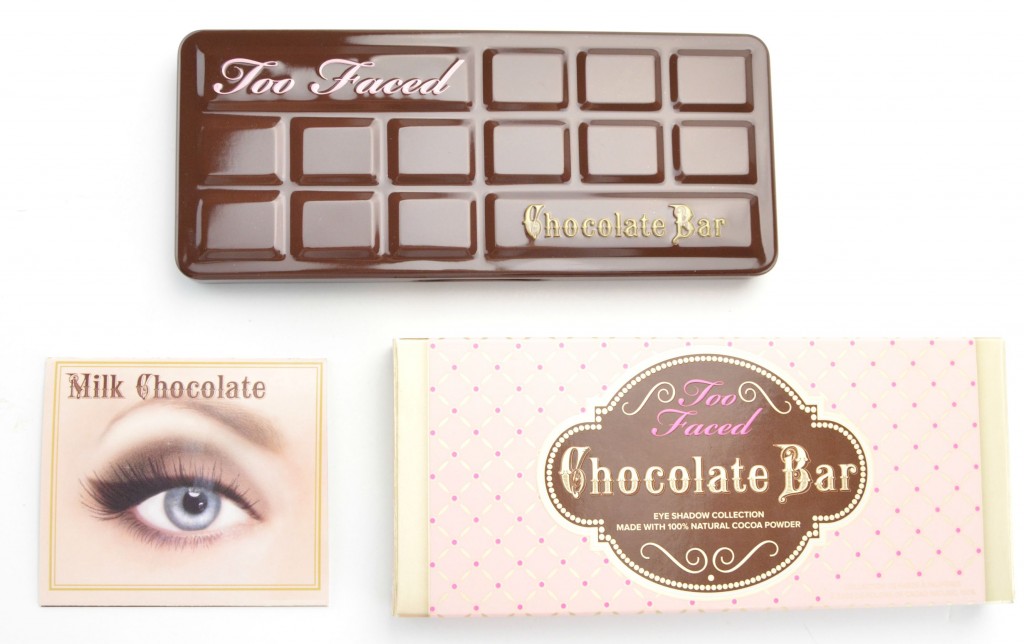 Too Faced The Chocolate Bar Eye Palette comes in a metal, tin-like compact that resembles a luxe chocolate bar with magnetic closure and a full size mirror. It also contains a look-book card with step by step instructions on how to create a few different looks. It features 16 antioxidant-rich cocoa powder infused shades in chocolate, brown, bronze, pale beige and soft pinks. Each shade compliments each other beautifully and comes in an array of finishes from shimmer, frost and mattes in both warm and cool hues. It contains 2 slightly larger base shades and 14 smaller eyeshadows, all with the same buttery soft and incredibly creamy texture. Its velvety and creamy consistency glides across the lid smoothly and evenly and provides little to no fallout. Its lightweight, finely milled formula blends out easily for a completely seamless finish with little to no effort. It stays put the entire day without creasing, smudging or budging.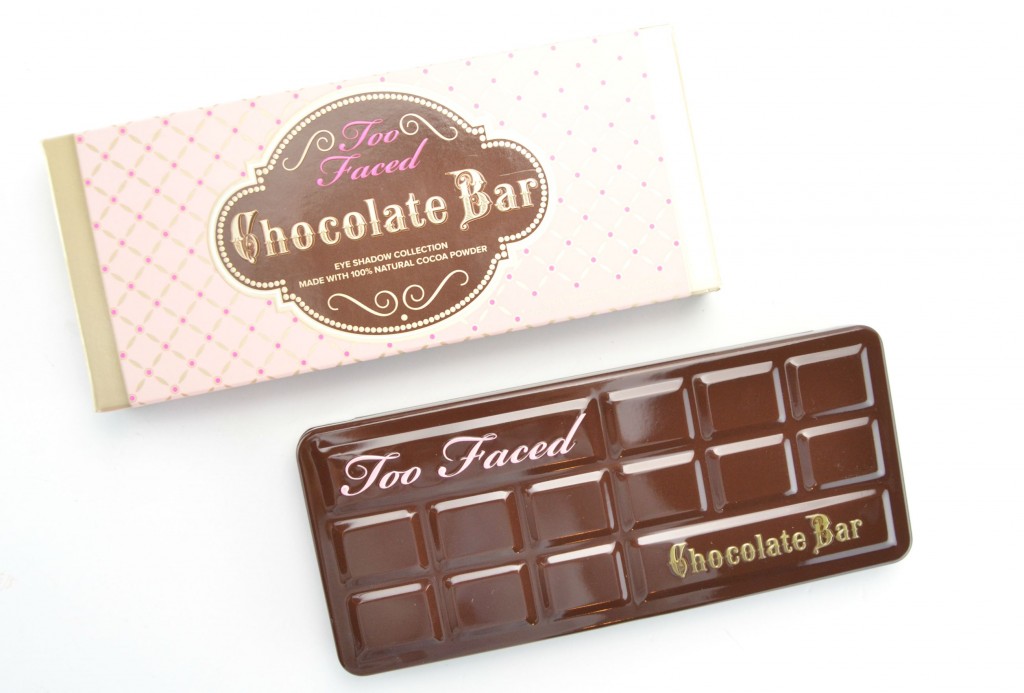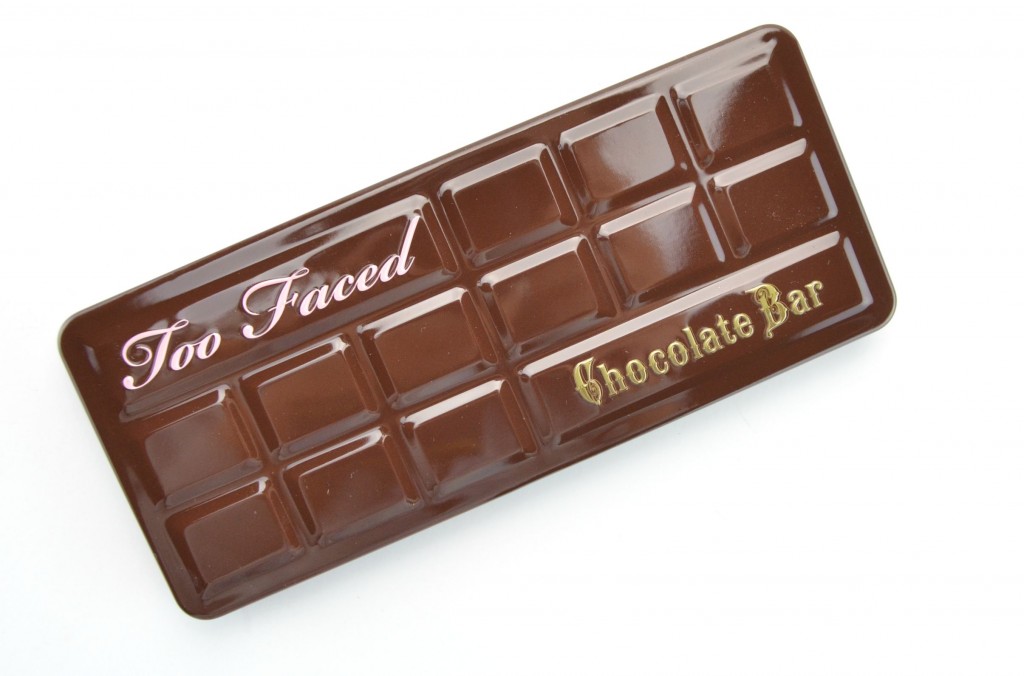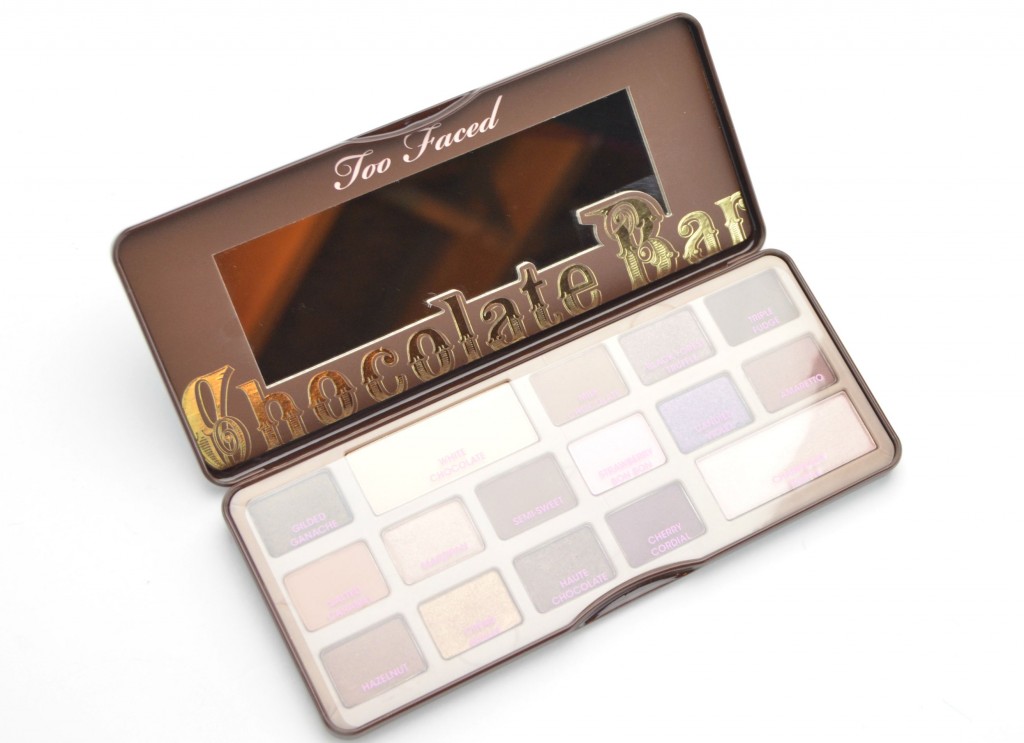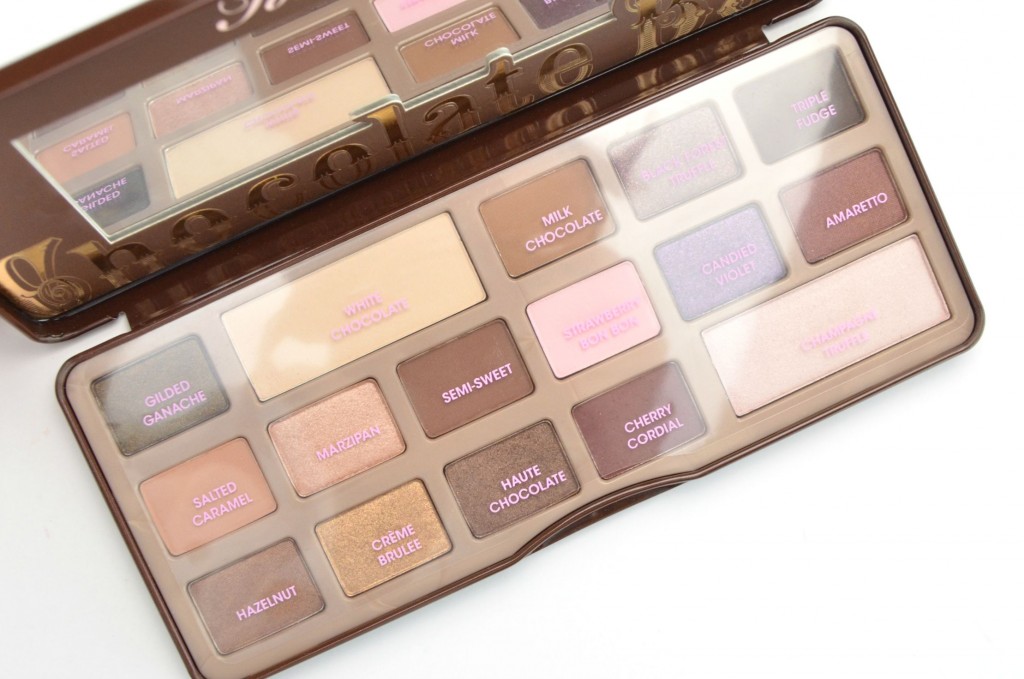 Glided Ganache is a deep chocolate brown with a slight bronze shimmer, Which Chocolate is a pale beige with a matte finish, Milk Chocolate is a medium to almost dark brown with a matte finish, Black Forest Truffle is a rich and creamy burgundy with a bronze sparkle and shimmer throughout and Triple Fudge is an extremely deep, dark brown with a matte finish.

Salted Caramel is a warm orangey brown with a matte finish, Marzipan is a peachy- orange with a slight, frosty metallic finish, Semi-Sweet is a dark brown with a matte finish, Strawberry Bon Bon is a light pink with a matte finish, Candied Violet is a stunning violet with a multi-coloured shimmer throughout and Amaretto is a dark reddish brown with a frosted finish.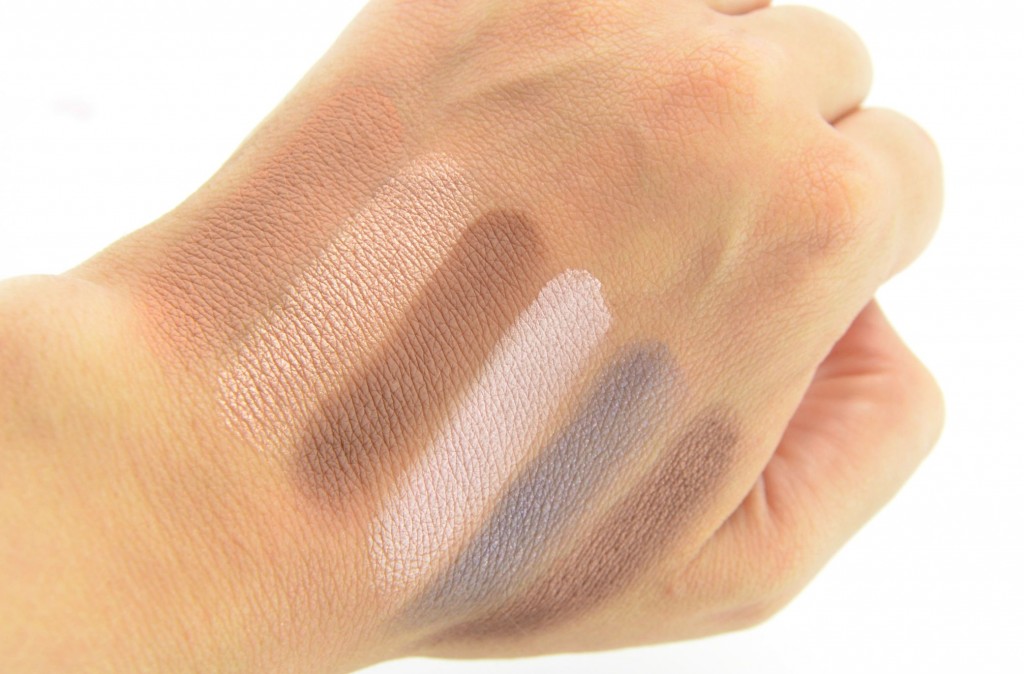 Hazelnut is a golden bronze with a frosted finish, Creme Brulee is golden metallic, Haute Chocolate is a dark chocolate brown with a frosted finish, Cherry Cordial is a mix between a plum and brown with a hint of sparkle, yet is still completely matte and Champagne Truffle is a pinkish white with a golden sheen and a slightly metallic finish.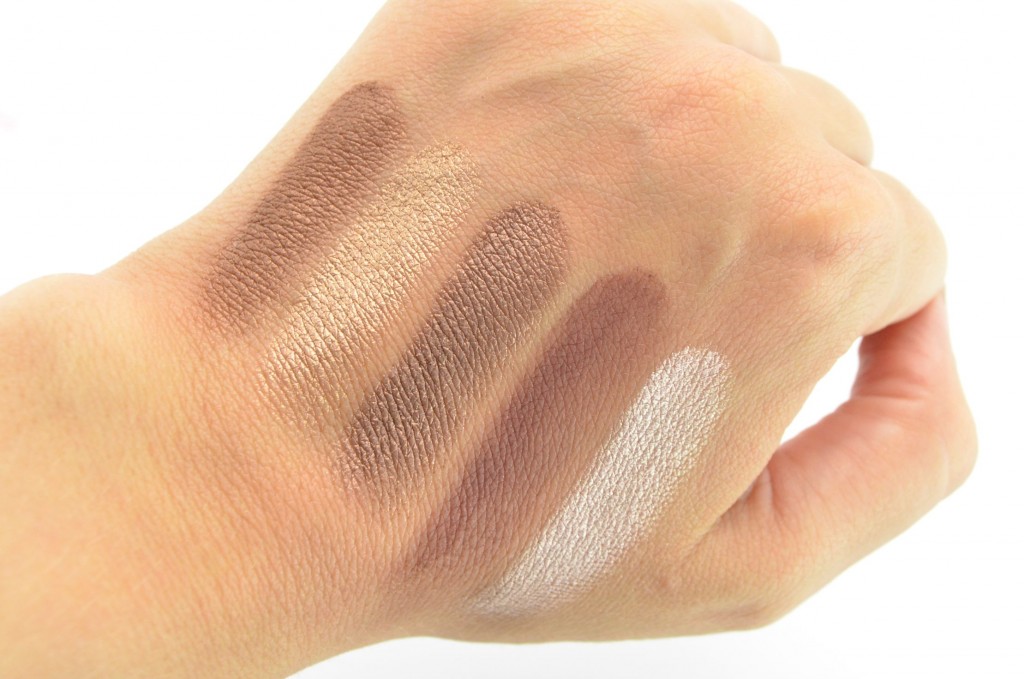 I'm totally obsessed with this palette. I love that this Too Faced The Chocolate Bar Eye Palette smells exactly like sweet cocoa and reminds me of Willy Wonky and the Chocolate Factory. Why can't all makeup smell this good? Although the quality varies from shade to shade, most of them are highly pigmented and easy to work with. A few of the shades are quite powdery and a little harder to blend, but once you get past the sheer wash of colour, or combine them with a more pigmented shadow, the finish is quite nice. The richer, darker and more dramatic shadows make this a more intense, smokier neutral palette than the other basic nudes we're seen in the past. I tend to use the darker shades in my other nude palettes, and often run out of these the quickest, so it's nice to have an entire palette that's based around deeper shades.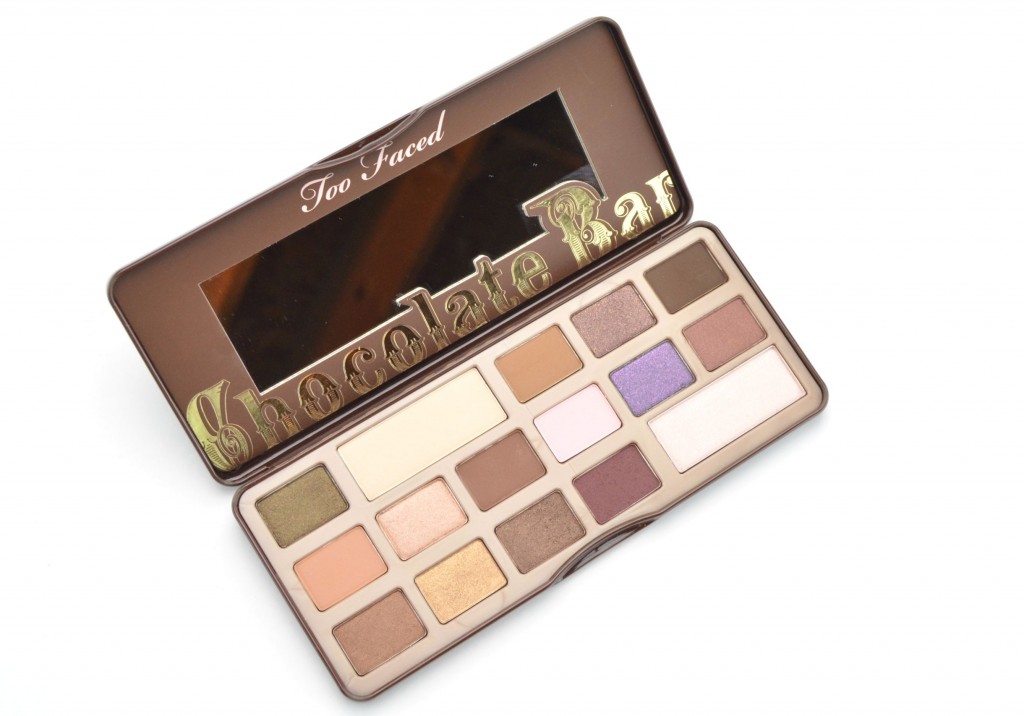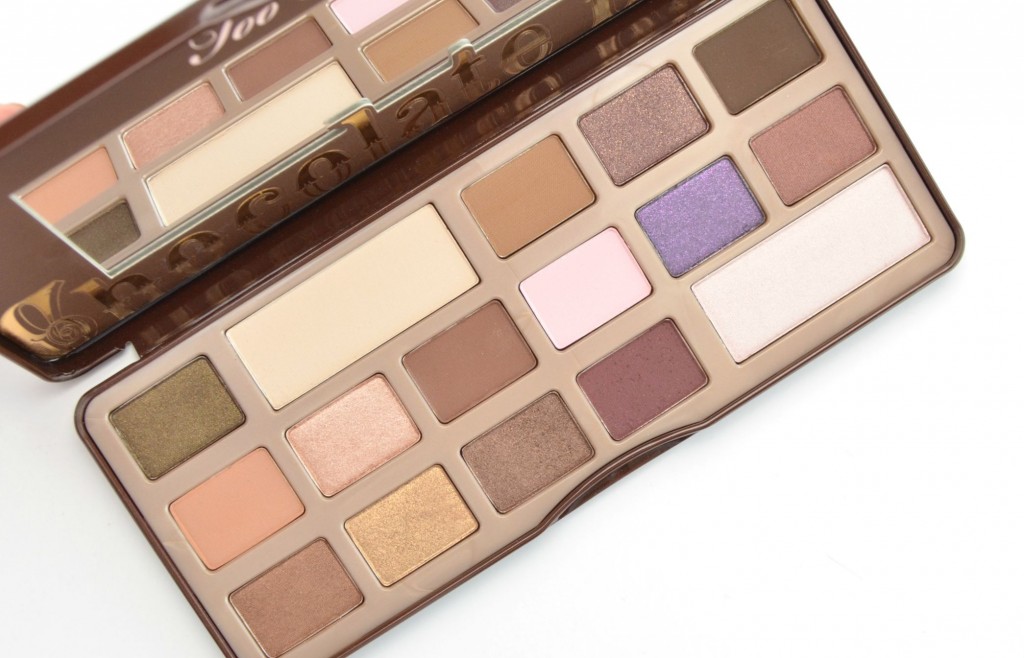 Although I usually always wear a primer, on days when I skip it, I saw no creasing or fading for the entire day with any of the shades used within the Too Faced The Chocolate Bar Eye Palette. The colour stays true and intense for a solid 10+ hours. I love that there's a total of 7 matte shades, most palettes you only get a few and the rest are incredibly shimmery and sparkly. Also love that all shades have the same rich and creaminess to them, the matte shades are not dry or chalky. Each shade performs well on its own, as do they layered overtop of one another. The quality is just wonderful, the application process is a breeze and it blends out like no other. This palette is a sweet treat for anyone looking for a slightly darker and more dramatic neutral eye look. It retails for $49.