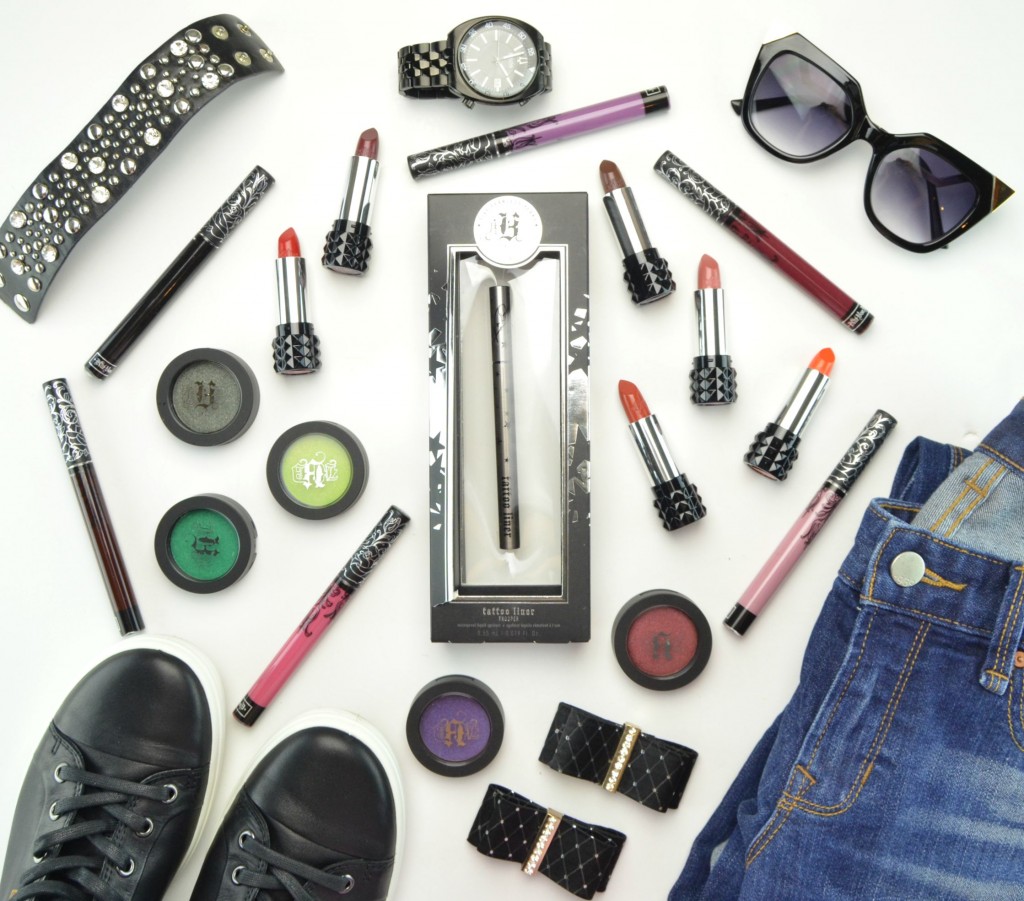 Push the limits this season
As much as I love my bold, bright shades of summer, I get super excited for Fall. Richer, deeper, more intense shades create high-impact looks in the matter of seconds. Kat Von D is pushing the limited this season with more intense colours, highly innovated textures and longer wear time. The new Kat Von D Fall 2015 Collection features 16 new shades of their cult favourite, Everlasting Liquid Lipsticks, 11 ultra-intense Metal Crush Eyeshadows and 9 new iconic Studded Kiss Lipsticks that all offer a full coverage formula in a single stroke.
Kat Von D Everlasting Liquid Lipstick has been a cult-fave for years and I can totally see why. Not only does it drench your lips in creamy, highly pigmented colour, once set and dried, it's not budging. It's truly opaque, full-coverage formula glides onto the lips with ease, like a gloss, but dries to a velvety matte finish. It's formulated with vitamin E and safflower seed to ensure all day comfort that helps to keep lips somewhat moisturized, without the heavy and drying effect that matte lipsticks provide.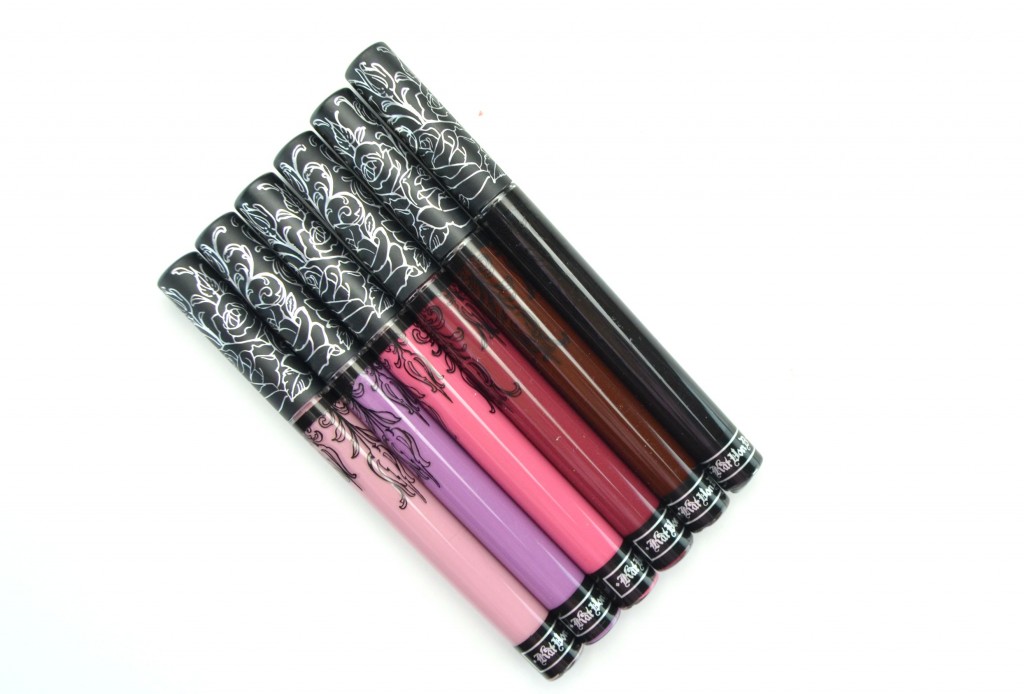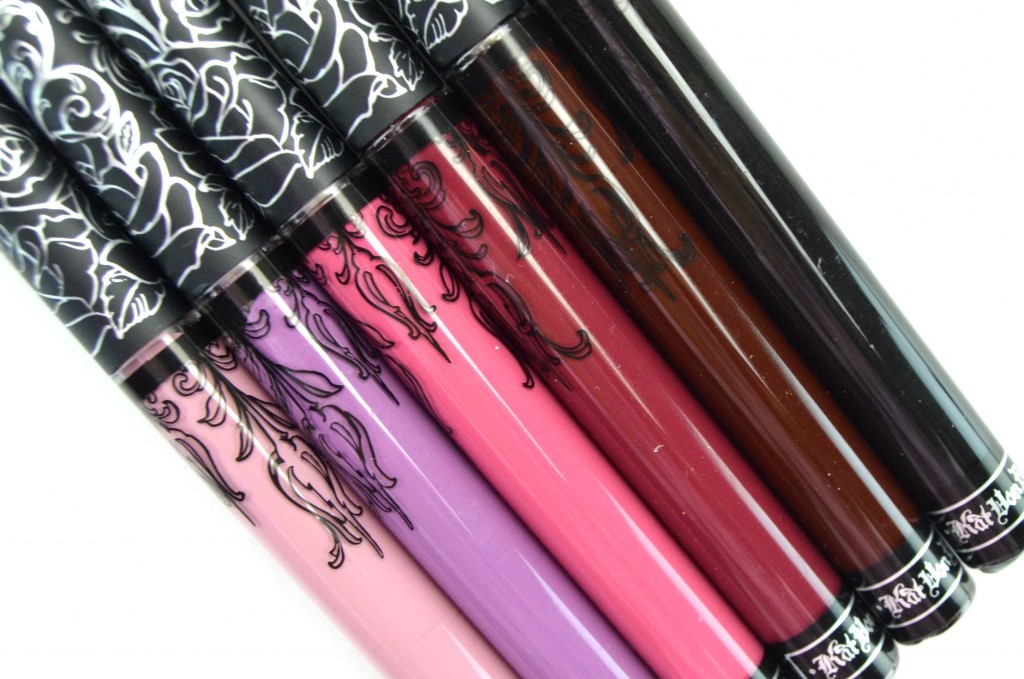 Kat Von D Everlasting Liquid Lipstick comes in a thin and sleek lipgloss tube done in a silver and black floral design with a standard doe-foot applicator for easy application. It has a rich and creamy texture that is truly outstanding. It's creamy and smooth formula applies like a dream and glides across the lips with ease. It's incredibly pigmented, you only need one swipe to achieve true opaque coverage and the staying power is phenomenal. If paired with a lip balm, it's comfortable to wear the entire day without feeling too dry. It also doesn't crack, bleed outside your natural lip line or accentuate any fine lines, just remember that balm. It stays put for a solid 6+ hours, even with eating and drinking. It will slowly start to fade after that, but will leave behind a beautiful stain.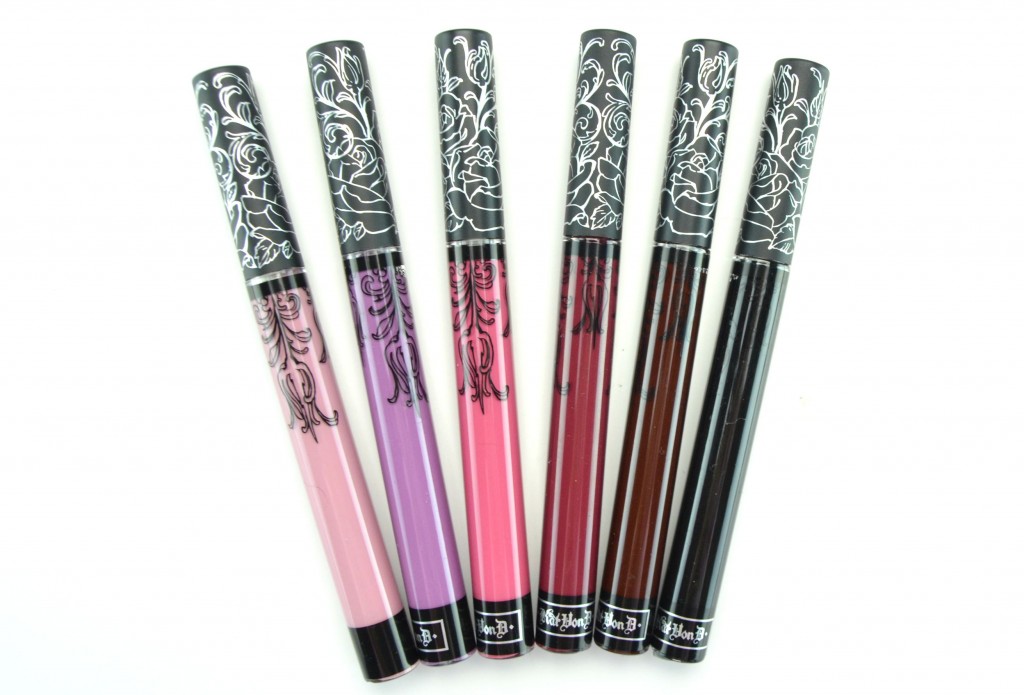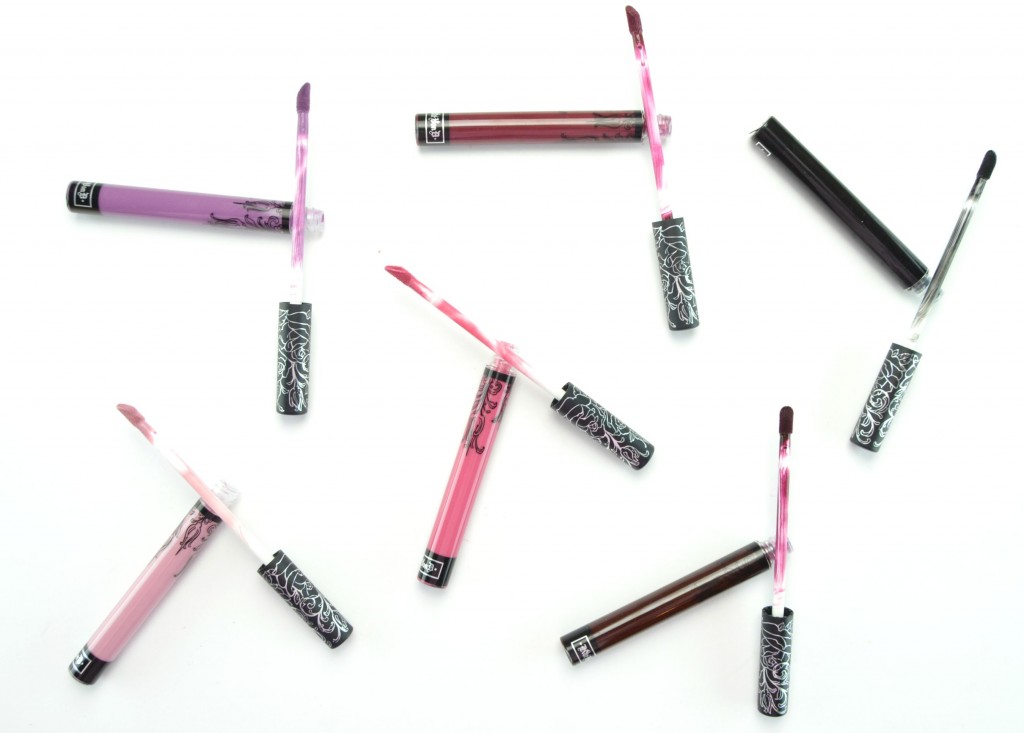 I absolutely love that I don't need to bother with a lip liner to achieve perfectly lined lips, the Kat Von D Everlasting Liquid Lipstick is almost like a 2-in-1. The new 16 shade selection offers everything from your basic nudes to rich, vampy fall shades, to even some fun and unexpected colours that you wouldn't expect in a lipstick. Although the formula sets fairly quickly, it still gives you enough time to blend before it completely dries. It provides a completely matte finish that is right on trend for this season and doesn't transfer or smudge the entire day. I found the lighter shades do apply more evenly than the extremely dark shades. The deeper shades can be a bit patchy, so I suggest applying in a few thin layer for a more seamless finish. It does have somewhat of a tacky finish, but this only helps prolong the wear time and after a few short minutes, you won't even notice it. It retails for $24.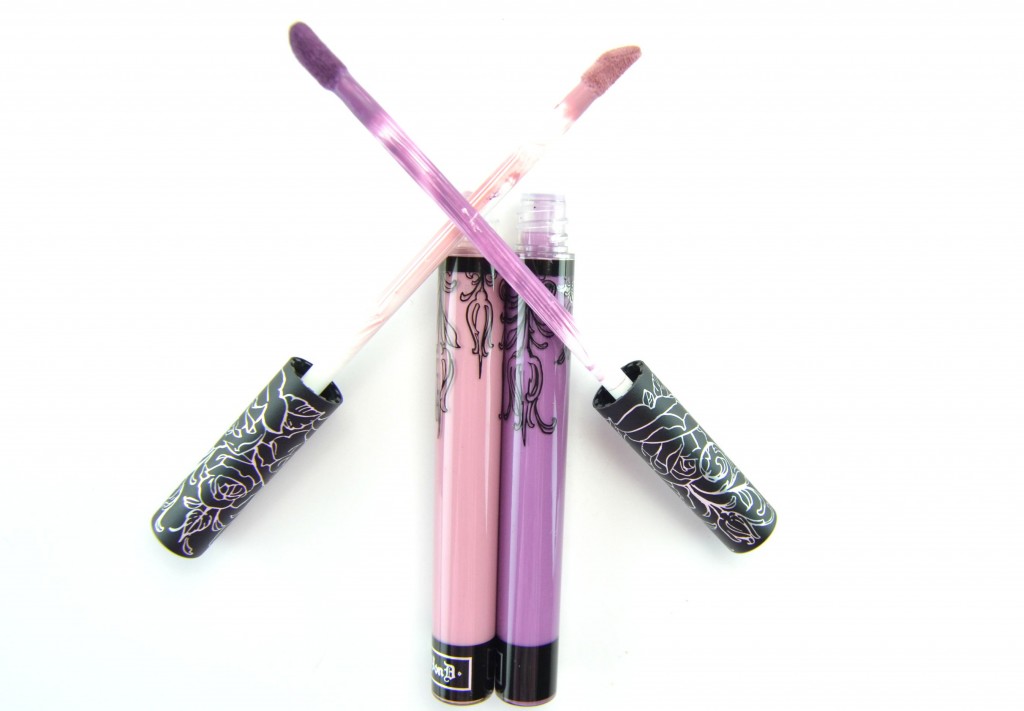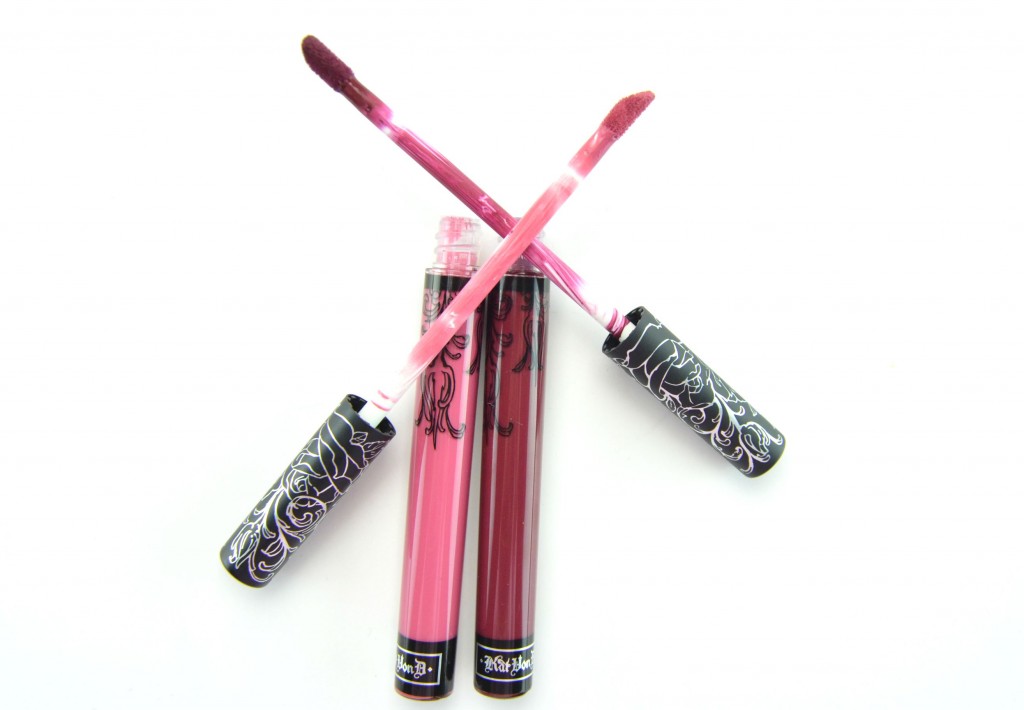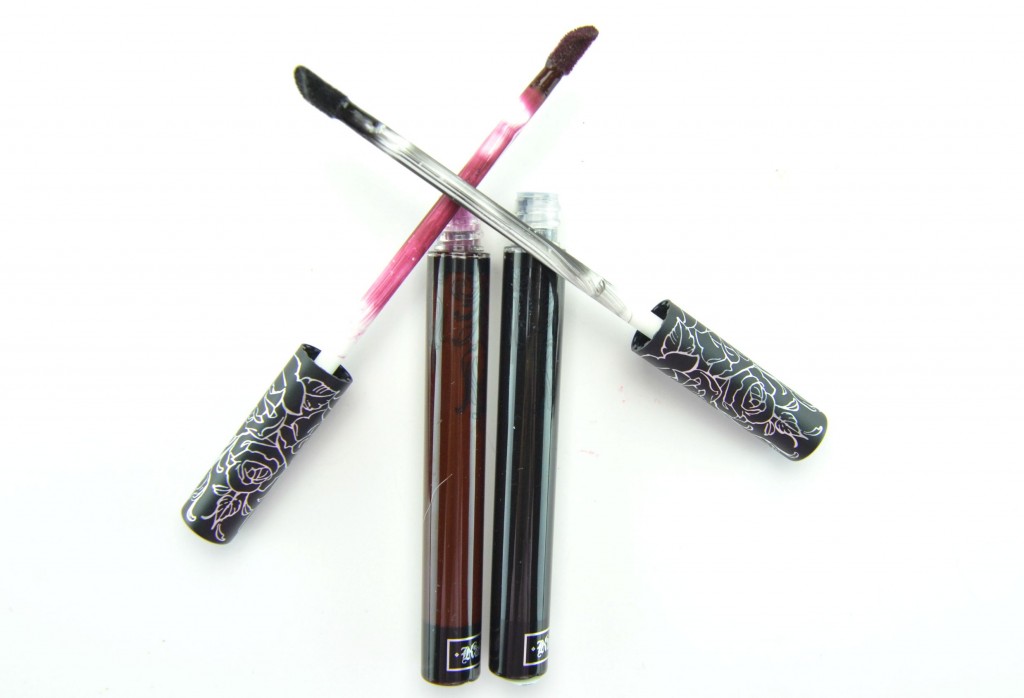 Kat Von D Everlasting Liquid Lipstick in Requiem is a soft lilac, Ayesha is a rich lavender, Mother is a dusty mauve pink, Exorcism is a ripe blackberry, Damned is a black cherry and Witches is a bold, ink black.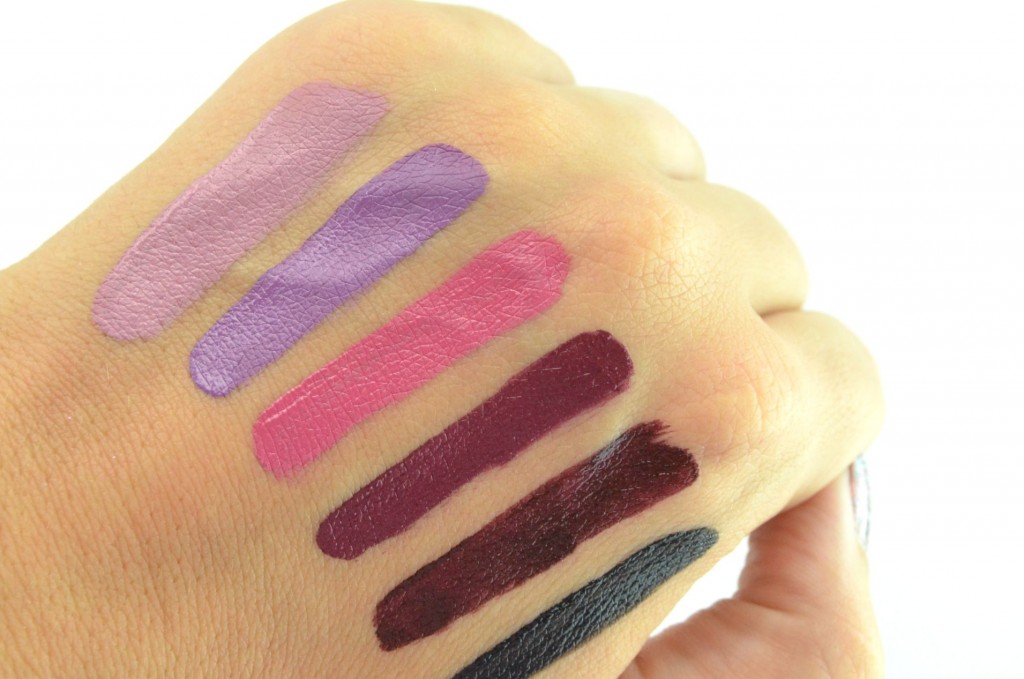 Kat Von D Metal Crush Eyeshadow is an innovative new shadow that offers maximum pigmentation with an extremely long-wearing formula. It features a "Color-Soaked Concentrate" formula that's basically a custom blend of saturated powders that undergo a unique tumbling process that helps soften and smooth each particle until it's formed into a rich, creamy and lustrous shadow. The end results, highly pigmented, polished metal finish in an ultra-long wearing formula.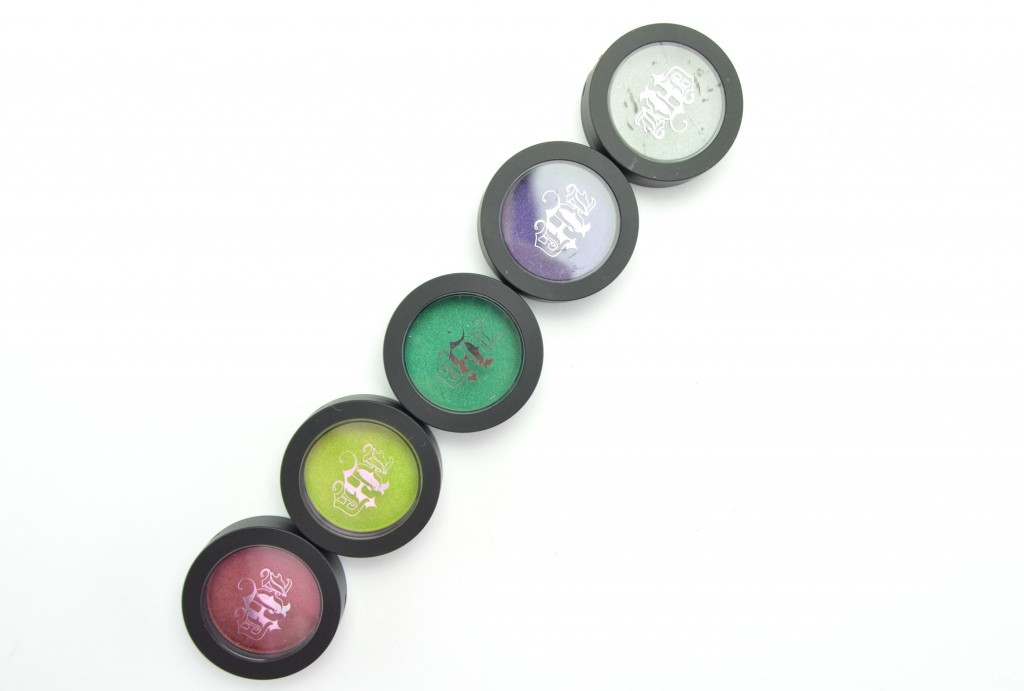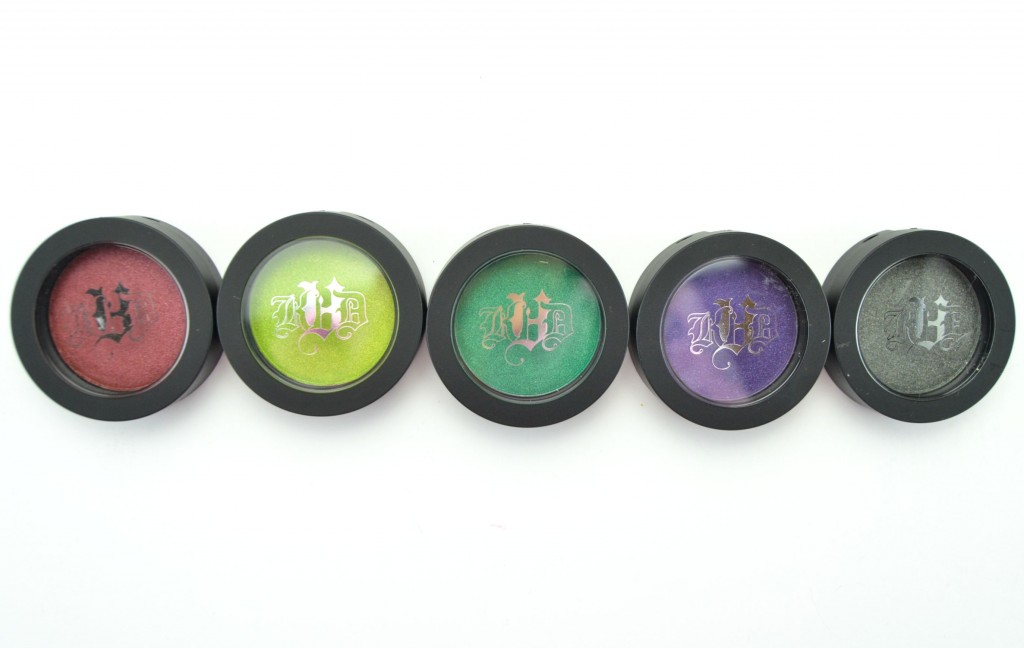 Kat Von D Metal Crush Eyeshadows come in a round plastic compact with a clear lid so you're able to see the shade within and Kat's logo on the front. It has an incredibly rich, creamy, and ultra-smooth texture that glides across the lid smoothly, saturating the eyelid in a beautiful metallic colour. It's truly intense and provides an electrifying pop of colour to the lid in a single swipe. It has a fairly soft, creamy, slightly thick and dense texture that's almost a hybrid between a cream and powder formula. It's extremely pigmented, applies seamlessly and blends into one another beautifully. It's buildable for more intense colour payoff and lasts throughout the day without creasing or fading.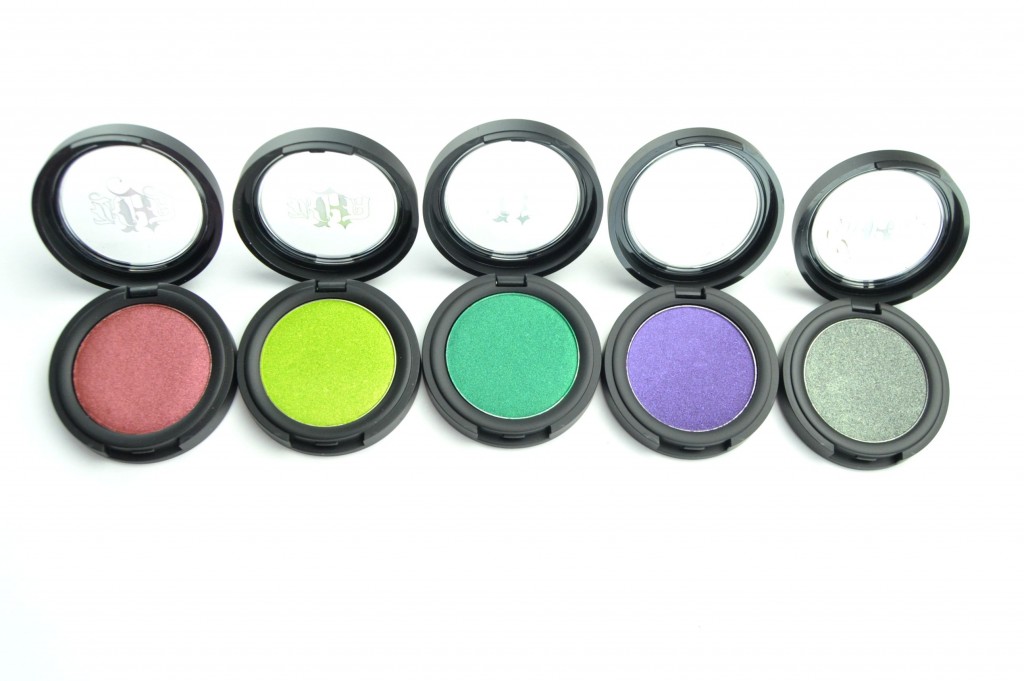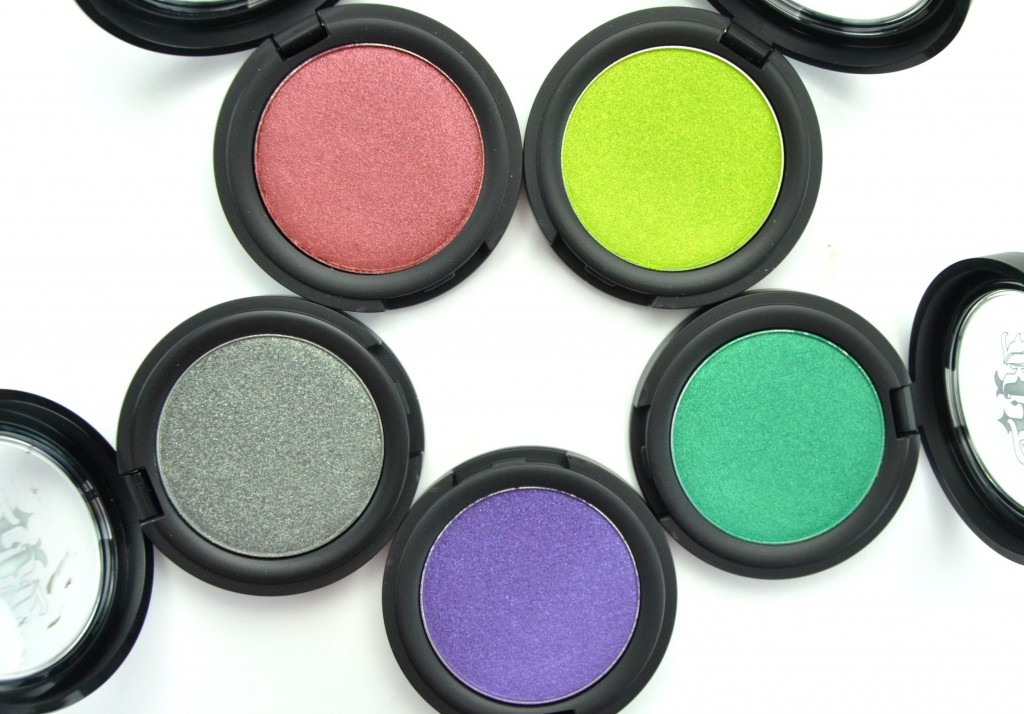 I'm totally obsessed with these new Kat Von D Metal Crush Eyeshadows. The performance of these shadows are truly amazing. Although it has a powder finish, it glides on and blends out like a cream. Each shade truly is rich, smooth, creamy and buttery soft. It glides on and applies effortlessly to the lid and each shade is truly opaque in a swipe or two. I had no problem picking up any of the shadows, no matter what brush I was using, and there was little to absolutely no fall out. Because of its unique, almost silicon formula, it almost acts as a built in primer, and even on days that I didn't apply a primer underneath, I could get a solid 8+ hours of wear time. When paired with a primer, it stayed put on my lid for a solid 12+ hours with no transferring, creasing or fading. It comes in 11 new shades and retails for $25 each.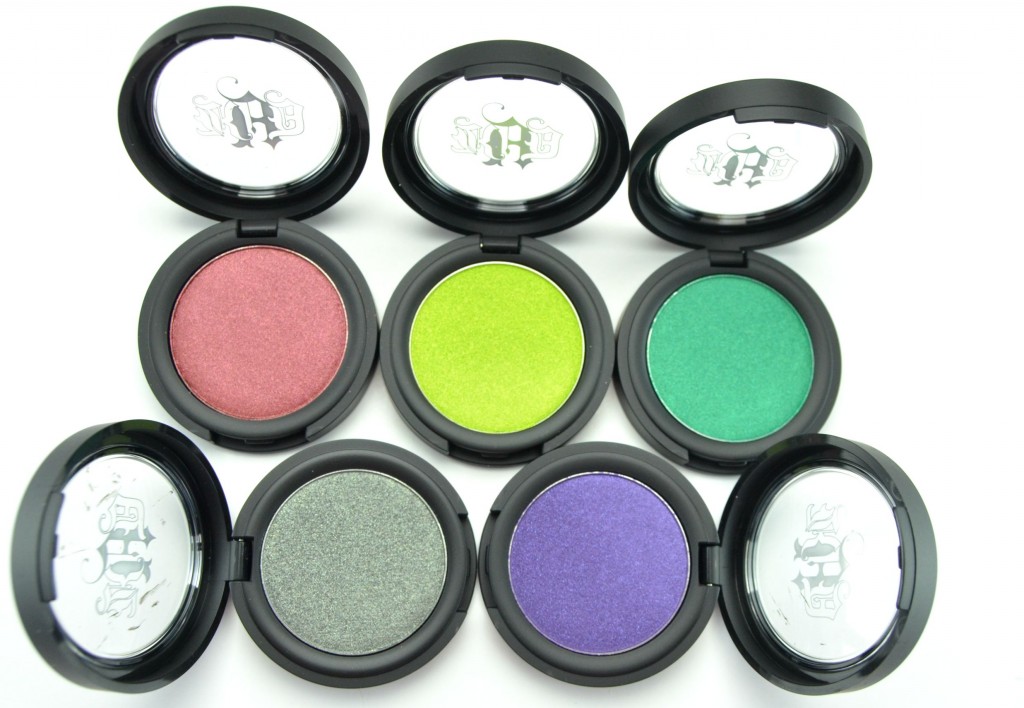 Kat Von D Metal Crush Eyeshadow in Raw Power is an iridescent intense garnet, Electric Warrior is a metallic citron green, Iggy is a pearlescent mermaid green, Danzig is a metallic violet and Black No. 1 is a shimmering sleek gun metal with almost a blue/ green tint to it.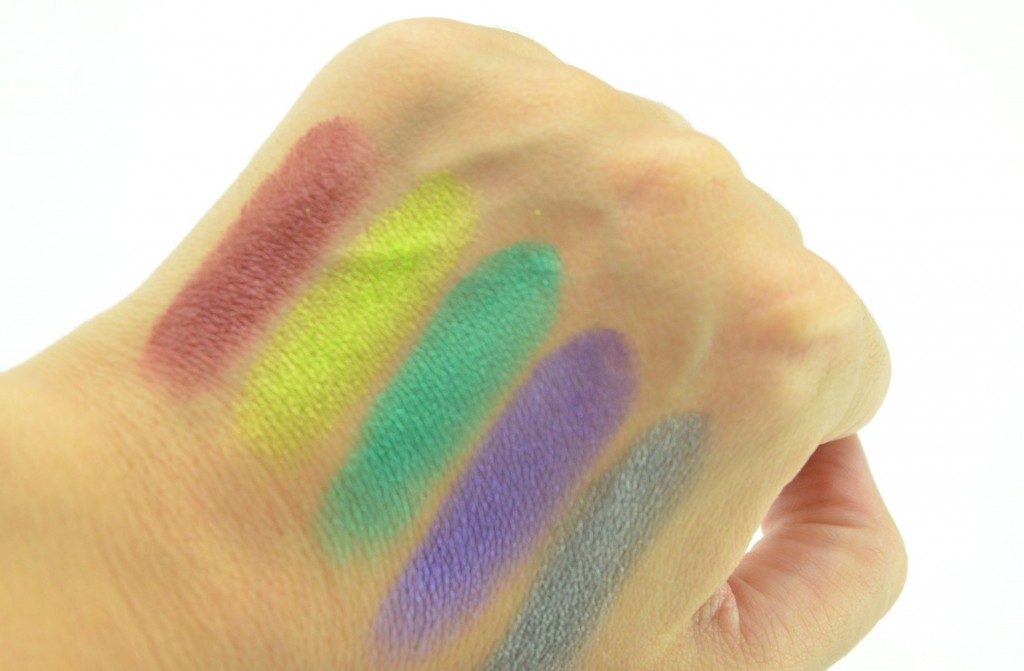 Kat Von D Studded Kiss Lipstick is an iconic product and for good reason. This innovated product provides high performance, bold punches of colour with a luxe comfort and longwearing formula. This hybrid lipstick is not only formulated with Color Cushion Technology that helps provide 10 hours of budge-proof wear with vibrant colour, it's also infused with vitamins A, C, and E to help keep lips soft, smooth and moisturized.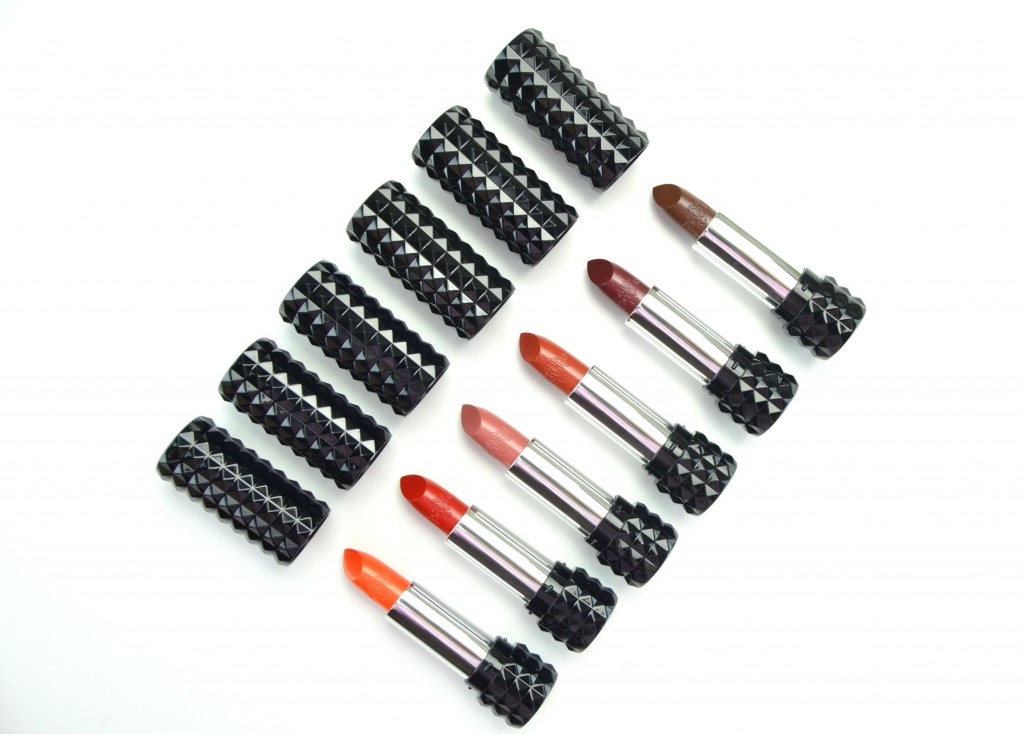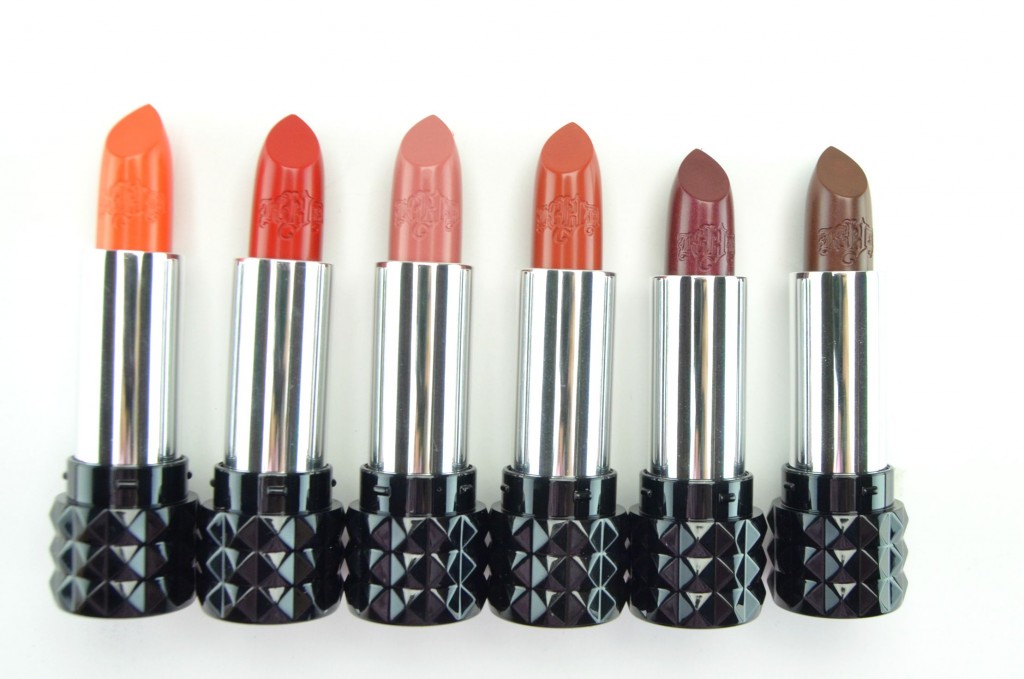 Kat Von D Studded Kiss Lipstick comes in Kat's signature black studded casing that was inspired by her favourite bracelet, and it truly reflects her unique and signature style. Its monochromatic casing is also studded and topped with KVD monogram on the outer crown and bullet. It has a lightweight, creamy texture that almost glides and melts onto the lips. It doesn't cling, pull or tug on the lips and applies with an even, opaque colour in a few easy swipes. It's velvety smooth, extremely comfortable and has a crème brûlée scent that provides a subtle and sweet experience every time you apply it. It lasts throughout the day and well into the evening without bleeding into fine lines, smudging or budging.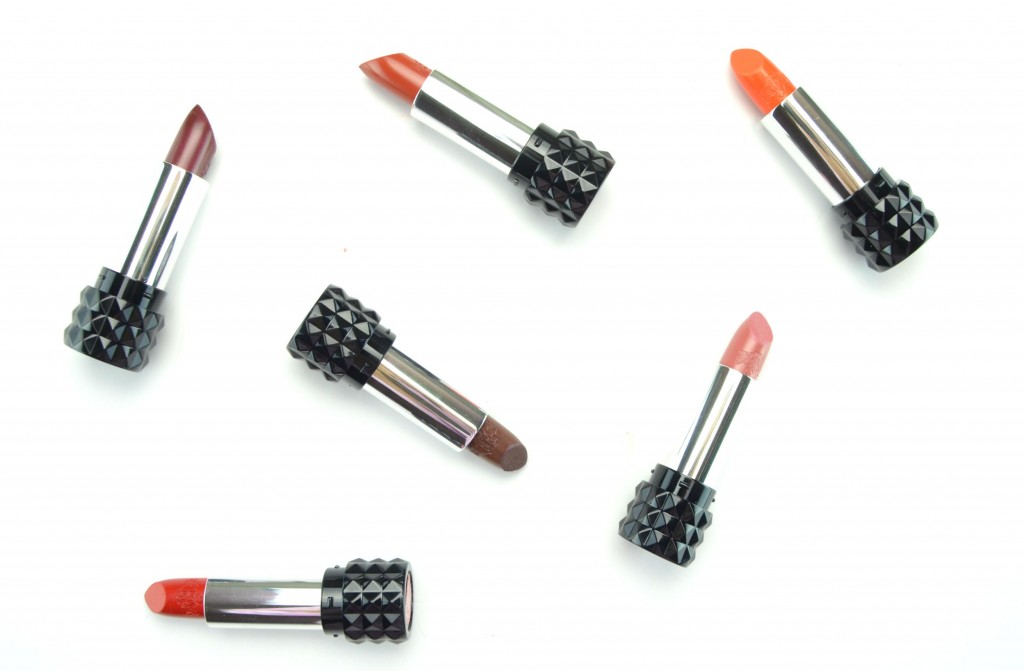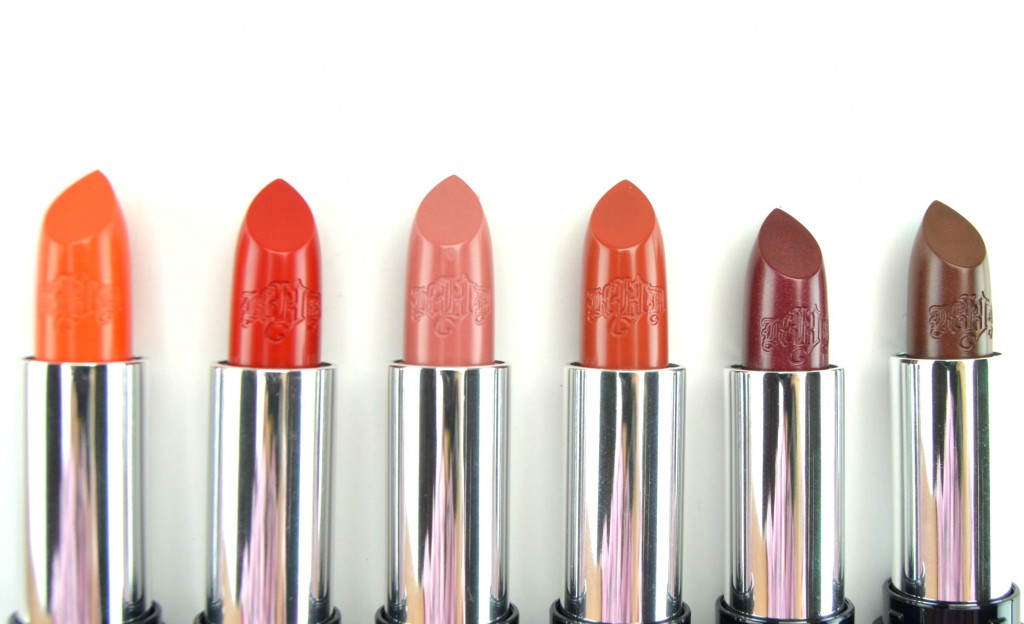 Kat Von D Studded Kiss Lipsticks have quickly become a favourite of mine, but these new shades are truly breathtaking and truly unique. Although it provides a matte finish, it has a wide variety of finishes. Each shade provides a rich and highly pigmented colour coverage that stays put until you're ready to take it off. I can get a solid 6 to 7 hours' worth of wear time, no matter how much I have to drink that day. Added bonus, even though it has a matte finish, it's comfortable to wear throughout the day without feeling heavy, dry or cakey. It comes in 9 new bold, electrify, one-of-a-kind shades that are perfect for all skin tones and retails for $26 each.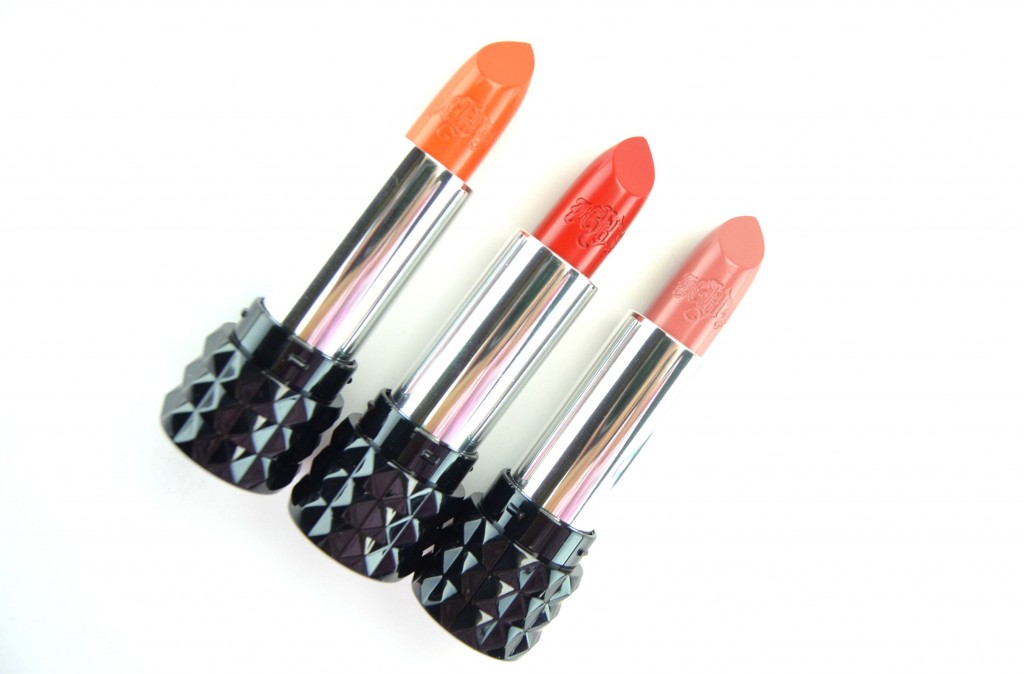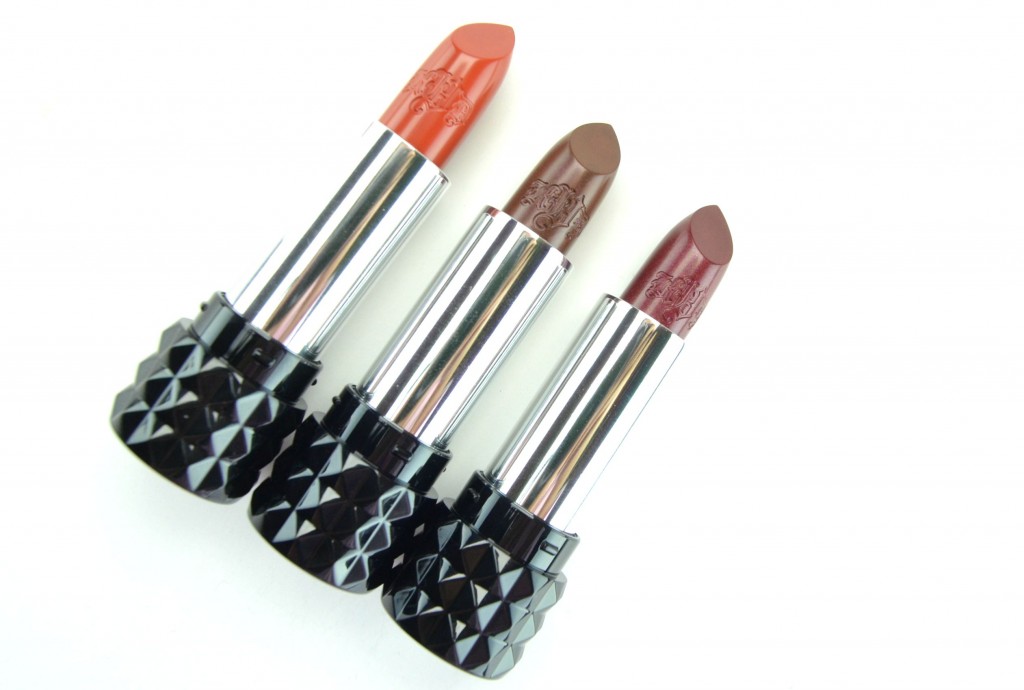 Kat Von D Studded Kiss Lipstick in Halo is a bright orange, Tijuana is a bold magenta, Magick is a nude berry shimmer, Chula is a terra cotta, , Mercy is a plum shimmer, and Piaf is a chocolate brown with purple shimmer.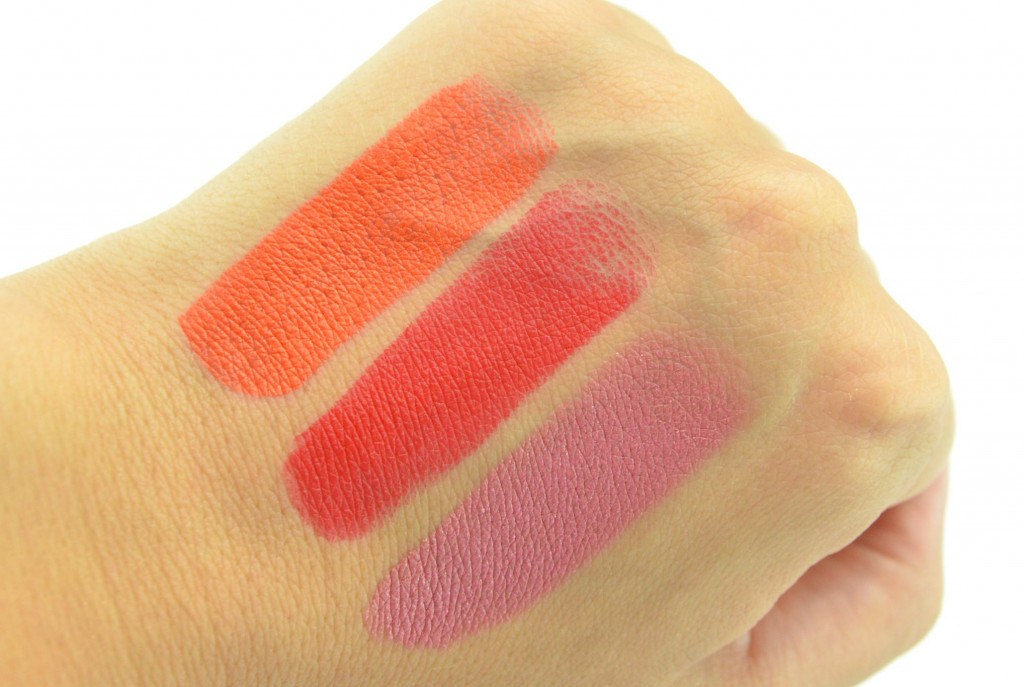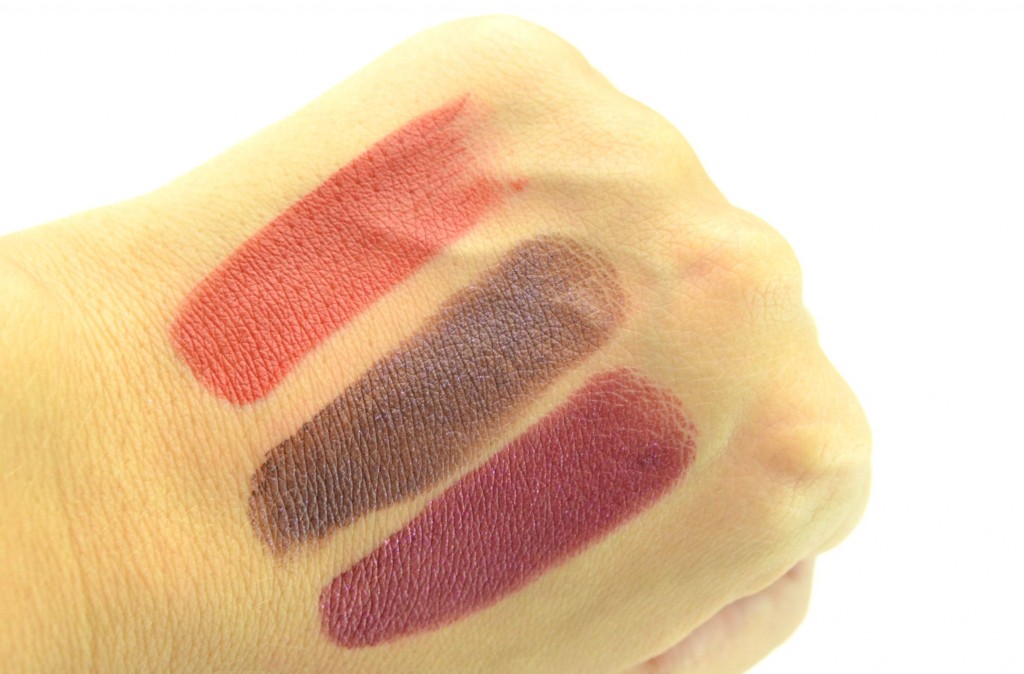 Also new this season, Kat Von D Five Fearless Years Limited Edition Tattoo Liner in Trooper. Not only is this one of Kat's bestselling liner, it comes with an exclusive new look. This collectible design celebrates the 5th anniversary the liner and features her autograph, along with her signature stars on a brushed-metal shell. It also helps to support the California Wildlife Center, for every sale, Kat will donate $1USD to the CWC in hopes to raise over $100,000. It retails for $29.