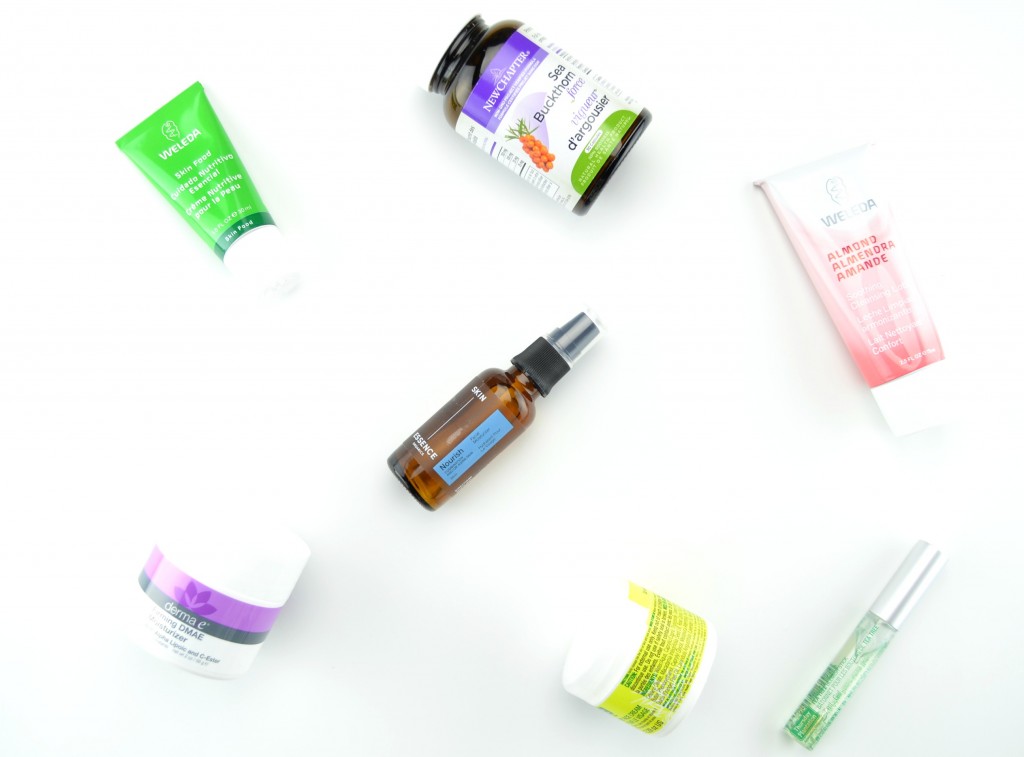 Going Green

They say beauty is skin deep, yet we all feel the need to slather, lather and rub on endless amounts of skin care products daily to help keep us looking young for years to come. Being a beauty blogger I get to experiment with my fair share of lotions, potions and moisturizers, in hopes of finding that Holy Grail product that will have my skin looking like a baby's bum in no time. I often wonder just how much of these products, and the chemicals they are formulated with, are getting absorbed into my skin. The FDA claims these products are safe for daily use, but how much is too much? Many products contain dangerous ingredients that not only disrupt hormones, but have potential unknown side effects that can show up years later. Because of these harmful ingredients, more and more people are looking to go green and trying to purchase as many all-natural products as they can. This can be extremely overwhelming for someone just starting out, which is why we rely on retailers to help us out. At Well.ca, they carry several certified natural skin care brands that will help you take the guess work out of which products are actually good for your skin and overall health.
Weleda is a 100% certified natural skin care line that's made with Biodynamic and organic ingredients for your overall health, wellbeing and beauty. It's formulated without pesticides or chemicals and proves that nature can nurture and the Earth can heal.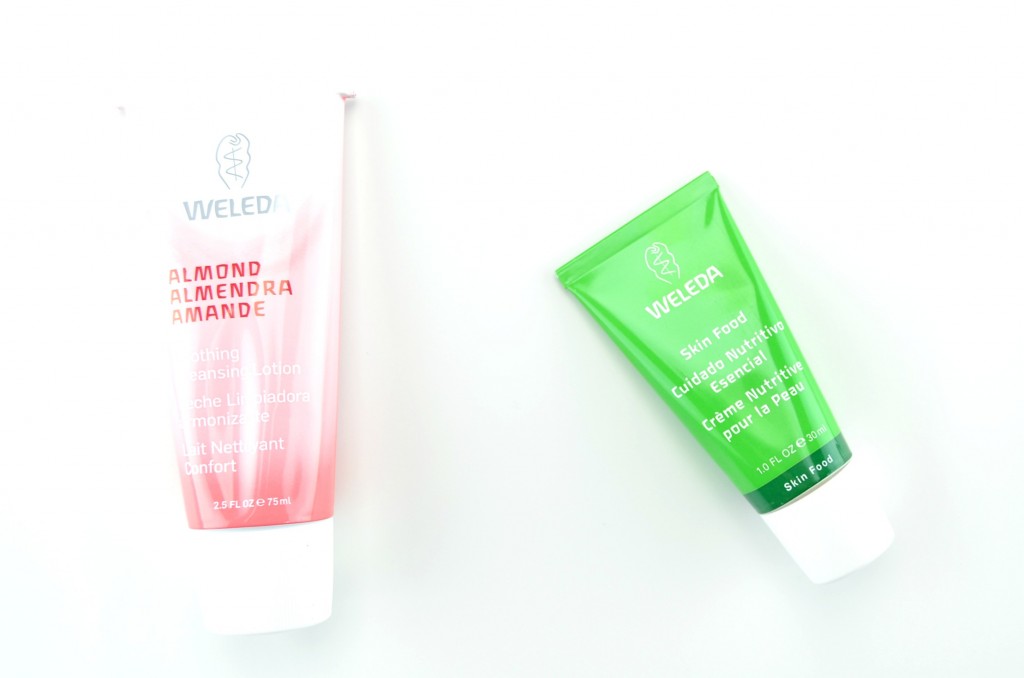 Weleda Almond Soothing Cleansing Lotion is a gentle, hypoallergenic, fragrance-free cleansing lotion that helps to mildly cleanse and protect the skin. It's formulated with organic sweet almond oil which is packed with essential fatty acids that not only nourish and soothe the skin, it helps balance your natural moisture level to keep it hydrated throughout the day. It also contains plum kernel oil with high amounts of antioxidants and vitamins A and E that quickly absorb into the skin to keep it soft and protect it from the environment.
Weleda Almond Soothing Cleansing Lotion has a lightweight, creamy, slight gritty texture that gently cleanses the skin without drying it out. Its silky, lotion like texture massages into the skin easily to remove dirt, oil and impurities. It's incredibly soft formula also does an excellent job at removing makeup (besides waterproof eyeliner and mascara) with no harsh scrubbing needed. It is perfect for both day and night, and its mild formula is perfect for those with sensitive and dry skin. It washes clean away without any residue and leaves skin feeling velvety soft and smooth. It does an excellent job at moisturizing the skin, unlike some cleansers that only leave my skin feeling dry and tight. It has a light and yummy scent of almonds. My skin is instantly left feeling refreshed, soft, supple and balanced. It retails for $24.99 for 73ml.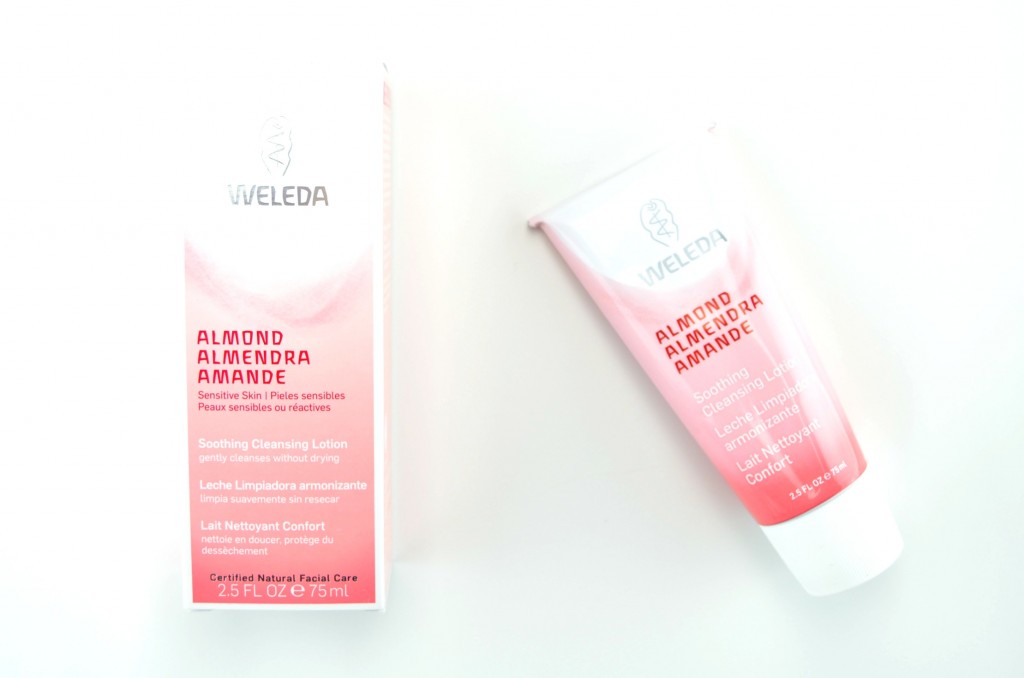 Weleda Skin Food for dry and rough skin is an intensively nourishing and deeply hydrating cream. It is deeply hydrated, restores and protects the skin and is perfect for stubborn dryness on the elbows, hands and feet. It moisturizes and conditions with essential fatty acids, vitamin E and organic sunflower seed oil. It also contains organic pansy, to help calm dry irritated skin, soothing rosemary leaf extracts is a mild antiseptic and anti-inflammatory properties from organic calendula flower extract.
Weleda Skin Food has an extremely thick and rich creamy texture that does take a while to fully absorb into the skin. Because of its heavy texture is also has somewhat of a greasy residue, that's probably best for those with extremely dry skin (like the name says). It does have a strong scent that is fairly overwhelming and might be best to use at night. To me, it smells like a mixture of vodka and mint. Even though it does take some time to soak into the skin, its still one of my favourite moisturizers at the moment. It does a wonderful job at deeply moisturizing and hydrated my dry skin, especially around my dry cuticles, knuckles and heels of my feet. As a daily moisturizer, it might be a little too oily for those with oily skin, but would be perfect as a night treatment for those with drier skin. After only a few short weeks my skin is softer, smoother and supple. It's added a touch of radiance back into my skin for healthier, glowing complexion. It retails for $11.99 for 30ml.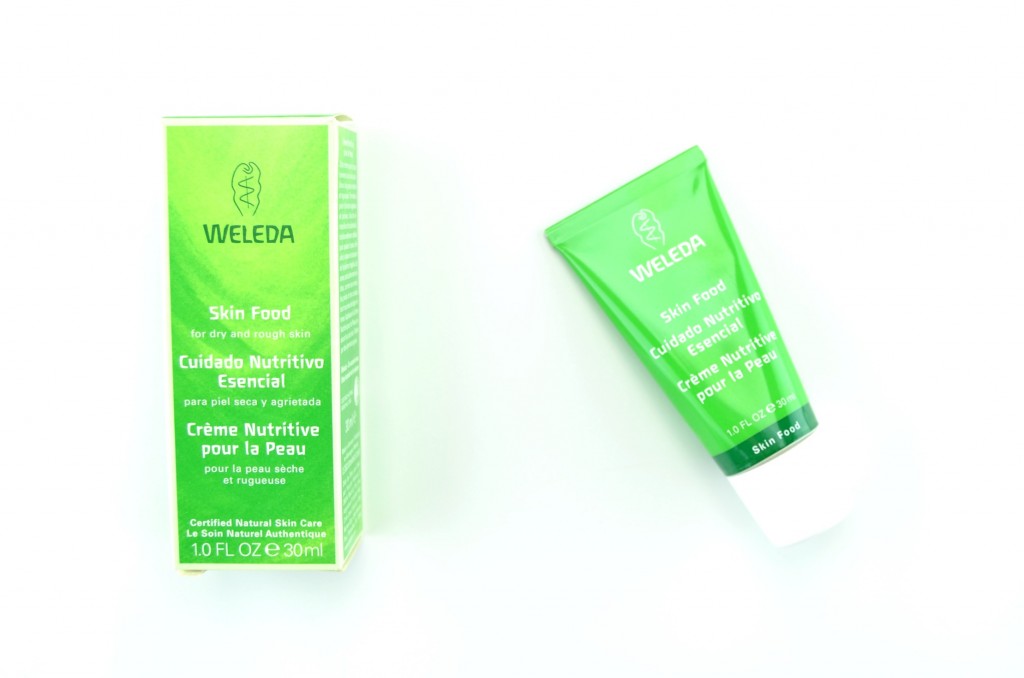 Thursday Plantation Australia's Original is a natural skin care line that's derived from tea tree which is indigenous to Bungawalbyn Swamp, Australia. It also contains plant oils that have the capability to absorb quickly into each layer of the skin. It promotes natural healing and rejuvenates the process. It is formulated without synthetic parabens, sodium lauryl sulphate, sodium lauryl ether sulphate, harsh detergents and are free from animal testing.
Thursday Plantation Australia's Original Tea Tree Face Cream is formulated with Tea Tree Oil, Rose Hip Oil and Vitamin E to help restore skin's natural moisture balance after cleansing.
Thursday Plantation Australia's Original Tea Tree Face Cream has a lightweight, creamy texture that absorbs into the skin fairly quickly with no greasy or oily reside, therefore won't clog your pores. It also does an excellent job at not only hydrating the skin, but keeping breakouts at bay. It not only helps to prevent future acne, but targets the ones that are already on the surface. It does have a strong tea tree scent that might be best used at night, as it does tend to linger for a few hours. It retails for $15.99 for 65g.
Thursday Plantation Australia's Original Tea Tree Blemish Stick is an invisible gel that helps to target blemishes and breakouts. It is formulated with a special blend of tea tree oil, vitamin E and Spearmint Oil to help keep skin clear of blemishes and prevent new ones from appearing.
Thursday Plantation Australia's Original Tea Tree Blemish Stick comes with a convenient sponge tip applicator for easy application. This allows us to not use our finger, which can in return add more bacteria to the skin causing more breakouts. It's clear, gel like texture is easy to apply, blends into the skin effortlessly and dries within seconds. Again, it does have a strong tea tree scent that might be best applied at night.

I've tried tea tree spot treatments in the past, only to wake up to dry, irritated skin around the breakout. I'm happy to report this Thursday Plantation Australia's Original Tea Tree Blemish Stick not only is tough on breakouts, but gentle enough to use nightly. I noticed a significant improvement in my breakouts after only a few short days and it dries up small pimples fairly quickly (within a day or two). The small amount of breakouts I do have, heal a lot faster without leaving my skin dry or flaky. It retails for $11.99 for 7ml.
Derma E is a natural skin care and facial care line that only uses the highest quality natural ingredients, along with advance technology, to visibly achieve healthy, radiant, glowing looking skin. It incorporates powerful antioxidants, vitamins, and herbal remedies that vegetarian and cruelty-free, and free of parabens, phlatales and SLS to not only give visible results but assures you're using the safest products on the market today.
Derma E Firming Moisturizer is enriched with moisturizing Jojoba Oil and nourishing Vitamins A and E, to help hydrate, nourish and smooth the skin. It's also formulated with DMAE to help reduce fine lines and wrinkles along with Alpha Lipoic Acid, a natural antioxidant, to help protect and boost skin's cellular structure. Finally C-Ester helps protect skin cells from free radical damage and reduce the appearance of lines and wrinkles.
Derma E Firming Moisturizer has a thick and creamy texture that once applied gives a slight tingling sensation to the skin. It instantly absorbs into the skin without feeling heavy or greasy and is the perfect lightweight moisturizer for under makeup. It helps to support healthy collagen and elastin to visible reduce the look of facial sagging and help diminish the visible signs of aging. It also helps to firm, lift and tone both the face and neck and protect skin from future damage. It retexturizes the skin for a more even, smoother complexion even before applying foundation. It helps to even out discolouration for a radiant, glowing finish and helps prevent future breakouts. It retails for $24.99 for 56g.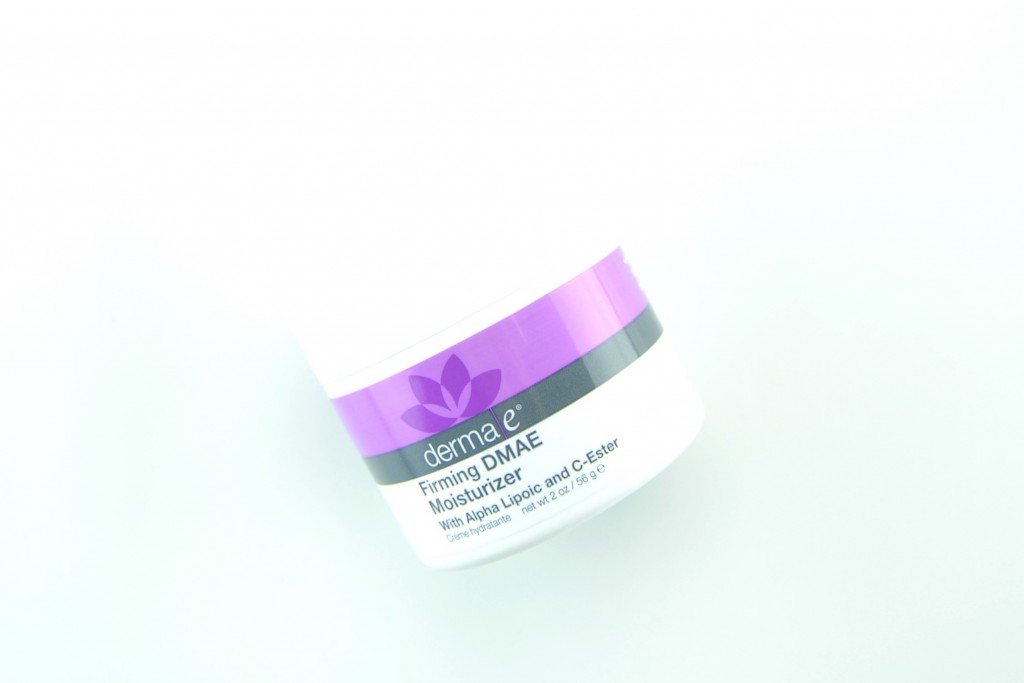 New Chapter produces natural vitamins, minerals and herbal health products from whole-food complex that is easily recognized by your body and is easily absorbed and gentle on your stomach. It uses only organic ingredients to create the finest products that are truly natural and made of 100% real food and herbs.
New Chapter Sea Buckthorn helps to promote healthy skin by taking just 2 capsules daily with a large meal or 250ml of water. It's formulated with extracts of sea buckthorn fruit and seed along with Omega-7 fatty acid that provides antioxidant protection, anti-aging properties and overall health support. It helps to reduce blood fat and promote circulation for natural healing. It's also good for healthy digestive, respiratory and urogenital systems.

I'm usually pretty careful on what I consume, not one for taking vitamins and supplements as I think if you eat the right foods, these benefits will come naturally. Since New Chapter Sea Buckthorn are all natural, I figured it would be safe to take. Although I've only been taking them for a few weeks, I've already noticed I'm more alert and not as sleepy throughout the day. I'm able to sleep soundly and peacefully for an entire 8 hours without tossing and turning or waking up endless amounts of time throughout the evening. My skin has been glowing these past few weeks and doesn't seem as dry and patchy, but this could also have something to do with the other all-natural skin care products I've been testing out? I guess time will tell. I have nothing to lose besides healthier looking skin and faster growing hair. It retails for $25.99 for 30 capsules.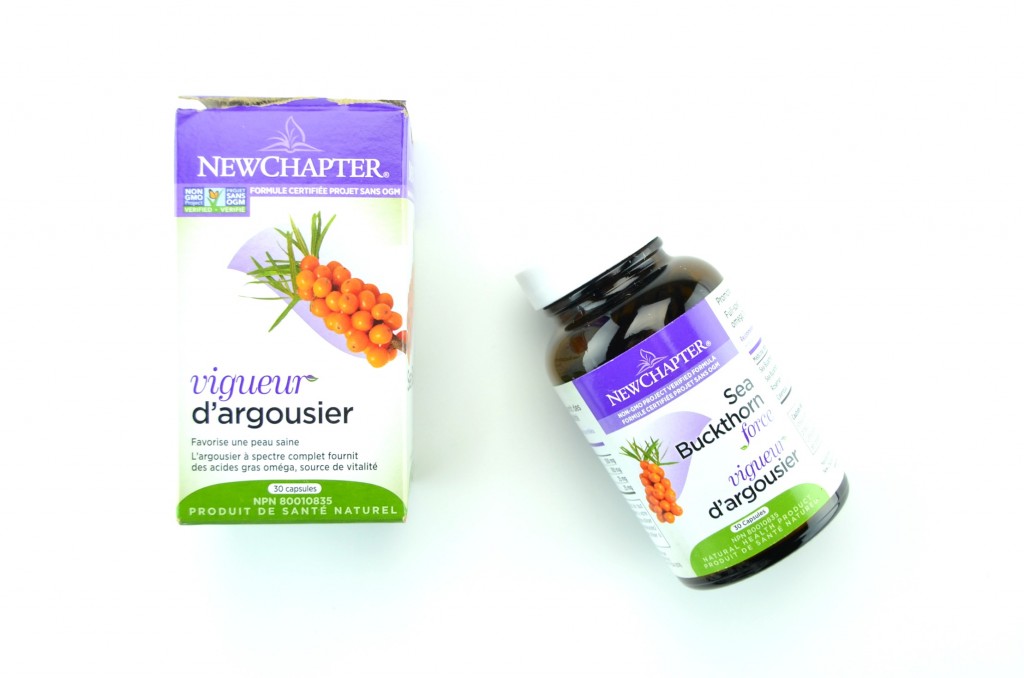 Skin Essence is truly different than any other company out there. They only use carefully selected and most beneficial organic ingredients to product each unique product. It's specifically created to be a healthy and nourishing alternative for the body's largest organ, the skin. Each product helps to rejuvenate cells, feed capillaries and nourish the skin.

Skin Essence Nourish Facial Moisturizer features carefully selected extracts and minerals to help stimulate and rejuvenate skin cells, while also nourishing the skins vital capillaries. It's formulated with vitamin C to help stimulate collagen production, which will help improve skins elasticity. High amounts of nutrients naturally tone the skin to help achieve a youthful, glowing complexion. You start by shaking the bottle to ensure all the key ingredients are present in each application and then massage the serum into the skin for 10-20 seconds. It will take about 5 minutes to fully absorb into the skin.
After cleansing my skin, I mist my face with water and then apply one pump of the Skin Essence Nourish Facial Moisturizer. Although it does take a few minutes to fully absorb into the skin, it instantly leaves my skin feeling moisturized without being greasy or oily. I've been applying it at night and don't even feel the need to apply my nightly moisturizer when using this oil. It's also actually helped out with my breakouts, probably because of the zinc oxide that's an excellent anti-inflammatory and as soothing properties. Small red bumps were cleared up within a few short days and after a few weeks, my overall skin texture appeared smoother and more even. Even in these cold dry months, I don't feel the need to moisturize as often as it does a wonderful job at keeping my skin hydrated. It retails for $32 for 30ml.