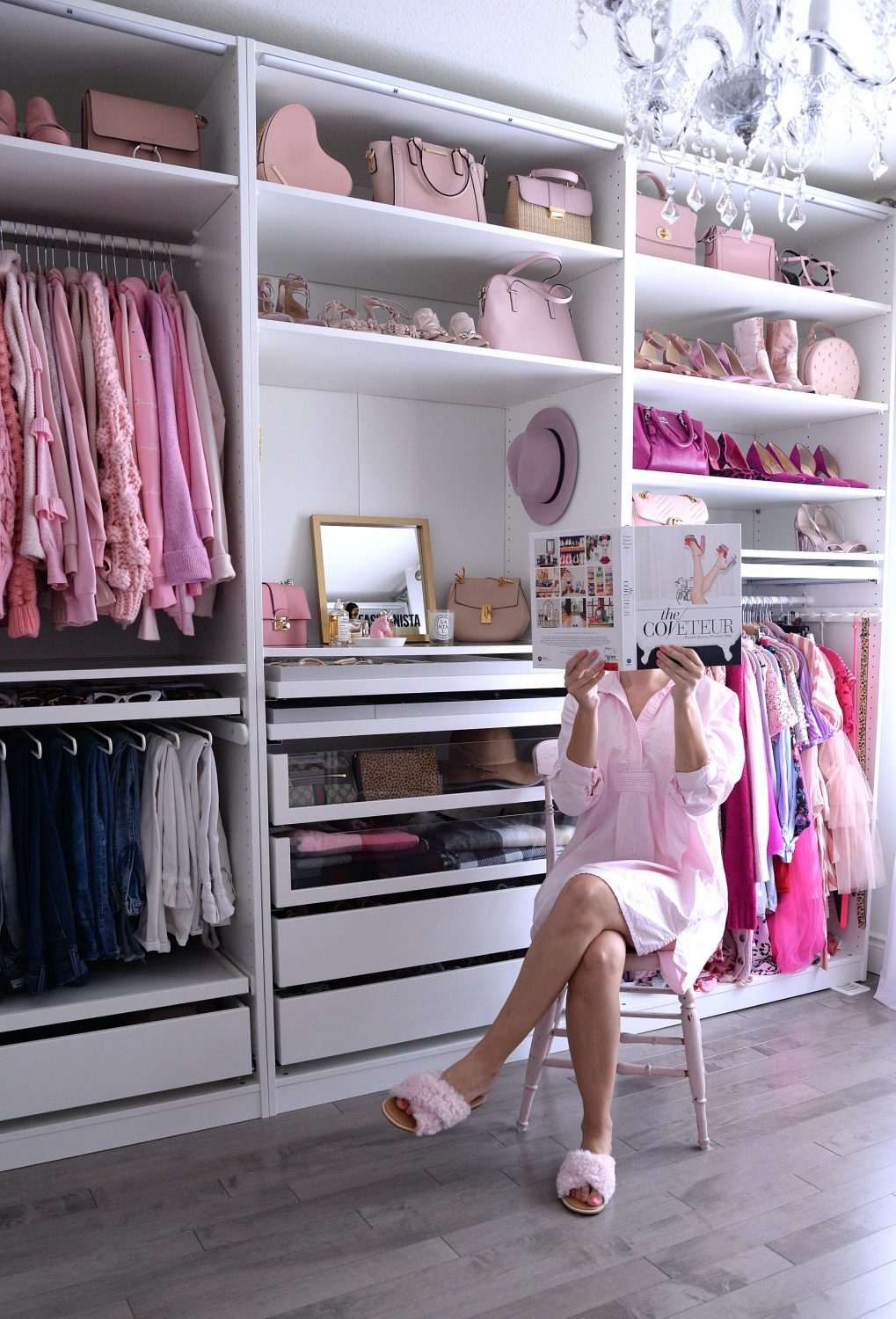 IKEA Pax Wardrobe
Today I'm taking you inside my brand-new IKEA PAX Wardrobe Closet. If you haven't read my "Current IKEA PAX Wardrobe Walk-In Closet" blog post, I highly suggest reading that first. It goes into detail why I was looking to upgrade, what I was looking for in my new closet and just a general idea on what my closet wants, and needs are. I've had the Pax system for years and couldn't be happier with it. I love that it gives me the freedom to design a system that suits my personal preference. You're able to decide on the overall height, length, colour and even style. I found it to be the most affordable option, when it comes to custom closets, without sacrificing style, design or quality.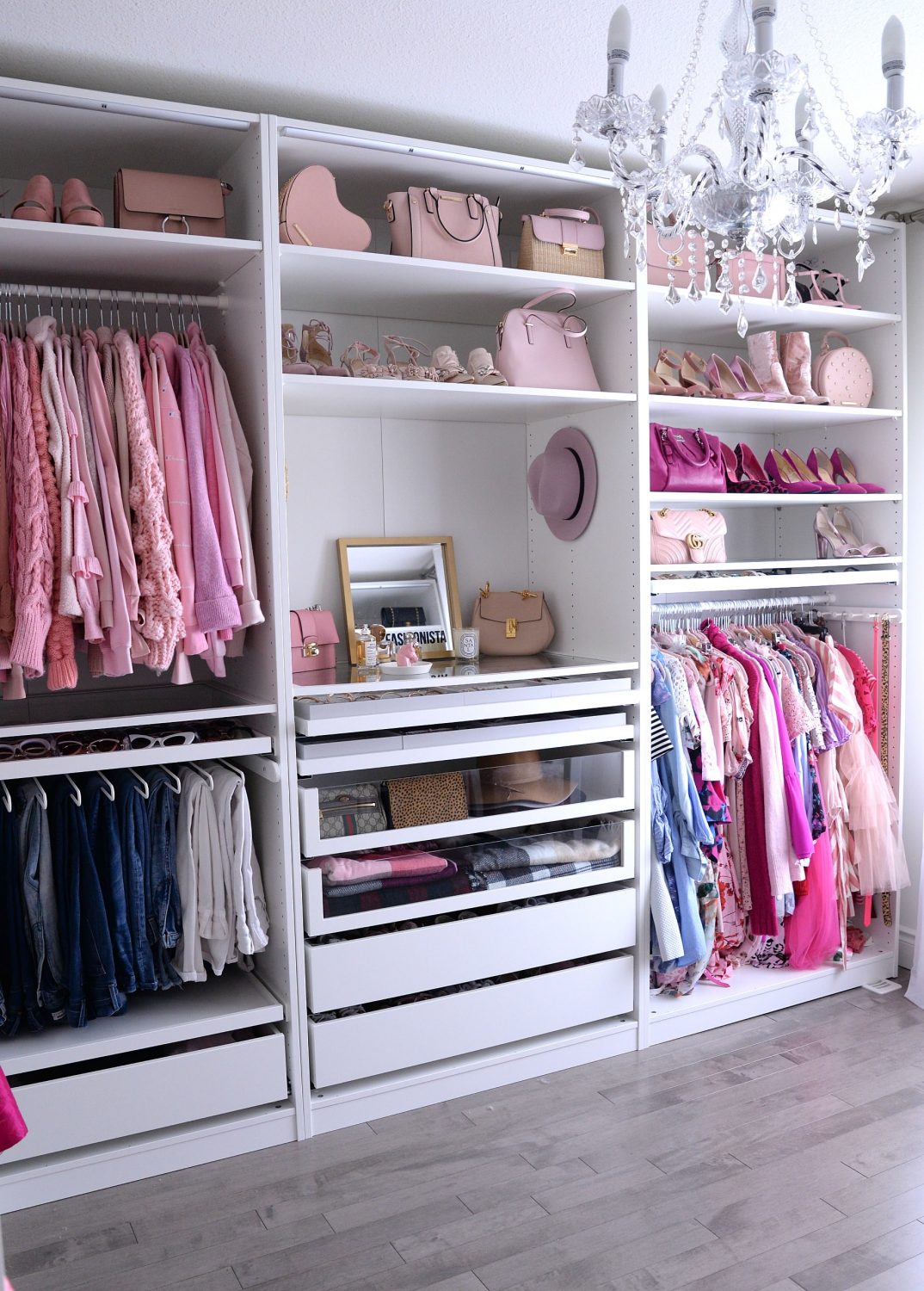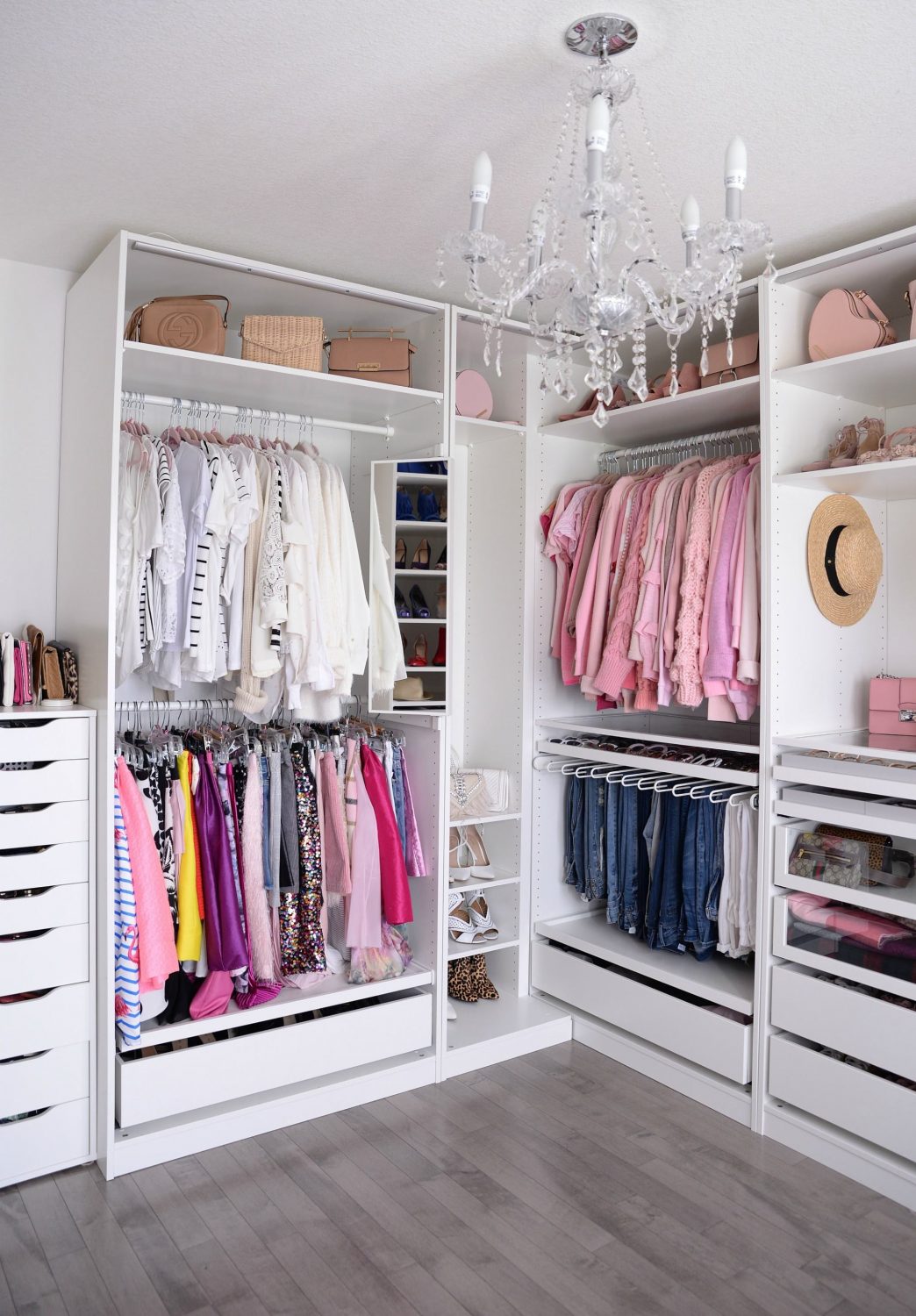 You, of course, can start with their pre-designed combinations, but you can also use their free PAX Wardrobe Planner to fully customize it and make it truly unique. You set your layout and then begin tailoring it to fit your space. Be sure to have your measurements ready, but besides that, everything else is done online with their planning tool. Have fun dragging and dropping what type of items you want in your closet all from the comfort of your own home. After you have your units and layout picked out, you can then have fun customizing it with added solutions for organizing. From shelves, shoe rails, pull-out functions, drawers and trays, the possibilities are endless.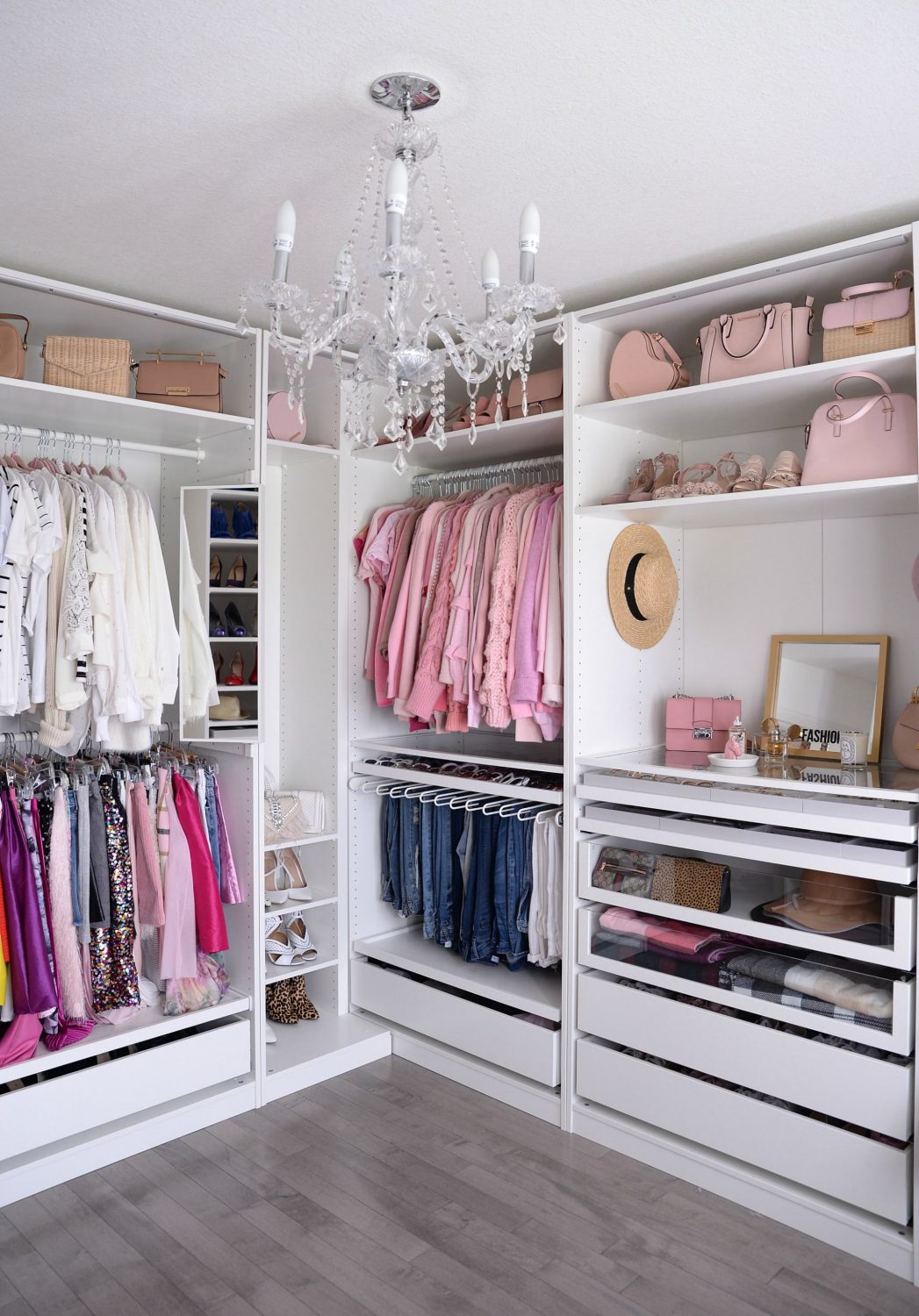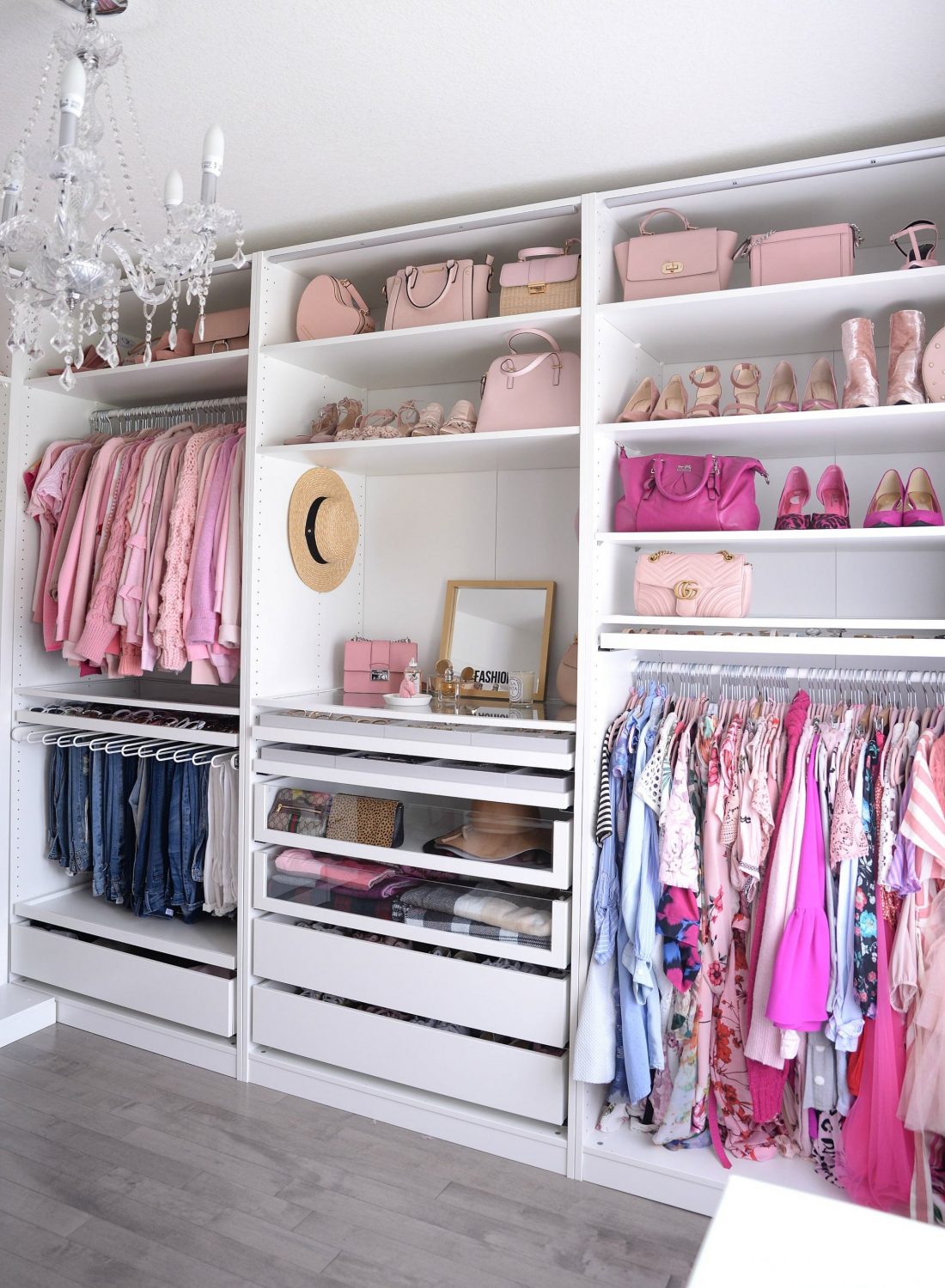 My first tip, when looking to build your dream closet, is to utilize every inch. This doesn't necessarily mean you have to invest in an entirely new system but taking advantage of every area of your closet is key. Pay attention to your ceiling height and don't be afraid to make use out of every inch of it. Unlike my previous closet, where I only had the 201cm height system, this time around I went with the 236cm ones. This not only created the illusion of taller ceilings, but it allowed for more storage. In total I have 6 Pax 100x58x236, 1 Pax 50x58x236 and a Pax Corner Unit. Because I wanted my space to feel like a boutique, I decided to keep it open-concept. Of course, IKEA does offer matching doors if you wanted your space to be more private.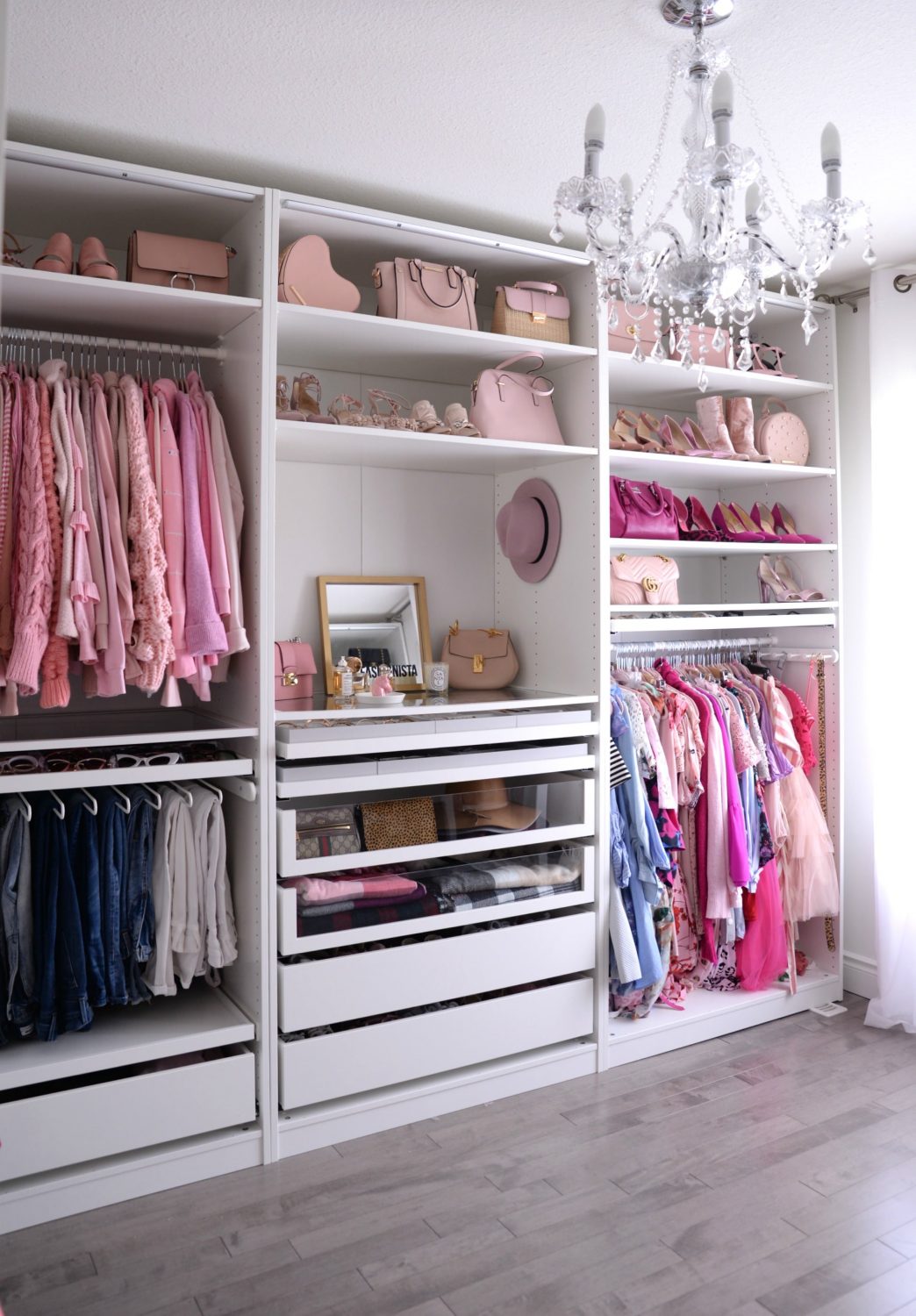 A lot of standard closets only offer one bar going across the length of the closet. The key to a well-functioning space is to have options. You can either add in additional bars, almost doubling your wardrobe, or you can add in drawers or shelves. Different clothing items need different ways to hang and store them. For my new closet, I went with both hanging rails, shelves, drawers, pull-out pant hangers and belt hangers. This allows me the freedom to change up what I want to have on display and what I want discreetly hidden.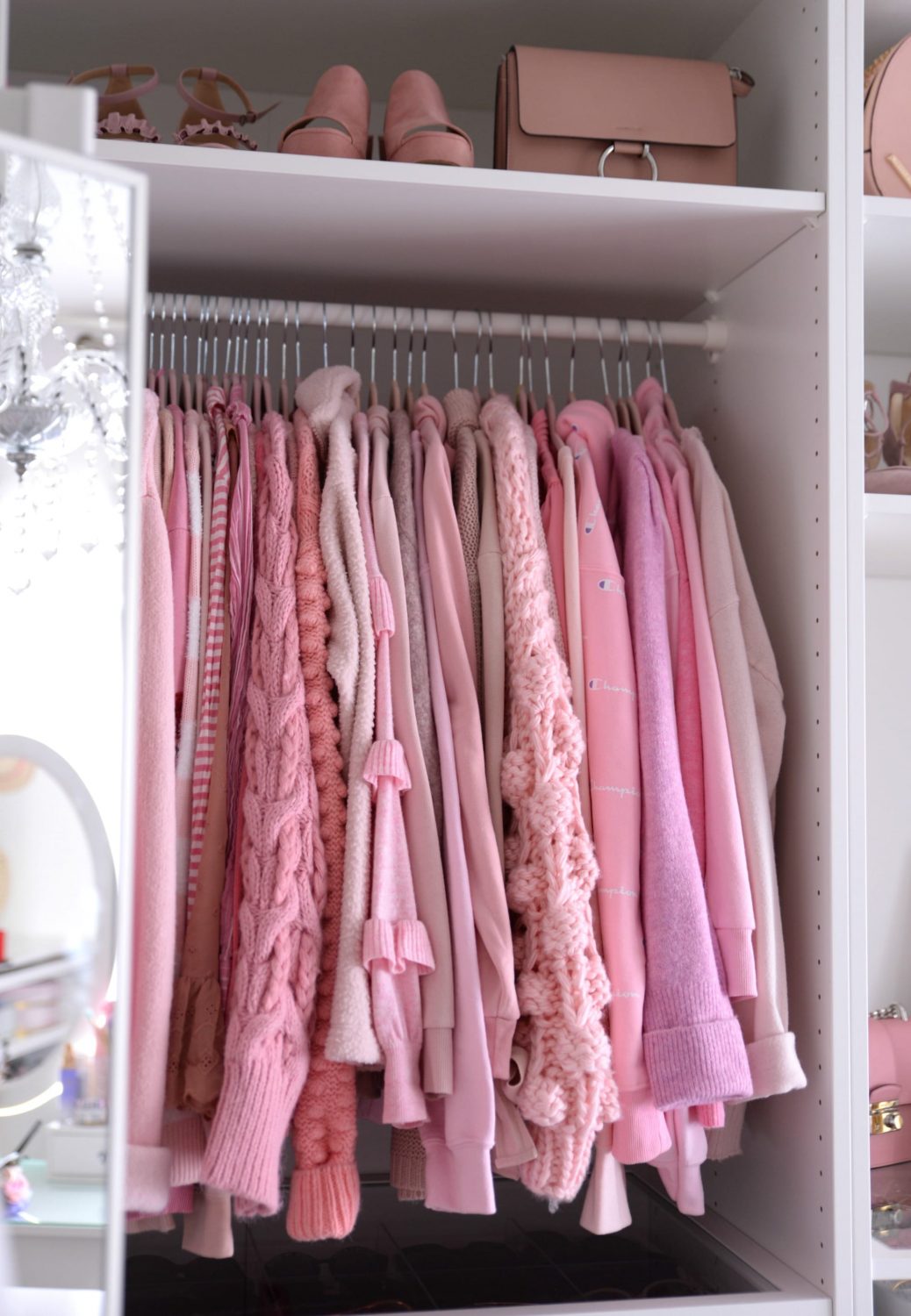 I know this might be annoying, and seem wasteful, but invest in matching hangers. By simply having colour coordinated hangers, with matching hardware, you'll create a more uniformed and streamlined effect. If the budget allows, try upgrading to velvet hangers. The non-slip material holds clothes in place without falling or sagging. The contoured shoulders help to keep your clothes shape and are usually higher quality than those inexpensive plastic ones. It helps to give that polished, boutique style and vibe.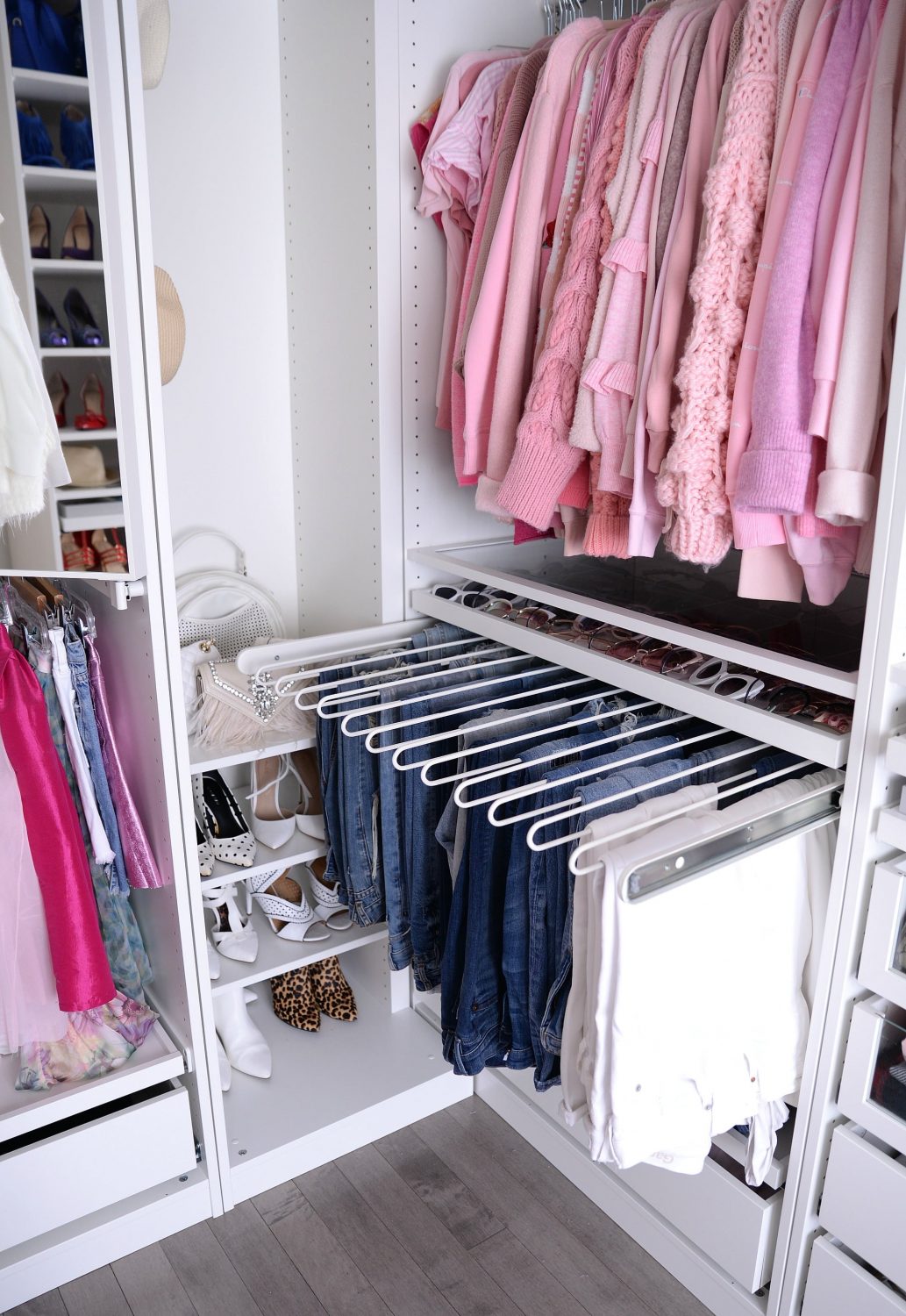 Keeping with the clothing theme, you also want all your clothes hanging in the same direction. Chaos in your closet leaves you feeling frustrated and could be one of the reasons why you think you have nothing to wear. A general rule of thumb is if you're righthanded, you want your hangers pointing towards the left (and vise versa). You may be asking yourself, is this important and does it really matter? The answer is, yes! When you're standing in your closet, looking to pull something out, if you're righthanded you want to pull out an article of clothing and have it facing you.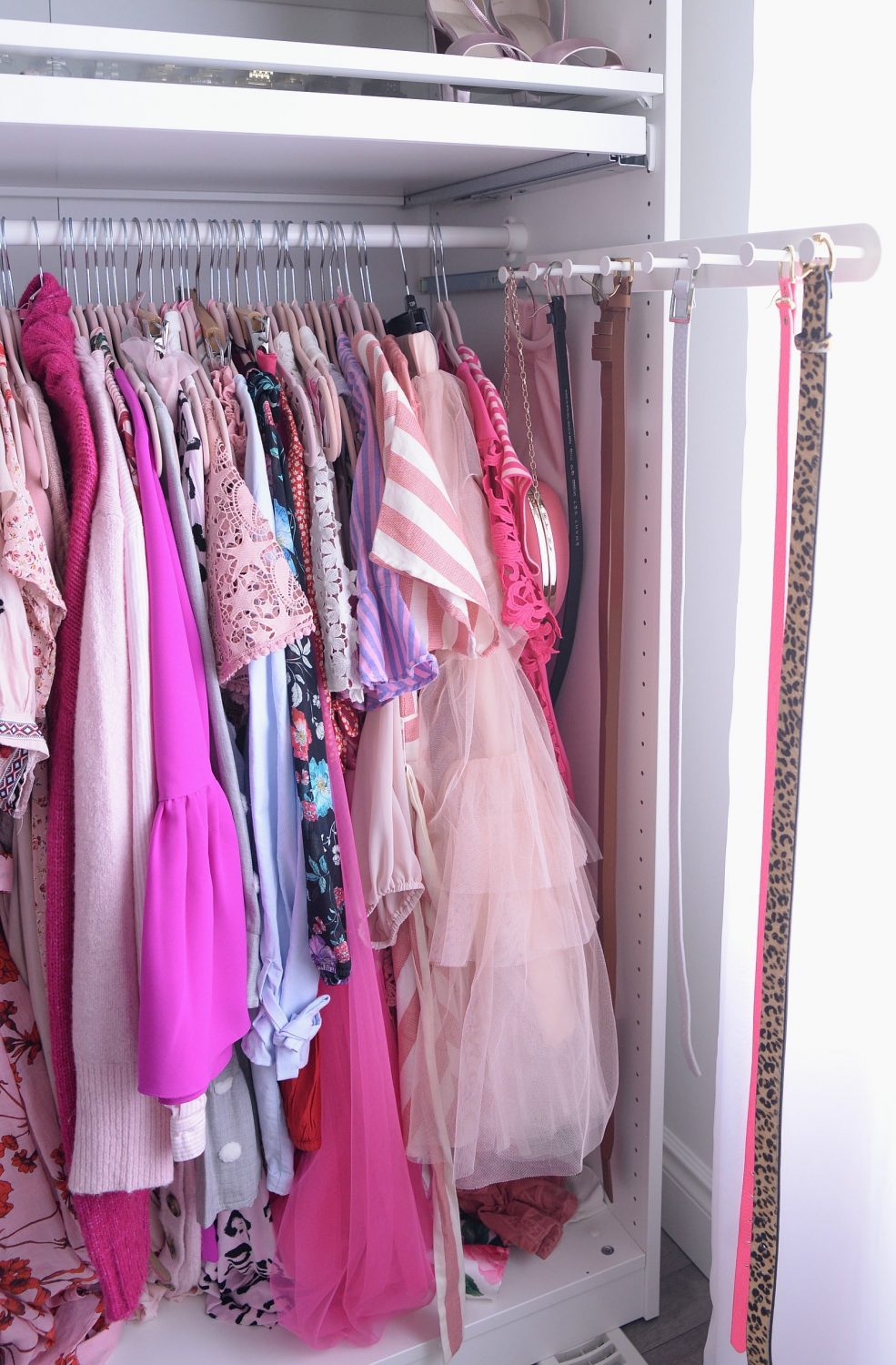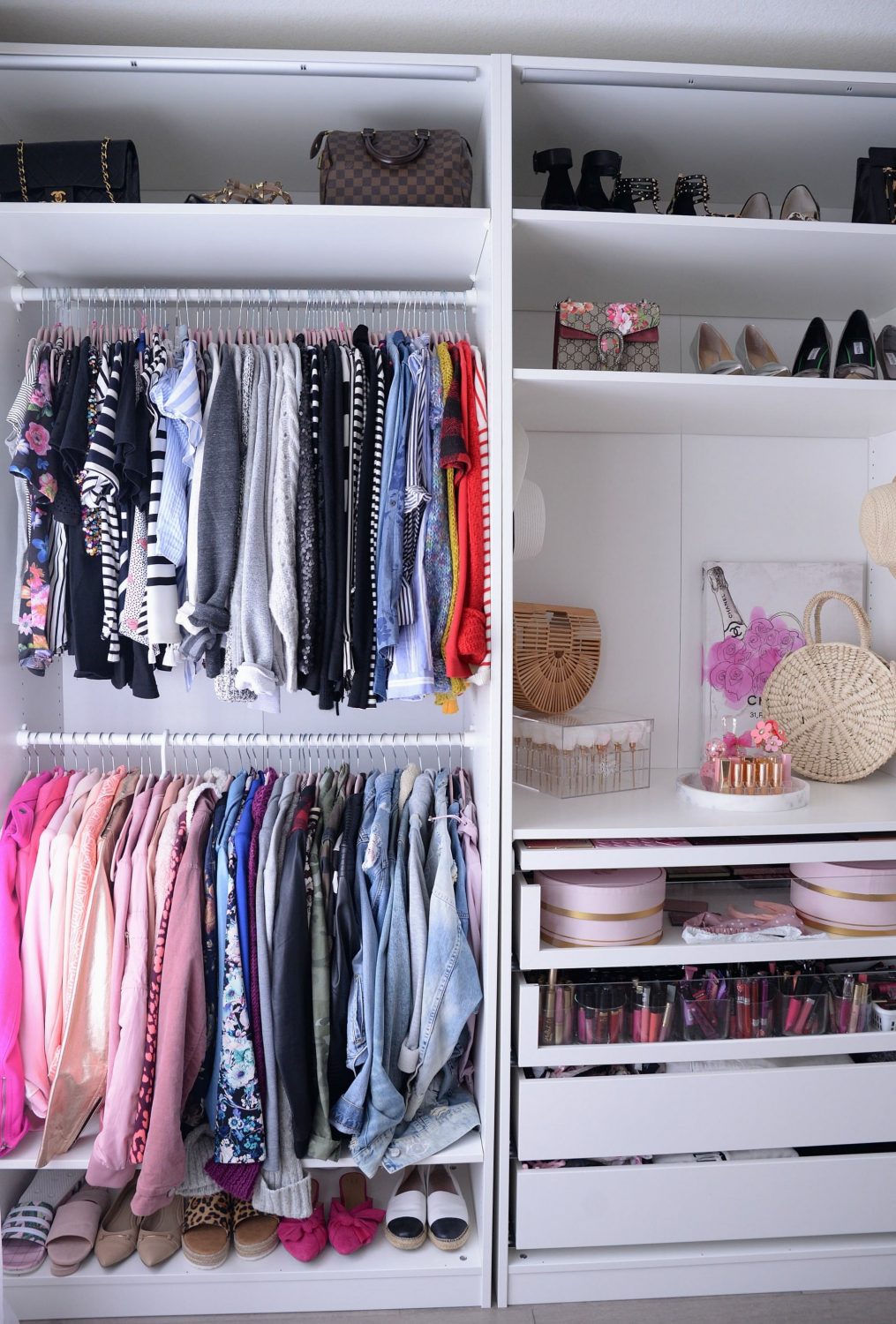 I know everyone talks about this, but so many people don't keep it up, and that is organizing your closet by colour. Not only does it look aesthetically pleasing when you walk in, it makes getting ready in the morning a breeze. If you want to get even more fancy, organize everything by type. For example, with your shirts you may want to go sleeveless, t-shirt, blouses, sweaters and cardigans, all within the same colour family of course. For your bottoms, try displaying them by style, dressy, casual, denim, even workout pants. This makes it so much easier when you're getting dressed. You'll know where everything is, and it will save you time in the morning.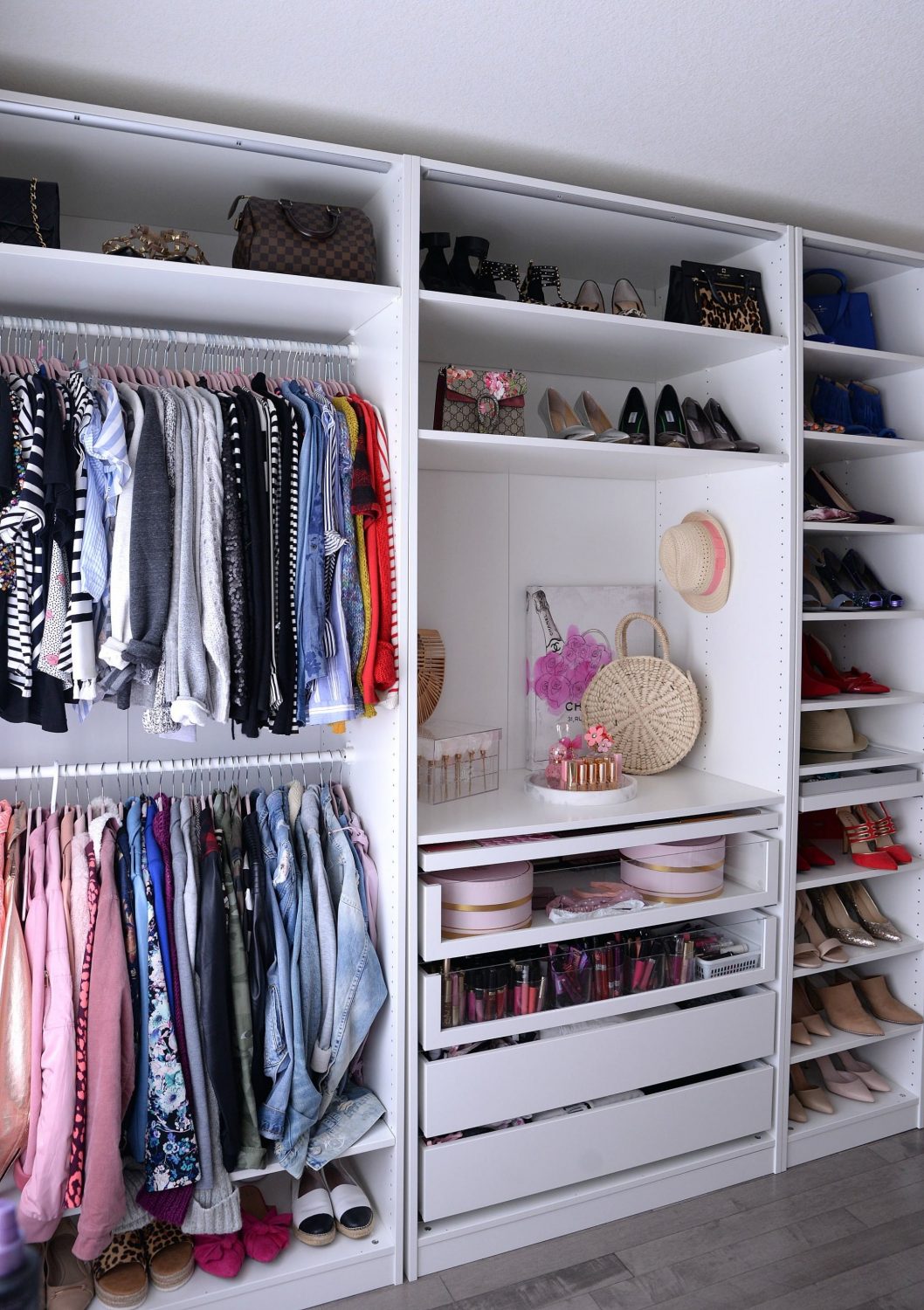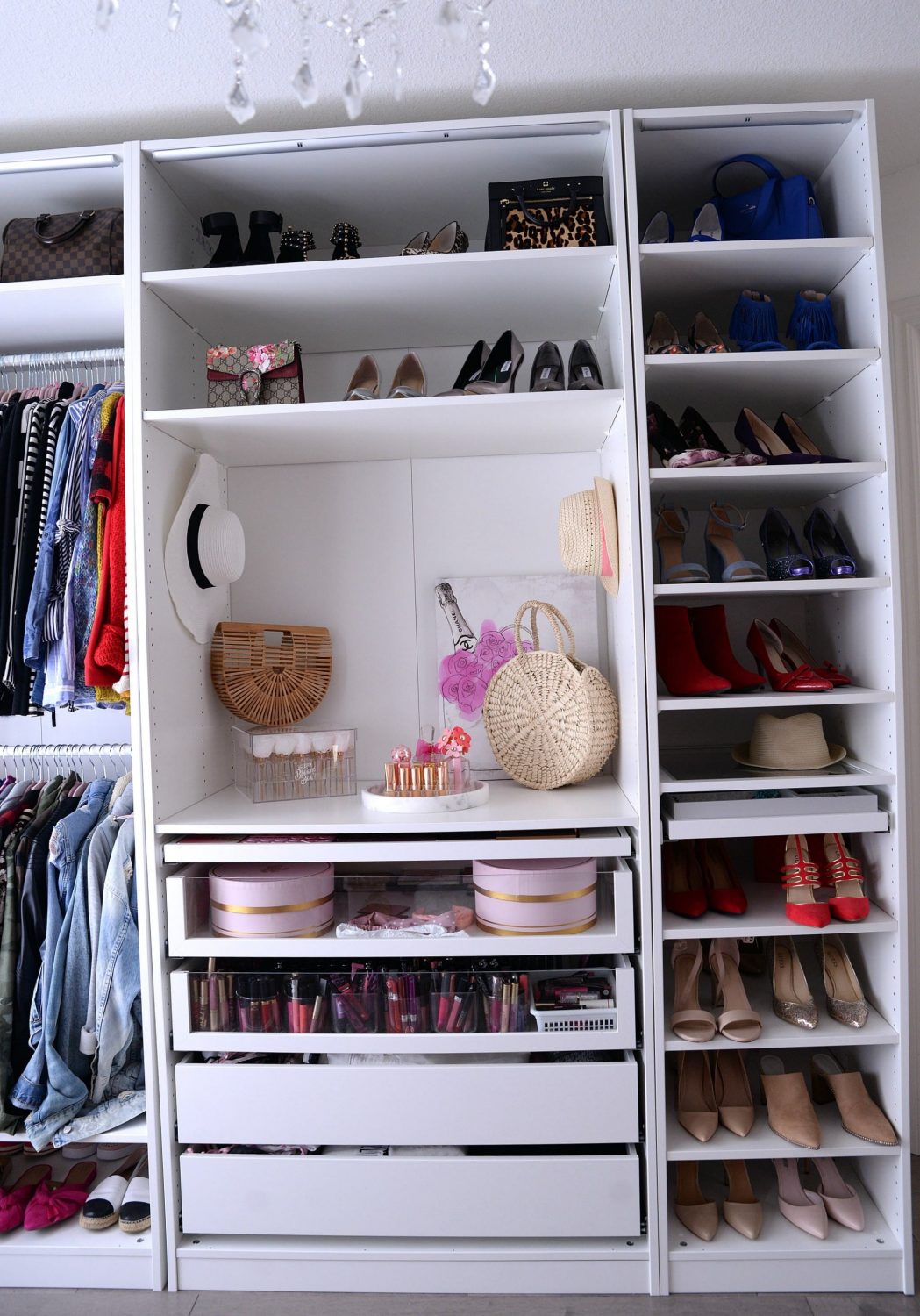 You can never have enough drawers. From small personal items like undergarments, to delicate sweaters you don't want hung, having enough drawer space is crucial when planning your closet. This was one thing that was lacking in my previous closet. IKEA KOMPLEMENT Drawers come in both a solid and glass front option. I had fun mixing and matching both. The glass design is perfect for items I want to have on display or items I want a quick view at, whereas the solid one is ideal for those special items you don't want to showcase. I love the slow-closing design and how roomy they are.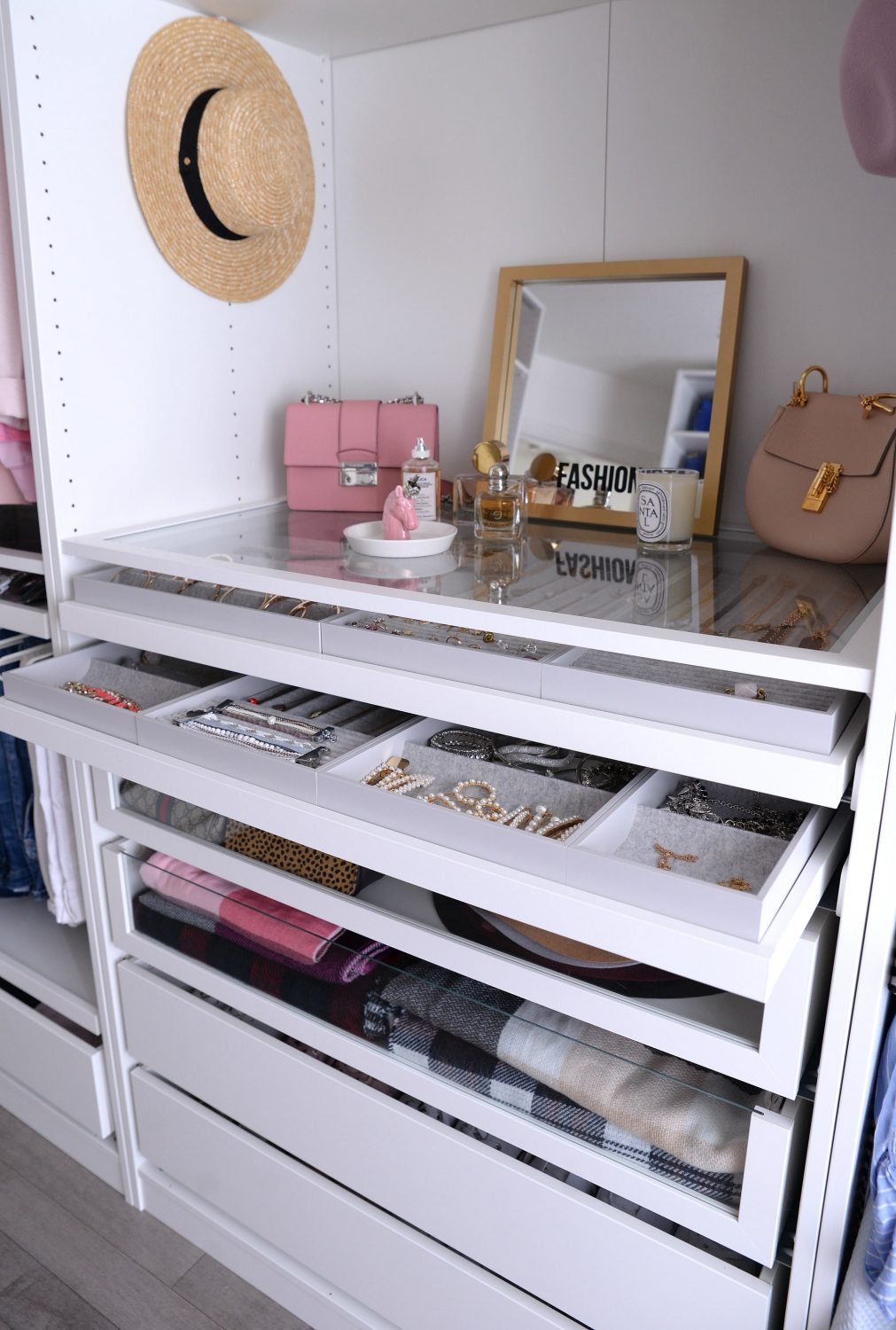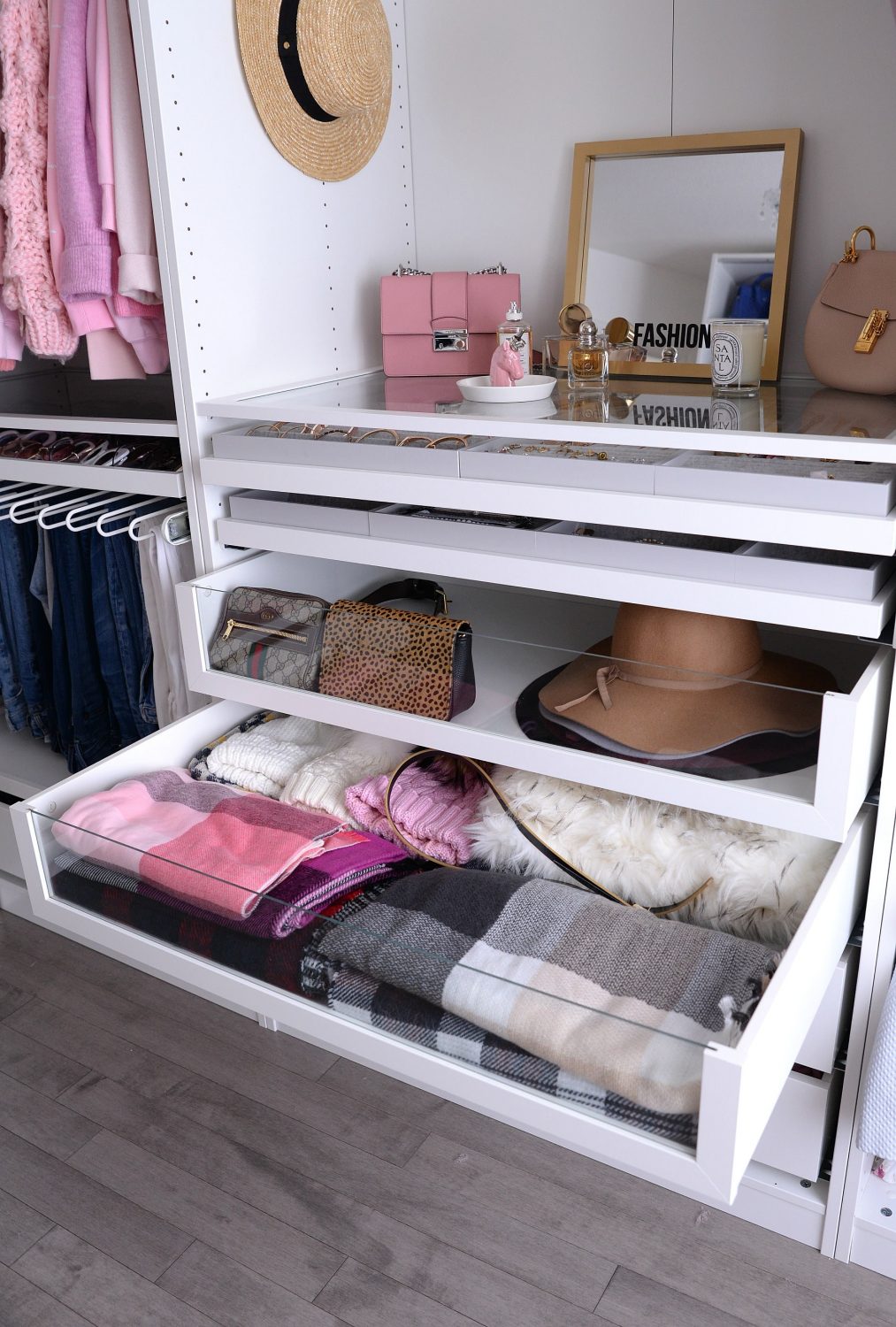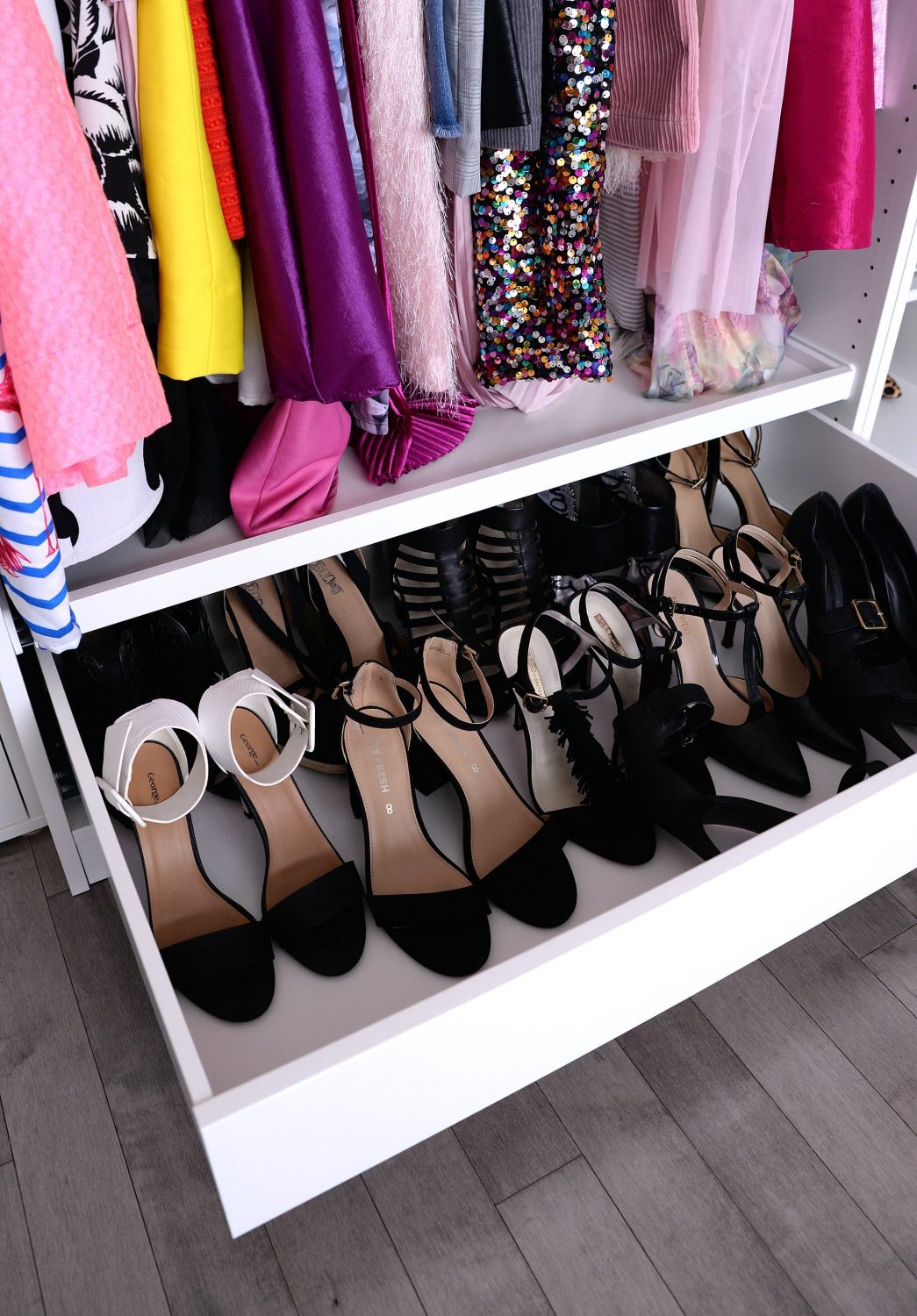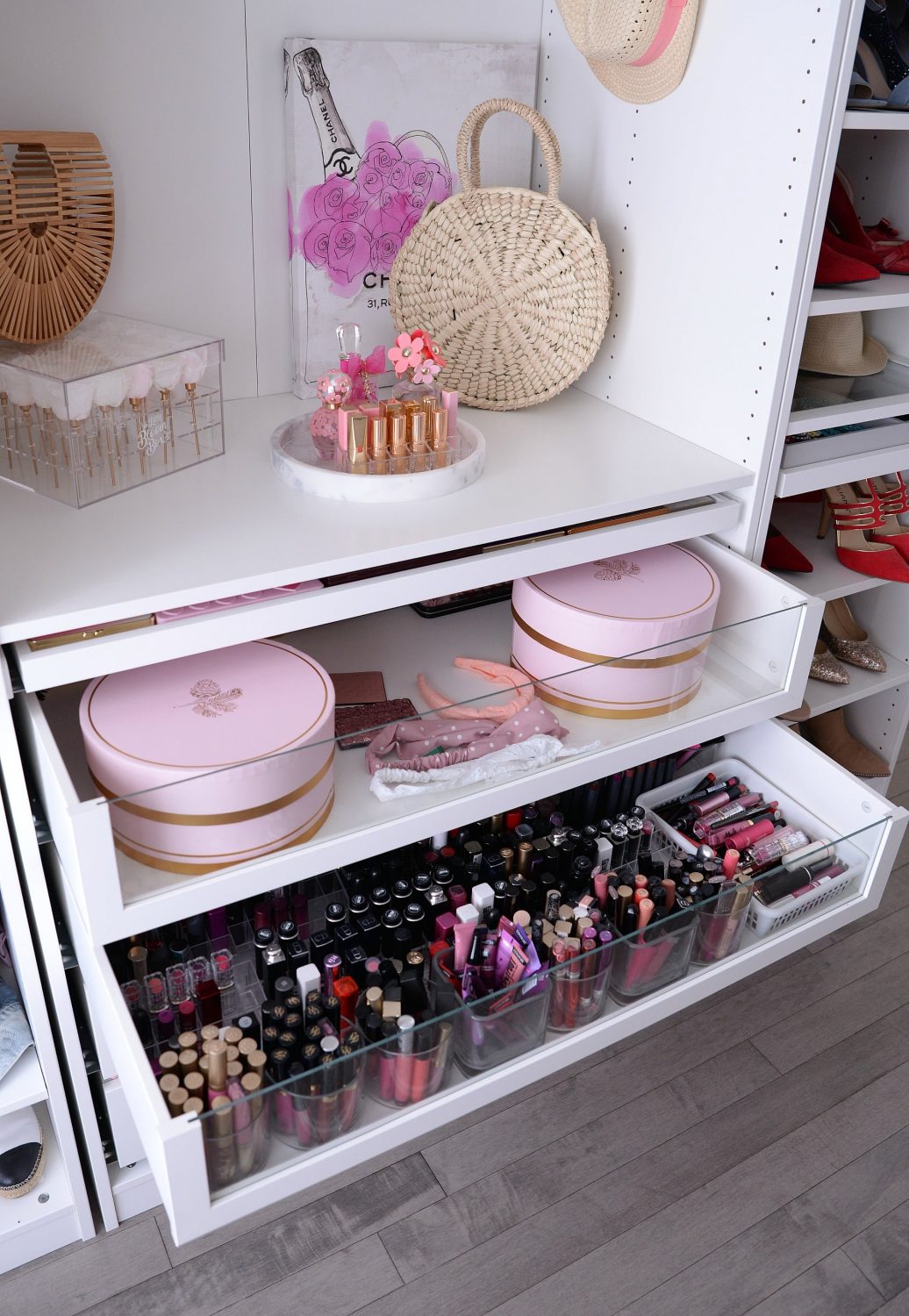 If your closet has the space for it, jewelry organizers will be your new best friend. I think we all tend to hold onto pieces we know we'll never wear again, because often we can't see them. Necklaces get tangled up, earrings get lost, bracelets get broken, and this is all because we don't have a designated area to keep our dainty accessories. The IKEA KOMPLEMENT Pull-out tray with inserts comes in an array of different sizes and each features several different compartments to hold all your treasures. Whether you're looking to store your necklaces, sunglasses or even watches, these inserts will help you stay organized. Of course, you don't have to purchase the pull-out trays, the inserts are sold on their own and fit into most drawers. The soft felt layer helps protect your delicate accessories, while keeping them safe and neatly placed.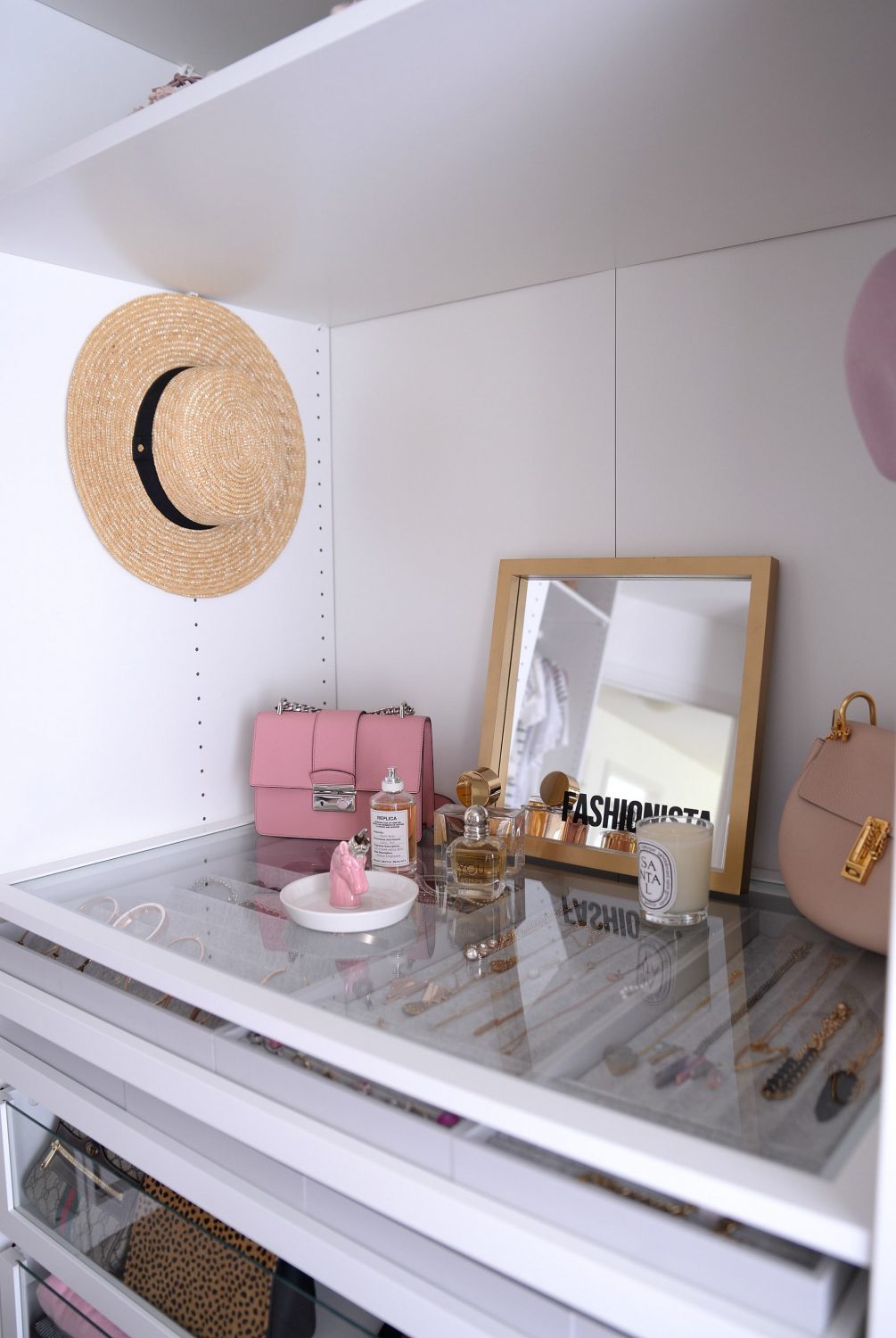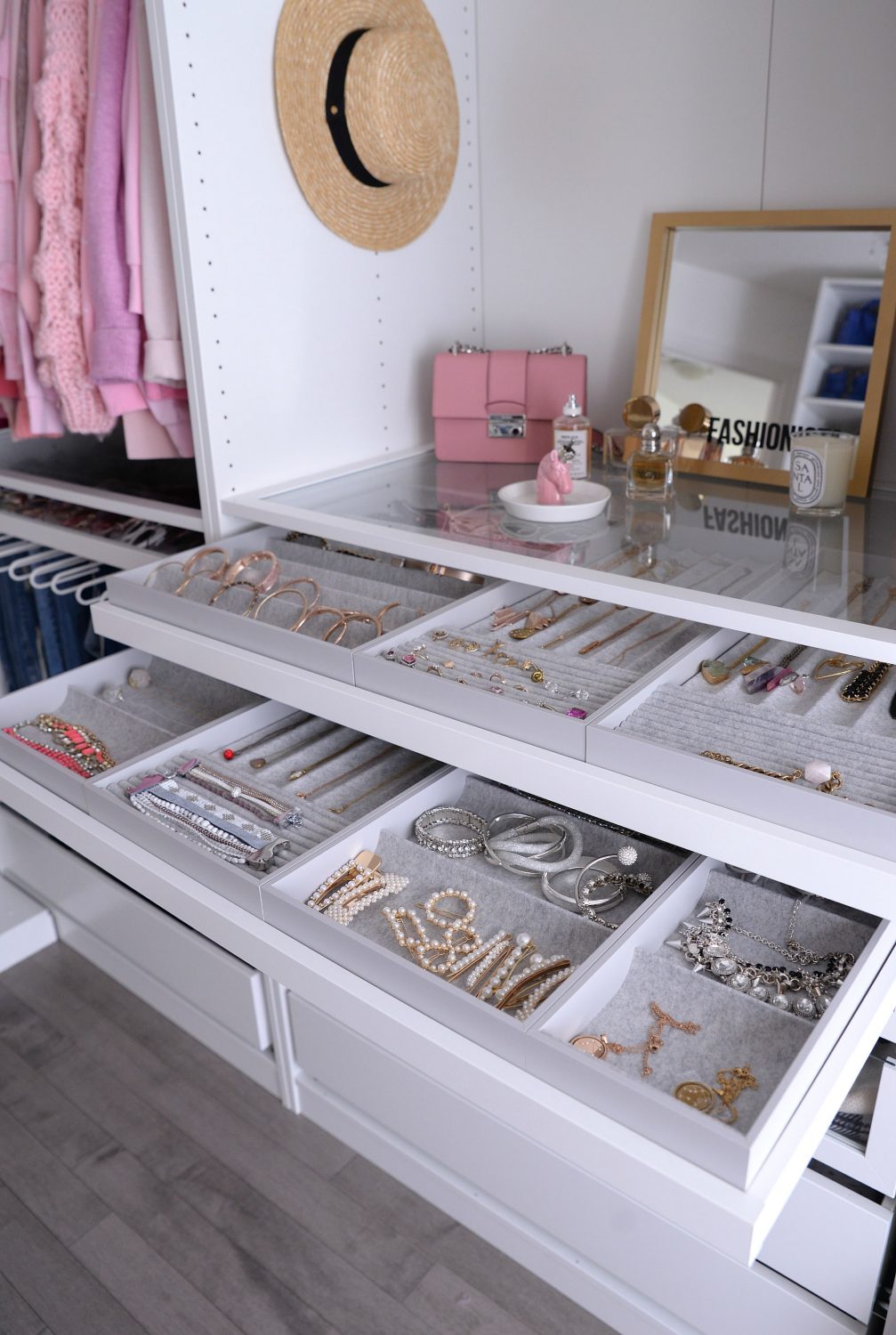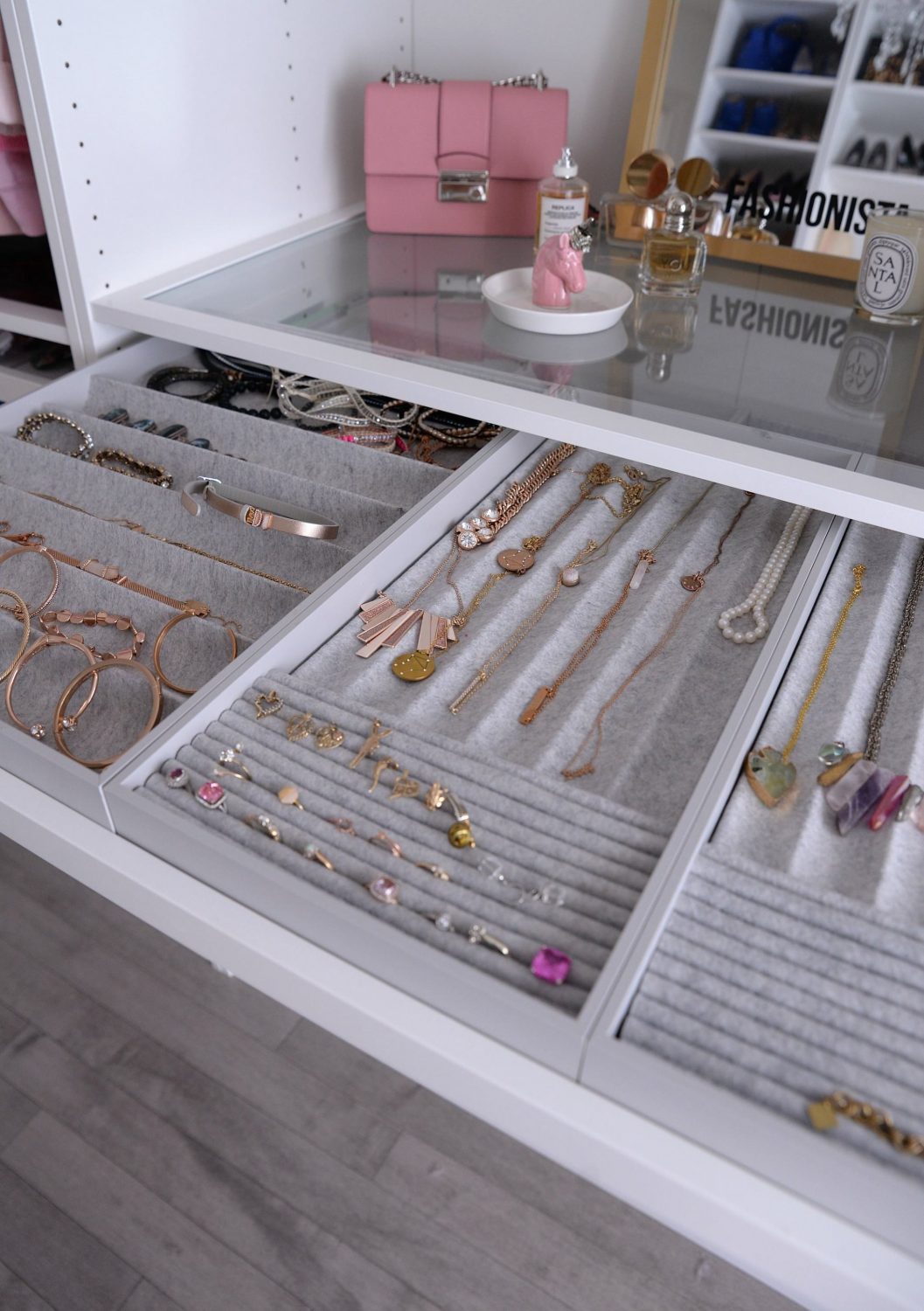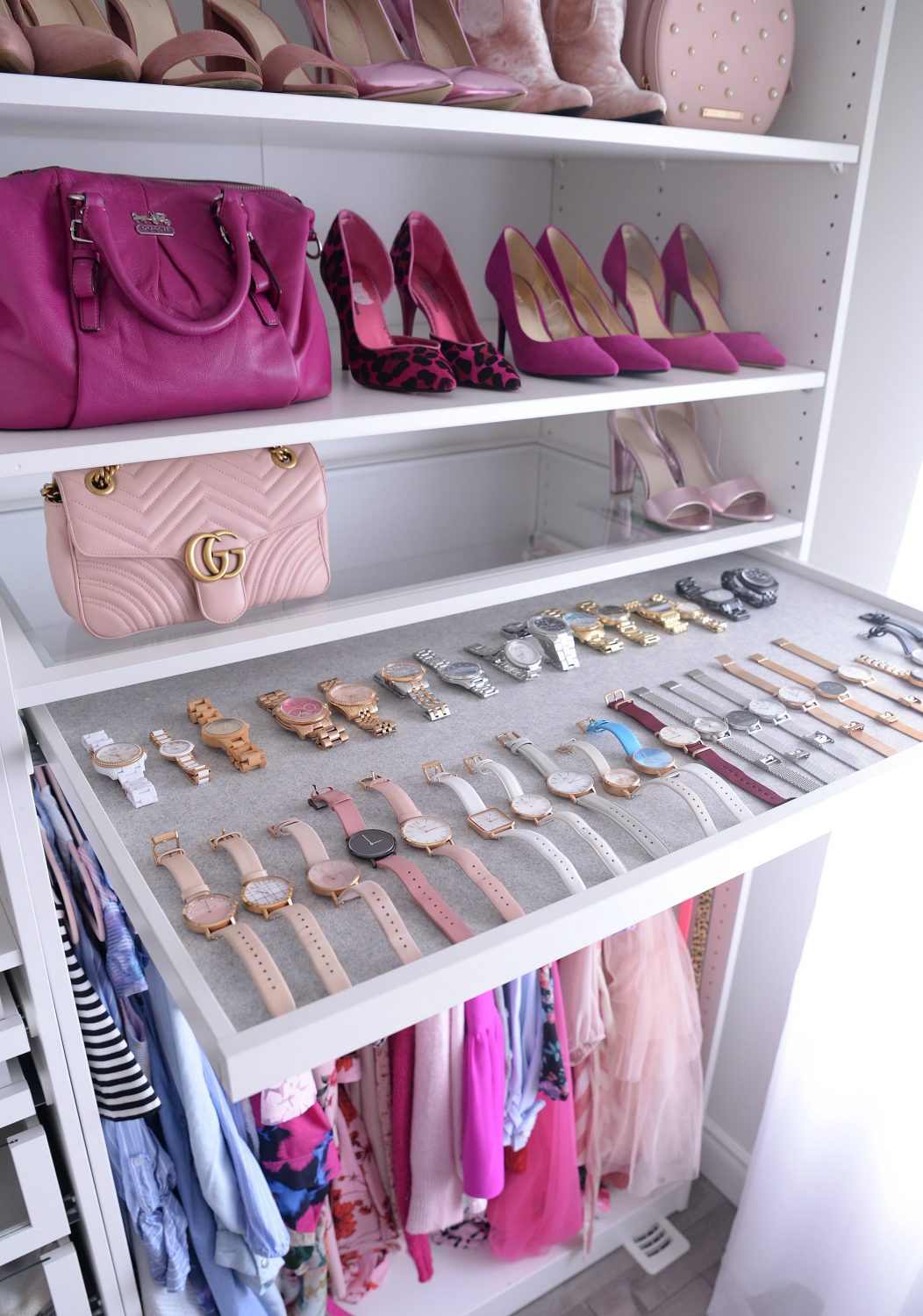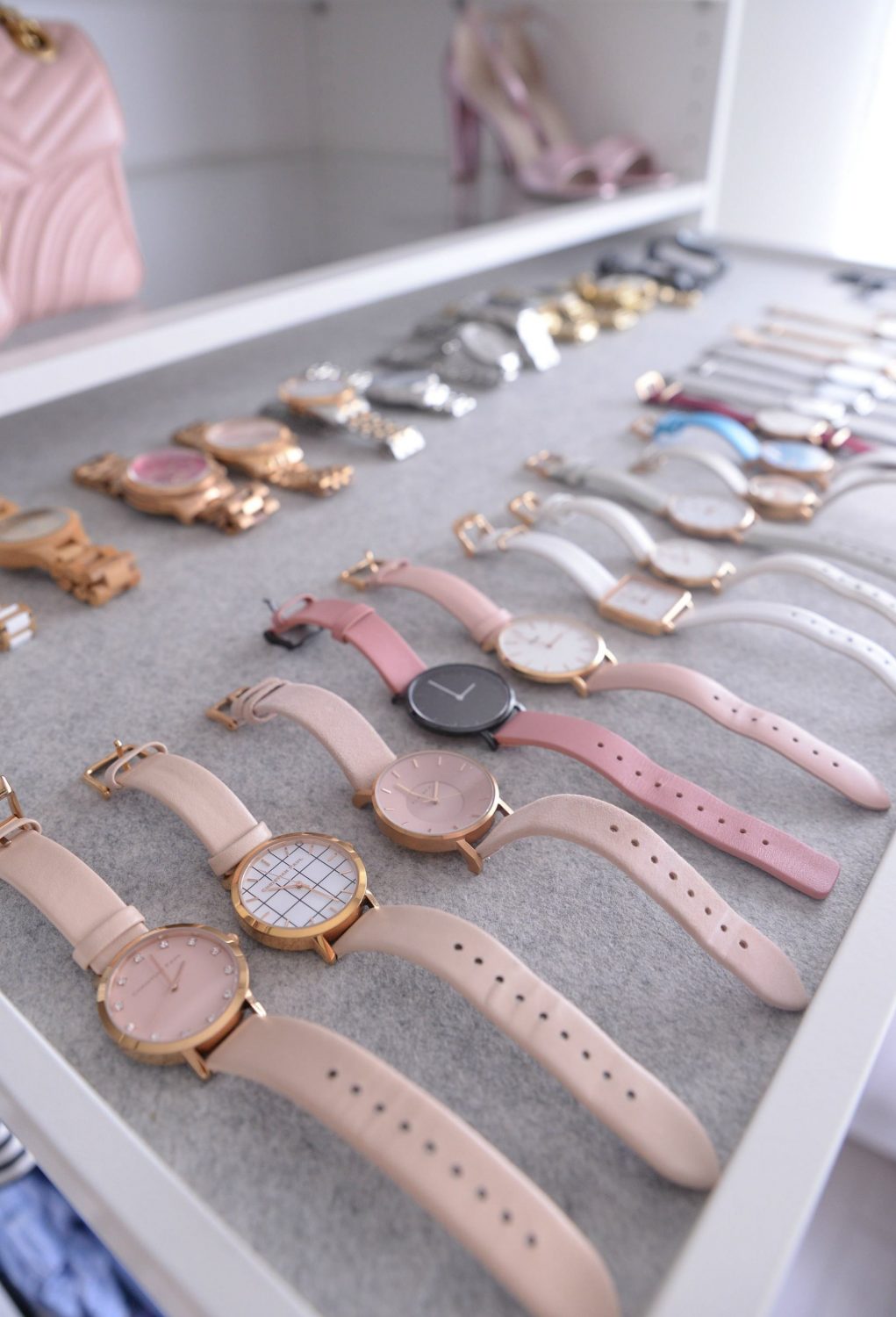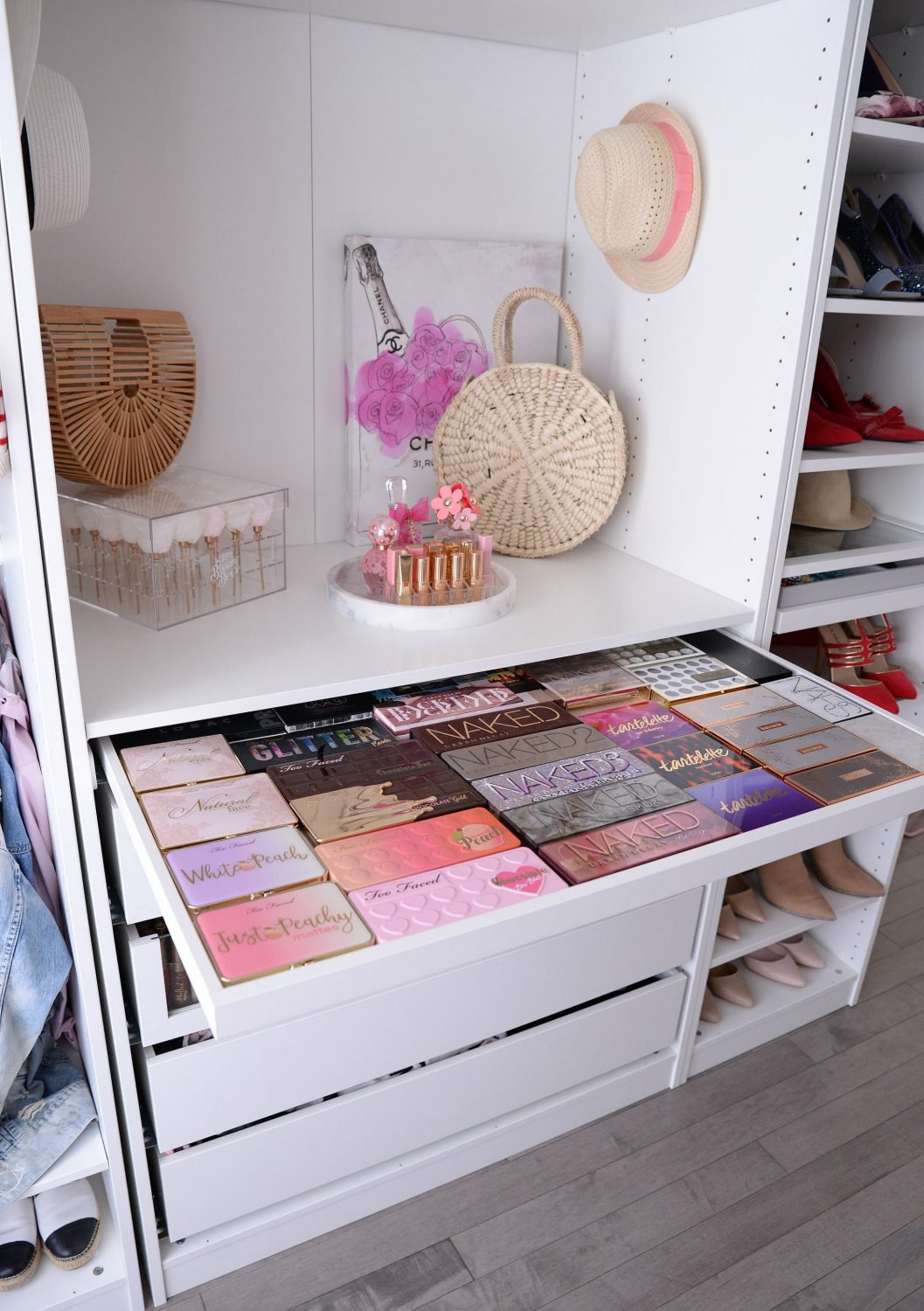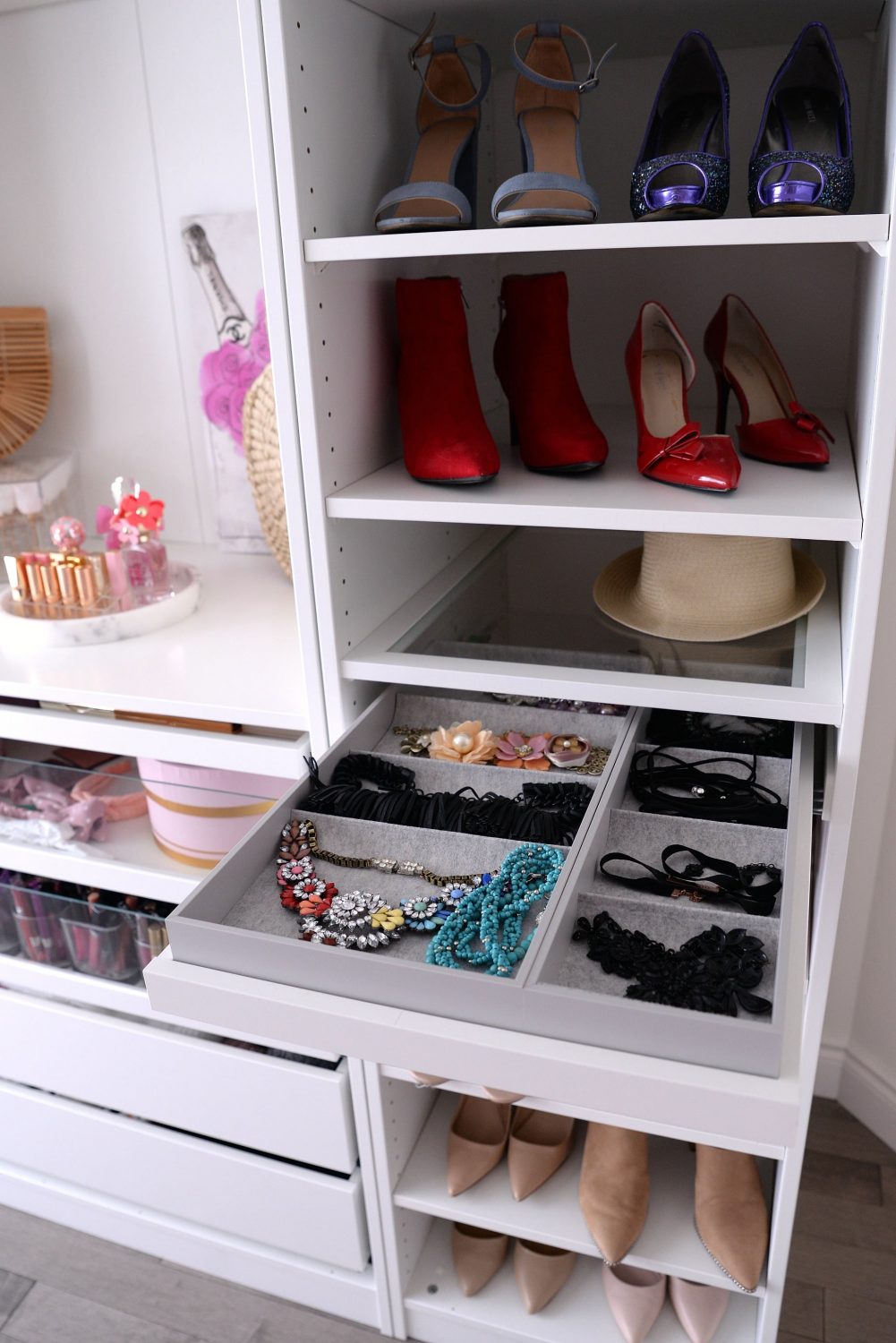 Dividers are another sweet trick. From organizing sunglasses to scarves or even rolled belts, it will help to keep everything in one place. IKEA KOMPLEMENT Divider is perfect for putting inside a drawer or even a pull-out shelf. It features 18 plastic compartments in two different sizes, the larger compartments in the back and the smaller ones in the front. I've been storing my sunglasses in these, as it allows me to see and reach everything easily.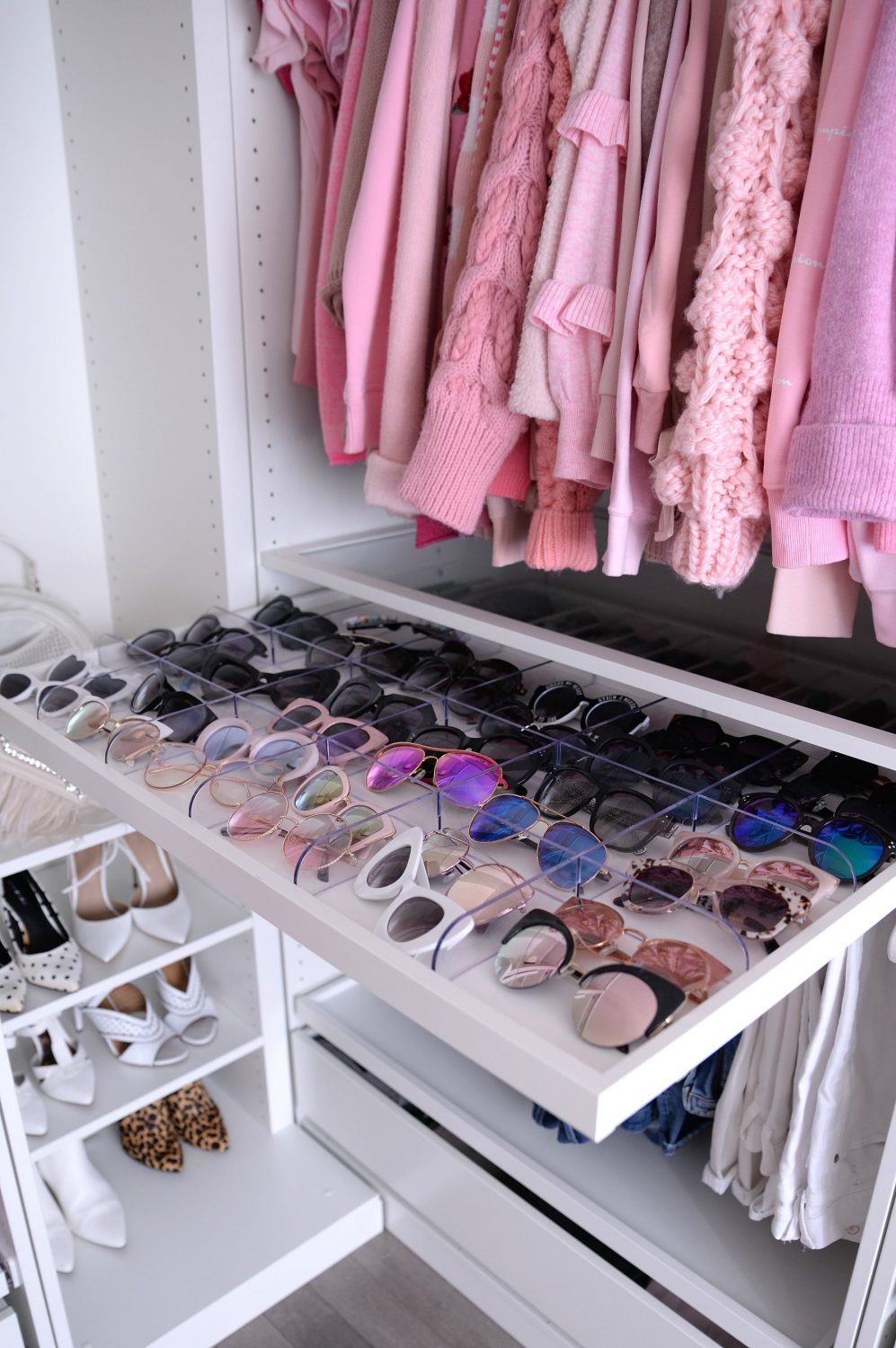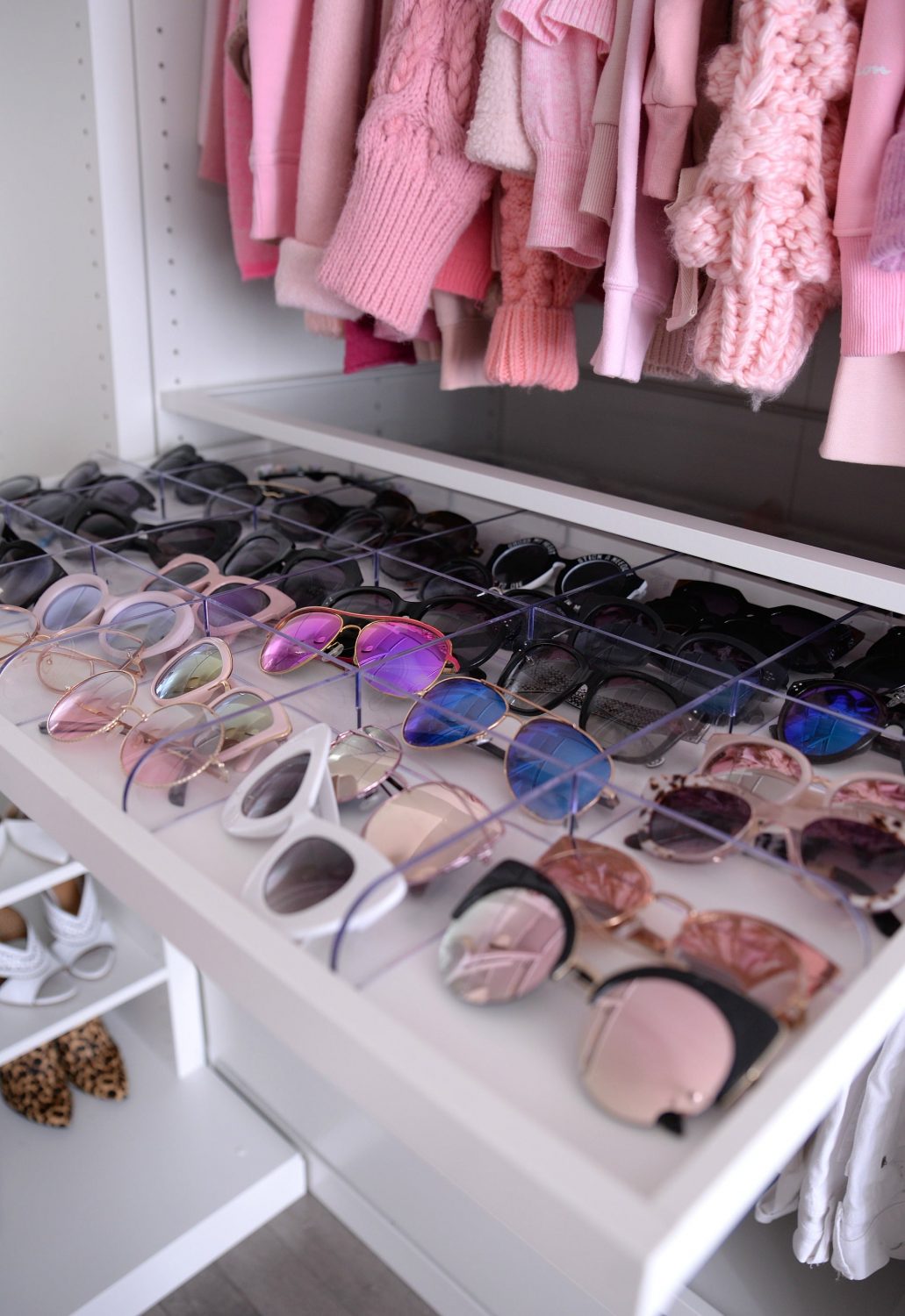 Having some sort of mirror can be a game-changer when it comes to planning your outfit. Now I know not everyone has the space for a full-length mirror. I know I didn't want to give up precious real estate in my closet with a larger and oversize mirror, which is why I hung one inside one of my PAX wardrobes. You could even hang one on the back of your door, which means no space goes wasted. The IKEA KOMPLEMENT Pull-out mirror with hooks features a clever little design. Not only does the pull-out solution save on space, the back of the mirror has tiny hooks where I can hang my accessories. I'm able to pull out the mirror to check my outfit of the day, and its unique swivel design allows me to see all the right angles.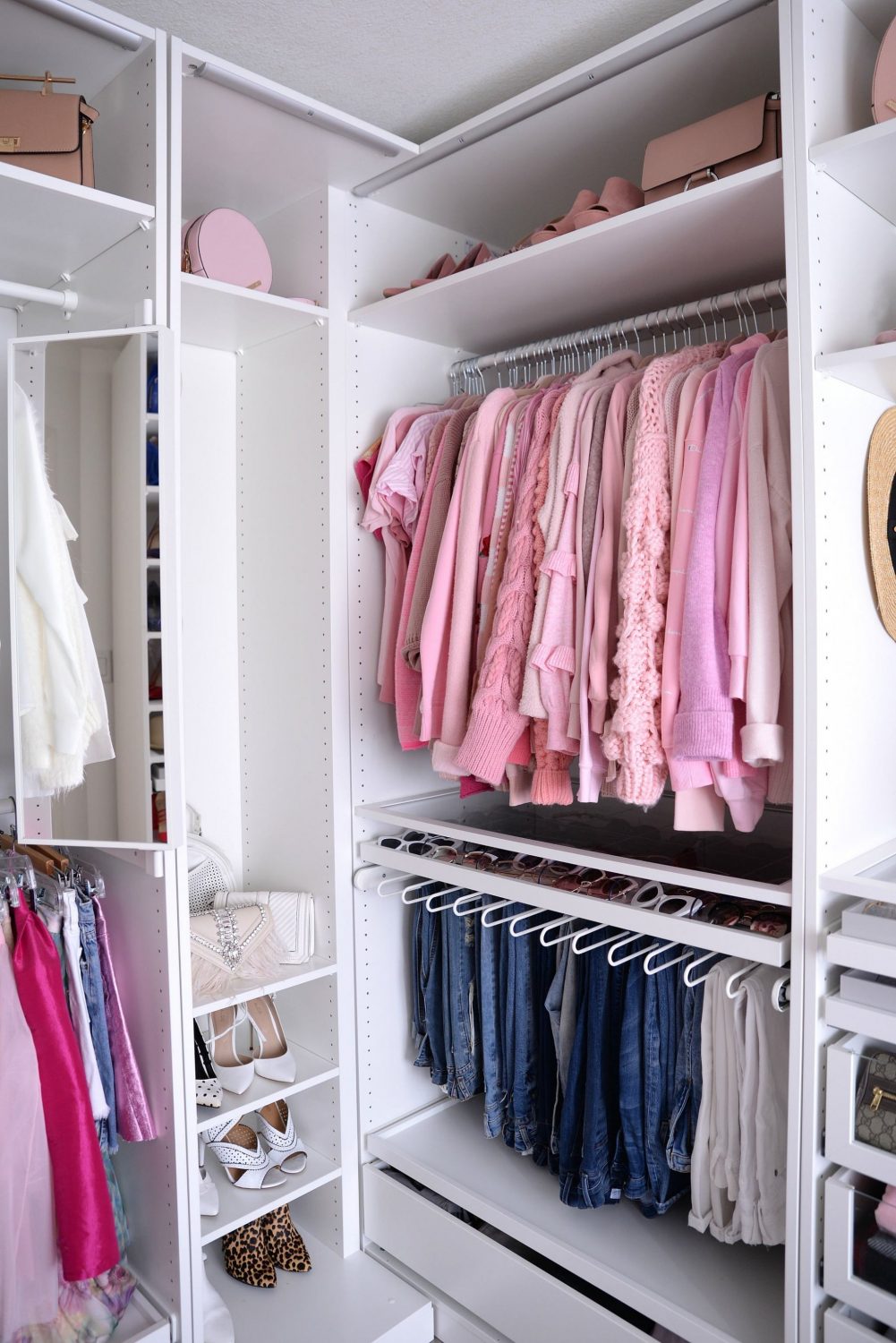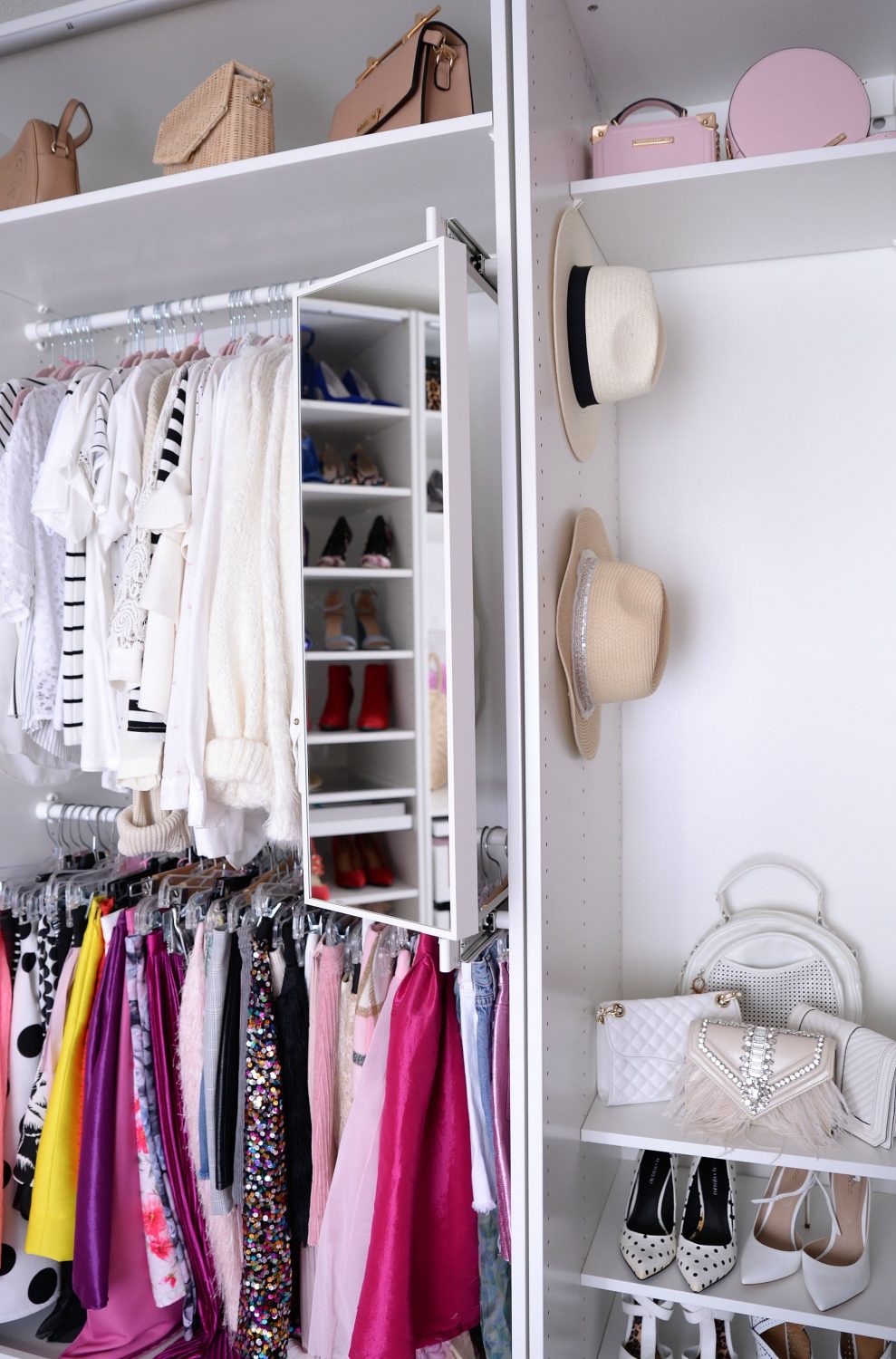 Lighting is crucial, especially if you're an early riser, and you tend to be sifting through your closet when it's still dark out. You may not have natural light coming in, which means you rely on good lighting. Switching out your warm lightbulbs to daylight/ cool bulbs is an inexpensive way to bring natural light into your closet. You can also invest in some LED lights, like the IKEA NORRFLY LED strip lighting. It not only comes in several different lengths, allowing you to fully customize your closet, but they can be turned on/ off through a switch or even left on "auto" mode which is motion sensor activated. Added bonus, these LED lights consume 85% less energy and last longer (up to 25,000 hours) than incandescent bulbs.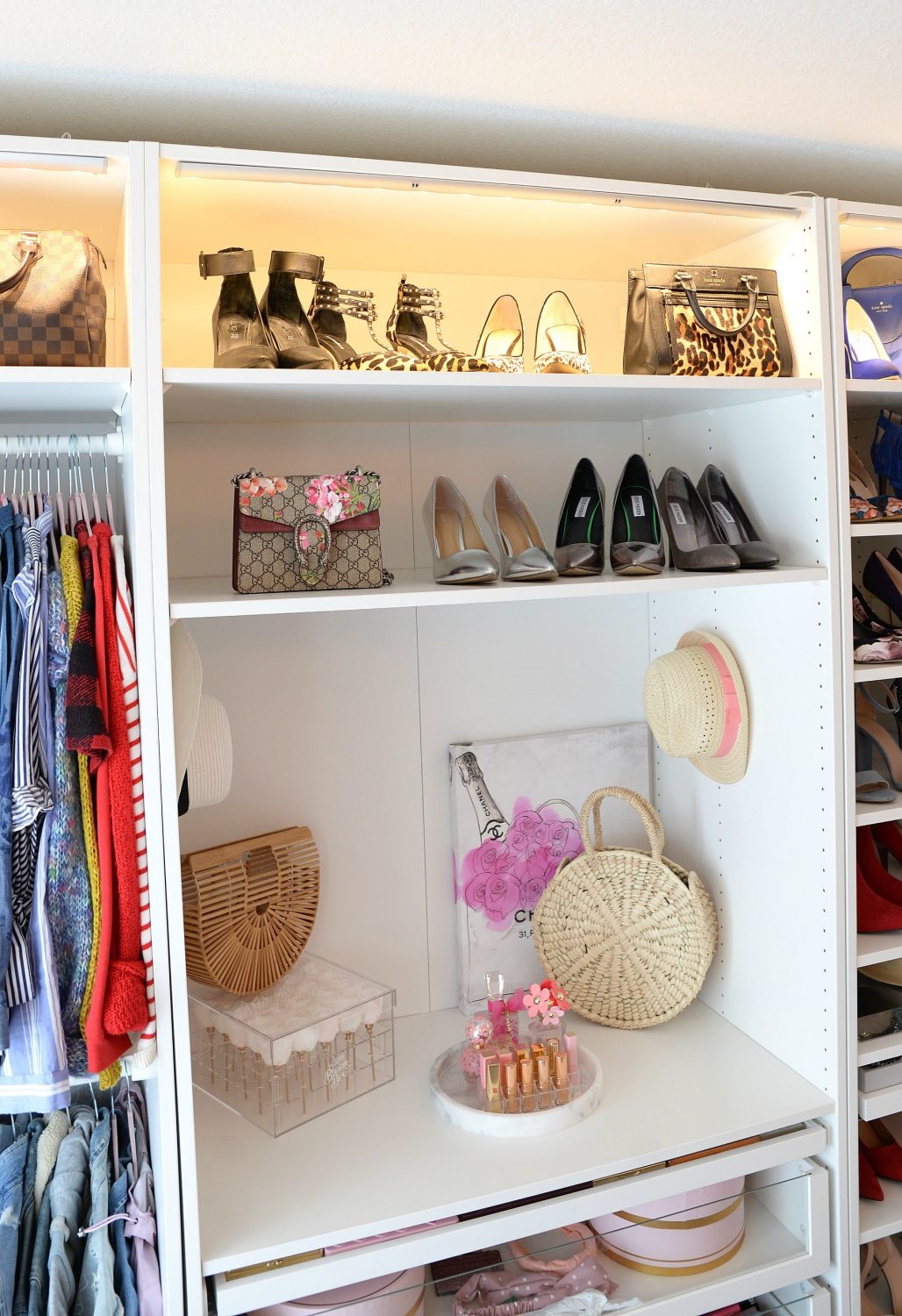 Here's just a few more pictures of my new IKEA Pax Wardrobe