Looking for the perfect nude eyeshadow palette this summer, but don't want to invest in the Urban Decay Naked, try the new Avon Perfect Nude True Color Eyeshadow Quad. This collection has 4 new quads, Naked Truth, Barely There, Go Natural and Grin & Bare It that are perfect for any skin tone. It features effortlessly coordinating neutral shades that can easily take you from day to night in a few easy steps. The sleek, square, black compact comes with a full size mirror on the inside lid with the numbers 1 through 4 stamped on each shade. This step-by-step guide helps show you where to apply each shadow shade. Place shade 1 on the brow bone, shade 2 on the inner corners of the eye, shade 3 on the outer corner and place shade 4 on the lash line.
Avon Perfect Nude True Color Eyeshadow Quads have a velvety, incredibly creamy and smooth texture that apply beautifully to the lid. It's highly pigmented and provides true opaque colour payoff in one easy swipe. Each shade is buildable for more intense colour and blends wonderfully into one another. Each quad has the perfect combination of shimmer and satin finish making it truly diverse and appealing to everyone. It lasts throughout the day without creasing or fading when used with a primer and the best part is, its only $10.

Avon Perfect Nude Shades True Color Eyeshadow Quad in Naked Truth contains Shimmering Beige, a shimmering champagne shade that's perfect for highlighting the brow-bone, Peach Sparkle, a pale peach shade that's wonderful to place in the inner corner of your eyes, Glimmering Sand, a light taupe/ brown shade that's beautiful as an all-over lid shade and up into the crease and finally Coffee, a deeper taupe that works great on the lower lash line and the outer-v.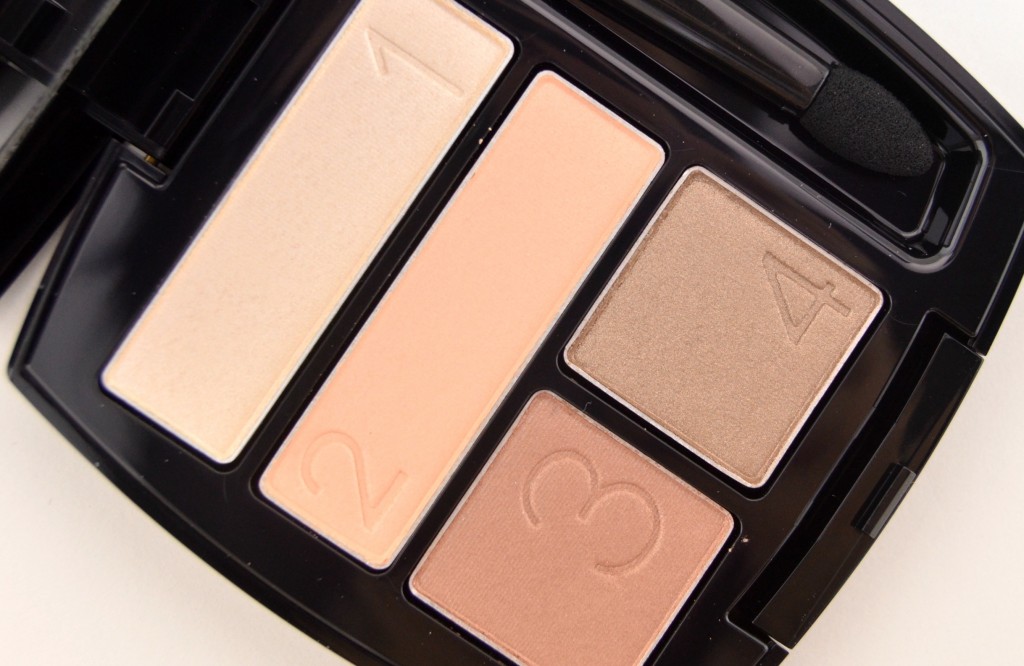 Avon Perfect Nude Shades True Colour Eyeshadow Quad in Grin and Bare It contains Bronzed, a shimmery gold bronze shade that's perfect on the lid, Burnished Copper, a dark chocolate shade that's wonderful both on its own and on the outer corner of the eye, Patina, a deep olive shade that's beautiful all over the lid and finally Sahara Sunset, an even deeper chocolate that works great on the lower lash line and the outer-v.