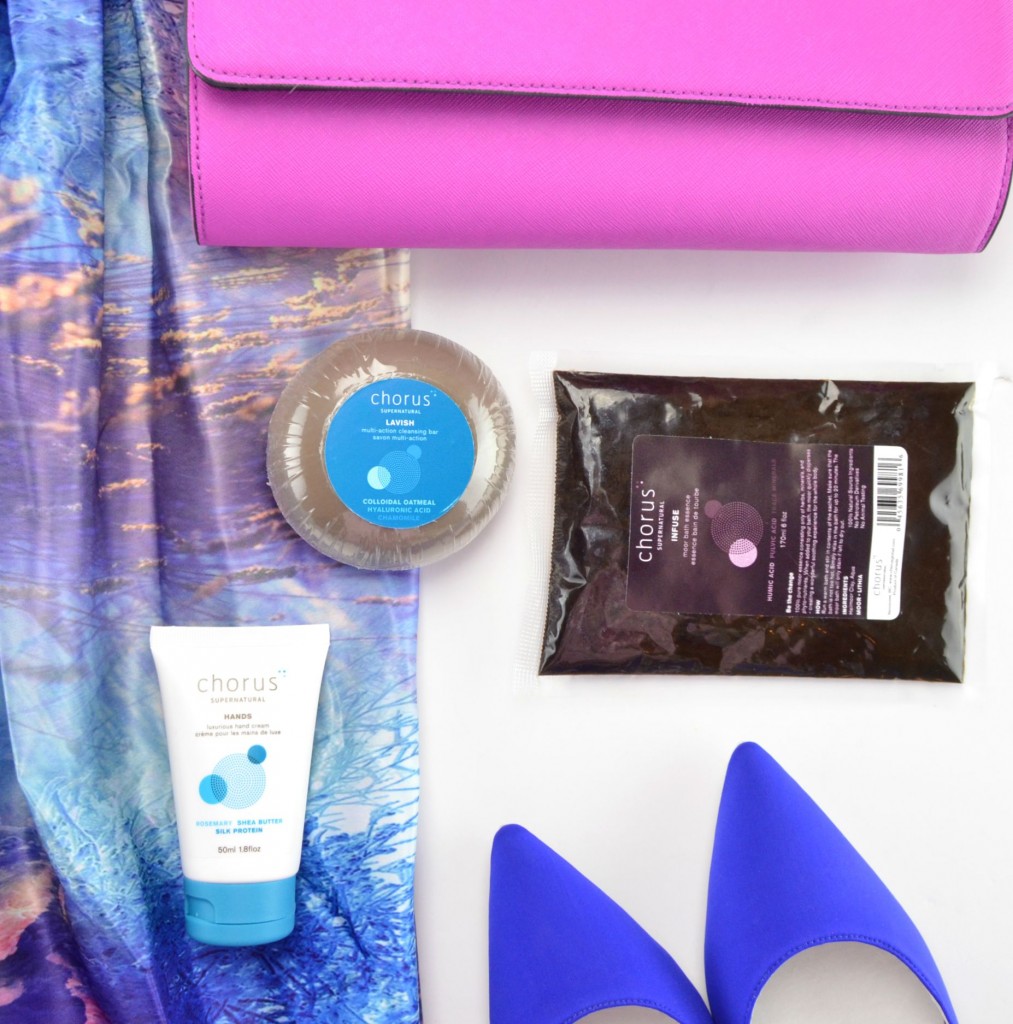 Infuse, Soothe and Release
I was recently introduced to, Vancouver based, Chorus Supernatural. This completely 100% naturally-sourced skincare line encourages consumers to make healthy and sustainable purchases in their everyday life. Most companies are only 95% to 99% natural, which makes Chorus truly unique and innovated. The brand features 4 signature ingredients that are all sourced from the pristine wilderness of 'Supernatural' British Columbia and include Moor, Clay, Seaweed and Lithia. I was sent one of their wellness sets which is designed to help me de-toxify, de-stress and decompress with only the use of a few, simple, all-natural products. I start by infusing the body with Chorus Moor Bath Essence. This 100% pure and natural bath essence uses only herbs, organic substances, minerals and other phytol-nutrients found within the moor. To use, you simply pour one pouch into warm running water and watch as it quickly disperses throughout the water. It instantly creates a soothing experience, all you have to do is sit back and relax.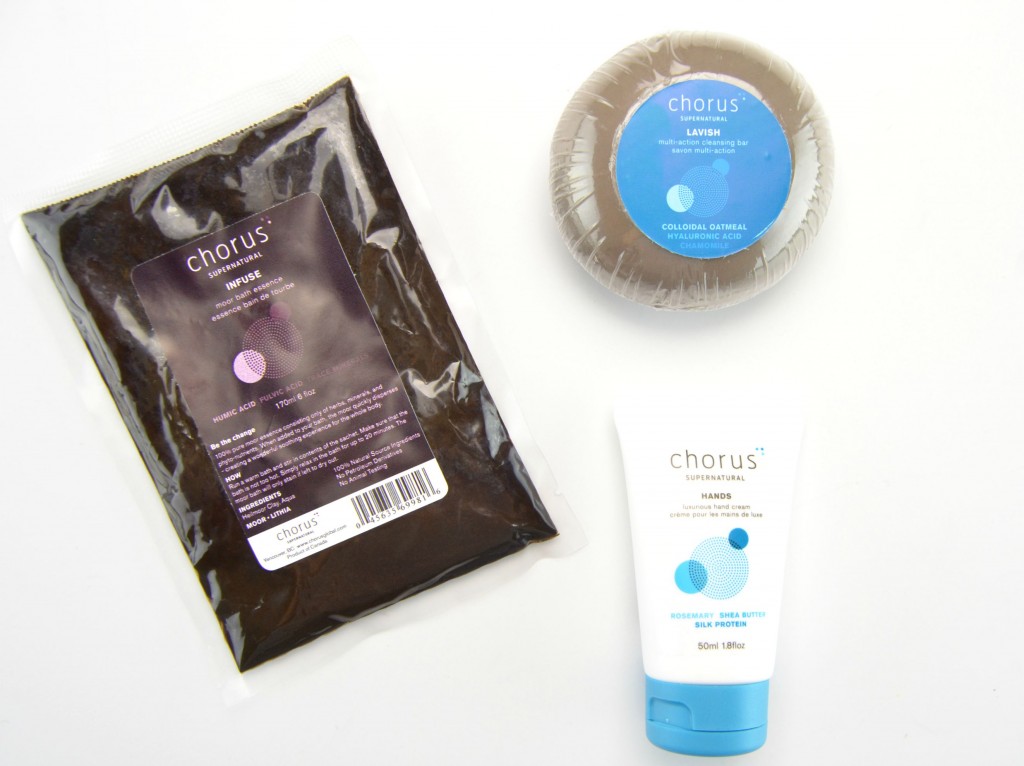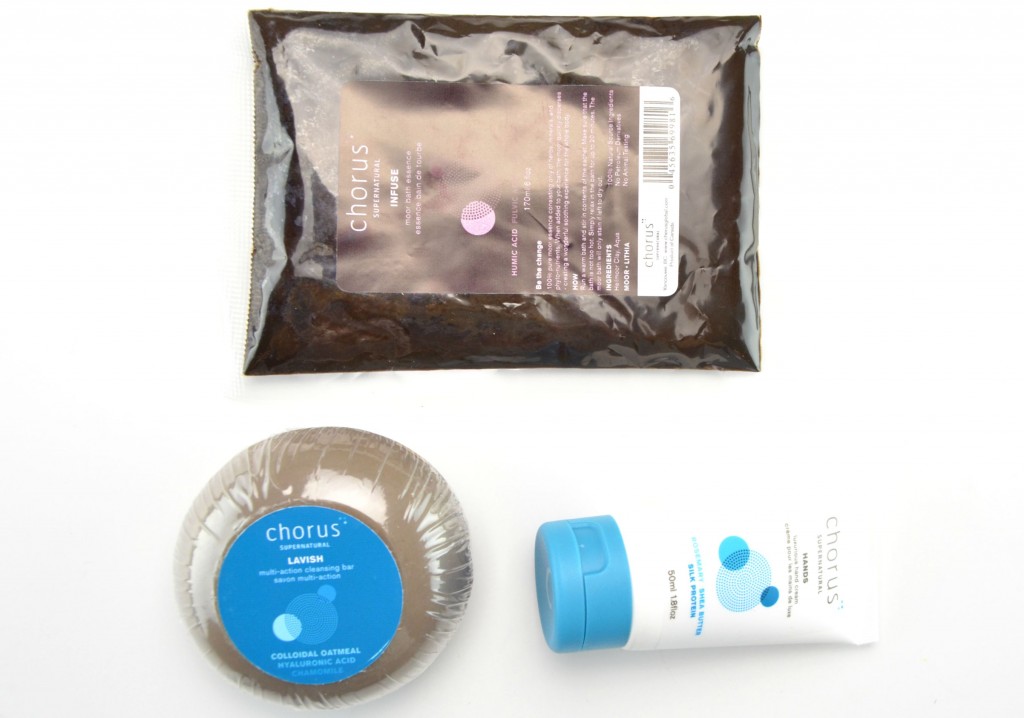 Although Chorus Moor Bath Essence is extremely dark in colour, it didn't stain my tub or body. It immediately relieved tension in my neck and eases the mind after a busy and stressful day. It instils the feeling of peace and tranquillity and calms both my mind and body in preparation for a good night's sleep. Not only does it smell amazing, it leaves my skin feeling smooth, soft, moisturized and highly hydrated. It retails for $8.90 for 170ml.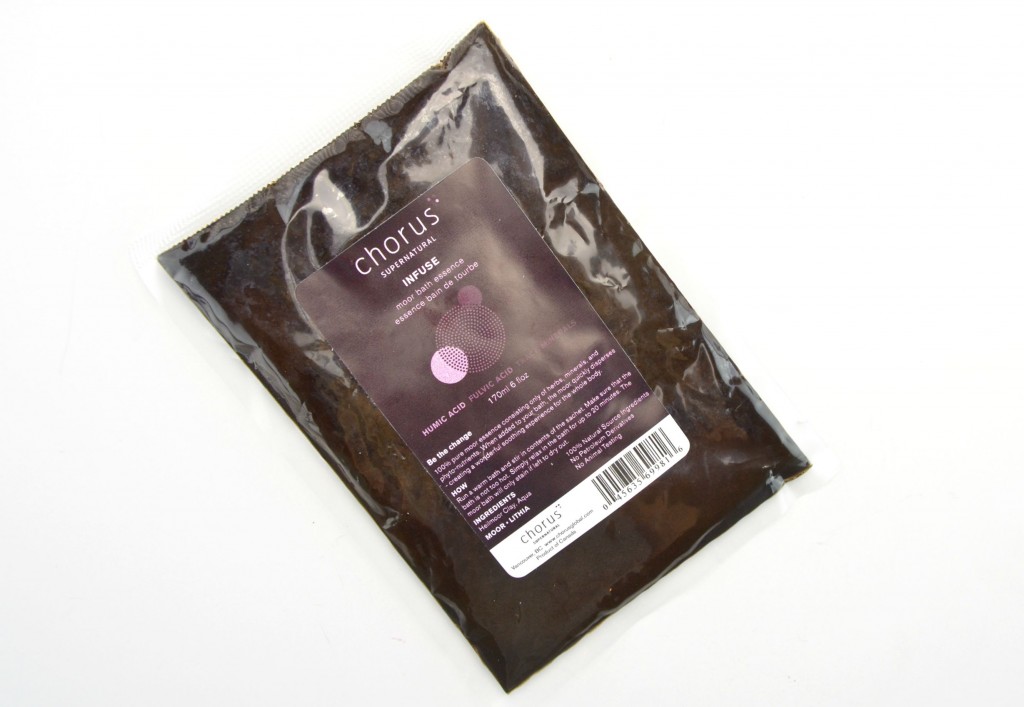 Chorus Multi-Action Cleansing Bar will help simultaneously cleanse, exfoliate, soothe and moisturize the skin by combining algae extract and hyaluronic acid. It's also formulated with soothing oatmeal, along with chamomile and lavender, to help create a unique multi-functional bar. You simply take the solid bar in your hand, apply a small amount of water and lather onto the skin. You can gently massage over your entire body and watch as it instantly awakens the senses and acts as a gentle exfoliator. It does a wonderful job at cleansing the skin of dirt and oil, without leaving it feeling tight or dry. It retails for $9.90 for 175g.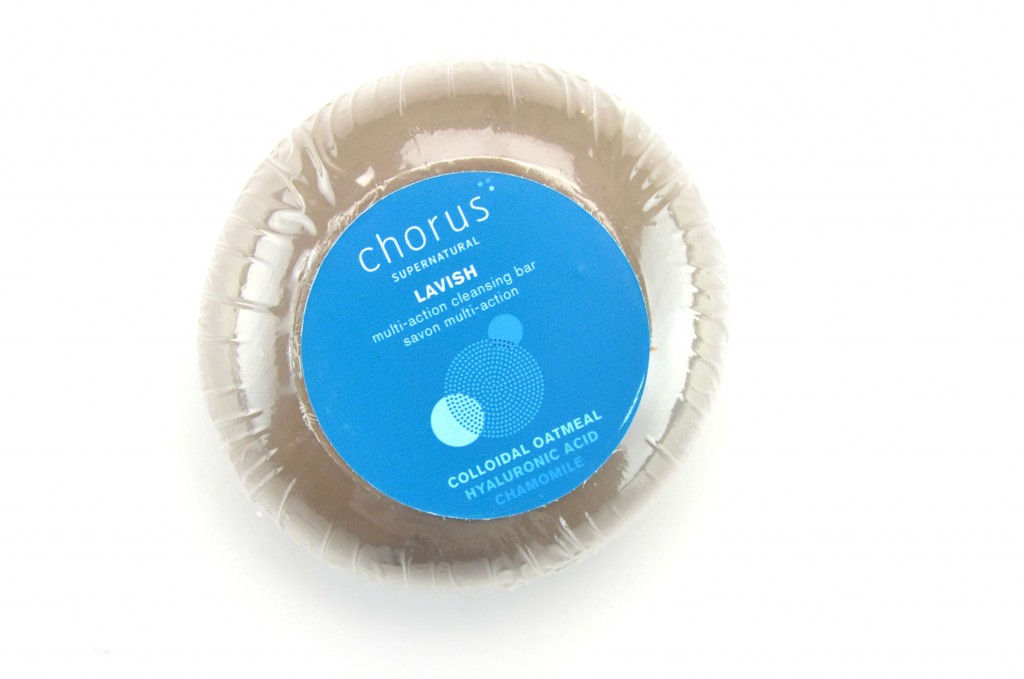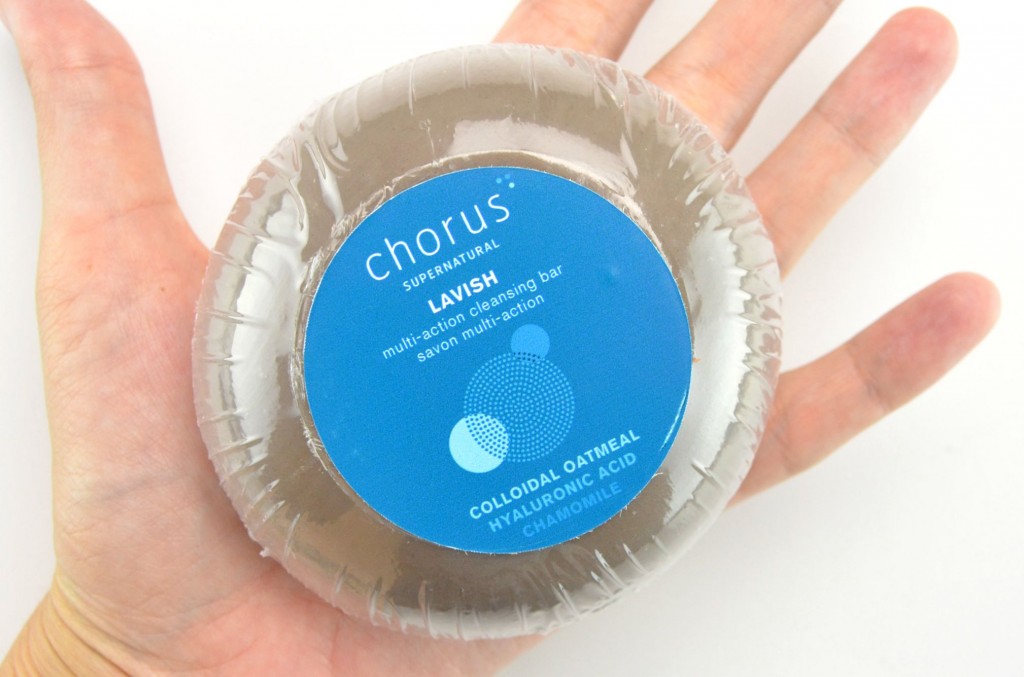 Chorus Luxurious Hand Cream combines silk protein and hydrating emollients to help smooth and soften the hands, while proving protection for your nails. It's formulated with moor, Lithia and seaweed, along with rosemary and shea butter to help moisturize all night long. It has an extremely thick, quite opaque texture that penetrates deep into the skin to help protect, nourish and moisturize the hands. It instantly coats your hands for a soft, smooth, luxurious feel.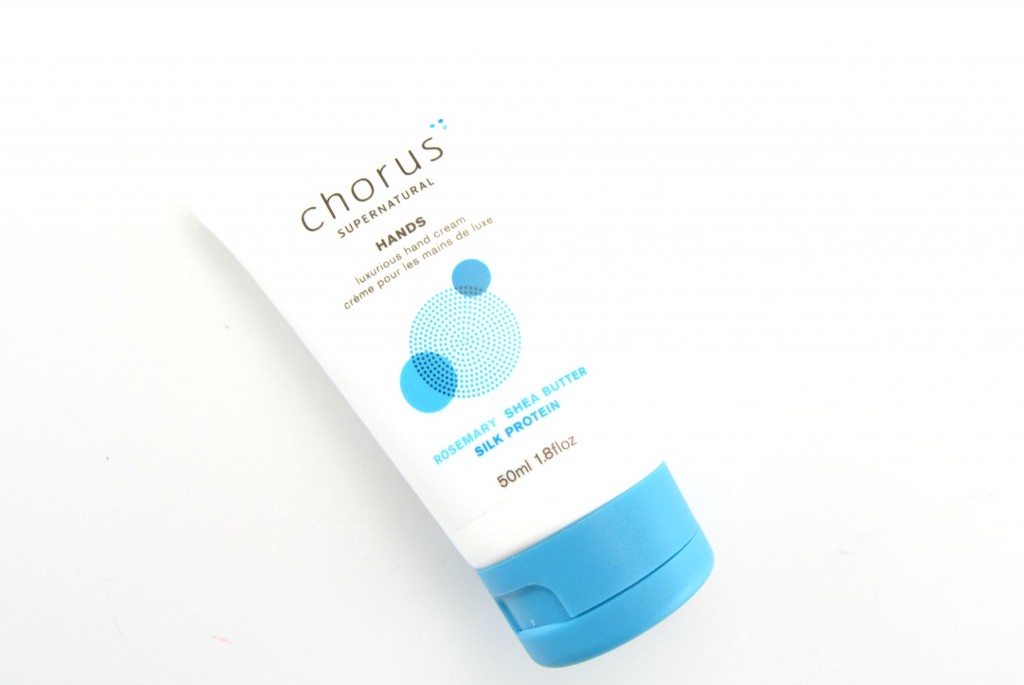 Although Chorus Luxurious Hand Cream has a rich and slightly creamy texture, it doesn't quite fully absorb into the skin. Because it doesn't blend into the skin, it does leave behind somewhat of a greasy residue and leaves almost a film on the skin. It does, however, do an excellent job at providing extreme hydration and keeps my skin moisturized for hours on end. It also has a strong floral, rosemary, almost herbal scent, that some might find offensive? I suggest saving this cream for a nighttime treatment, so it doesn't interfere with your perfume during the day. I'm not too sure if I'd spend $22.50 for 50ml on this, but because it's all natural, it might be a nice treat to those dry, chapped hands come these harsh winter months?