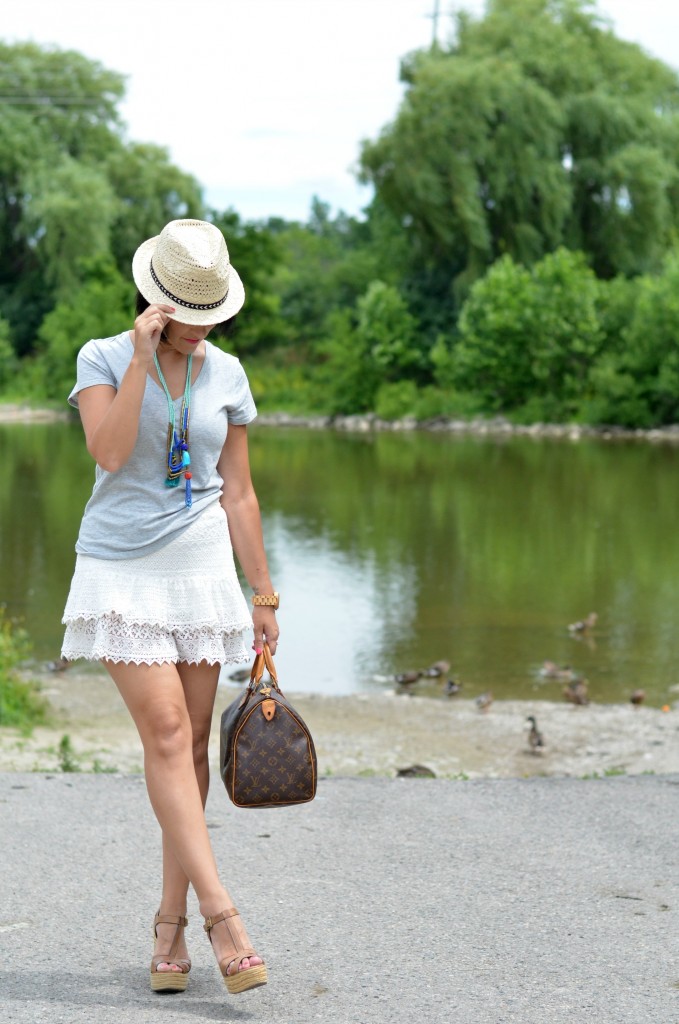 Let's be honest, we all have lazy days. Mondays are especially hard for me, lounging around in comfy clothes all weekend spoils me, but this fashion blog keeps me motivated to wear cute things. I would rather sit in my house in my pj's than be forced to go out of the house in something uncomfortable. Loose, comfy clothes have quickly become trendy, but that doesn't mean dirty old t-shirts and sweatpants, opt for a more slouchy tee and "joggers". We live in a golden age where comfy dressy is actually fashionable.
A few easy tricks for staying comfortable, yet stylish at the same time is stick to neutral colours. Basic nude colours will go with everything in your wardrobe and make getting dressed in the morning, when you're half a sleep, a breeze.
We all have a ton of white and black tees in our closet, but this summer, opt for a slightly oversized grey tee. It's versatile, cool and a piece that you'll be able to wear any day of the year, and in any season. It can easily anchor a statement piece, add a casual element to a statement bottom, or just simply convey a sense of summer ease.
Avoid form fitting clothing, that's tight and restricting, instead don't be afraid to show a little skin with a short skirt that's still loose but not frumpy.
Don't even think about wearing heels, you don't always need to wear stilettos to make an outfit chic. Try flats, sneakers or even a chunky wedge. Surprisingly, even though the wedge may look super high and intimidating, they're actually quite comfy and easy to walk in.
Top your lazy day look with a hat… cause who's got time to do their hair. A fedora is an excellent option to the traditional ball cap, and it's actually a lot cooler to wear in the hot temperatures.
What I Wore- Tee- Joe Fresh, Watch- c/o Jord, Purse- Louis Vuitton, Fedora- Billabong, Necklace- c/o Loft, Skirt- H&M, Wedges- Aldo