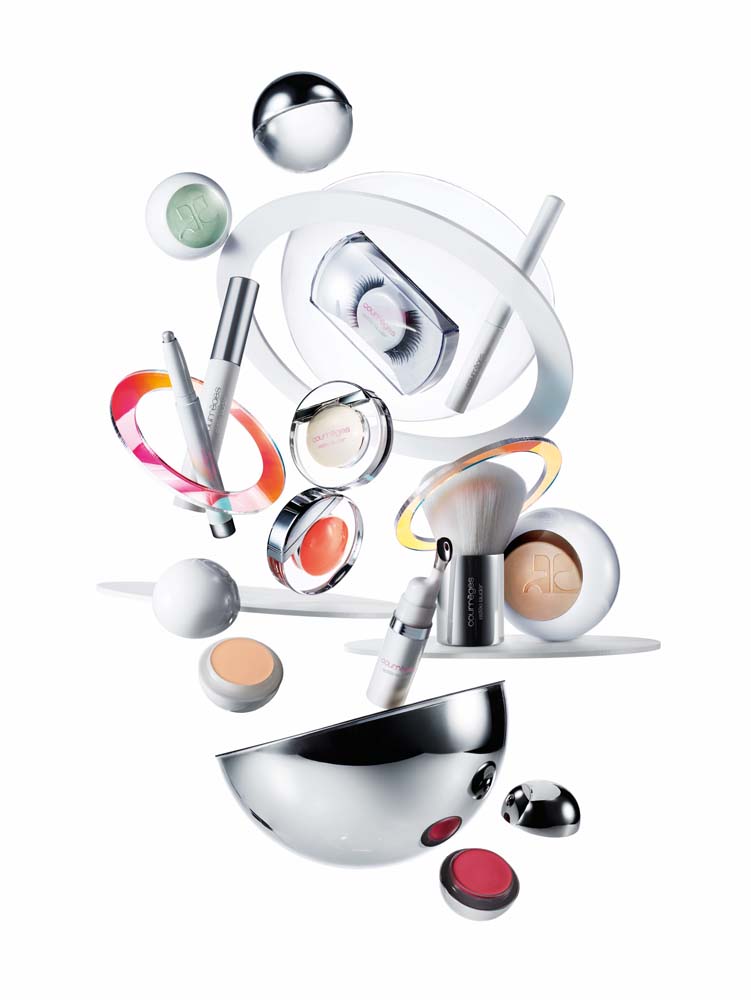 Eye Amplifier
André Courrèges is probably best known for his futuristic fashion in the early 60's, but his light, innovative, timeless colourful vision is now taking the makeup world by storm. Estée Lauder has partnered with this fashion house legend in a 12-piece limited edition line. Courrèges Estée Lauder Collection marries the floating-on-air feel of an embellished Courrèges mini dress with the punched-up precision of Estée Lauder's progressive product design that will allow you to create your own unique Courrèges look for today. These two innovative brands have created a "pop-timistic" collection that features zero gravity shades that float on the lips, eyes and face. Both brands share the same vision of tomorrow's modern woman is today.
Estée Lauder Eye Amplifier was inspired by Courrèges original moon girls comes in a white, round compact with a clear, twist-off lid that encloses the ultra-luxe eyeshadow within. It's best applied with a brush, but can be applied with just the use of your fingers. It can also be used both wet and dry to help create endless amounts of shimmering, radiant dimensional looks with a glass-like finish. Its unique and innovated siliconic polymer formula helps the shadow attach and adhere seamlessly to the skin for an all-day hold that lasts without creasing or fading.
Estée Lauder Eye Amplifier unique formula can create several desired looks by using different application methods; use your finger to create a soft, subtle, romantic look, apply using the smudging applicator to create a more intense look or apply wet for an extreme, dramatic effect. It's slightly drier texture still seems to glide onto the lid with use, but it does take some building up to achieve a fully, true opaque pigmentation. It gives a multi-dimensional effect on the lid, depending on the way the light hits it. It's extremely buildable, fairly blendable and stays put without creasing for 10+ hours. It retails for $29 in two limited edition shades of Aqua Silver and Black Silver.

Be sure to check out the other 9 pieces in the collection featuring 2 Lip Visors, Super Gloss, Super Lashes, Eye Glide Pencil, Iridescent Ball Highlighter, Lip + Cheek Ball, Ultra White EyeLiner, Illuminations Face Powder and a Kabuki Brush at select Sephora Estée Lauder counters across Canada.