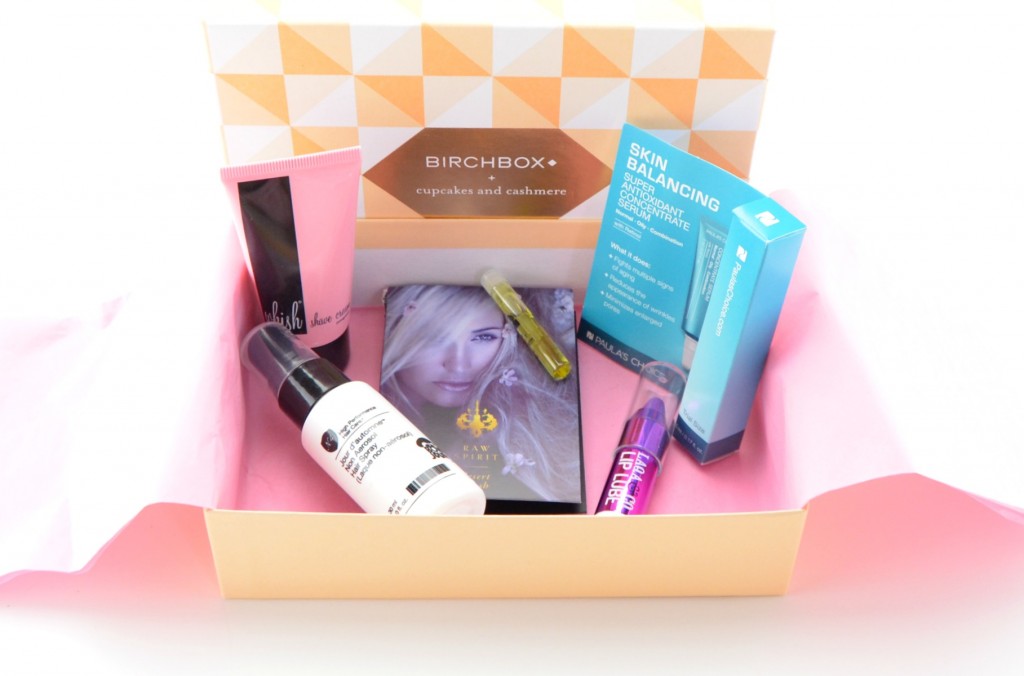 By Emily Schuman
When the original fashion and beauty blogger guru, Emily Schuman, from Cupcakes and Cashmere, colabs with Birchbox, you sign-up. This unique duo teamed up together to curate May's beauty box filled with some of Emily's favourite beauty buys. Emily truly believes that a new beauty product can instantly transform your mood, whether it's taking a bubble bath or brightening up your look with a new bold lipstick, simple products can have a profound impact on your day. Her second book also comes out this month, talk about smart marketing, and this perfectly curated box will now allow you to effortlessly create her looks from the comfort of your own home.

Let's start with the product I'm most excited about, this stunning LAQA & Co. Sheer Lip Lube Pencil in Menatour. This is a high-gloss, extremely bold and bright purple with a semi-sheer finish. It has an incredibly fresh, minty scent that provides a soft wash of colour to the lips. It's formulated with shea butter to help keep lips moisturized and fills in any unsightly lines. This sample size is just shy of a full-size product, which retails for $20.

Next up, Number 4 Non-Aerosol Hairspray that not only keeps your final style in place, its earth-friendly and botanical enriched which gives you flexible hold, while nourishing each strand. Since it doesn't contain any harmful chemicals, it also doesn't come with that nasty hairspray scent. It provides ultimate shine, while also controlling and reducing frizz, making it the perfect hairspray for our hot summer months. Full size retails for $34, value of this sample size is $5.

Third item is Whish Shave Cream Shaving Cream with its ultra-hydrating, rich and creamy formula. It contains shea butter to not only keep skin moisturized, but prevents ingrown hairs. Although it doesn't come to a foamy lather, like I'm used to, it's actually designed to be more of a lotion shave cream. It surprisingly provides an extremely close shave and its organic and natural botanical ingredients help to soften the skin. Full size retails for $22, value of this sample size is $3.20.

Fourth item I'm pretty excited for, as you know I just recently discovered and tested out for the first time and love, Paula's Choice. I now have a sample of Paula's Choice Skin Balancing Super Antioxidant Concentrate Serum with Retinol that battles both acne and aging and helps to shrink the size of pores. Full size retails for $30, value of this sample size is $5.

Last item is the Raw Spirit Fragrance Desert Blush that has a sophisticated floral scent that's perfect for an outdoor afternoon and breezy spring evenings. Full size retails for $50 to $133, but you all know I don't place a value on these, as you can get them for free wherever perfume is sold.

Make sure you sign up by tomorrow, May 17, to receive your very own Cupcakes and Cashmere box. Pay just $10 (plus $4.95 shipping) and you too will be able to experience some of Emily's favourite things. Total box value is $33.