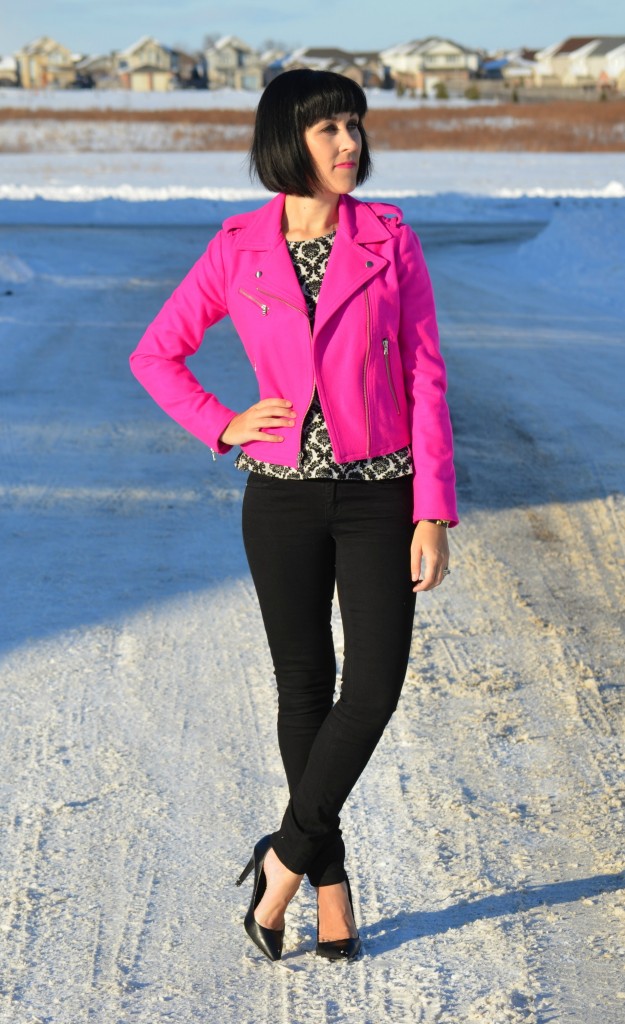 While my amazing friend Alicia is away, sunning herself in sunny Florida, I'm her guest blogger for Funny Face Beauty today, giving her followers a New Year's Eve outfit idea.

NYE, might be my favourite day of the year, I love ringing in the New Year with my friends and a little bubbly. When I was younger, I loved nothing more than getting all dolled up in a fancy dress and heading downtown to my local club. Now I would love nothing more than to go to a house party in my pj's; I guess that's what happens when you get older?

This year I think I'll be celebrating at a friend's house, and although I'd love to show up in my onesie, I think clothing would be a better option? I'll be keeping it comfy and casual, but will be adding a touch of style with this hot pink fuchsia moto jacket, the colour alone will make the statement when walking into the room. When I get hot, I can take it off and still look chic in this black and white brocade peplum top paired with my favourite and oh so comfy black denim. You can't go to any party, even a house party, without a killer pair of heels and since they'll be coming off at the door, I won't be scared to rock the highest pair I own.

Jacket- The Gap- $128- in stores now
Peplum Top- Smart Set- $28- October 2013
Denim- Smart Set- $55- Dec 2012
Pumps- Aldo- $70- in stores now