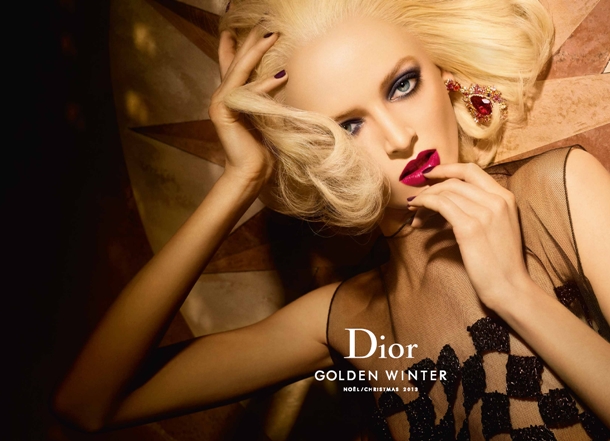 "The Dior Golden Winter Holiday Color Collection is inspired by Versailles at the heart of winter. The collection is based around shades of pink and gold, which have been among the most emblematic codes of the House of Dior since the first couture collection in 1947. Today, the tradition continues with Raf Simons, whose current creations feature gorgeous combinations of pink and gold." Dior Golden Winter Collection for Holiday 2013 features three Diorific Lipsticks, two Dior Addict Gloss, two 5 Couleurs Eyeshadow Palettes, 3 Diorific Vernis and Diorific Jewel Manicure Duo.

Diorific Lipsticks are presented in a vintage-looking golden tube and come in 3 gorgeous shades: Diva (038), Winter (042) and Minuit (046). Although these are a little more drying than the Rouge Dior, I didn't have a problem with them when I applied a lip balm underneath. It's extremely pigmented and super opaque, definitely a one swipe lipstick. It's longwearing, even with a balm or lipgloss, you'll get a solid 6-8 hour wear time without smudging or fading. These retail for $40 each.


Diorific Diva (038) is a beautiful warm ruby red with a hint of orange and a natural sheen to it that's perfect for the holiday and winter season. It's highly pigmented and applies with full coverage in one easy swipe.


Diorific Winter (042) is a deep, creamy burgundy shade with just a hint of metallic sheen to it. It's been my go to colour for the past few weeks.


Diorific Winter (042) and Diorific Diva (038)


Dior Addict Gloss is available in 2 new sparkling shades Enchanted Rose (451) and Pink Fantasy (776) that comes in a clear, lightweight, square tube so you can see the colour of the gloss inside and features the signature CD engraved on the nob of the lid. It has a short, brush-tip applicator that applies the gloss beautifully to the lips. It has a lightweight, ultra shimmering, highly moisturizing formula that delivers a medium sheer wash of colour to the lips. It has a very smooth, slick and silky feel to them that's very comfortable to wear. It's completely non-sticky and has no scent or taste to it. It provides just the right amount of shimmer and sparkle to the lips that noticeable without being too overwhelming. These retail for $31 each.


Dior Addict Gloss Enchanted Rose (451) is a sheer nude with pearl-pink finish.

Dior Addict Gloss Pink Fantasy (776) is a sheer, yet vibrant, raspberry with just the right amount of sparkle.


Dior Addict Gloss Pink Fantasy (776) and Dior Addict Gloss Enchanted Rose (451)


Dior's best-selling eye palette offers endless possibilities that can easily take you from day to night with 2 new limited-edition 5 couleurs eyeshadow palettes in warm and cool shades of golds, pinks, bronzes and browns. These shadows are creamy, apply beautifully, are extremely buildable and have a great mixture between matte and shimmery shades. They each have a smooth texture, that doesn't crease and has little to no fall-out and last a good 8-10 hours on the lids when used with a primer. Dior Golden Flower (634) and Dior Golden Snow (644) retail for $61 each.


Dior Golden Flower (634) is a beautiful warm palette with a combination of pinky peach, vanilla, gold, bronze and brown. The first shade is a pinky peach shade with a hint of gold iridescence to it. It's perfect on its own or as a base for other colours. The second shade is a shimmery vanilla that has pretty good pigmentation for such a light, shimmery shade. The middle shade is light, shimmery gold that's a bit sheer but can be applied over other shades for a nice holiday sparkle to the eye. The forth shade is a creamy, gilded bronze with almost a hint of red to it that's incredibly pigmented. The fifth shade is a deep chocolate brown.


Dior Golden Snow (644) is a beautiful cool palette with a combination of pale pinks, gold, copper, greys and white shimmer. The first shade is a cool toned, iridescent pale pink with a light frost to it, with a pretty good amount of colour payoff for such a light shade. It's soft and creamy, easy to work with and would be a good base colour to start with. The second shade is a very sparkly, cool toned gold that packs a ton of pigmentation, yet sheer enough to be wearable and easy to work with. The middle shade to me almost looks like real snow, it's a sparkly, iridescent white that works perfectly as a highlighter. The forth shade is a mauve/ pink shade with a metallic finish that's highly pigmented, super soft and super blendable. The fifth shade is a blackened charcoal shade, with almost a matte finish and blends well with the other colours. It would also make a perfect eyeliner when creating a smoky eye look.


Diorific Vernis comes in an ultra-glamorous, round retro bottle (that reminds me of a snow globe or ornaments) with a golden cap to it in 3 new shades, Frimas (318), Marilyn (751) and Minuit (995). The polish applies easily thanks to its rounded brush and perfect consistency formula that isn't too thick, but isn't too thin that you have to sacrifice pigmentation. It's fully opaque after only 2 coats and it dries almost instantly with a natural shine. I got a full week's wear before any chipping occurred. These retail for $26 each.


Diorific Vernis Frimas (318) is a soft, grey/ beige/ mauve shade with small gold glass flakes throughout it. It has an intense amount of shimmer within it and is super opaque when 2 coats are applied.


Diorific Vernis Marilyn (751) is a shiny, rich, bright red with almost a jelly like effect to it and neutral undertones. It has a very fine ruby shimmer to it, that's only noticeable up close.

 Diorific Jewel Manicure Duo ($39 USD / $40 CAD) is something we've seen a lot of in the manicure world this past few years, caviar nails, that are achieved by using tiny little micro beads that you apply to your nails to give them a 3D effect. Dior has upped the ante by making not only the packaging rich and expensive looking, comes in the same round retro bottle as the other Diorific vernis, but also comes with a gold funnel that looks extremely luxe and screams holidays.

The Gold Nail Lacquer Base is a pretty, warm gold and looks amazing on the nails even without the beads. The Crystal Pearls are tiny sparkling transparent beads that are applied over the Gold Nail Lacquer Base, and add a little something extra to the nails. The gold funnel is much more interesting and of a higher quality than all those other cheap plastic looking one; Dior really pays attention to detail.

I'm sure by now, you know how to apply and achieve a caviar manicure, but just in case, here's the simple and easy steps. You first remove the black base from the transparent tray, this is what you're going to use to catch the extra beads. You then apply a coat of the Gold Nail Lacquer Base to each nail and wait for them to dry. Third step is to paint a second layer of polish to each nail, one at a time and pour the beads over the nail (and over the plastic tray that will collection any extras) before the polish dries. When the nail is covered in the crystal beads, gently press on the pearls to adhere them. Repeat these steps on as many nails as you like and let dry for 15-20 minutes. Using the funnel, pour the pearl beads from the clear plastic tray back into the bottle.