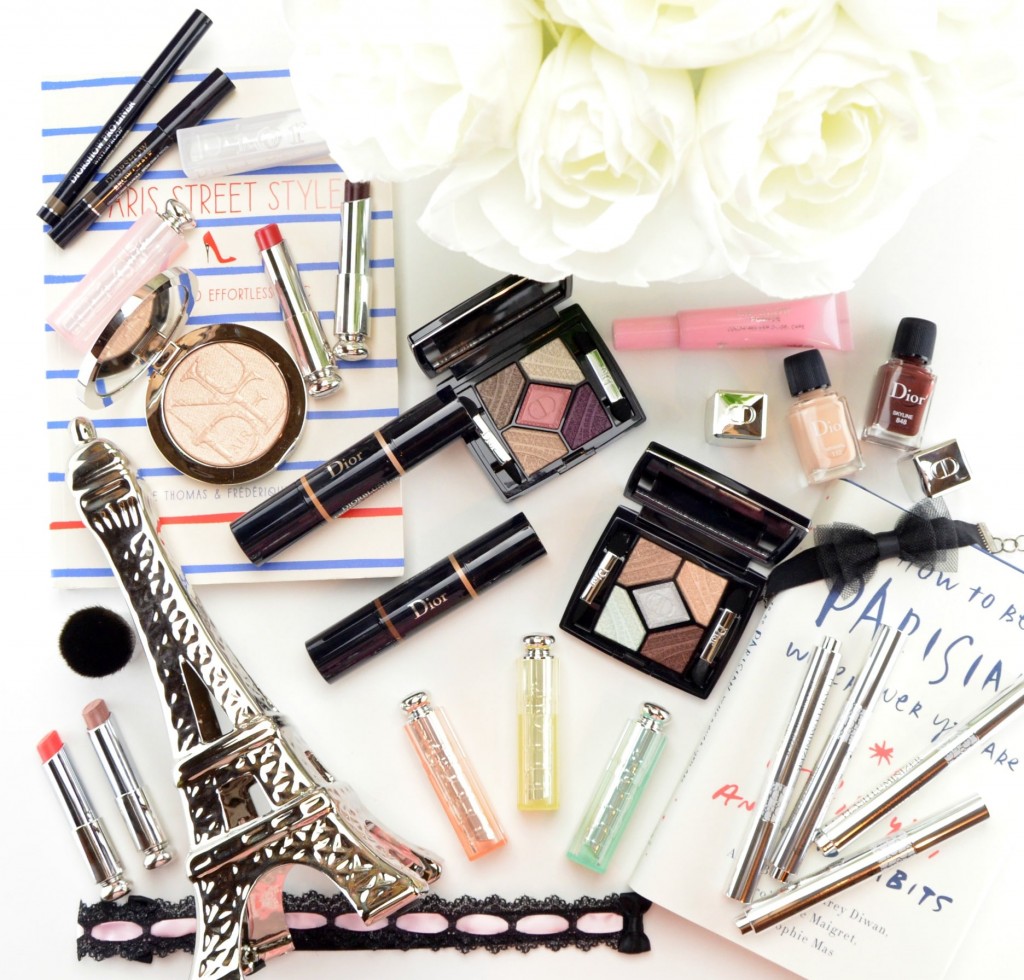 The new Dior Skyline Autumn/ Fall 2016 Collection couldn't have come at a better time. The entire collection is inspired by the Parisian skyline, which is beautifully executed on the eyeshadow palettes, which feature the stunning Eiffel Tower itself. Paris just so happens to be one of the 4 cities Derek and I will be traveling to next month in celebration of our 10th year wedding anniversary, so its only natural that I feature this amazing collection on this fashion blog before we go. I've been going over my entire makeup collection, trying to decide which pieces to bring with me on our 2 week adventure, but after playing around with this collection, it's clear to me, these are the only pieces I'll need to bring. The entire lineup features frosted beiges, reddened browns, coppery pinks and champagne shades that embrace metallic accents and perfect for the slightly cooler autumn temperatures that are upon us.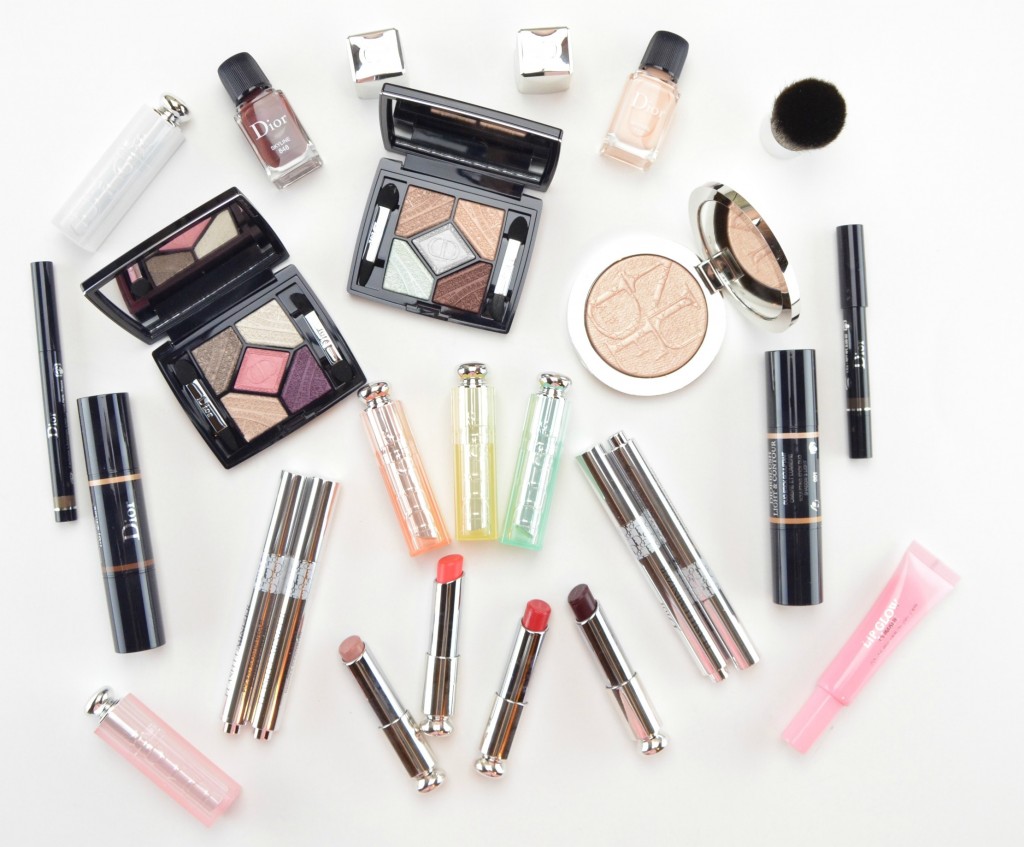 The new and limited edition Dior Skyline 5 Couleurs palettes are based around the centre shade, like all the Dior 5 Couleurs are, but includes the pretties' design I've ever seen from the brand. Keeping with the Parisian theme, each shade features a lovely Eiffel Tower design engraved into it. If you're looking for a natural daytime look, combine the two upper shades found in the palette alongside the middle shade for a subtle office look. I love how this season the shimmer is more refined and subtle, you still get that radiant pop, without full-on glitter. To amp up your look for evening, pair the two bottom shades with the centre for an instant bold and dramatic look.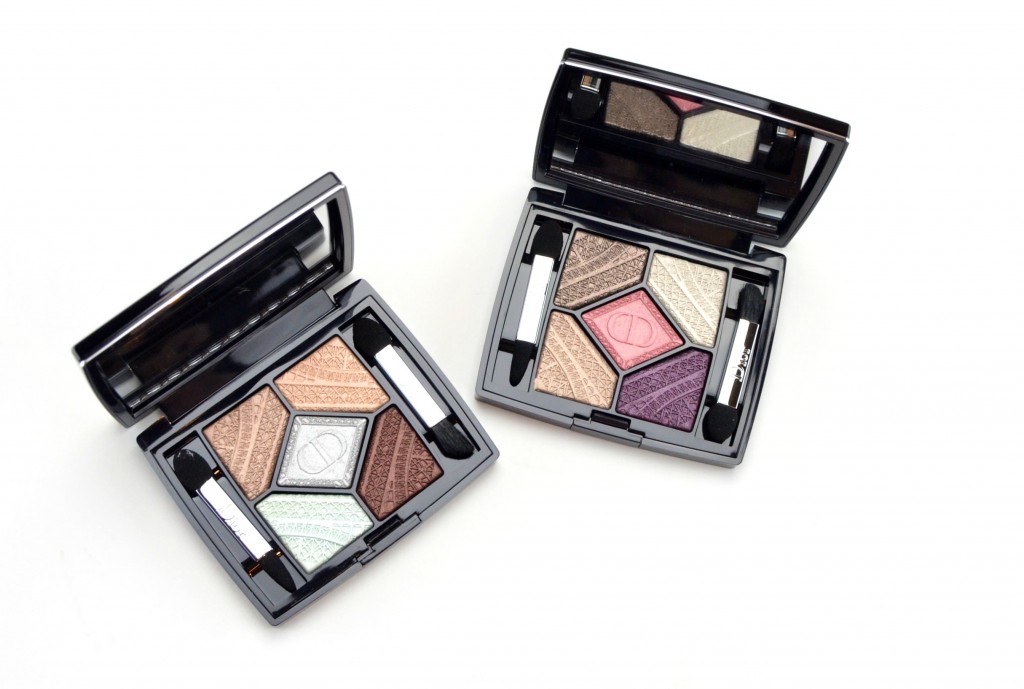 Dior Skyline 5 Couleurs comes with the same rich, cream and velvety formula that we'd expect from Dior, in an array of satin, matte, metallic and shimmery finishes. Like all Dior shades, these aren't the most pigmented, but you can effortlessly achieve an extremely wearable and enjoyable look with ease. A few of the darker shades tend to be a bit patchy, with a little fallout, but nothing you can't work with or pair over a decent primer for a seamless look. Each shade blends out beautifully, stays put the entire day and doesn't crease, fade or smudge the entire day. It retails for $73.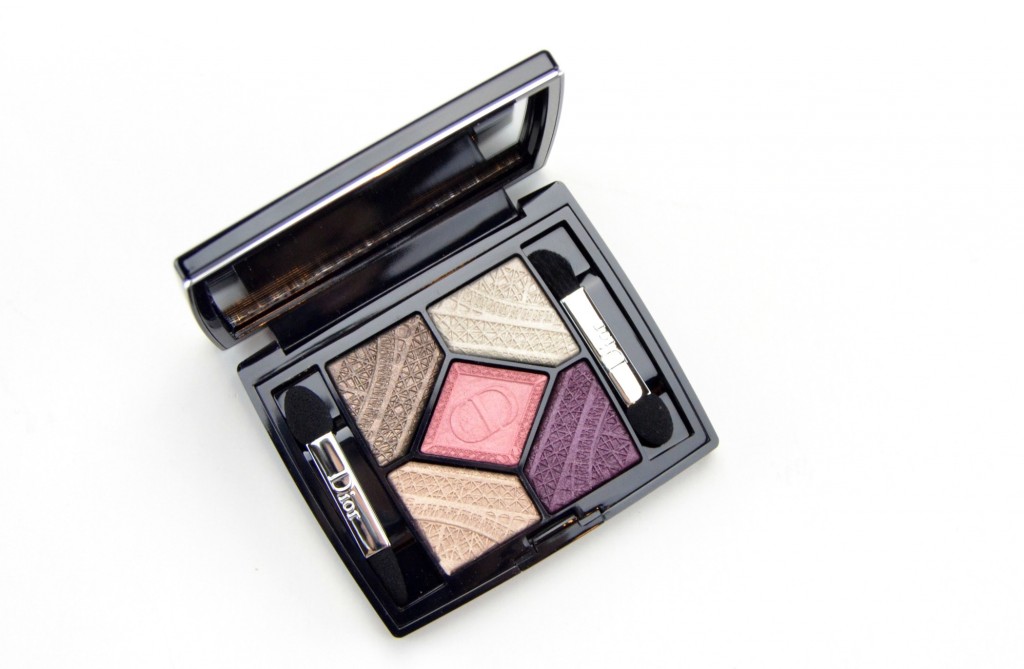 Dior Skyline 5 Couleurs Parisian Sky is a harmony of pure blues and cool beiges that radiate from a steel of grey and is the cooler palette of the two. It features a lovely caramel with a shimmery finish, a pale golden beige, a bluish-silver, a minty green with a frosted finish and a rich espresso brown.

Dior Skyline 5 Couleurs Capital Of Light is an array of warm and luminous browns unfurls around pink. It features a taupey brown with a metallic finish, a white, almost silver, a rosy pink, a champagne beige and a rich, intense maroon.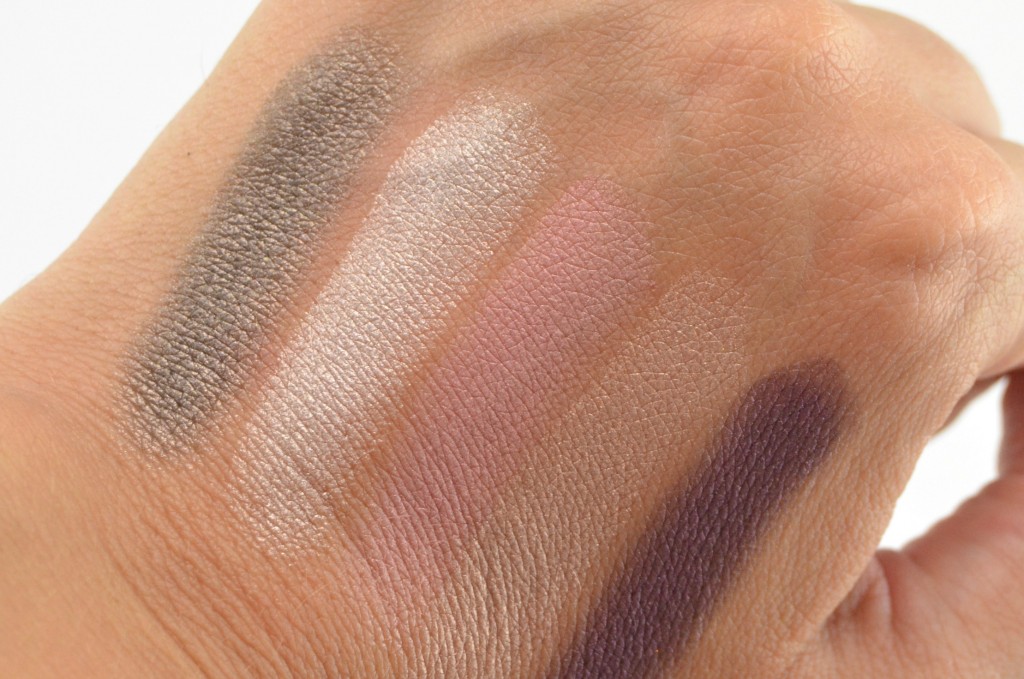 If it's one thing I know about the Dior Diorskin Nude Air lineup, is that it really is light as air. So lightweight that it feels like you're wearing nothing at all. The new Dior Diorskin Nude Air Luminizer Shimmering Sculpting Powder contains a formula so highly concentrated with illuminating pigments, it instantly helps to highlight the face with a virtually imperceptible finish.

Dior Diorskin Nude Air Luminizer Shimmering Sculpting Powder is embossed with the word Nude and features a silky smooth, light as air, almost silky texture. It contains fine illuminating pigments done in a peachy champagne shade that's designed to be universally flattering on all skin tones. Its exquisite texture helps to enhance your appearance for a subtle lustrous glow. Using the mini kabuki included, you can effortlessly delegate the perfect amount of product you want for a natural, healthy radiant glow, or build up the intensity for a more dramatic, evening effect. Simply apply it to the areas of the face where the light would naturally catch and watch as it creates a beautiful luminous complexion. It retails for $68.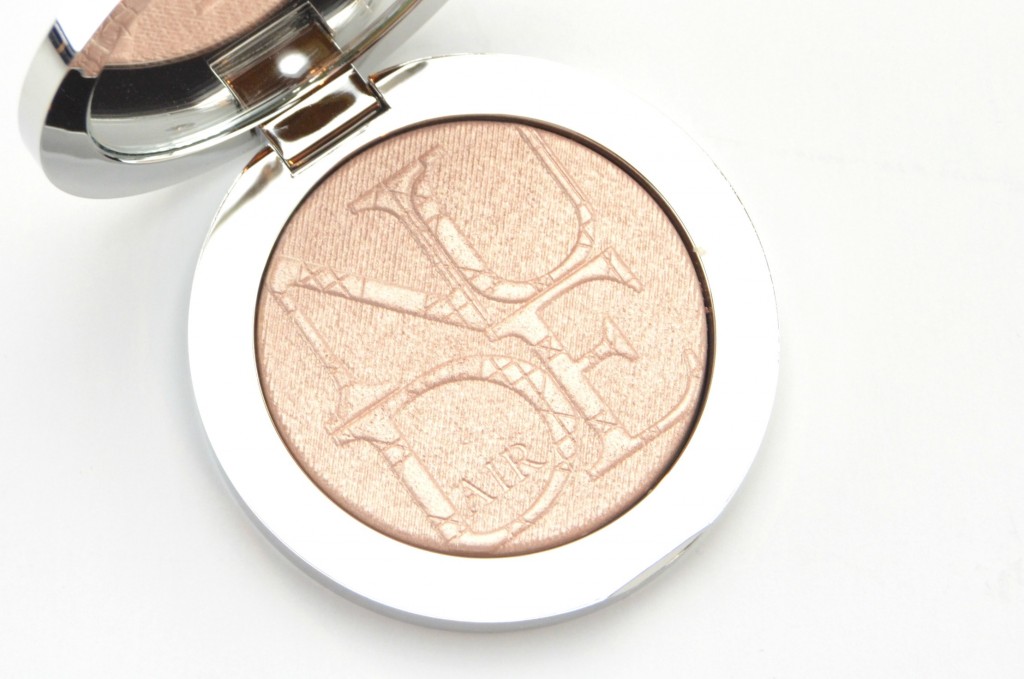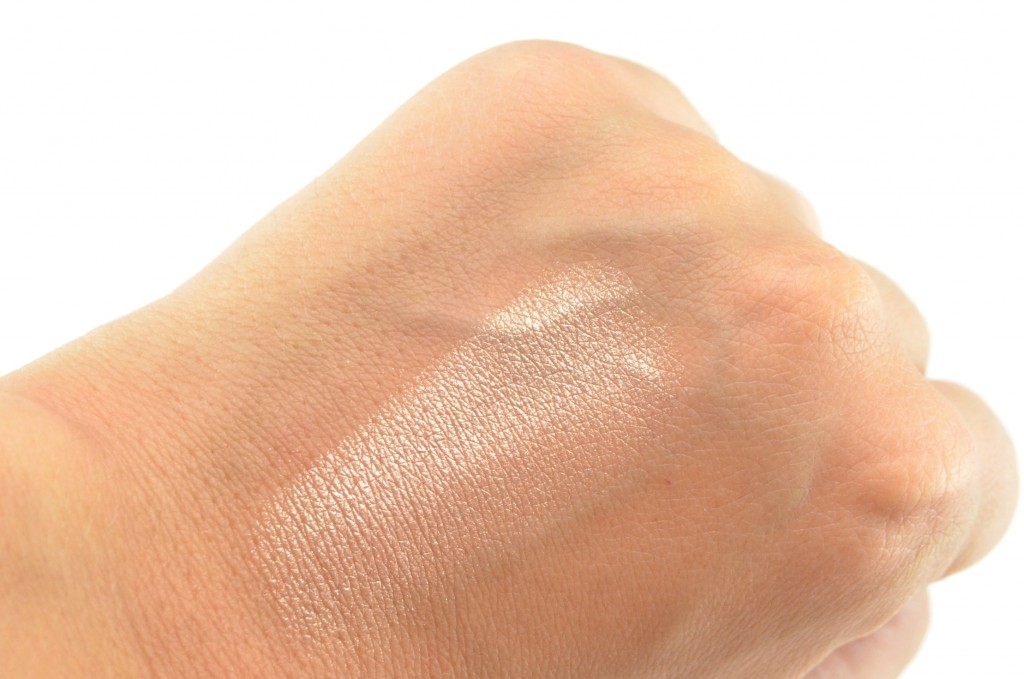 Dior Diorblush Light and Contour Sculpting Stick Duo is a limited edition double sided highlight and contour stick designed to sculpt the face like a pro. It features a swivel up design with a dome shape head that never needs to be sharpened. It has an incredibly soft and creamy texture that applies like a dream. It's fairly pigmented, usually only requiring a single swipe to achieve excellent colour payoff. Although it applies like a cream, it almost sets to a powdery finish that's completely flawless. It's super easy to blend out, with either your finger or brush and is also buildable if you're looking for more opaque coverage. It stays put the entire day, a solid 8+ hours, before slowly starting to fade, yet never clings to dry patches or emphasise fine lines or pores.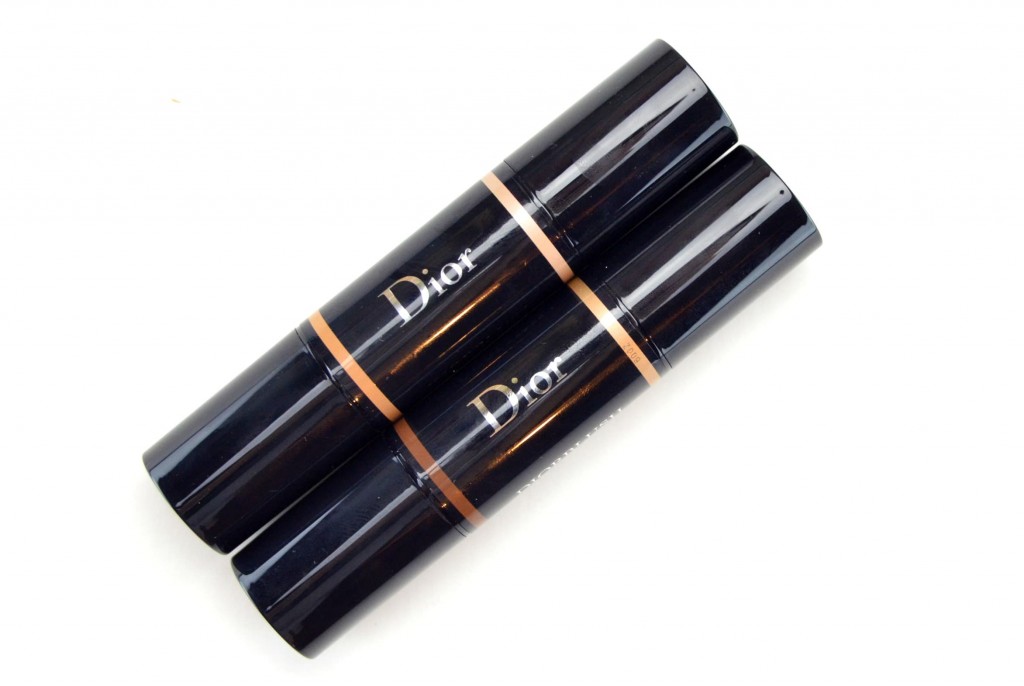 Dior Diorblush Light and Contour Sculpting Stick Duo handy double-ended contour and highlight stick that not only makes it extremely easy for everyday use, it's also the perfect highlight and contour product to travel with. It offers an extremely buttery smooth application that glides across the cheeks with ease and its silky consistency is easy to work with and provides a fuss-free application with little to no effort. It applies the same way a stick foundation would and you can easily buff out and blend in the colour seamlessly without any visible edges or patchiness. The slightly shimmering highlight stick can be used on the cheekbones, down the bridge of the nose and the center of the forehead, where the light would naturally hit your face. The completely matte contour shade can be used to add depth to areas like the temples, jawline, down the side of the nose and chin. I love that it comes in 3 different shade selections, perfect for those with fair, medium and deep skin tones. It retails for $48 in shades Soft Contour (shown below), Medium Contour and Intense Contour (shown below).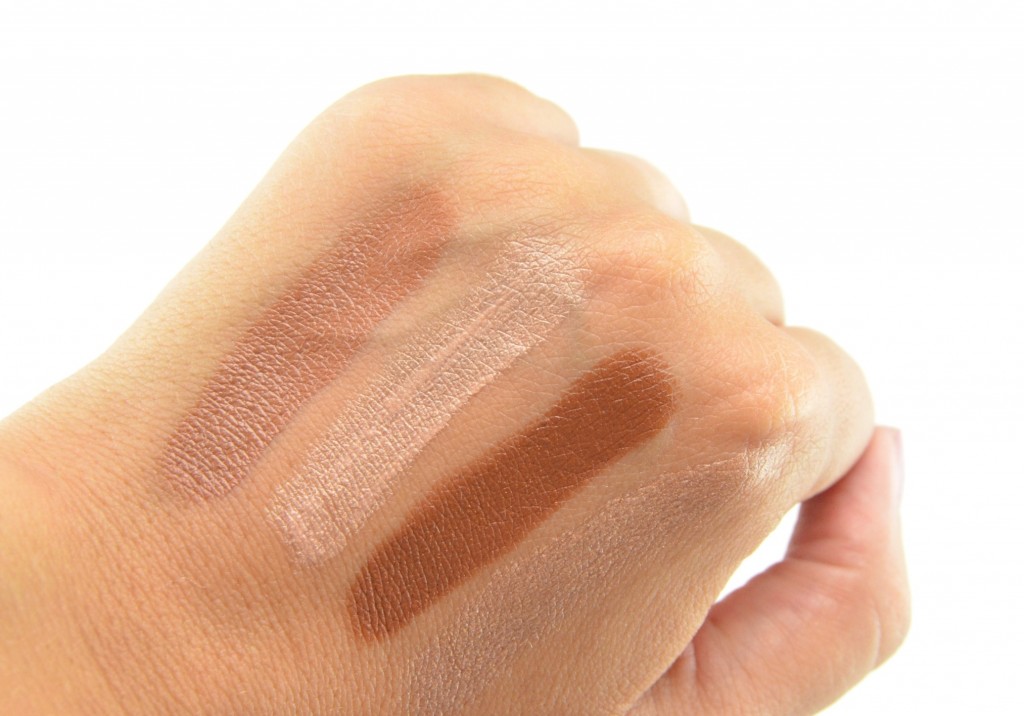 Dior Flash Luminizer Radiance Booster Pen is a radiance boosting, brightening pen designed to erase dark areas of the face and highlight facial contours, all while covering up the signs of fatigue and puffiness. Its unique blending brush helps to fill in lines and wrinkles without the use of your fingers and its buildable formula allows you to adjust your coverage depending on your wants and needs. It comes in an array of different shades to best suit your skin tone (I suggest picking a shade slightly lighter than your foundation for full brightening effect), along with 2 new slightly pearly shades that are universally flattering, yet designed to be used strictly on the cheekbones. You can use them both under and or over your foundation to help brighten, revitalize and sculpt the 5 main areas of the face (chin, bridge of nose, forehead, cheekbones and wing of nose).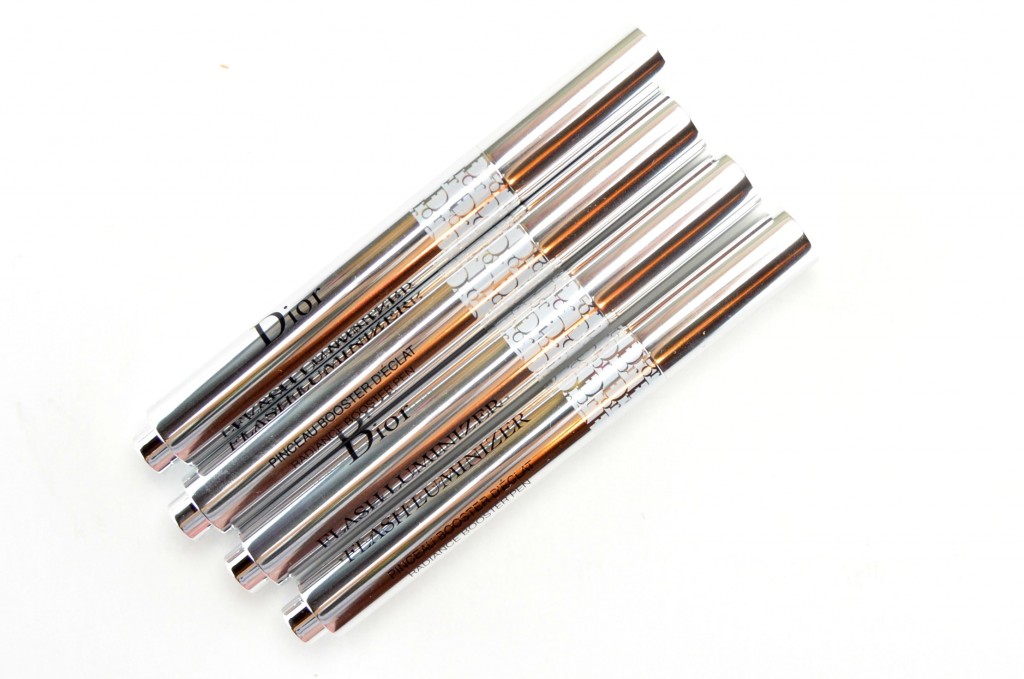 Dior Flash Luminizer Radiance Booster Pen is a brush-on highlighter that is ingeniously packaged in a click pen-style component that features a built-in synthetic brush for easy application. Simply click the bottom of the pen to get the product to come to the top of the brush tip. The first time around, you'll have to do several clicks to get the product to the top, but after a few uses, one or two clicks is often enough. It has a creamy and smooth texture that's fairly pigmented, however, the 2 pearly shades go on quite sheer. It doesn't settle into fine lines, doesn't crease and doesn't fade for a solid 12 hours. I've been applying it under the eyes to help eliminate shadows and dark circles. It instantly adds light to create a lift to my under eye area. I can also use it between my eyebrows and along the side of my nose to give the illusion of wider, more awake looking eyes. Also been using it in the hollow of my chin and around the contour of the lips to create fuller, kissable, poutier looking lips. I've been saving the more pearly shades and slightly more shimmer shades on my cheekbones for a natural, radiant glow. It retails for $52.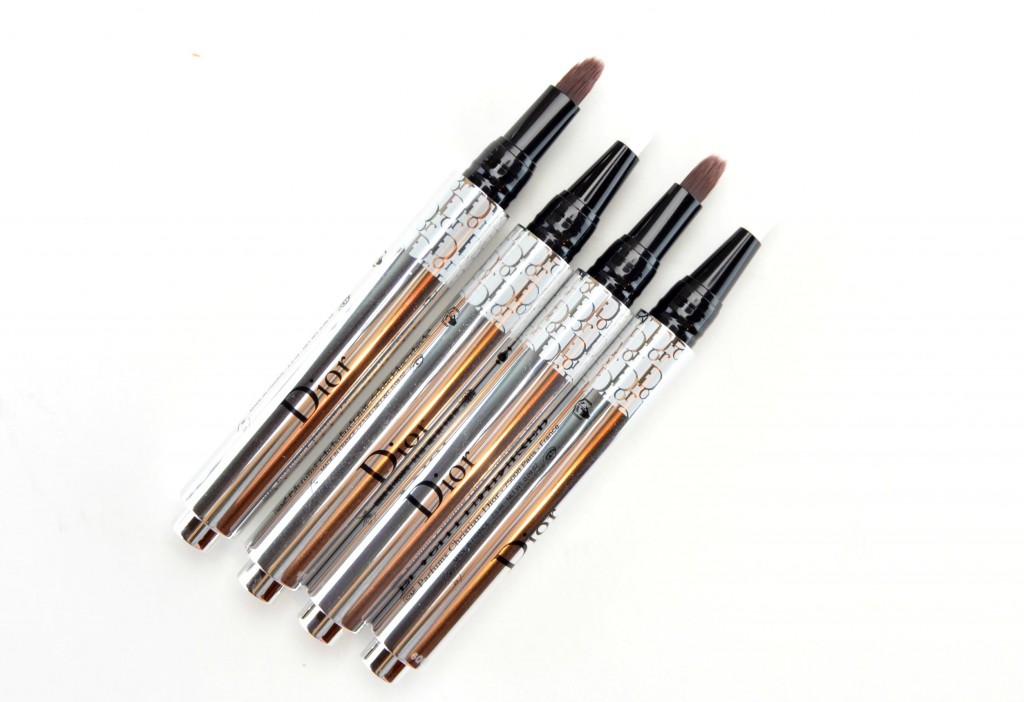 I quickly fell in love with the Dior Fix It 2-In-1 Prime & Conceal last year, a product designed to correct, illuminate and perfect the lips, and although the shades were perfect for my skin tone, the lineup didn't offer a large selection for those with deeper skin tones. This season, Dior has released 3 new shades (Dark Honey, Dark Mocha and Medium Beige). This multipurpose concealer will help erase pores, fill in wrinkles and correct pigment imperfections like sunspots, hyperpigmentation, and minor redness for a high-definition complexion. It will also help fade dark circles around the eyes and smooth skin texture for a more restful look. Finally, it will help fill in grooves and smooth the lips, while evening out the colour, priming the lips for lipstick application. This baby can do it all. It retails for $45.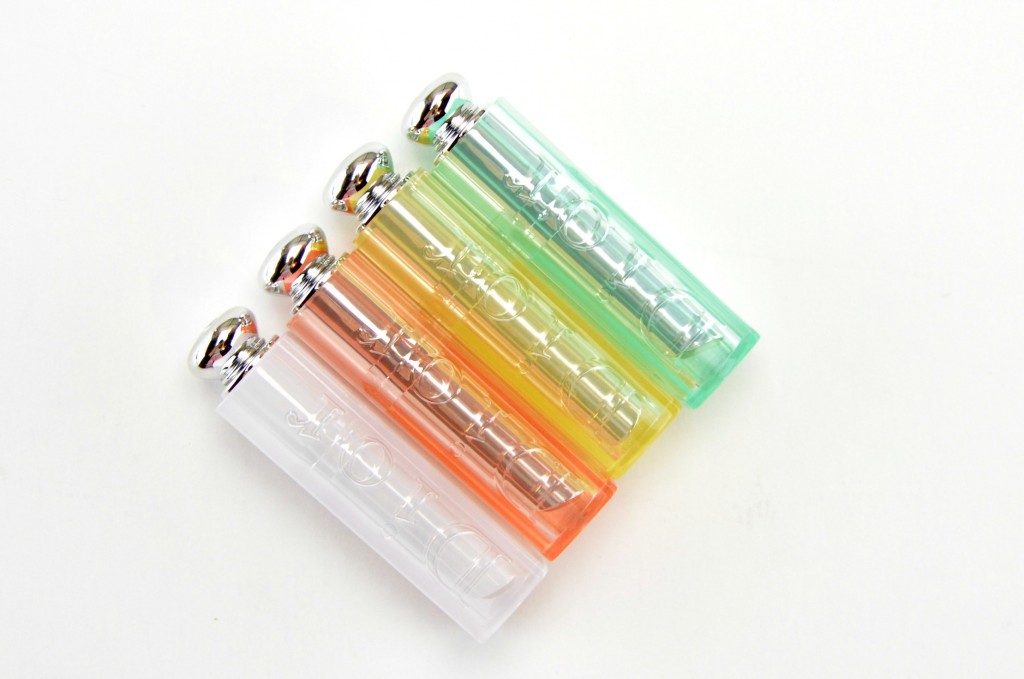 Keeping with the theme of the Dior conceal sticks, the new Dior Fix It 2-In-1 Prime & Colour Corrects are a multipurpose, colour correcting concealer stick designed to target different coloured imperfections. It has an incredibly lightweight, creamy texture that's pigmented enough to provide decent coverage. Thanks to its unique design, the center part features an enriched formula that contains soft-focus, full coverage powder to produce an even and perfected surface to the skin. Depending on which shade you use, you can easily correct dark circles, diminish the appearance of purple/blue imperfections, refresh a tired and dull complexion or conceal redness.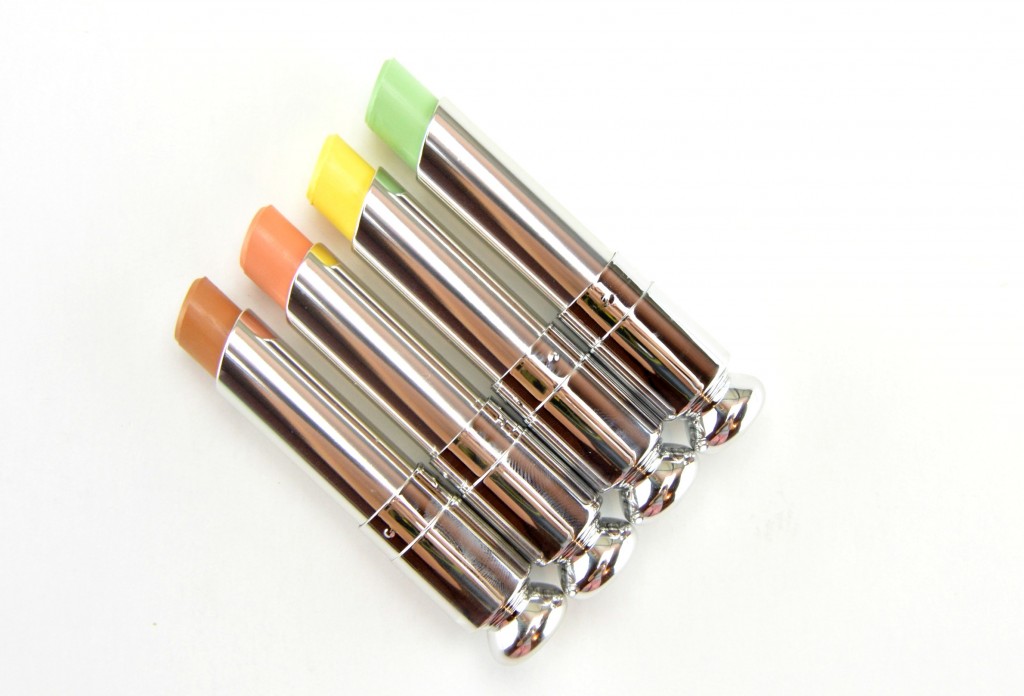 Dior Fix It 2-In-1 Prime & Colour Correct in Blue (not shown) helps to refresh the skin, highlight the eyes and create a radiance around the lips, Apricot helps to neutralize dark spots and hyperpigmentation, correct dark circles and can even be used to lighten lips before lipstick application, Yellow helps to hide purple and bluish imperfections, diminish discolouration under the eyes and neutralize blueness on lips, and finally, Green helps to conceal redness. It retails for $45.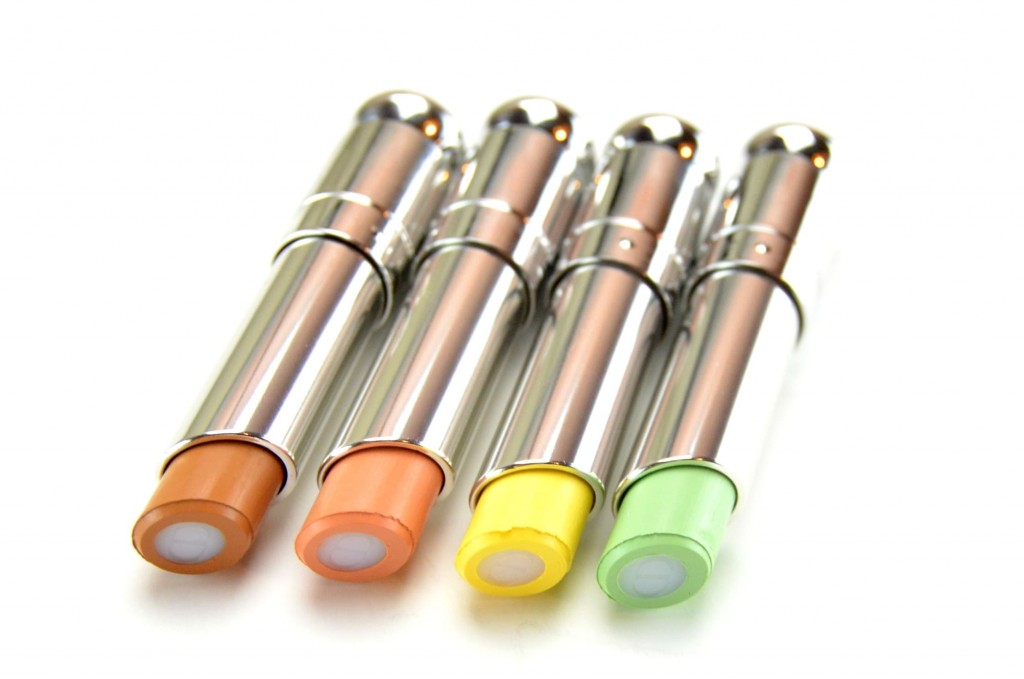 Dior Diorshow Pro Liner has been a favourite liner of mine thanks to its unique hybrid formula that's incredibly easy to use. Think the ease of a pencil, with the consistency of a fine-tip pen liner and then the pigmentation and colour payoff of a cream. It's the best of both worlds. Its unique angled tip, which provides precise application, features a retractable tip that hugs the curves of your lid and allows for a flexible line, with the ease of a pencil, and the intensity of a liquid liner. It's almost gel-like, waterproof formula ensures its highly pigmented, richly intense colour stays in place the entire day. Simply hold the applicator horizontal for precise, thin lines, or turn it vertically to draw a slightly thicker, bolder, dramatic line. Either way, it glides across the lid with ease allowing you to effortlessly achieve a perfect line that sets and dries to the touch in matter of seconds. It's opaque, it's intense and helps provide a pop of colour to the lid, with or without eyeshadow. It comes in 2 new shades, Pro Grege (shown below) and Pro Plum and retails for $36.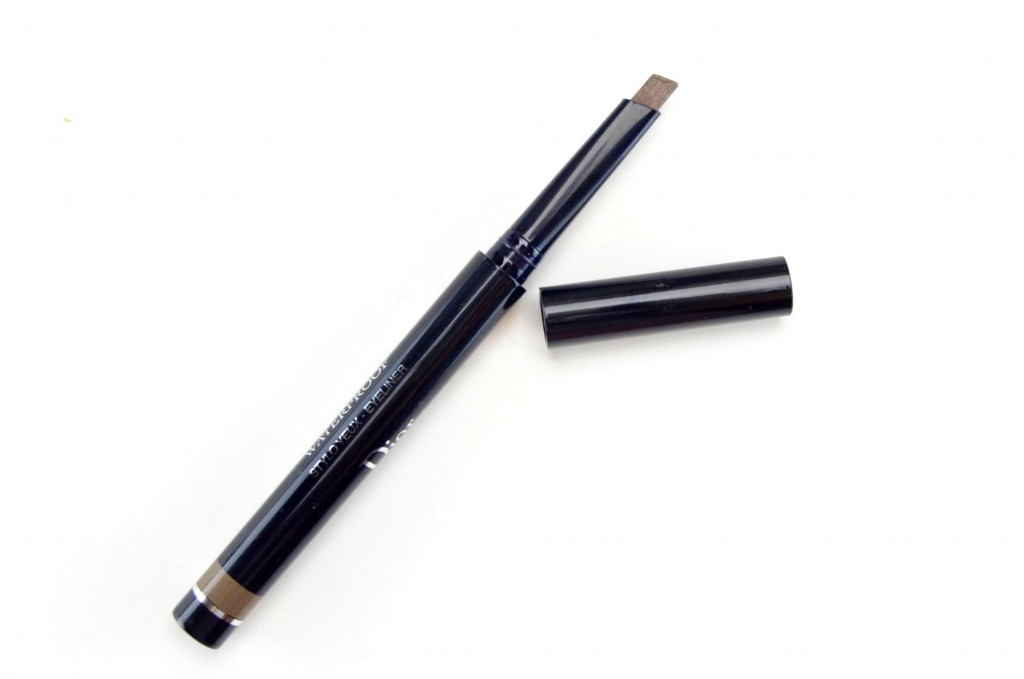 Much like the Dior Diorshow Pro Liner, the new limited edition Dior Diorshow Brow Chalk helps to quickly and easily shape and fill in brows in a single swipe or two. It has the same unique rich and creamy chalk-like texture of that of the liner that combines the colour intensity of a pencil with the staying power of a wax. It instantly helps to thicken the hairs and fill in brows in a few quick strokes.
While I'm no expert in filling in my brows, the new Dior Diorshow Brow Chalk made the entire process extremely easy. It's a fool-proof way to quickly fill in your brows with no fuss or muss. It's slightly chunky design immediately fills in my brows and sculpts them beautifully. I can use the flat end to cover large areas and then use the edge to draw in fine lines for a more natural look. Not only does it provide realistic colour and give the illusion of thicker, fuller brows, it helps to lock everything in place. My brows look as good in the evening as they did in the morning. Every single hair stays in place without fading. It's available in three shades, Blonde, Soft Brown and Dark Brown and retails for $40.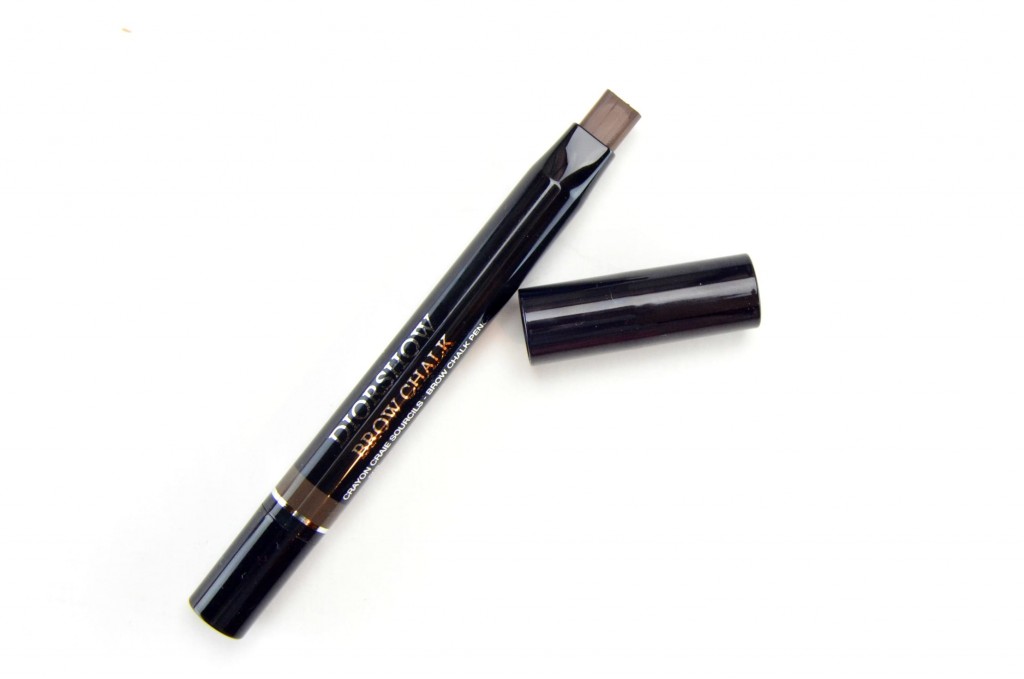 Another favourite, Dior Addict Lipstick, done in 5 new colours along with a limited edition shade. These incredibly lightweight, creamy, silky smooth lippies glide across the lips with ease, never pulling or tugging on your lips. If you don't own at least one of these lipsticks, I highly suggest picking one up. Although not incredibly pigmented, its buildable formula allows you to effortlessly build up this sheer coverage to a medium finish without looking thick or caky. It instantly provides a vibrant, intense pop of colour to the lips with a luminous and radiant shine. Added bonus, its slightly hydrating and plumping formula helps to keep lips moisturized throughout the entire day, while giving a slight plumping effect to the lips. It's not the most long wearing lipstick on the market, starts to fade after 4 hours, it's extremely comfortable formula keeps me coming back for more. It retails for $43 in shades Incognito, Fusion, Too Much, Black Tie, Urban (not shown) and a limited edition shade, Sophisticated.
Dior Addict Lip Glow Color Reviver Balm comes in a new shade, Lilac, and features Dior's unique Color Reviver technology to instantly react with the unique chemistry of each woman's lips before releasing its unique colour ingredient. It will help to enhance your natural lip colour with its own customized colour that looks a little different on every skin tone. It starts off quite sheer, transparent pink, but quickly develops into a custom shade of pink with a slight purplish undertone. It features an ultra-smooth, ultra-creamy formula that glides onto the lips like butter. It has a silky and soft texture, adds moisture and hydration back into my lips. It's not exactly buildable, however, I was able to build up the intensity a little, although I think it's intended to be a sheer wash of colour? It lasts a solid 2-3 hours before wanting to reapply and has a light vanilla scent to it. It's never sticky, goopy or tacky. It retails for $41.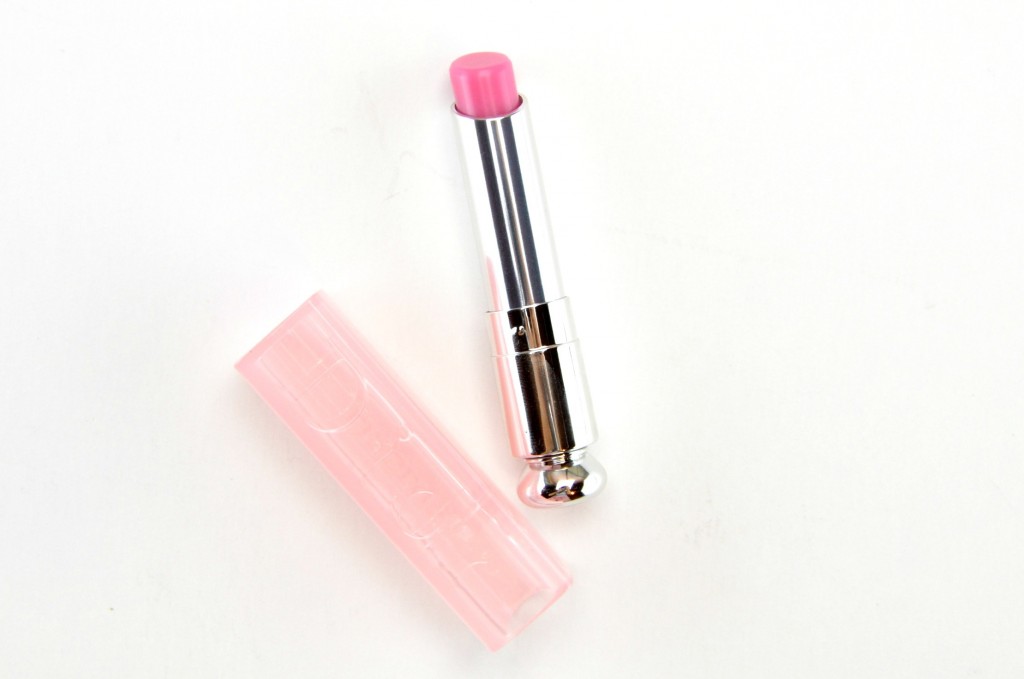 A brand new product from the brand, Dior Addict Lip Glow Pomade Color Reviver Instant Oil-Gel Care, which much like the Dior Addict Lip Glow Color Reviver Balm, it features colour adjusting pigments that self-adjust to your lips and looks completely different on everyone. It's an intensive lip care pomade that contains shea butter to give it a deeply nourishing formula to keep lips moisturize the entire day. It has a unique oil-gel-like texture that glides onto the lip with ease and instantly provides a lovely rosy tint. It immediately helps to smooth and plump the lips, without that annoying stinging sensation. The unique texture almost melts into the skin for a shiny, radiant finish. It retails for $41 in shade Universal Pink.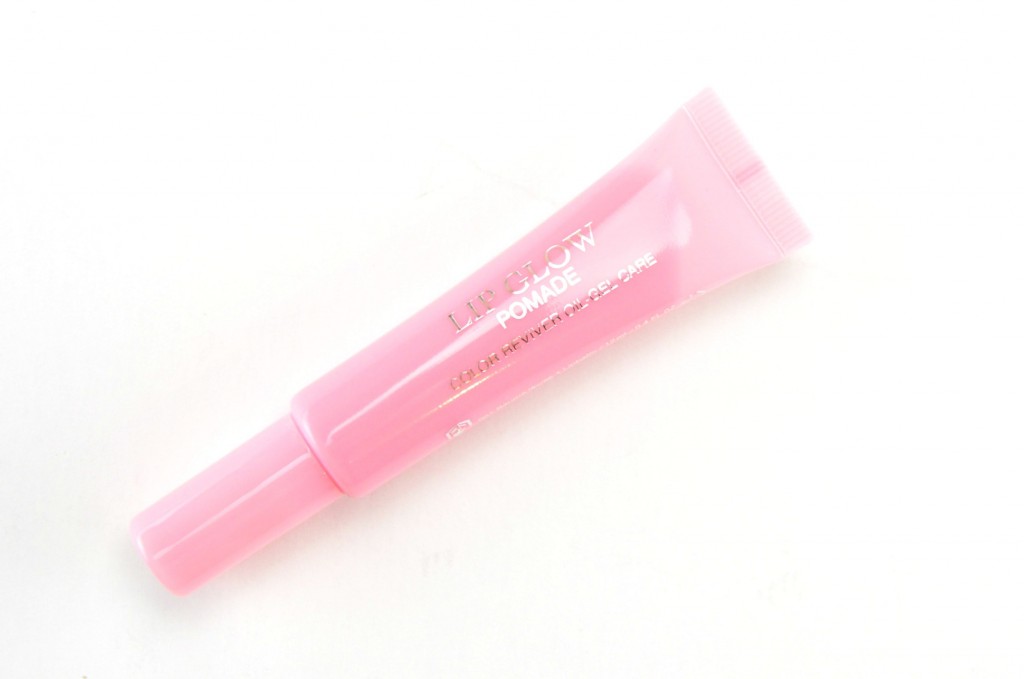 No Dior collection would be complete without a few new Dior Vernis. This season it comes in 2 new limited edition shades, both of which feature the brand's iconic square glass bottle with mirrored pull off lid and features a slightly wide, rounded brush for easy application. It provides a high shine finish enriched with organic silicon for extra-long wear. It also has a quick drying formula, that's completely streak-free and doesn't chip or fade for a solid 5+ days. It retails for $33 in shades Minimal and Skyline.