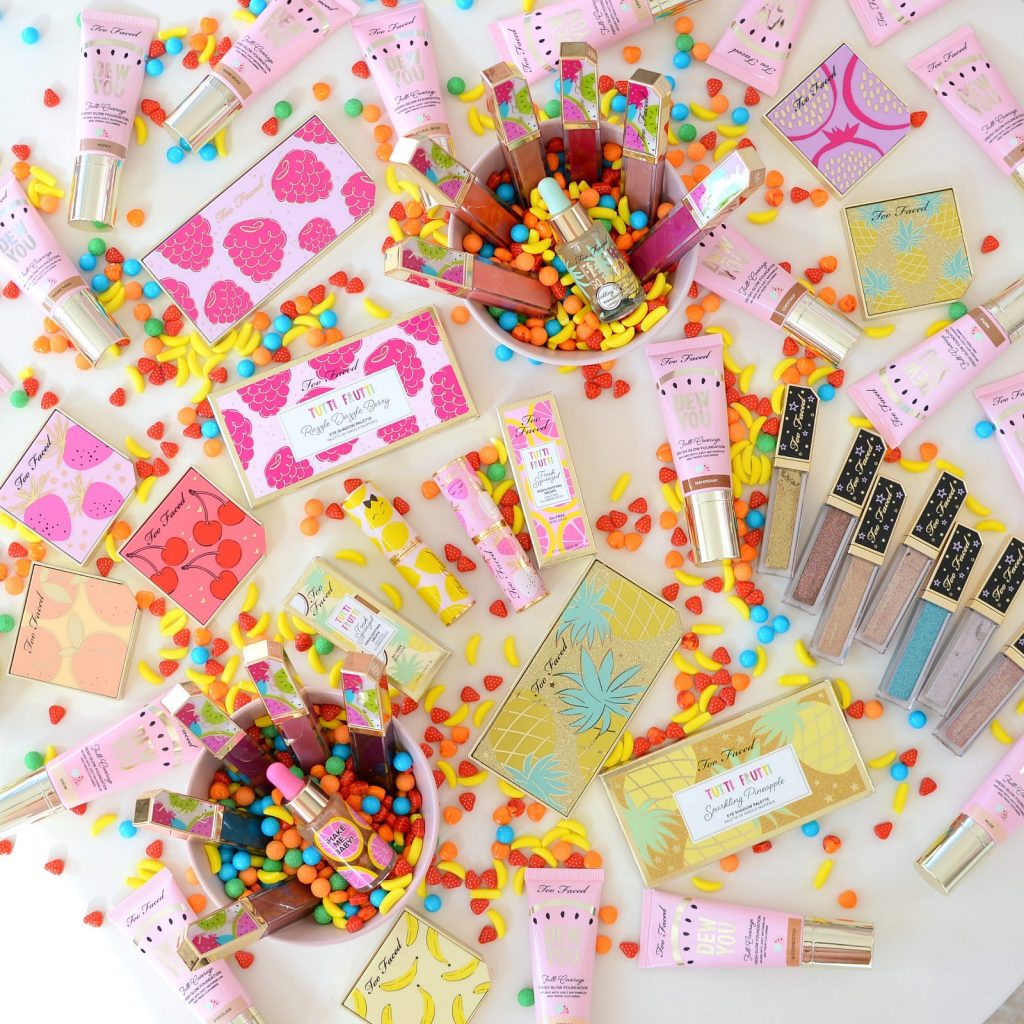 Too Faced
Ever since mid-summer, makeup junkies everywhere have been waiting to get their hands on the Too Faced Tutti Frutti Collection. Founder, Jerrod Blandino, has been dropping hints and sneak peaks since June, leaving girls around the world wanting more details. The brand is infamous for creating food-inspired aromas, anything from chocolate, peanut butter and honey, to peaches and cream, and now juicy and fruity. With Kandee Johnson as the face behind the campaign, you knew it was going to be fabulous and flirty. The collection is huge, we're talking 50+ products, all sold exclusively at Ulta Beauty.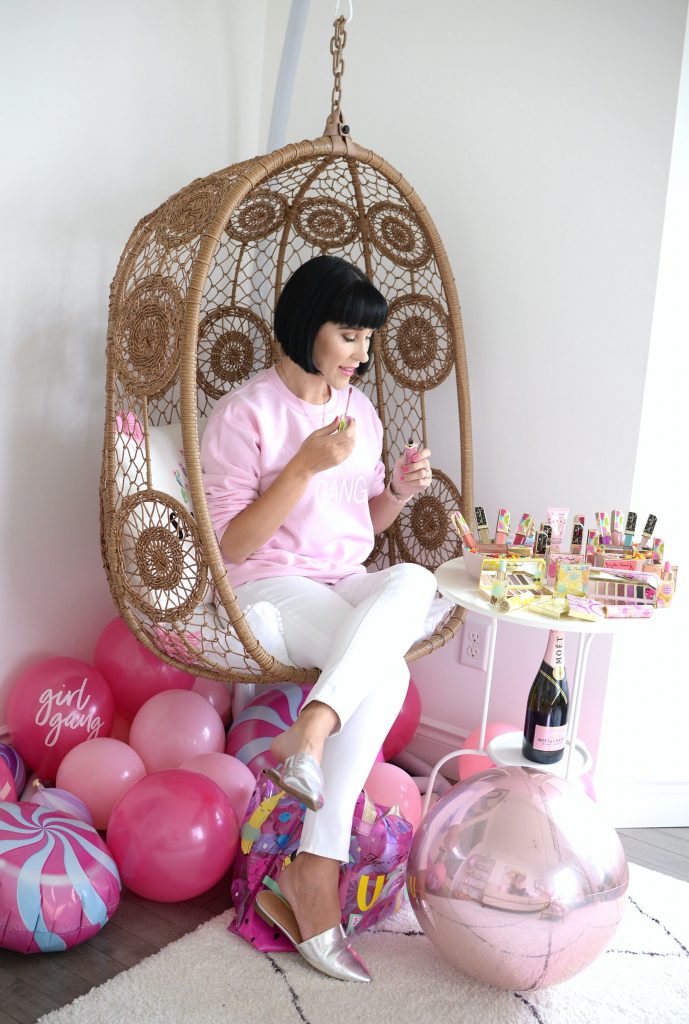 "Be the life of the party with juicy colours and sparkle". The new Too Faced Tutti Frutti Collection features feminine pops of colours infused with juicy scents and party-ready shine. From a dewy foundation, to juicy lipglosses, blush and bronzer duos, to glittery liquid eyeshadows, highlighters in both powders, stick and liquid formats, to a brightening powder and even a setting spray, this entire "scratch and sniff" collection just screams "play with me" and instantly transports you back to your youth (in a good way).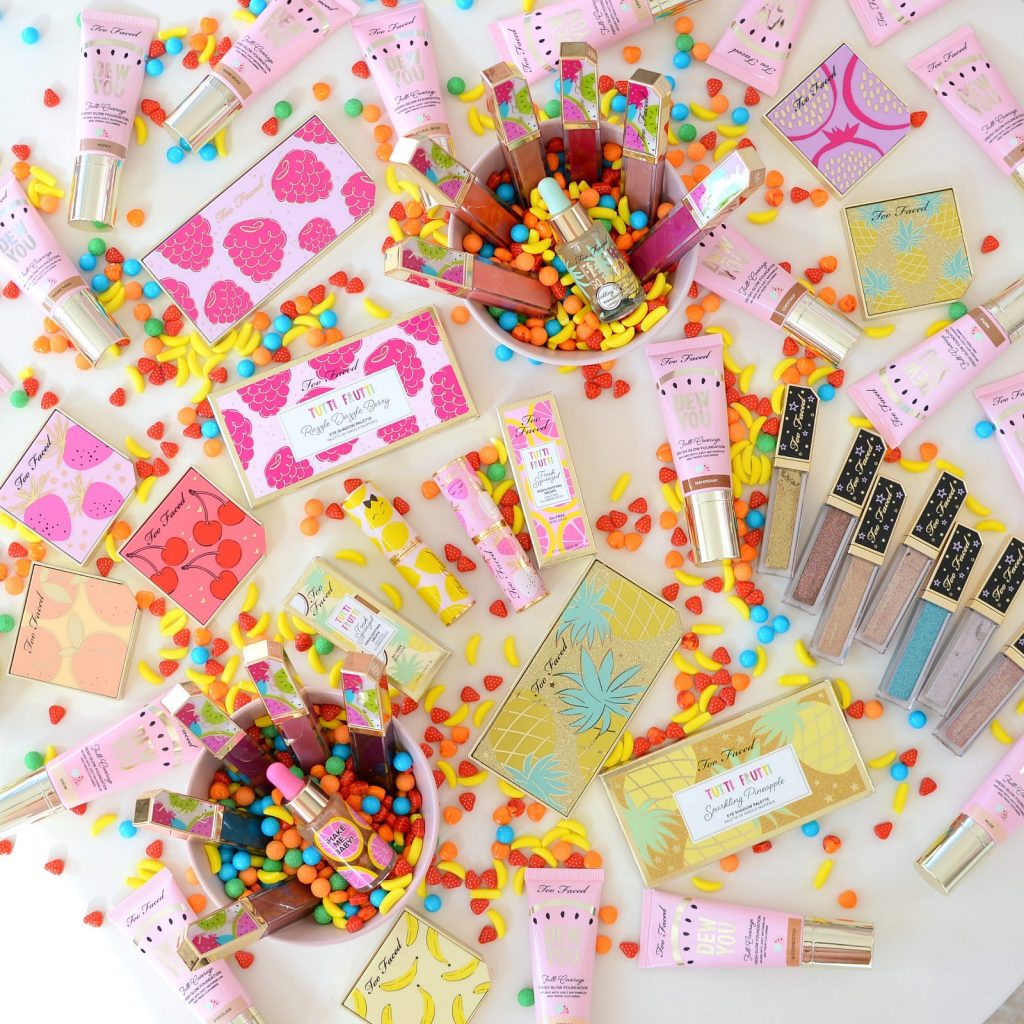 Todays look was created by Sam, of Samantha Blatnicky Makeup & Lash Artist, using a mixture of the new Too Faced Tutti Frutti Collection, including the Dew You Fresh Glow Foundation, It's Bananas Brightening Setting Powder, Razzle Dazzle Berry Eyeshadow Palette, Pineapple Paradise Strobing Bronzer Highlighting Duo, Fresh Squeezed Highlighting Drops, Cocktail Strobing Blush Duo and Juicy Fruits Lip Glaze.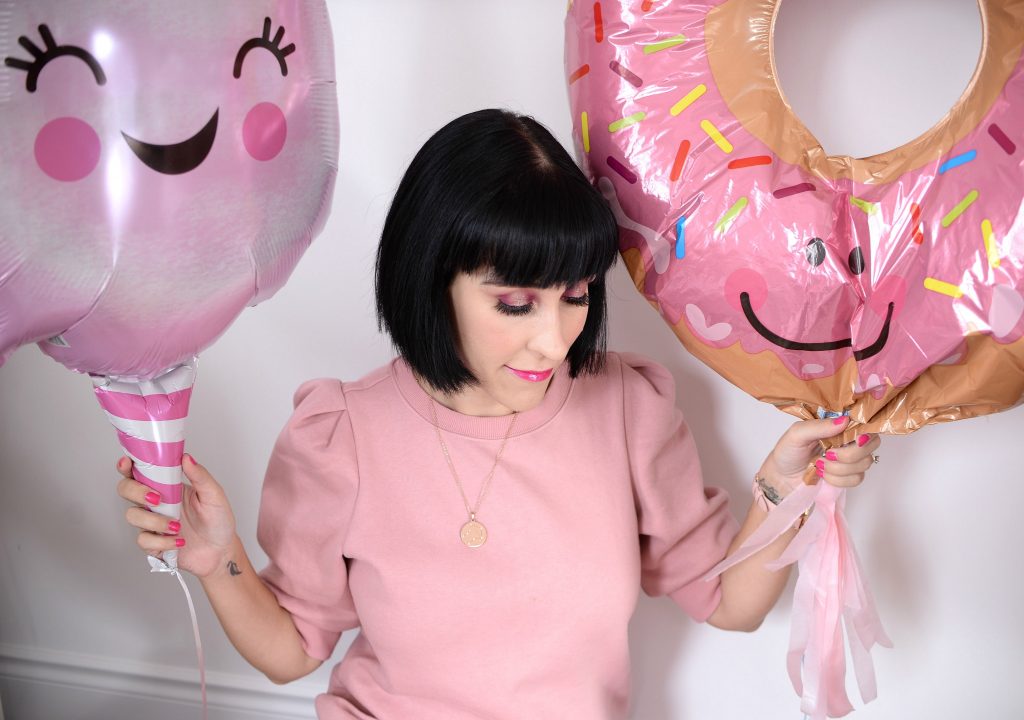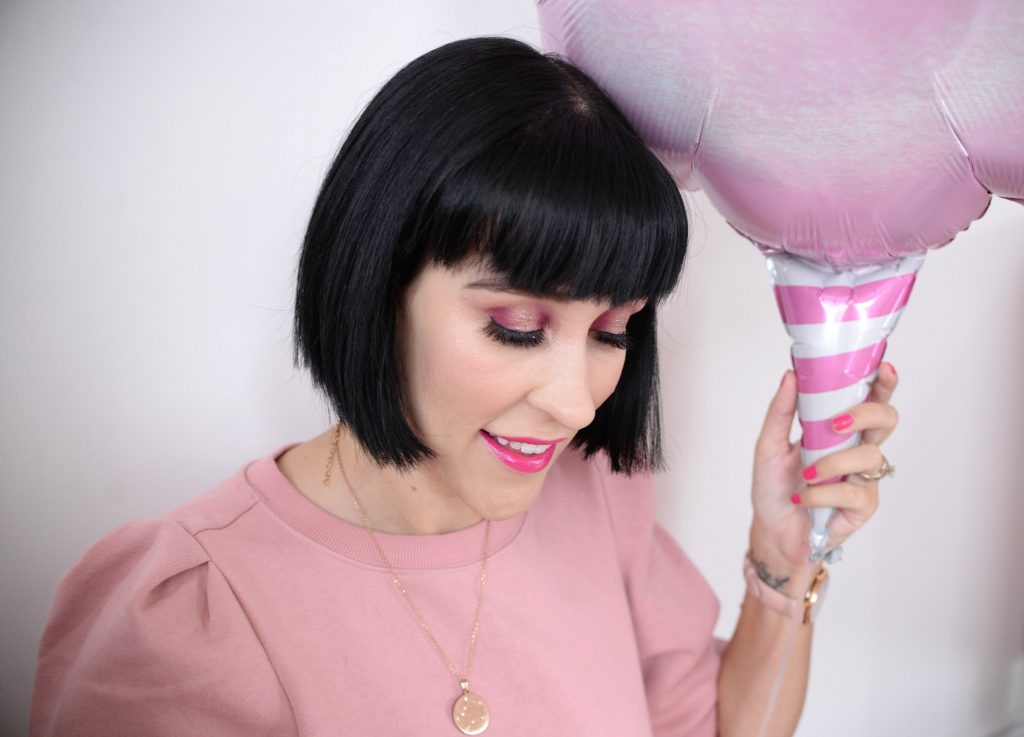 Same look but switched out the Juicy Fruits Lip Glaze in Totally Smashed, for a fun pop of colour with shade Blue You Away.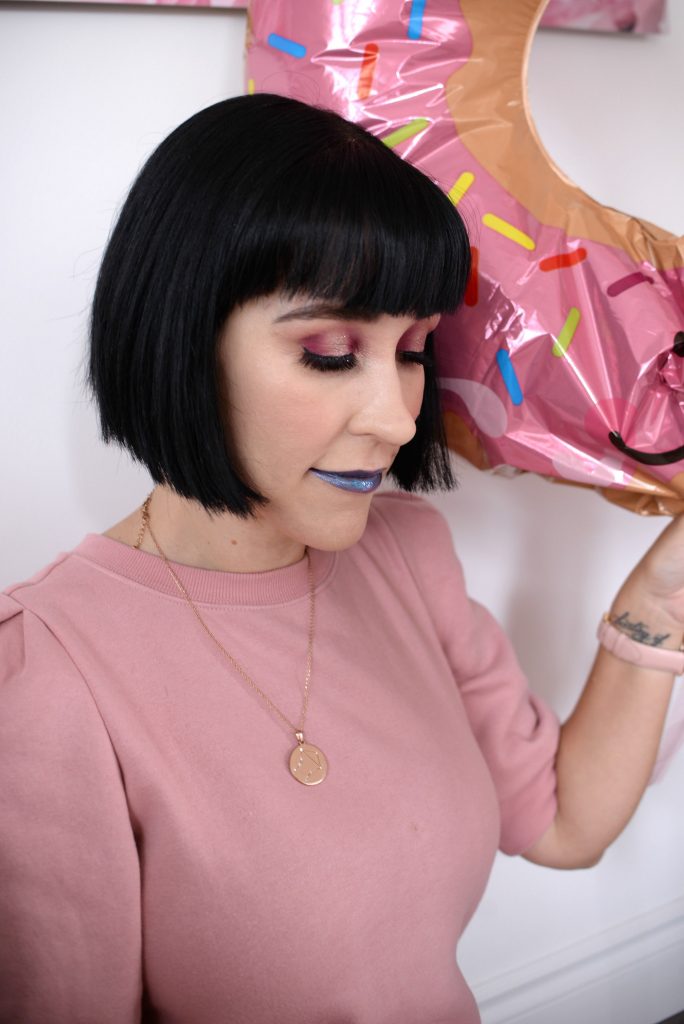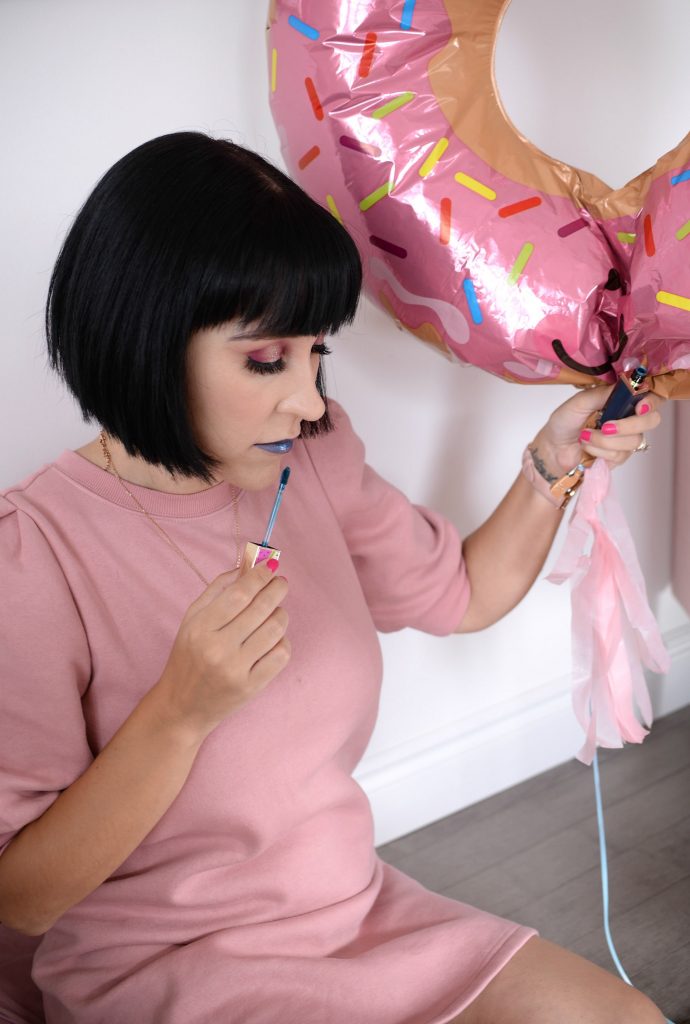 If you love the texture, ease and wearability of the Too Faced Peach Perfect Comfort Matte Foundation, but looking for a healthier, dewy and moisturizing formula, you're going to love the new Too Faced Dew You Fresh Glow Foundation. Its unique and incredible gel-like-cream formula is infused with soothing watermelons and cucumbers to not only refresh and hydrate but create a slight brightening and dewy effect on the skin. It helps to immediately even out skin tone, conceal and hide minor blemishes and imperfections, while creating a healthy and stunning glow. It leaves skin moisturized all day, without looking greasy or oily. It stays in place all day, without fading, creasing or settling into fine lines, especially when paired with the new Too Faced Dew You Fresh Glow Setting Spray. It comes in 20 shades and retails for $36.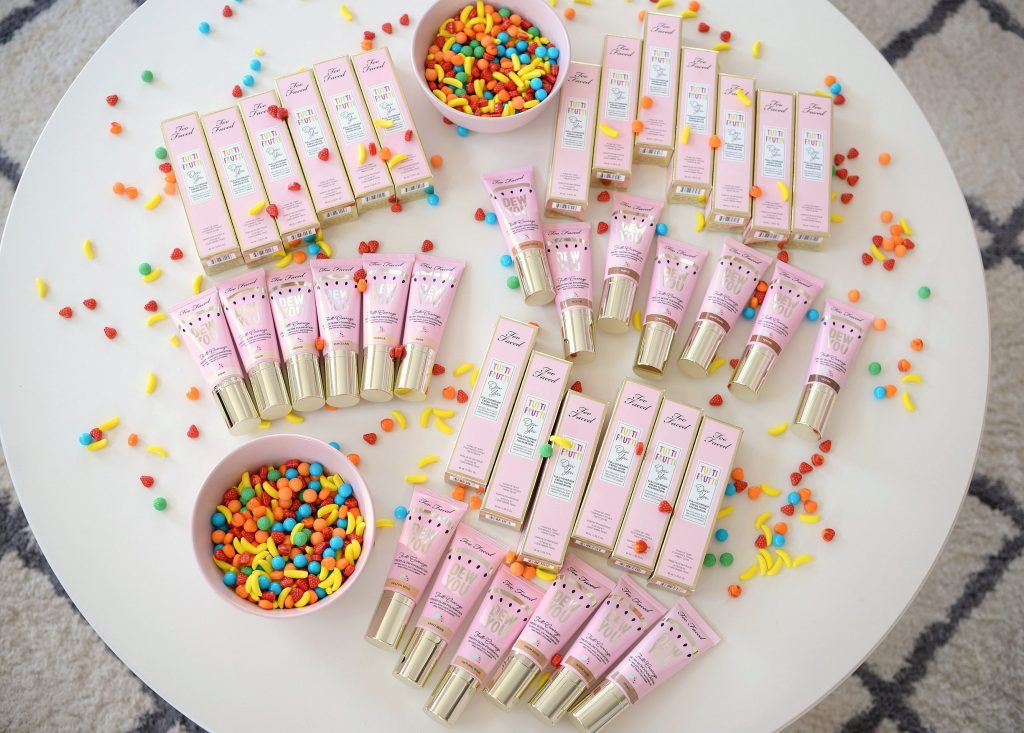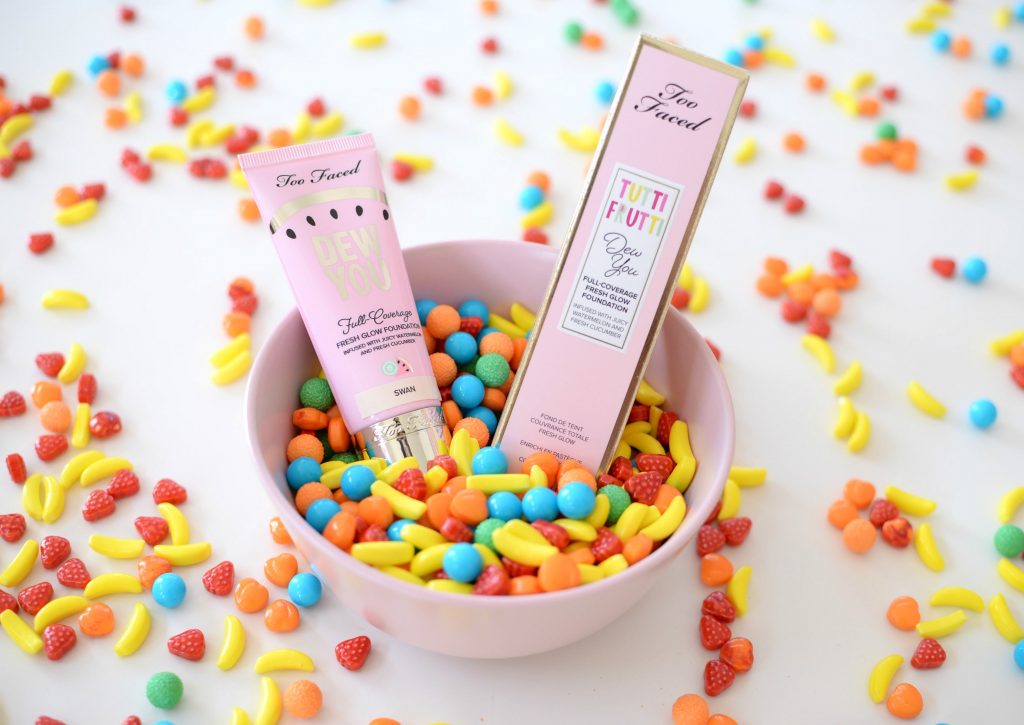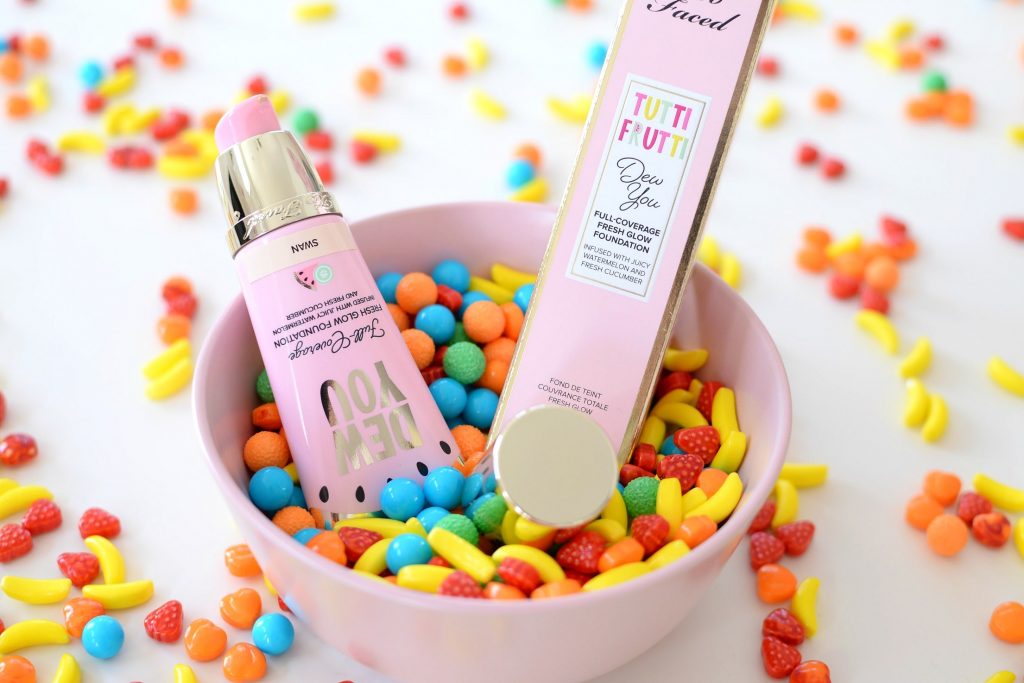 Too Faced Dew You Fresh Glow Foundation in shades Swan, Snow, Almond, Porcelain, Vanilla and Nude.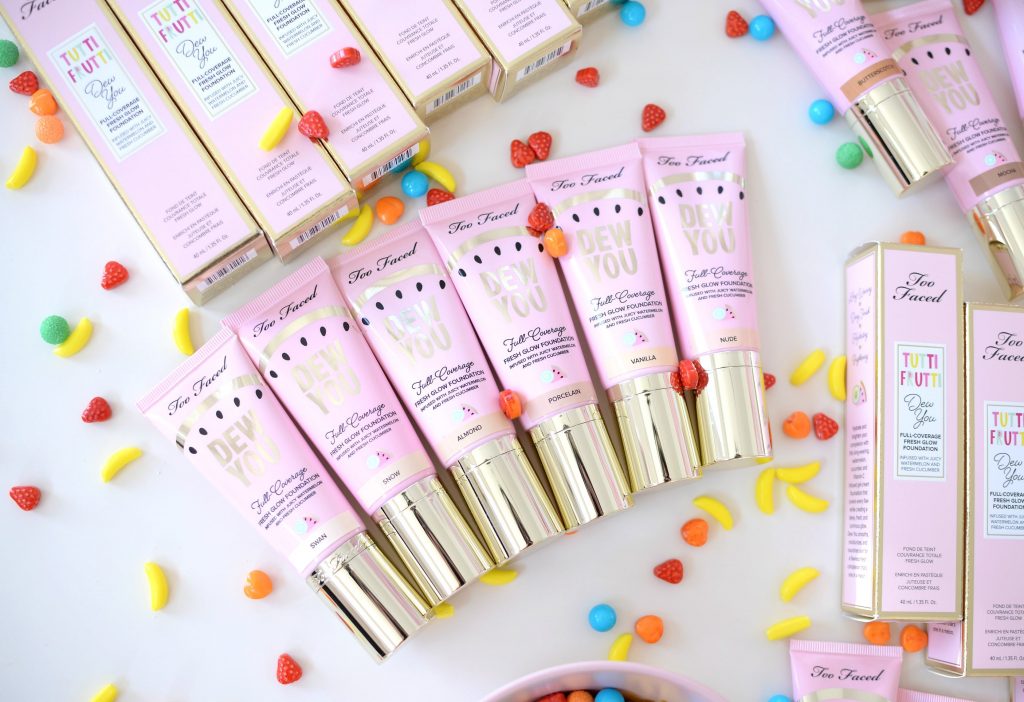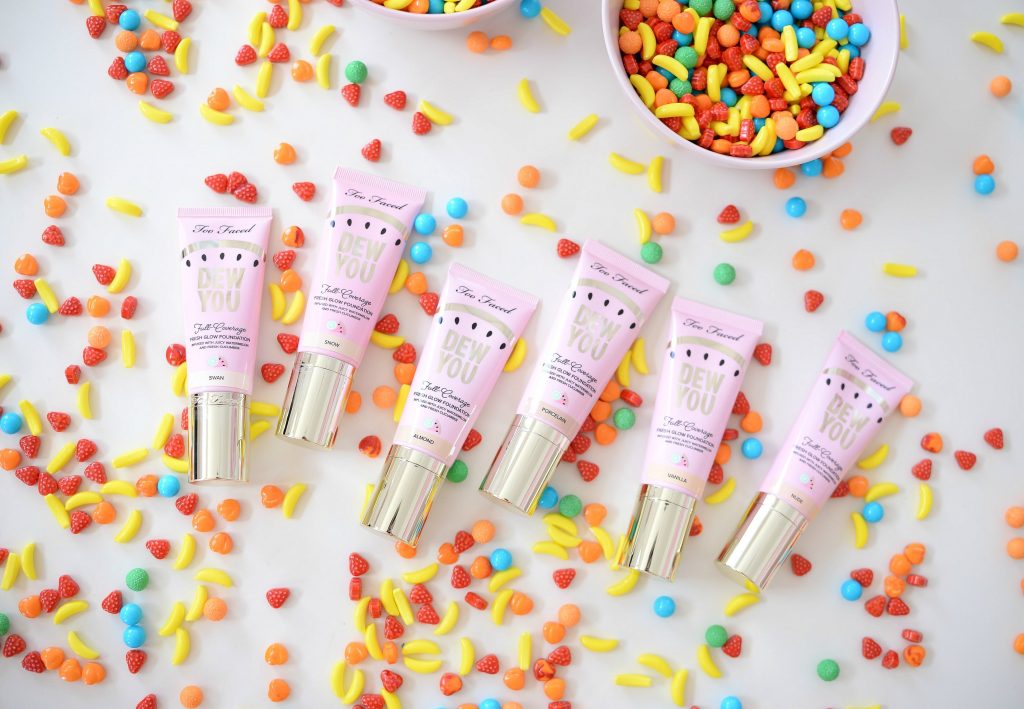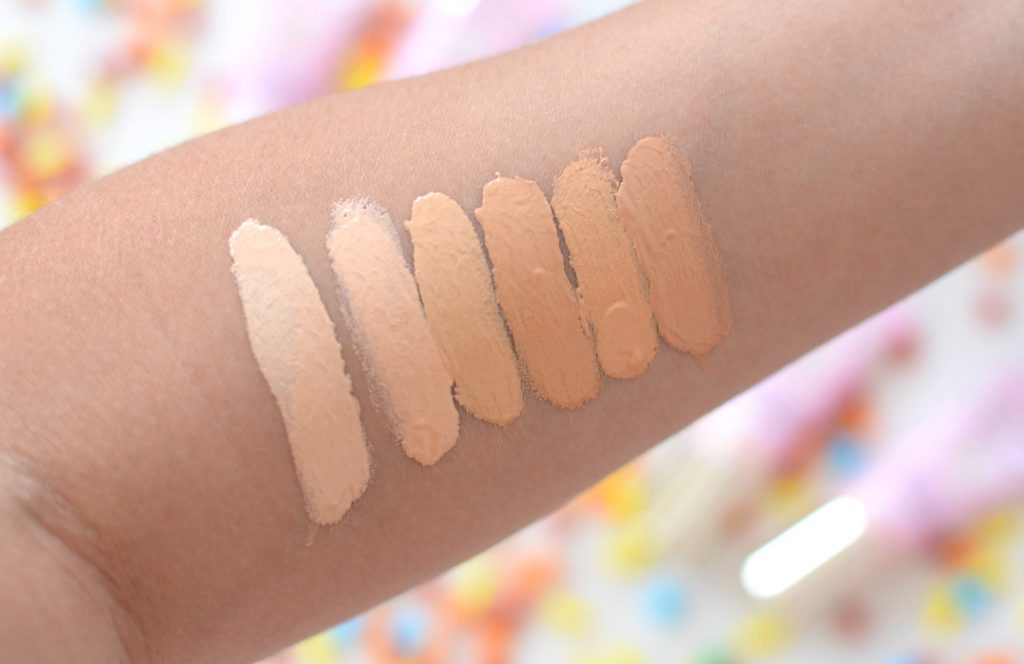 Too Faced Dew You Fresh Glow Foundation in shades Golden Beige, Light Beige, Natural Beige, Warm Beige, Warm Sand and Honey.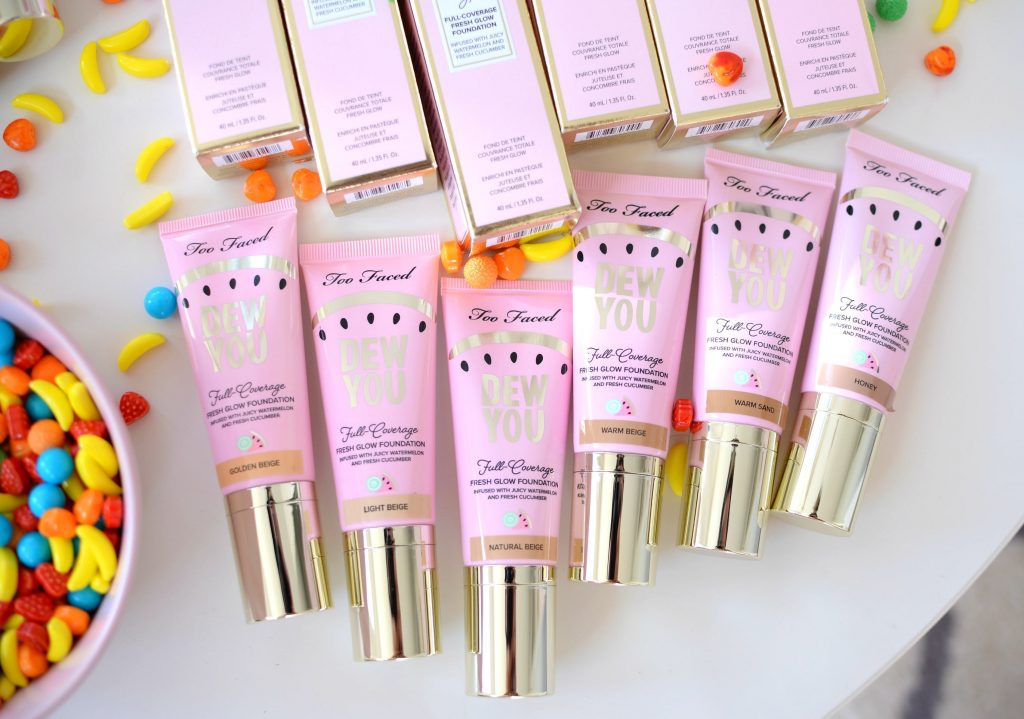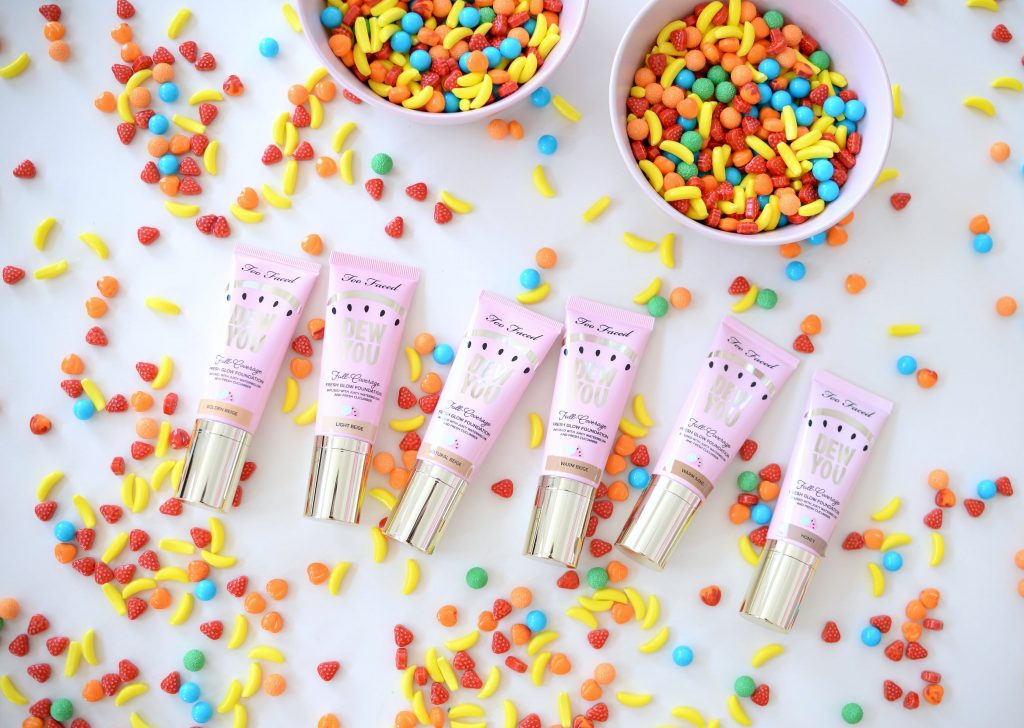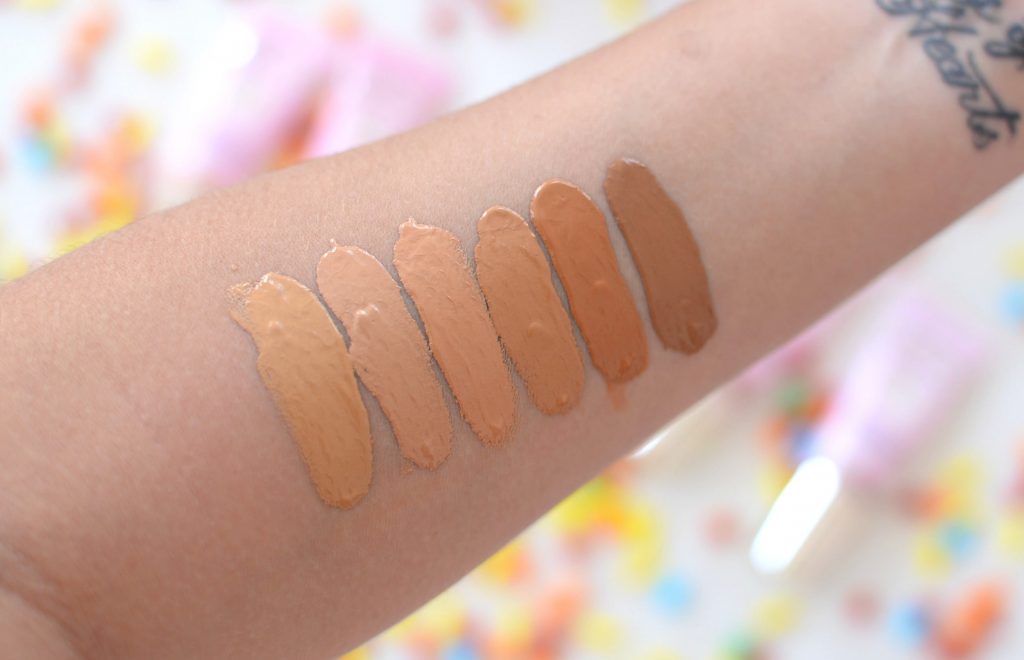 Too Faced Dew You Fresh Glow Foundation in shades Butterscotch, Mocha, Maple, Chestnut, Mahogany, Toffee and Cocoa.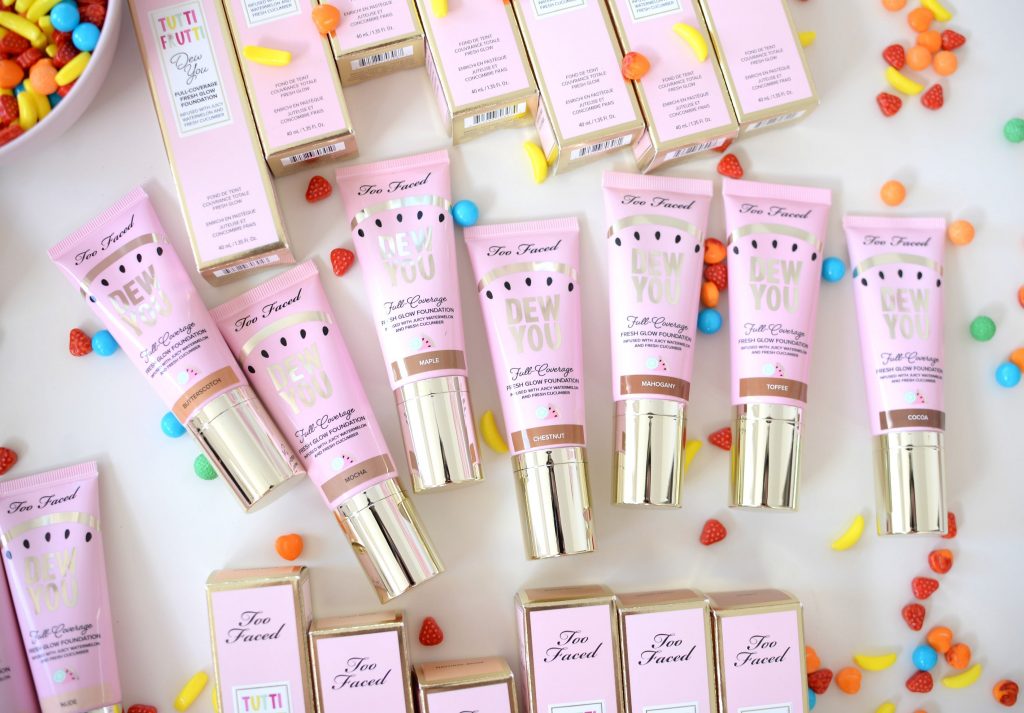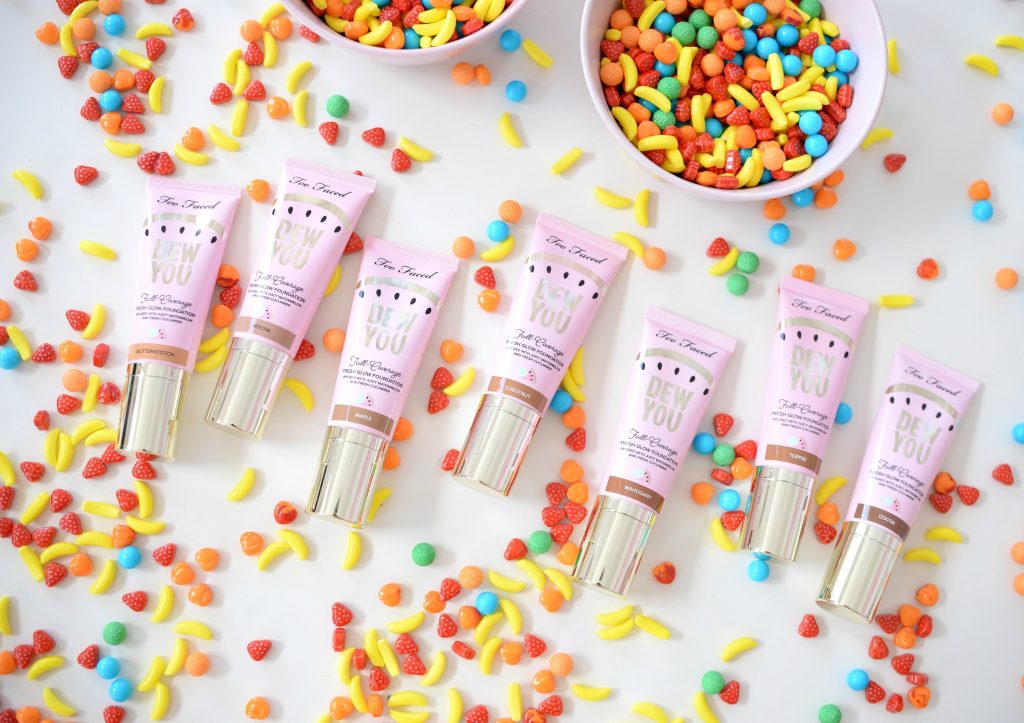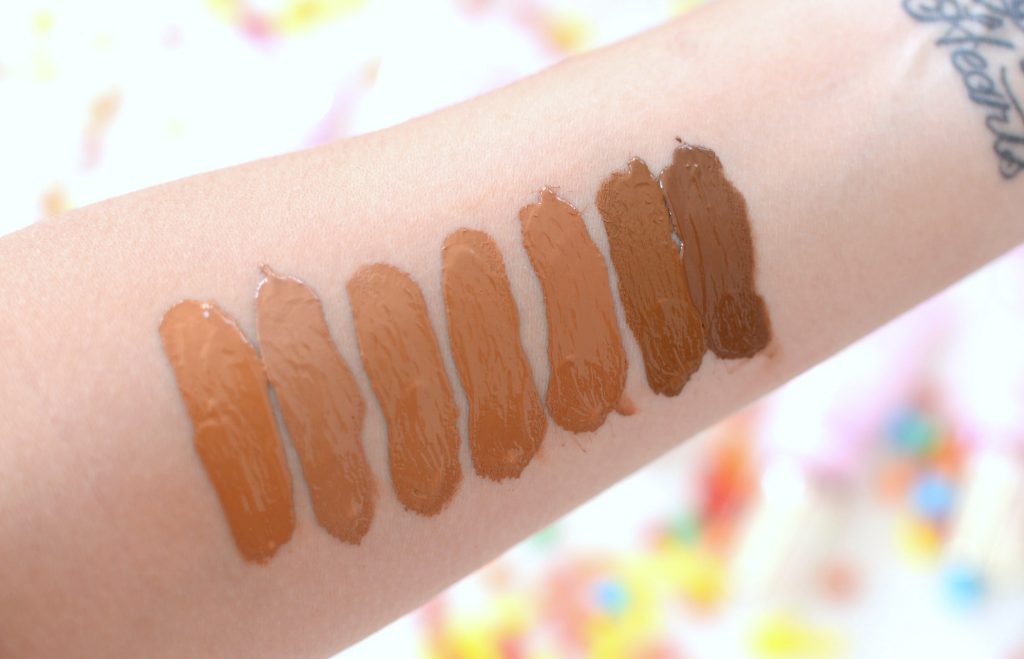 The Too Faced It's Bananas Brightening Setting Powder instantly helps to blur imperfections and harsh lines, for a smooth, almost soft-focus, brightening effect. This yellow-base powder can help to not only neutralize redness and brighten golden undertones, it can help lock and set undereye concealer. Its weightless texture helps to diminish the look of fine lines and pores, while creating the appearance of naturally-perfected skin. Although unnoticeable, it seems to have light-reflecting properties that help to achieve a radiant and almost soft luminosity to the complexion. It retails for $30.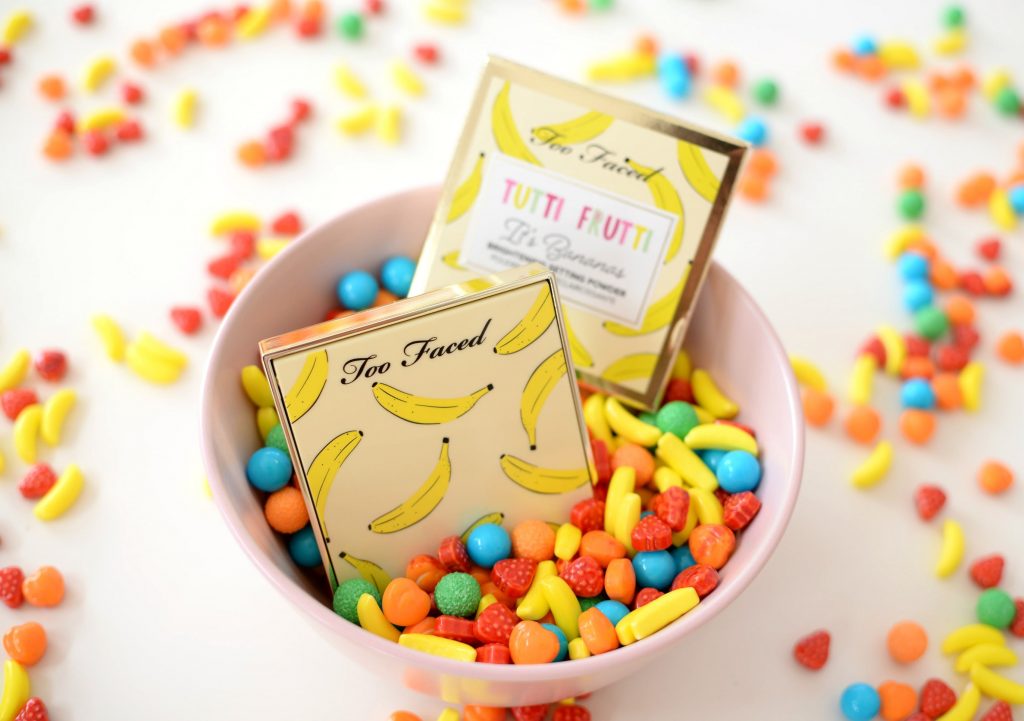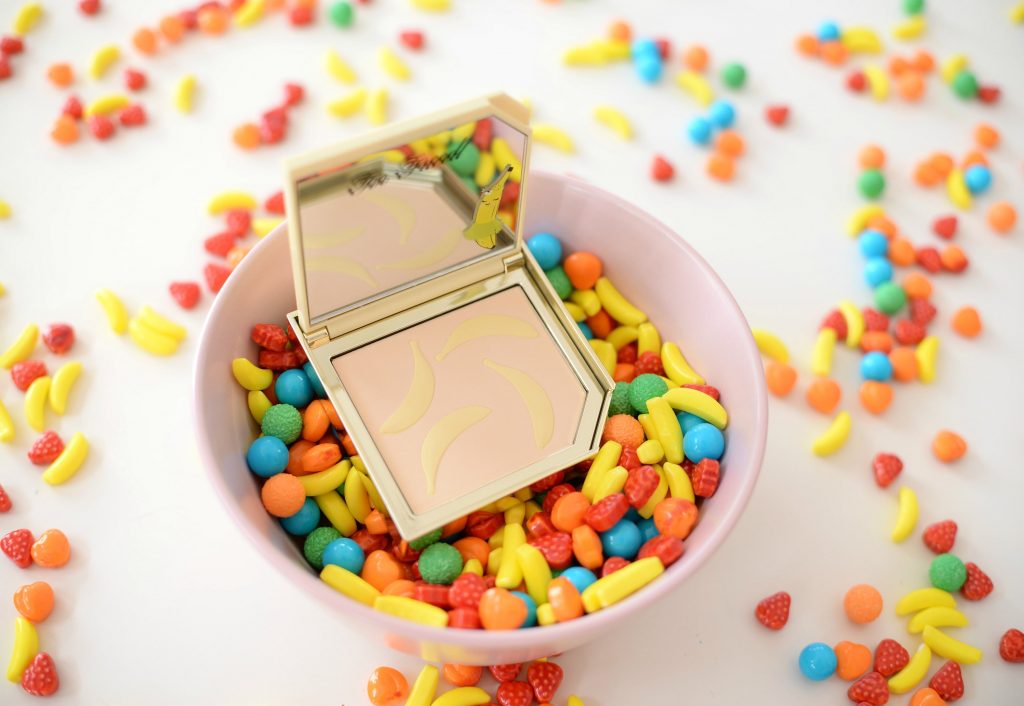 Too Faced Pineapple Paradise Strobing Bronzer Highlighting Duo features both a velvet-like bronzer with a satin finish and a glimmering highlighter. This fabulous pair is designed to not only use individually and on its own, but mixed and matched together to create a truly unique, and fully customizable, healthy and radiant glow. Add in the fact it smells like sweet pineapple and this will quickly become your bronzing and highlighting duo of choice this season. Its ultra-rich and creamy, almost silky formula is easy to blend out and buff into the skin for no harsh lines yet is easily buildable taking you from a subtle wash of colour to a bolder and more intense colour payoff. Whether you're looking for that full-on strobing effect, or just a radiant and healthy glow, this compact can achieve both. It retails for $30.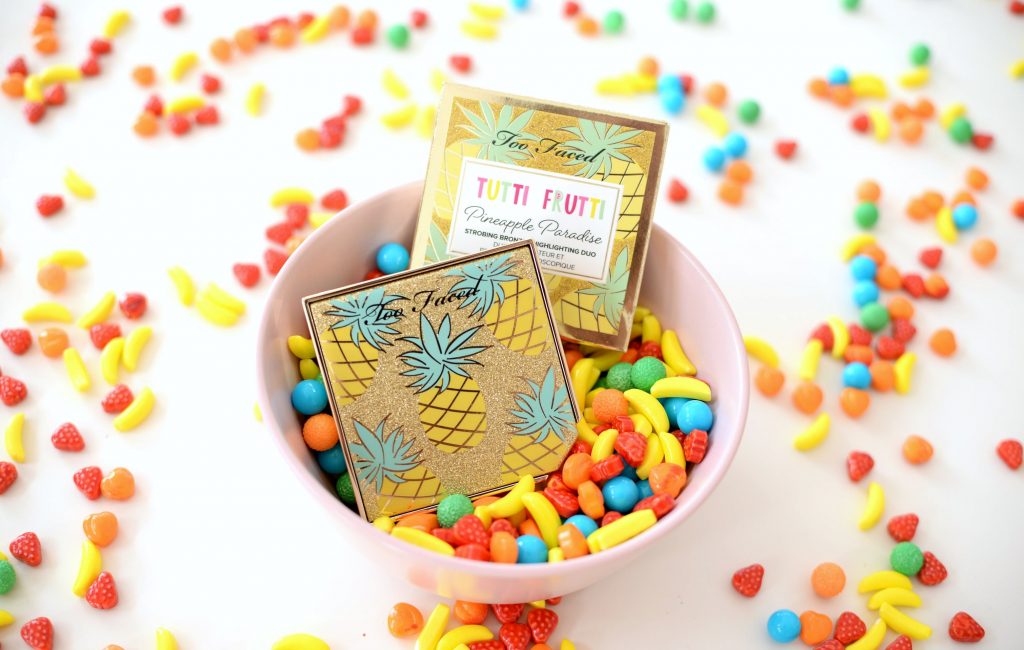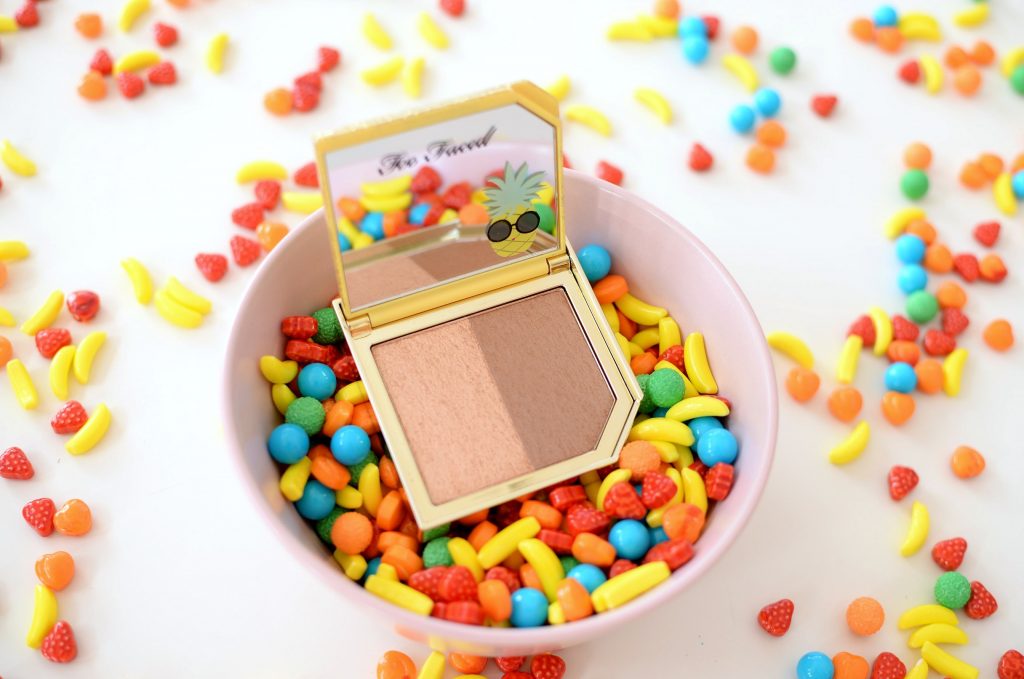 If you're looking for a blinding highlight, try the new Too Faced Fresh Squeezed Highlighting Drops. These pure sparkle liquid highlight drops instantly create a dazzling and radiant luminosity that leaves your complexion glowing. Its weightless and non-greasy, non-oily texture allows you to layer with other products, without the fear of it becoming too thick and caky. Its ultra-pigmented formula creates a lovely dewy effect that blends into the skin seamlessly. It helps to ensure your complexion never looks flat or dull, while keeping your skin hydrated all day. You can fully customize the luminosity level by adding a second or third layer. Its invigorating pink grapefruit and piña colada scents will have you coming back for more. It comes in 2 shades and retails for $30.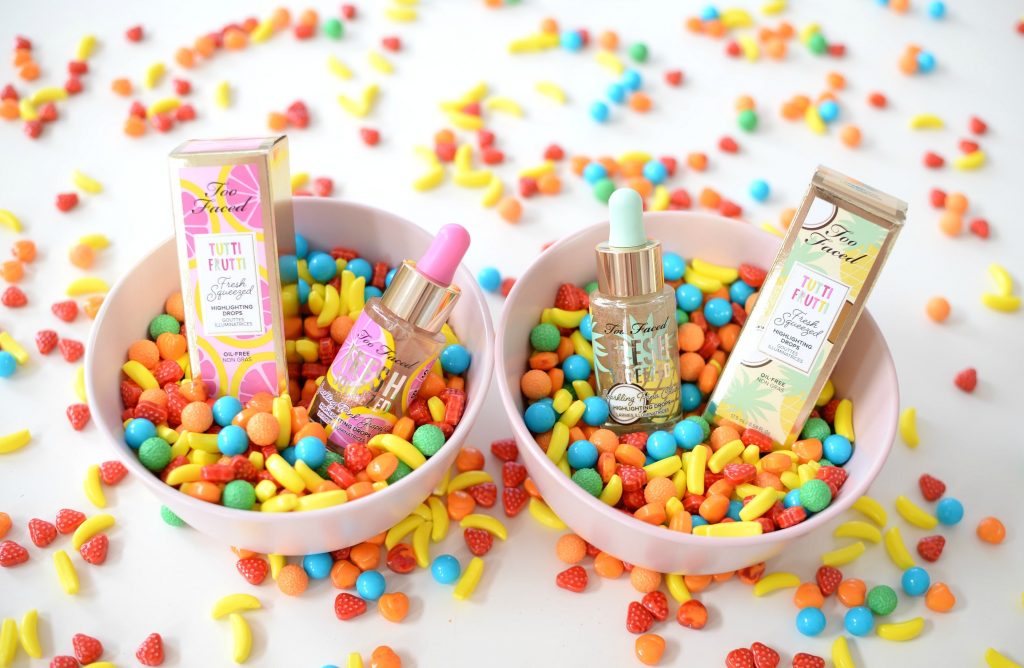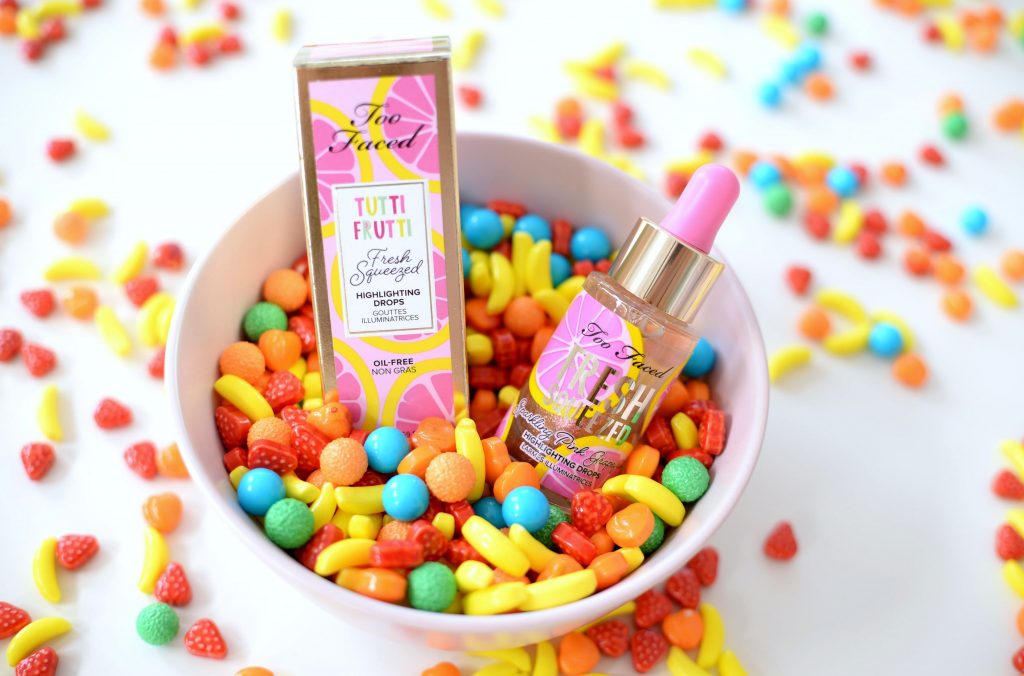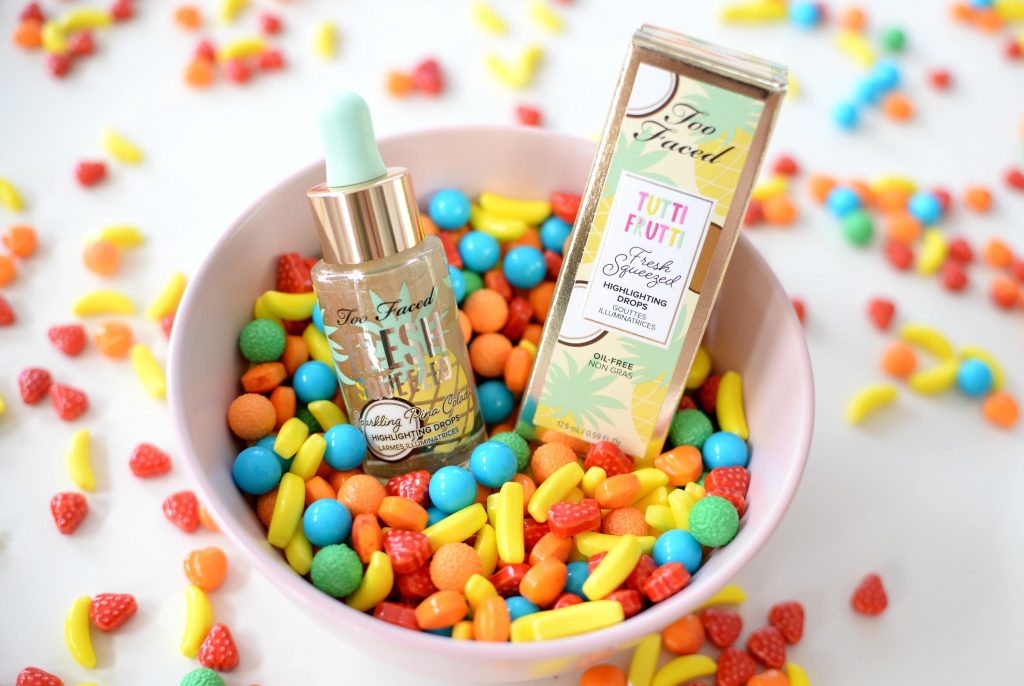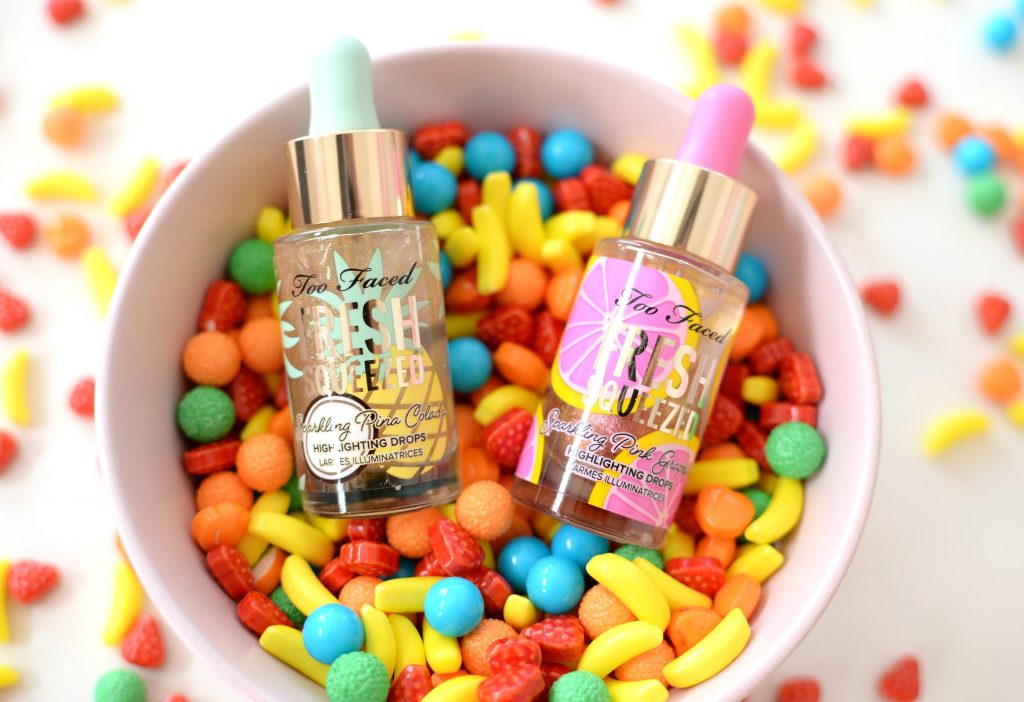 If you don't want to fuss with a powder and brush, Too Faced Frosted Fruits Highlighter Sticks has all your answers. Its soft, satiny texture glides across the skin with ease and with just your fingertip, you can easily blend the product into your skin. It instantly creates a luminous, radiant, dewy finish that leaves your skin looking fresh and youthful. Simply place on top of your cheekbones, under your eyebrow bone, inside corner of your eyes and above your cupids bow and blen. It helps to bring a little life back to your complexion thanks to its subtle pearly sheen. It retails for $30 in shades Strawberry Sparkle and Pink Lemonade.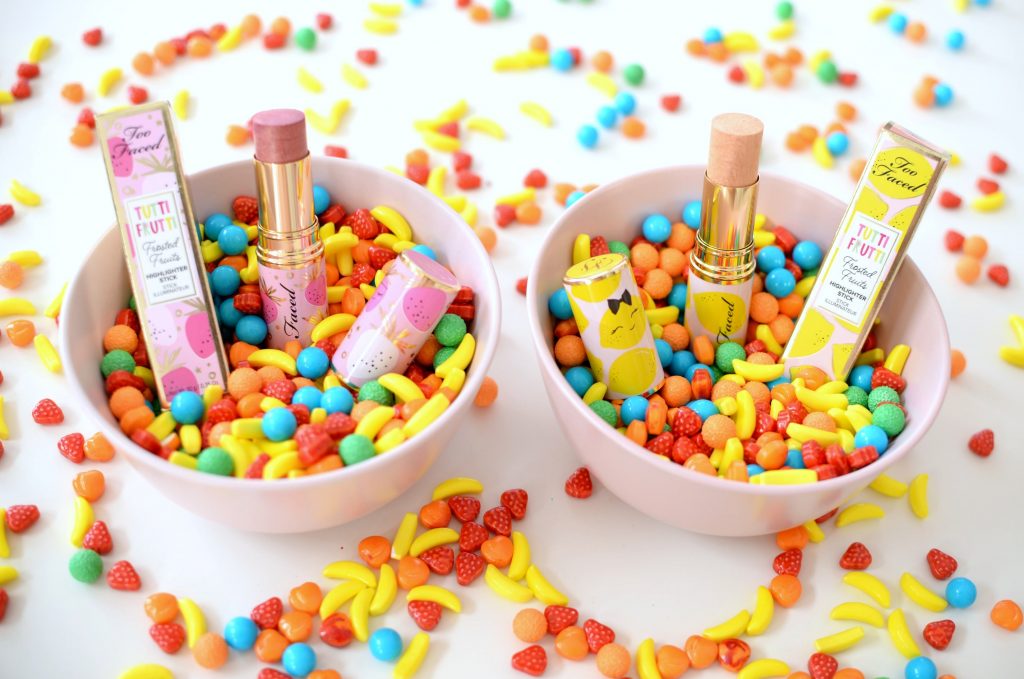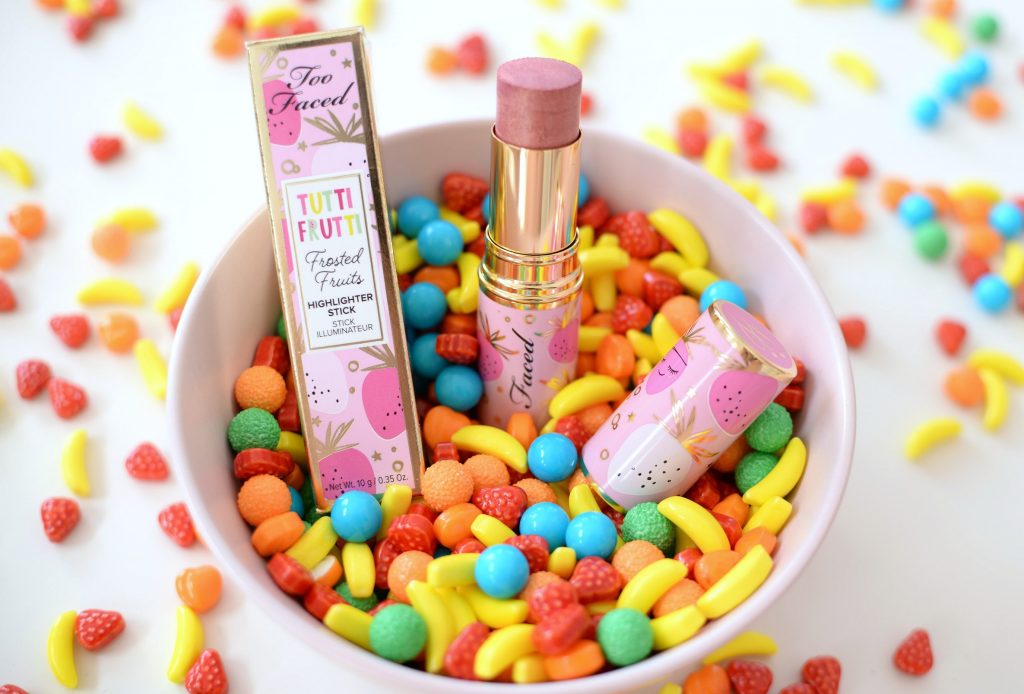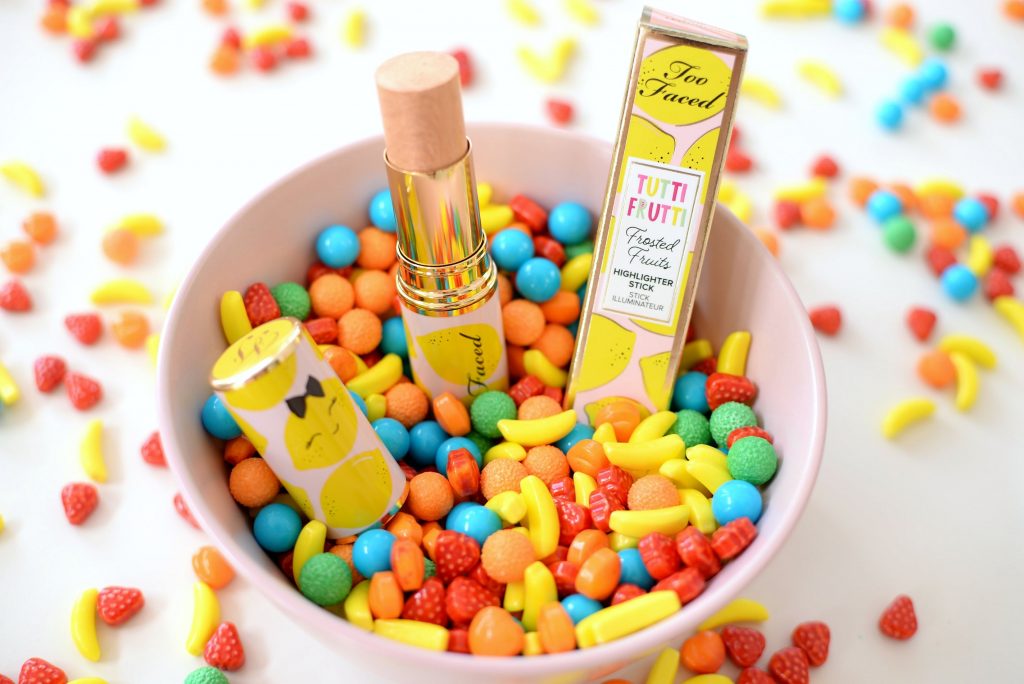 Too Faced Fruit Cocktail Strobing Blush Duo are the best of both worlds, a brightening highlight on one side and a luminescent blush on the other. Its soft-touch, incredibly silky formula is the perfect way to create a radiant pop of colour to the cheeks. You can customize the two shades, or mix and match with other palettes to achieve a truly unique blush shade. From flirty and sexy, to classic and modern, the possiblities are endless. It retails for $30 each.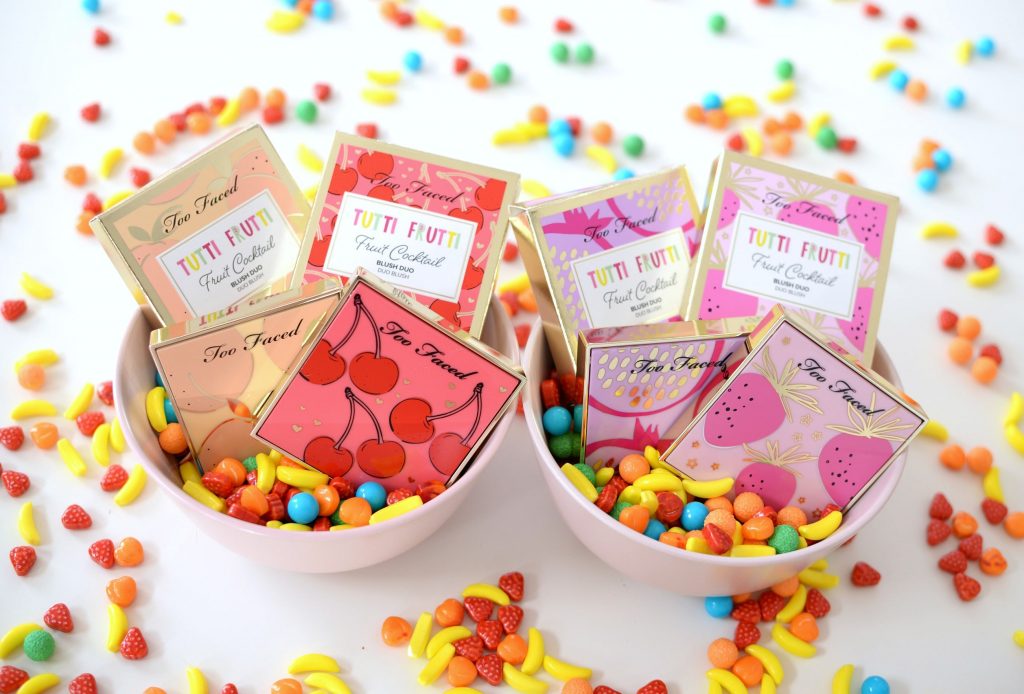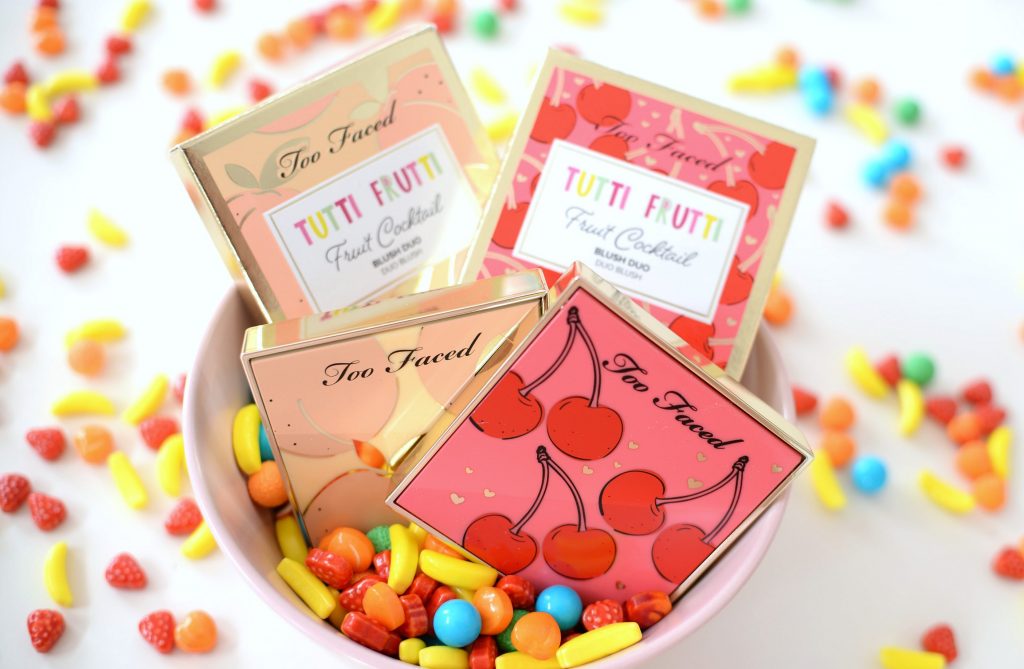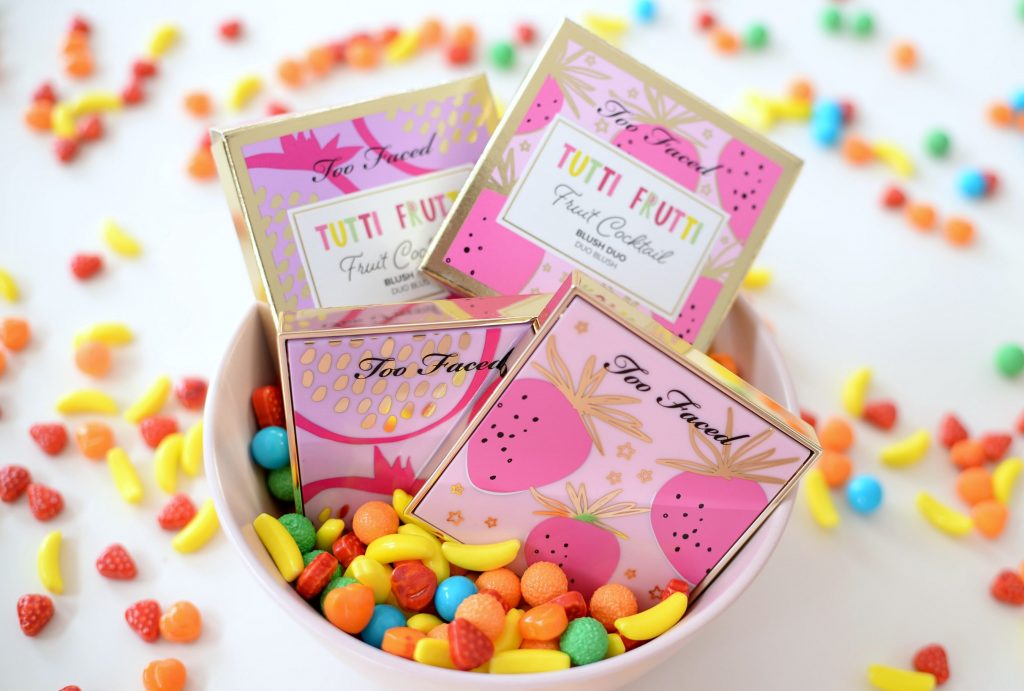 Too Faced Fruit Cocktail Strobing Blush Duo in shades Plumagranate and StrobeBerry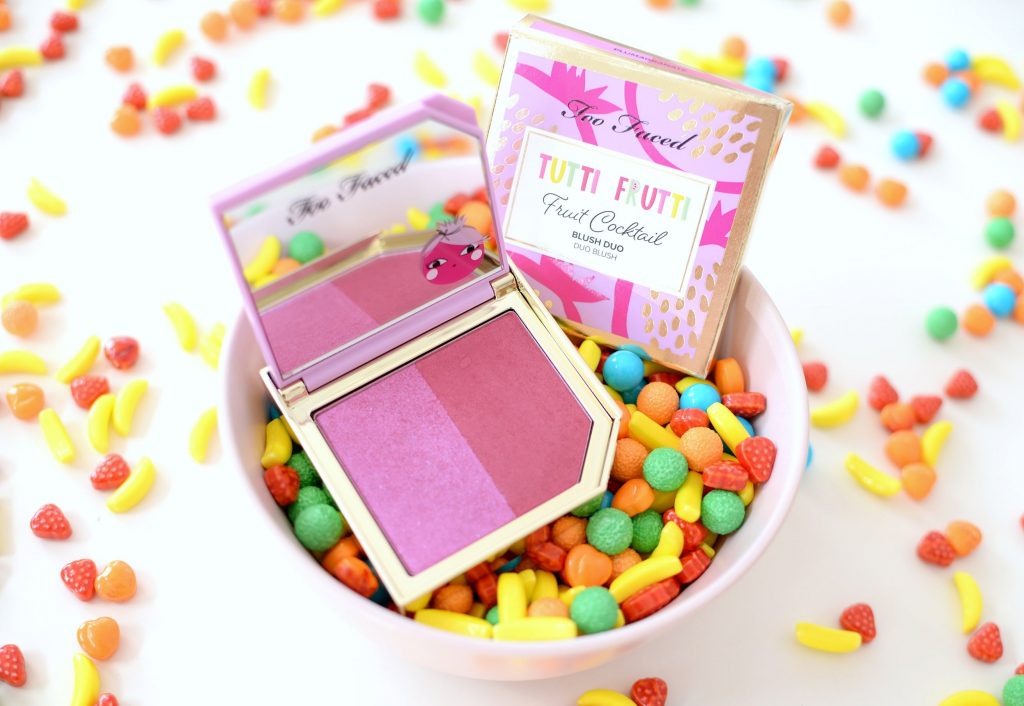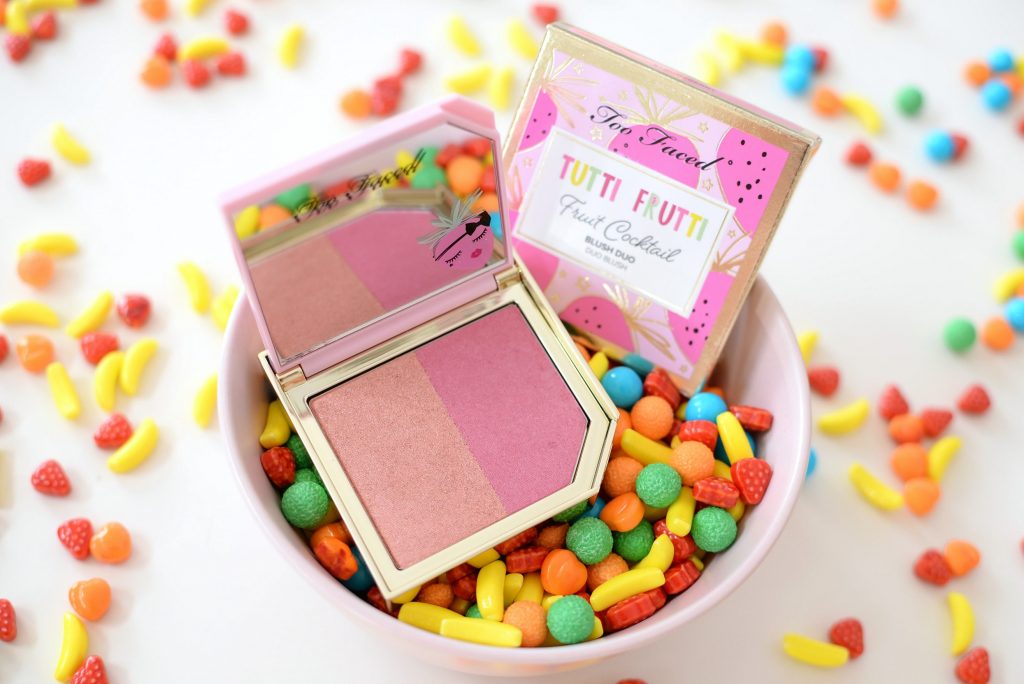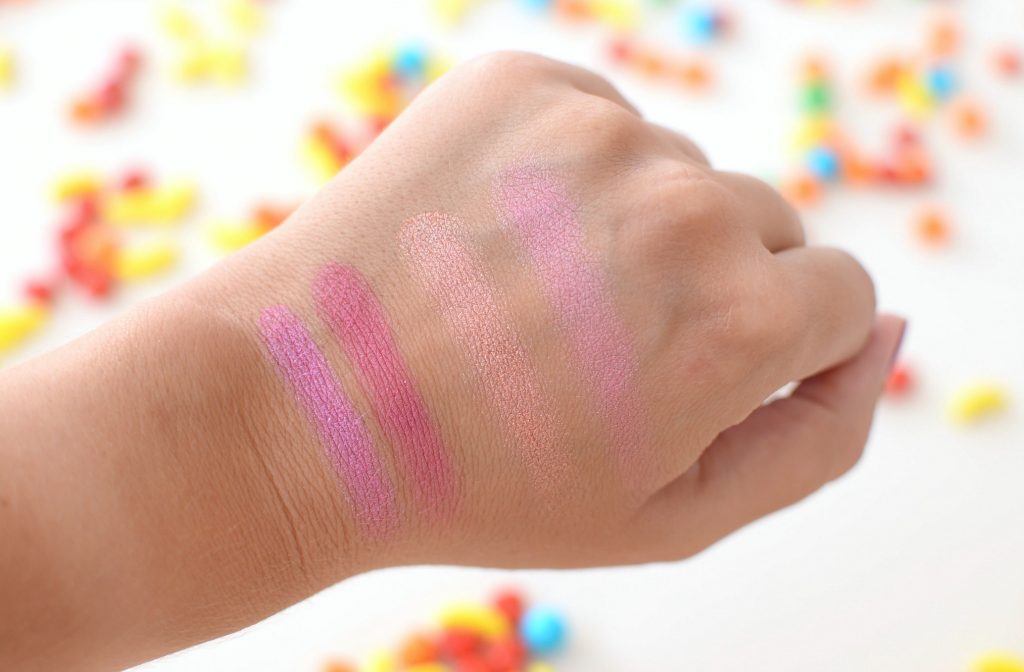 Too Faced Fruit Cocktail Strobing Blush Duo in shades Apricot in the Act and Cherry Bomb.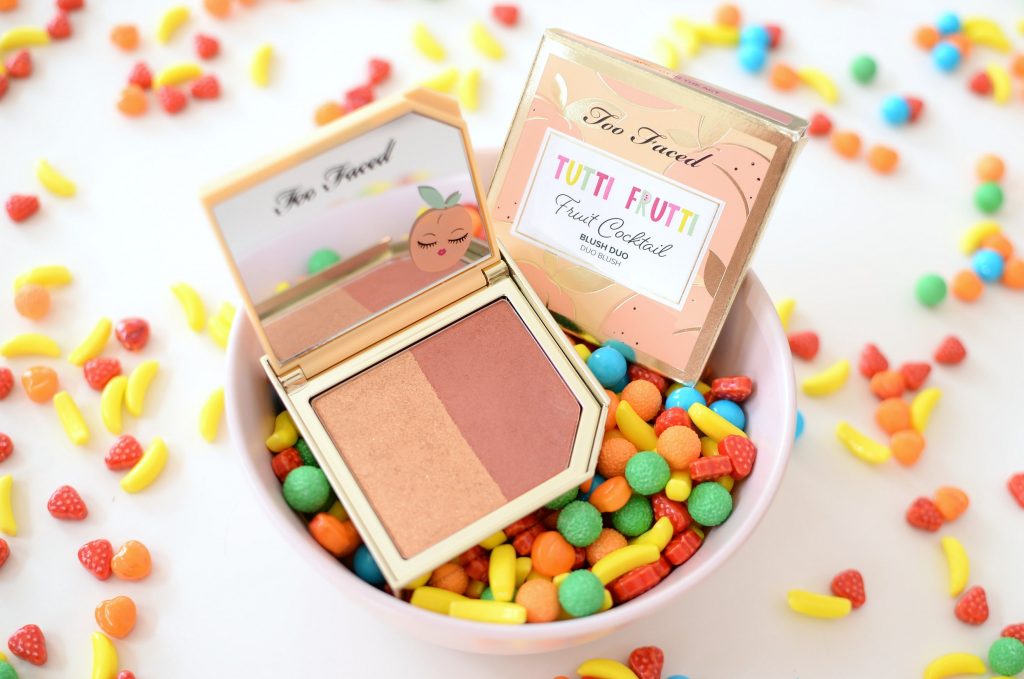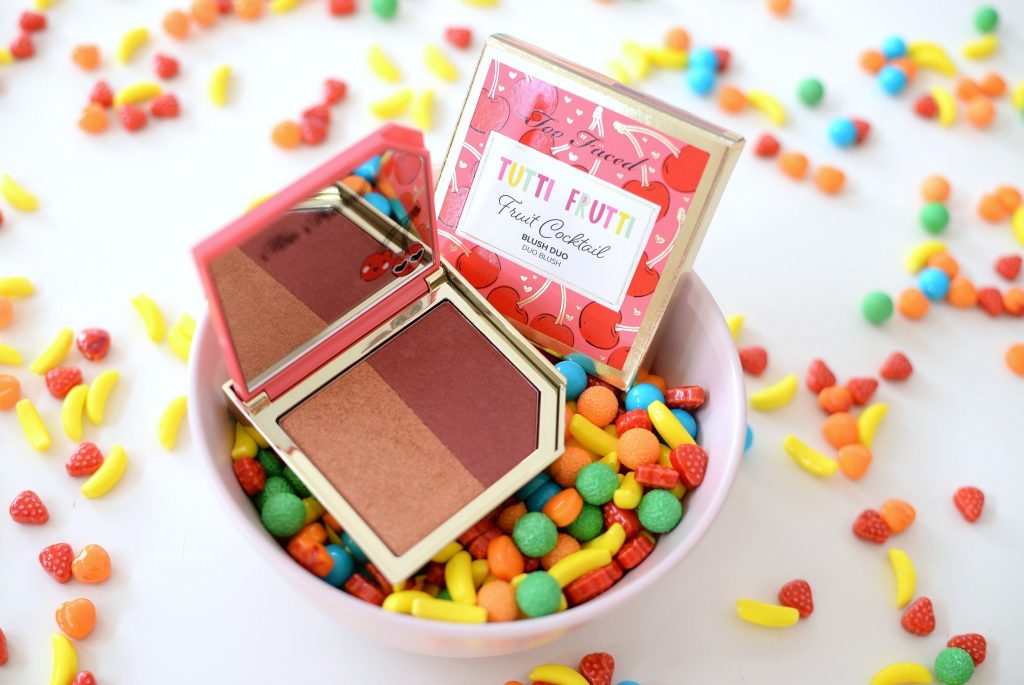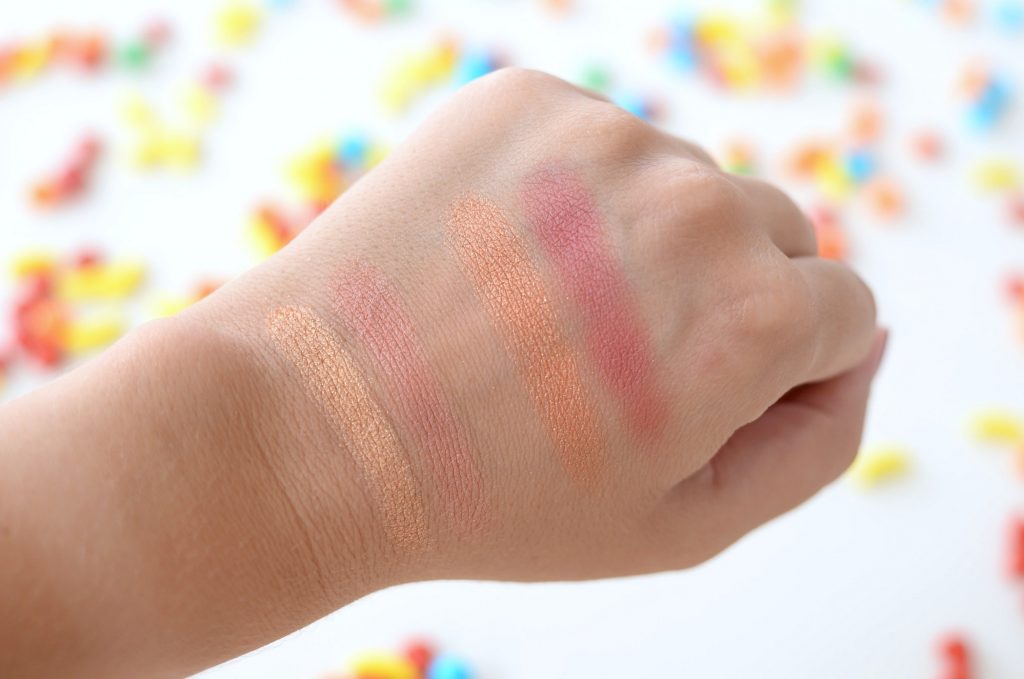 You'll find 2 eyeshadow palettes within the collection, first up, Too Faced Sparkling Pineapple Eyeshadow Palette. Not only does it feature 7 matte, metallic, satin and glitter shades, allowing you to create an array of fresh and vibrant looks, it also smells like fresh pineapples. Its rich and pigmented golden hues allow you to achieve soft and smoky, wearable looks for both day and night. From luxe golds, to shimmery, almost duochrome greens, to deep browns and neutral nudes, this palette has everything you'll ever need this fall. It retails for $34.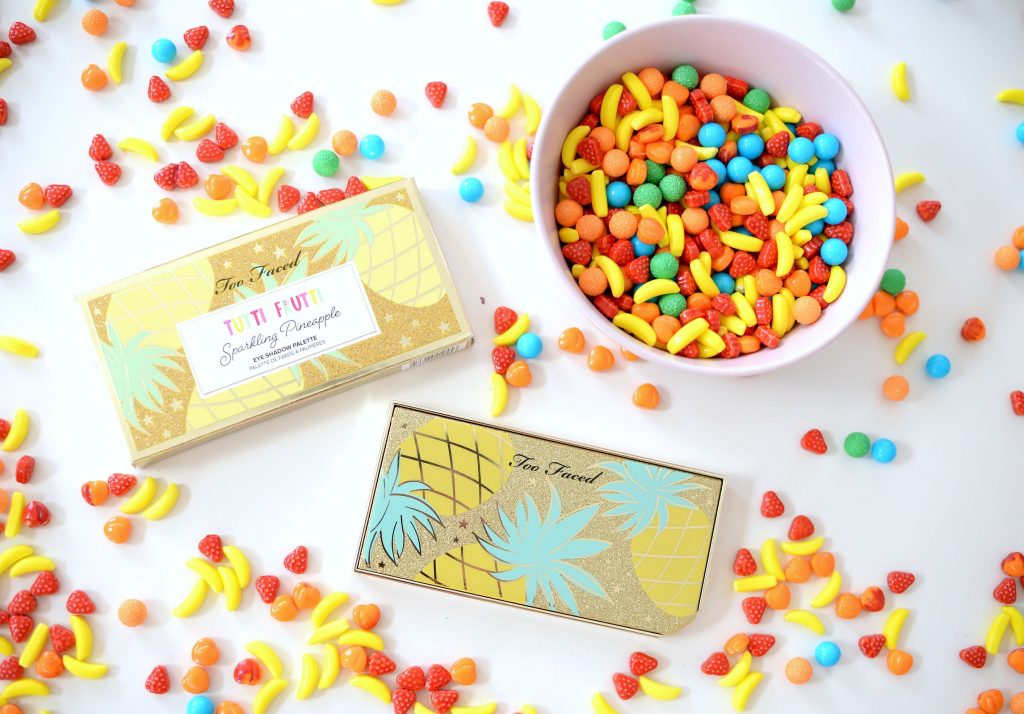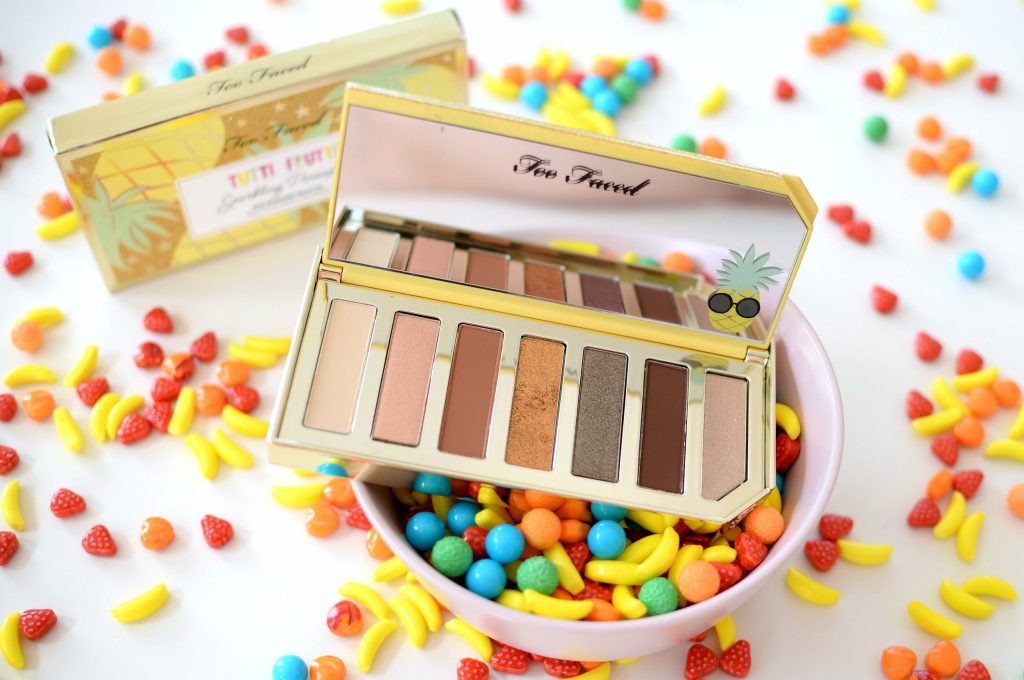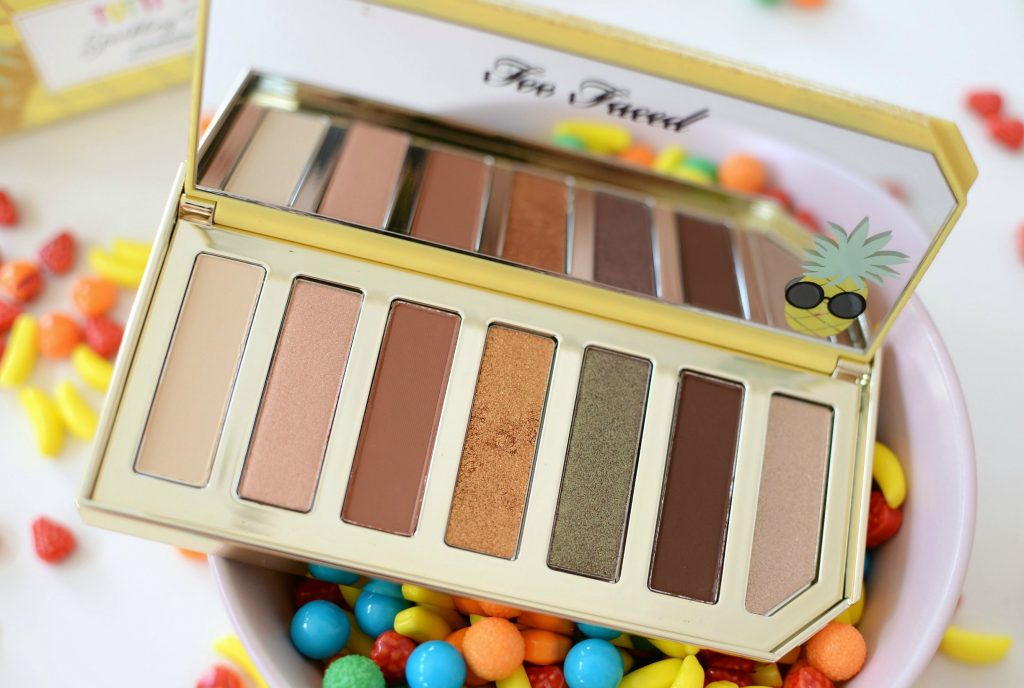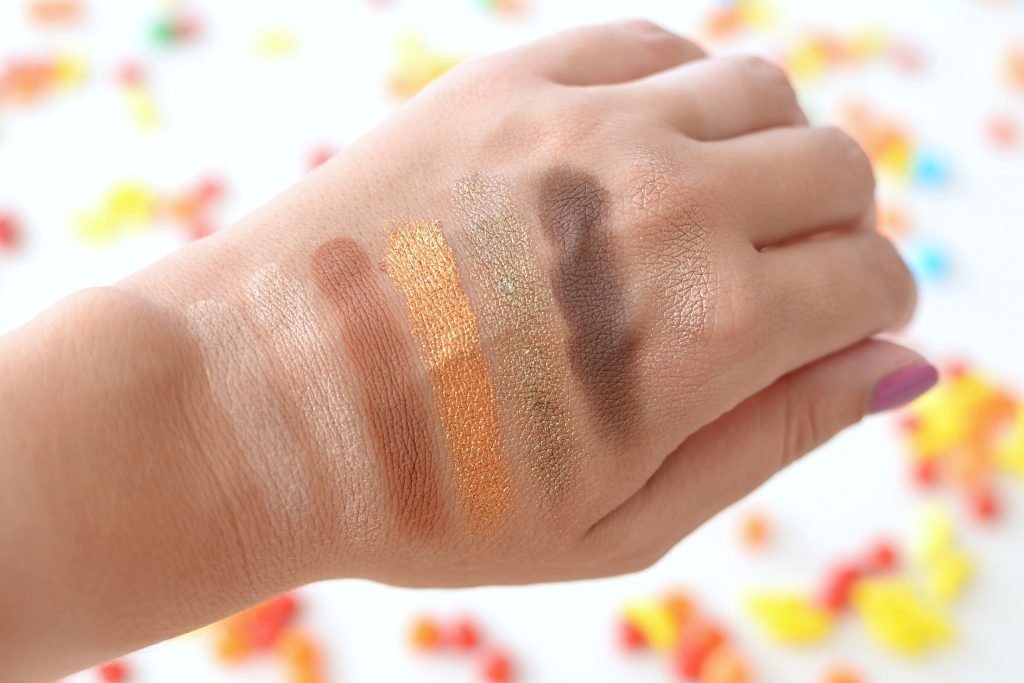 Too Faced Razzle Dazzle Berry Eyeshadow Palette on the other hand contains rich and creamy berry and plum shades that smells like fresh berries. It too features 7 matte, metallic, satin and glitter shades, only done in soft pinks, plums, purples, coppers, and deep blue hues. It seems this palette is taking inspiration from Pantone's 2018 Color of the Year and emphasizing on the power of purple this season. Drama is the name of the game here, and the majority of the shades found within, are going to be hard to find a dupe for. Showing that the purple shadow trend doesn't have to be overtly vibrant, you can ease into these colours by pairing your look with a few of the subtler hues within the palette. It retails for $34.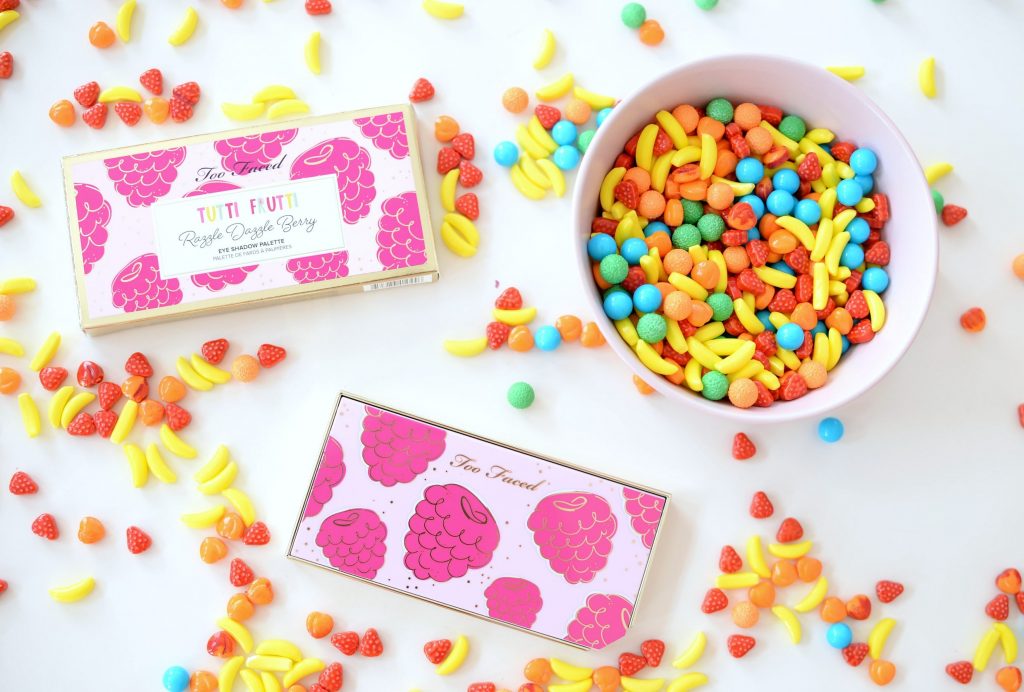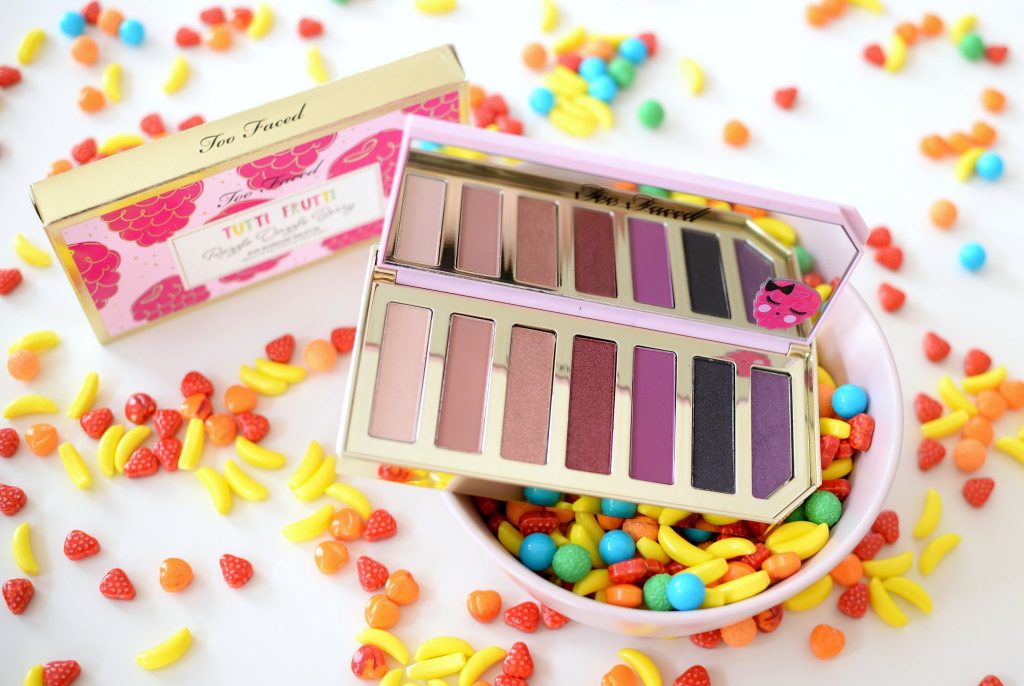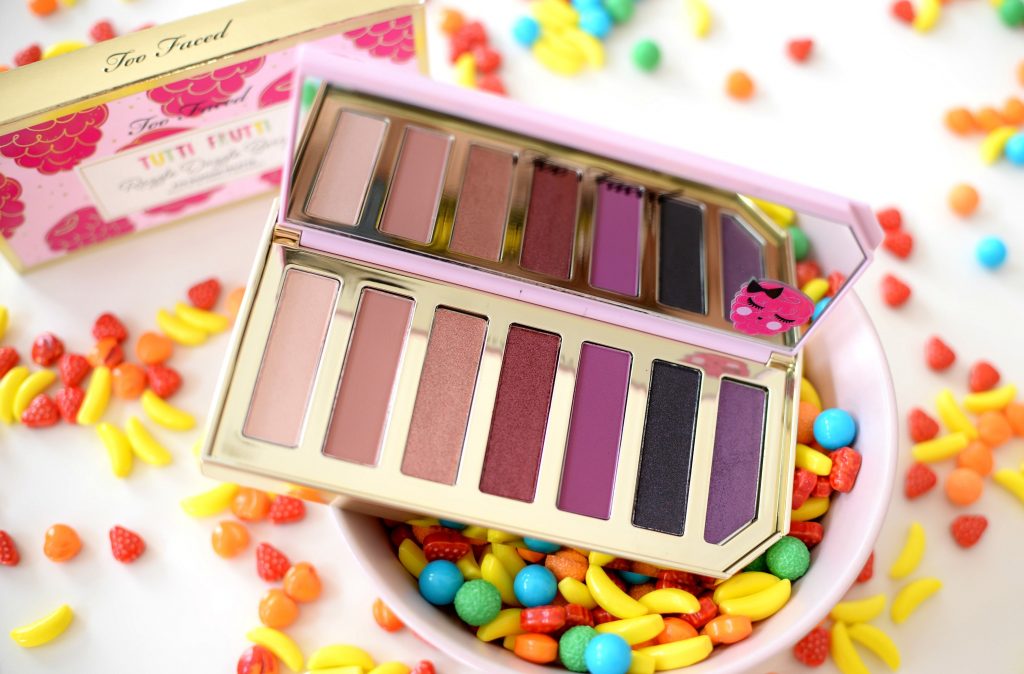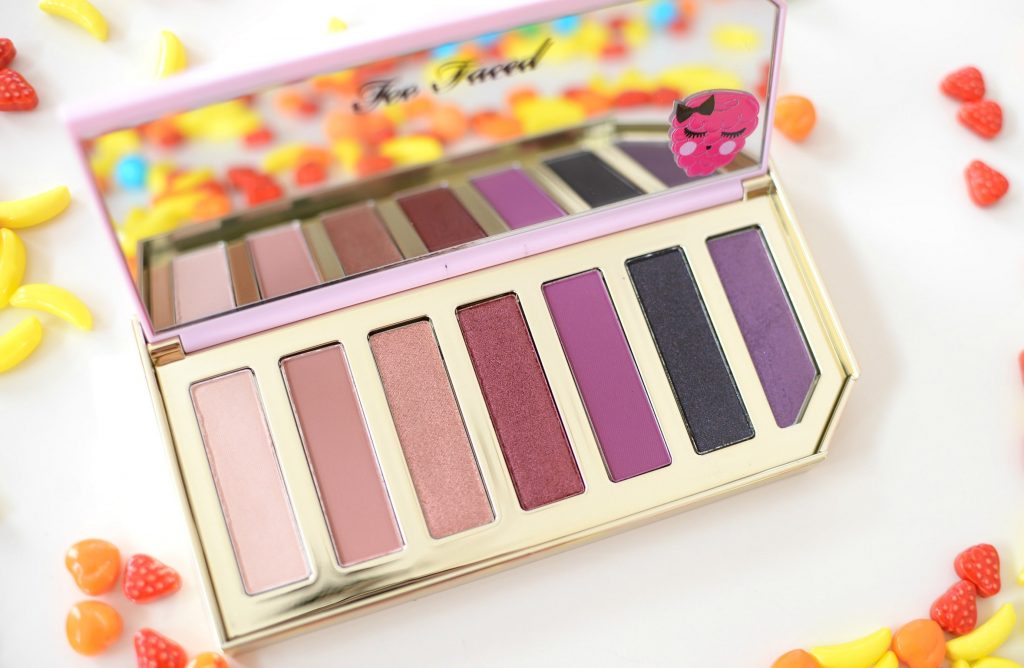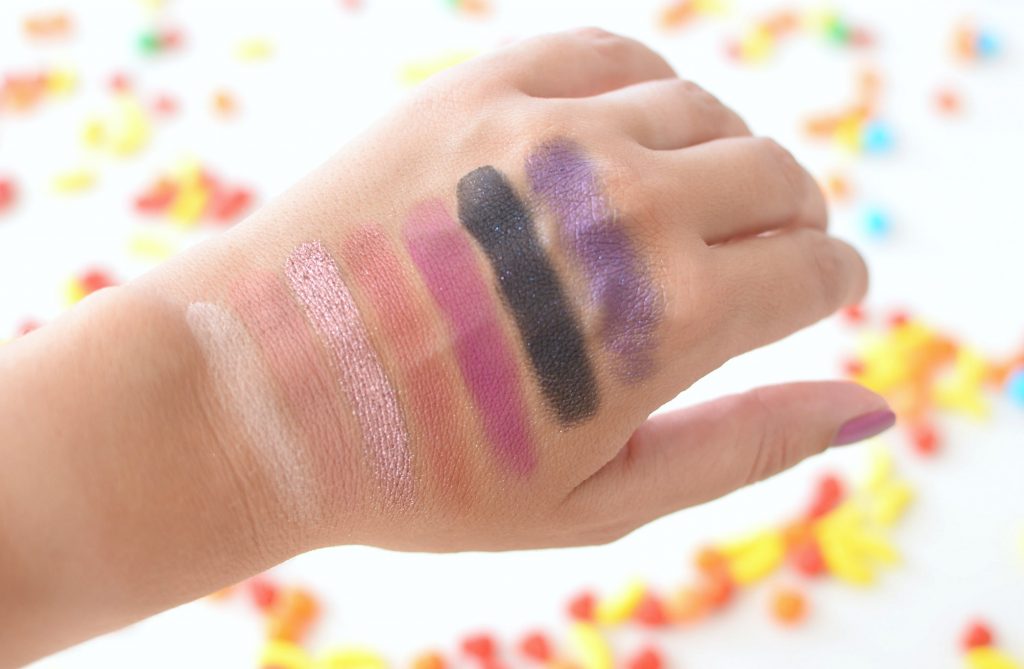 Looking for a little extra shimmer over your shadows, try one of the new Too Faced Twinkle Twinkle Liquid Glitter Eye Shadows. It combines just the right amount of pearl and glitter to create a stunning luster and shimmery eye, without large chunks of glitter falling all over the place. These multi-dimensional glitter shadows cover the entire lid with ease and in a single application and dries within seconds. No matter if you're looking for an added pop of sparkle over a neutral eyeshadow look or looking to enhance your look with full-on-shimmer and shine, these wearable glitter eyeshadows will do the trick. Create real-life "wow" factors with the fuss and muss of loose pigments. It comes in 8 shades and retails for $22 each.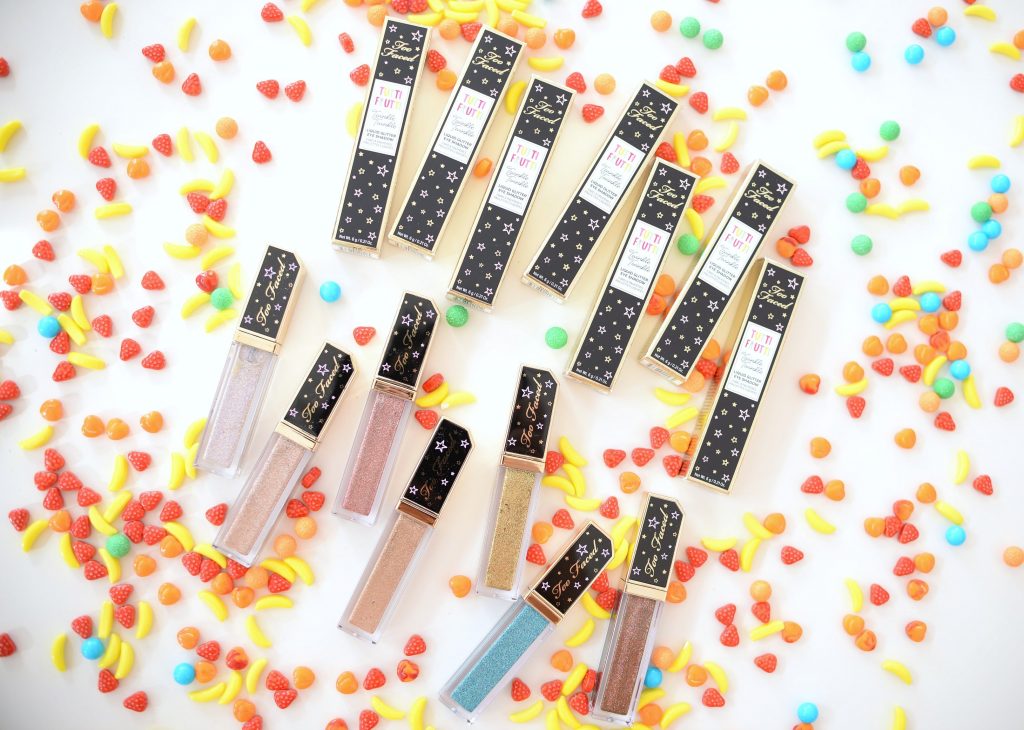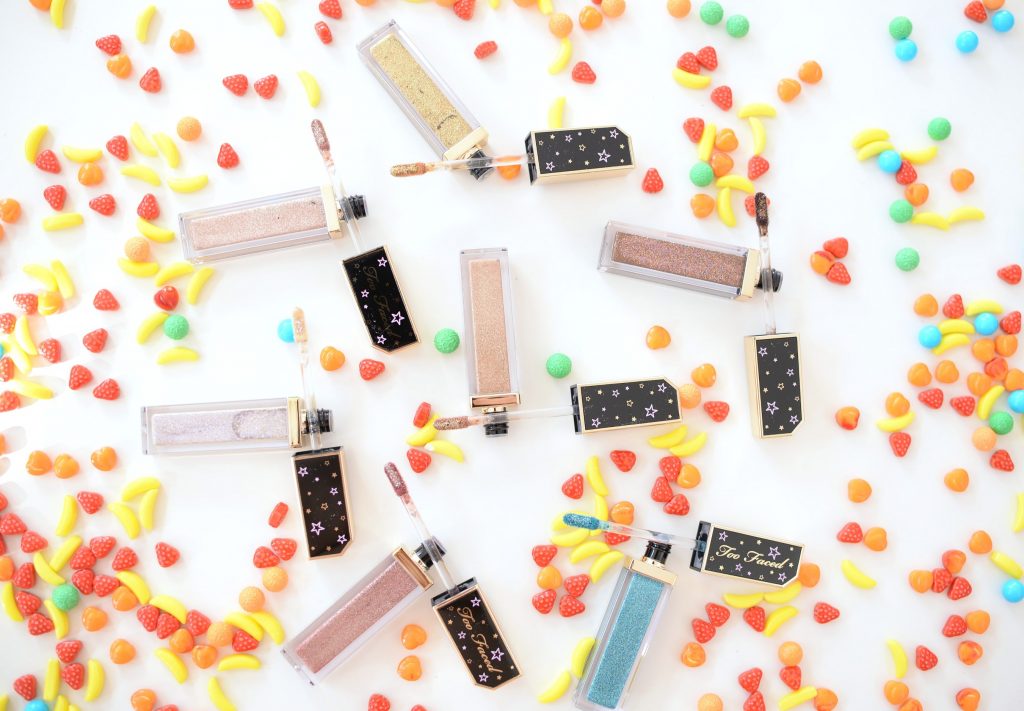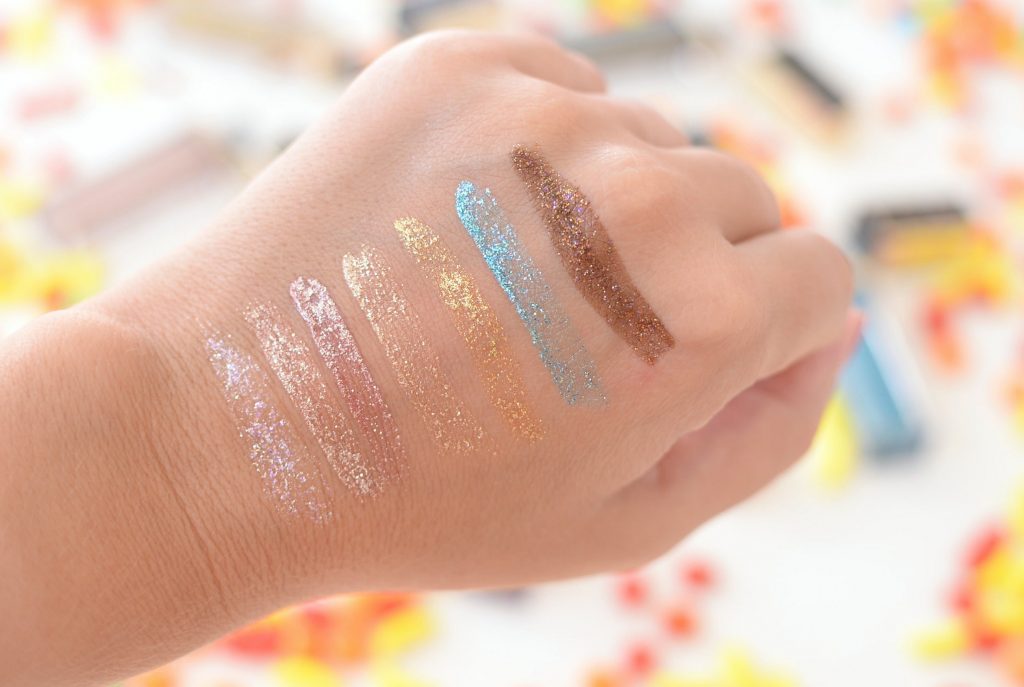 Last but not least, Too Faced Juicy Fruits Comfort Lip Glazes. These intensely pigmented gloss features a candy-like finish with high-impact shine. It has a slightly sweet, almost fruity scent that pairs beautifully with the rest of the collection. It features an incredibly lightweight formula that feels comfortable and almost hydrating on the lips. For such a high-gloss finish, it doesn't feel thick, heavy or sticky. Of course, you will experience some transfer, as its not designed to be a long-wearing, fully budge-proof lippie. It retails for $20 each in 12 shades.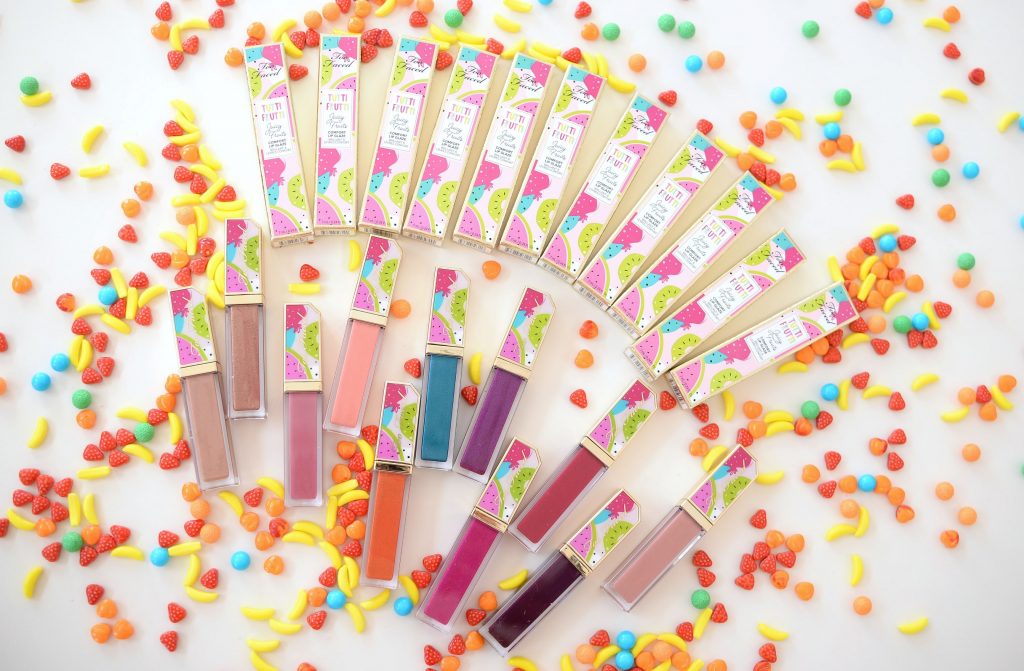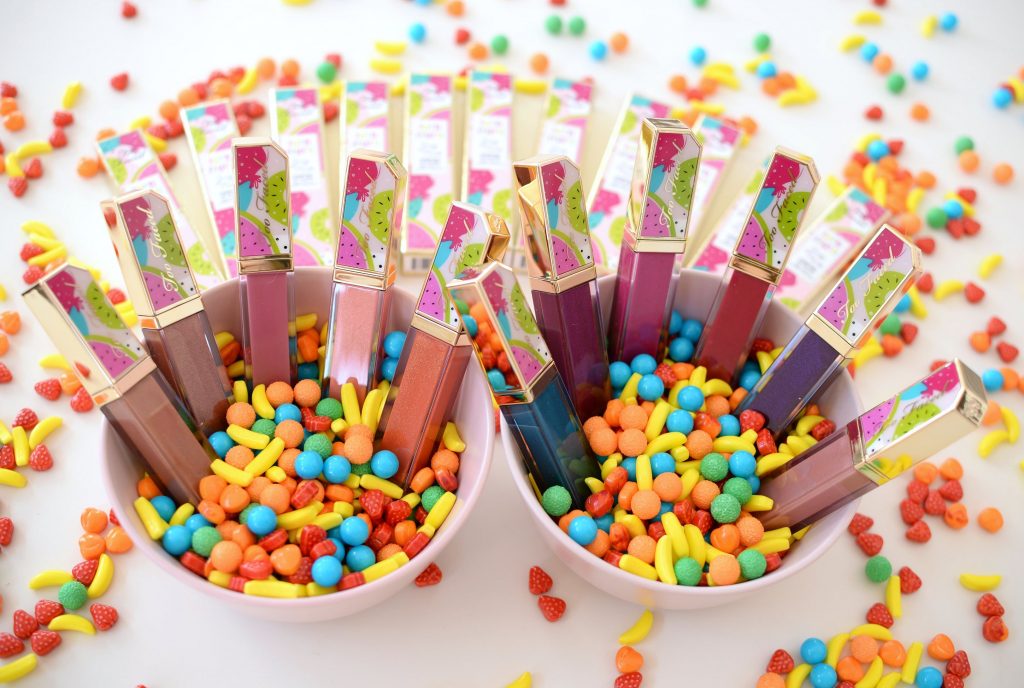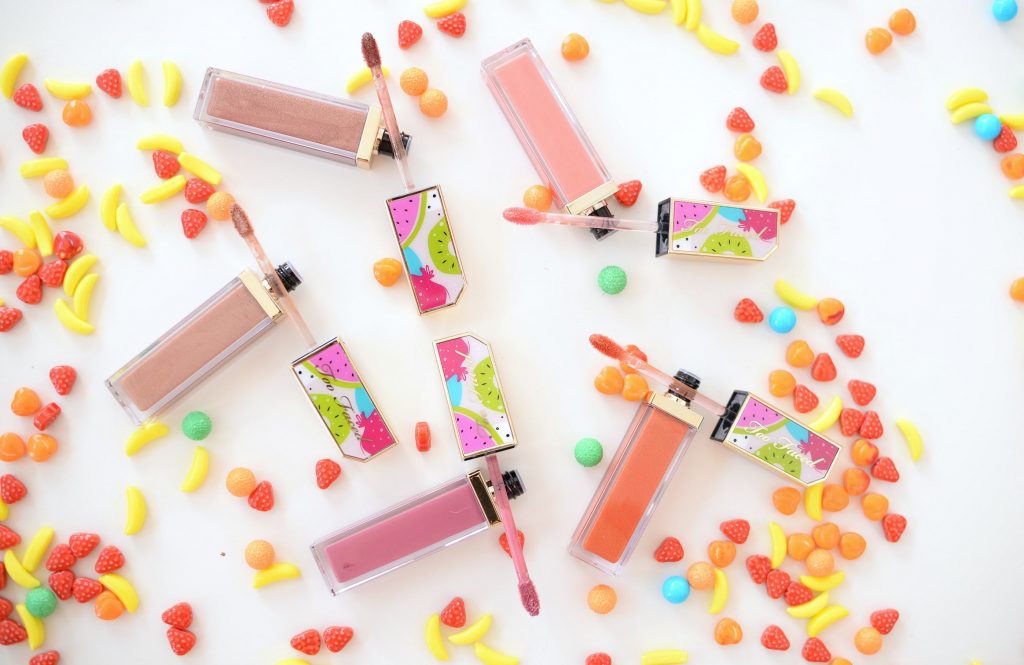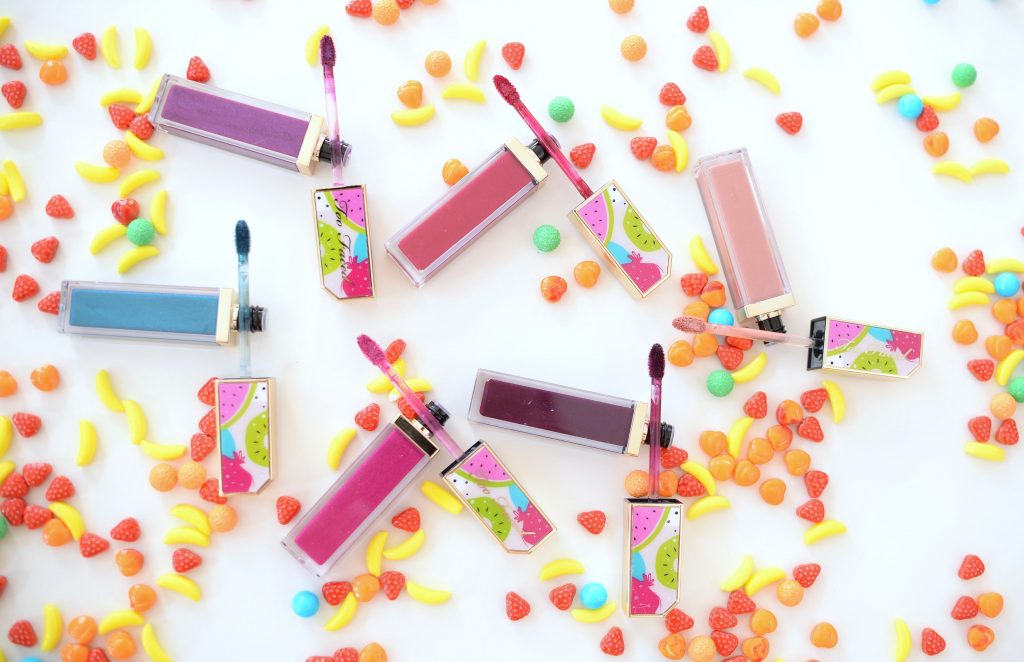 Too Faced Juicy Fruits Comfort Lip Glazes in shades in Show Me Your Coconuts, Yummy Rummy, Home Slice, Dreamsicle and Takes Two to Mango.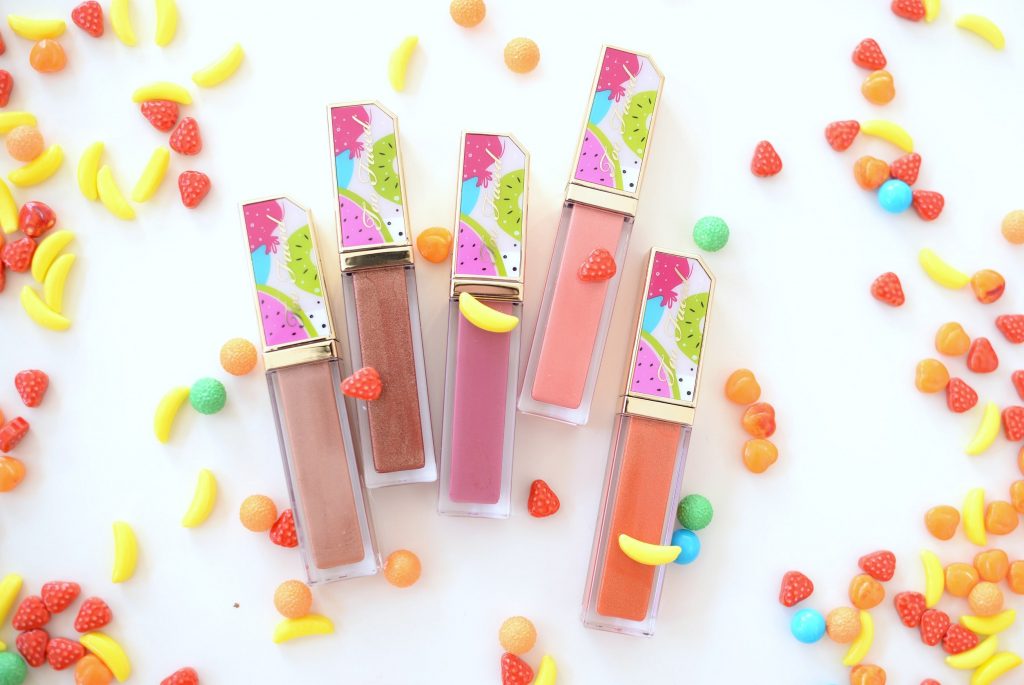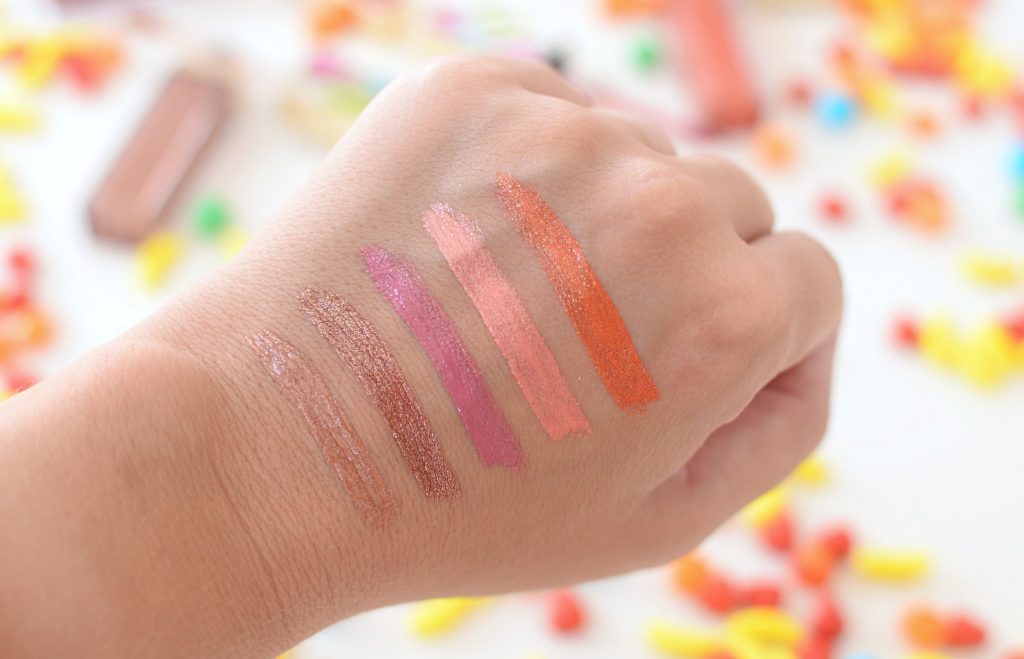 Too Faced Juicy Fruits Comfort Lip Glazes in shades in Blue You Away, Plum Crazy!, Totally Smashed, Ruby Ripe, Who Gives A Fig?, and Grin & Bare It.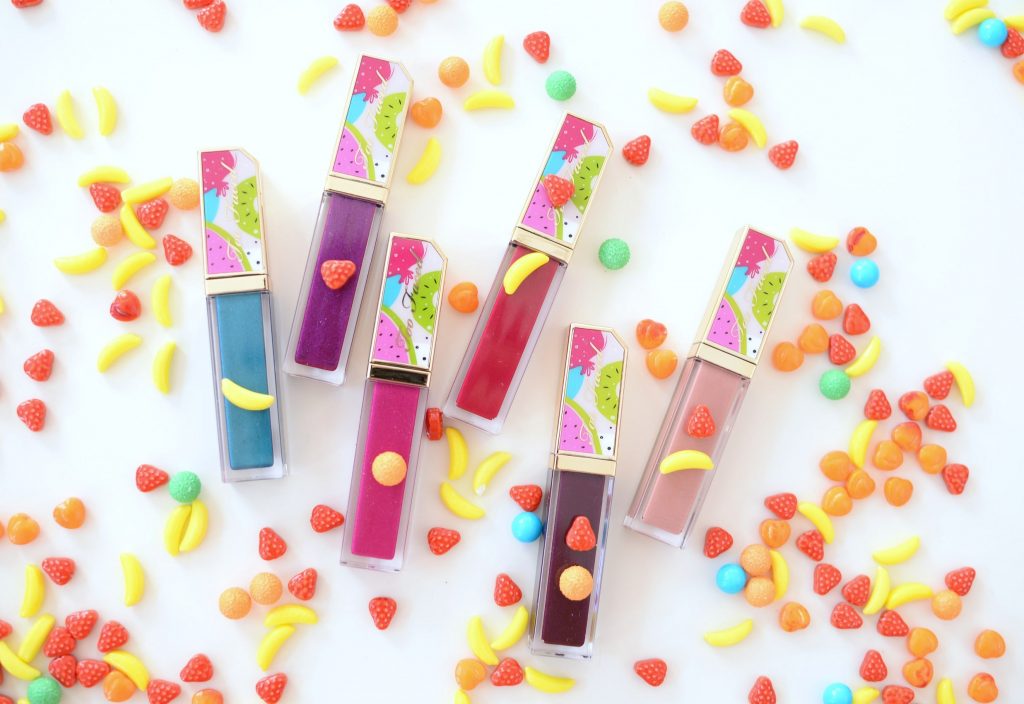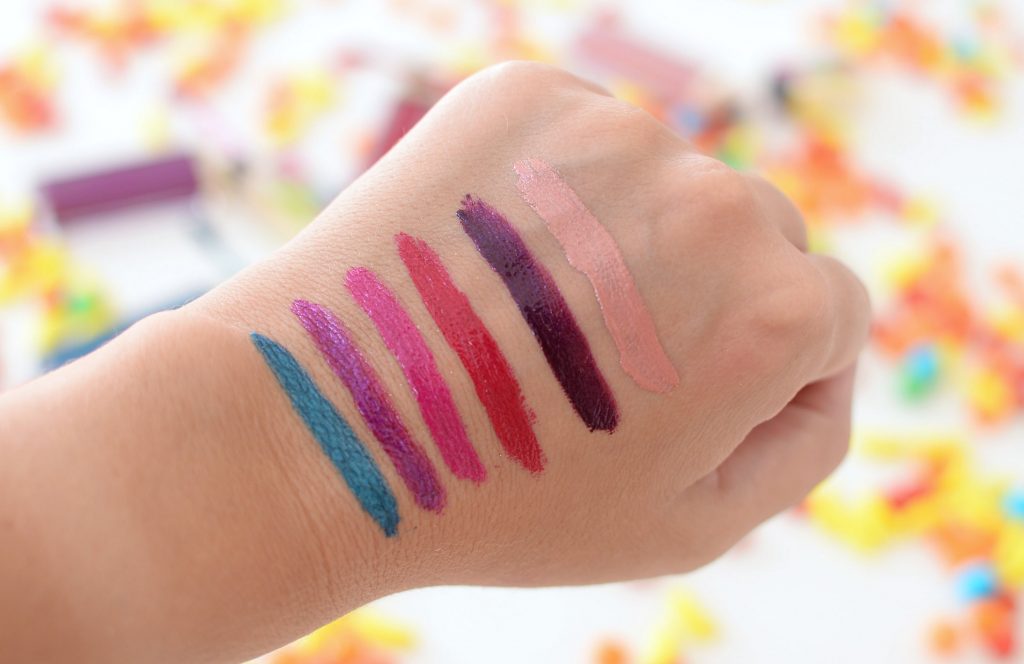 The Too Faced Tutti Frutti Collection is so versatile, just check out these fun looks from Sam and Kayla