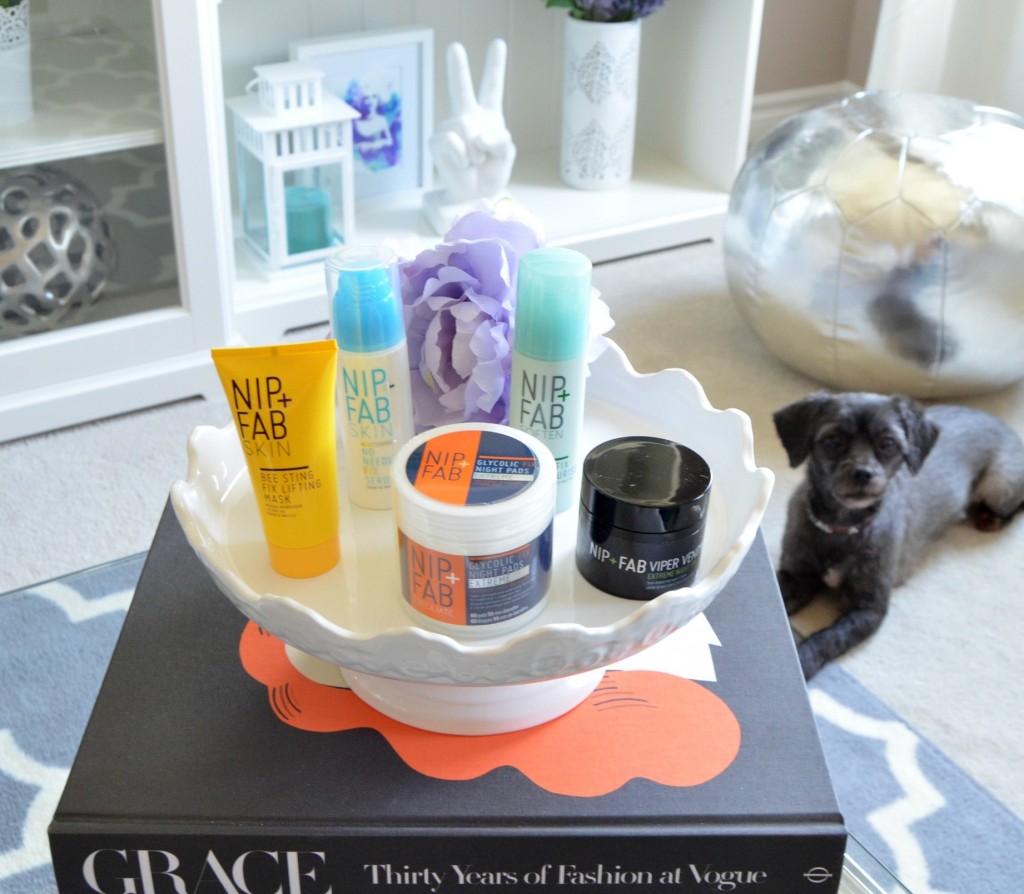 If you follow me on snapchat (CanFashionista) you would have seen that I picked up the Nip+Fab Glycolic Fix Night Pads Extreme on a recent trip to Shoppers Drug Mart. I've heard wonderful things about the brand Nip+Fab and since I was looking for something to go hand in hand with my monthly chemical peels, I thought glycolic pads were the way to go. Although it is recommended to use 2 to 3 times a week, since I'm no stranger to peels, I started using them daily. After just a few short nights, I was hooked. I'm about half way through my second package, which means it's almost been three straight months. Running a fashion blog I'm introduced to a ton of products and I'm not particularly loyal to a product or brand, so this is saying a lot.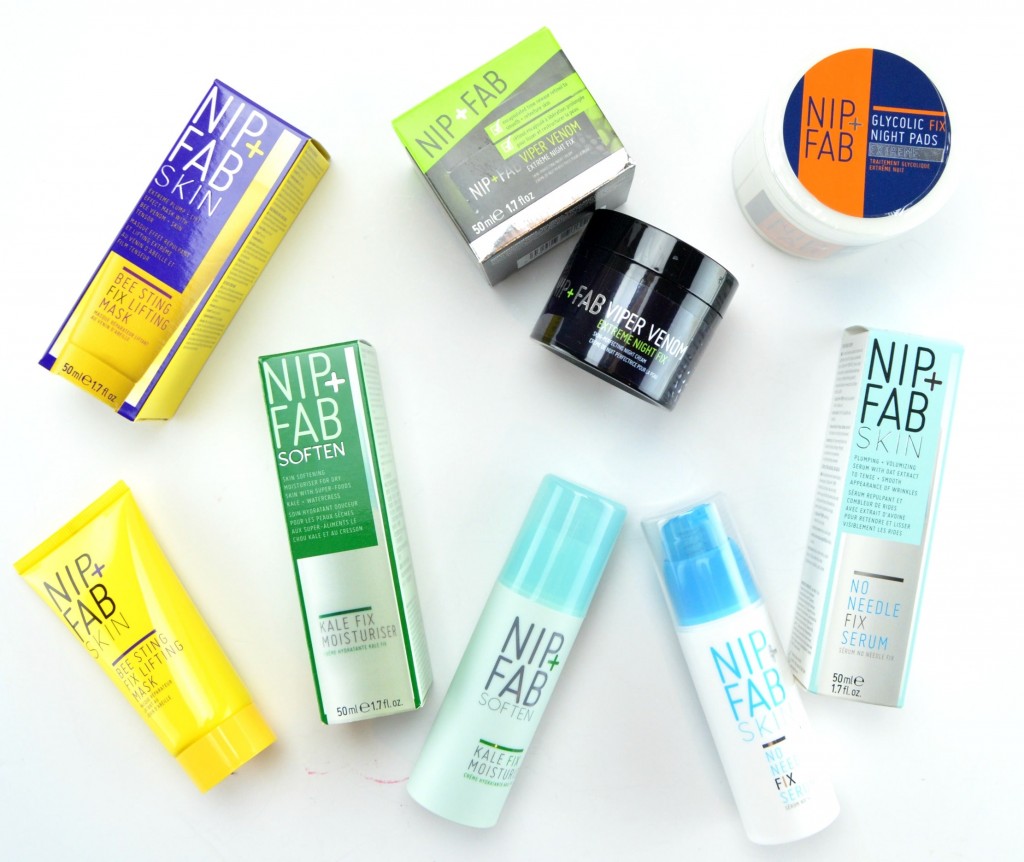 So what exactly is Nip+Fab Glycolic Fix Night Pads Extreme? It's a saturated acid pad that's slightly stronger than their original version, and is formulated with 5% glycolic acid, salicylic acid and lactic acid. These ingredients combined, help to exfoliate and refine your skin's texture, helps unclog congested pores, which can help with daily breakouts and also gently weakens the bond holding dead skin cells together. It couldn't be easier to use, after cleansing your skin in the evening, wipe a single pad across your entire face, neck and décolleté, of course avoiding eye area. I highly suggest saving this for your nighttime routine as the acid does make you more susceptible to light, so be sure to wear your SPF when using these pads.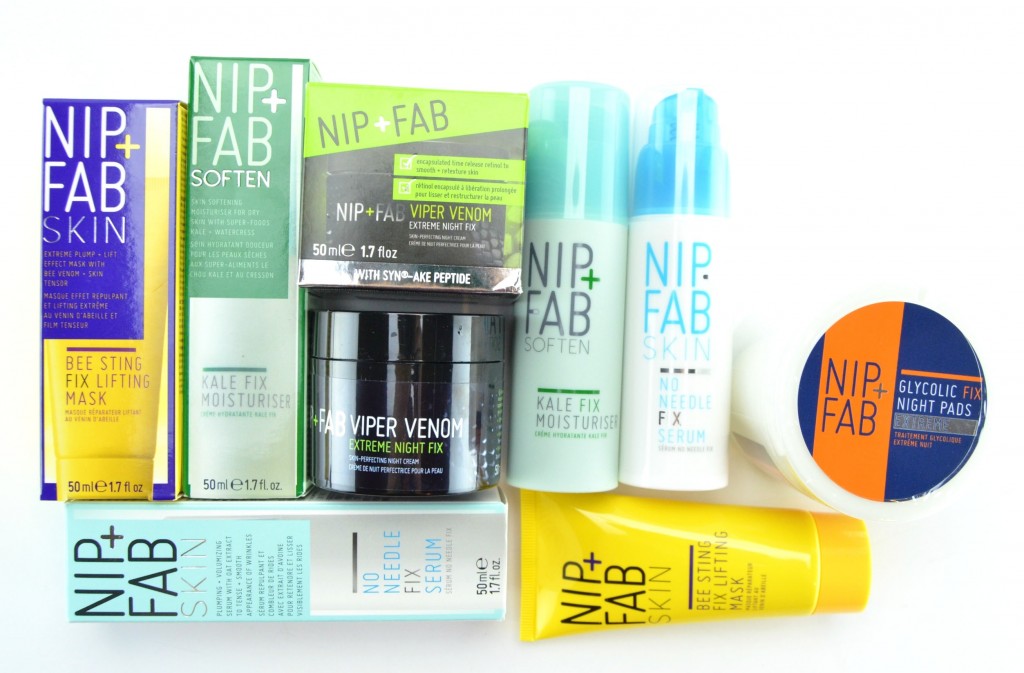 I started to see results within a week of using Nip+Fab Glycolic Fix Night Pads Extreme, however if you're new to acids, you'll probably start to notice a difference in your skin's texture within a few uses. Don't be afraid of the "extreme" label as these aren't as "strong" as they claim. If you're just starting to get into glycolic peels and acid treatments, I highly suggest skipping the slightly weaker Glycolic Fix pads and jumping straight into these ones. The salicylic acid instantly penetrates into the pores to help unclog them and help combat future breakouts and blemishes, while the lactic acid removes dead skin cells on the surface for a smoother, more even toned surface. It doesn't have a strong chemical scent as other pads, this one's fresh, airy and citrusy.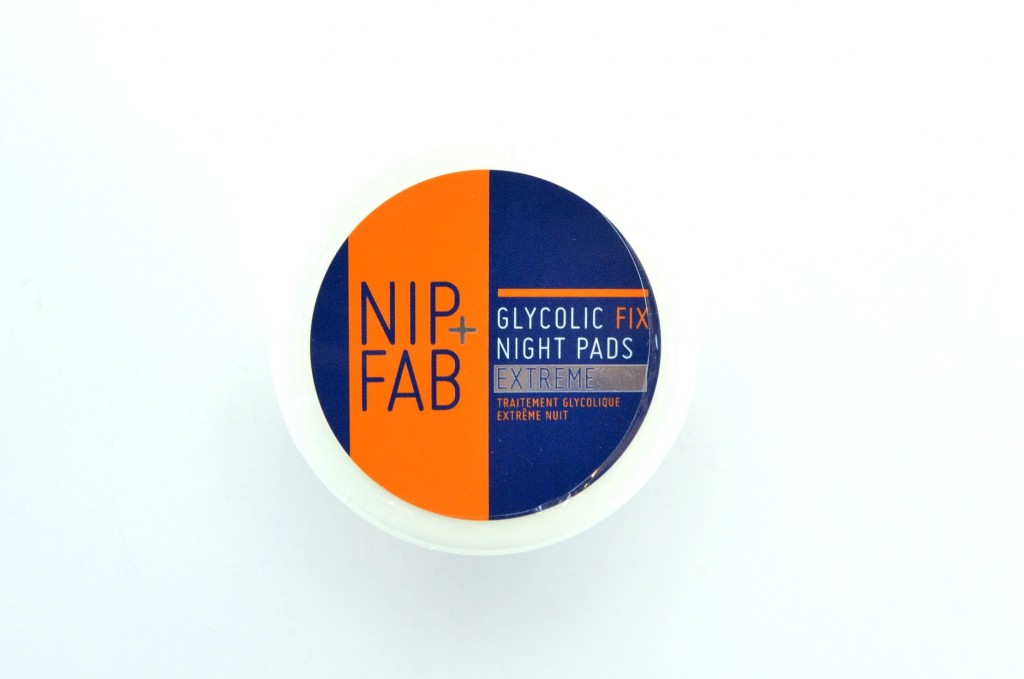 I'm not going to lie, on days when my skin is feeling extra dull, I may use the Nip+Fab Glycolic Fix Night Pads Extreme in both the morning and evening. For someone who suffers with extremely dry skin, these surprisingly don't dry my skin out like other pads I've tried in the past. The hyaluronic acid helps keep hydration levels in check, so although it won't actually add moisture back into the skin, it won't dehydrated it either. For someone who's been incorporating acids into their skincare routine for a while, it did take about a week before I started to notice results. It does an amazing job at gently exfoliating the skin, which not only helps my dry, patchy, scaly skin, but it's helped fade discolouration and hyperpigmentation issues. I can see this really helping uneven skin surface and acne scarring too. It instantly helps to brighten my complexion and even out my skin tone. On top of all that, less breakouts. I honestly cannot recommend these enough, it really does make a significant difference in how your skin looks. Whether you're looking to clear up acne, reduce scaring, exfoliate the skin, brighten your complexion, diminish dark spots, this does it all. It retails for $14.95.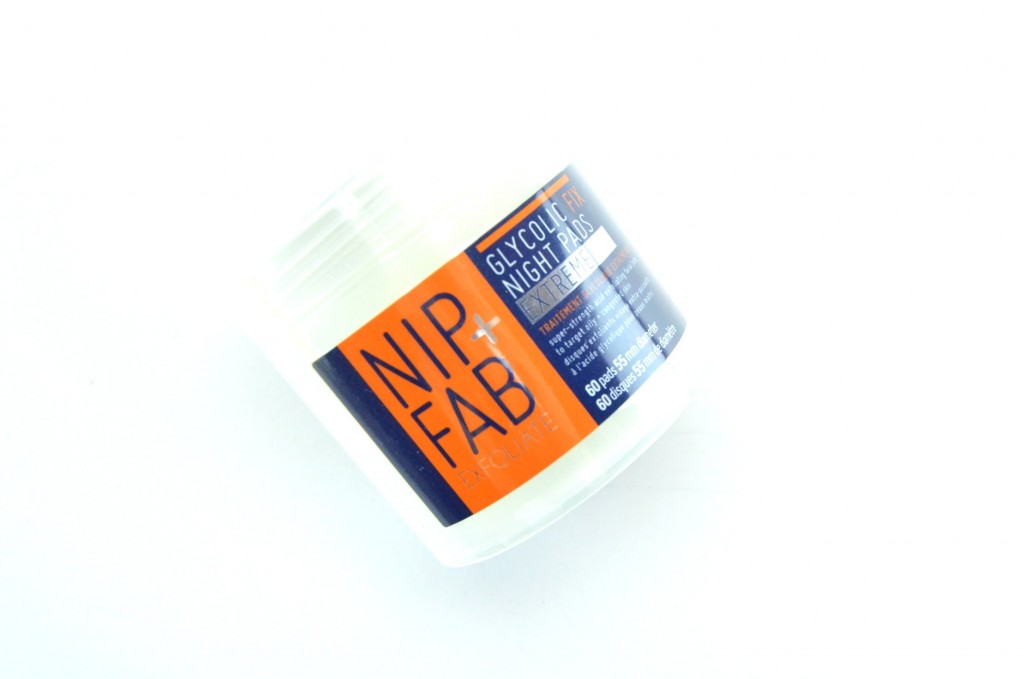 Since I can't rave about the Nip+Fab Glycolic Fix Night Pads Extreme enough, I was eager to test out more products from the brand, starting with Nip+Fab Viper Venom Extreme Night Fix. It's a super powerful night cream that's formulated with encapsulated time release retinol + SYN-AKE to help reduce the appearance of fine lines and wrinkles, while you sleep. It's also formulated with hyaluronic acid that provides hydration and a slight plumping effect to the skin. Upon awaking, you'll immediately see smoother, softer skin that's youthful, radiant and with a slight glow.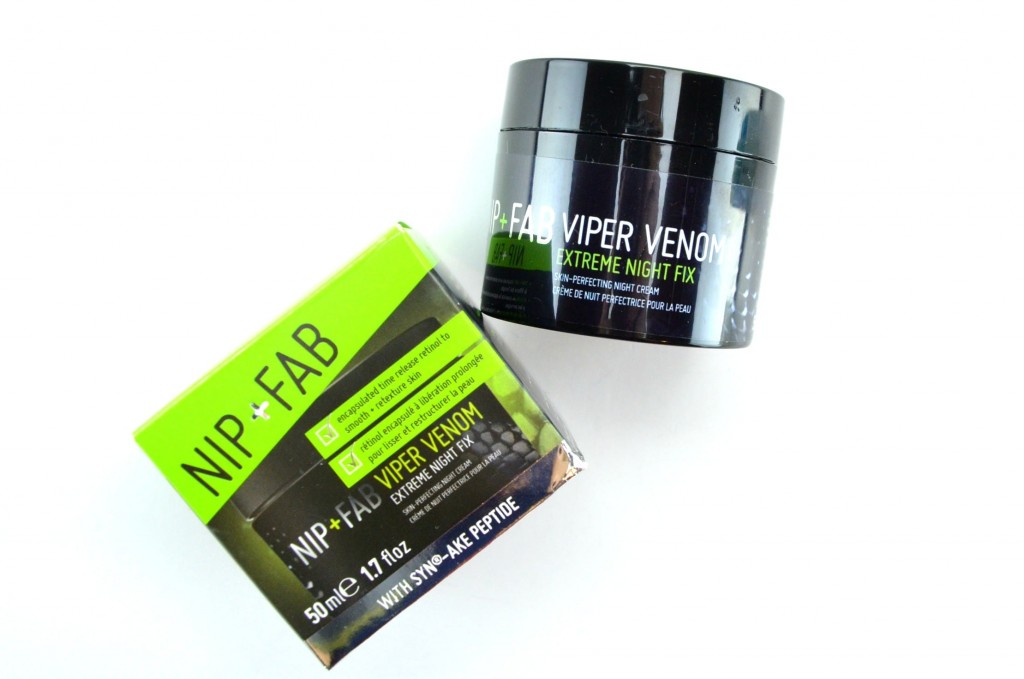 Nip+Fab Viper Venom Extreme Night Fix features a lightweight, gel-like texture that's a mix between a cream and a serum. It absorbs into the skin immediately and helps to rejuvenate the appearance of dry, dull skin. It applies evenly and smoothly and covers the entire face and neck with only a small dime size amount. It doesn't feel thick, heavy or greasy, nor does it clog pores or cause breakouts. It helps to instantly replenish moisture loss and keep skin hydrated the entire night.
Nip+Fab Viper Venom Extreme Night Fix is the perfect nighttime cream and an excellent choice for those looking for deep hydration without the heavy feel of a thicker moisturizer. It's completely weightless formula is perfect on hot summer nights as it gives a slightly cooling effect to the skin. My skin is left feeling hydrated, but it's in the morning where I see the improvement. Dewy-fresh, almost illuminating, healthy, radiant skin that's plump, smooth, supple and ready to take on the day. It does a wonderful job at clearing up any dry areas or patchiness that I may be experiencing that day and keeps the flakiness at bay. My skin is looking incredibly fresh and my makeup is applying so much smoother and easier since introducing this cream and glycolic pads. It retails for $19.95.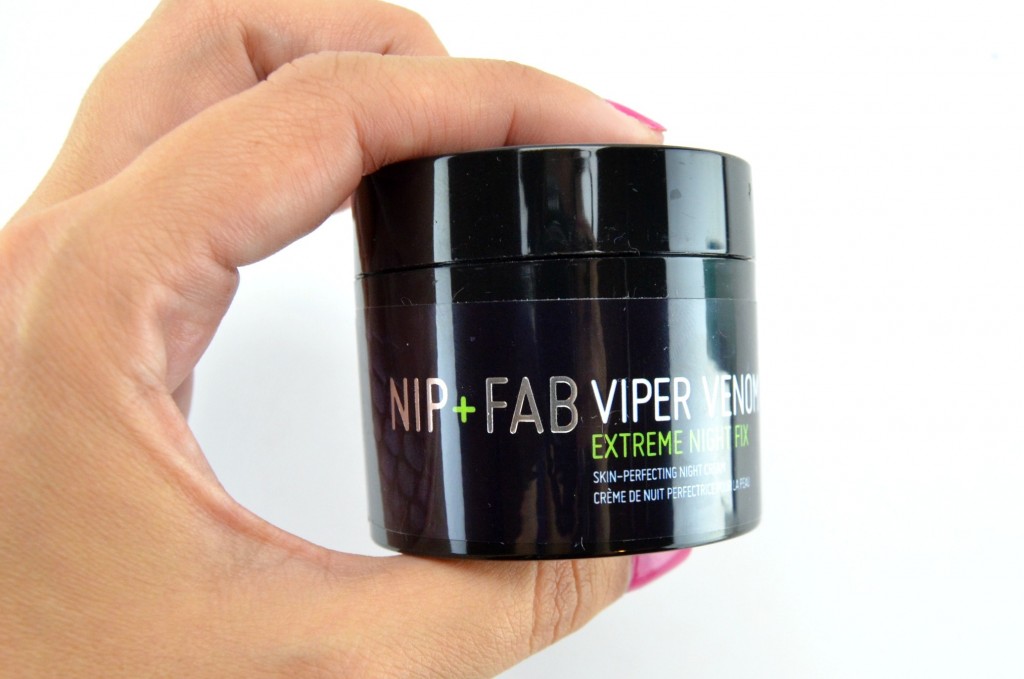 In the morning I've been using the new Nip+Fab Kale Fix Moisturiser that is packed full of powerhouse super food like kale, watercress and almond oil enriched with vitamins to not only help moisturizer, but nourish and protect against daily aggressors. It even helps to keep skin soft, hydrated and comfortable the entire day, while aloe vera and shea butter help to further soothe and improve skin's texture overtime.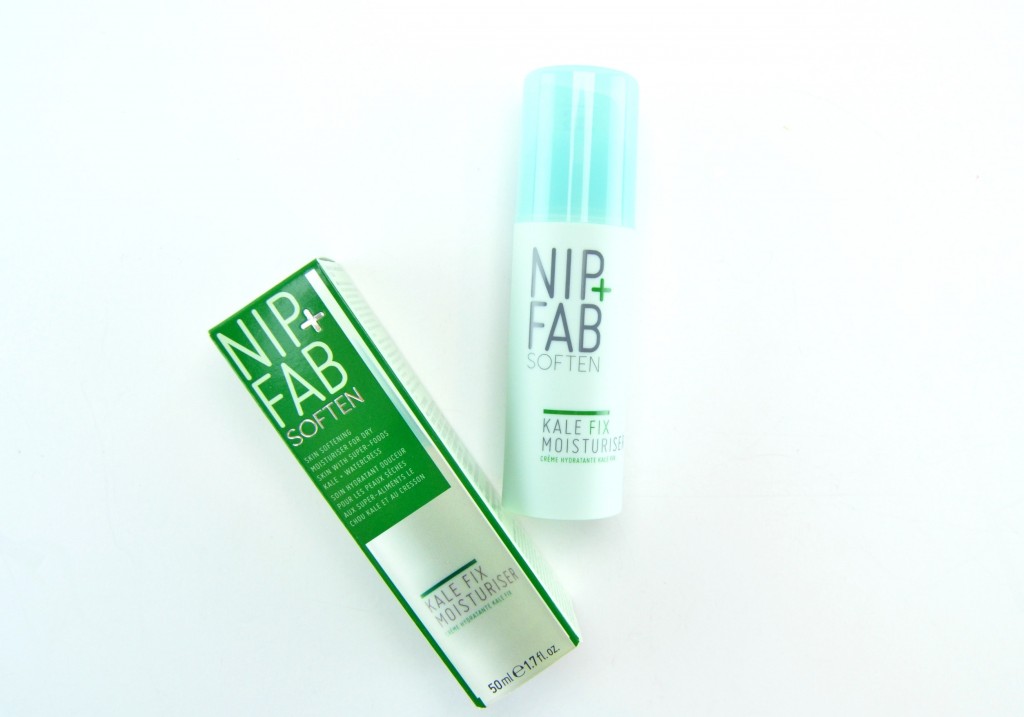 Although Nip+Fab Kale Fix Moisturizer has a slightly thicker and creamy consistency, usually designed for evening use, it is still incredibly lightweight and works well under my foundation. It doesn't claim to do anything besides hydrate and moisturize the skin, and I sometime think this is better. Too many products, trying to do too many things. I'd rather have one product work extremely well at one thing, that only subpar at an array of things (if that makes sense)? This moisturizer is simple, effective and does what it claims to do…. Keep my skin moisturized. Day after day, softer, smoother, calmer and with less dry patches and redness. The perfect daytime moisturizer. It retails for $25.95.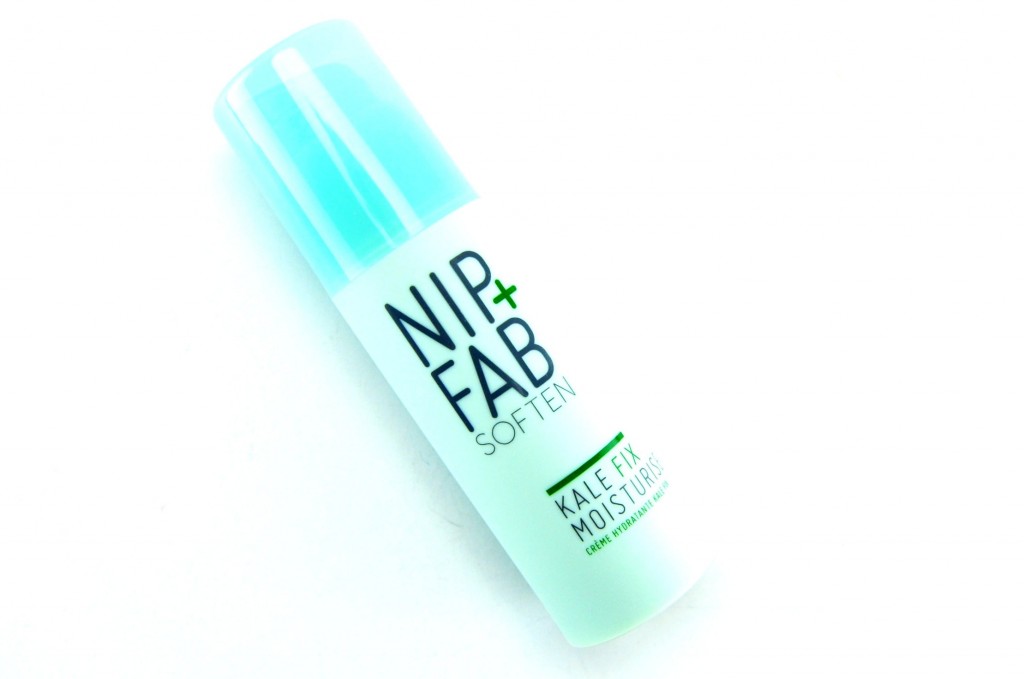 Nip+Fab No Needle Fix Serum is one of the brand's best-sellers thanks to its revolutionary anti-aging skincare ingredients. This plumping and volumizing serum is designed to give the appearance of younger skin with less fine lines and wrinkles.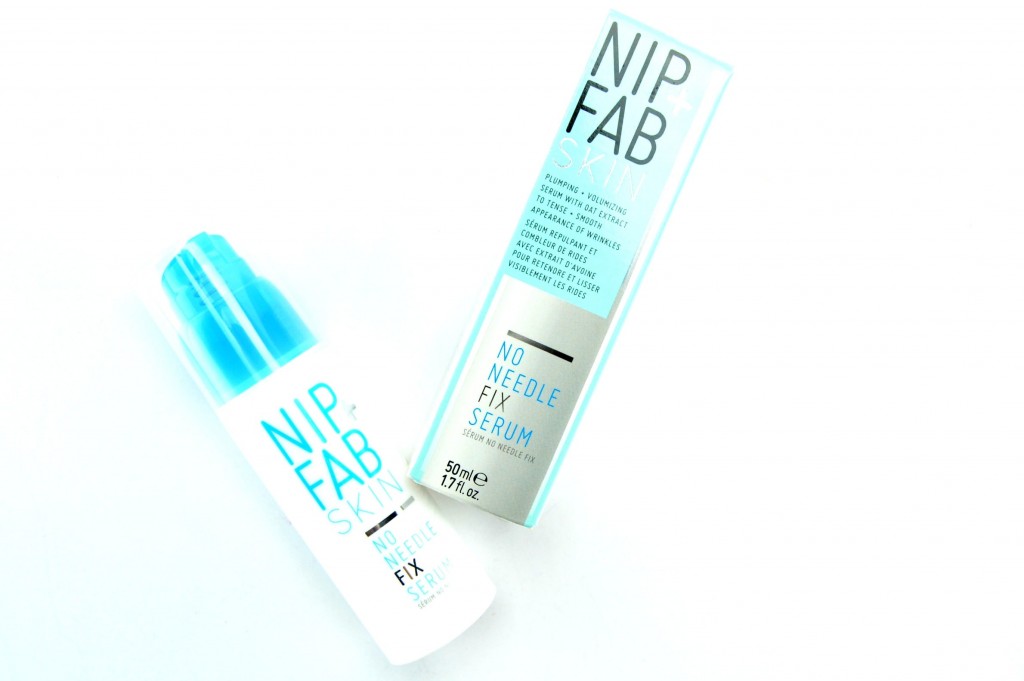 I've said it time and time again, there's no magic cream, serum or potion out there that will completely diminish the looks of fine lines and wrinkles, without the help from our friend Mr. Botox. That being said, I do believe products can help blur fine lines to give the illusion of less wrinkles. Nip+Fab No Needle Fix Serum has an incredibly lightweight, clear, serum-like texture that applies evenly and smoothly and gets absorbed into the skin instantly. It does an excellent job at hydrating and plumping up my skin, which in return, gives the appearance of reduced wrinkles. It lifts and tightens the skin to help improve the elasticity and overall firmness. It keeps my skin extremely moisturized, which I'm hoping will prevent new lines and having to get more expensive injections. It retails for $19.95.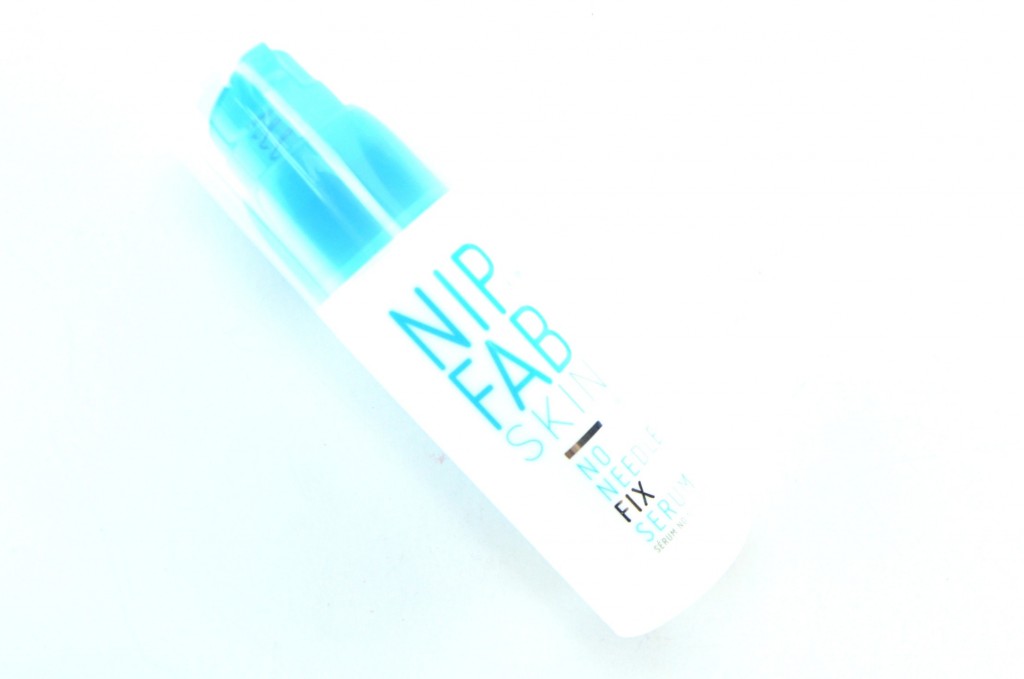 Nip+Fab Bee Sting Fix Lifting Mask is a gel-like mask that combines bee venom and lifting technology to visibly smooth and tighten the skin to give the appearance of less wrinkles. It helps to firm and lift the facial contour, while increasing blood circulation and gently plumping the skin. It also contains propolis extract, gransil, AC moisture plex and instensyl to help heal, retain moisture loss, improve hydration, create balance and a matte look, along with immediately smoothing the skin within 30 short minutes.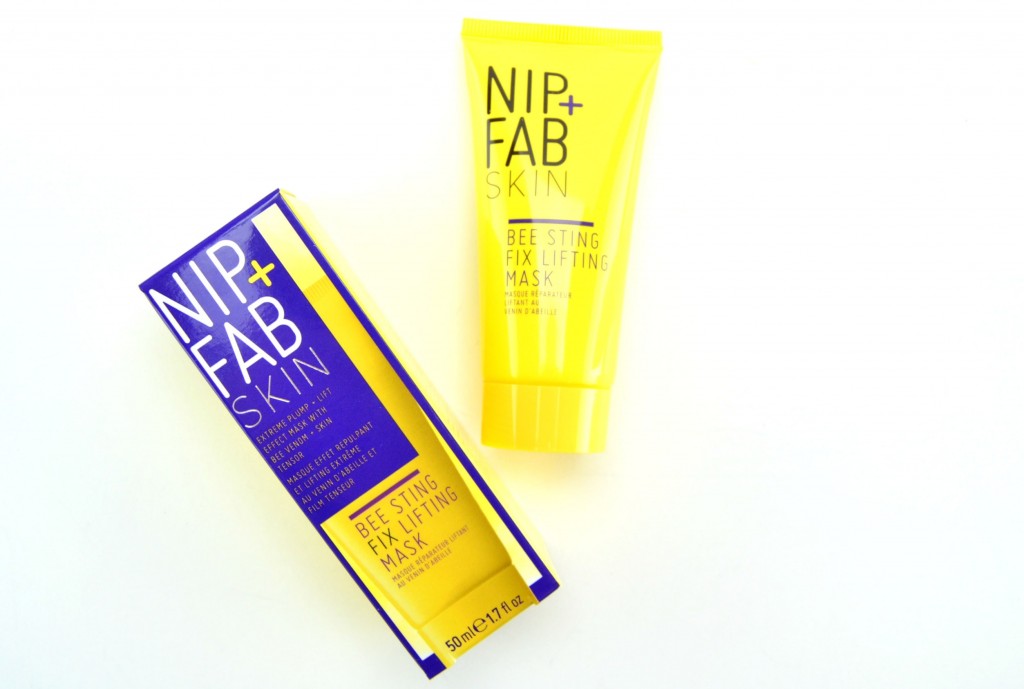 It seems like bee venom is all the range right now in skin care, not only does it trick the skin into thinking it's been lightly stung, causing the body to direct blood towards the surface of the skin, giving a slight plumpness, it also helps to stimulate collagen and elastin, leaving your skin soft and glowy for hours to come. You start by applying a thick layer of Nip+Fab Bee Sting Fix Lifting Mask to a clean face and neck and leave on for upwards of 10 minutes. It has a very thick gel like consistency that's slightly sticky and adheres to the skin beautifully. It feels incredibly soothing and calming and has a very mild "stinging" sensation for the first few minutes. Your cheeks may become slightly red, and those with sensitive skin may experience a little more redness, but it slowly disappears after washing. You can also use it as an intense overnight treatment mask, upwards of 3 times a week. It doesn't leave your skin feeling tight or dry and is easily removed with a damp cloth. Skin is left firmer, plumper and more youthful looking. It also helps your makeup glide on more smoothly and lasts longer throughout the day. It provides a beautiful natural glow that lasts for days. It retails for $14.95.