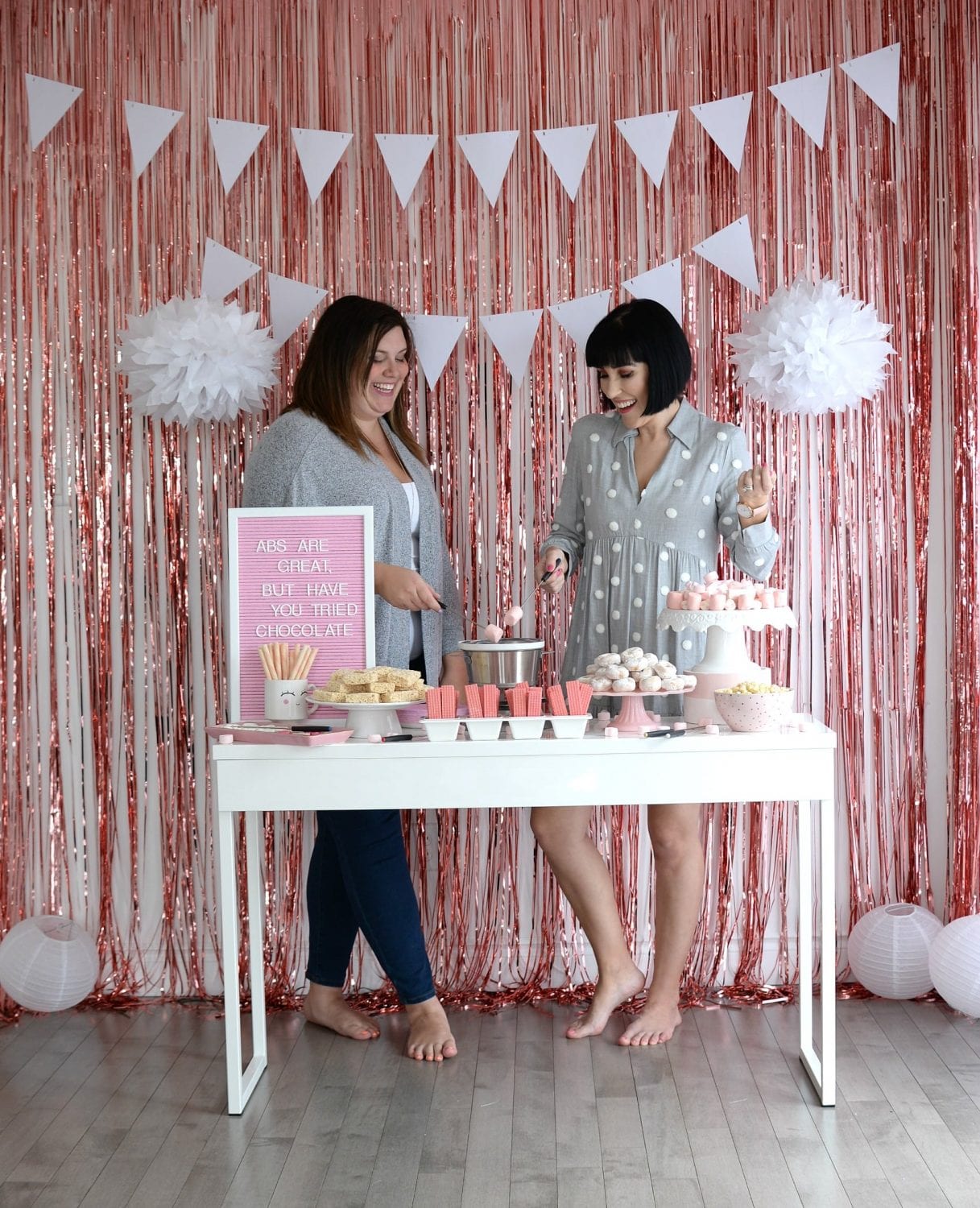 If there's one thing that gets girls excited, it's chocolate. What's more fun than celebrating a day dedicated to friendship than over chocolate? A Galentine's Day chocolate fondue party is incredibly easy to host, and it's sure to be a huge success with your guests. Although your brain might instantly think of milk chocolate, the rich brown colour might not be that visually appealing. Instead, try white chocolate. Not only is it a fun twist on the classic milk chocolate, it looks incredibly beautiful. Just pick up some white chocolate, melt in over heavy cream and even add in a drop or two of vanilla for extra flavour.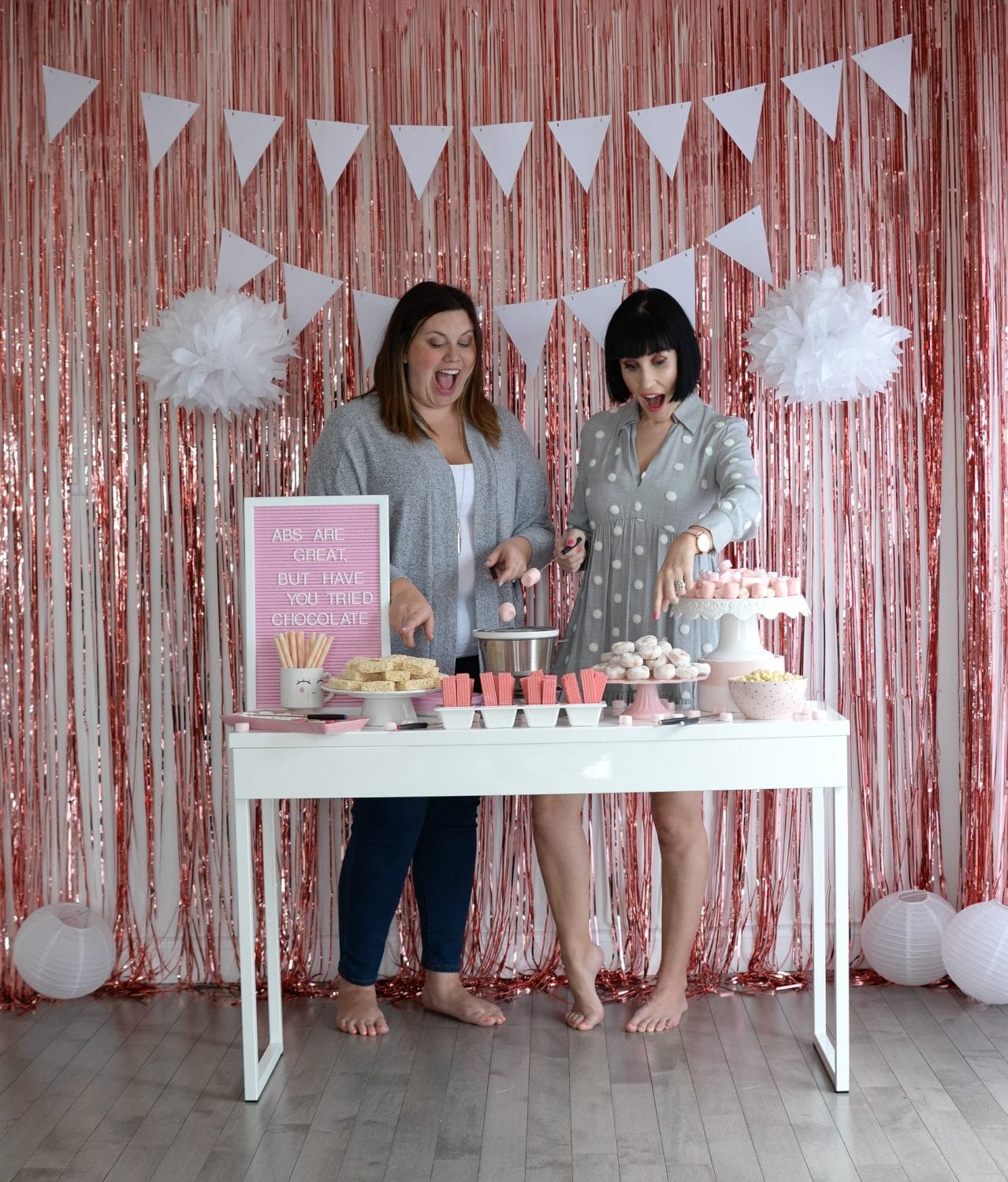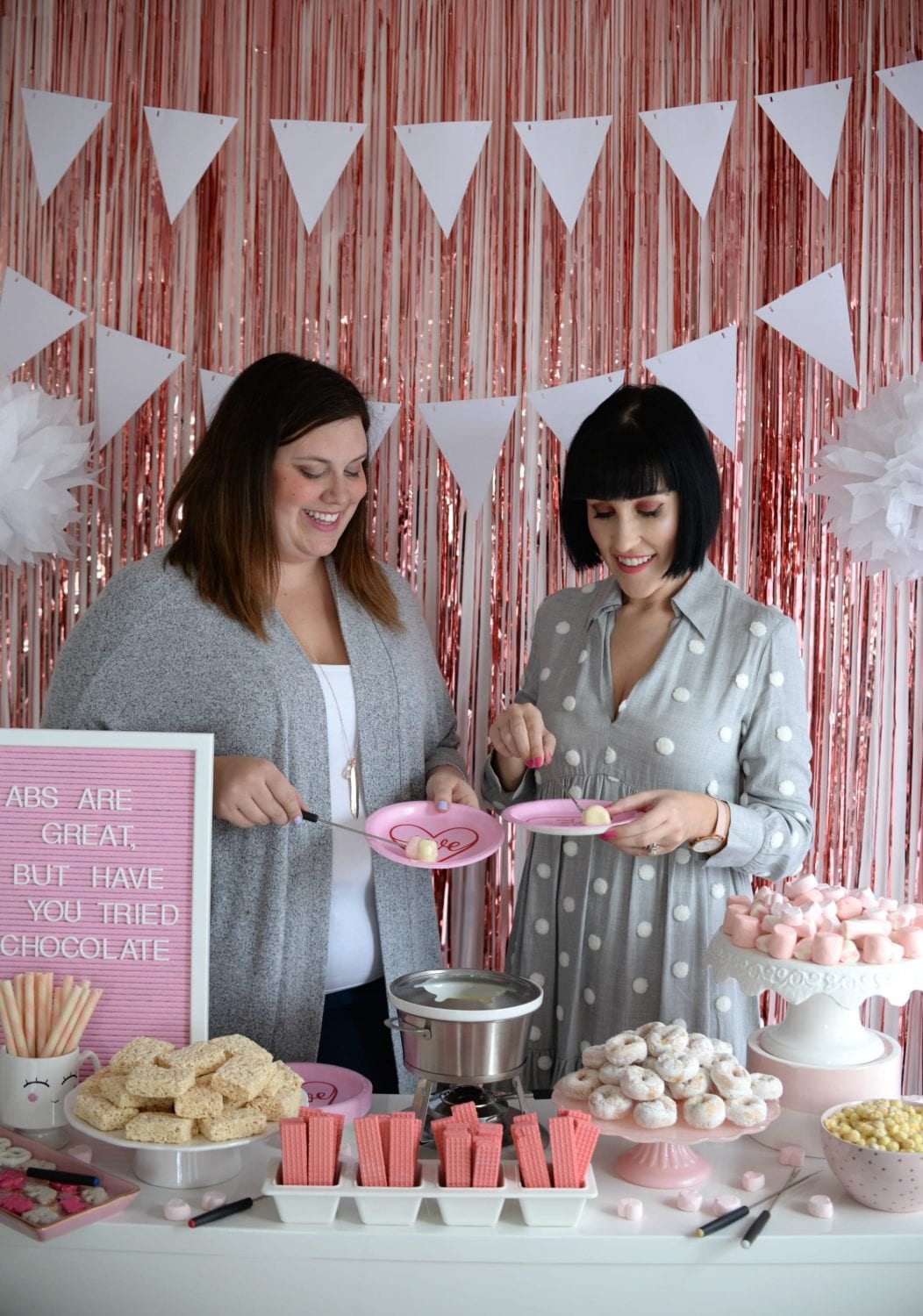 Now for the fun part, what are you going to dip into the chocolate? Devote yourself to coming up with fun things to dip into the fondue. Sure, fruits like bananas, apples, pears and strawberries are always a classic, on Galentine's Day, all healthy eating goes out the window. Instead, treat your friends with sweet treats that they may not normally indulge in on a regular basis.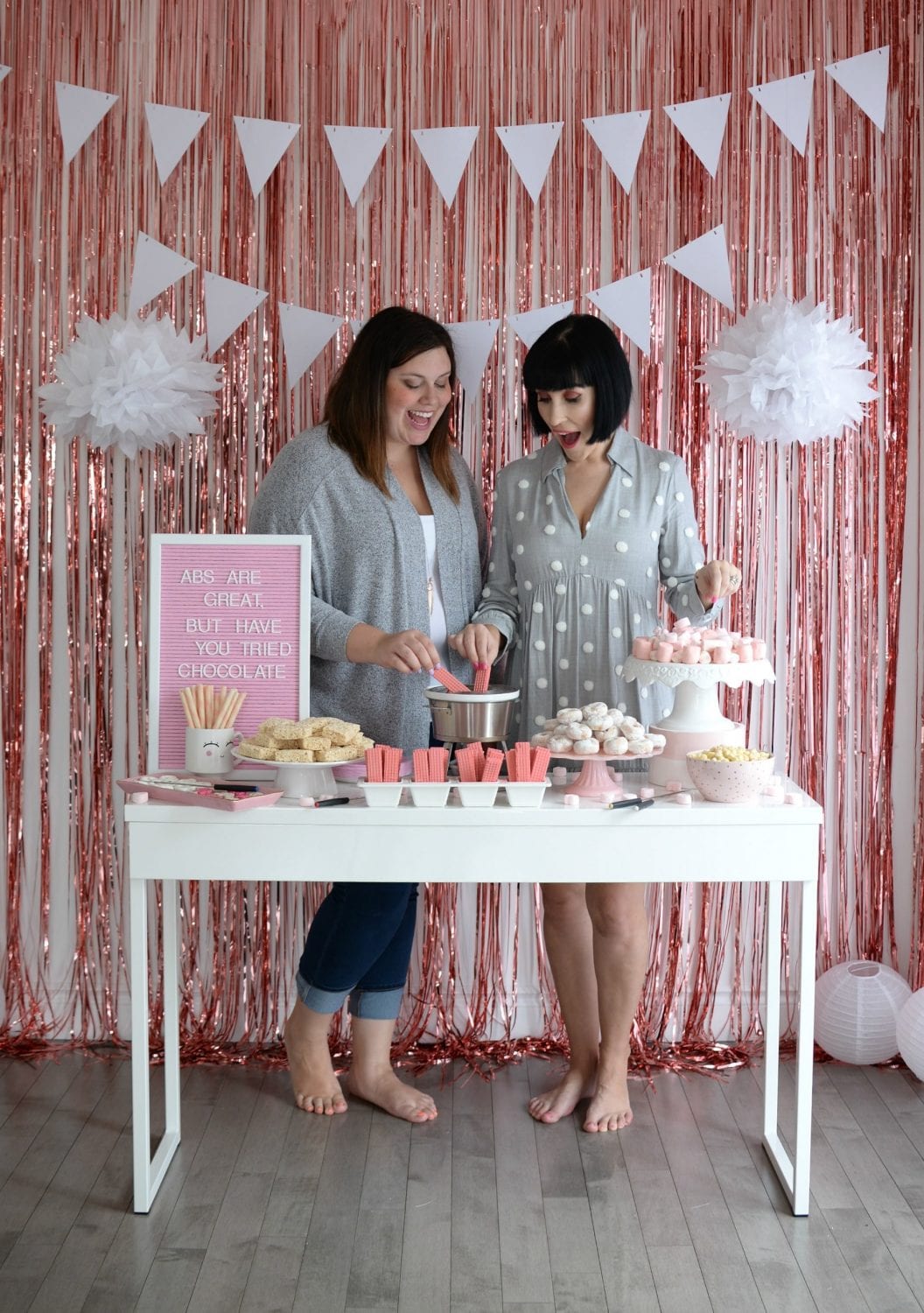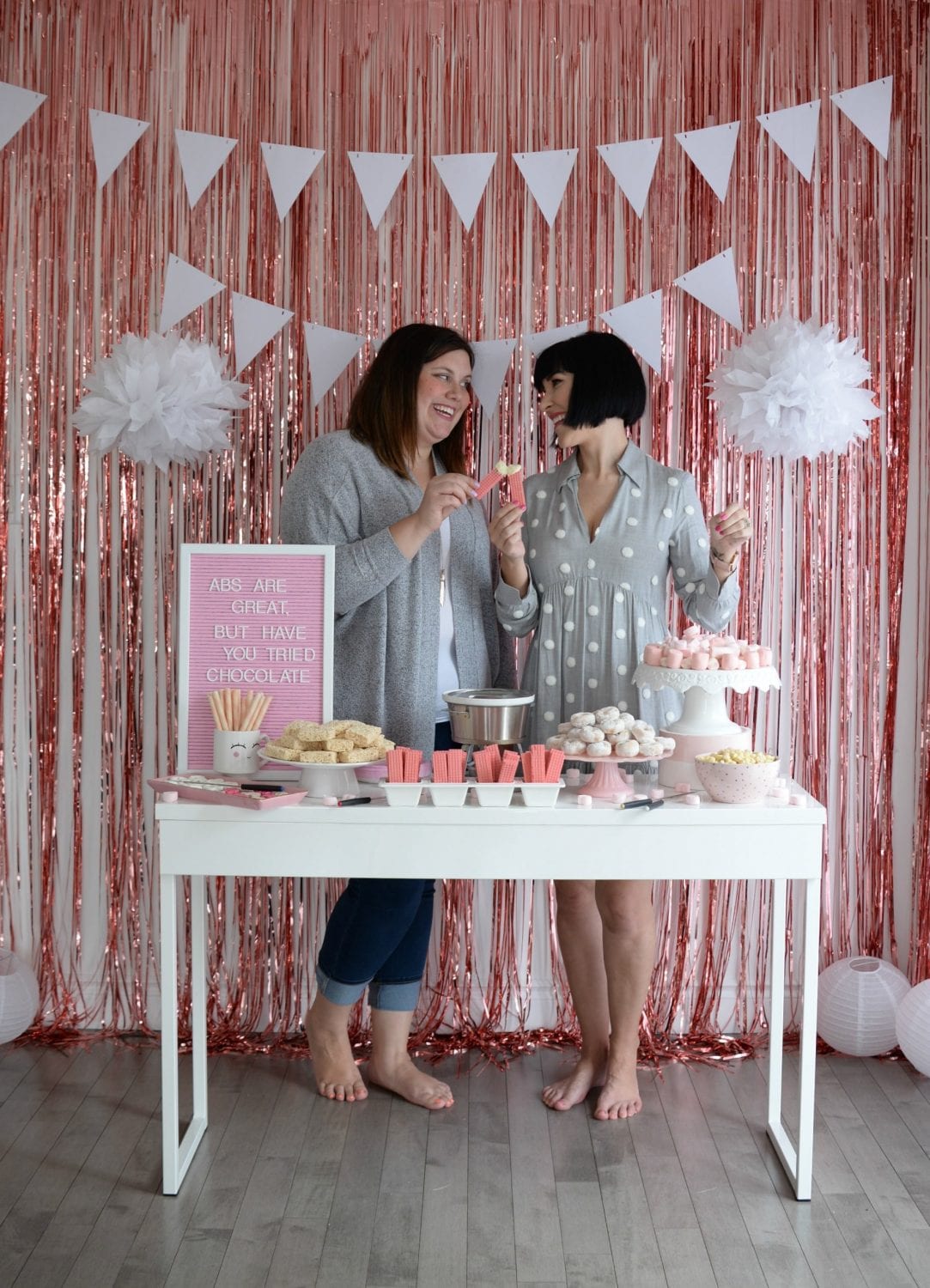 Of course, the first thing that comes to mind is Rice Krispies. These delicious treats are paired beautifully with white chocolate, you can grab them pre-bought, already cut into perfect squares and ready for serving.
Wafer cookies were a personal fave of mine growing up, so I knew I had to include them. Not only are these incredibly nostalgic, again, it plays into the pink and white theme I had going on. It was difficult to find the all-pink ones, most of the brands are beige on the outside with only pink on the inside. It was worth the hunt though.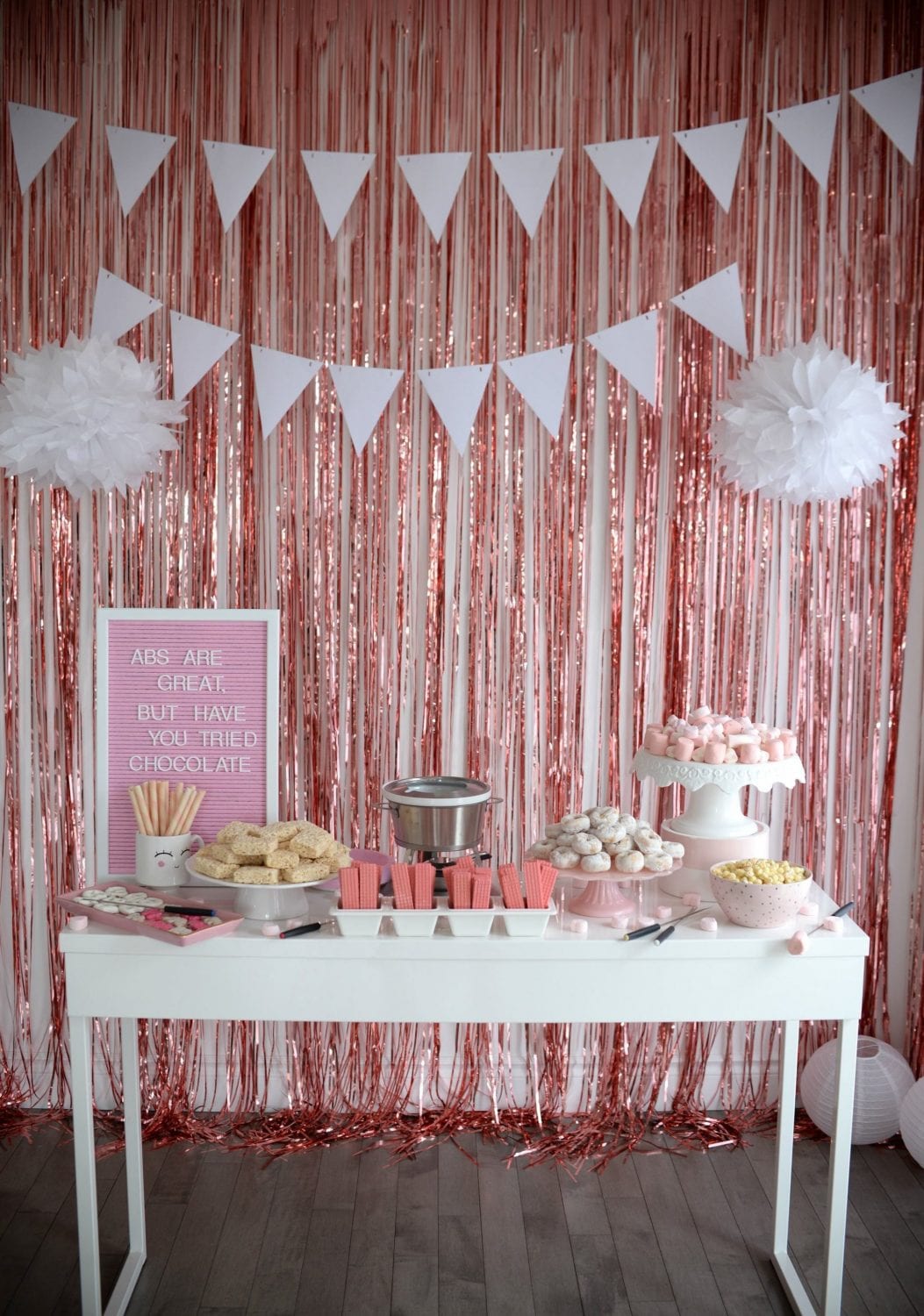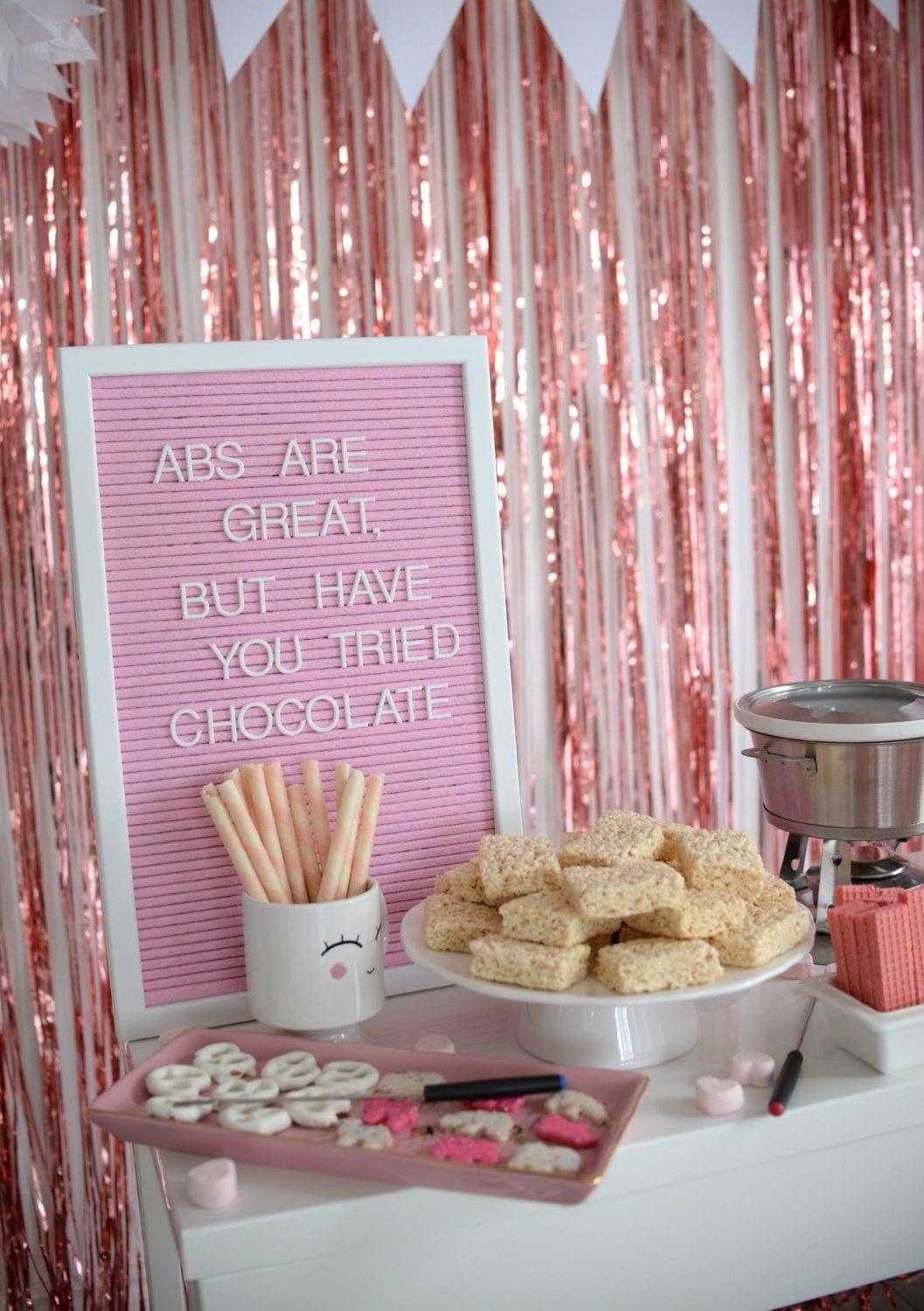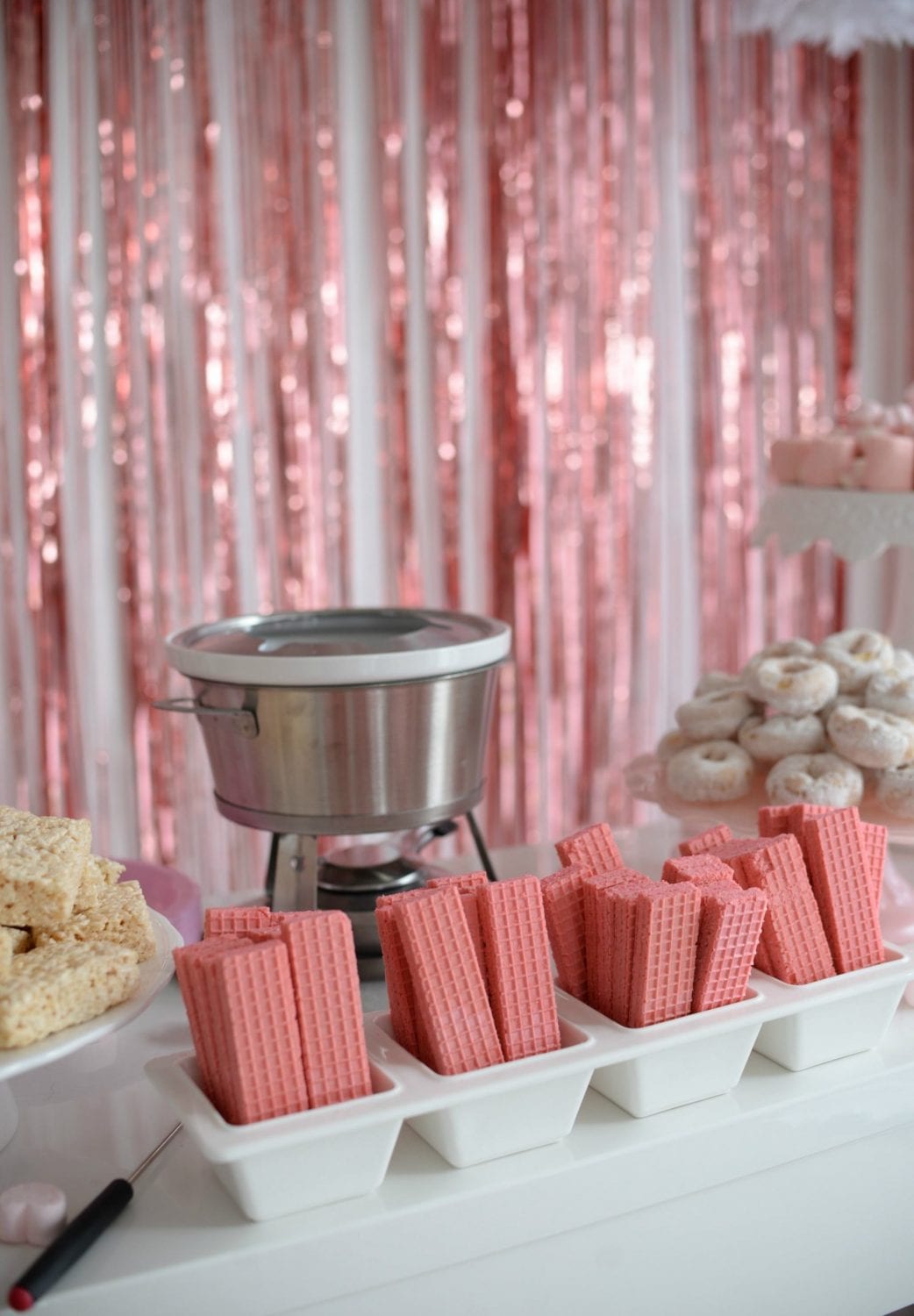 I wanted to serve cookie dough bites, but if you know anything about me, you know I'm a disaster in the kitchen and I couldn't seem to find pre-made ones in stores. The next best thing was mini Birthday cake bite-size cereal. Although it was a challenge to keep on the fondue sticks, with a little patience, they were incredibly yummy.
It's like marshmallows and chocolate go hand-in-hand. Lucky for us, Galentine's Day is also during the same month as Valentine's Day, which means…pink marshmallows. Not only do they look gorgeous on this dessert table, the strawberry flavour really brings out the flavour of the white chocolate.
I have yet to meet a girl who doesn't love donuts. These white powdered sugar ones are bite size, and perfect for dunking into the chocolate.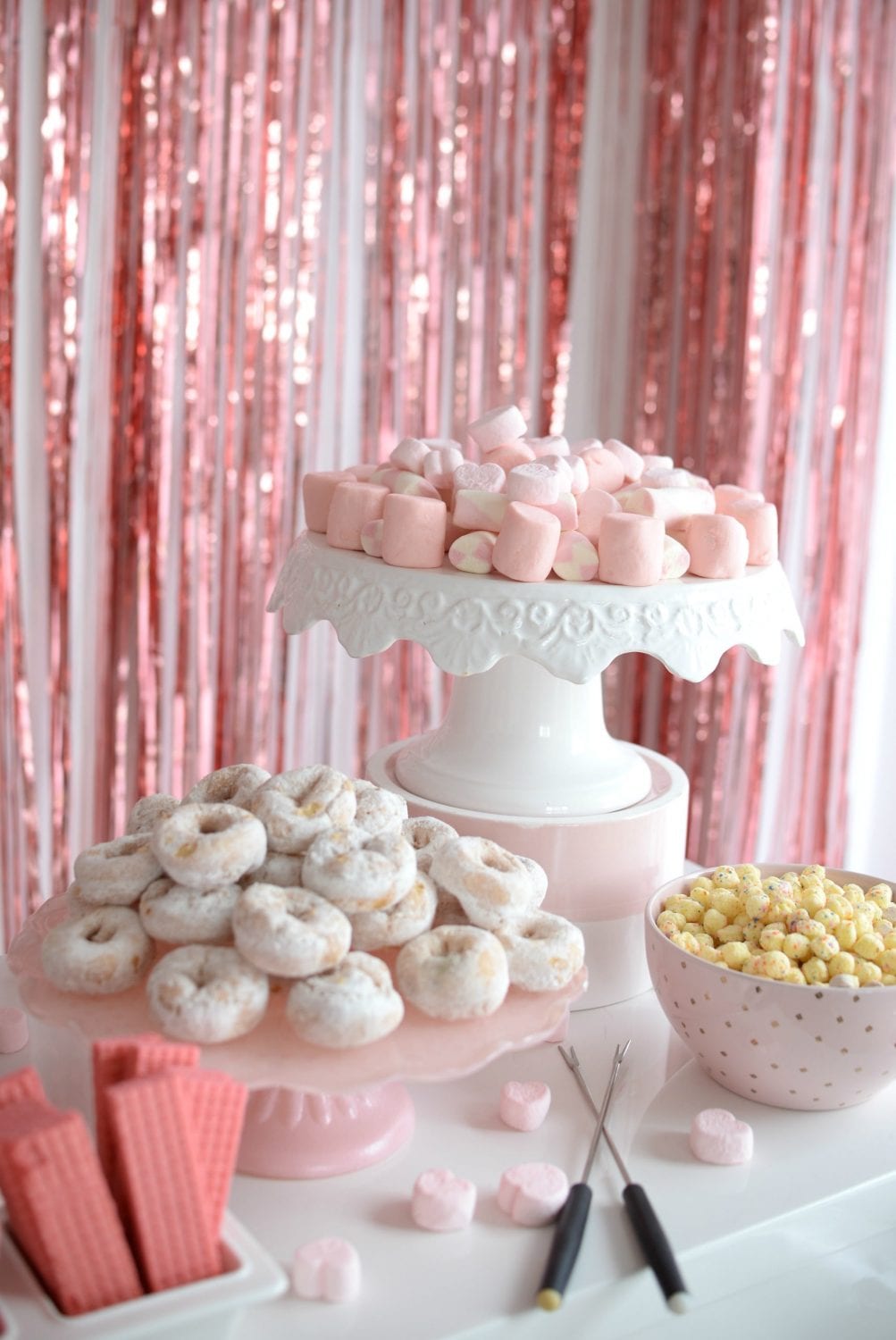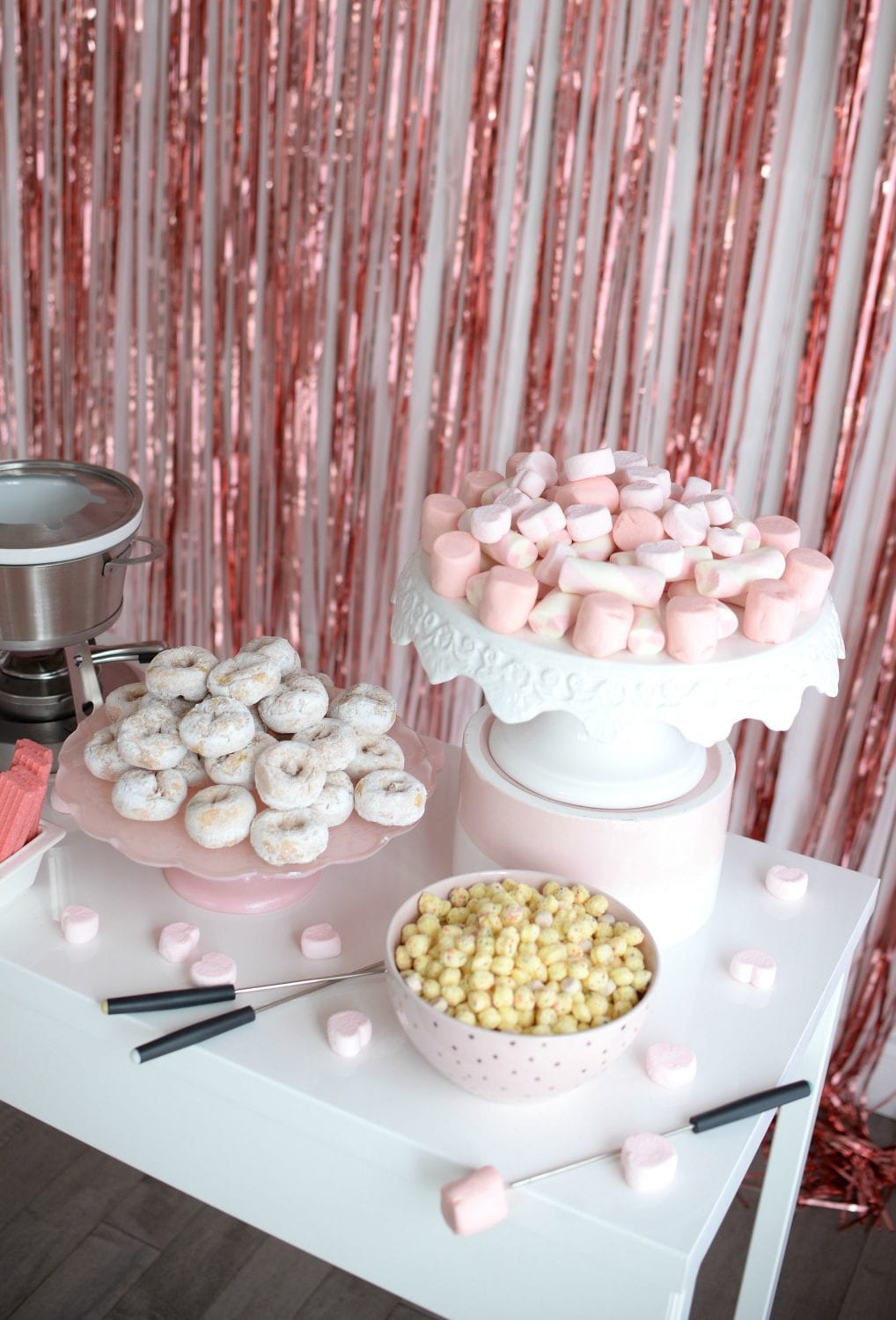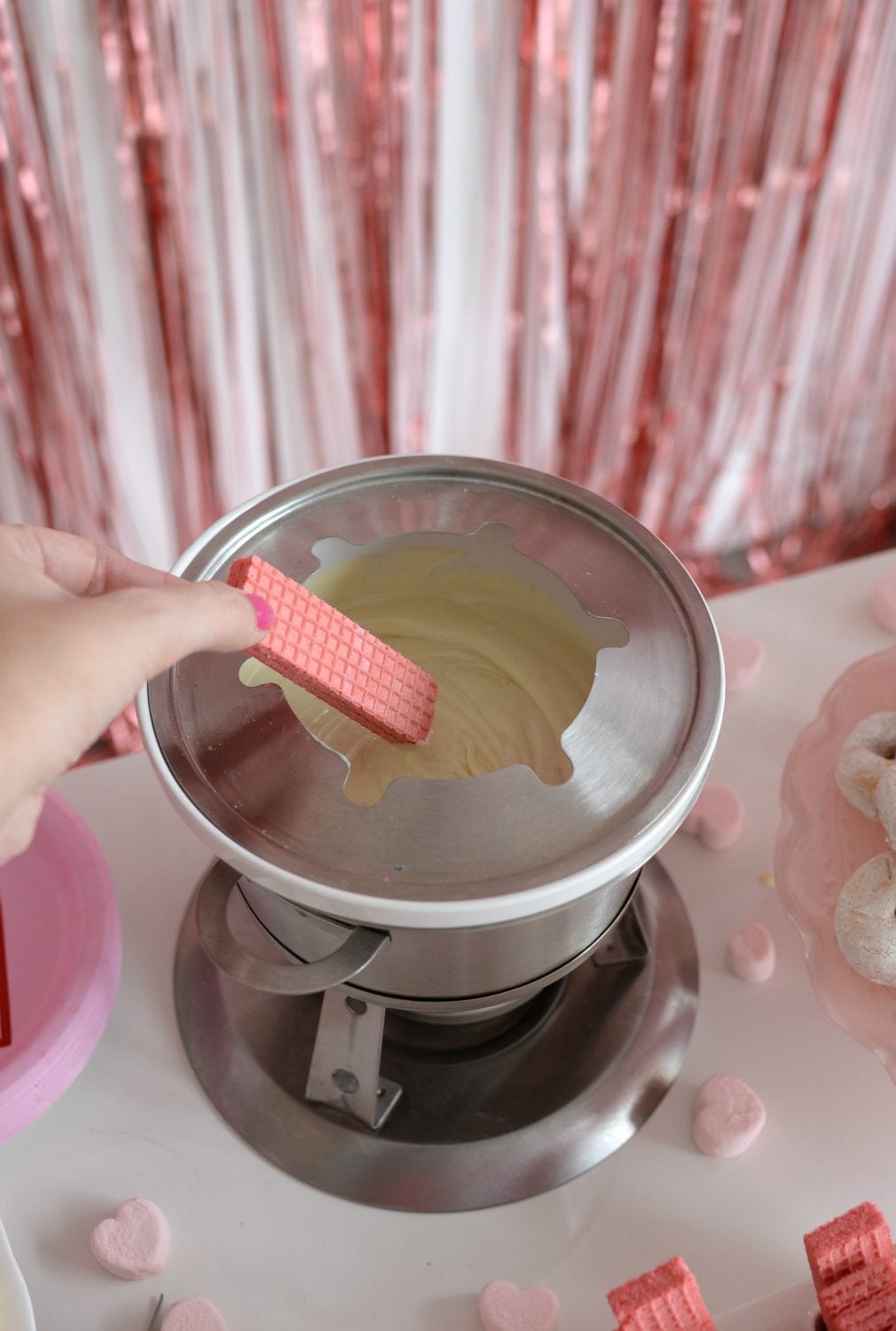 Since chocolate naturally contains "uppers" like caffeine, sugars, and phenylthalymine, its the perfect sweet treat to serve on Galentine's Day. It produces a pleasant "high" which is often equated to the feeling of being in love, and who doesnt love that feeling. For someone who isn't a baking whiz, this is an excellent alternative to baking.