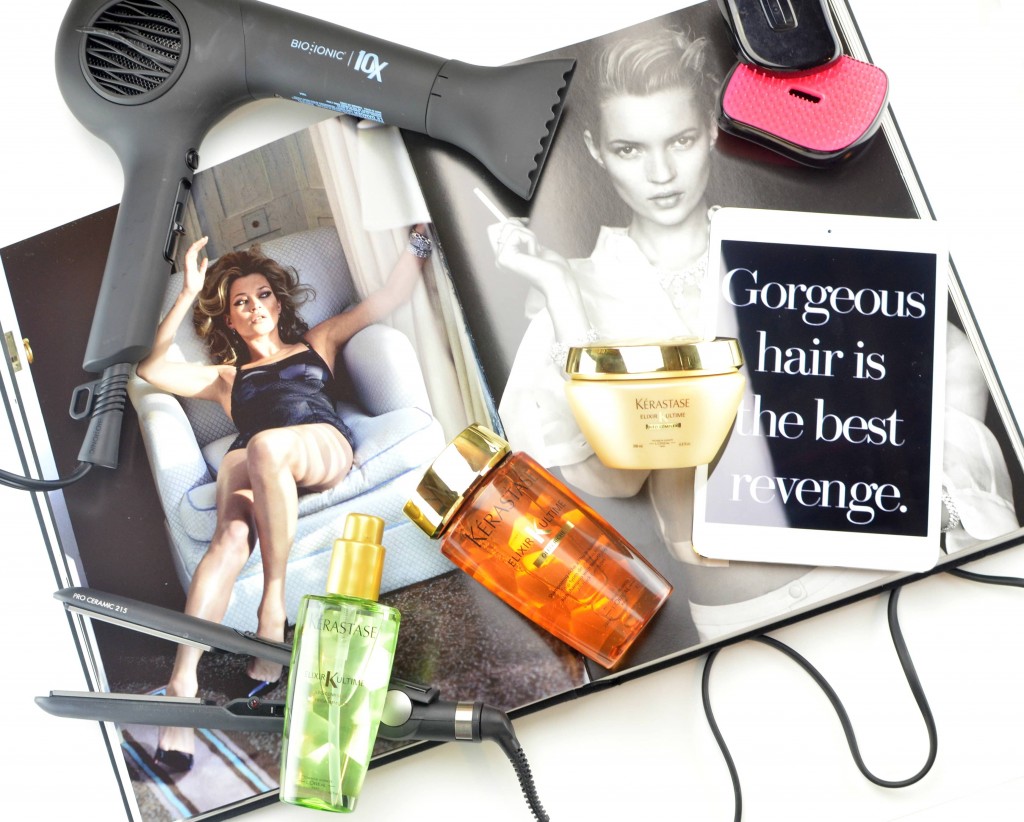 Knowing how to style your hair and which hair tool to use is only half your battle when getting ready in the morning. Achieving a stylish hairdo starts with healthy, thick, bouncy, shiny hair. It's just as important to protect your luscious locks from the sun as it is to protect your skin from the harmful UV rays and exposure to harmful elements. Applying a heat protector or trying to stay out of the sun as much as possible is your first step in gorgeous hair, as it helps to ensure your hair is never left feeling dry or straw-like. Also, avoid using too many products. Certain products are a must, like a good shampoo, conditioner, mask and oil or serum, but overusing products can leave your hair looking and feeling weighted down and greasy.

The Kerastase Elixir Ultime not only comes in a luxe gold and amber bottle, it features an opulent, rich and creamy cleanser that looks like liquid gold. It's formulated with coconut oil, coriander oil and shea butter that all help to create a velvety lather once in contact with water. It instantly penetrates deep down into the hair cuticles to provide maximum shine and smoothness. It gently, yet effectively washes away all dirt, oil and daily grime and washes clean away without any greasy or oily residue. Remember that wet hair is extremely fragile and is prone to breakage, so don't be too harsh when shampooing. Try to avoid brushing immediately after your shower, instead apply a moisturizing conditioner to help with knots and tangles. It retails for $44 for 250ml.

If at all possible, try avoiding heat styling tools on your hair at all cost. Hot flat irons, blow dryers and even curling wands only further strip your hair of its natural moisture, making it dry, brittle and frizzy. In fact, with overuse, it can actually burn your hair and slow down the growing process. If you need to use a heat tool, always remember to use a heat protectant beforehand. Hair masks are an excellent option for those days when your hair is looking a little warn and tired and is in need of some extra hydration. It's good to get into the habit of using a weekly treatment mask, even if you don't think your hair needs it. A few things you might not know about hair masks are that a lot of them can actually be used on dry hair and can even be left on overnight. If you have the extra time (and the commitment), apply your hair mask to dry hair, not only will it absorb quicker, it will penetrate deeper into the hair shaft then when applied wet.  When your hair is feeling extra dehydrated, try leaving it on while you sleep (just cover your hair with a shower cap) and rinse out in the morning. Just make sure you apply the correct mask for your hair type, your hair shouldn't look or feel greasy, nor should it feel weighted down. If this is the case, chances are you're probably using one that's too heavy for your hair type. Look for one that's suitable for all hair types like the Kerastase Elixir Ultime Masque.
Kerastase Elixir Ultime Masque features a unique oil-cataplasm system that's created with 4 precious oils, pracaxi, argan, camelia, maize, all designed to penetrate different layers of the hair fibers to restore multi-dimensional shine. You simply start by applying a small dime size amount, don't' go overboard, a little goes a long way, and then gently massage into the hair. Always concentrate on the ends, where hair is the most fragile and prone to split ends, along with any damage areas you want to correct. You can always use a wide tooth comb to help evenly distribute the mask and allow for a smoother, seamless application process. You can leave on for 5 to 15 minutes or like we talked about above, leave on overnight to really nourish, strengthen and replenish moisture loss. Remember to shampoo after your treatment in order to make sure you don't get any product build-up. The oils not only help to add shine to dull hair, it also helps to smooth and control frizz for a smoother surface and finish. It also seems to help promote enhanced colour radiance and prolong the wear time of my colour. Hair is left outstandingly soft, smooth and with dazzling shine that lasts for days and days. It retails for $66 for 200ml.

Did you know that a brush is a free way to increase shine and luster to your hair? It helps to spread the natural oils throughout the length of your hair without the use of any products. Try to avoid plastic brushes as they can cause increased breakage, instead invest in a natural bristle brush and don't overdo it. If you're looking for that extra shine, a luxe hair oil might do the trick. Kerastase Elixir Ultime Oleo-Complexe Moringa Immortel Replenishing and Beautifying Scented Oil instantly helps to replenish, condition and hydrate hair and can be used on both wet and dry hair. It comes in a translucent greenish bottle, with a matte golden cap and an easy to use pump-style nozzle. It's infused with a sensual citrus woody aroma to not only add suppleness, lustre and shine back into each strand it helps to keep it looking and smelly fresh and clean. It features an incredibly lightweight, transparent, almost watery texture that spreads evenly and easily to the hair. A single pump is more than enough to cover from mid-shaft to roots. It instantly goes to work control frizz, taming fly-a-ways and gives the appearance of softer, shinier, healthier hair. When used after a blowout it will help to create a sleek, gorgeous finish and when used daily, overtime it will help to prevent and calm split-ends. You can use it as a post-wash leave-in serum for those days when your hair is feeling extra dry and damaged or use it as a pre-wash, almost like a deep conditioner to help soft and condition the hair. This makes it more manageable and tangle-free (even before brushing). It also doubles as a heat protector on those day when a hair dryer and flat iron is a must. This is an excellent serum that doesn't weigh down your hair nor does it leave it looking or feeling greasy.