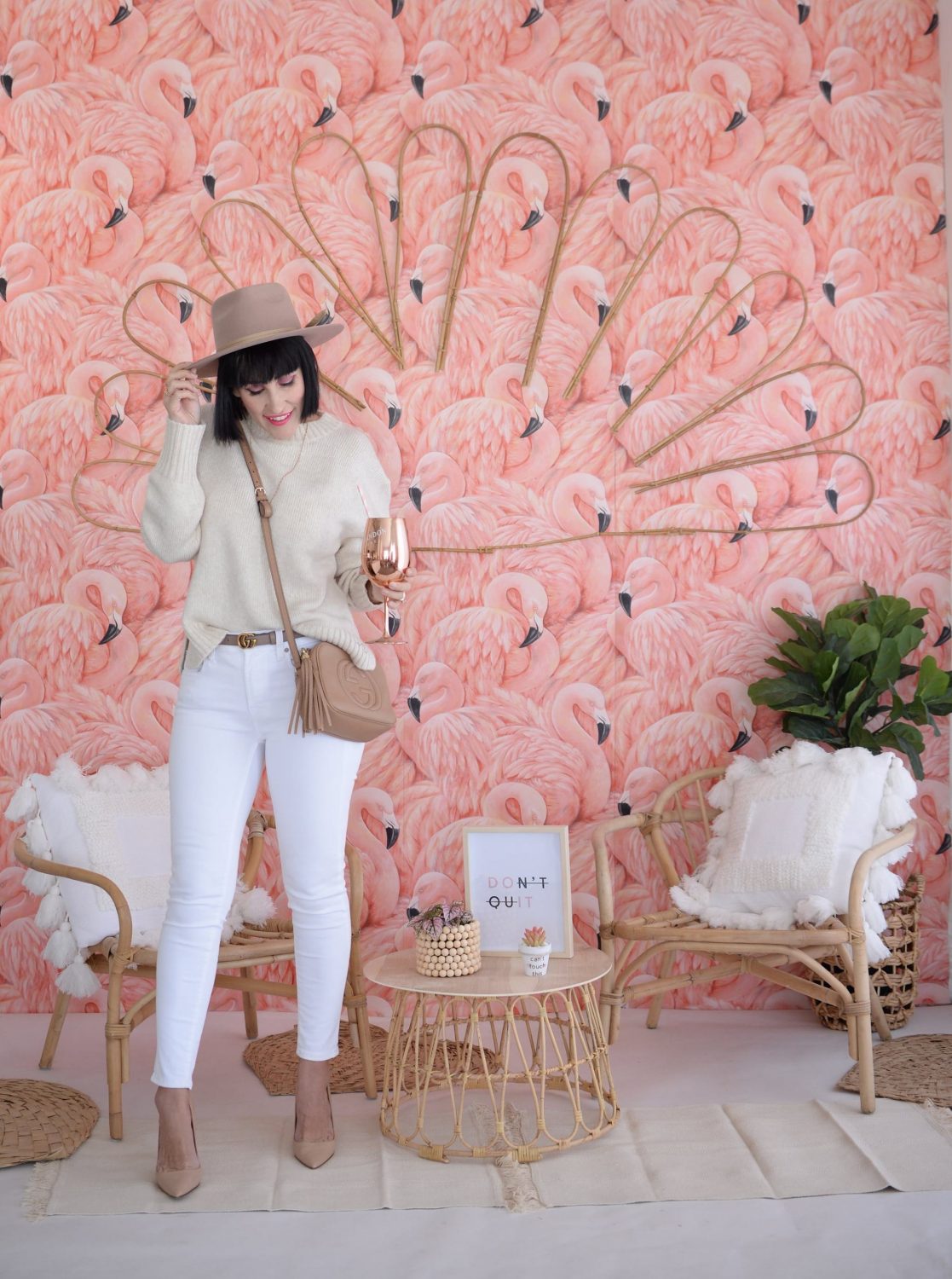 How To Find that Perfect Pair of Winter White Jeans
I know we're in the dead of winter, but that doesn't mean you can't rock white jeans. They have quickly become a wardrobe staple, yet its still a little intimidating to find that perfect pair. I know many think white can only be styled in the spring and summer, but I'm hear to tell you to forget that silly "rule". They're fashionable, versatile, and a must-have in your closet. You can wear them to the office, out on a date (whenever we get out of lockdown) or even casual weekend events. The key is to find that perfect pair. Pay close attention to quality, cut and style. You also want to find ones that fit your unique body type. Today I'm sharing my 5 tips on finding the perfect pair of white winter jeans, that can be worn 365 days of the year.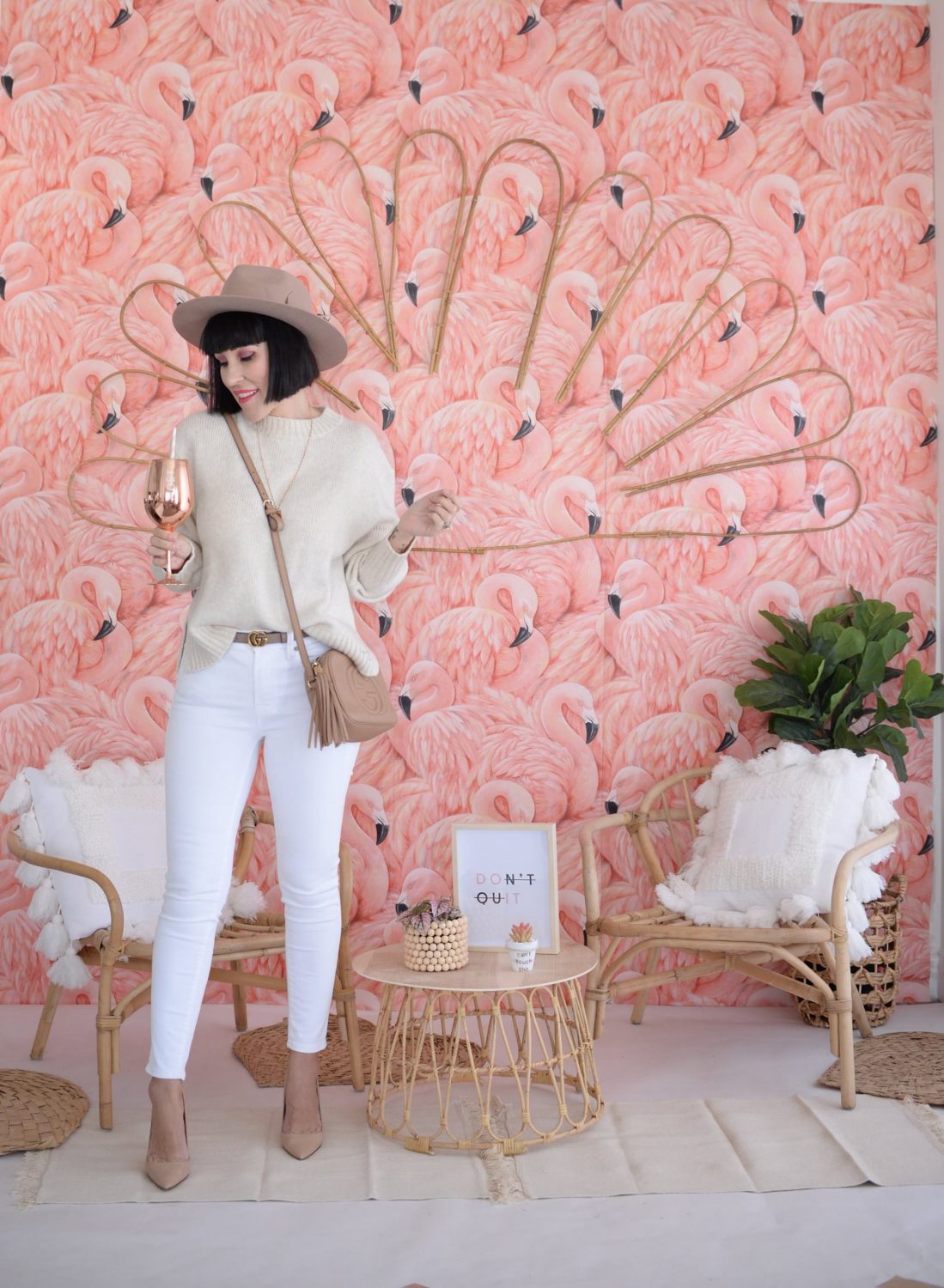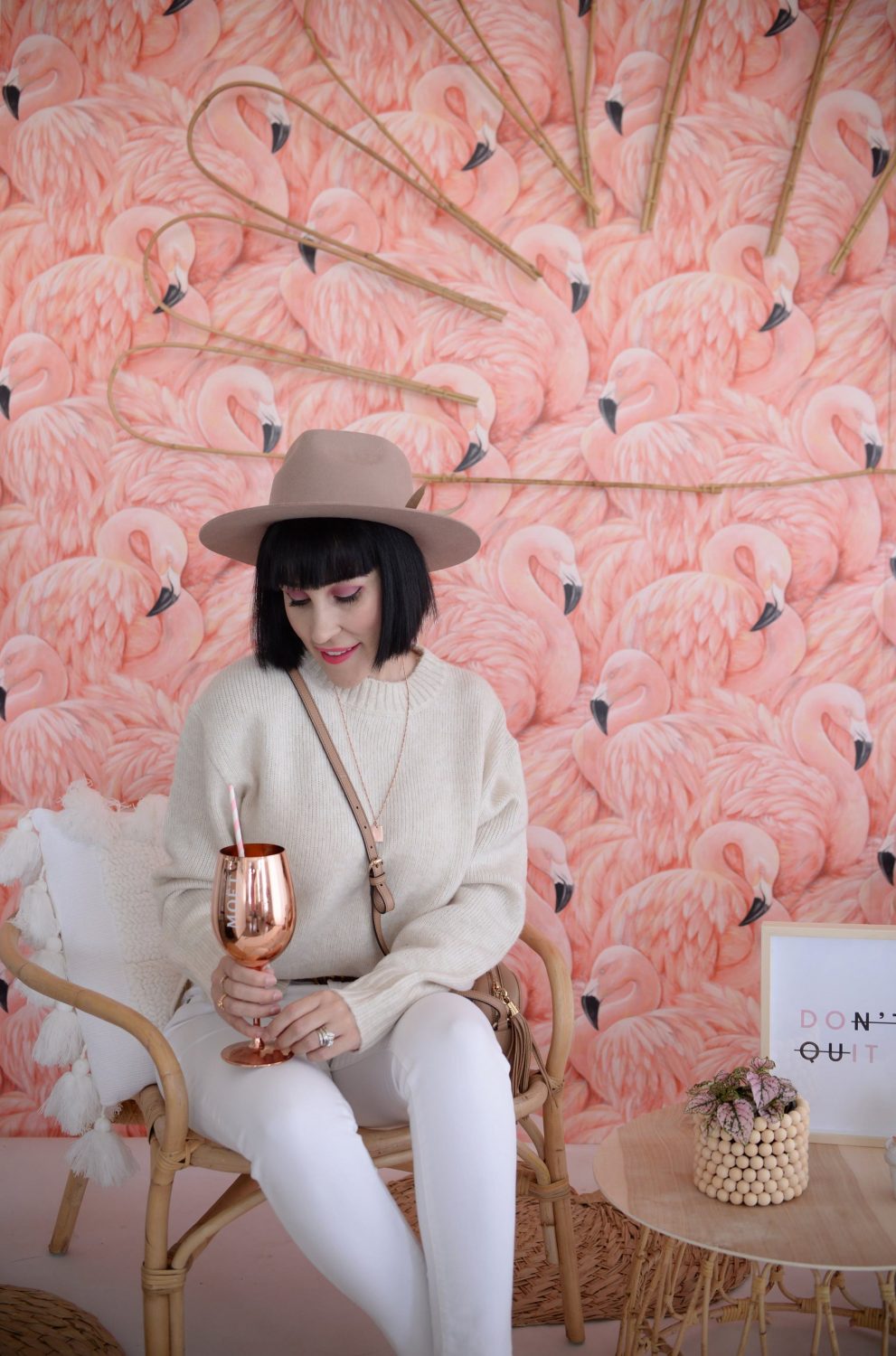 Probably the most important tip, is to make sure its not "see-through". This is the first "rule" when it comes to shopping for anything that's white. You need to find a slightly thicker material, otherwise you run the risk of it looking cheap. White jeans should be chic, not revealing your cheeks. Not all denim is made from the highest fabric, therefore it's incredibly important that you don't neglect the rear. This is usually where it's the most sheer. Stretchy denim, which we all love, is often made of thinner cotton, leaving you open to VPL (aka visible panty lines). If you don't opt for thicker white denim, because you love the comfortability of stretchy jeans, make sure you have the correct under garments on, i.e. nude underwear.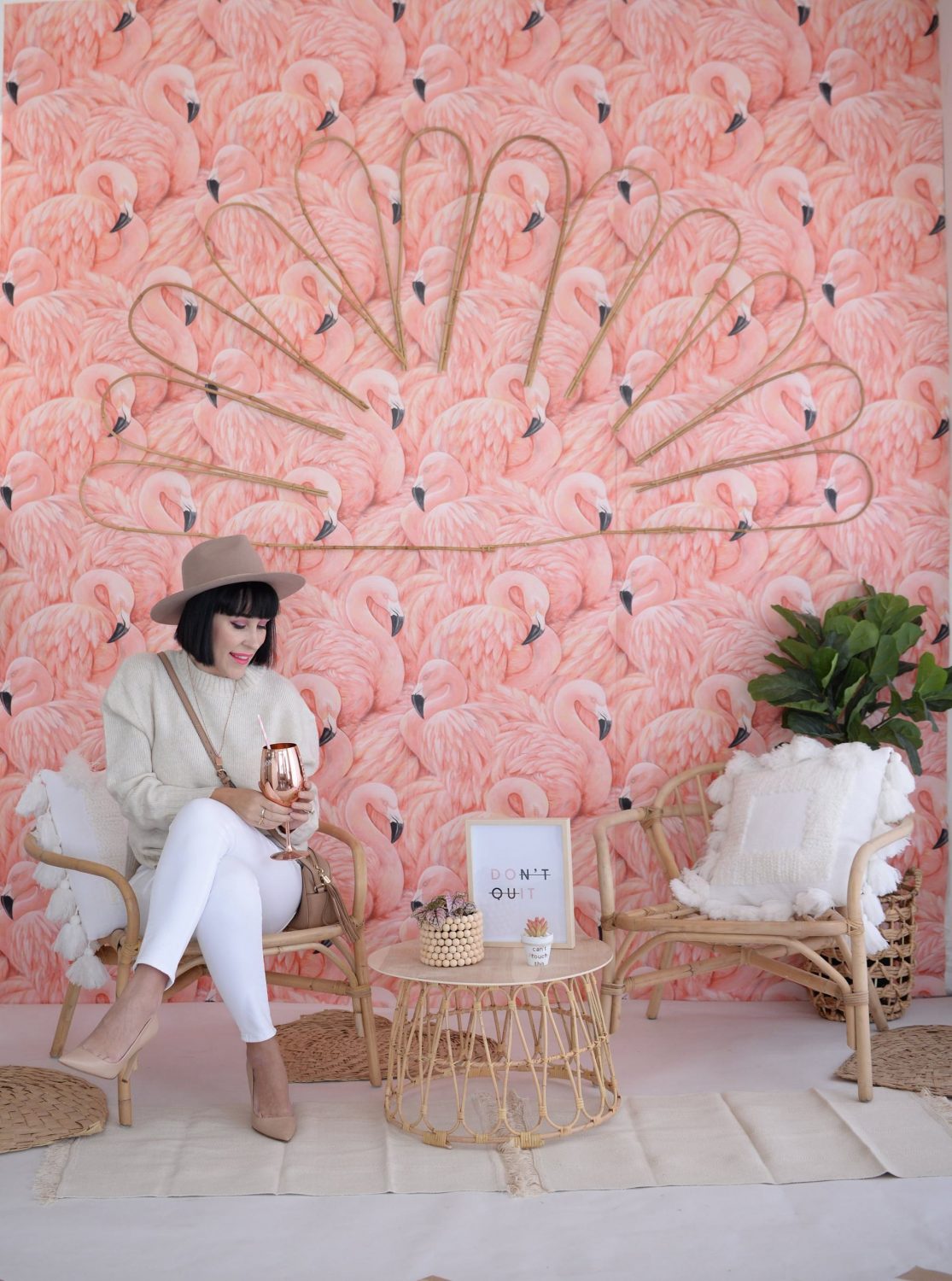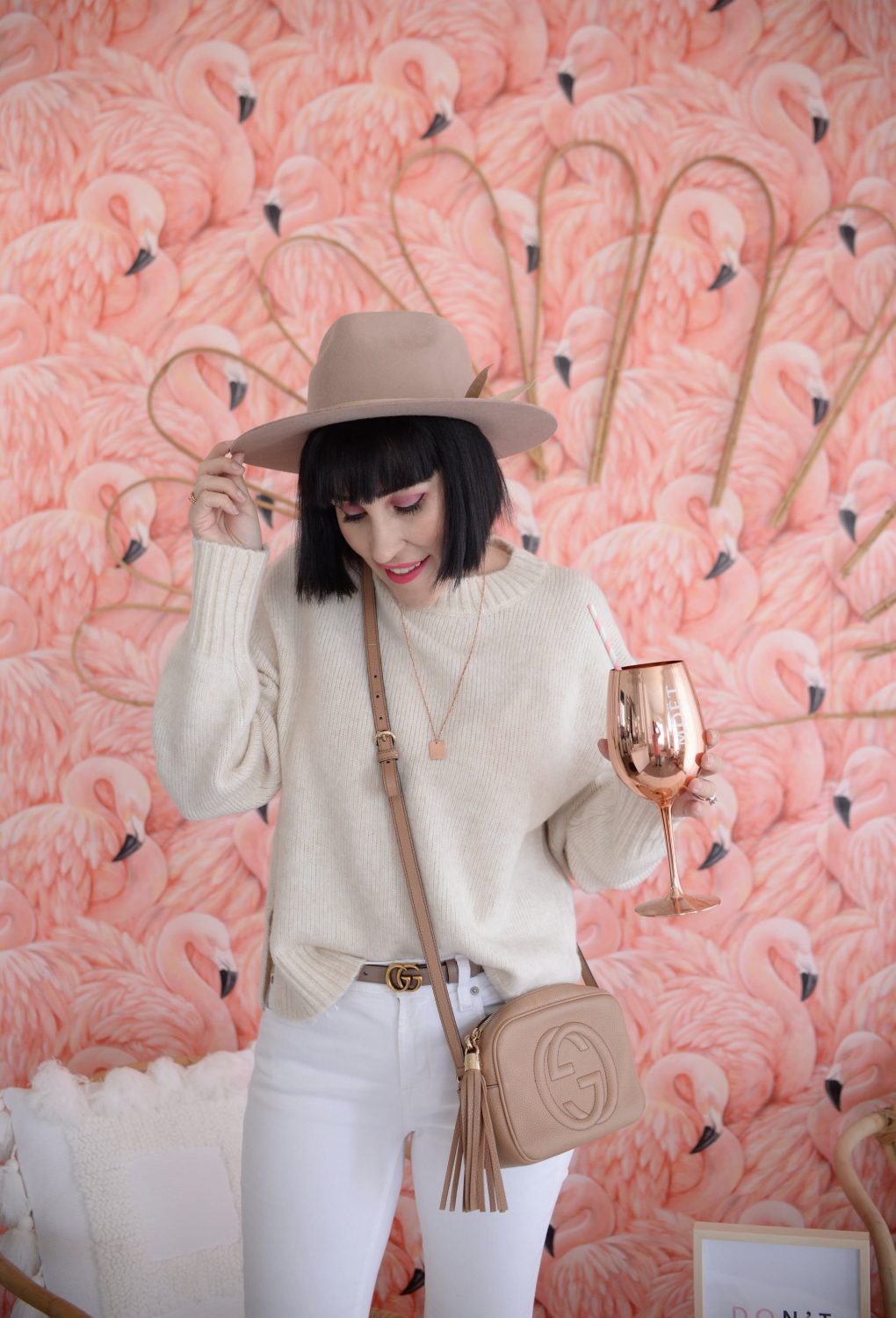 Something else to keep in mind, the fit should be just as important as the fabric. White is notorious for being unforgiving. If the jeans are too tight, it can highlight every lump and bump. On the opposite side, if you opt for a baggy pair, in hopes of it camouflaging your least favourite areas, it can end up leaving you looking frumpy, shapeless and larger than you really are. It's essential that you find a pair of white jeans that fit your body perfectly. Make sure there's no gaps at the waist, not too tight on the hips, and not too snug on the thighs. You're looking for a fit that hugs all the right curves and shows off your silhouette, without looking like your squeezed into them.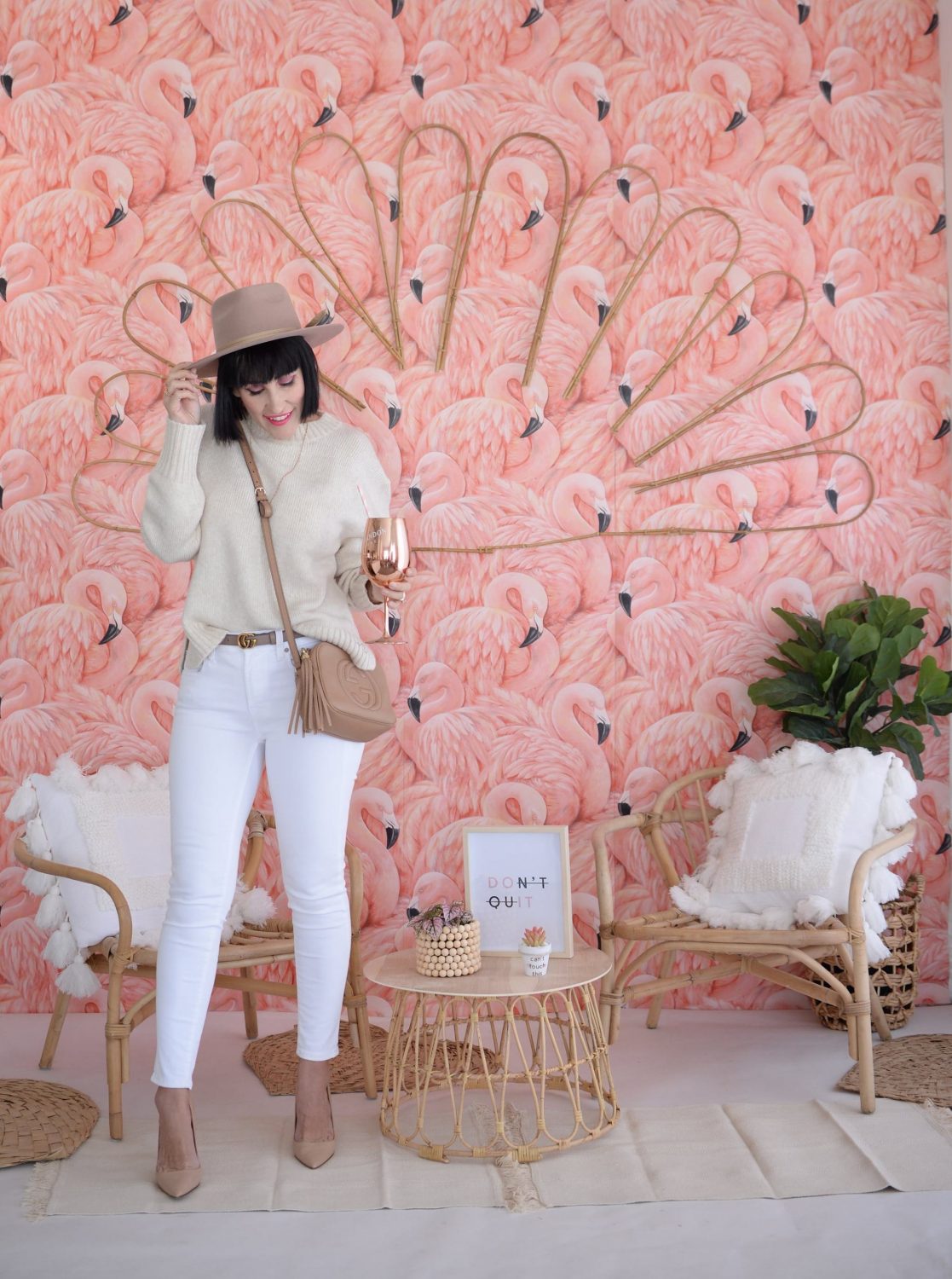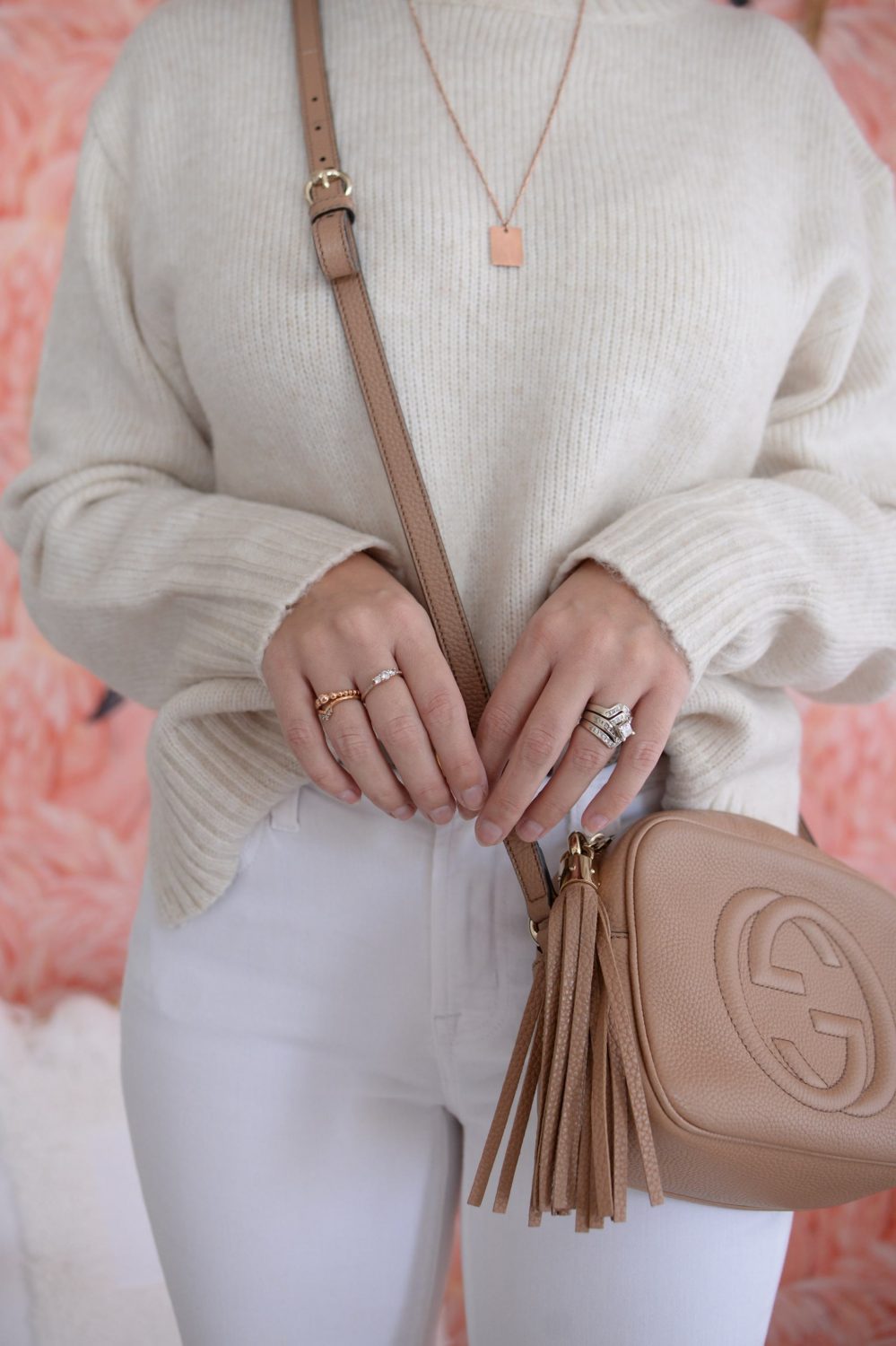 I promise you, once you find the perfect fit and quality, white jeans will quickly be replacing some of your favourite dark wash jeans. Treat your new white jeans the same way you would your all your other jeans. It can be paired with pretty much everything in your closet. My little trick when I want to look taller and slimmer is to opt for a monochromatic white look. A head-to-toe all-white outfit is surprisingly easy to pull off. It looks amazing on just about everyone, and in the winter, you can have fun with textures and different fabrics. You can layer your white jeans with other washes of denim too. White jeans look amazing with bold pops of colour, soft pastels, or even contrasting colours like black, grey and navy.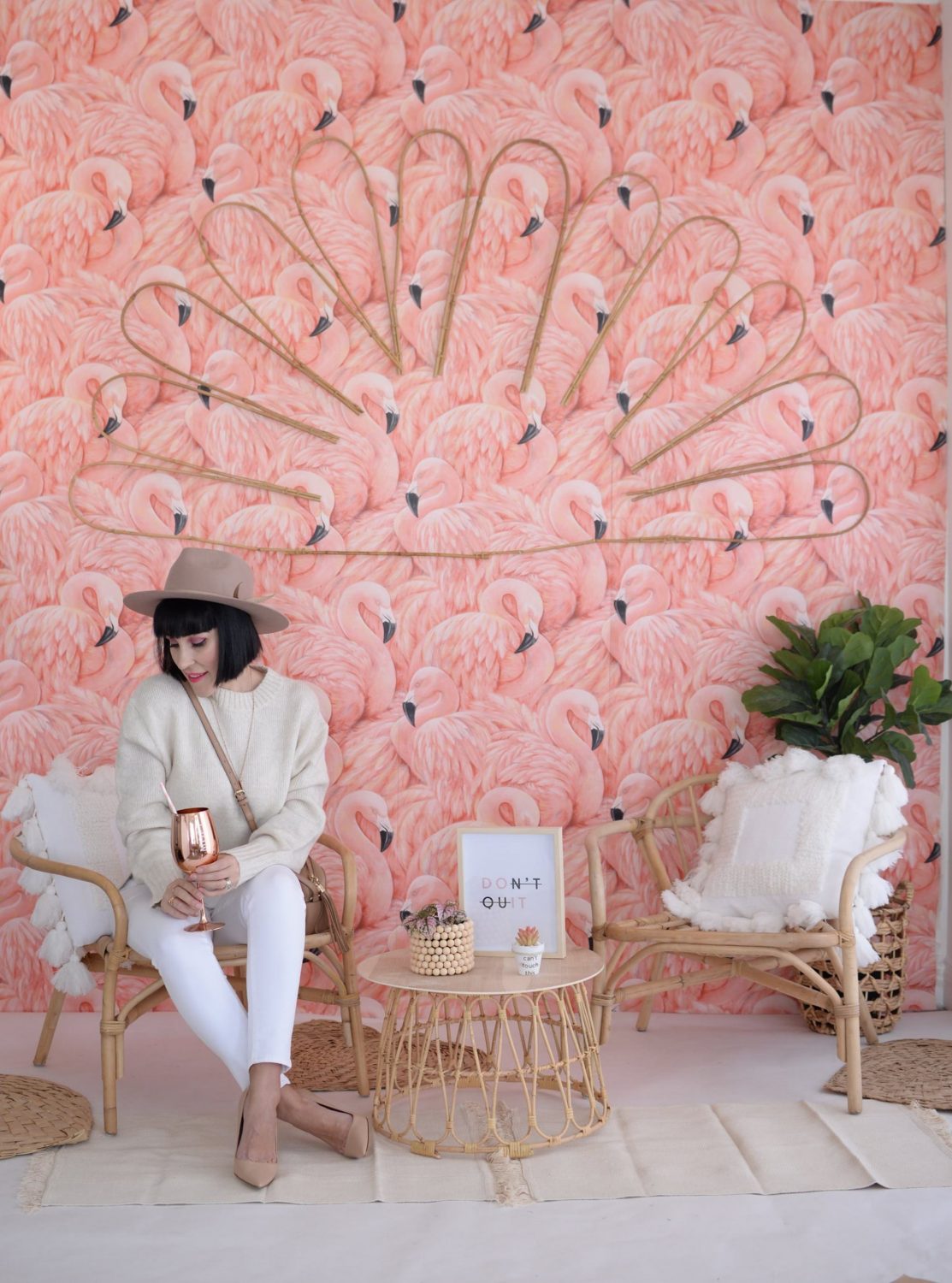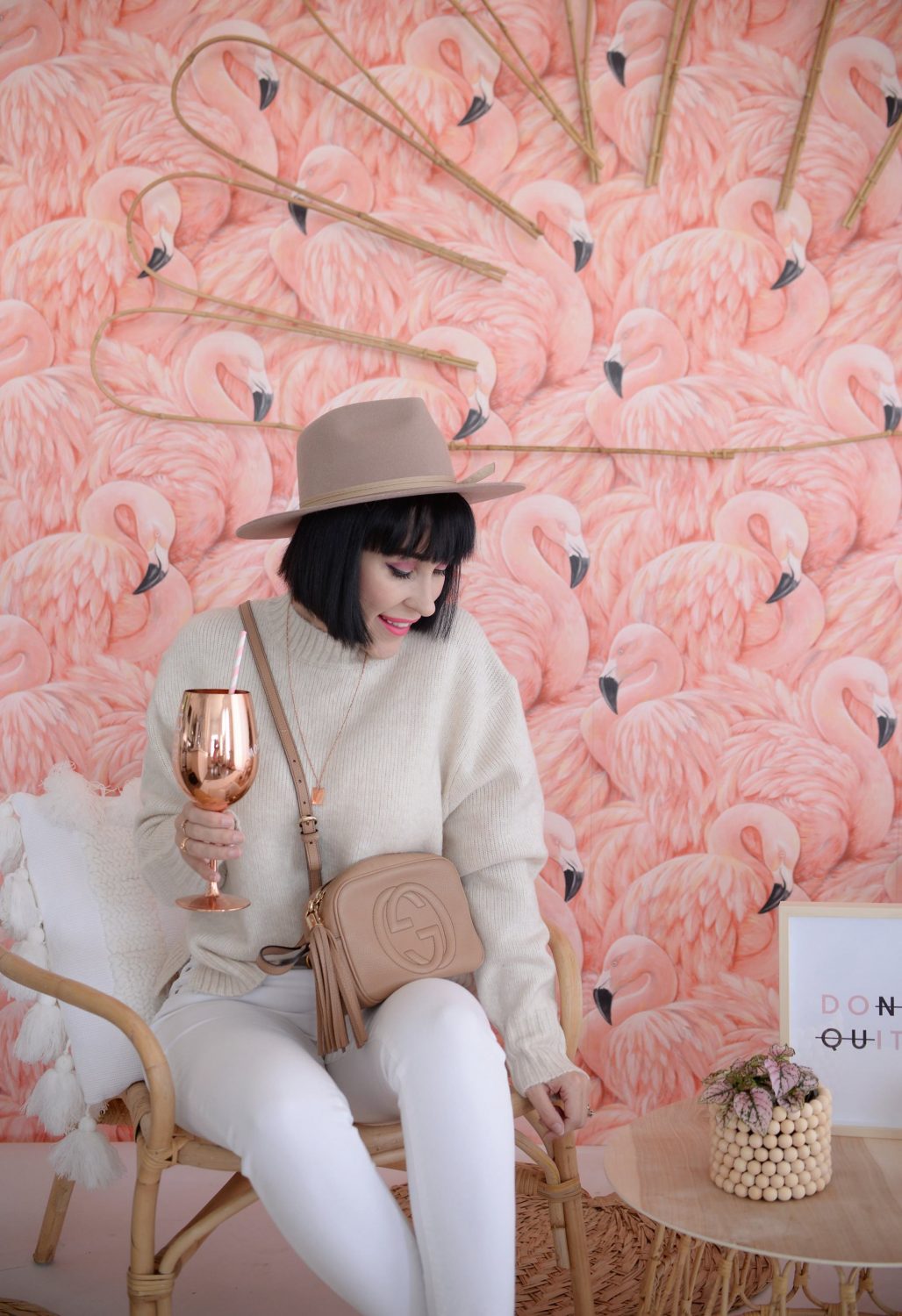 As mentioned above, white jeans can be paired with pretty much anything, but you need to pay attention to your footwear. Darker shoes can sometimes create the illusion of shorter, stumpier legs, especially if you're on the petite side. Neutral coloured shoes will help elongate the legs and create long, lean lines. Of course, you can also wear heels for added height, just avoid wearing white shoes as it can look a bit too "nursey" unless you're going for that monochromatic look.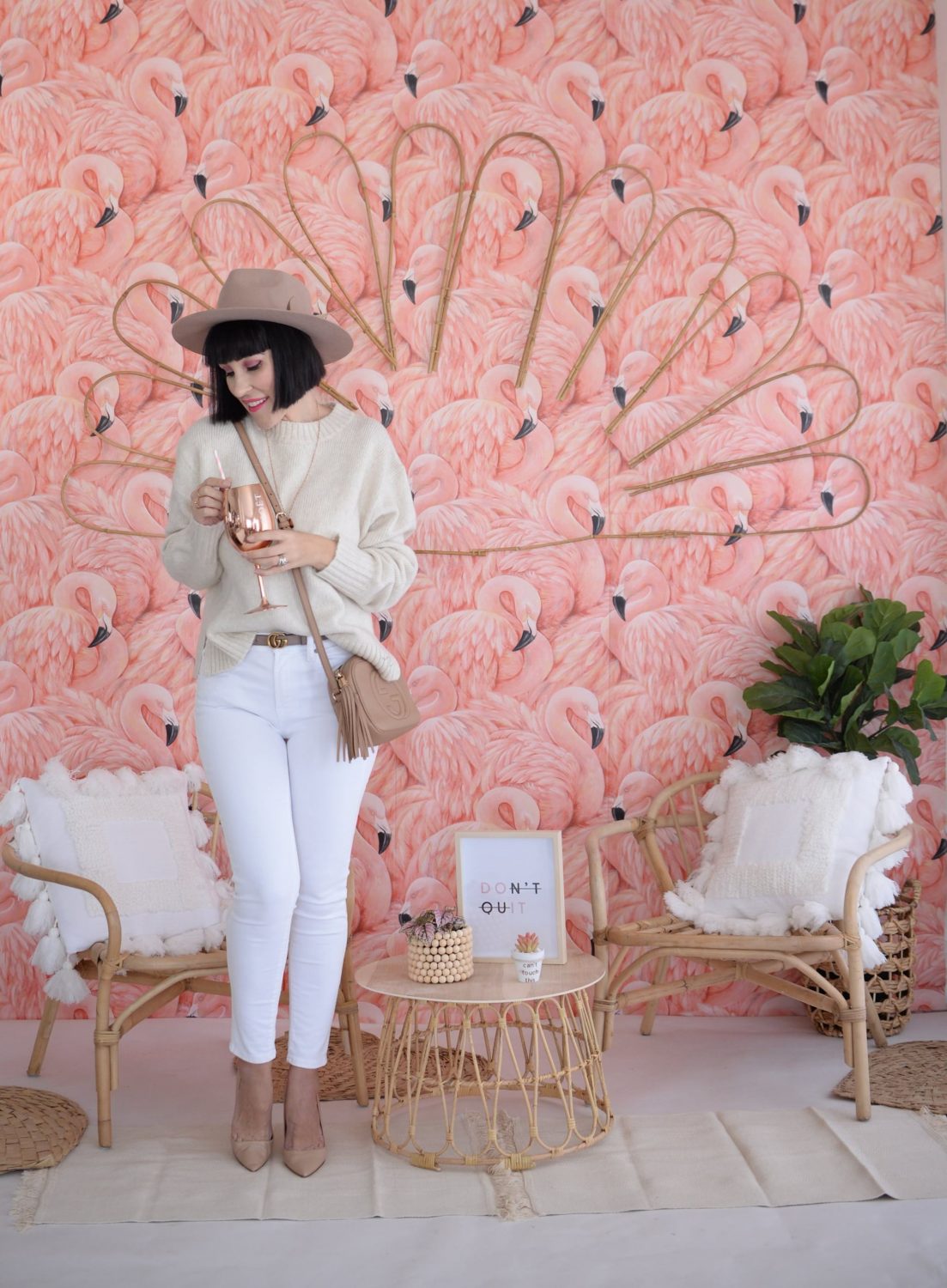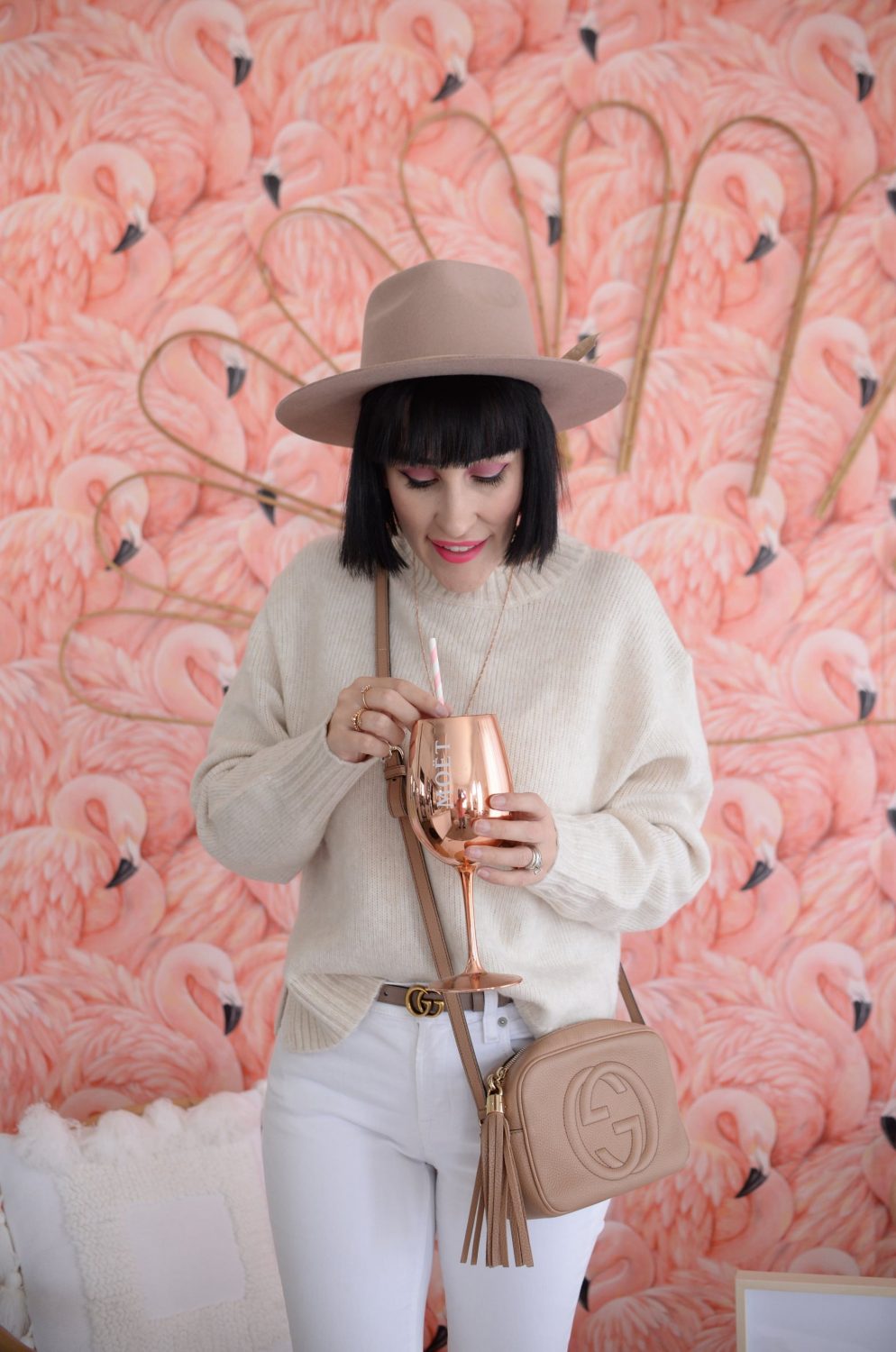 Finally, make sure your white jeans stay fresh, crisp and chic. Nothing spoils a look quicker than dingy, yellowish jeans. No matter how well you care for your white jeans, they will eventually become worn. Just like your classic black jeans fade, white will invariably become less than white. Keep your white denim looking new with bleach or OxiClean. Even with TLC, it's a smart idea to replace your white jeans at least once a year.
What I Wore- Sweater- H&M, Necklace- c/o Park & Buzz, Rings- c/o Pandora, Handbag- Gucci, Belt- Gucci, Lack of Color Hat from Needs/Wants, Jeans- The Gap, Shoes- Charles David
Fun flamingo wallpaper is from Wallpaper Direct