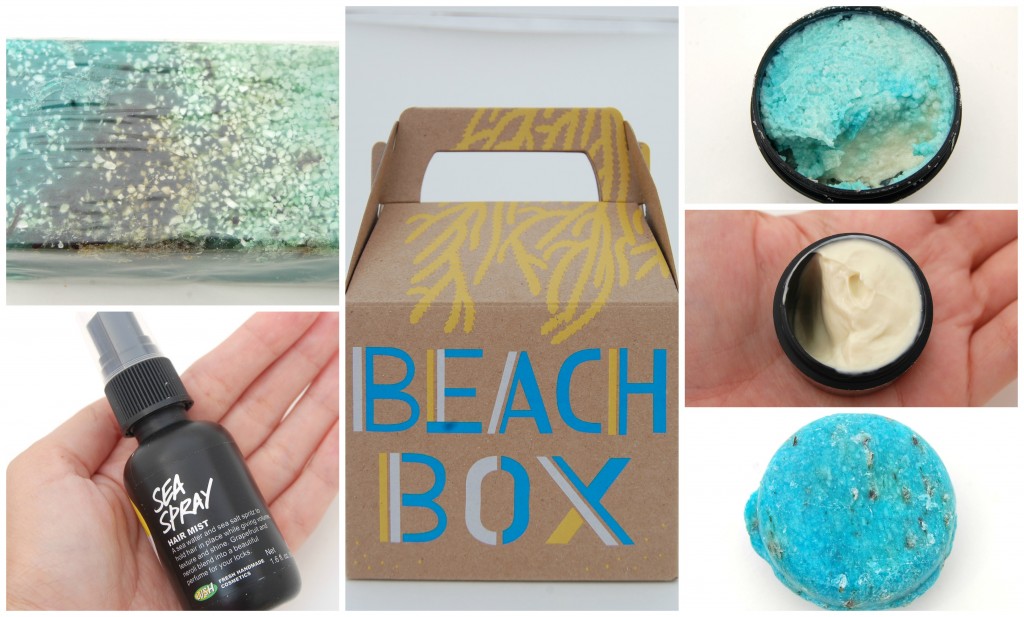 What better way to kick off summer than with some of the Lush top selling products of all time! Every time I'm in the mall I can't help but stop into Lush, maybe it's the scent that draws me in, the cute window displays that are constantly changing or the wonderful theme packages they always have? Lush has done it again this season and you're all going to want to run and pick up this limited edition "Beach Box" filled with the Lush's most popular beach-inspired products, I promise.
We all like to get away, my favourite destination would have to be the island, it's relax, nothing but sun, warm weather, but most of all I love the way my skin feels after getting out of the ocean. Luckily for us, Lush only uses the freshest ingredients straight from the sea in their products, like brightening sea salt, mineral-rich sea water and softening seaweed, so even if you're not traveling this summer you can still get super smooth skin and silky hair.
limited edition Beach Box includes Ocean Salt Face & Body Scrub (70g), Seanik Shampoo Bar (15g), Sea Vegetable Soap (100g), Sea Spray Hair Mist (50ml) and Dream Cream Lotion(15g) all packaged in a cute cardboard box with a list of each product on the inside, with directions on how to use each product and the ingredients in each. This Beach Box is only available until July 19,2013 and retails for $29.95.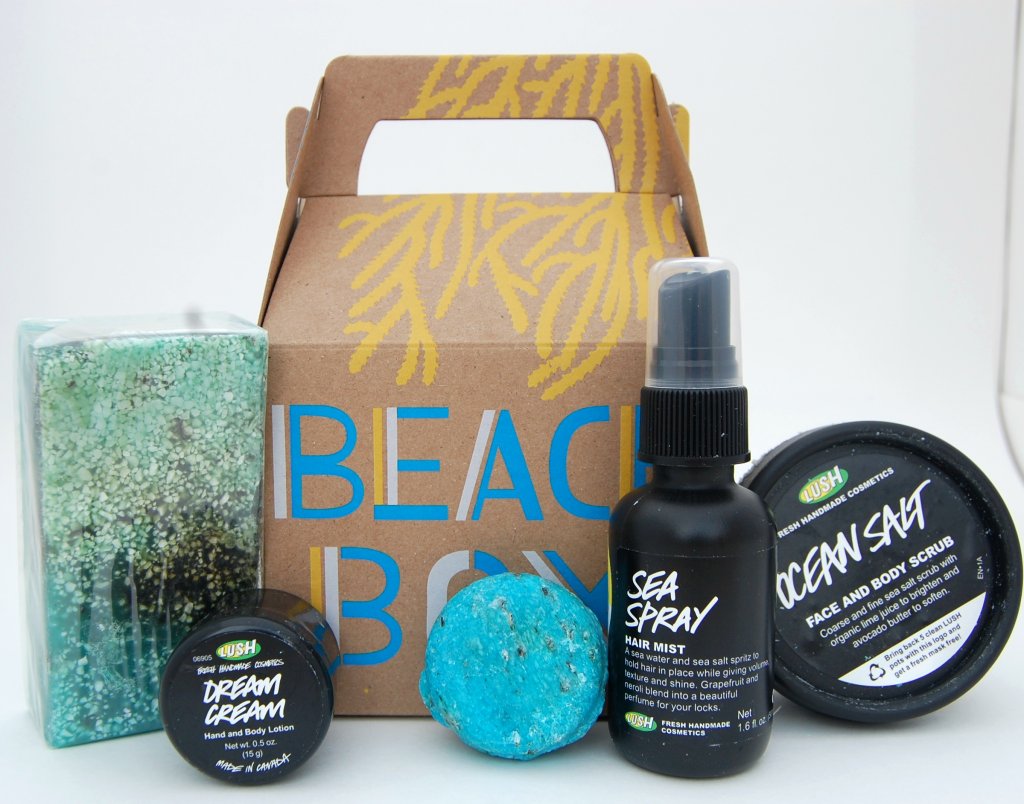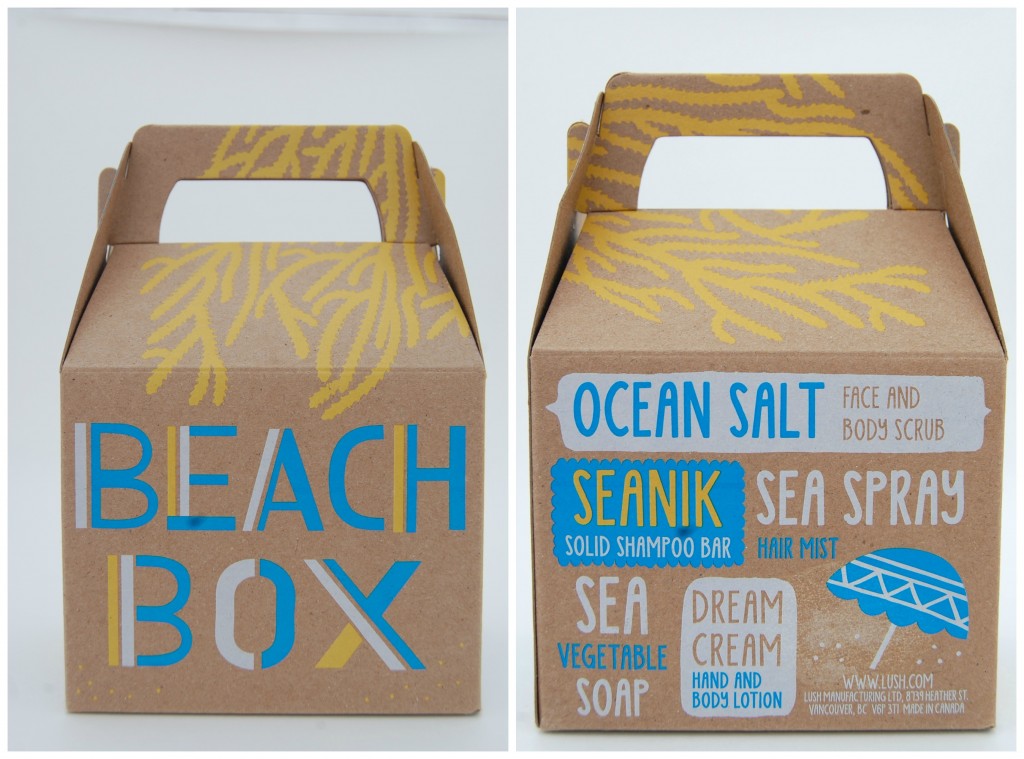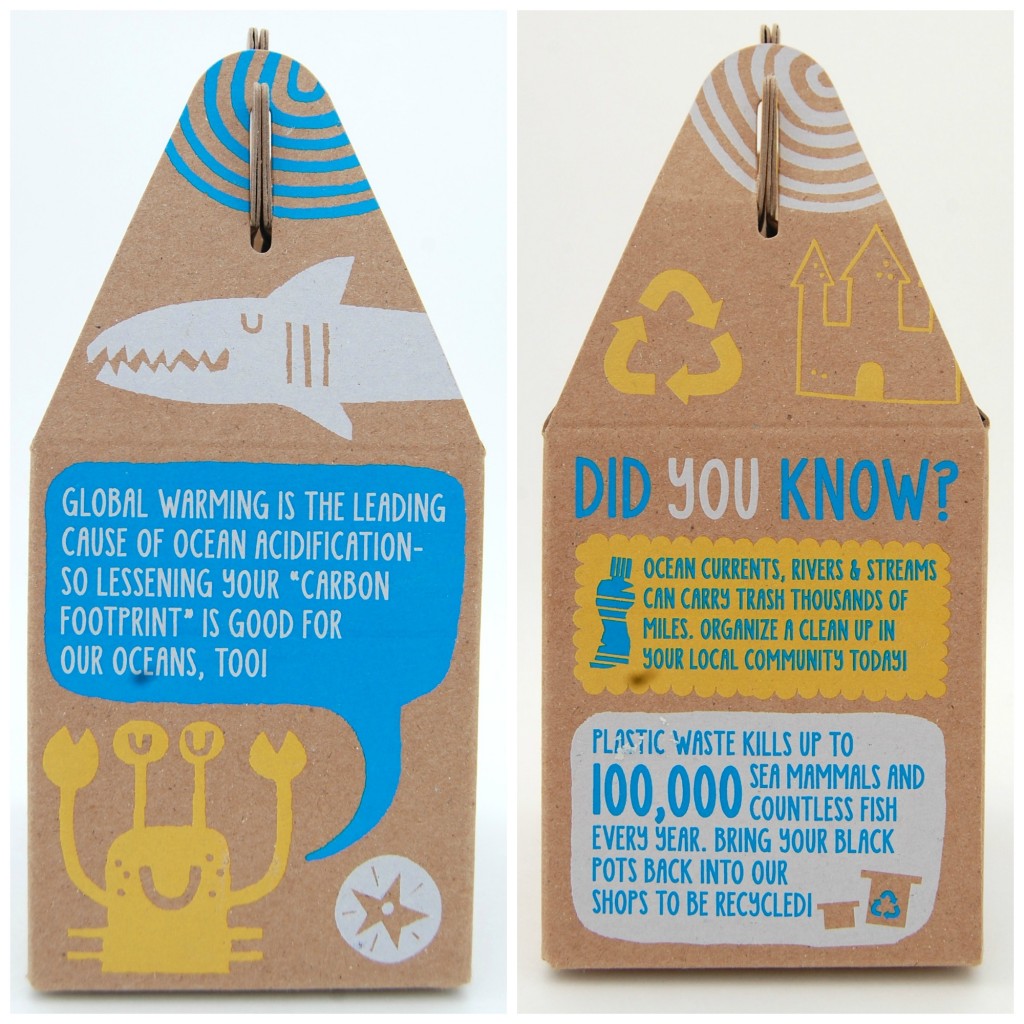 Lush Ocean Salt Face & Body Scrub has sea salt that will help scrub away dirt, dead skin and blockages for a bright, fresh face, while the avocado and coconut help to hydrate your skin leaving it super smooth and soft and finally the antibacterial effects of lime and vodka are ideal for getting rid of blocked pores, blackheads and blemishes.  
To use I start with a clean, damp face and take a small amount in the palms of my hand, add a few drops of water to my hands to make a paste and rub the mixture between the palms of my hands before applying it to my face. It can be a little harsh on the skin if you don't add enough water to it, also make sure your face is wet before starting. Using small, gentle, circular motions with my fingers I rub it all over my face for about a minute.  
I love how this scrub has both coarse and fine sea salt in it, yet is light and creamy so it's safe enough to use on the face, just be extra gentle when rubbing. The smell instantly reminds me of sitting under an umbrella somewhere in the tropical island sipping margaritas. My face is instantly radiant and much, much softer after only one use. You don't need to use a lot of this product for it to have an effect, so the smallest of container will last awhile.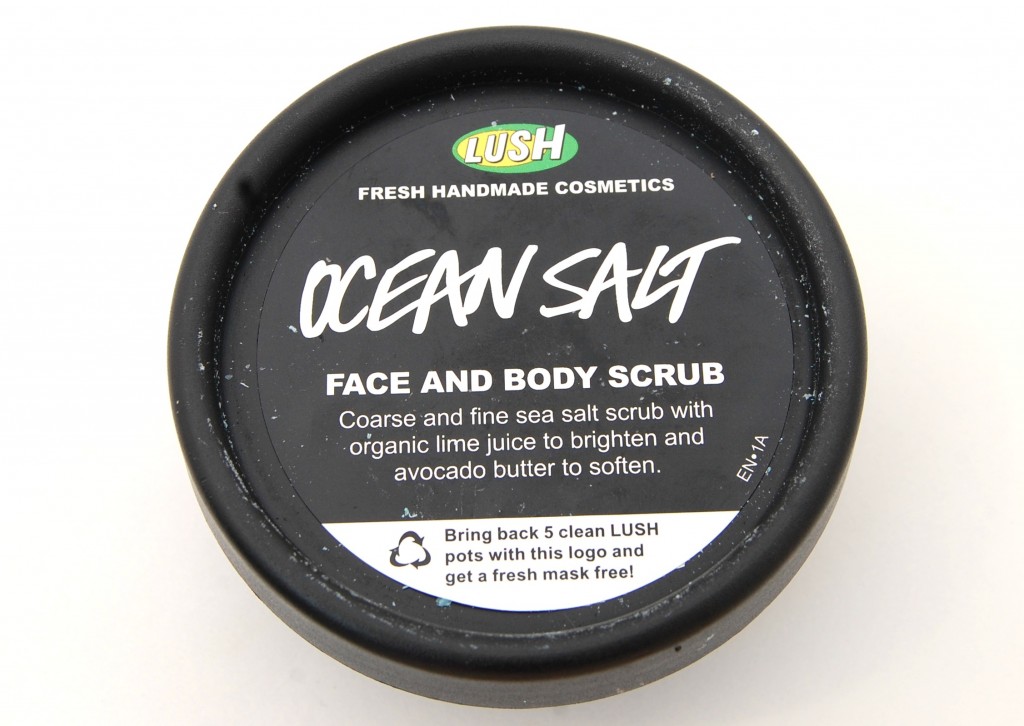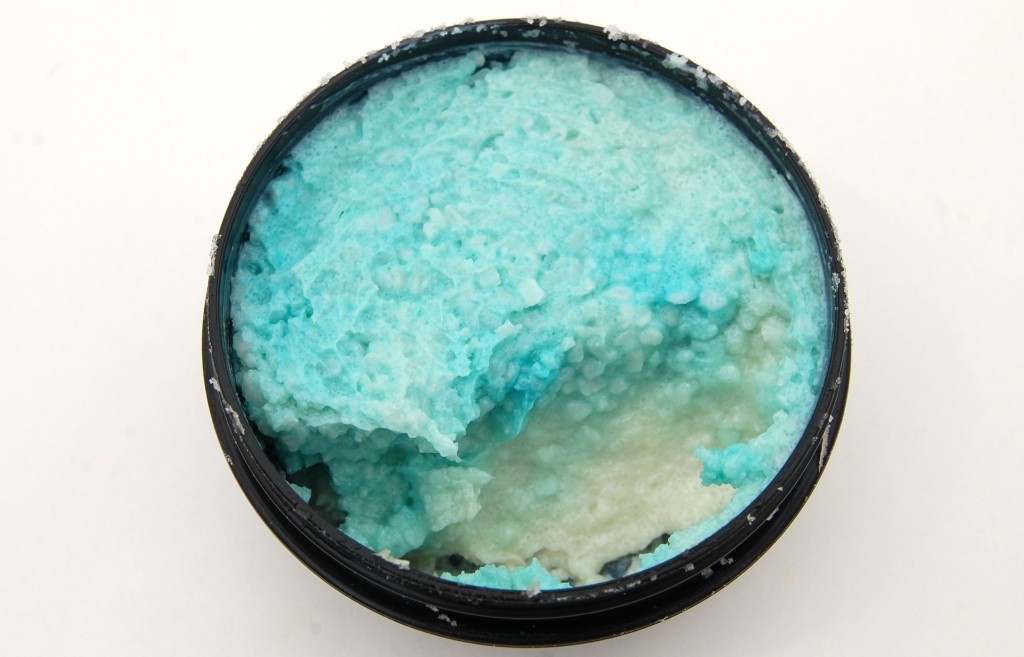 Lush Seanik Solid Shampoo softens, detangles and adds shine with its mineral-rich, sea salt and Irish moss seaweed and Japanese nori seaweed that nourishes the hair leaving it soft and silky from root to tip. The sea salt gives body and volume to the hair and the lemon oil gives extra shine. Mimosa and jasmine gives the hair a tropical scent that lasts all day.
To use, all you have to do is wet both hair and the shampoo bar and run the bar down your hair.  I've been just lathering the bar in my hands and then transferring the foam to my hair. I really can't believe how much foam you get in such a short amount of time and from such a small bar. Just rinse with water and store the shampoo bar back in the box or some kind of container.
This was my first time using a shampoo bar and I'm quite impressed, totally loving this blue, hockey puck shaped bar and how easy it is to use. Like all Lush products, I love the scent, this one is not too overpowering, just the fresh ocean, lemony scent. My hair looks shinier, has a little more body and feels super soft.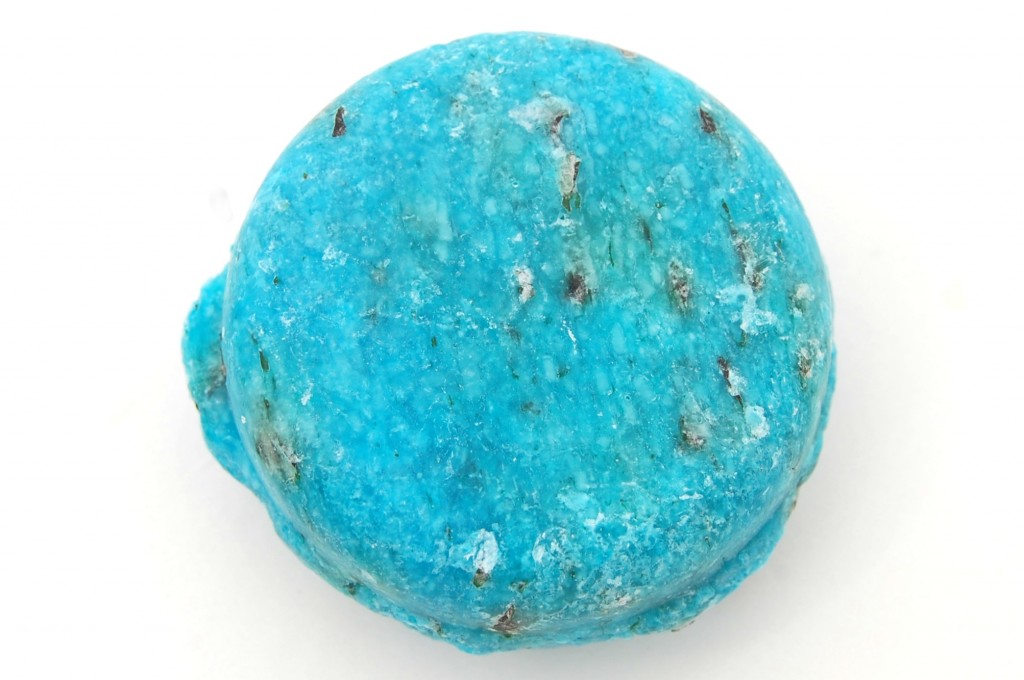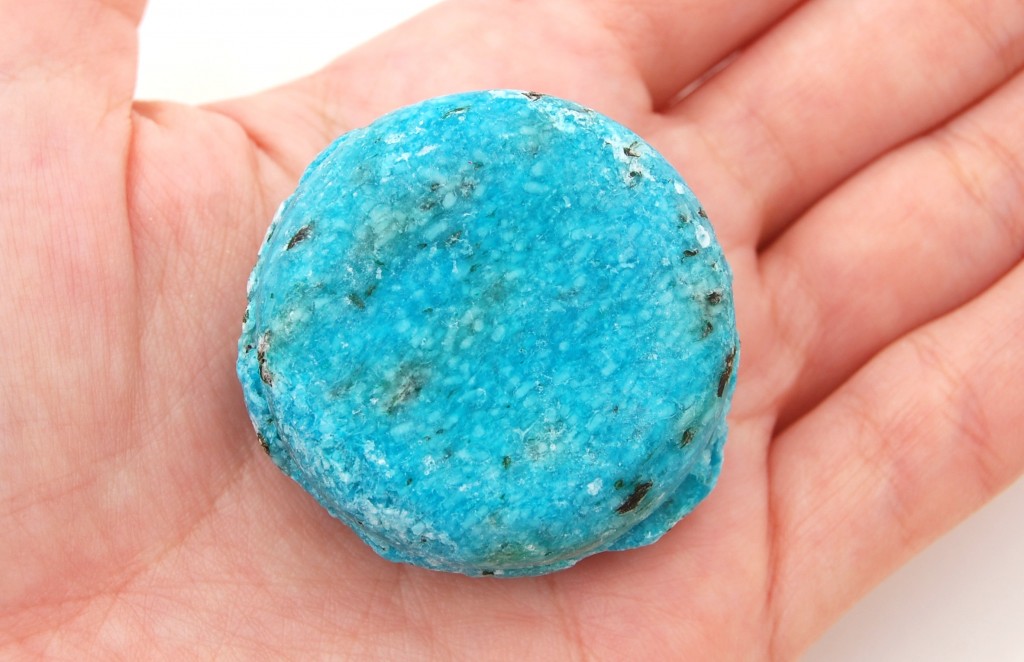 Lush Sea Vegetable Soap is made with softening seaweed and crust of stimulating sea salt that gives the body a fresh, deep down clean. The salt also helps to soften and hydrate while the scents of lime and lavender instantly gives you a relaxing feel.
The bar itself has sea salt on top, then a layer of seaweed, then fades into a sea green colour bar of soap. The soap has a distinctive lavender scent that is quite relaxing. The sea salt and seaweed act as a great exfoliator, the soap gives a great amount of lather and is really creamy and smooth. You're going to want to cut the bars into pieces so it's easier to use than one huge bar.
Overall, the smell is amazing and it leaves my hands and body hydrated and soft that lasts all day.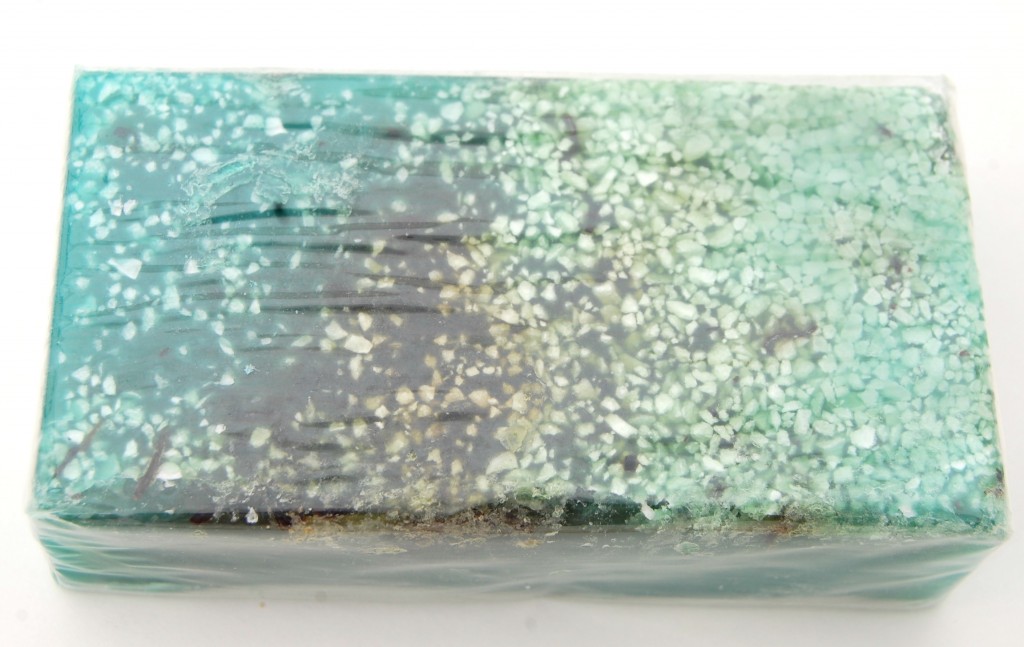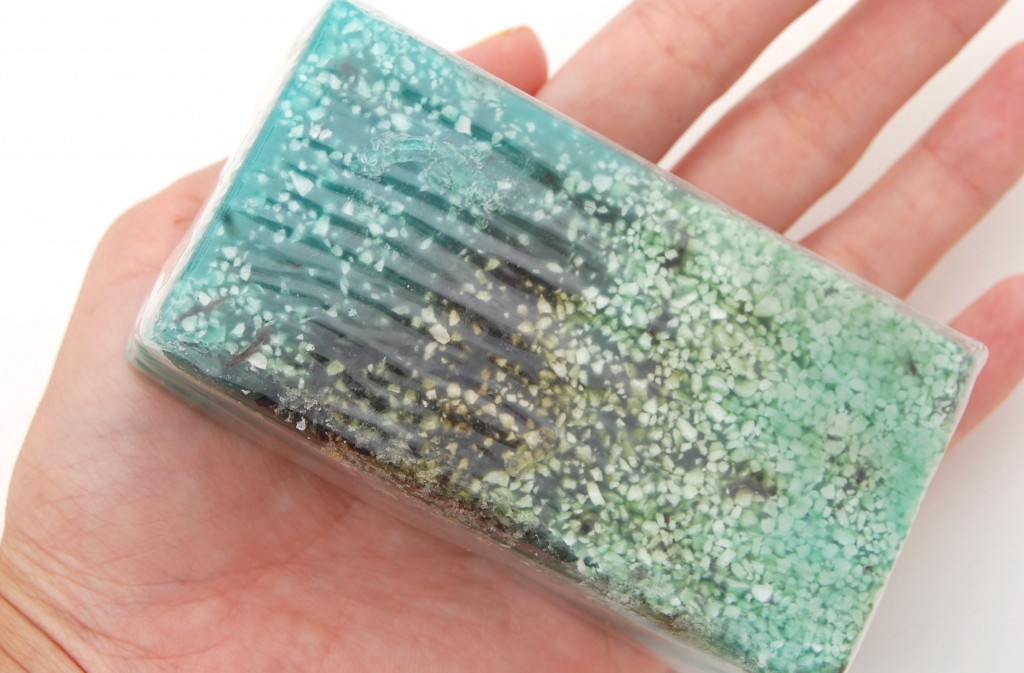 Lush Sea Spray Hair Mist has sea salt, sea water and seaweed that holds hair in place, adds shine and gives body while orange flower, grapefruit, neroli and rosewood gives a beautiful scent to this spray that can be used anytime to refresh or add texture to the hair.
You can use this hair mist before blow-drying, after styling or apply to dry hair and work through for beachy waves. Since the product comes out so quickly I've been spraying Sea Spray into my hands, rubbing them together and then applying it to my hair.
This is a fantastic product for my short hair, as it gives instant texture and shine with very little effort. Love the grapefruit scent that lasts all day, making this product double as a hair perfume!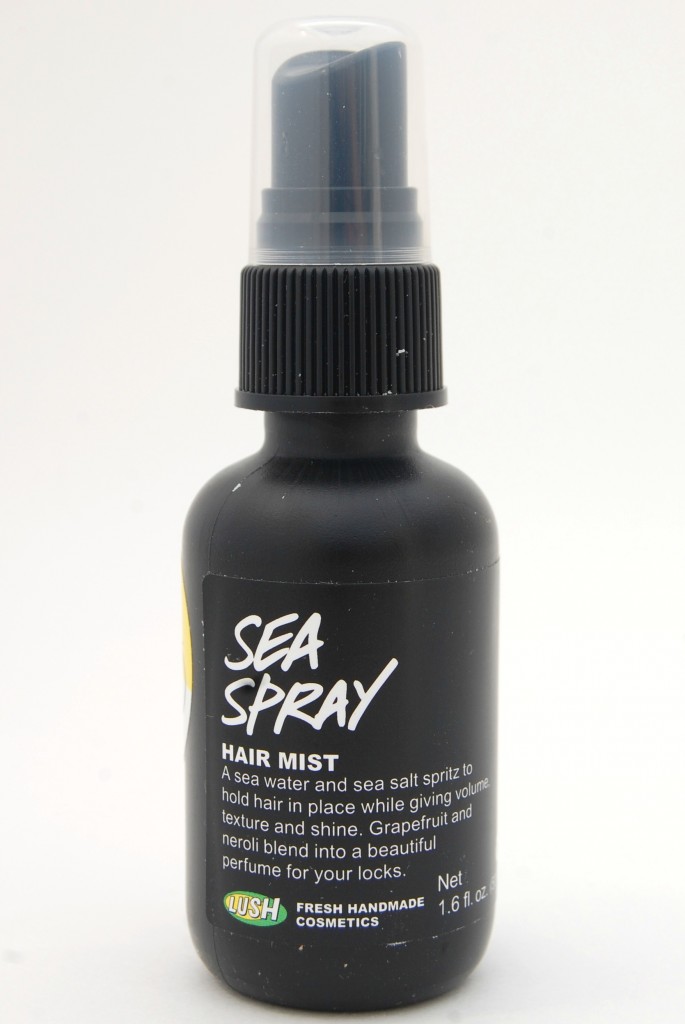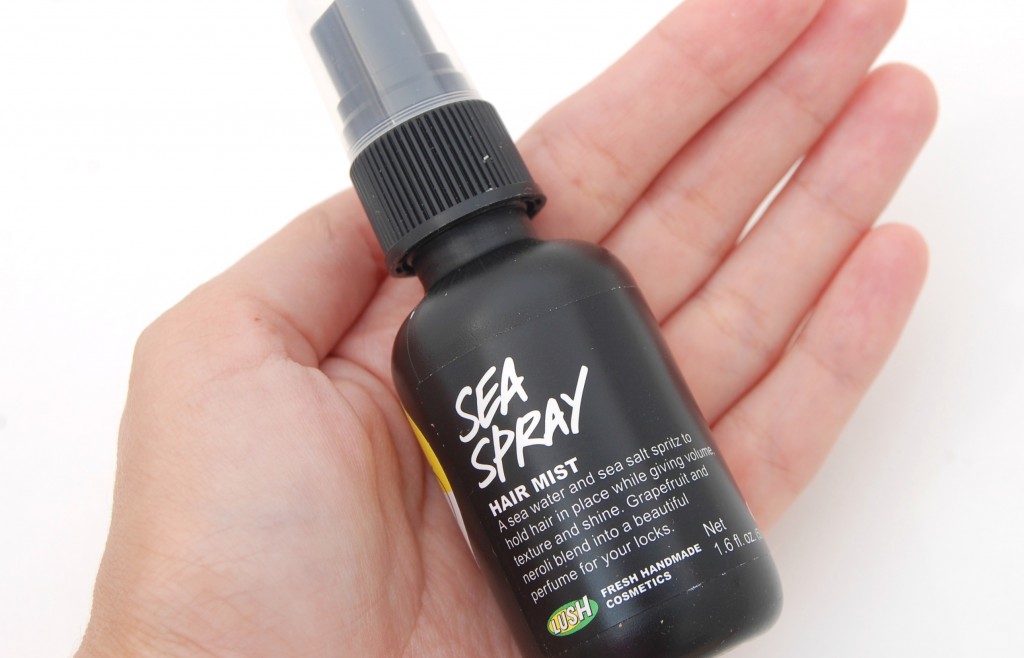 Lush Dream Cream Lotion contains every ingredient nature makes for soothing skin, a calming blend of oat milk, lavender and chamomile care for irritations, reduce redness, and banish blotches while olive oil and cocoa butter help soften and smooth dry skin.
Dream Cream is a thick hand and body cream, almost feels like a gel that can be used on your face and body. A little goes a long way, for my hands I only need about a pea size amount and then for my arms and legs I start with about a quarter size and apply more if I feel the need, less is more in this case.
This is the perfect lotion to apply right before bed thanks to the lavender and chamomile oils that help you relax after a hard day's work. It absorbs well, very moisturizing without being too heavy and doesn't leave behind a greasy feel.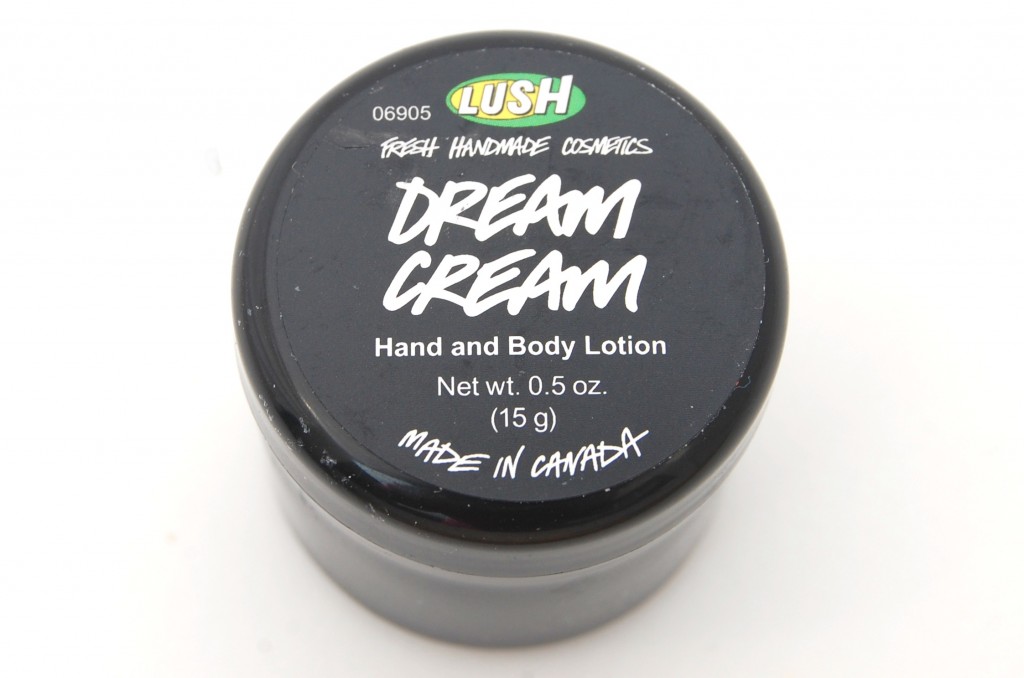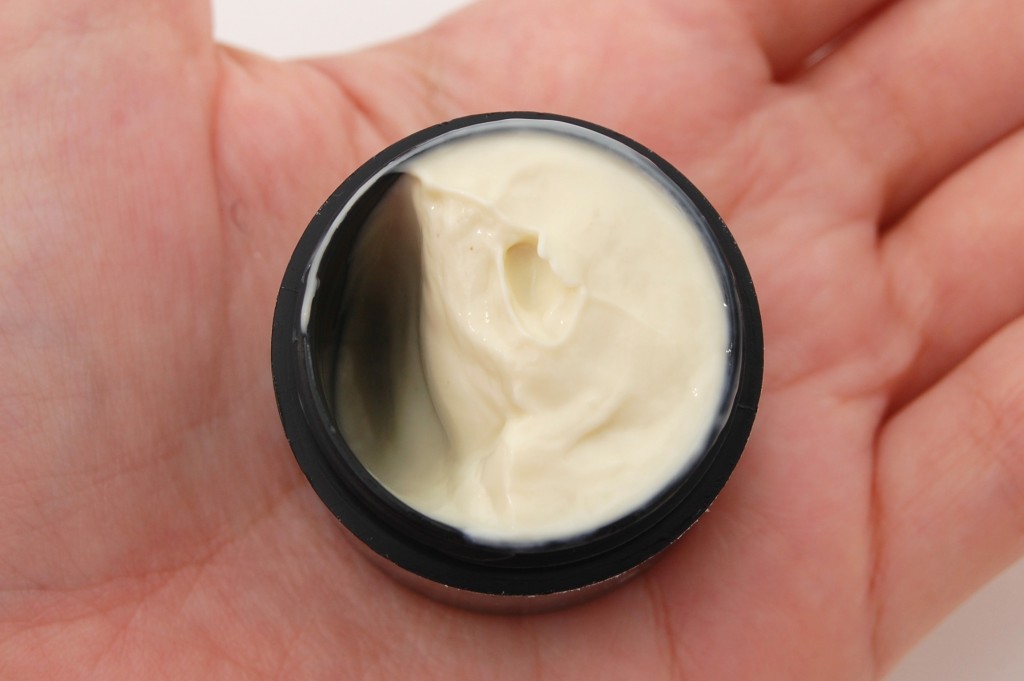 Overall this Lush Beach Box is the perfect gift set for any beach bum, would make a fun Birthday gift, an excellent hostess gift and or anyone that wants to have squeaky clean, smooth skin and wonderfully scented hair this summer. It's also a great way to test out 5 of the Lush's top selling products before buying the full size products.