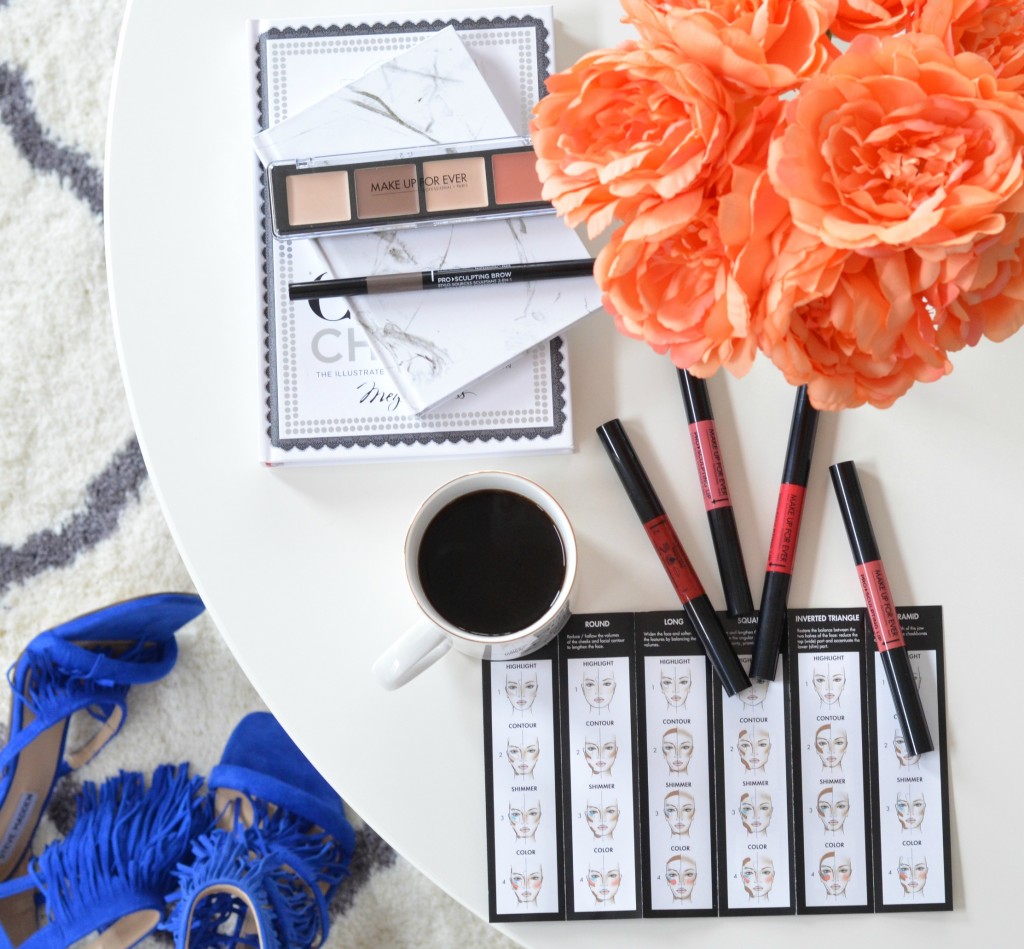 Contouring is no longer just for your complexion, brands are now coming out with products to help you sculpt both your face, brows and lips. The new Make Up For Ever Pro Sculpting Collection features 4 new face palettes to help you contour, sculpt and highlight your complexion, along with 4 new two-in-one lip colour lipsticks that help to add shape and volume to your puckers and finally 5 new three-in-one brow pencils that help to perfectly sculpt and define the brow. So while you're online dress shopping for spring, I suggest also hopping over to Sephora online, pick out a new eye shadow or two and check out the latest pro sculpting collection from Make Up For Ever.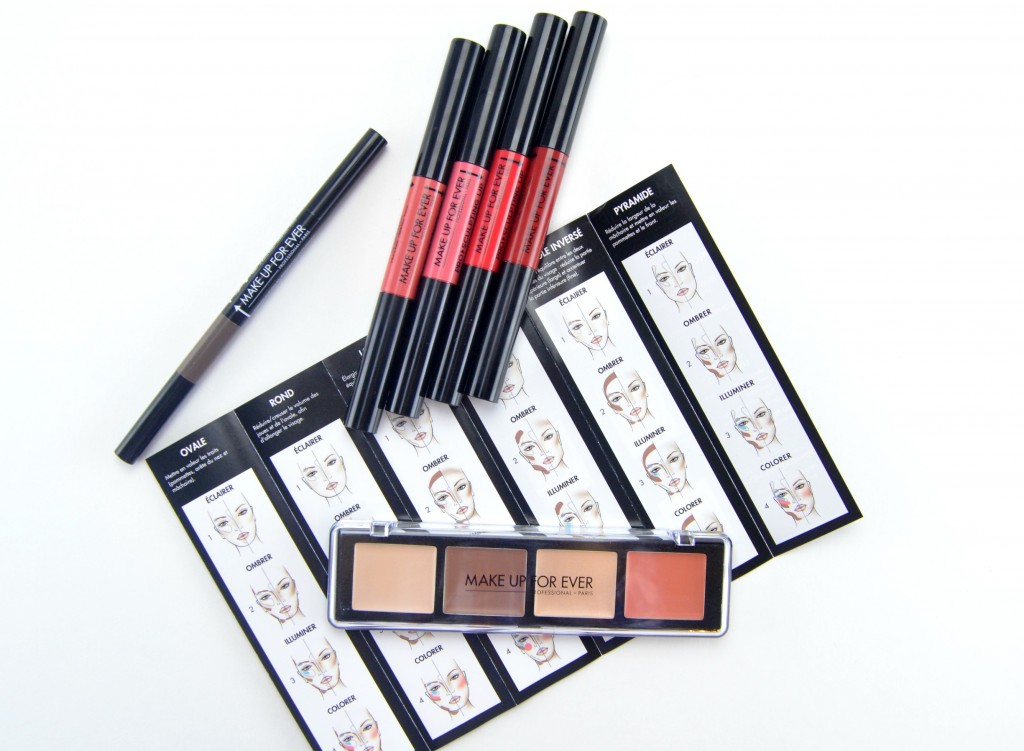 Make Up For Ever Pro Sculpting Face Palette is designed to help you contour, sculpt and highlight the face with its unique, easy to use, cream formula. It contains a total of 4 shades, 3 matte shades and an illuminating shade, in a total of 4 shade combinations, 20 (for light skin tones), 30 (for medium skin tones), 40 (for tan skin tones), 50 (for dark skin tones) that when used in combination to one another, it will effortlessly help you achieve a flawless complexion. For your benefit, the brand also includes a handy pamphlet that describes how to use each of the 4 shades within and it's created for 6 different face shapes. So whether you have a round, oval, long, square, inverted, triangle or pyramid, you'll be able to follow these easy instructions to help you naturally define and contour your entire face.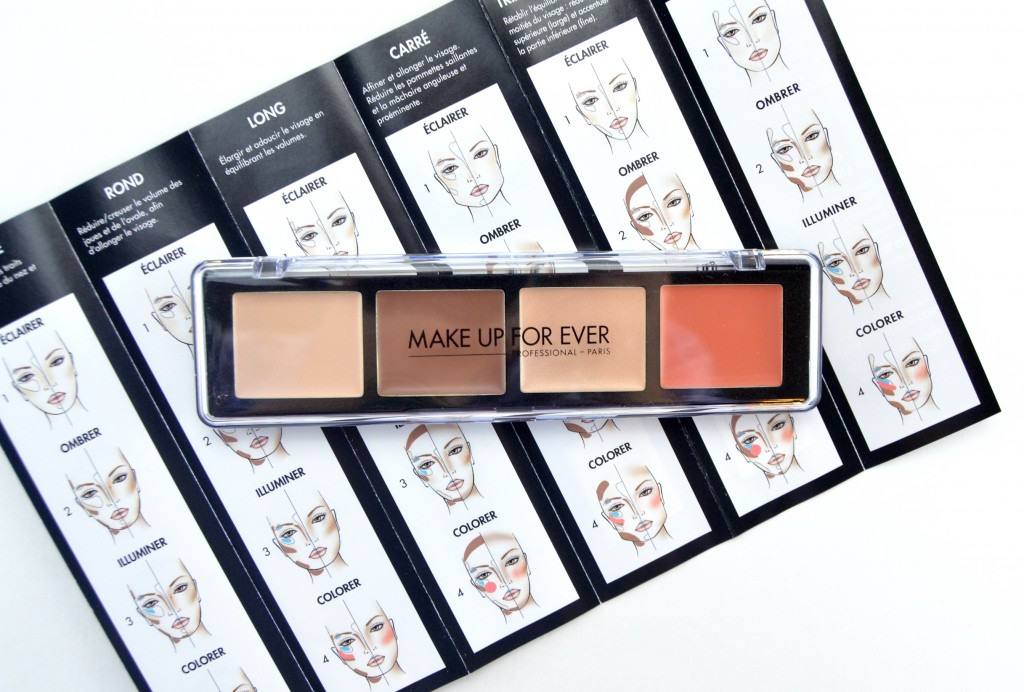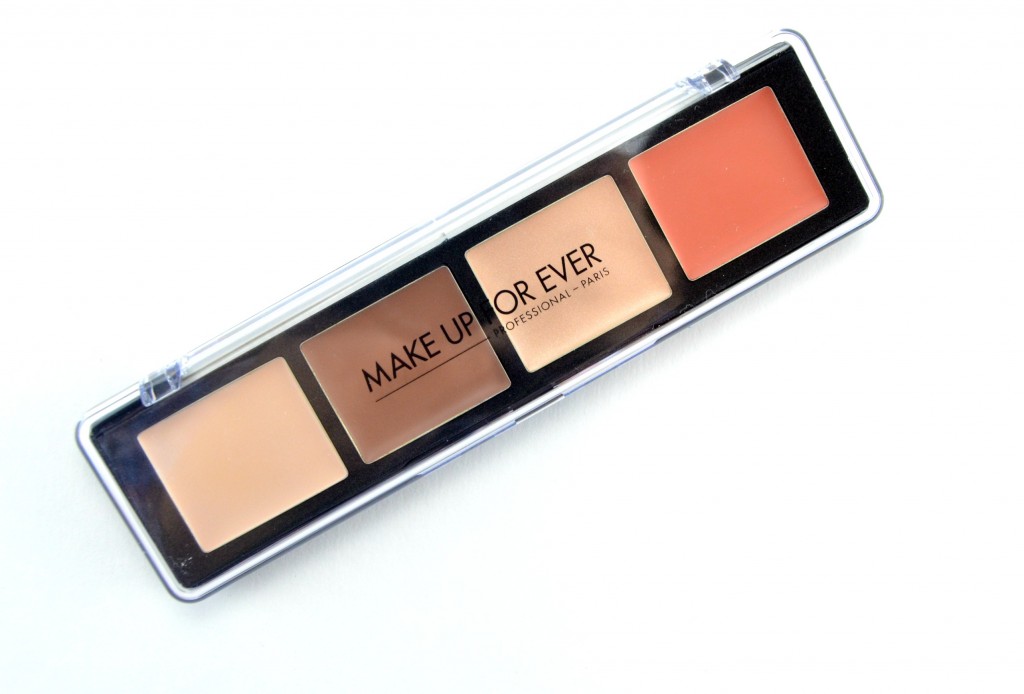 Make Up For Ever Pro Sculpting Face Palette comes in a clear, sleek compact with a matte highlighter, a contour, a shimmer and universal blush. It has a rich and creamy texture that features both polymers and polyester oils that are not only rich in pigmentation, but help each shade blend out beautifully. It's also created with synthetic and carnauba waxes with silicone coated pigments that help prolong the wear time without creasing or fading. The polymer powders help to even out texture, while providing a satin finish that's extremely comfortable to wear on the skin the entire day. Although each shade is easy to work with, I suggest layering over a liquid foundation, instead of a powder, just to help with blendability and ensure it stays put the entire day, well, up to 8 hours at least.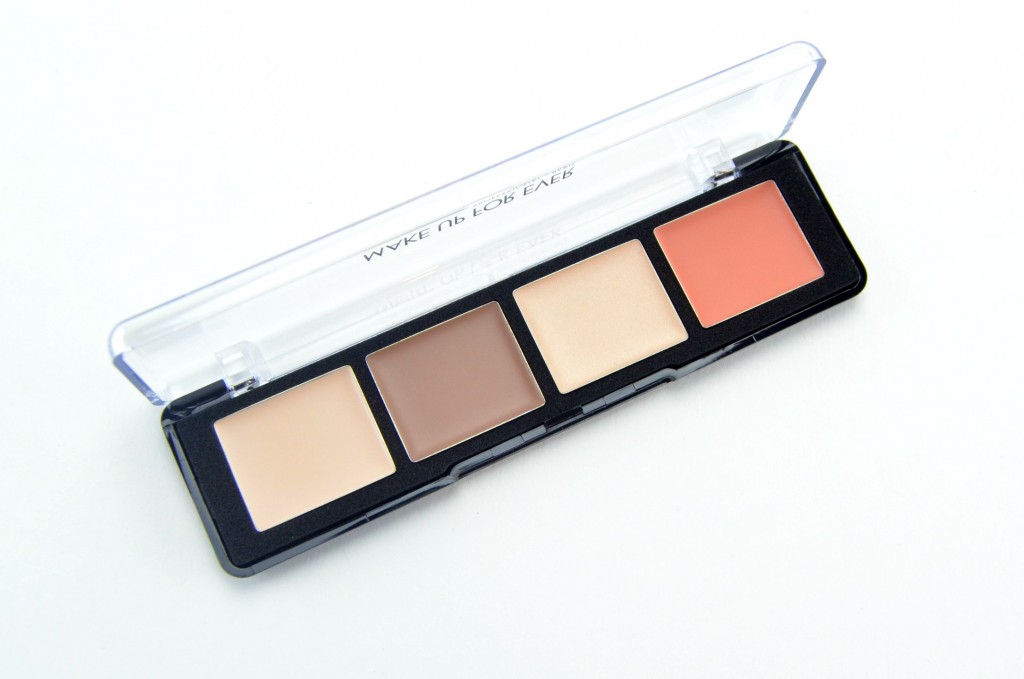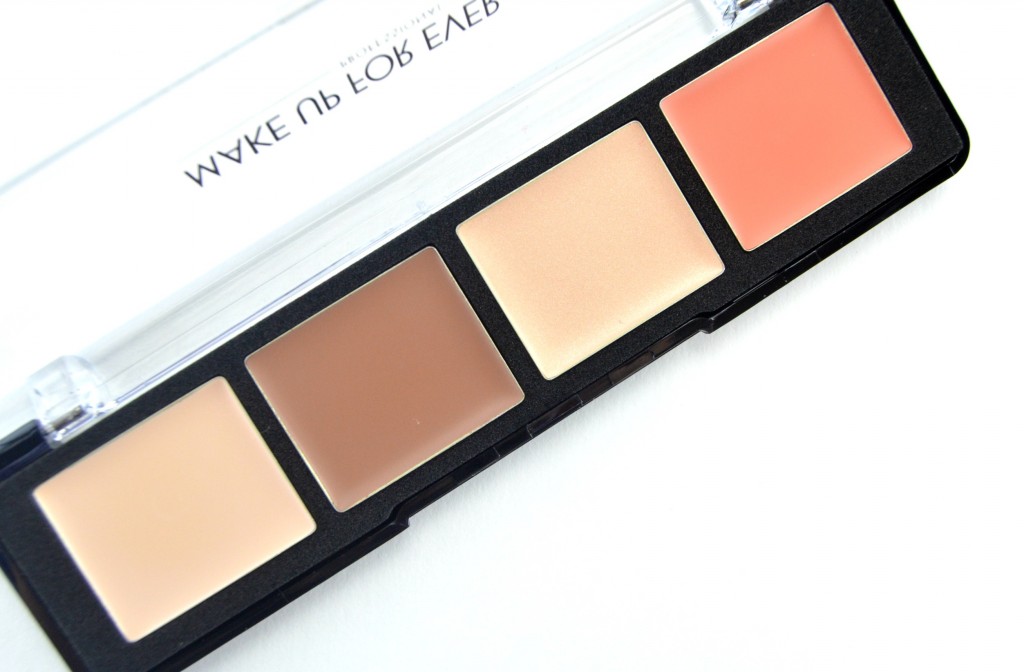 Of course I've been using Make Up For Ever Pro Sculpting Face Palette shade 20, which is the lightest out of them all and perfect for my fair skin tone. For someone who usually sticks to powder products, I actually found this entire 4 piece cream palette fairly easy to work with and blend out. It applies so smoothly and seamless, and almost melts into the skin, that I never had the fear of harsh or intense lines. The highlight shade actually showed up on my skin without looking shimmery, thanks to its matte finish, yet it still adds a nice healthy, radiant, illumination to the skin that looks incredibly natural. I often find most cream contour shades to be too dark and intense for my pale complexion, but this palette works surprisingly well. It creates the perfect depth and dimension to the hallows of my cheeks that I look for, without looking too muddy or dramatic. The shimmer shade might be my favourite out of the palette, cause not only can I apply it to the top of my highlighter shade for that extra pop of shimmer and sparkle, I can also use this metallic shade to add a touch of sparkle to my brow bone or inner corner of my eyes. Last, but not least, the beautiful pale coral blush shade. It's the perfect pop of colour for the apples of the cheek and it is going to look beautiful during the warm, summer months. It retails for $54 each.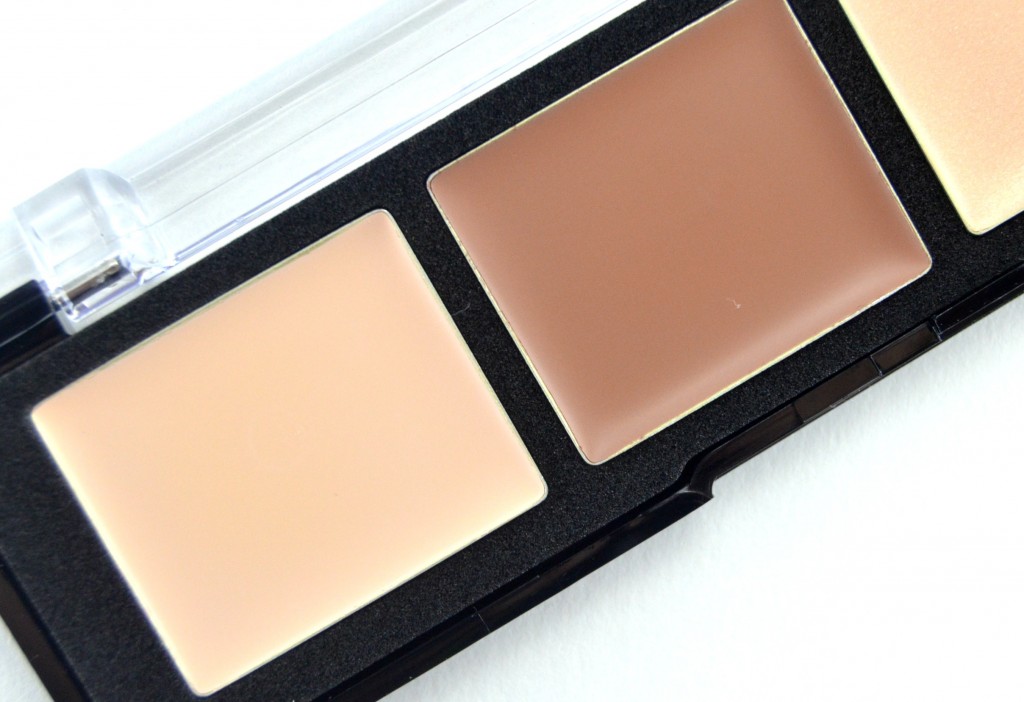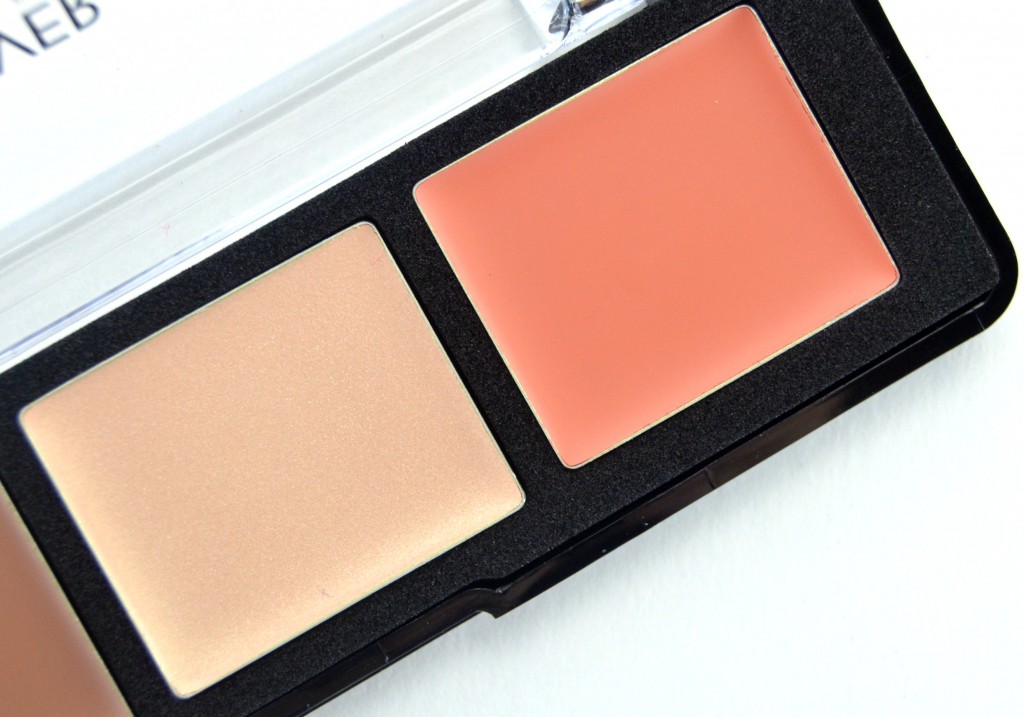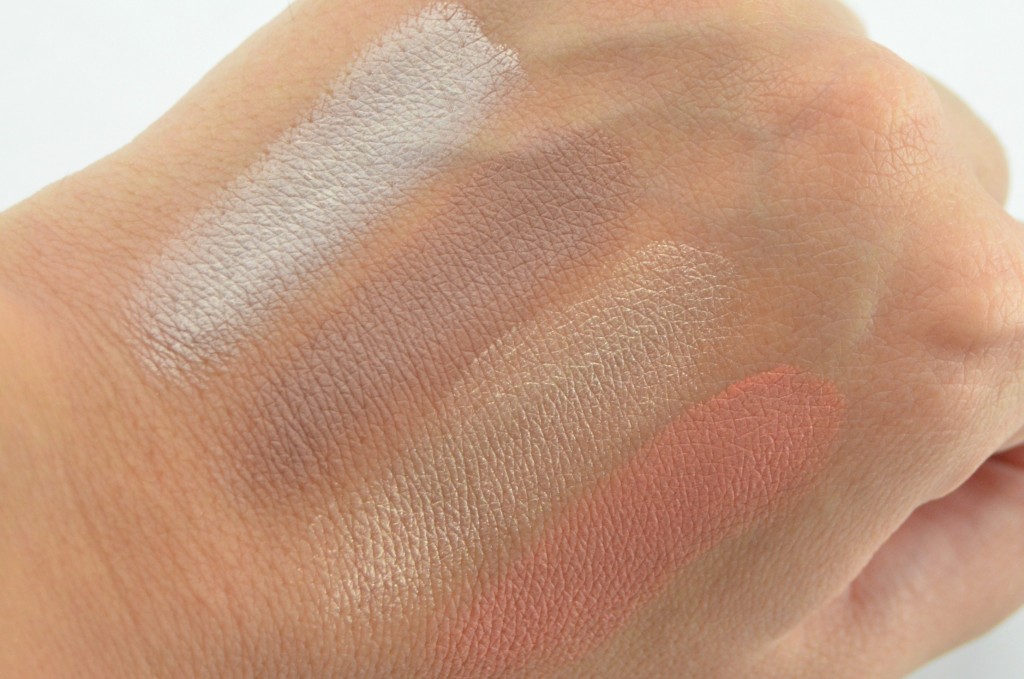 Make Up For Ever Pro Sculpting Lip is a unique and innovated 2-in-1 lip colour that instantly helps to add both shape and volume to your lips. It helps to naturally create the illusion of a fuller, poutier lip in a combination of 4 different colours, Rosewood, Rust, Carmine Red and Purple.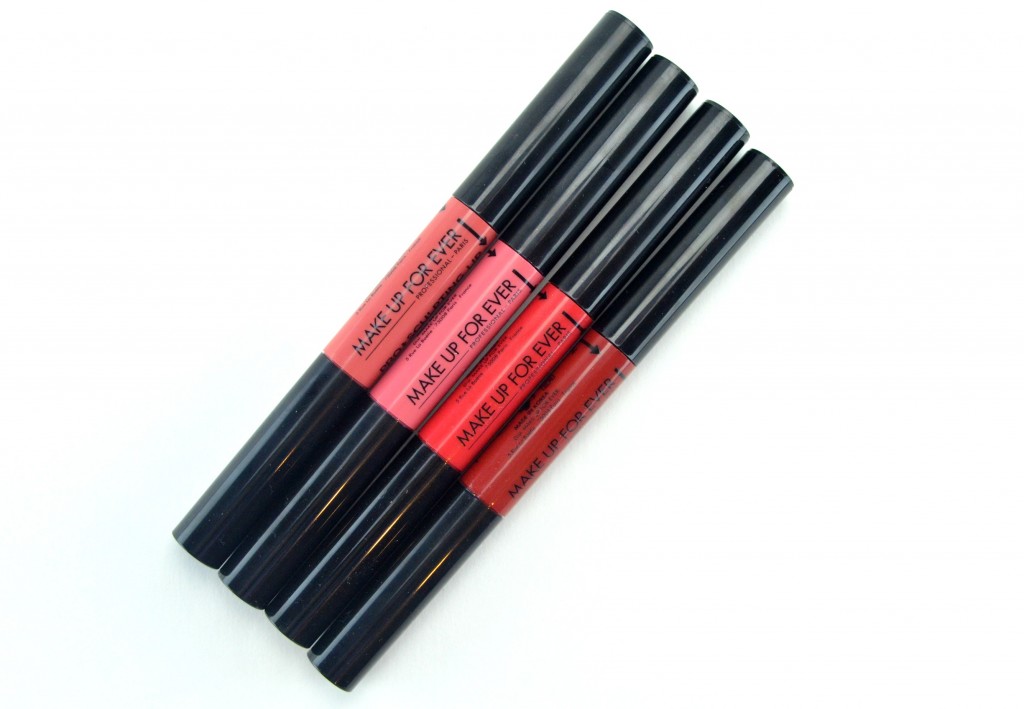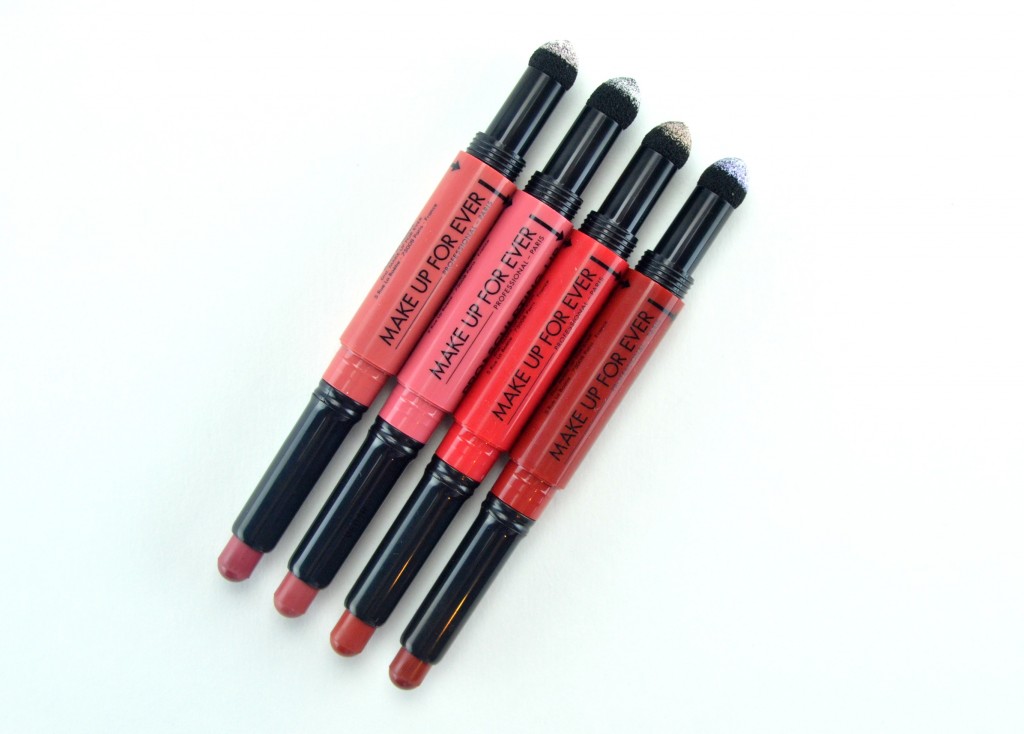 Make Up For Ever Pro Sculpting Lip comes in an easy to use, twist up design with a pencil on one end and a powder to cream highlighter on the other. The lipstick part has a rich and creamy texture that's infused with oil to help prevent moisture loss, making it incredibly comfortable and wearable. It has an opaque, semi-matte, full-coverage finish that also starts off quite natural, it's easily buildable to a more intense finish. It's incredibly long wearing, we're talking a solid 7+ hours without fading, smudging or bleeding outside the lines. Although not necessarily moisturizing, it's fairly hydrating, without becoming tight or dry the entire day. On the other end you'll find an iridescent highlighter that dispenses onto a sponge tip applicator from the cap for easy and seamless application. It instantly helps to add volume and shape to your lips with only the smallest amount. Simply dab onto the centre of your lips, building up the intensity as you go, until you reached your desired amount. It gives a subtle iridescent finish without looking too dramatic or glittery.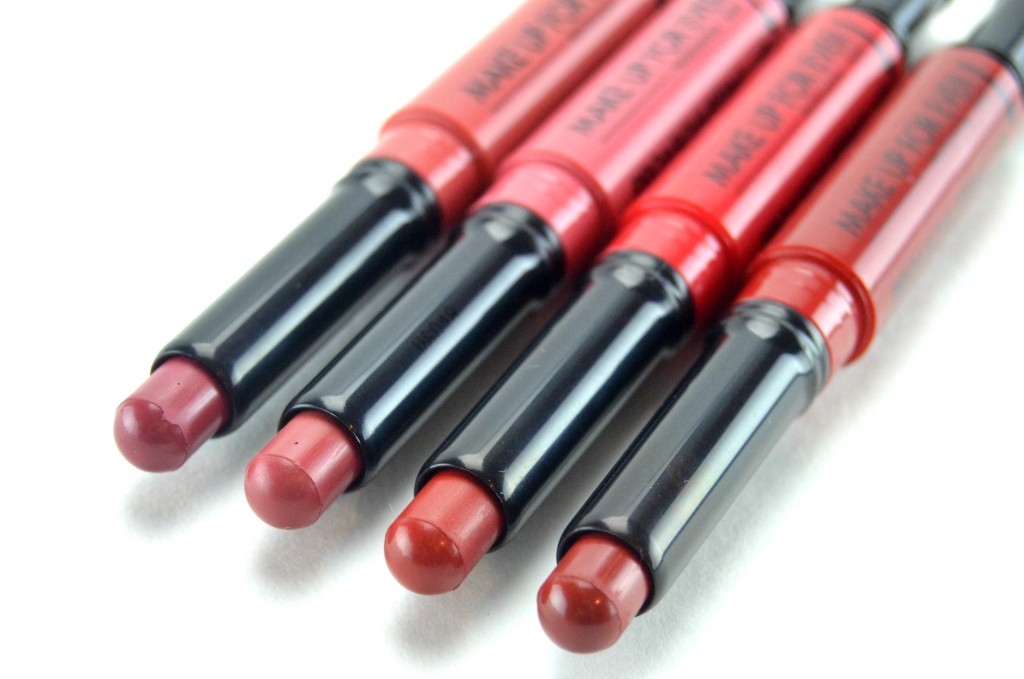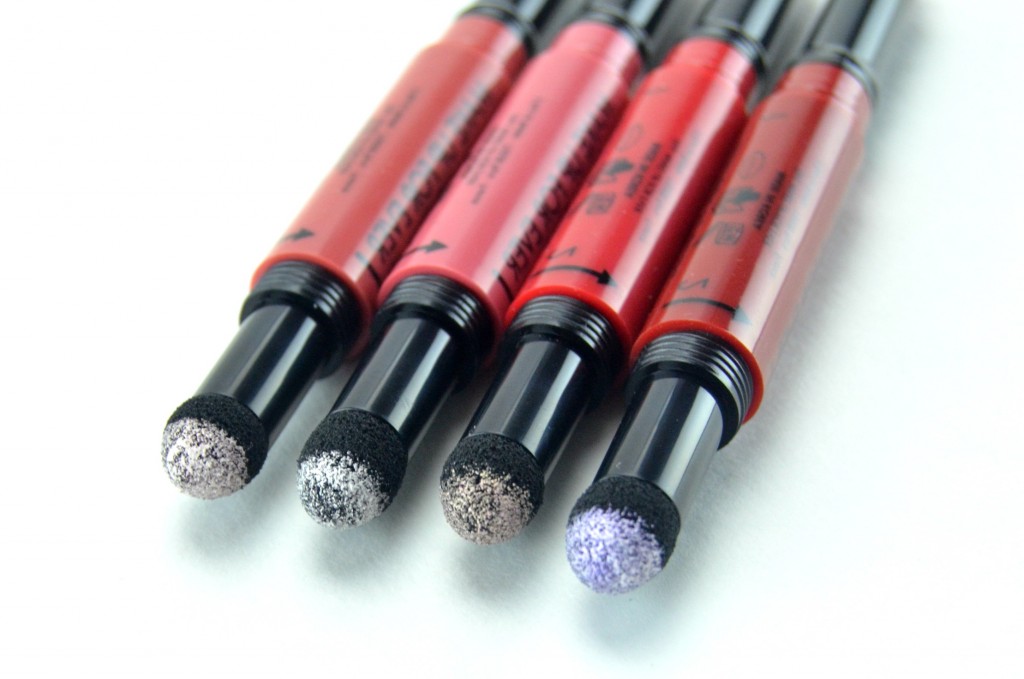 Make Up For Ever Pro Sculpting Lip is such an unusual product that I didn't know what to expect at first, but the more I played around with it, the more I loved it. I can quickly see other brands coming out with their own interpretation of this, but thanks to its incredibly opaque, semi-matte, extremely comfortable formula, it's going to be hard to duplicate. The actual lipstick part offers excellent pigmentation, one swipe is all you'll need and it's incredibly smooth, soft and easy to apply. I could accurately shape the outline of my lips and then use the rounded tip to fill in my entire lips, no lip liner needed. The highlight powder was also incredibly easy to work with and blended into my lip colour of choice, helping to give the appearance of a fuller, plumper, juicier lip. I'm not going to lie, I was a little worried as to how the powder would wear, but I'm happy to report, it never seemed to adhere to any dry patches or get clumpy throughout the day. As the colour starts to slowly fade, it leaves behind a beautiful stain. It retails for $32.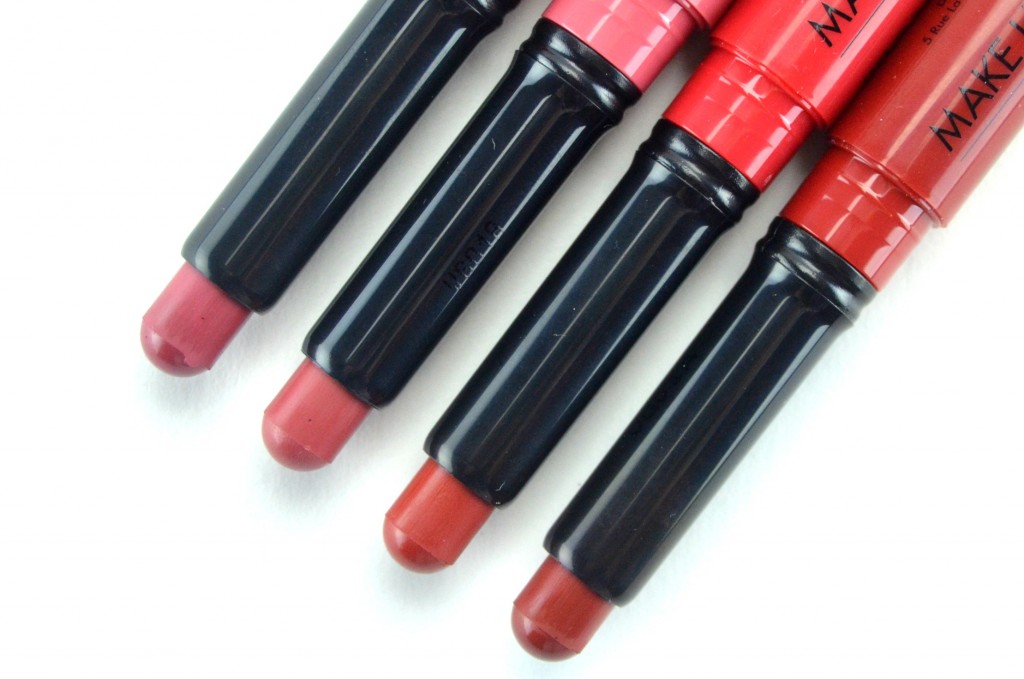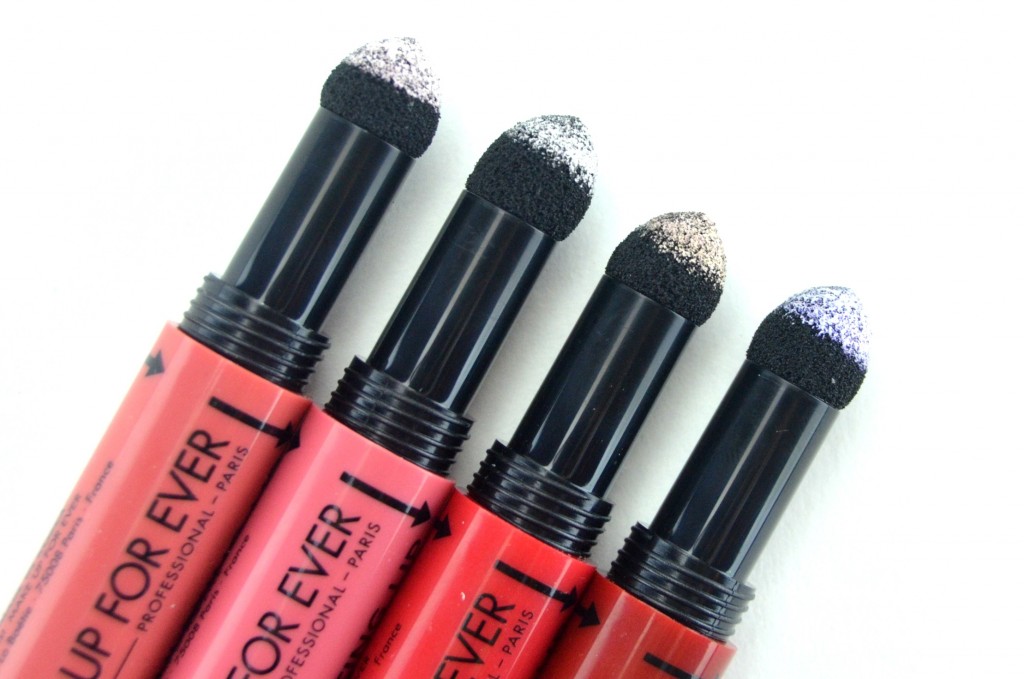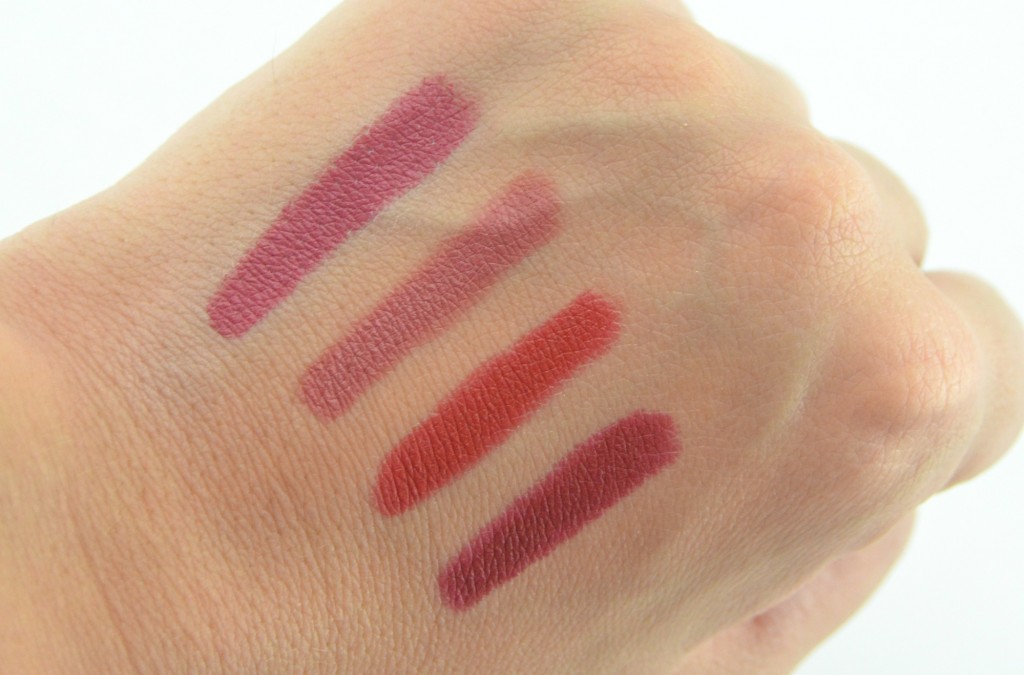 Make Up For Ever Pro Sculpting Brow is a unique 3-in-1 brow pencil that helps to sculpt, define and highlight the brow. It features everything you need to colour, shape and highlight, including a glide-on, precise pencil on one end, a soft bristle round spoolie brush and a highlighting matte powder in the middle. The beveled pencil tip effortlessly allows you to add colour and define the brow, while the brush allows you to comb and shape the hairs into place. Finally the highlight shade instantly adds definition to the browbone for a seamless, perfectly groomed, natural look.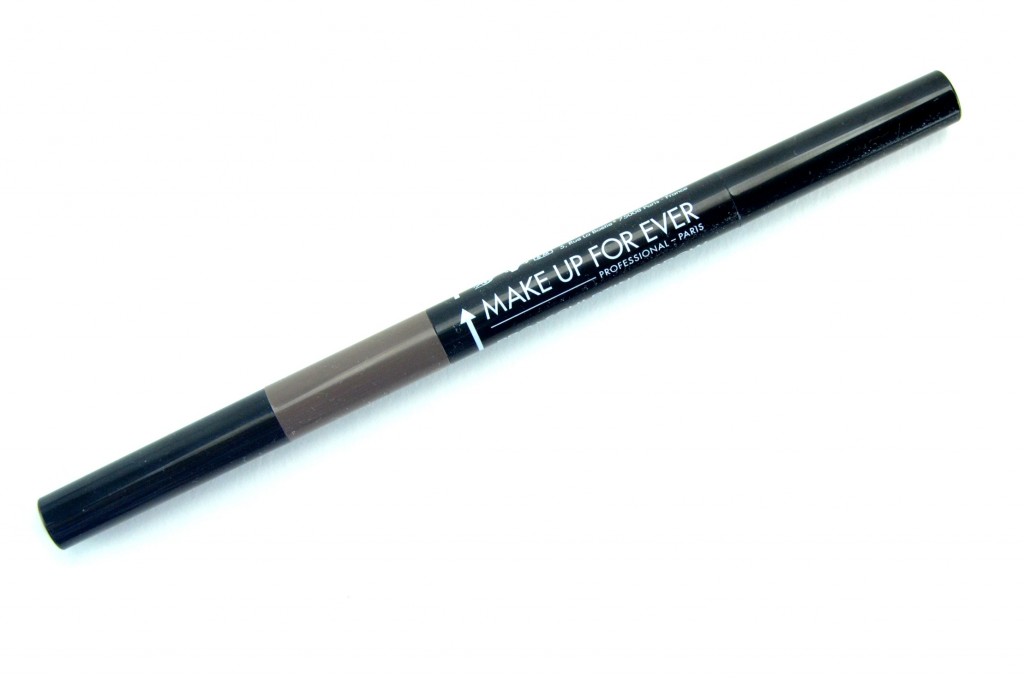 Although Make Up For Ever Pro Sculpting Brow pencil starts off on an angle and with a sharp point, my only concern is that I can quickly see the point becoming somewhat flat and you'll have to somehow manage to sharpen it. It does, however, create extremely accurate feather-like strokes that look incredibly natural and its unique wax like texture not only blends into the skin like a dream, it helps to hold everything in place the entire day without fading. I love that the middle section twists open to reveal a matte highlight powder within, so unique, I've never seen anything like it. It has a rich vanilla tint to it, that's much more natural than a stark white shade and I can see this working on a lot of skin tones. The spoolie is soft, yet hard enough to brush through the brows to get each hair in place and also helps to soften the colour. It retails for $32 in 5 shades, 10 Blonde, 20 Dark Blonde, 30 Brown, 40 Dark Brown and 50 Brown Black.