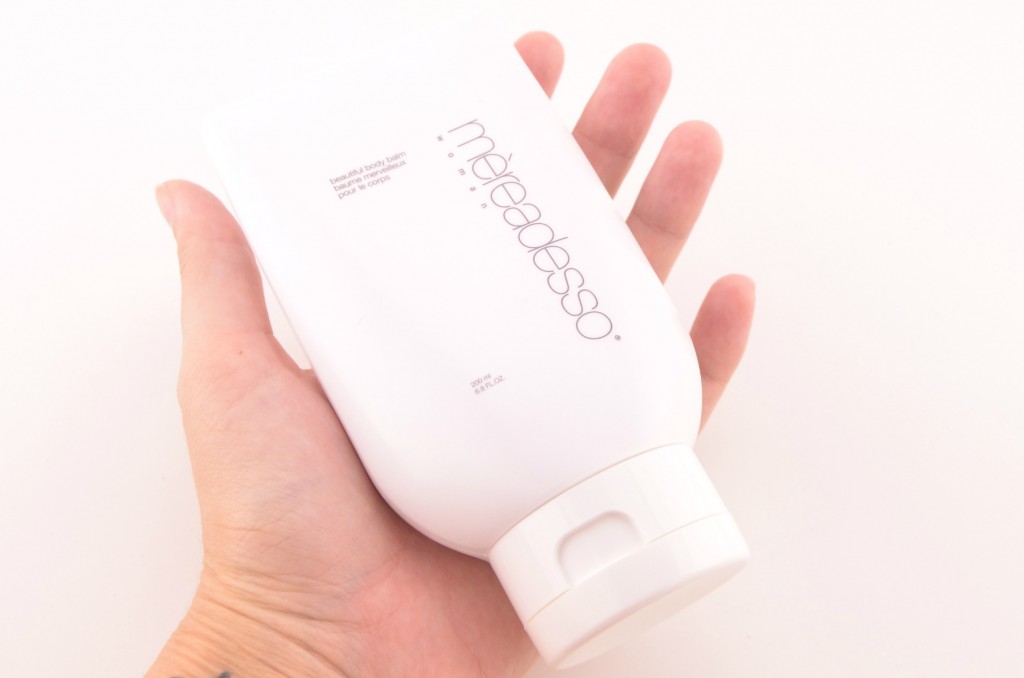 We're in full Polar Vortex mode right now and it doesn't seem to be letting up anytime soon. Not only is it freezing here in Ontario, the wind cuts you like a knife as soon as you walk outside. With this comes dry, cracked, unpleasant skin and we're thirsty to add some extra moisture back into our skin. The new Mèreadesso Beautiful Body Balm is an all over body balm designed for both men and women that keeps skin hydrated and helps improve skin's texture and elasticity for a silky, smooth finish that lasts the entire day. It contains 8 vitamins and minerals, along with 28 globally botanical extracts to help bring out your natural, inner glow.
Mèreadesso Beautiful Body Balm not only keeps skin moisturized and hydrated, it also claims to help with cellulite, but as we all know, there is no cure or miracle treatment to get rid of it, it does however help circulation and toning of the skin thanks to its algae extracts, caffeine, copper, arginine, grapefruit and Brazilian cocoa. It also helps improve skin's elasticity and suppleness which is great for those that are pregnant and trying to prevent stretch marks. For those that already have stretch marks, vitamin A and E, algae extract, arnica and Brazilian cocoa help improve blood circulation to fade the discolouration.


Mèreadesso Beautiful Body Balm has a beige/ orange colour to it that goes on clear and has a thin, almost runny consistency to it. It has a gel like, creamy texture that spreads easily and quickly absorbs into the skin, without transferring onto your clothes. A dime size amount is enough to cover the entire arm or leg and has a non-greasy, non-sticky formula. It has a rich, earthly, refreshing, spa like scent thanks to its blend of natural essential oils of grapefruit, peppermint, lemon, bergamot, liquorice root, and French sage.


I'm loving the thinner consistency of Mèreadesso Beautiful Body Balm, I thought since it was "labeled" as a balm, it was going to be thick and hard to work with, it's just the opposite, it's runnier texture allows you to cover larger areas with less product and is easier to apply. It does an excellent job at keeping my skin hydrated all day and well into the evening, without having to wait 15 minutes to put on my clothes. It helps soften, tone and refresh my parched, dry skin with the scent of grapefruit and peppermint. I have to admit, it's sometimes overwhelming strong and tends to linger on the skin for a long time, but because it does such an amazing job at keeping my skin soft, I put up with it. It retails for $54 for a 200ml that should last you about 8 weeks.
Want to test out Mèreadesso products for yourself, this February the brand is giving the chance for men and women to discover a simpler way to beautiful skin through a Before and After project. Readers interested in taking part will receive a full set of Mèreadesso products (All-In-One Moisturizer, Face & Neck Cleanser, Beautiful Body Balm, and the Mèreadesso Lip Treats) valued at over $250. If you're interested, email them Andrea at andrea@mereadesso.com with the subject line "Mèreadesso Before & After" with a picture of yourself. How fun does this sound, are you going to take part?