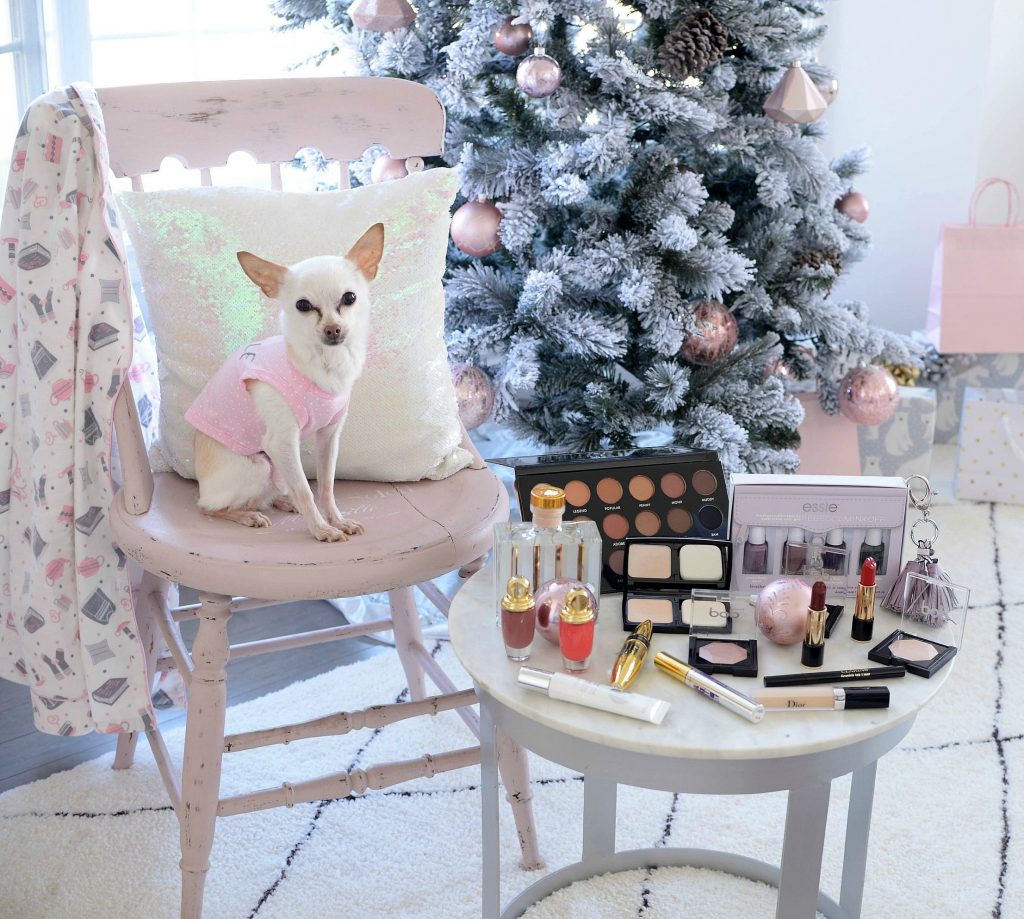 Beauty Faves
I can't believe this is my second last monthly favourites of the year. What are you looking forward to the most in 2018? What are your goals? 2017 has been amazing, with so many new and innovated products to hit the market, which are now some of my personal faves. I love sharing my top 10 items, you know, the ones that didn't necessarily make it into their very own blog post. I've been running this blog for almost 8 years now, and testing out the hottest makeup trends and new skincare/ haircare products, has been one of my favourite parts of the job. With that, comes the overwhelming feeling of featuring everything that I love on this site…and I fall in love with a lot. I try not to overwhelm you, which is why a roundup of my monthly faves is an excellent way for me to share products I love, without going into too much detail and overpowering my readers.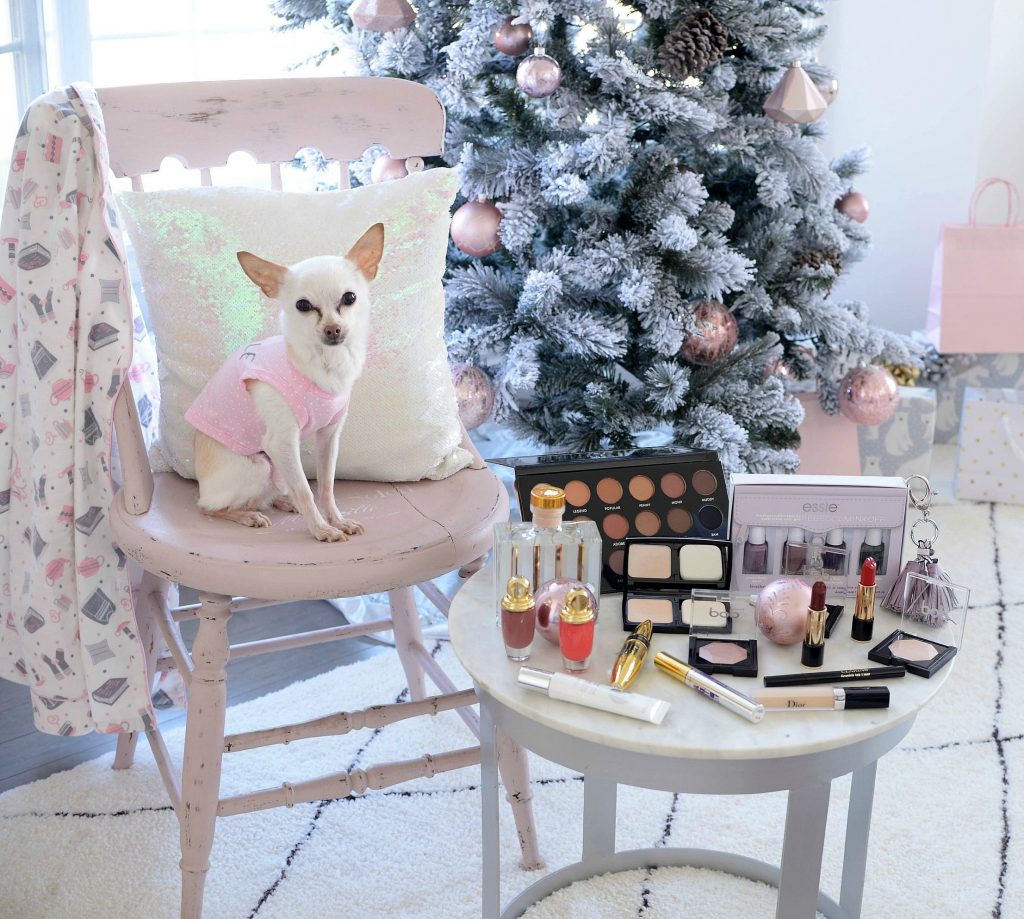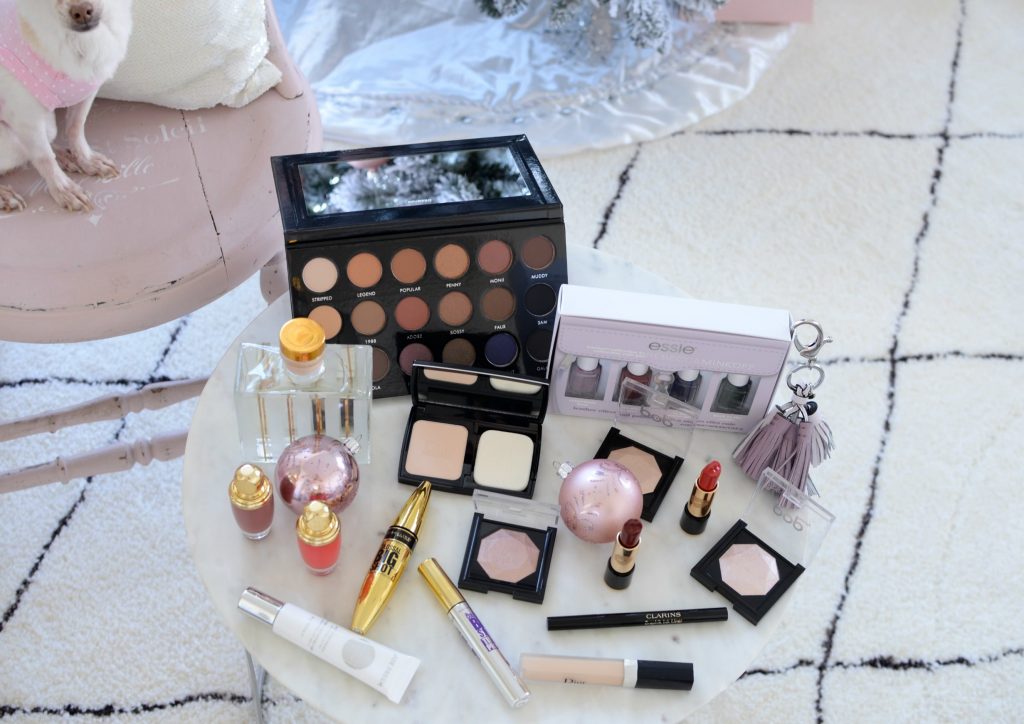 I hate to play favourites when it comes to my eyeshadow palettes, but the new PÜR Pro x Etienne is all I've been reaching for lately. This 18-pan palette is in collaboration with celebrity hair and makeup artist, Etienne Ortega, and features every shade you need to create a basic and wearable every day look, to a bold and glamourous red carpet/ event-ready look. Pigmented, blendable, and with an array of warm nudes, subtle shimmer and cool matte shades, this palette can do it all. I never mind myself reaching for another palette when creating looks, as it has all the shades I need to create a ton of fashion-forward effects. Etienne motto is that makeup is all about self-expression, with no rules, so don't be afraid to have fun with this palette. Take a risk, play with colour and achieve multiple looks to go with your style, mood or attitude. It's exclusive to Shoppers Drug Mart and retails for $49.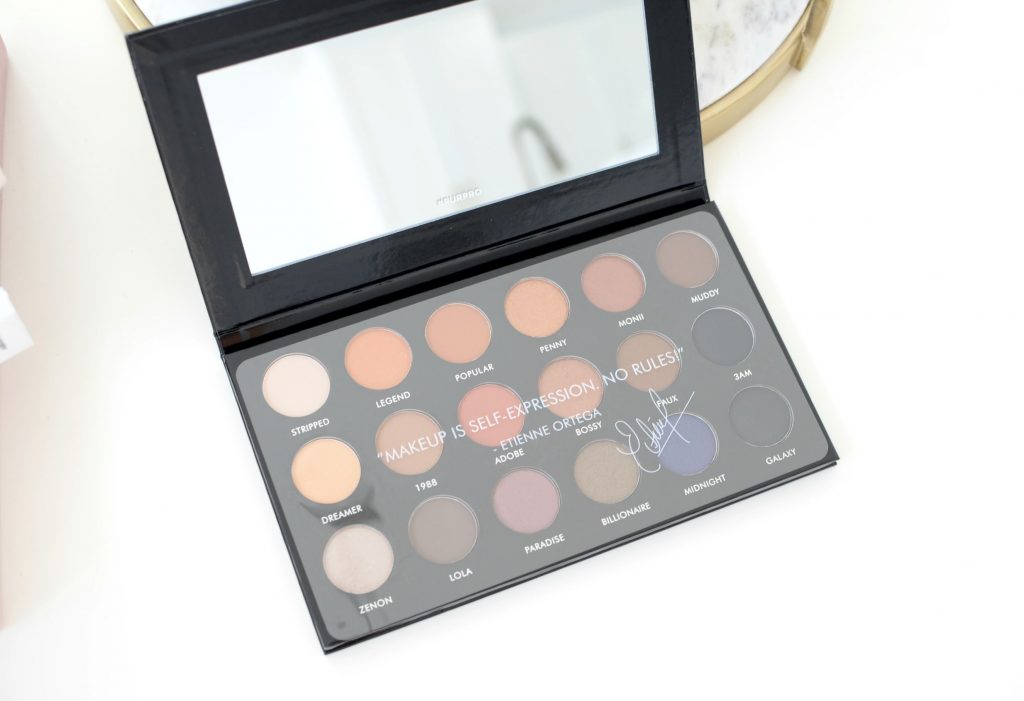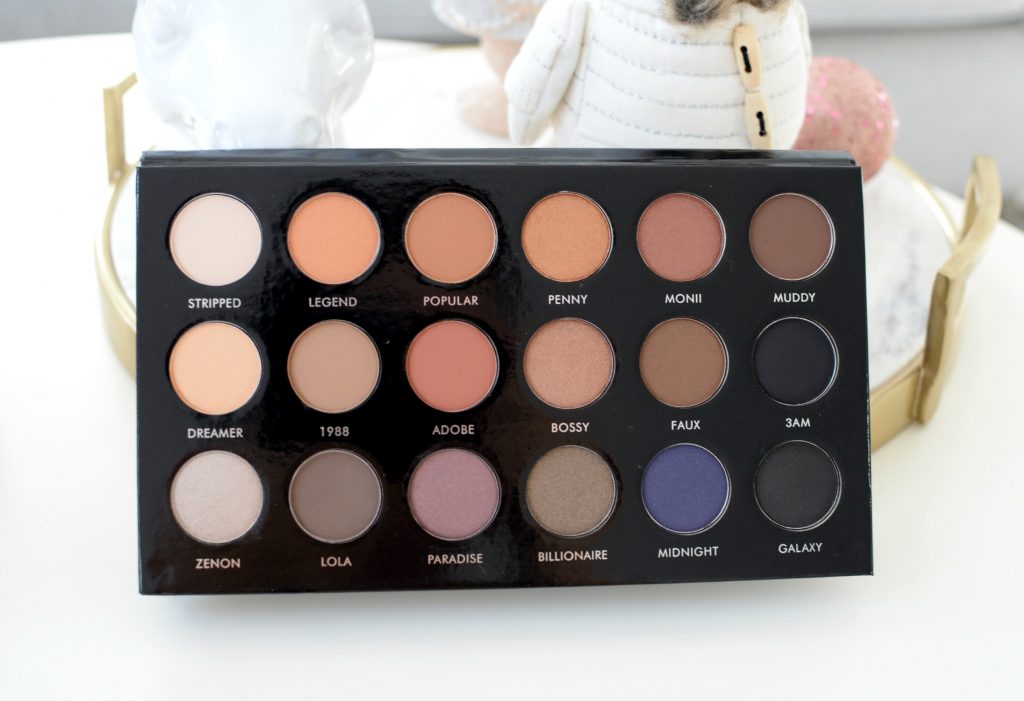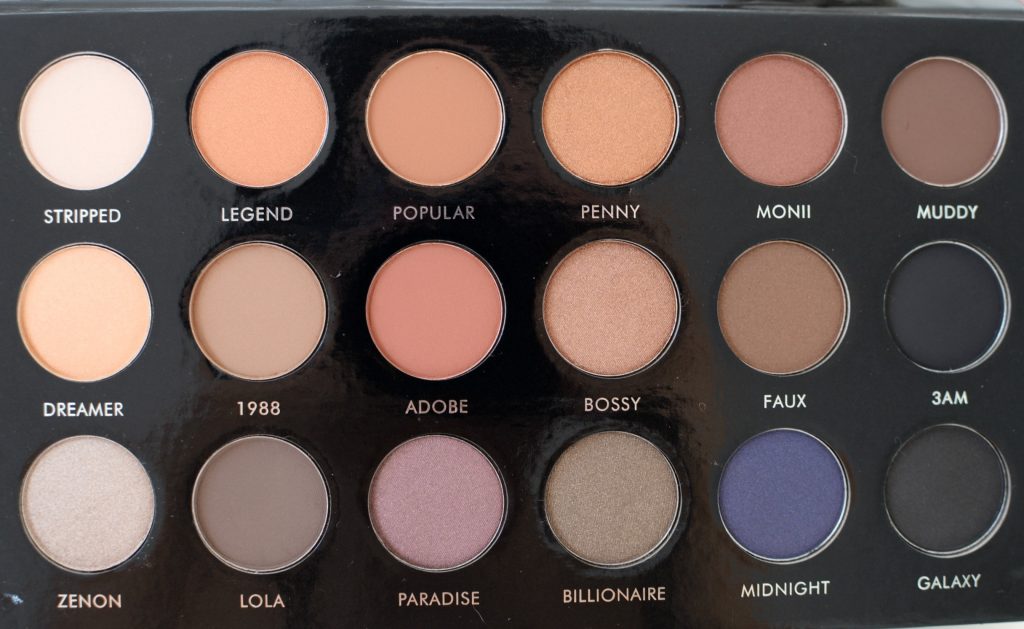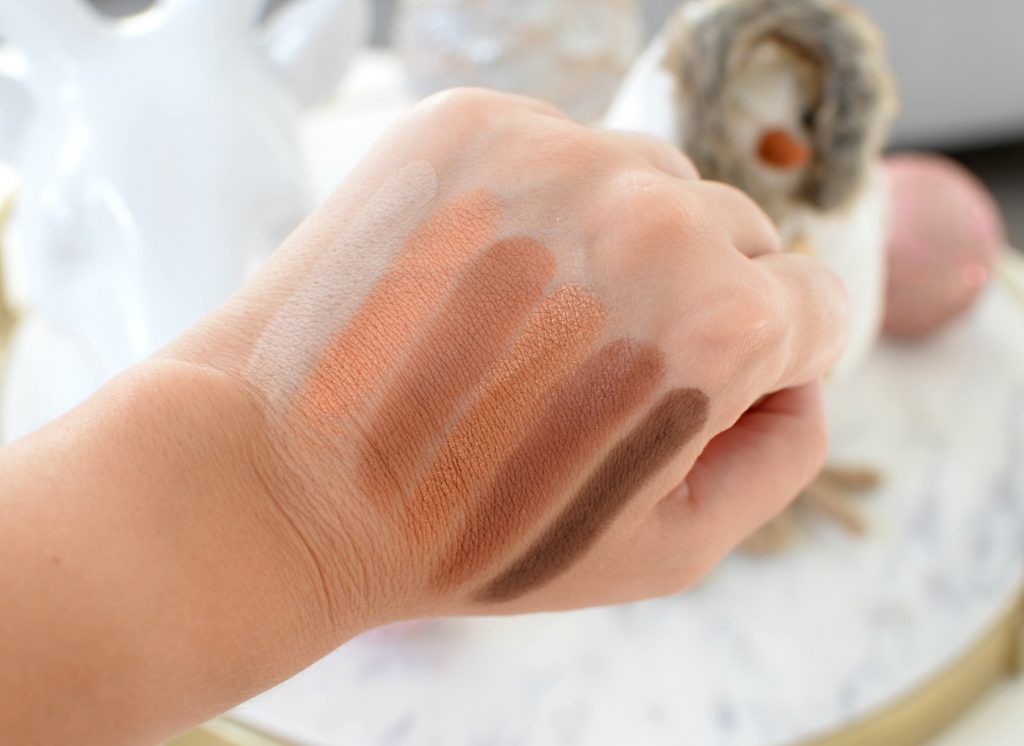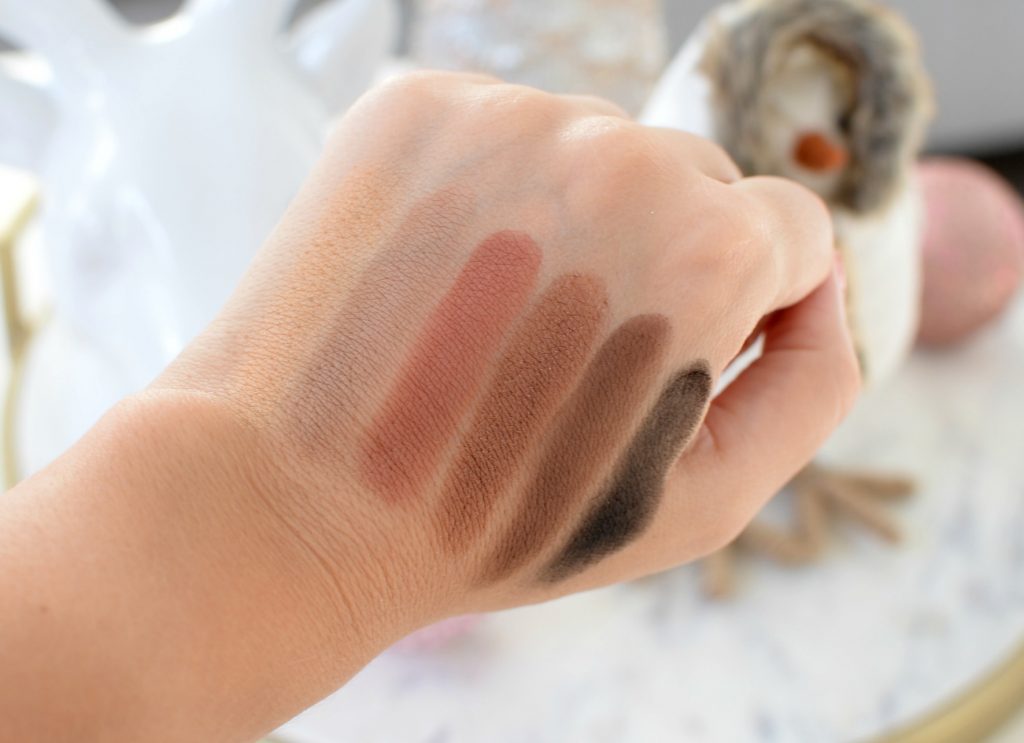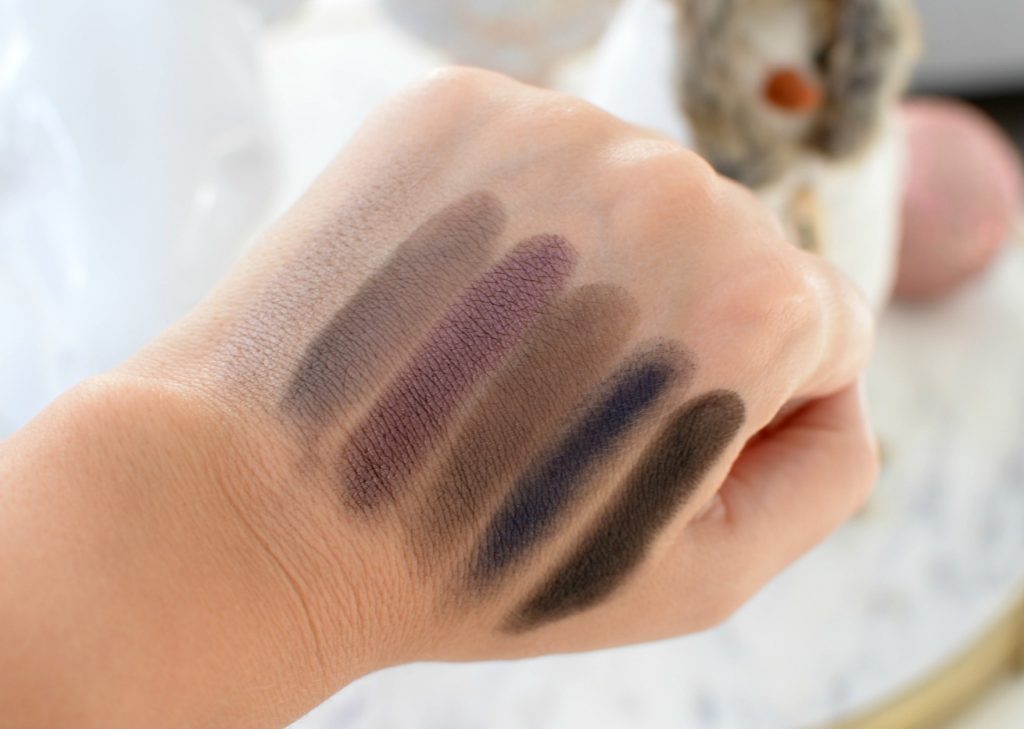 If there's one thing I look for in a liquid liner, it's that I can get extremely close to my natural lash line to give the appearance of thicker, fuller, multiplied lashes. The new Clarins Graphik Ink Liner features a precise, easy-to-use felt tip, that makes it incredibly easy to create an array of thick and thin lines. It allows me to show off my artistic flare by creating intricate eye designs with a flick of the pen. The formula is richly pigmented, providing an intense black line, even when I'm drawing on an ultra-thin line. The felt-tip allows me to create seamless lines in a single stroke, without pulling or tugging on the eyelid. It dries within seconds, is budge-proof the entire day and is intensely black. The design allows me to go from the thinnest line possible at the inner corner of my eyes, to a thicker, bolder line as I apply outwards. It retails for $30.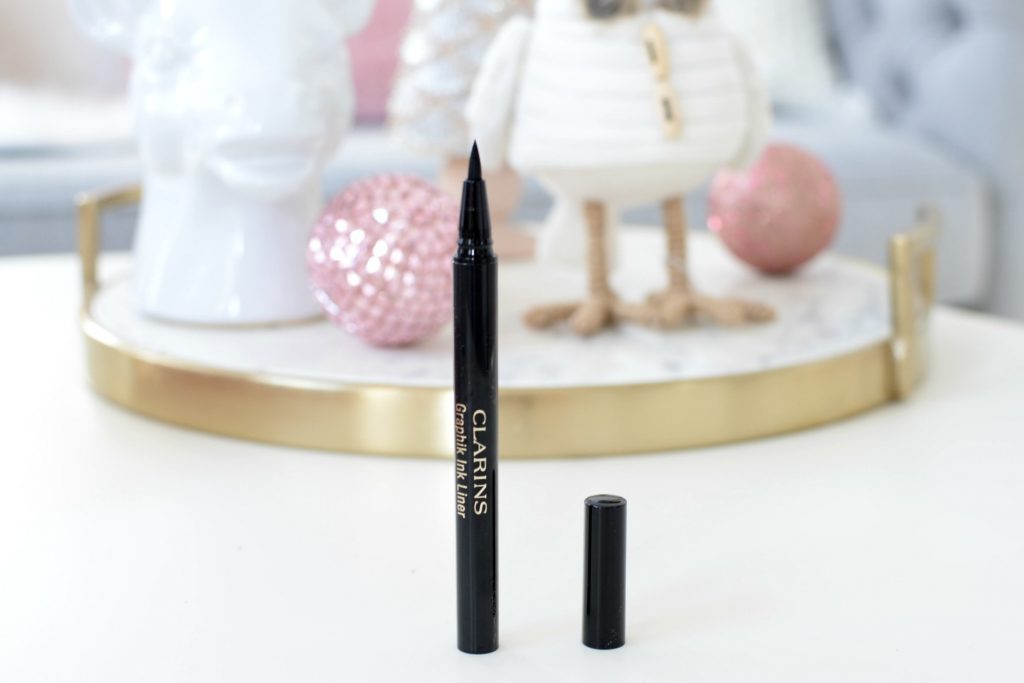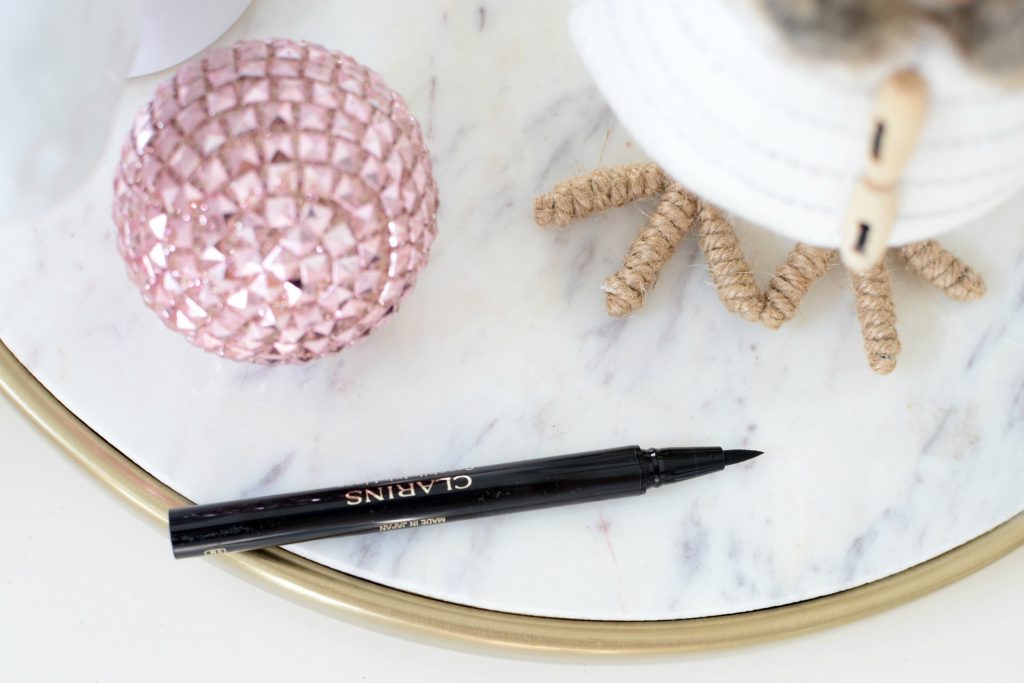 I've really been into two-step mascaras lately. Maybelline The Colossal Big Shot Tinted Primer and Volume Express Mascara go hand-in-hand in creating bold, dramatic and voluminous lashes. I start with the primer, its lash intensifying black fiber formula not only helps to prep my eyelashes, for mascara application, it actually helps to add mega volume, length, and thickness. Its unique, wavy bristles grab onto every single lash, fanning them out to create a bold effect even before mascara. It retails for $11.99.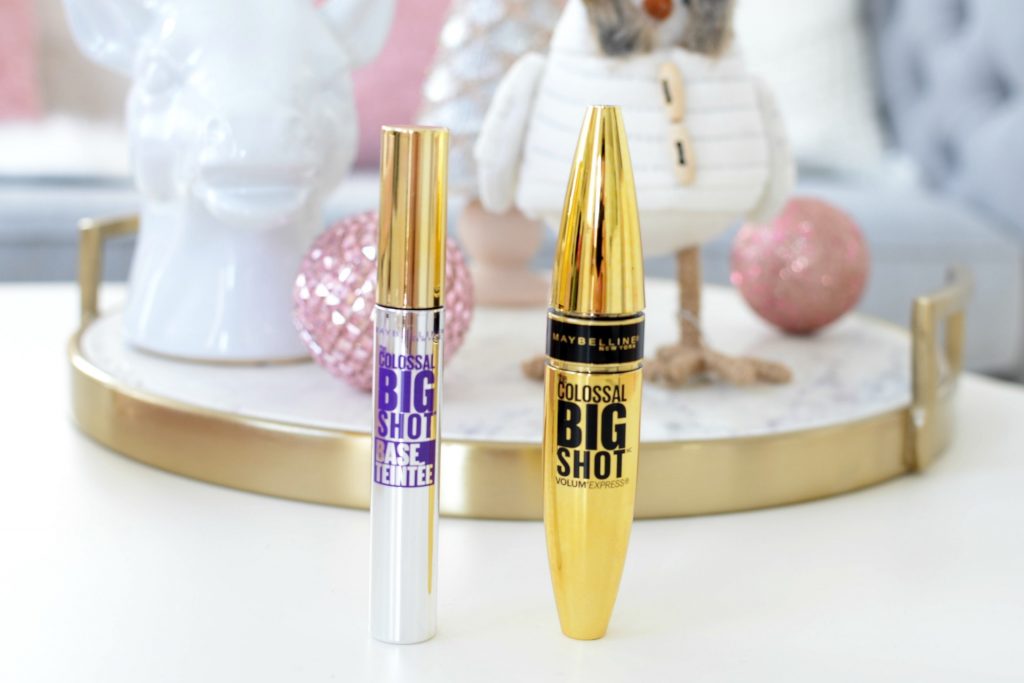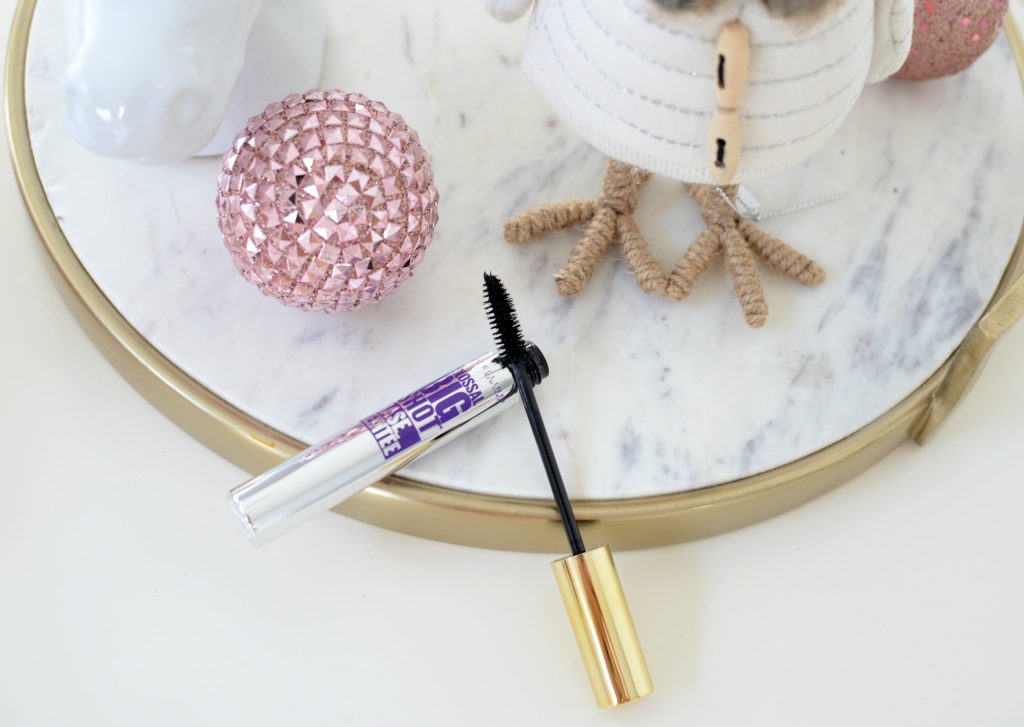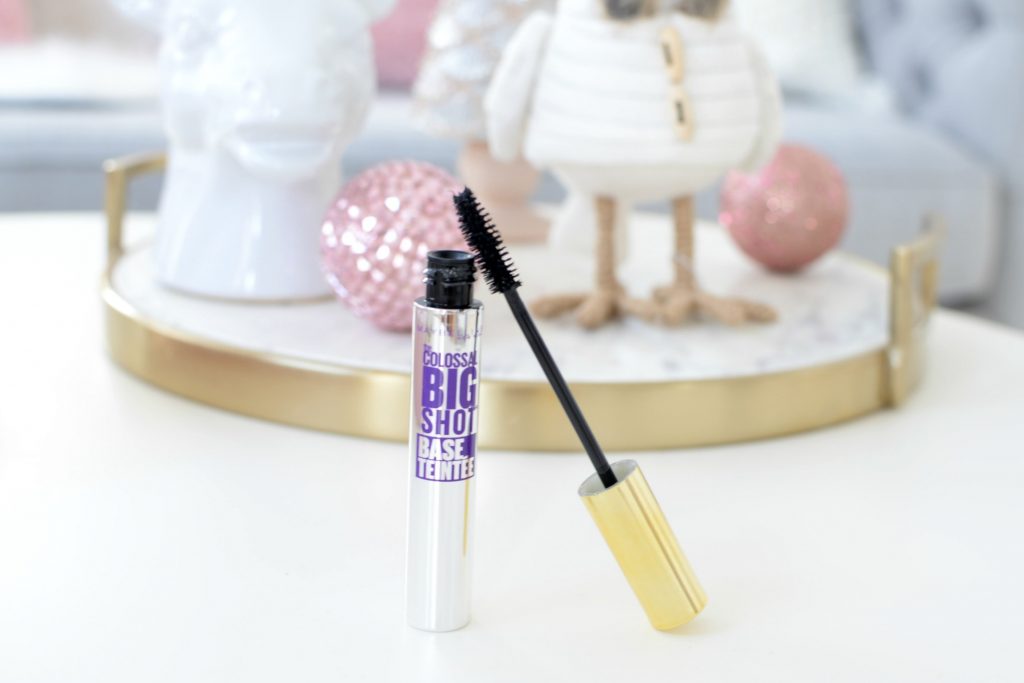 If you're looking for mega-volume, the new Maybelline Volum' Express The Colossal Big Shot Mascara is where its at. Not only does it create sky-high volume, it lifts at the roots, giving the appearance of thicker, fuller lashes in a single swipe. It too features an unique wavy bristle design that coats each lash in intense, collagen enriched formula that delivers bold volume. Although it's not waterproof, it still manages to keep my lashes curled up for the entire day, and with no smudging. Its bristle brush picks up a ton of product and coats the lashes from root to tip, without having to re-dip the brush or apply a second coat. It gives the volume that my lashes are lacking, without looking too clumpy or spider-like. It retails for $11.99.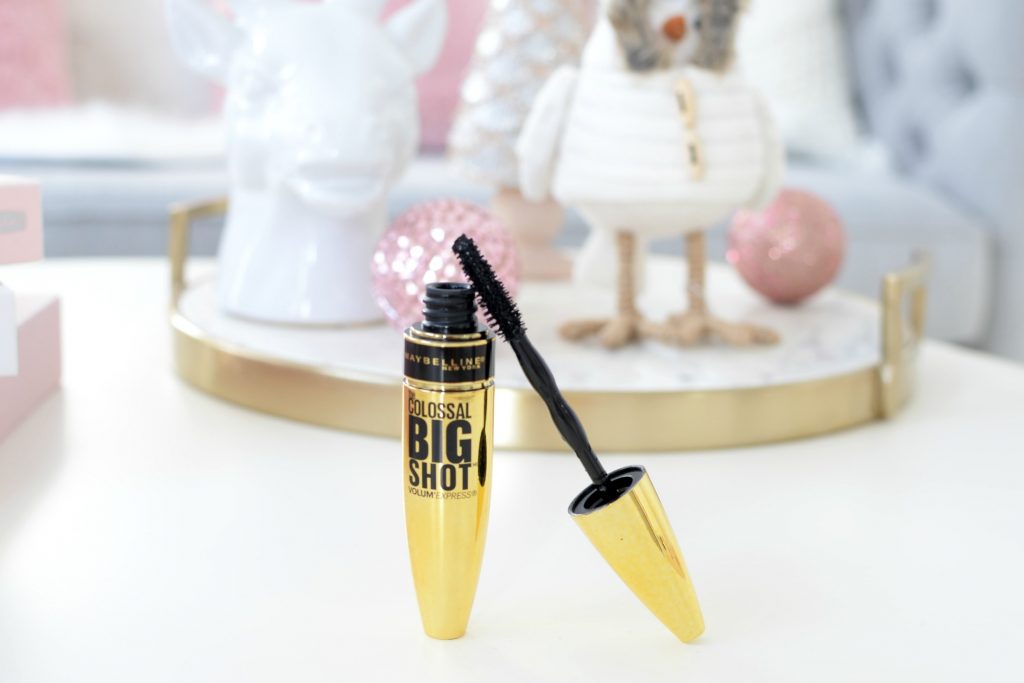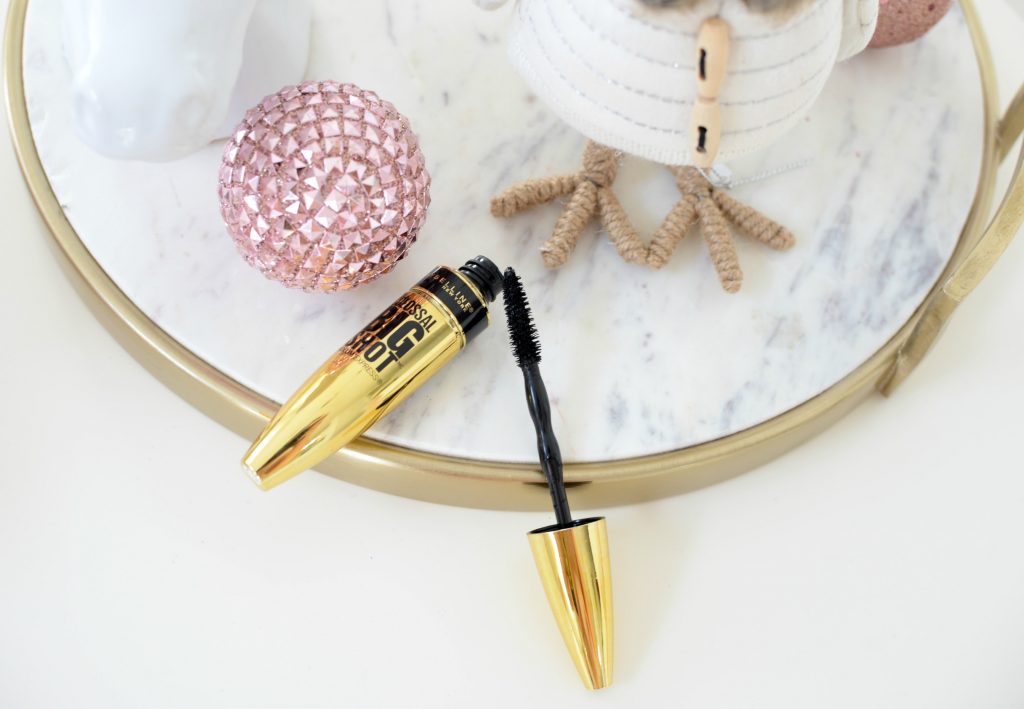 Even though we're still in double digits in London, my skin is already feeling the effects of the cold, dry winter. Outside of using my daily and nightly moisturizer, I've been prepping my skin before foundation with the new Joe Fresh Hydrating Primer. Its unique formula helps to create an invisible canvas on the skin, resulting in longer lasting makeup results. With only a pea size amount, it helps to not only moisturizer and hydrate the skin, it provides a smooth, silky finish for my makeup to adhere to better. Its lightweight, almost gel-like consistency feels almost cooling and quite refreshing on the skin. It glides onto the skin like butter, blends out effortlessly and keeps my makeup in place the entire day. It's extremely comfortable to wear and helps to keep dry flakes and shine at bay. It retails for $12.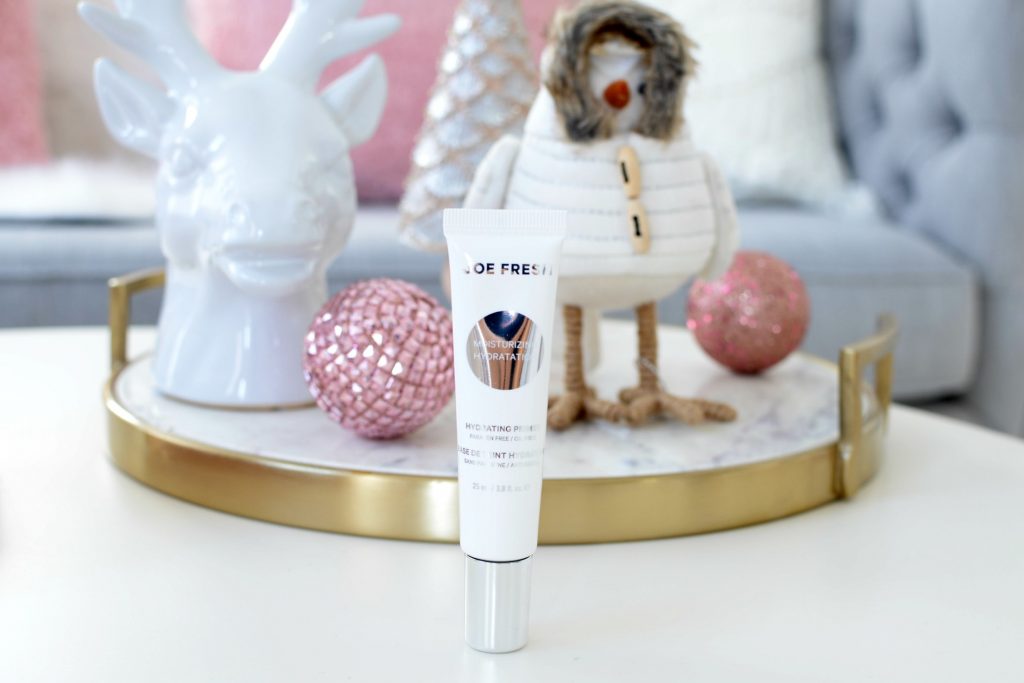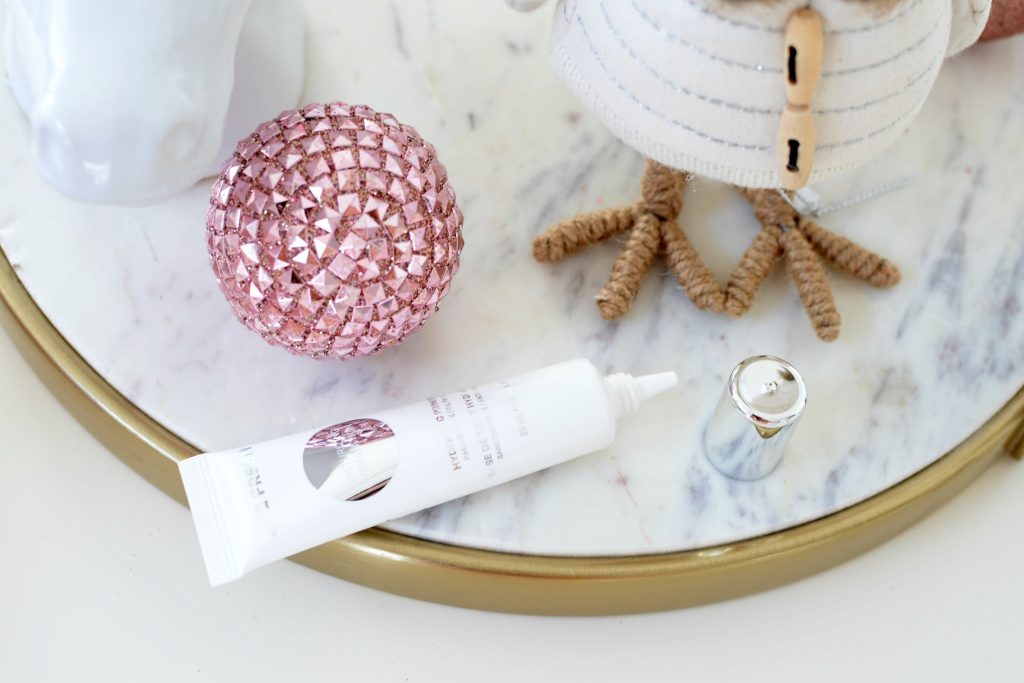 I'm not going to lie, I'm much more of a liquid foundation kinda girl, but its nice to switch things up every once in awhile. The new Dior Diorskin Forever Extreme Control Perfect Matte Powder Foundation is a longwearing, compact foundation that provides medium to full coverage with an extremely matte finish. It features extra-thin mineral powders that act like a sponge to absorb sebum, minimize shine and the look of pores without drying out the skin or leaving it feeling uncomfortable. Its lightweight, almost velvety powder texture provides me with a natural finish, yet still manages to create a flawless finish. Its rich and creamy texture goes on smoothly for a weightless look and feel. It hides all my imperfections, such as blemishes, redness and dark spots, without compromising comfort. It wears beautifully throughout the day, but since it does come in a handy compact, I can easily touch-up on the go. It retails for $70.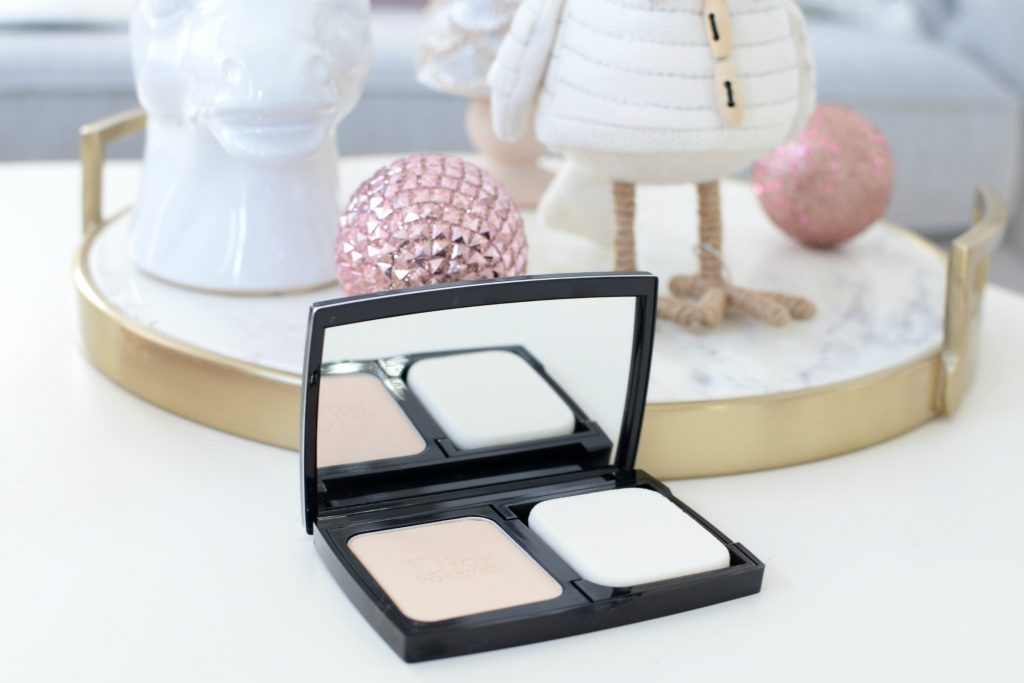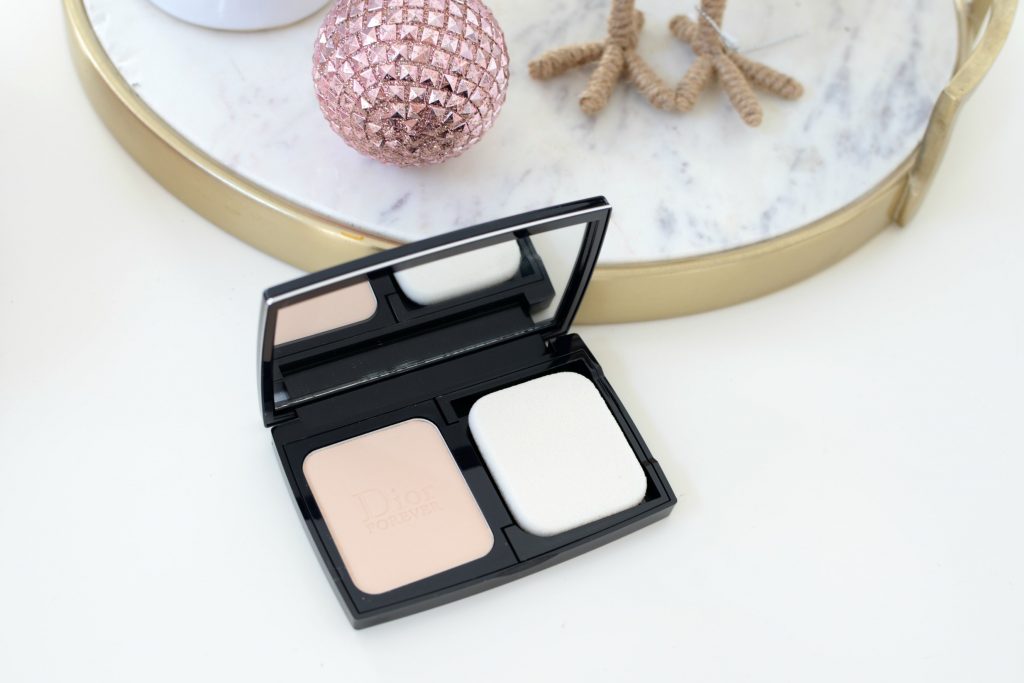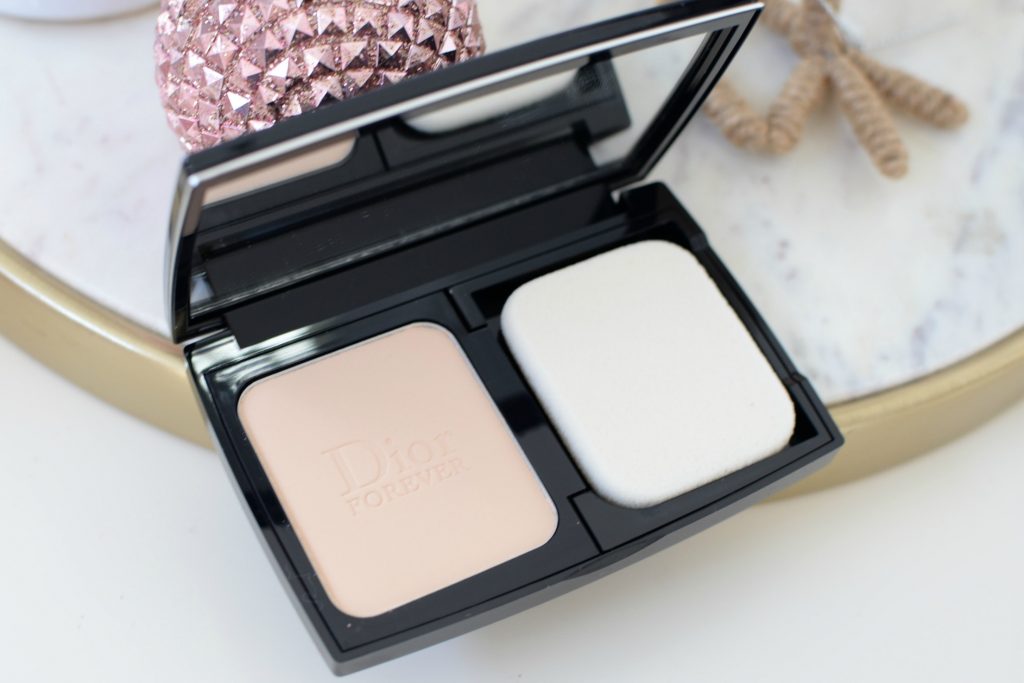 The new Dior Diorskin Forever Undercover Concealer is perfect for the winter, thanks to its hydrating liquid formula. Not only does it camouflage all your imperfections in a single stroke, it stays comfortable the entire day. Its cushiony doe-foot applicator allows for precise and foolproof application, without having to reach for other tools or brushes. I apply straight out of the tube and dap in with my fingertip. Although it does create a perfectly matte finish, it never looks flat or dull. Its weightless texture doesn't settle into my fine lines, nor does it crease or crack throughout the day. Its flawless from the moment I apply it, to the moment I take it off in the evening. On days when I'm looking for a little extra coverage, but still wanting a natural finish, this density pigmented formula provides just that. It never looks thick or heavy, no matter how much I apply. It retails for $42.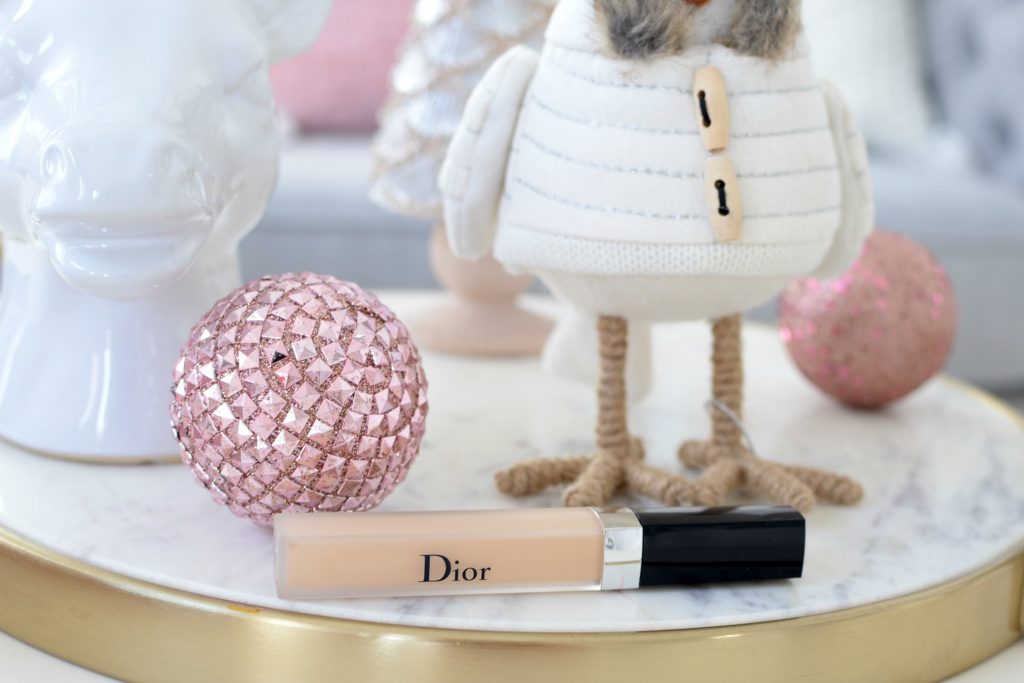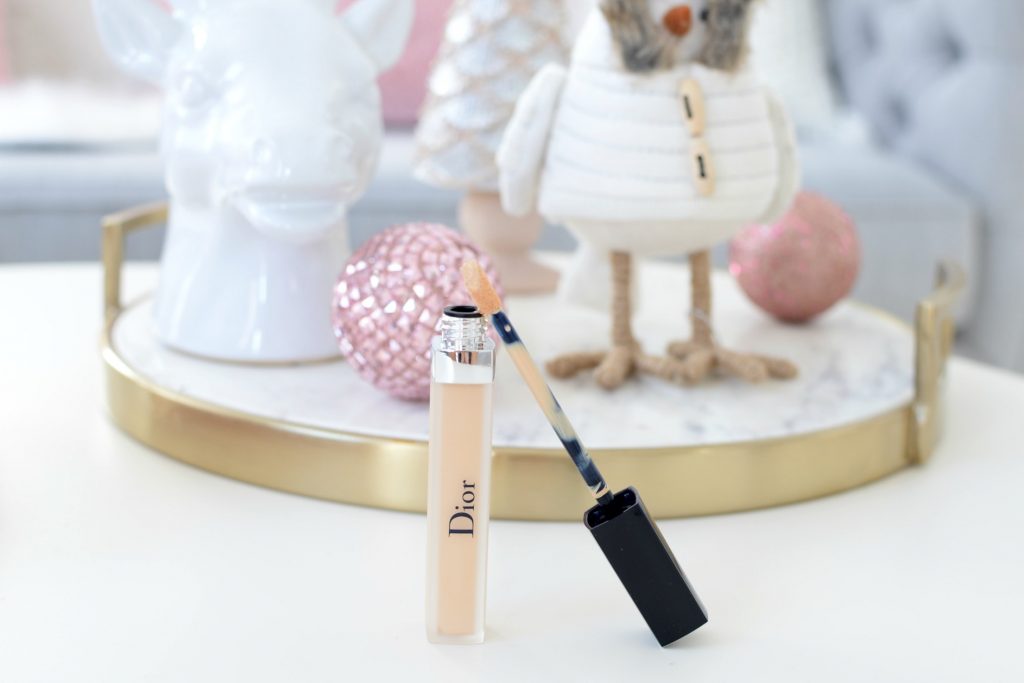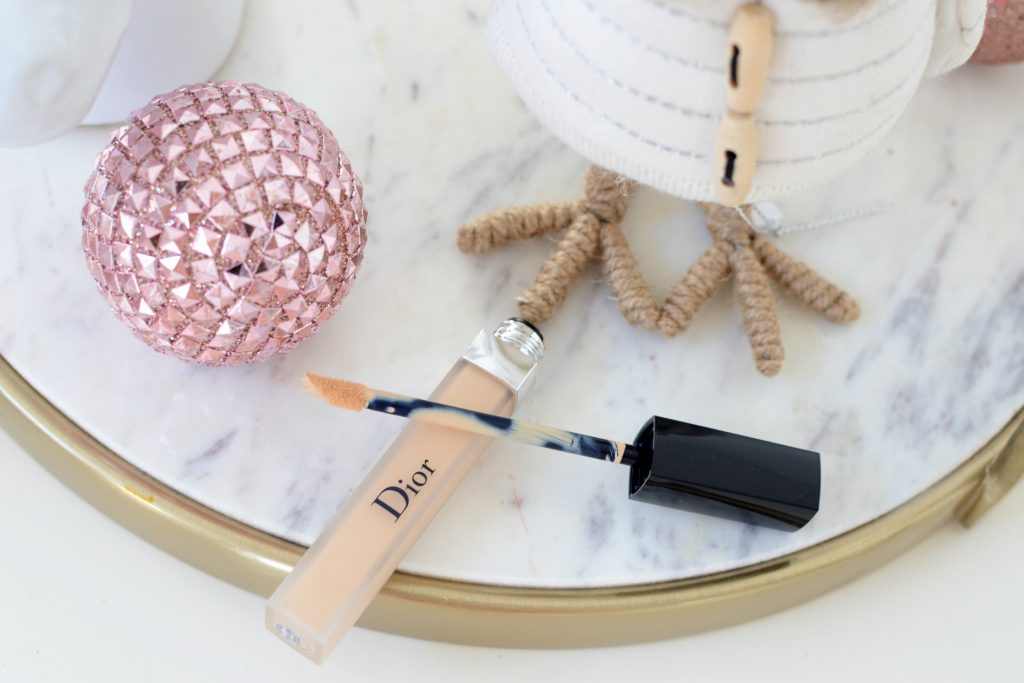 Pop Beauty is a new brand to me, but I'm so happy I started with their illuminating powders. Boy do these Prismatic Pop pack some punch. I'm talking intensely blinding highlight thanks to its ultra-light reflecting formula. It instantly helps to create a multifaceted, three-dimensional, luminous glow. Its extremely pigmented, buttery-soft and smooth consistency glides onto the skin effortlessly to create both dimension, shape and lift to certain areas of the face. Whether I'm looking for a subtle sheen (go light handed for this one) or a trendy strobe effect, all 3 shades will create a gorgeous glow. I can achieve a slight sheen to the temples and inner-corner of my eyes, and then intensify the glow on the brow bone, Cupid's bow and cheekbones, the possibilities are endless. It instantly lifts, brightens and improves the overall look of my skin and makeup. It's a fun way to play up the features I love, while leaving my natural skin looking more luminous and healthy. It comes in 4 shades and retails for $12.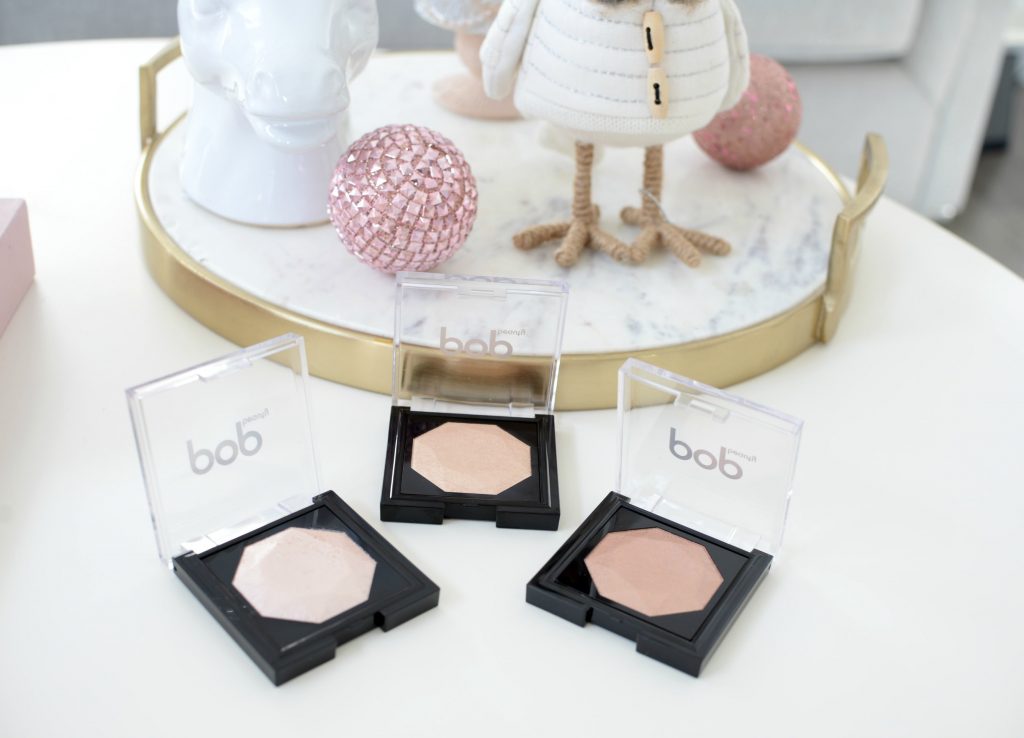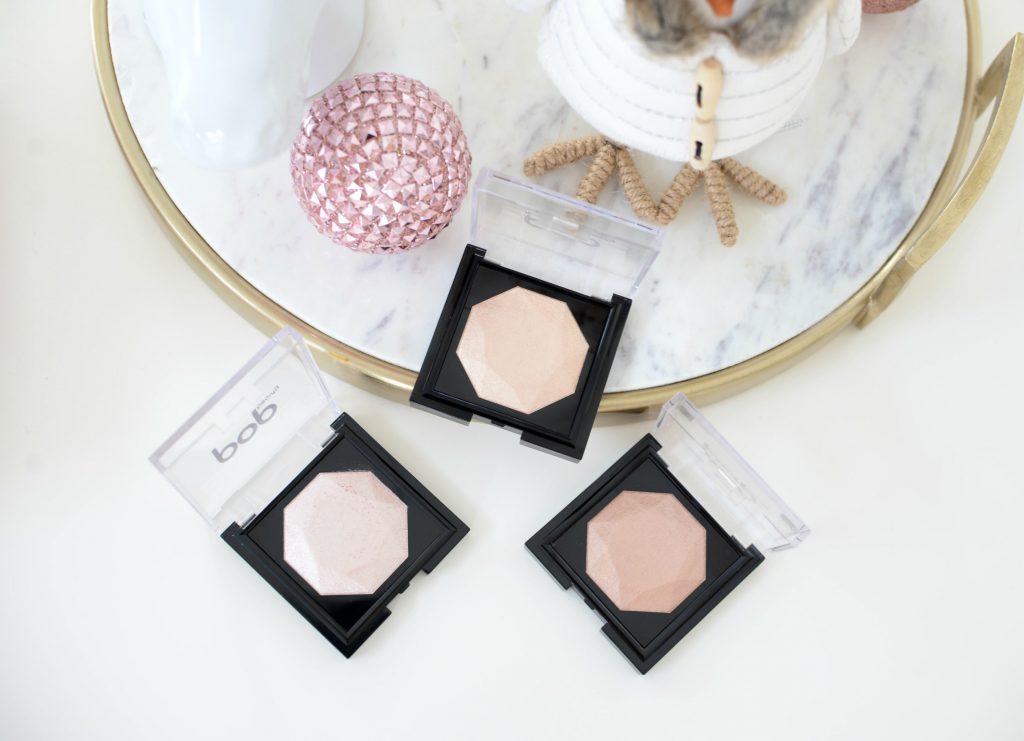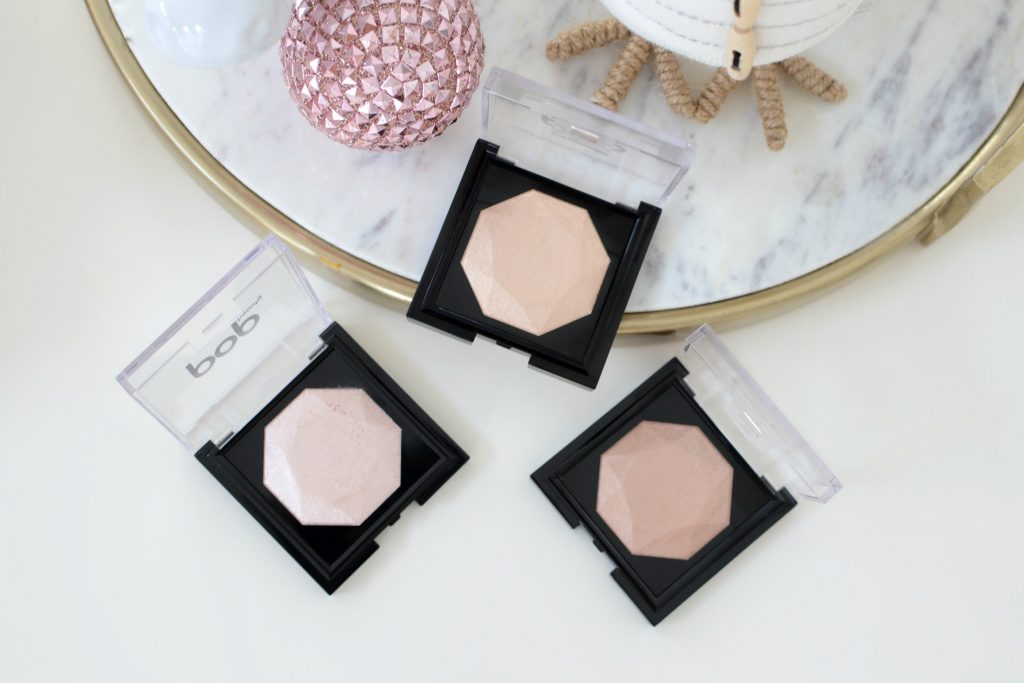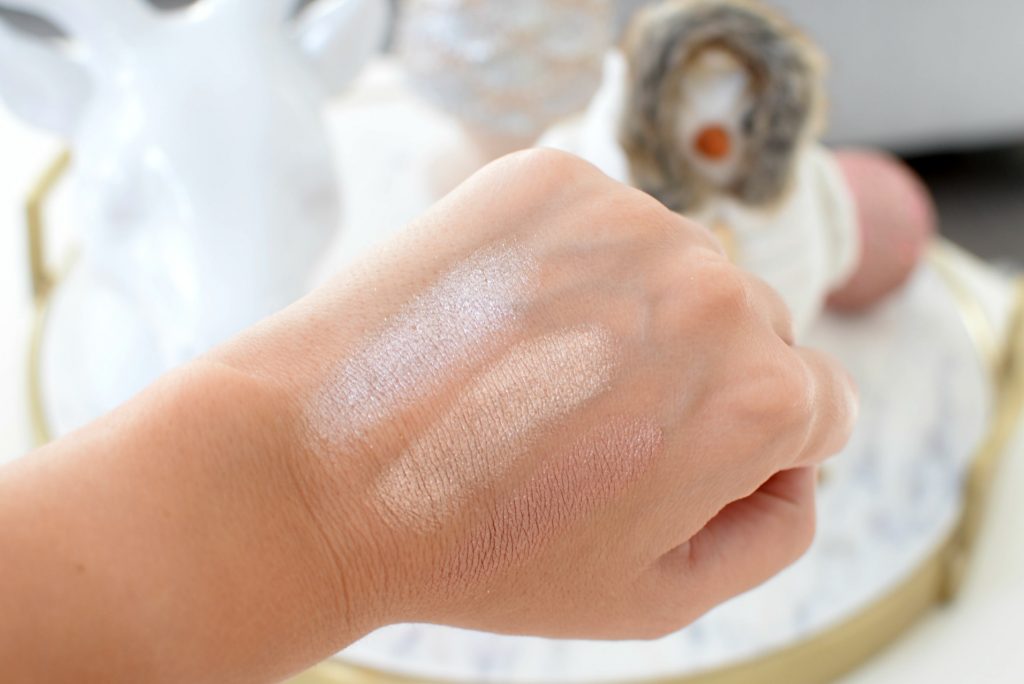 I'm a sucker for 2-in-1 products, what can I say, they are just so convenient. New for the holidays, the Dior Diorific Matte Fluid helps to tint both the lips and cheeks in 4 exclusive matte shades. First of all, it comes in the most adorable ornament-like glass bottle with sponge-tip applicator for easy application. It has a rich and creamy, almost whipped and mousy texture that's buildable in consistency. Applying a thin layer will create a lovely stain on both the lips and cheeks, but go in with a second layer to really buildup the intensity. You can easily achieve a full-coverage effect with little to no effort. The formula sets and dries fairly quickly, but allows enough time to apply as many layers as required to achieve your desired look. The staying power is amazing, we're talking all day longevity. Although it does dry down to a completely matte finish, it never looks or feels drying on the skin. It retails for $38 (Charm and Desire below).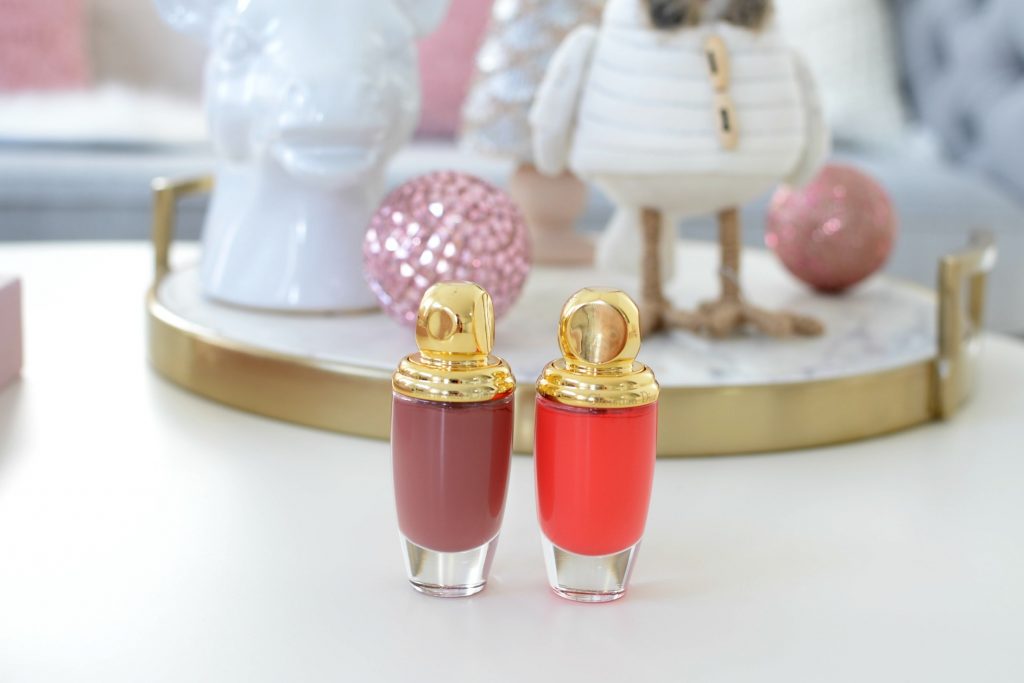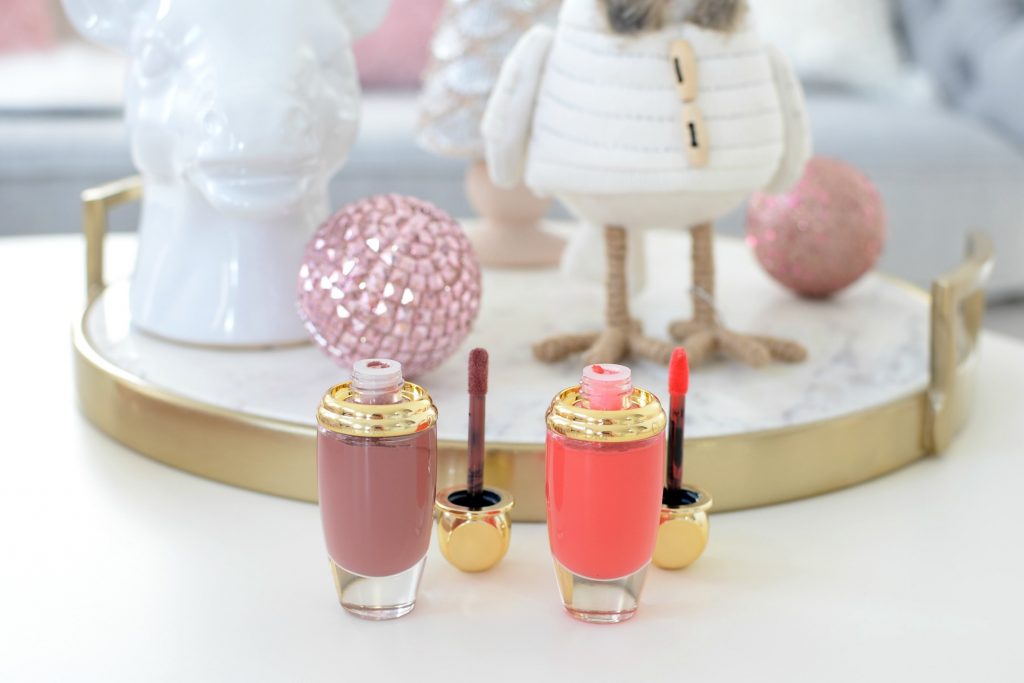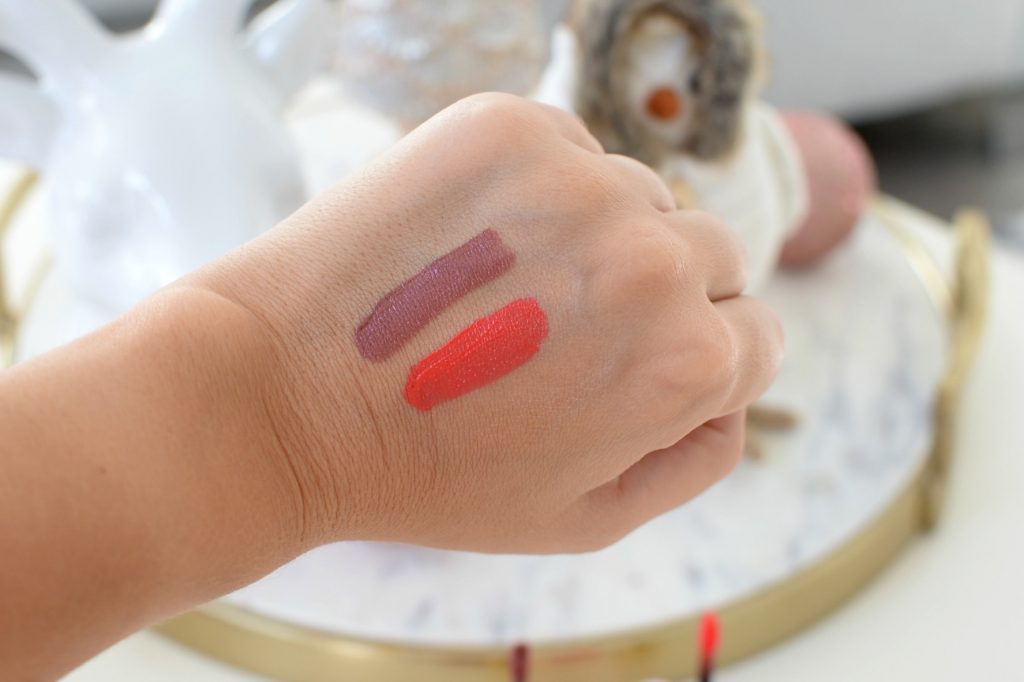 Lancôme's cult lipstick, L'Absolu Rouge got a makeover this season, thanks to its partnership with Olympia Le-Tan. It comes engraved with an imprint of lips on the actual lipstick bullet and Olympia xxx signature down the casing of the lipstick. It comes with the brand's classic rich and creamy, intensely pigmented, extra-long wearing formula that we're all used to in 3 bold and electrify shades. It provides true, opaque coverage that stays true to colour for hours on end. They glide on smoothly, don't fade or bleed outside the line and don't require any prep-work beforehand. These are perfect for the slightly cooler months as they create a bold pop of colour without drying out your lips. I find I don't even have to apply a hydrating lip balm beforehand. Shade 1955 is a strong and bold wine that's perfect for an evening on the town, whereas 1988 is a more wearable orange-y red that looks amazing on all skin tones. It retails for $40.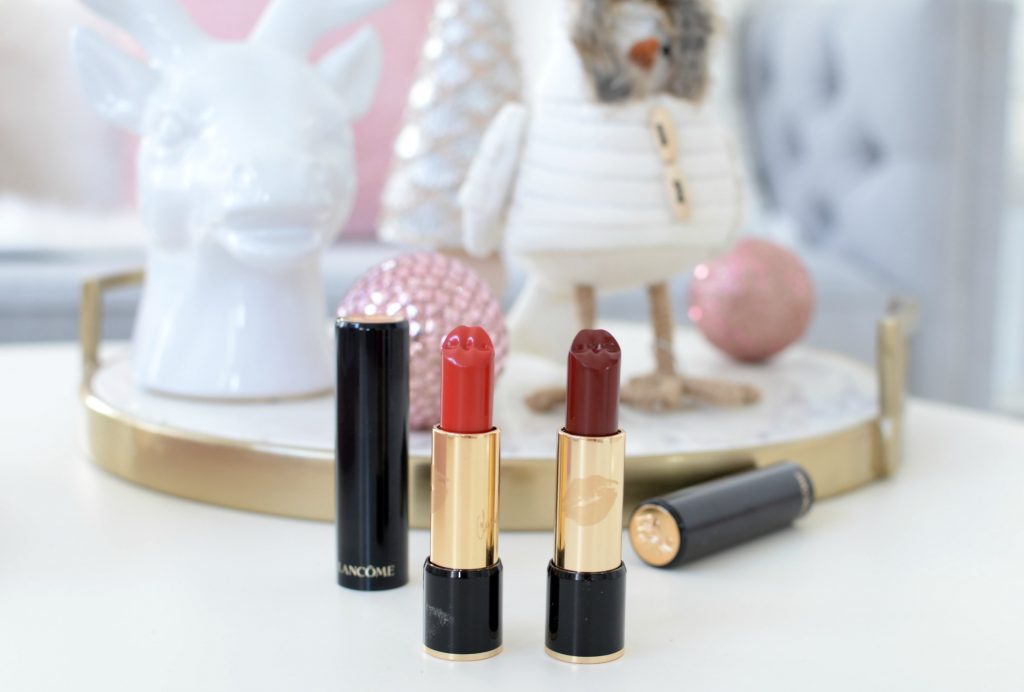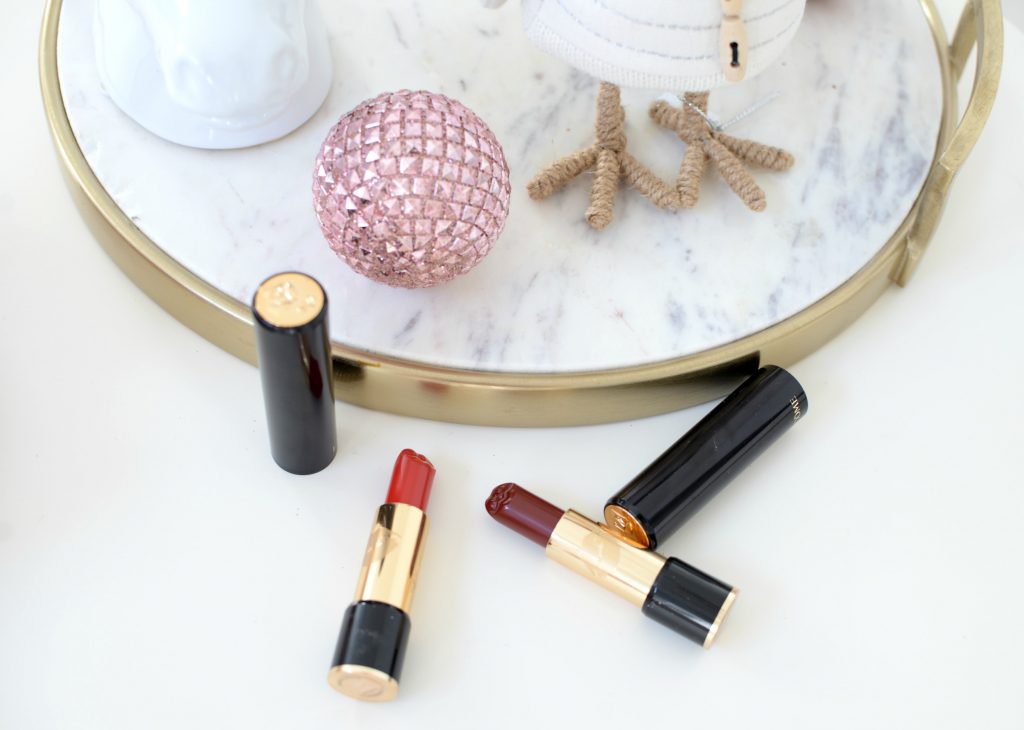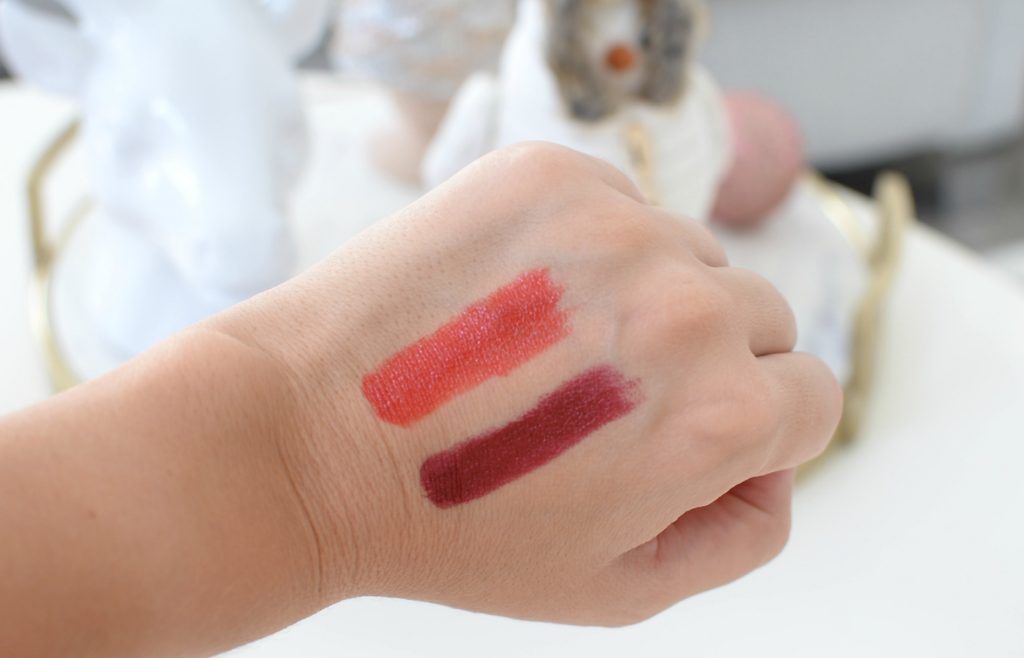 For nails, I've been rotating between the 4 shades found within the Essie Rebecca Minkoff Leathers Collection. The idea behind these shades was to mimic the leather found within Rebecca's best-selling handbag colours. Each shade is just as beautiful as the next and are all full of micro shimmer and set to a semi-matte finish. Cross-Body Heat is a lovely dusty, mauve-y purple, Tote-ally in Love is a deep and vampy burgundy red with ultra-fine silvery sparkle, In Hot Purse-uit is a stunning electrifying indigo blue, also with silver shimmer, and Back In the Saddle is a wintery forest green with both silver and blue shimmer. Not only will these shades be amazing for the holidays, it also makes the perfect gift. You can give the entire set away as a gift, or break them up into 4 individual mini gifts. It retails for $14.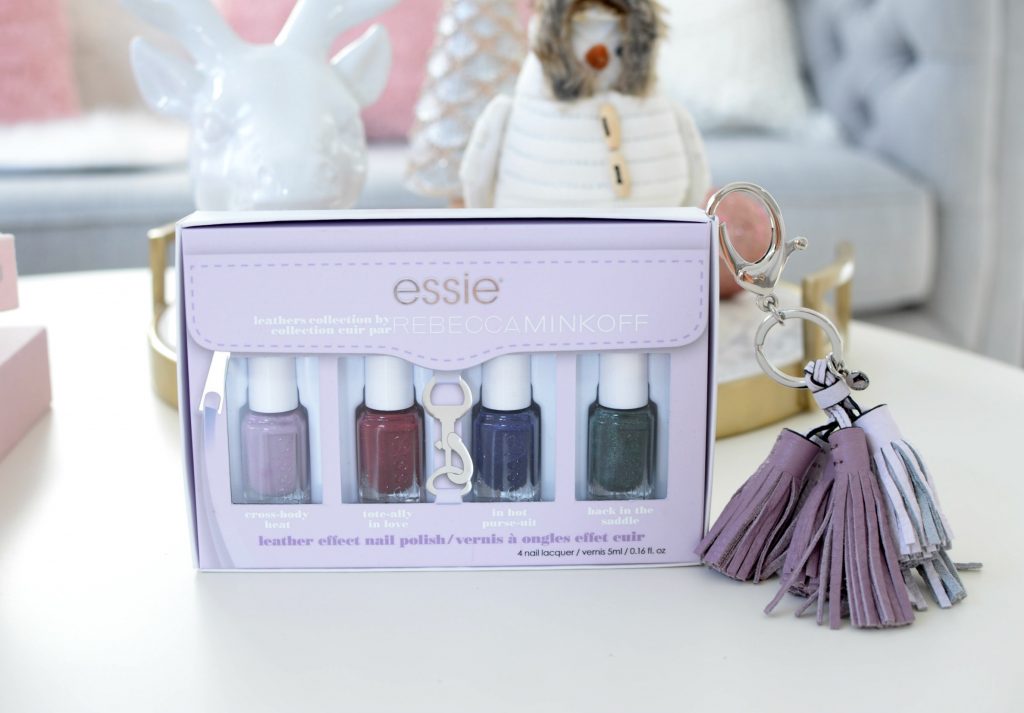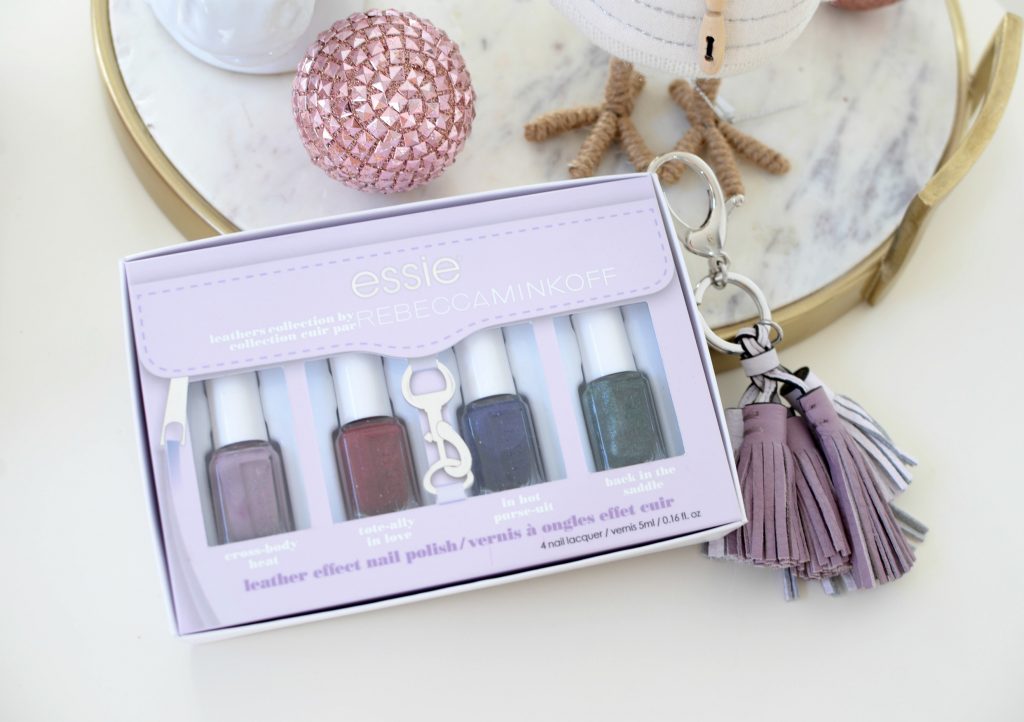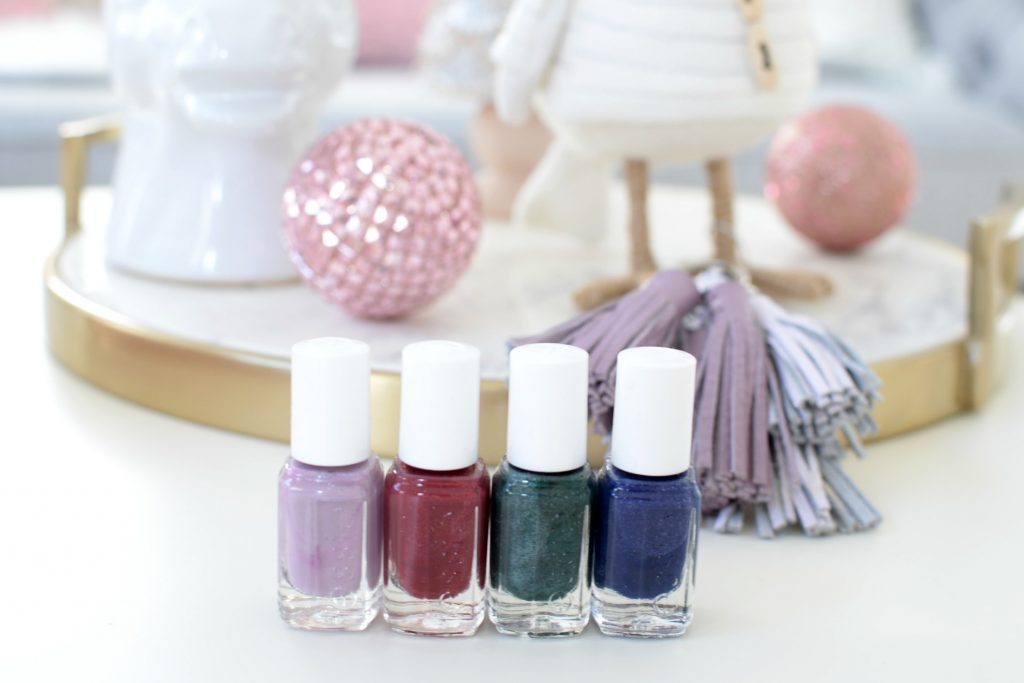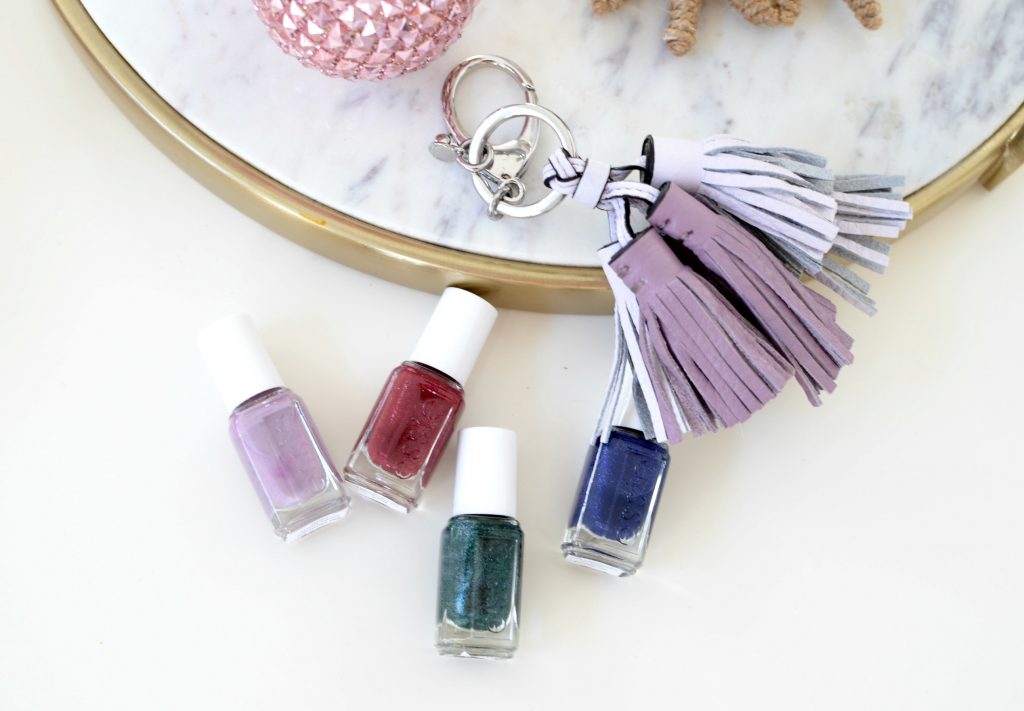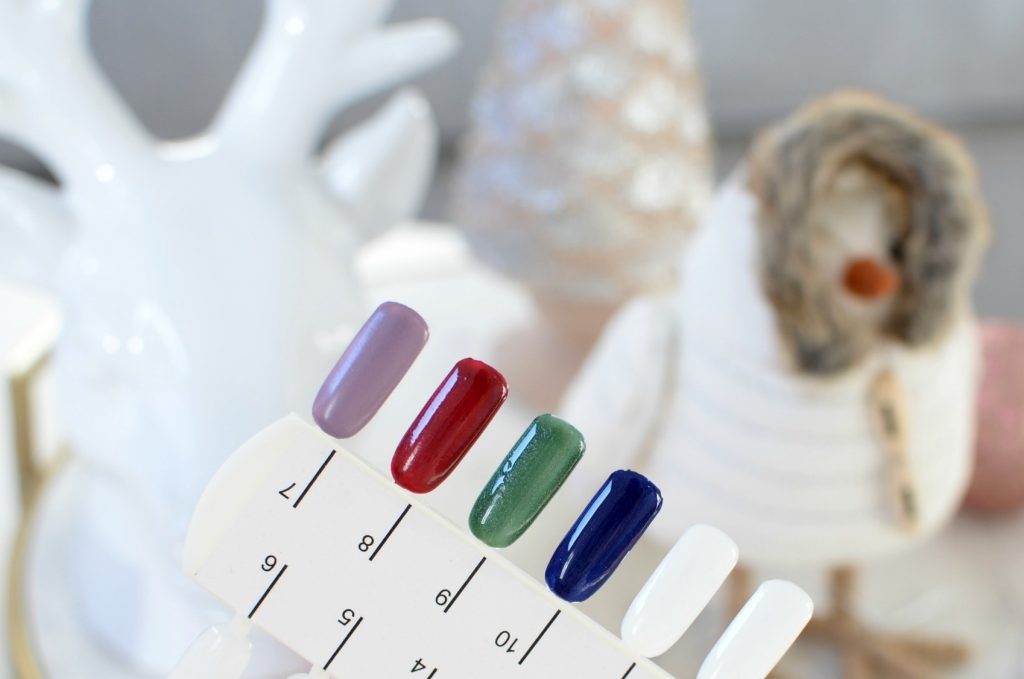 My entire house has been smelling like Christmas thanks to the new Nest Holiday Reed Diffuser. It features notes of pomegranate, Mandarin orange, pine, cloves, and cinnamon with a hint of vanilla and amber to help create a sparkling holiday season. The reason I love this reed diffuser, besides the yummy scent of course, is the fact I can customize the intensity of the aroma depending on my room size. All I have to do is adjust the number of reed sticks I place in the jar. The scent will last upwards of 30 days, but since I tend to keep this in the bedroom, and only use 2 sticks at a time, it actually lasts a few months. It retails for $62.