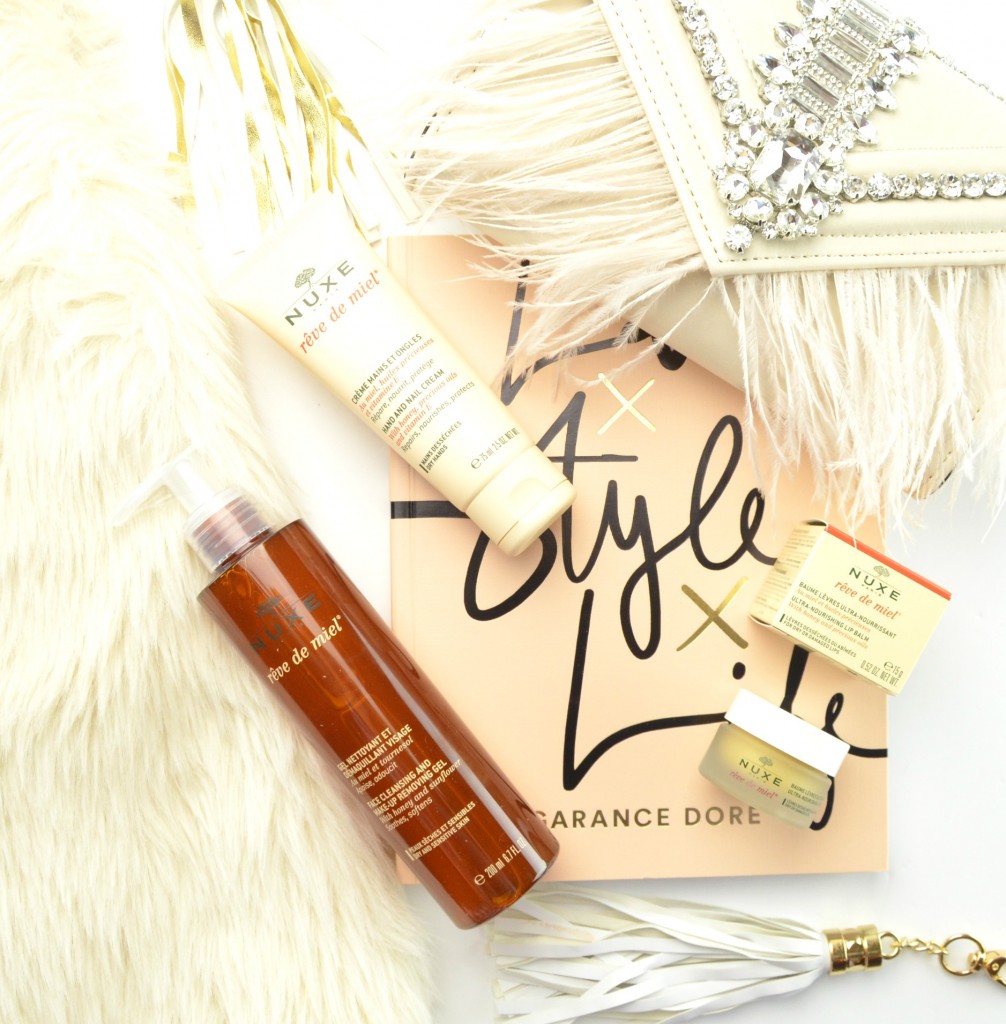 Is the chill and dry air of winter drying your skin out like it is mine? Is your healthy glow of summer quickly turning pale and dull? Are you losing tone and firmness, along with seeing fine lines, dryness and redness slowly starting to appear, than you're going to want to keep reading? The Nuxe Rêve de Miel collection ensures your skin stays hydrated, comfortable and beautiful, from head to toe this winter with 3 must-have products. A facial cleanser and makeup removing gel to gently cleanse the skin of makeup, dirt and oily, while soothing irritated skin, a hand and nail cream that helps soften the skin, and a nourishing lip balm to keep your lips sweet and luscious. Each product comes in an eco-design packaging to limit the environment impact, is formulated with natural active ingredients made without minerals oils or animal origin ingredients.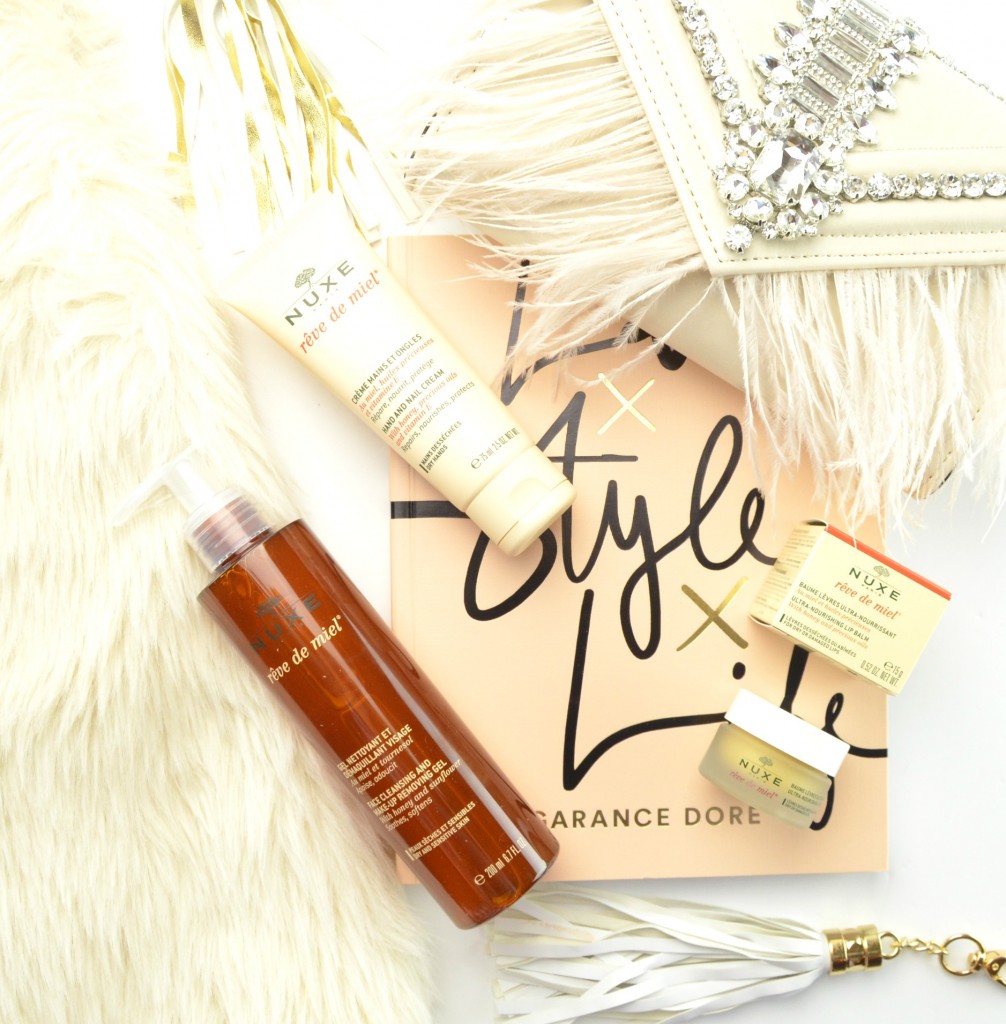 Nuxe Rêve de Miel Face Cleansing And Make-Up Removing Gel has a unique honey texture that helps to remove all traces of makeup and impurities that have accumulated over the course of the day. It's easy to use formula goes instantly to work by massaging the gel into the skin using only your fingertips and water.
Nuxe Rêve de Miel Face Cleansing And Make-Up Removing Gel comes in a convenient and easy to use pump-style plastic bottle with a lightly coloured Amber, gel/ oily texture within. It gently, yet thoroughly, breaks down makeup, dirt and oil and rinses clean away. It does leave behind a slight oily residue, yet doesn't clog the pores or cause breakouts. It comes to a decent lather with only the smallest amount of water and almost melts into the skin. Although it's not overally drying, it is also not very hydrating. For those with drier skin, you might need to follow up with a rich and creamy moisturizer afterwards? It has the sweet scent of honey that is quite refreshing after a long, stressful day.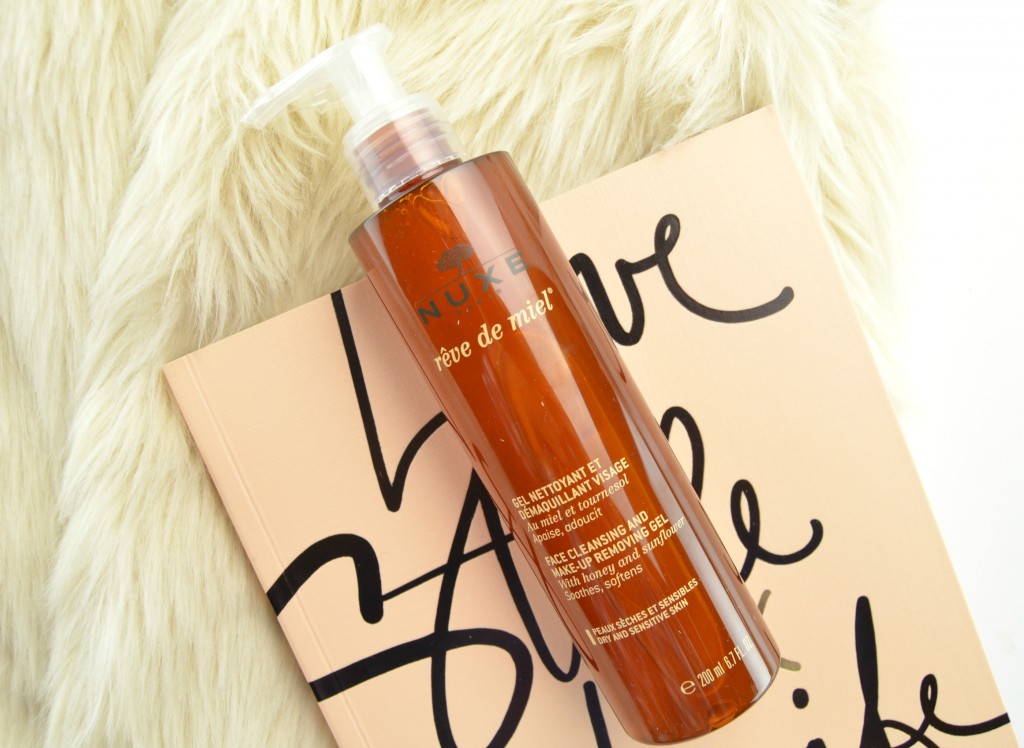 I've been using the Nuxe Rêve de Miel Face Cleansing And Make-Up Removing Gel nightly for the past month and loving it. I apply a single pump to the palm of my hand, add a tiny amount of water and rub together. I then evenly distribute the gel over my entire face and neck, massage into the skin and watch as it turns into a milky consistency. I can see it immediately breaking down and dissolving my foundation and eye makeup, although it didn't completely wash away all traces of my makeup. I still went in with my favourite cleanser and clarisonic to get that squeaky clean feel I love so much. It retails for $19 for 200ml.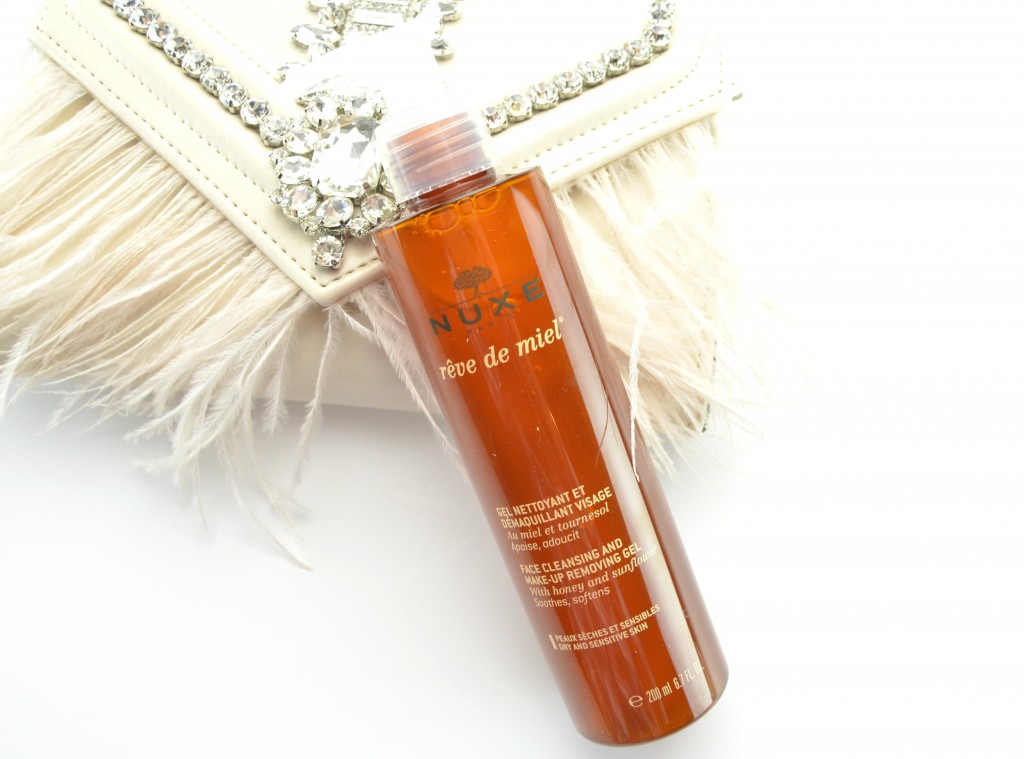 Nuxe Rêve de Miel Hand And Nail Cream helps to nourish, repair and protect your skin from your wrists all the way to the tips of your nails. It's anti-oxidant formula features honey, precious oils and vitamin E to keep your skin extremely moisturized and hydrated the entire day.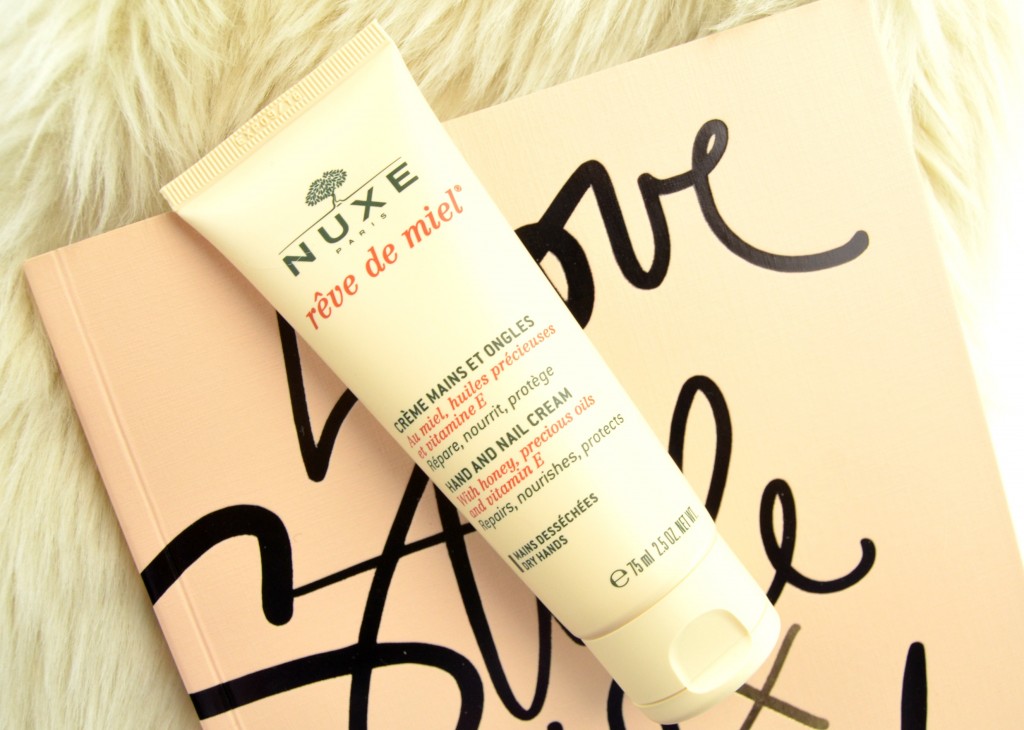 Nuxe Rêve de Miel Hand And Nail Cream comes in a squeeze tube with a lightweight, silky, non-greasy texture within. It instantly goes to work, penetrating deep down into the skin and absorbing within in a few short minutes to keep skin moisturized for hours to come. It's done a wonderful job these past few weeks at healing, protecting and hydrating my dry, chapped hands for the entire day. It immediately blends into my skin, meaning I can apply it throughout the day and not have to wait for it to fully absorb. I've also been applying a thicker layer in the evening, almost as a treatment mask, and waking up to incredibly soft, supple, baby smooth hands. This is the perfect protector for those harsh, long, cold winter months and it's also purse friendly. It retails for $17.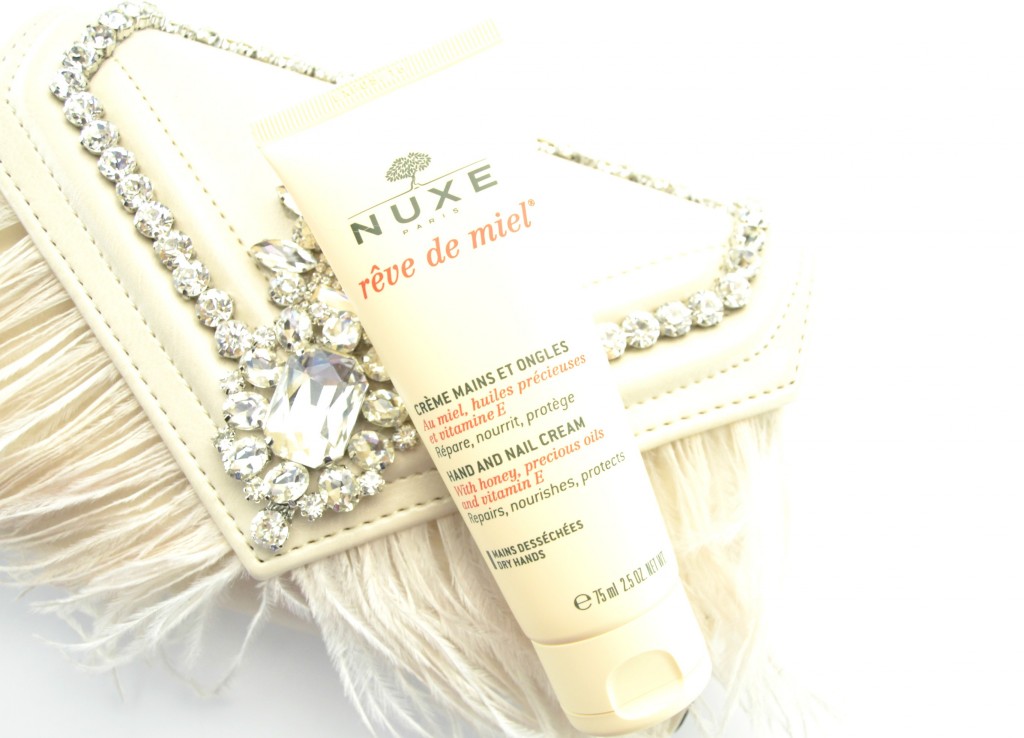 Nuxe Rêve de Miel Ultra-Nourishing Lip Balm is formulated with comforting honey and a dash of grapefruit essence and has been a favourite of people all over the world for the past 20 years. It also includes a good dose of beeswax, sweet almond oil, shea butter and vitamin E to help nourish and protect the skin.

Nuxe Rêve de Miel Ultra-Nourishing Lip Balm comes in a frosted glass jar with a solid, somewhat thick and hard waxy texture within. For best application you're going to have to dip your finger into the pot, as the warmth of your finger will allow you to pick up the balm effortlessly. I suppose you could use a brush, but I think it's going to be hard to apply? Once applied to the lips, it instantly melts down to a smooth and soft consistency and instantly moisturizes the skin. It has an incredibly lightweight, silky smooth formula with a sweet and fruity scent of grapefruit and honey.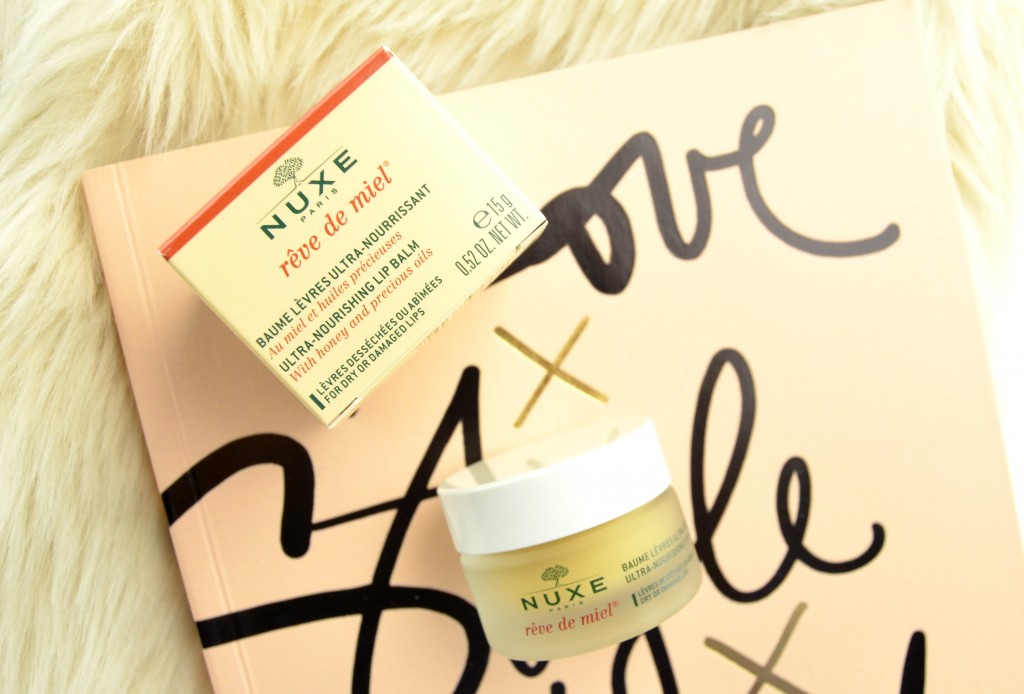 I have to admit, I usually tend to forget to apply my lip balm throughout the day, and since the Nuxe Rêve de Miel Ultra-Nourishing Lip Balm isn't that purse friendly (I don't like the idea of dipping my dirty hands into the tub when I'm out and about) I've been saving it for nighttime use only. I apply a thick layer of the balm before I hit the pillow as an intensive overnight treatment. It helps to soothe dry, chapped lips, while protecting the delicate area around my mouth. My lips are magically transformed into luscious, soft and totally kissable lips by the morning. It retails for $17.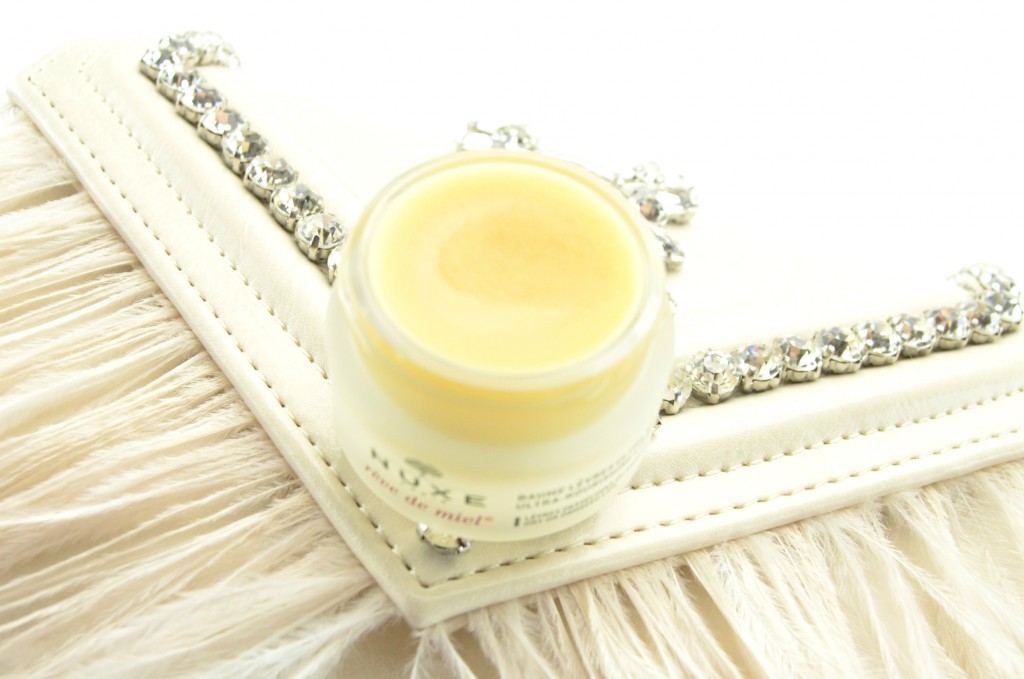 The Nuxe Rêve de Miel Collection also features an Ultra-Comforting Face Cream, Ultra-Comforting Body Cream and a Lip Moisturizing Stick, but the ones I've featured above are my faves and the ones I'm giving away. Make sure you entire using the Rafflecopter form below to win.