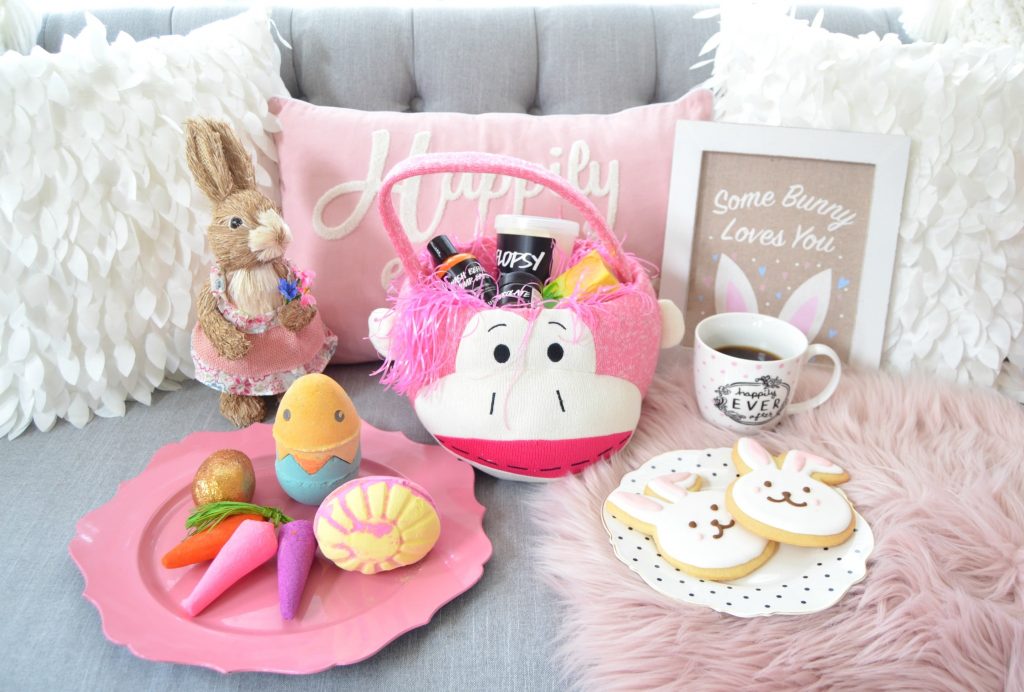 LUSH Easter 2017
As much as I love getting chocolate eggs in my Easter basket, I'd much rather prefer pampering goodies. Skip the spa certificates and give a beautiful luxe bath and beauty basket. Fill it to the brim with LUSH treats for your loved ones to indulge in. Everyone's in need of a little R&R so curate your basket with everything she needs for a spa-day at home. Bubby bath, body washes, a fresh soft and plush towel, along with a few bubble bars and bath bombs, helps create a relaxing and calming experience.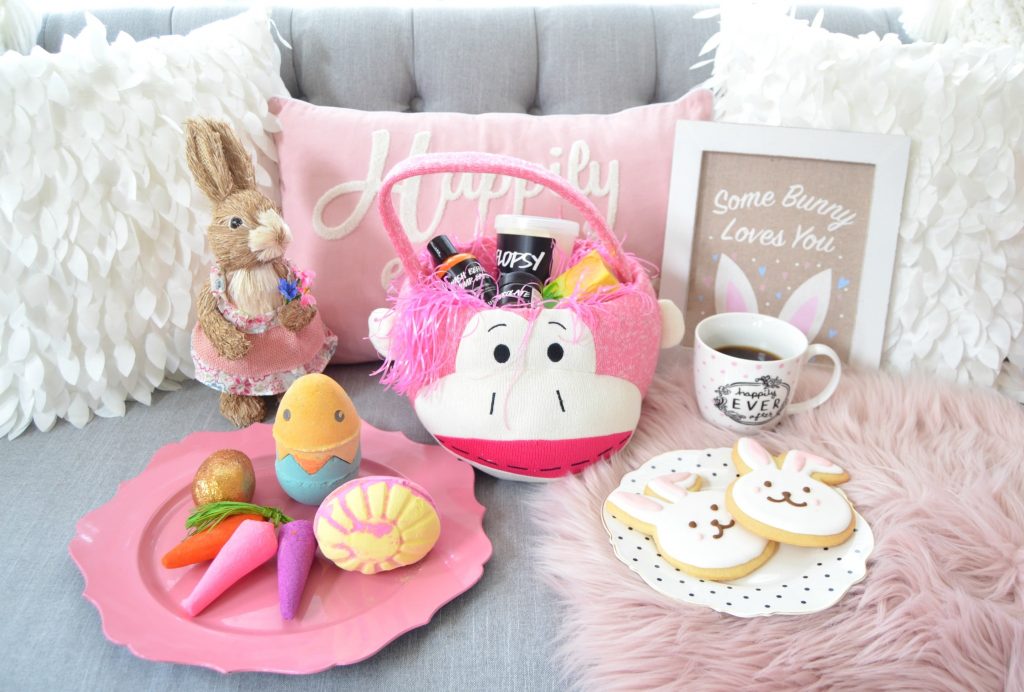 In case the Easter bunny needs a little help deciding what to put in the basket, I've put together a list of my top-fave LUSH treats. Let's start with a Bunch Of Carrots Bubble Bars. Hop into the tub with this trio of lightly scented fruity and tropical bubbly bath bars. Although intended to use all 3 together, I actually found you can get 3 separate baths out of this package if you break them up individually. Each carrot creates a ton of frothy bubbles that turns your bath into a bathing bliss. Simply hold your bubble bar under hot running water, splash the water around, and watch as it creates a ton of bubbles. It retails for $12.95.

The LUSH Golden Egg Bath Bomb Melt isn't for the faint of heart. This glittery gold is packed full of cocoa butter and a rich and creamy toffee, caramel-scented centre. The outer shell immediately melts once in contact with hot water. It creates a beautiful stream of sweet orange oil that turns into a luxe foam. As it continues to fizz, the bath bomb centre begins to release a creamy white foam that mixes with the yellow. It turns your tub into a golden lustre with just enough glitter to create a slight shimmer on the skin. This dazzling bath will leave your skin soft, smooth and moisturized. It also helps to tone, brighten and soothe the muscles. It retails for $8.95.

LUSH Chick 'N' Mix Bath Bomb is unlike any other bath bomb I've seen in the past. It's actually a three-in-one fizzer. Similar to a nesting doll, at first glance it looks like a chick popping out of a blue shell, but as you separate the two halves, you'll find an adorable orange baby bunny within. You can choose to drop the entire bomb into the bath at once, or divide into three separate bath experiences. You'll instantly get hit with a sunny does of delectable bergamot and tonka aroma. It leaves your skin smelling like sweet citrus. It retails for $10.95.

An unanswered question that people have been debating for years is… which came first, the chicken or the egg? If the LUSH Which Came First? (Stripes) Bath Bomb can't answer the age-old question, I guess no one can. You can either crack open this sunburst egg shape fizzer to enjoy the surprise on the inside or use the entire bomb all at once. Once you pop it into the bath it spews out streams of bright orange followed by a delectable yellow froth. You're left with bright orange, candy, slightly sweet and fruity bubble-gum water. It retails for $12.95.

LUSH Wash Behind Your Ears Shower Gel is an uplifting, lavish body wash that has hints of Jasmine, Rose, Neroli Oil and Carrot Infusion. Its slightly thick, rich and creamy, brilliant orange formula creates a luxurious lather that washes away dirt and oil for a squeaky-clean feel. It's like a bouquet of fresh flowers that lifts your spirits while conditioning and hydrating the skin. It helps to soften the skin and leave it irresistibly silky smooth and velvety soft. It retails for $10.95 for 100ml.

Kissable lips are extremely important all year round, which is why many of us rely on LUSH Lip Scrubs. This season get your chocolate fix with LUSH Chocolate Lip Scrub. It's formulated with cocoa powder, castor sugar and organic jojoba oil to help gently polish and exfoliate the skin. It instantly helps to nourish, hydrate and soften the lips. Skin will not only be left silky smooth and supple; the divine combination of orange and chocolate leaves a decadent treat behind. It retails for $9.95.
Get your chocolate fix without the calories with LUSH Chocolate Easter Egg Soap. Suds up with the uplifting scent of lemon, grapefruit and vanilla in this luscious bar soap. This bright yellow bar with pink and green flowers in the centre, is formulated with cocoa butter to give it a sweet, yet citrusy aroma. Who would have thought chocolate and citrus would pair so beautifully together? It helps to cleanse and condition the skin thanks to its rich and creamy lather. Unlike traditional soap, this one washes clean away without any greasy or soapy residue. It retails for $5.95.

Last, but not least LUSH Flopsy Face Wash Jelly. Hop to cleansing with this happy hopper, wobbly face jelly. It's formulated with mineral-rich seaweed, zesty lemon and bergamot oils to help moisturizer and condition the skin. Its almond and glycerin gel texture comes smashed inside a LUSH tube. As you start to unfold and separate her, she'll turn into a cute little bunny face. Just add a small amount of water and start to lather her up. Not going to lie, this is the most fun I've had with a face wash in a long time. It instantly helps to cleanse the skin, while keeping it incredibly moisturized. It leaves your skin feeling bright-eyed and bushy-tailed, ready to take on the day. It retails for $9.95.