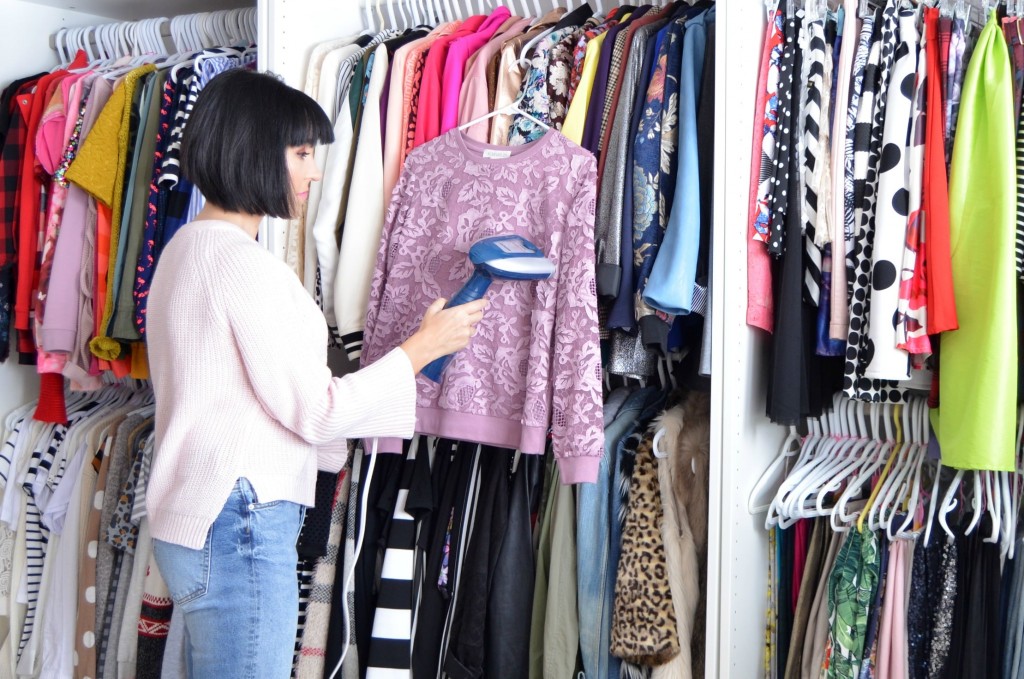 Conair Turbo Extreme Steam
As much as I love fashion and clothes, I absolutely hate to iron. So much that I avoid fabrics that will wrinkle easy or require extra maintenance. Dry clean only, forget about it. That being said, there's still that odd time when I take my freshly washed clothes out of the dryer and they are looking less than perfect. I've heard a steamer can typically remove wrinkles more efficiently than an iron and in less time. Also, I love the idea of tackling my more delicate clothing garments without the fear of burning or scorching them. We've all been there, am I right?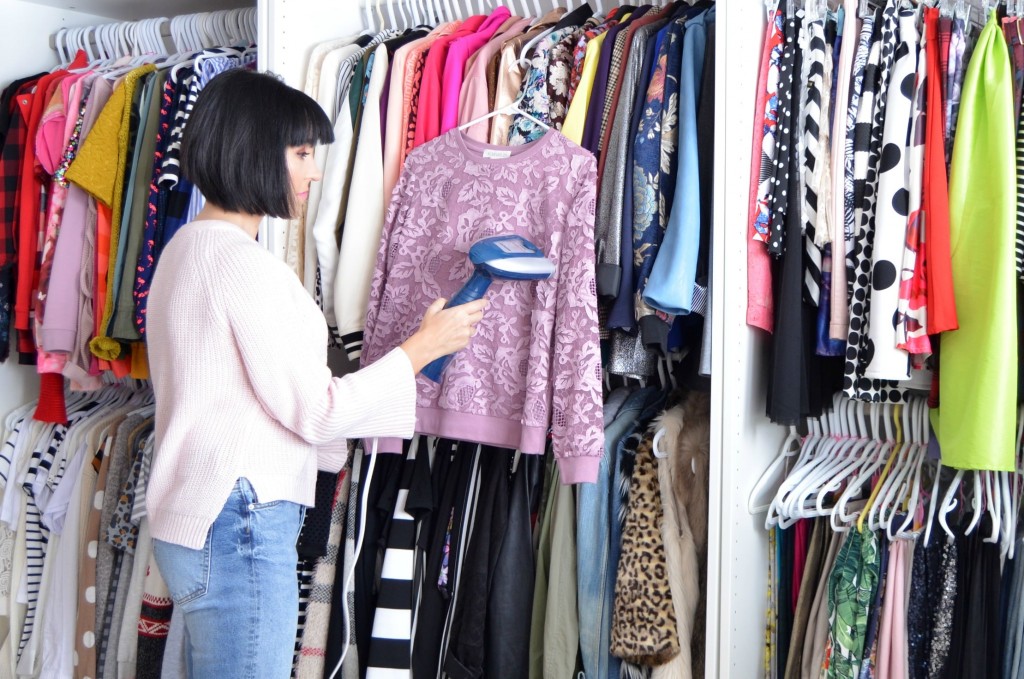 Unlike traditional steamers that tend to be bulky and take up too much space, the Conair Turbo Extreme Steam is a user-friendly, handheld steamer with the power and steam of a standard steamer. It comes with a built-in creaser that allows you to create a perfect pleat and fold, along with an aluminum plate to help create professional pressed results without the use of an iron. It also features a bright red turbo button that shoots out hotter, stronger steam for even faster results. It heats up in the matter of seconds and can steam upwards of 15 minutes off a single tank of water.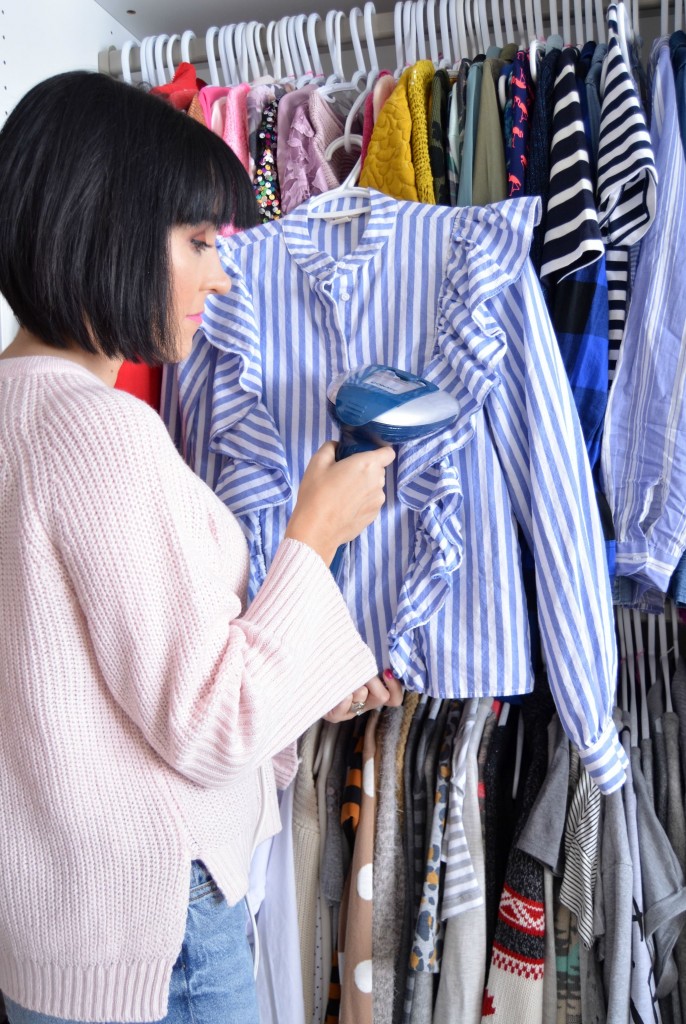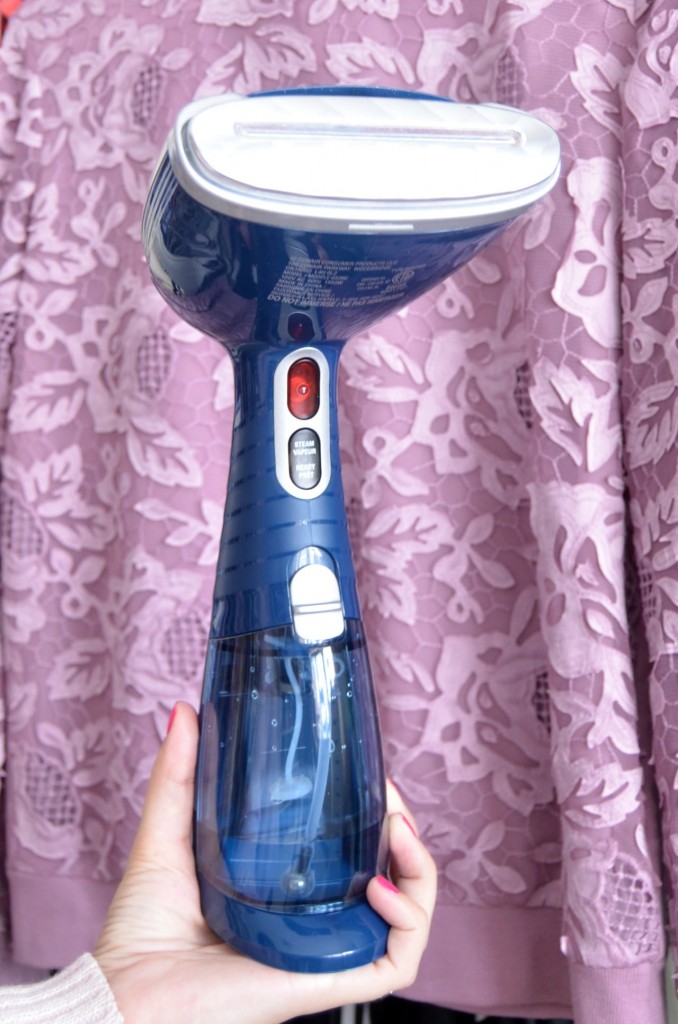 Conair Turbo Extreme Steam is lightweight, fits comfortably in the palm of your hand and steams clothing within seconds. I love that it's portable, no wobbly pole, long cords or rotating and mobile wheels getting in the way. It comes with a generous size water tank, ensures I can steam all my clothes for the week without having to refill. The 3-in-1 accessory add-ones allow for me to care for all my clothing needs by simply snapping on a new attachment. The silicone band helps to effortlessly pull fabric for easy steaming, whereas the delicate fabric space helps protect delicate fabrics such as my silk blouses and lace detail shirts. The bristle brush helps loosen up fibres, allowing me to get a deeper steam on thicker materials such as cords, denim and blazers. The sleek steamer stand is ideal when not in use. I can easily sit it on my counter or place it in a closet when not in use.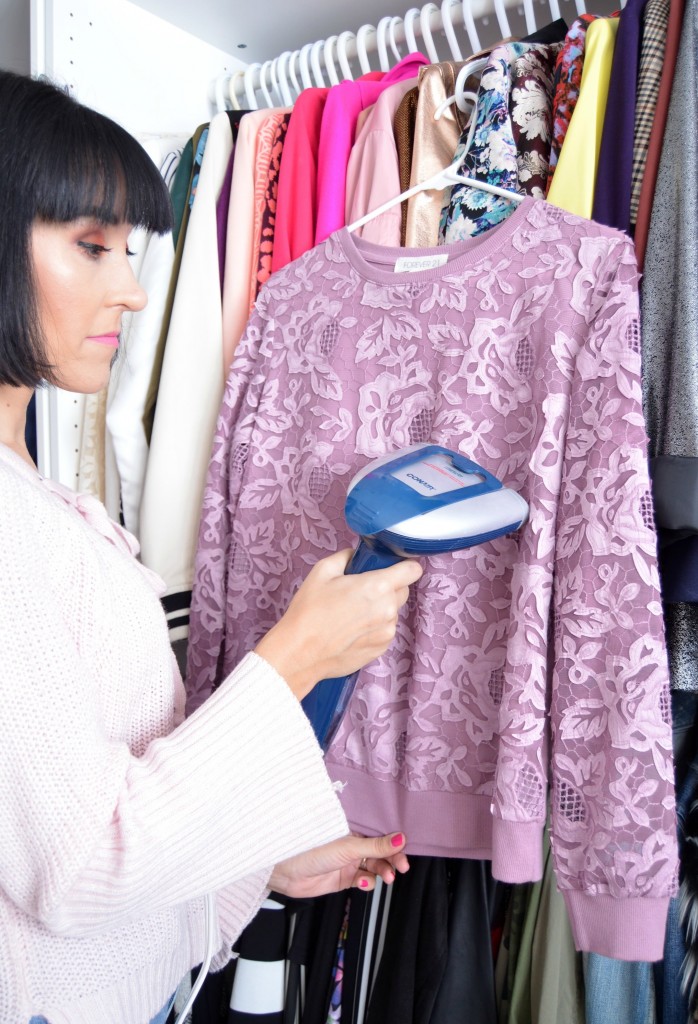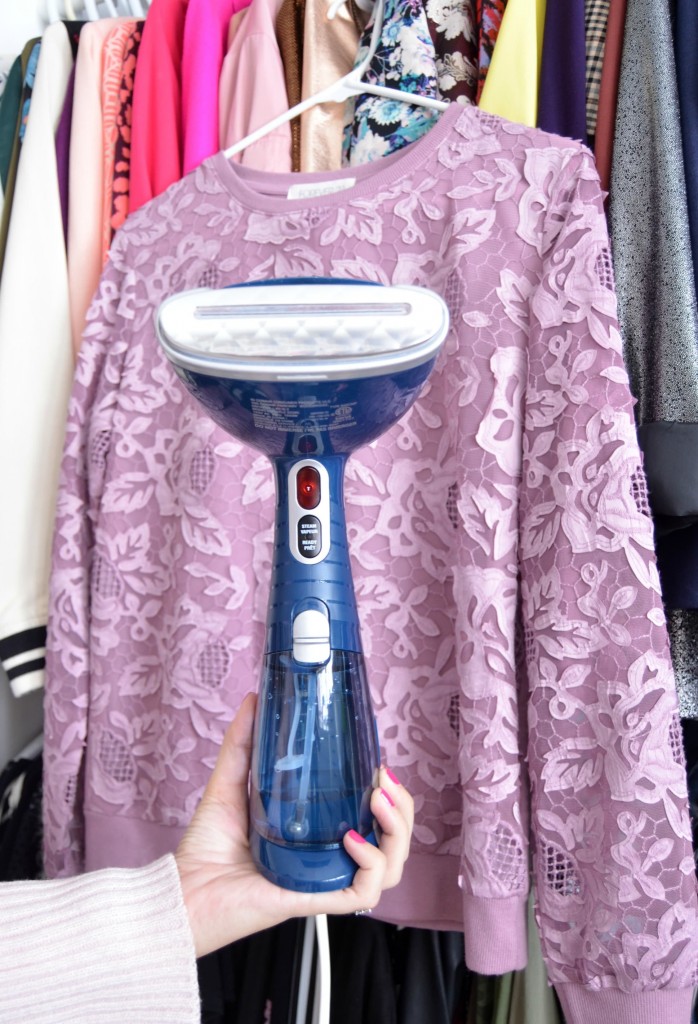 If this is your first time using a handheld steamer, know it's a lot different than using an iron. Unlike an iron that you usually place face down on an ironing board, it's easier to steam when your article of clothing is hung. Hang your garment on a hanger and then place it on the back of chair or door knob.
Again, unlike a traditional iron where you place the flat head right up against the garment, with a steamer you'll want to leave a small gap between the steamer head and the fabric. Position it slightly forward, so only the top curve part of the steamer is touching the clothes, otherwise there will be no where for the steam to come. If you keep the steamer flat and pressed up against the fabric, you'll begin to see watermarks on your clothing.
You'll also want to slightly pull the fabric downward with your free hand to ensure the fabric is completely smooth as you steam. Begin to move the steamer up and down, remembering to leave a small gap in between.
To play it safe and avoid damaging embellishments or fine prints, steam the garment inside out. This will not only get rid of all the wrinkles for a smoother, fresher appearance, it will help protect it.
Your garment may feel slightly damp after steaming, this is perfectly normal. Let it sit for 5 to 10 minutes as it cools down, otherwise you may end up with more wrinkles.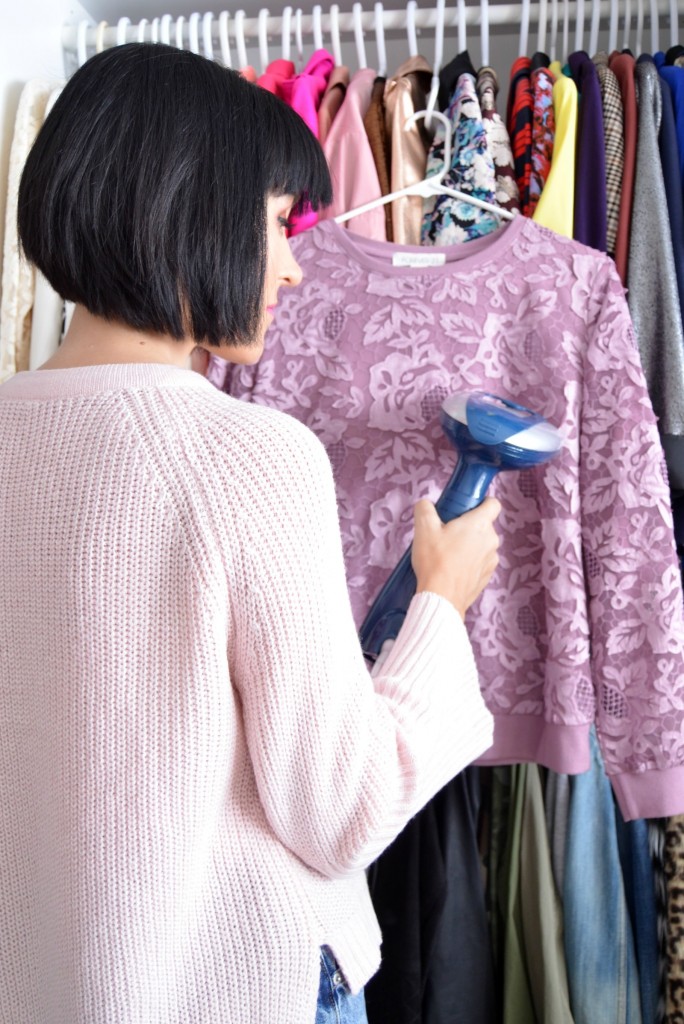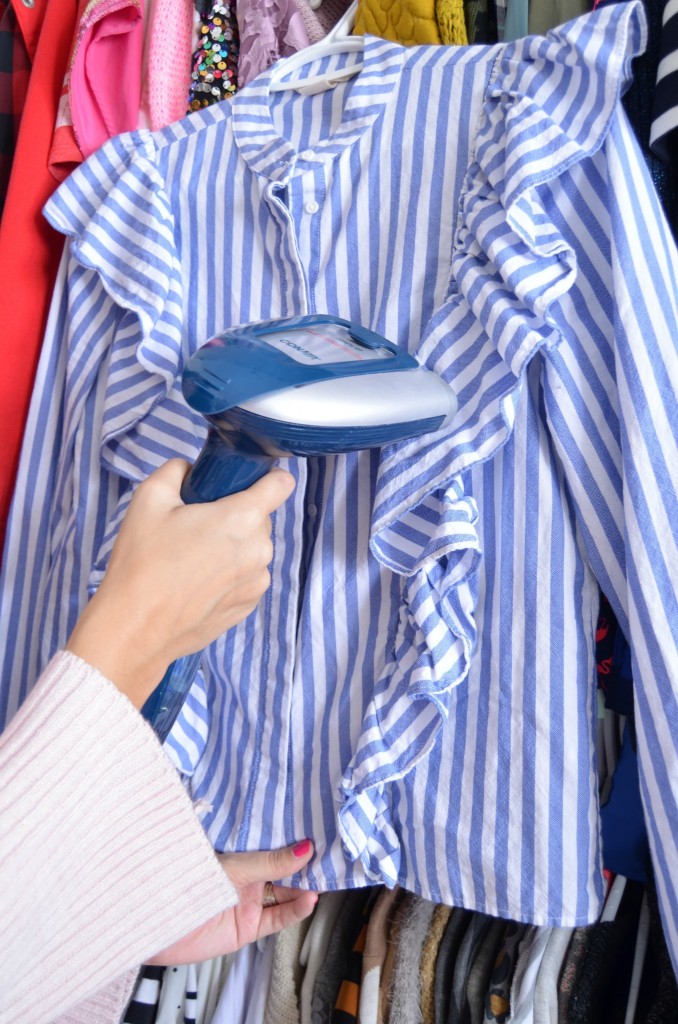 Conair Turbo Extreme Steam travel-size design is perfect for mini daytrips. We pack the perfect outfit, only for it to be packed into a tight suitcase causing wrinkles. It's a versatile steamer than can also be used on drapes, upholstery and even bedding. It can easily smooth out sheets and pillowcases for a crisp hotel vibe at home. Also, say goodbye to dry cleaning forever. Its economical and effective, saving you both time and money.