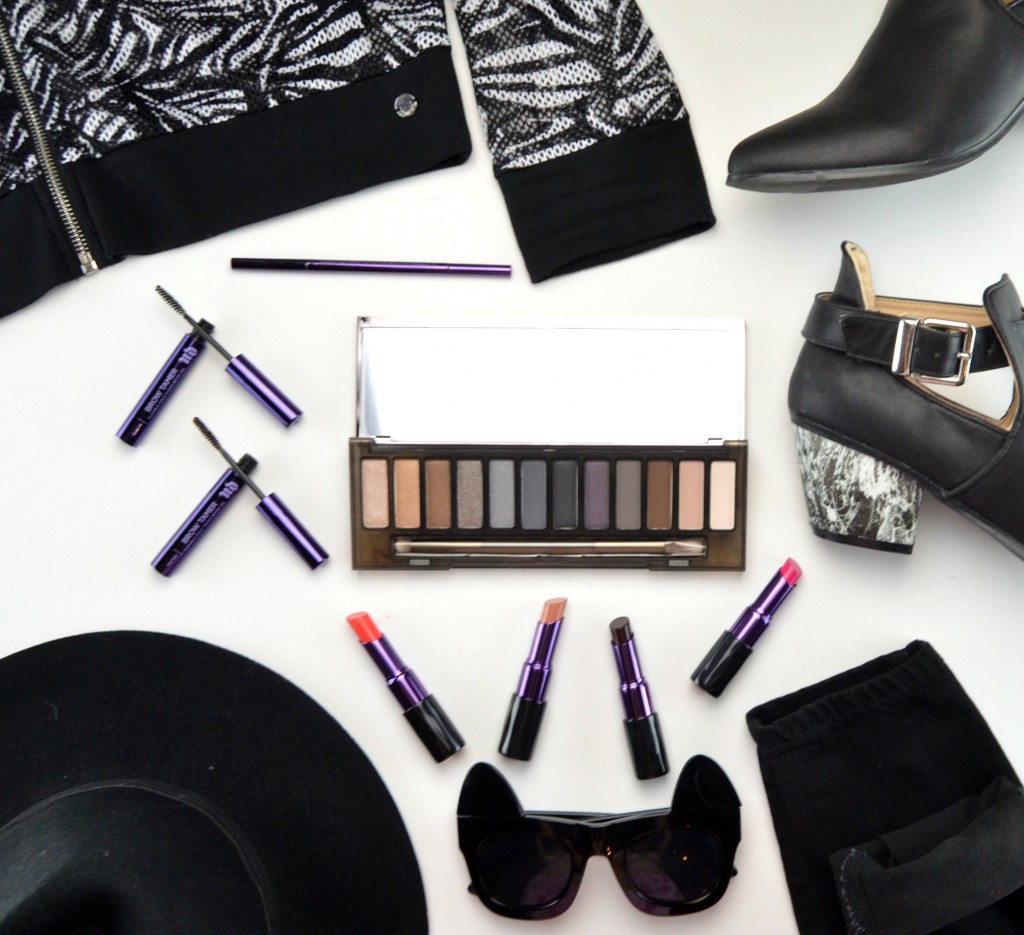 Officially shop UrbanDecay.Ca
Brace yourself ladies, you can now officially shop Urban Decay Canada. Finally us Canadians can now get access to an insane range of bestselling and award winning products right from the comfort of our own homes, yahoo! We will also get early access to new launches, even before they hit stores, exclusive offers and special gifts with purchases, along with exclusive products, shades and accessories not found in stores. To kick off this celebration and launch, Urban Decay is offering a free FULL-SIZE 24/7 Glide-On Eye Pencil in the shade "Rockstar" with all orders of $25 or more. Just use the code ROCKSTAR at checkout. Now I know you're probably pretty excited about his wonderful news, so I thought I'd share the new Urban Decay Fall 2015 Collection with you to give you some ideas of the hottest innovations to hit the market this season. Ladies, get out your credit cards and have fun shopping.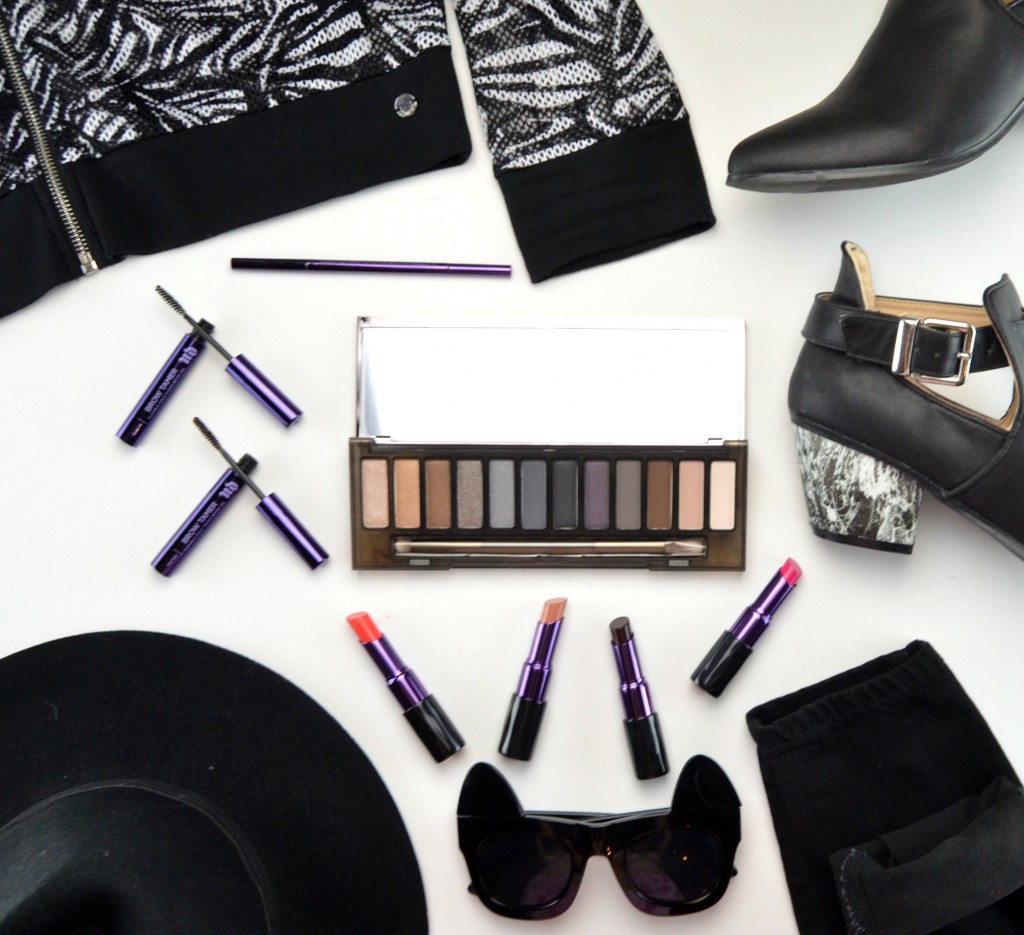 I'm totally obsessed with my Urban Decay Naked Palettes, so much that when my first one started to get a little low, I actually re-purchased it. As much as I love a good neutral eye, sometimes I want an eye look with a little more attitude. The new Urban Decay Naked Smoky has everything you need to create the perfect, dramatic, sultry, smoky eye look this season. It features 9 never before seen smoky neutral shades and three exclusive shades found only in this palette. It contains both warm bronzes, dimensional greys, rich browns and gorgeous taupes and a deep, intense black to help ground each look. It also has an array of finishes, from your basic mattes and satins to somewhat shimmery and sparkly shades, to help add dimension and depth. It also comes with the perfect brush, full size mirror and a detailed tutorial guide to walk you through each step.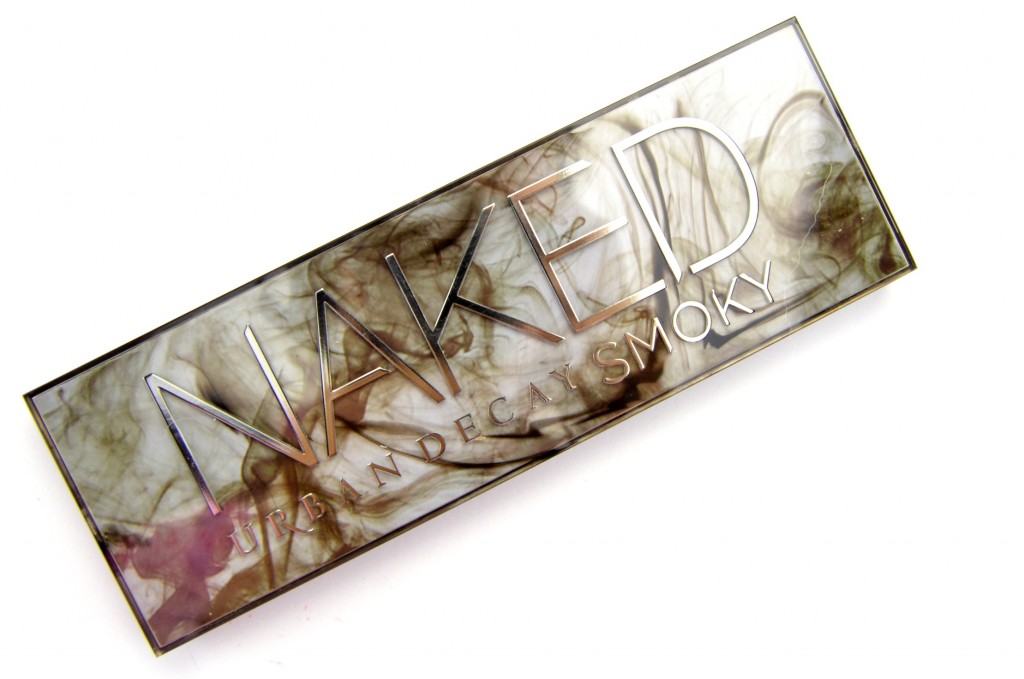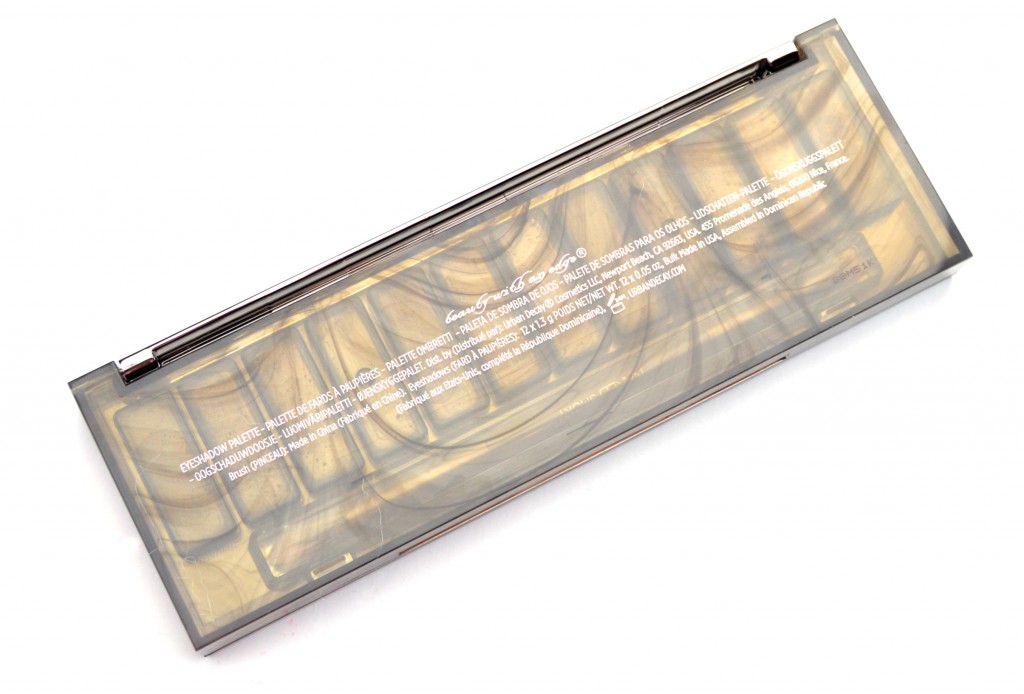 Urban Decay Naked Smoky Palette comes in a cool floating smoky effect compact with "Naked Smoky" in gunmetal foil to help give it a mysterious vibe. It also has a smoky transparent base where you're able to see the shadows within on the back of the palette. It has a magnetic closure to ensure your shadows stay safe, even when travelling, along with a full-size mirror and dual ended brush for easy application. It features a unique Pigment Infusion System that not only gives each shadow a rich and creamy, velvety smooth texture, it's also enriched with intense colour that's easy to blend and stays put the entire day.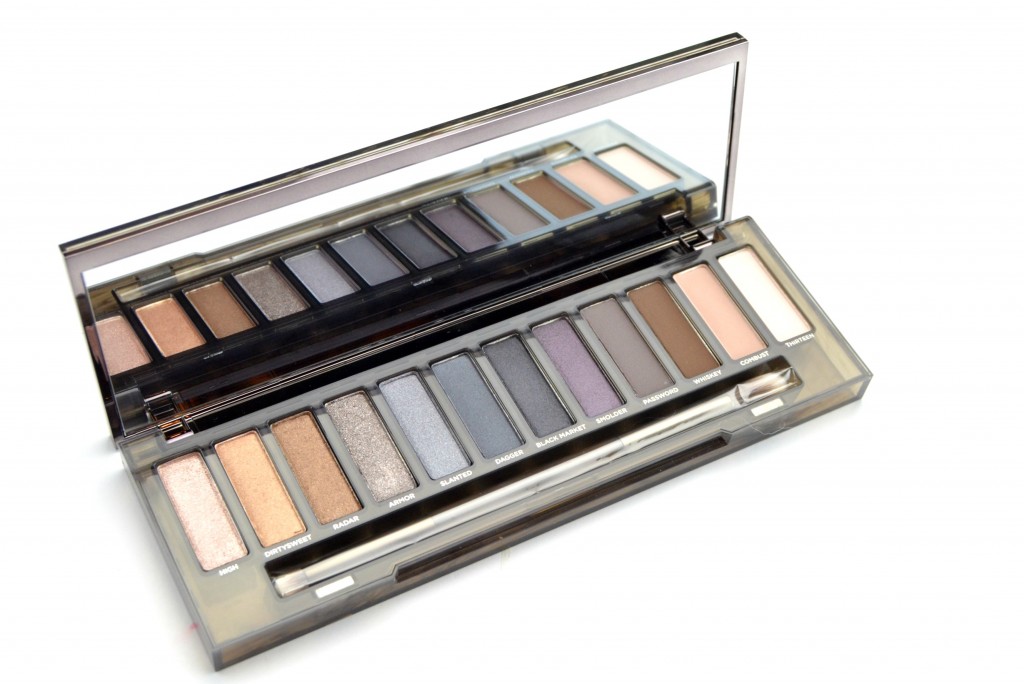 I love that the Urban Decay Naked Smoky Palette contains a detailed book that breaks down 4 different looks for those days when I'm not feeling too creative or in a rush, but still want an eye-catching, sultry look. The step-by-step instructions are so easy to follow, even if you're new with makeup, you can easily achieve all of these beautiful looks. This is the only palette I brought with me to Antigua, and yet, day after day, night after night, I was able to create totally different looks and never felt bored with any of my looks. The double sided brush also came in handy, I used the tapered crease brush to lay down the shadow and used the smudger brush to blend out the shadow. It was also small enough to use to highlight my brow bone or add a lighter shade in the corner of my eyes.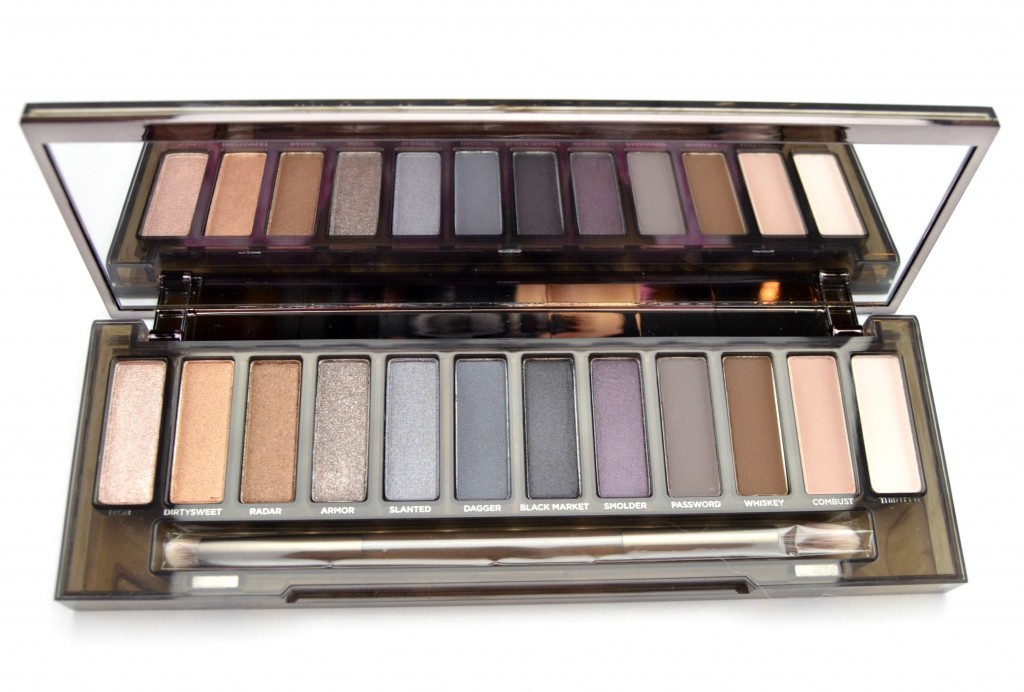 Urban Decay Naked Smoky Palette, although I think, would look equally beautiful on all skin tones, it does have cooler toned shades, so it's something to keep in mind when purchasing. It has a wide range of intense blacks and greys that's perfect for creating a dramatic evening look, but it also features a few beiges and champagnes to help soften and lighten the look. The formula and texture seemed a little drier and chalkier than the previous Naked palettes, but nothing I couldn't work with. You will need a good eye primer as a base, otherwise you'll have a hard time blending out the shades. Although it may not have the velvety smooth texture as it claims, each shade is highly pigmented, truly opaque in a single swipe and stays put the entire day without creasing, fading or smudging. The matte shades may be a little patchy and harder to blend out, but it offered little to no fall out, so I didn't mind spending the extra time perfectly the look. The shimmery shades were way easier to work with and I created a ton of fun looks using only those shades. Overall, an excellent palette for those looking for a deeper, richer, more intense evening look. It retails for $64.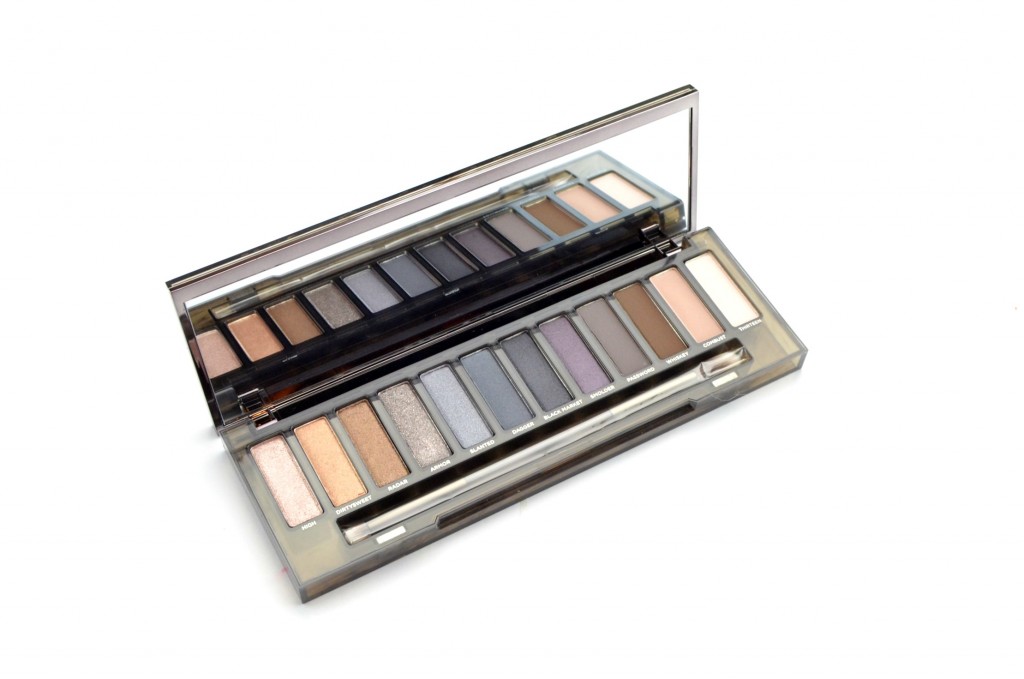 High is a light champagne, metallic, almost shimmery shade with a coppery micro-glitter finish, Dirtysweet is a medium, golden bronze with a metallic finish, Radar is a metallic taupe with a slight gold, almost iridescent micro-glitter finish, Armor is a dark metallic silvery taupe with a light sparkly finish, Slanted is a medium metallic grey with a pearly sheen finish and Dagger is a medium charcoal/ grey with a micro-shimmer and a satin finish.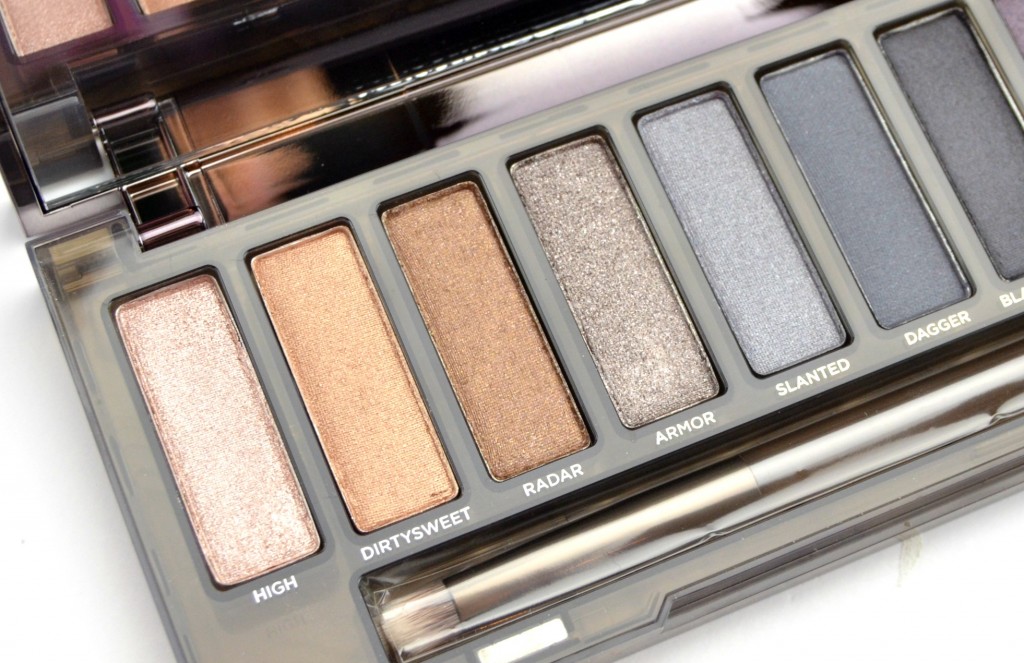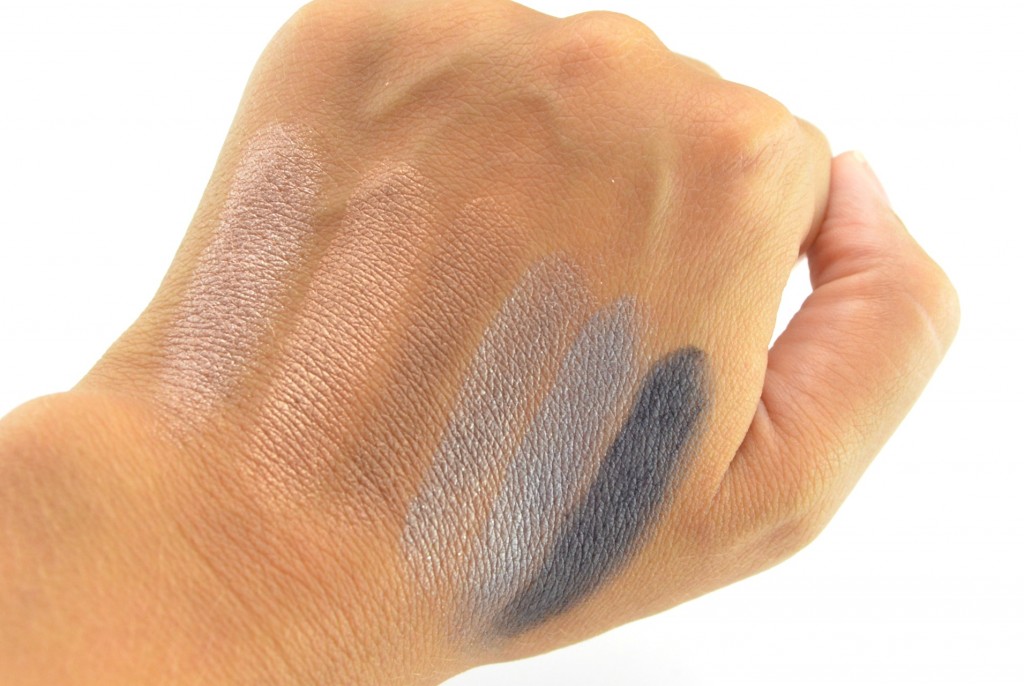 Black Market is a jet black with a satin finish, Smolder is a deep plum-taupe with a sheen finish, Password is a cool taupe with a matte finish, Whiskey is a rich brown with a matte finish, Combust is a soft pinky taupe and Thirteen is a light beige with a satin finish.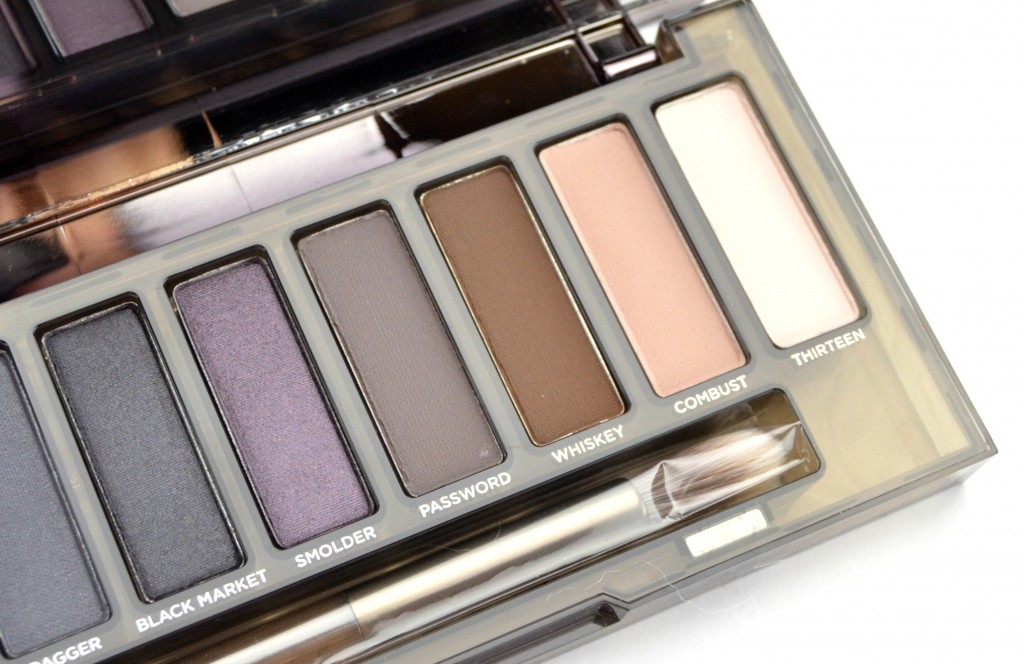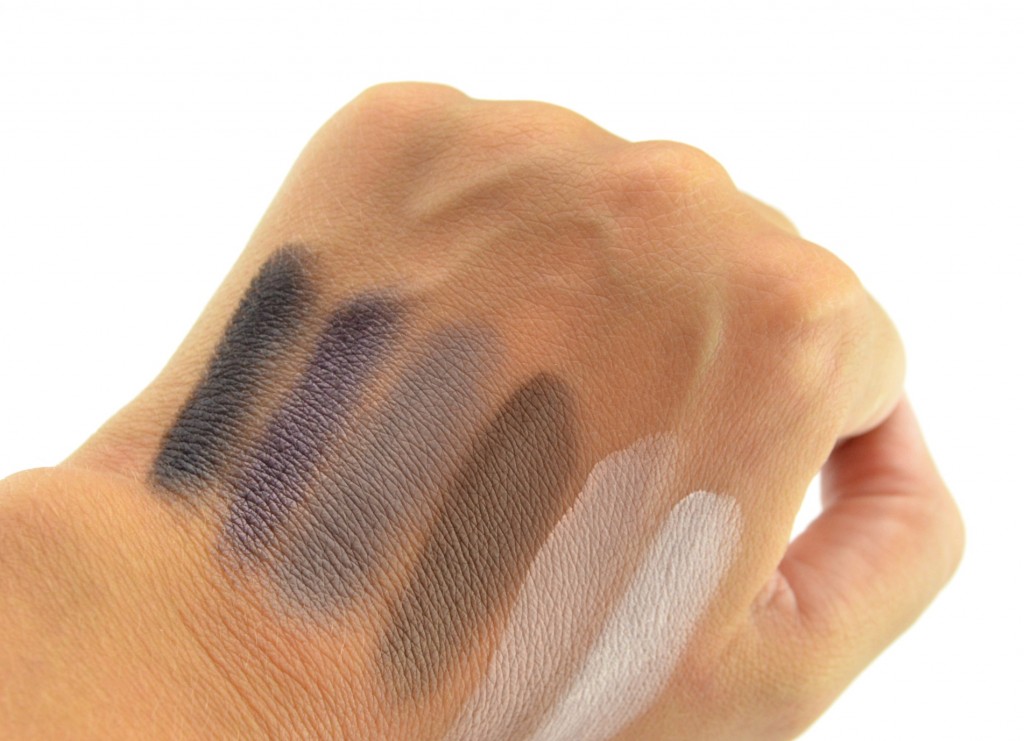 Keeping with the eye theme, the new Urban Decay Brow Beater Microfine Brow Pencil and Brush will keep your brows on fleek this season. It features a mechanical, retractable pencil on one end and spoolie brush on the other. It comes in a slim, sleek, purple compact design and is perfect for achieving perfectly sculpted brows on the go. It comes with a waterproof formula that provides all-day wear without smudging or fading, along with a moisturizing formula of vitamin E, Argan and Coconut Oil to help soften and smooth the brows.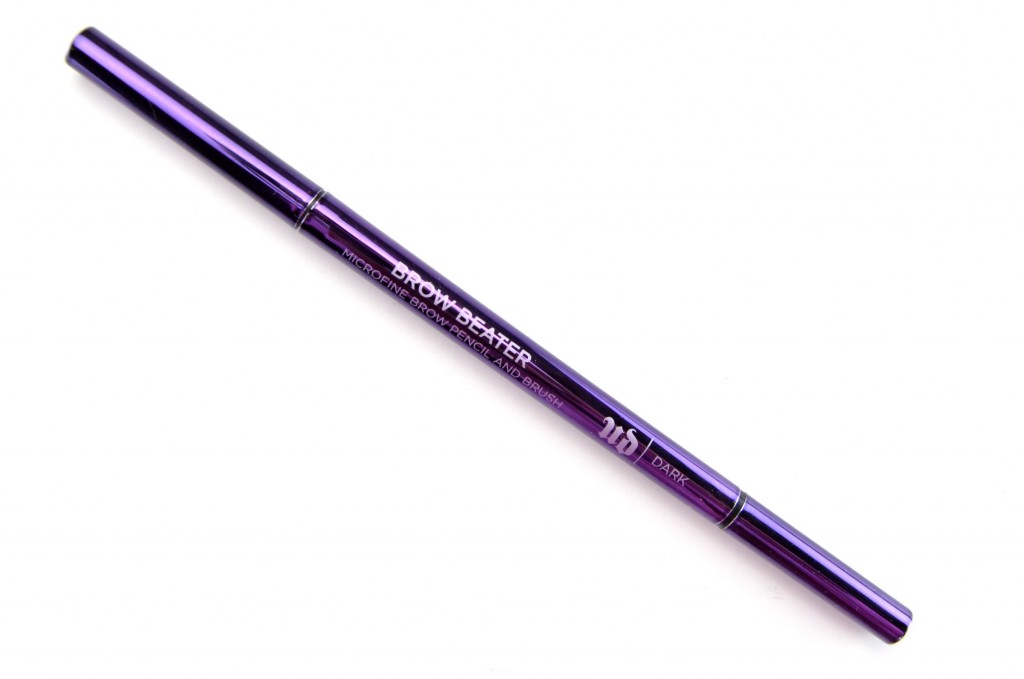 I'm a 90's chic, which means I totally over-plucked my brows when I was in high school. Thinner was better back then and I'm now paying the price for that awful trend. The Urban Decay Brow Beater Microfine Brow Pencil and Brush features an incredibly super fine point that helps mimic your natural brow hairs and gives an extremely natural finish. It does a wonderful job at filling in sparse areas without looking "drawn" on or fake. It has a slightly firmer consistency than your traditional pencil, which actually helps deposit the perfect amount of product onto the hairs without it looking too dramatic. This also makes it pretty foolproof, no fear of over doing it. It provides a smooth, precise, even application each and every time. You can effortlessly replicate your natural hairs in a single stroke and not have to worry about the colour fading throughout the day.
Now thanks to the Urban Decay Brow Beater Microfine Brow Pencil and Brush no one has to know about your brow "shortcoming", you can totally fake thicker, fuller brows that looks incredibly natural. It comes in 4 new shades, Taupe, Neutral Brown, Warm Brow and Dark and retails for $24.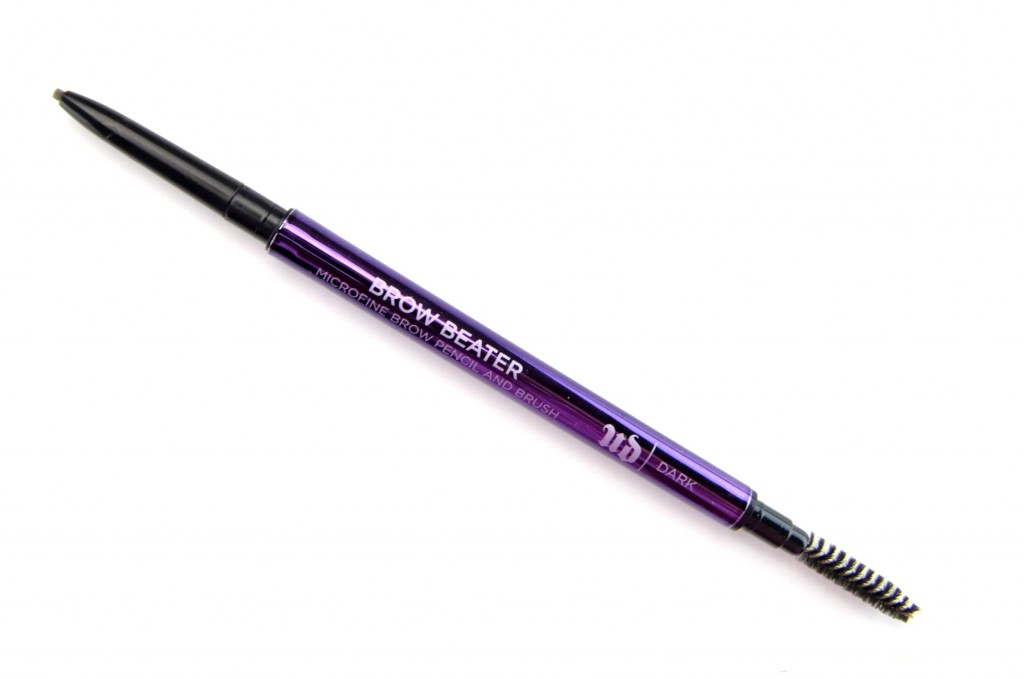 Urban Decay Brow Tamer Flexible Gold Brow Gel will help tame even the most unruly brows. It helps to groom, define, set and polish your brow look with a precise, easy to use brush. It gives you total control and allows you to easily fill in sparse areas with a lightweight, flexible hold. It never feels crunchy, stiff or sticky, just all day comfortable hold that lasts.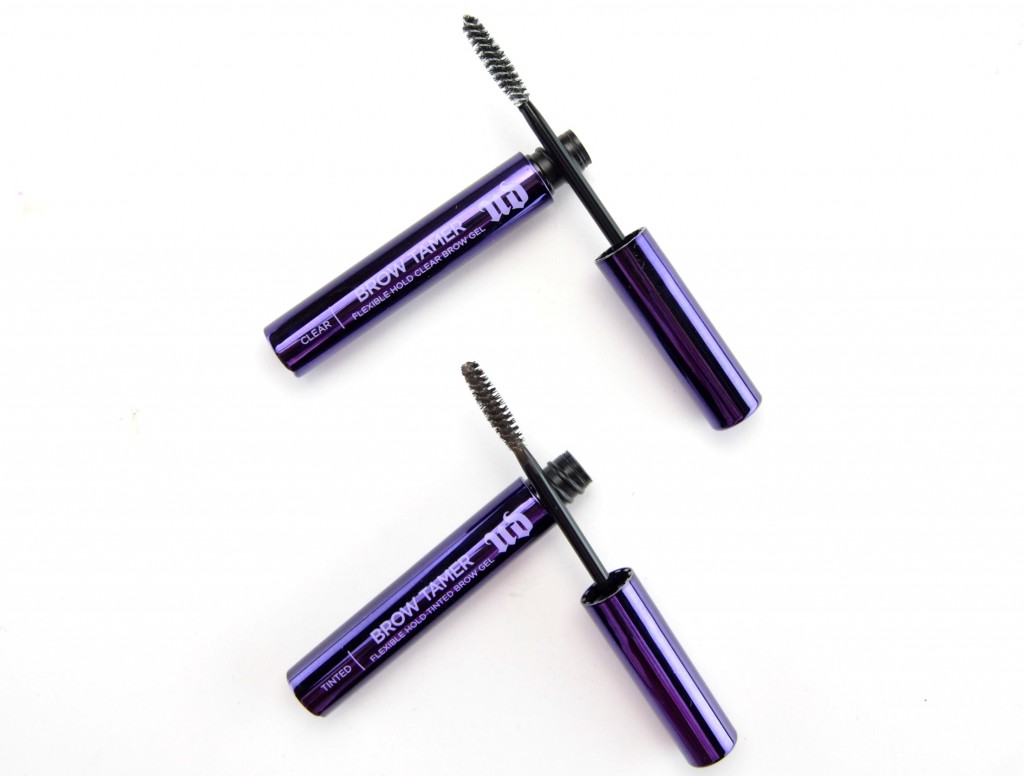 I have yet to really use the Urban Decay Brow Tamer Flexible Gold Brow Gel, as my brows usually stay in place without the use of a gel. I can, however, tell you the shade Dark helps to add a slight tint to my brows that looks completely natural, yet adds a bit of definition to my sparse brows. I love the spiral microfiber brush, it's not overly large, so I'm able to get the precision I want and need. I have total control over the brush and can place the product exactly on the individual hairs I desire. It has a completely weightless texture that feels quite moisturizing and dries within a few short seconds. I love that is never feels stiff or crunchy, and is incredibly soft the entire day. It comes in 4 tints, Taupe, Neutral Brown, Warm Brown and Dark, along with a Clear shade and retails for $24.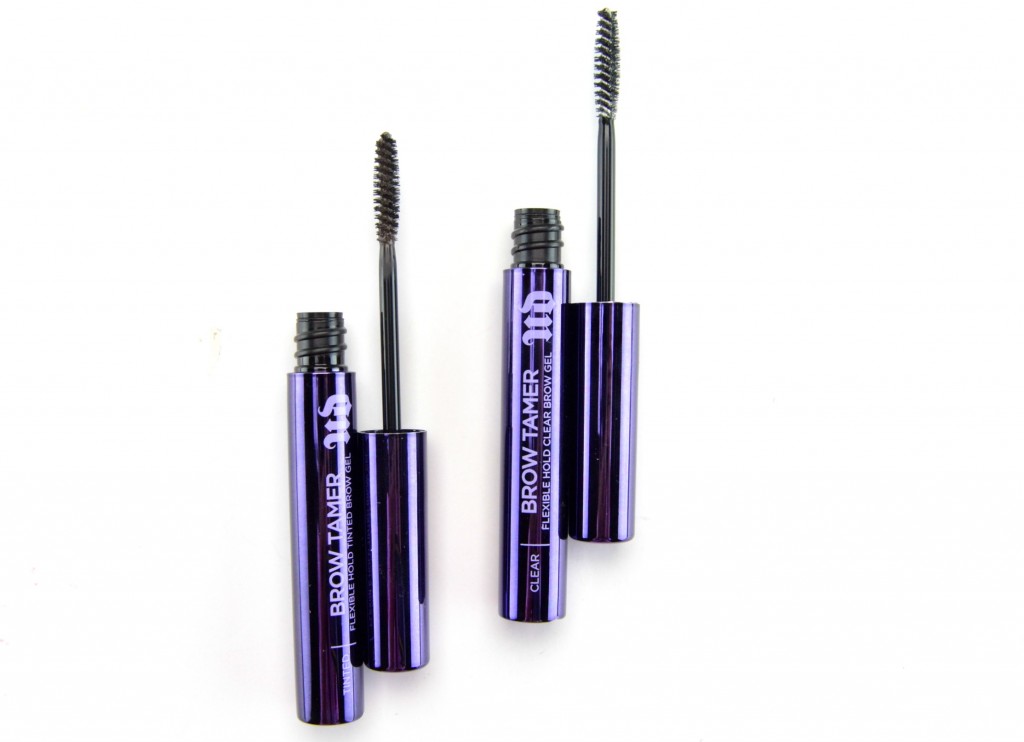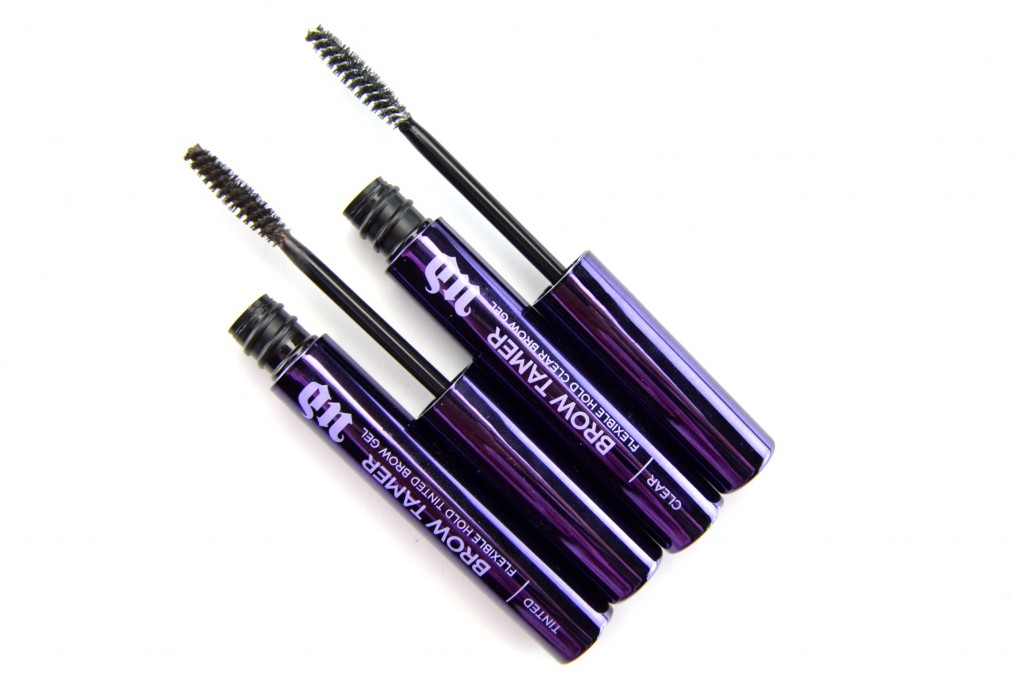 Urban Decay Matte Revolution Lipstick is unlike any other matte lipstick you've tried in the past. It features an ultra-creamy, non-drying formula that feels as amazing on as it looks. It's just as rich, creamy and butter smooth as the original, but with a completely matte finish. It features nourishing ingredients, including a blend of avocado, olive and babassu oils, along with shea butter, illipe butter, vitamin C and E to help condition, moisturize and provide antioxidant benefits with every swipe. Not only is it intense pigmented and truly opaque in a single swipe, it applies smooth and effortlessly without pulling, dragging or skipping on your lips. The lineup consists of both bold brights, basic neutrals and deep, dark vampy shades. A little something for everyone.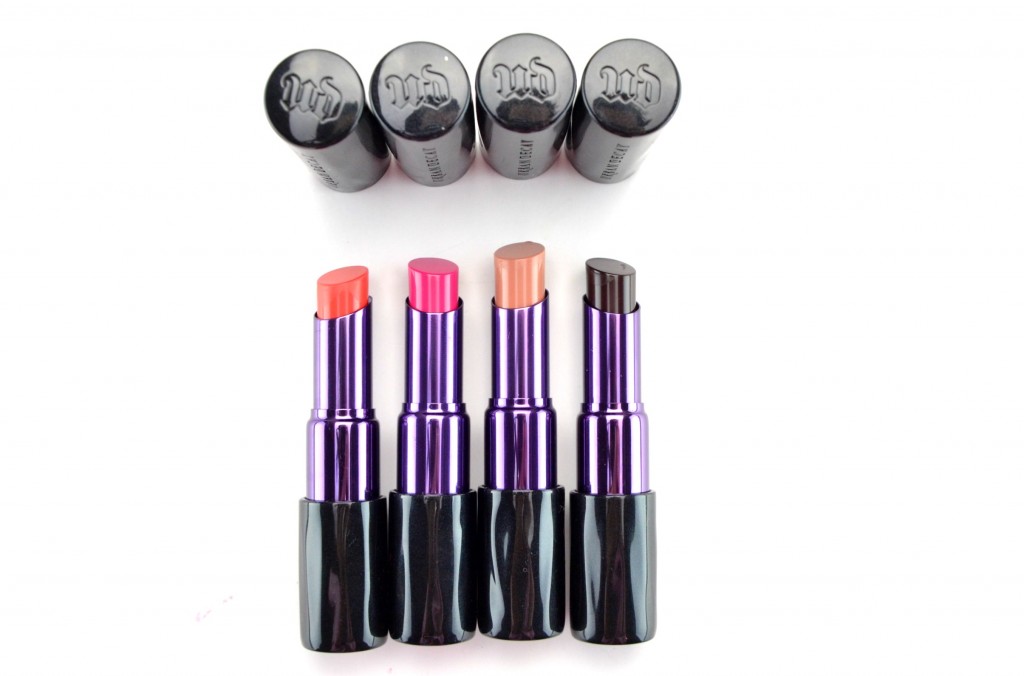 Urban Decay Matte Revolution Lipstick comes in a stunning, pearlescent black tube with the UD name embossed on the side. It has an incredible weightless, rich and creamy, completely smooth texture that glides onto the lips with ease. It has an extremely buttery, silky consistency for having such a matte finish. It provides true colour payoff in a single swipe, thanks to its highly pigmented formula. It also provides an even application each and every time and really seems to adhere to the lips well.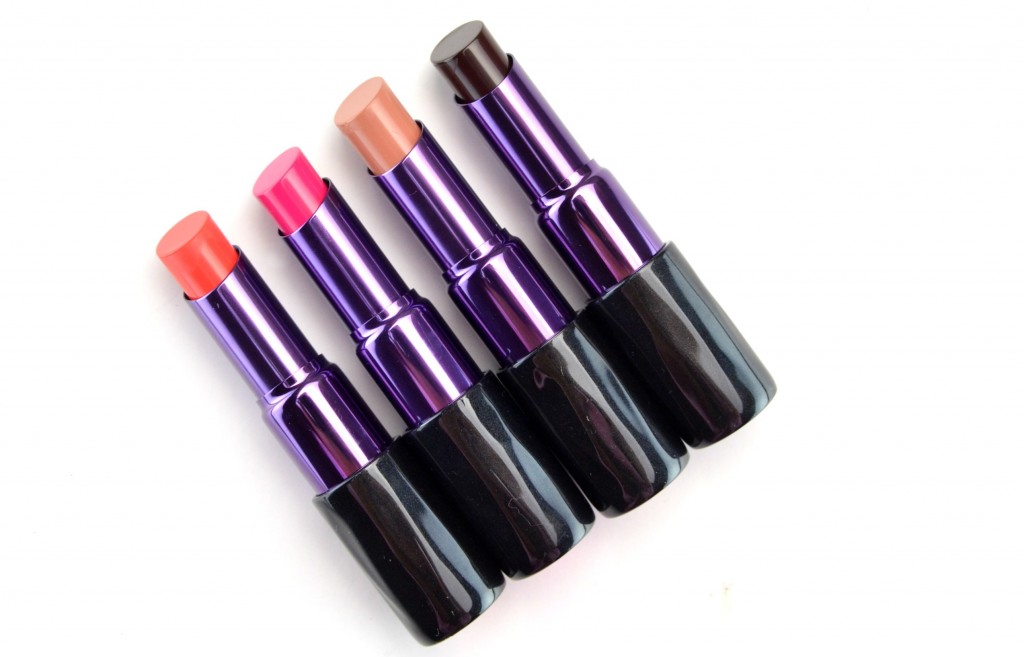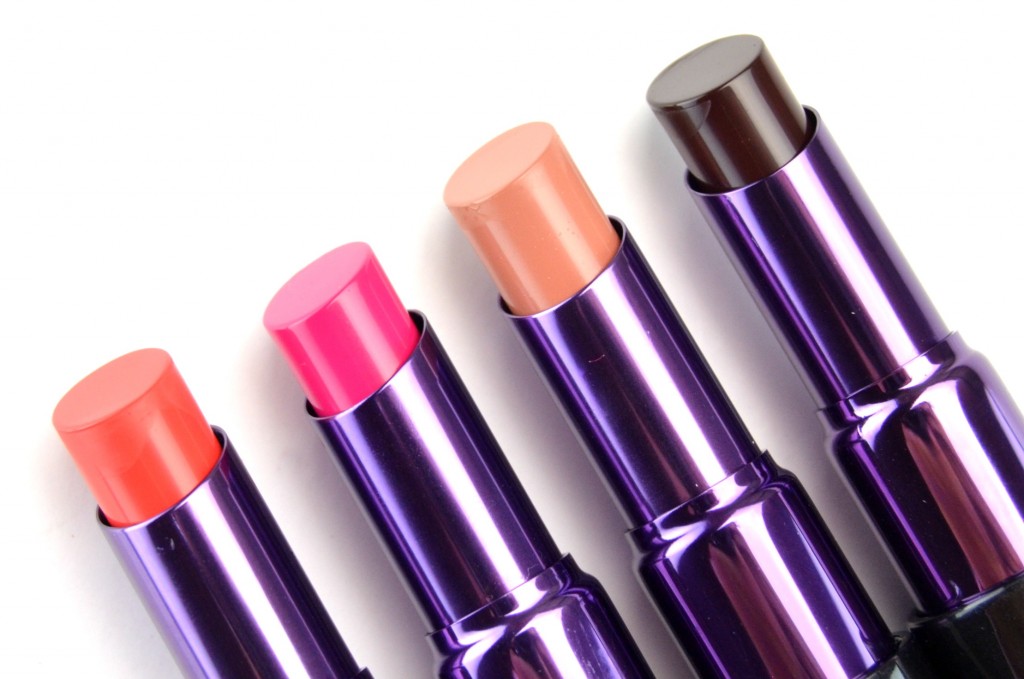 As much as I love the look of a matte lipstick, I find most formulas too drying. The new Urban Decay Matte Revolution Lipstick is everything I look for in a lipstick, yet has a completely matte finish which is so on trend right now. It's smooth, creamy, slightly moisturizing and intensely pigmented. The payoff is truly amazing, opaque in a swipe or two. It doesn't feel thick, heavy or drying and is comfortable to wear the entire day without feeling like the moisture is sucked right out of me. Added bonus, it stays put for a solid 6+ hours before slowing starting to fade. It comes in 9 new shades and retails for $26.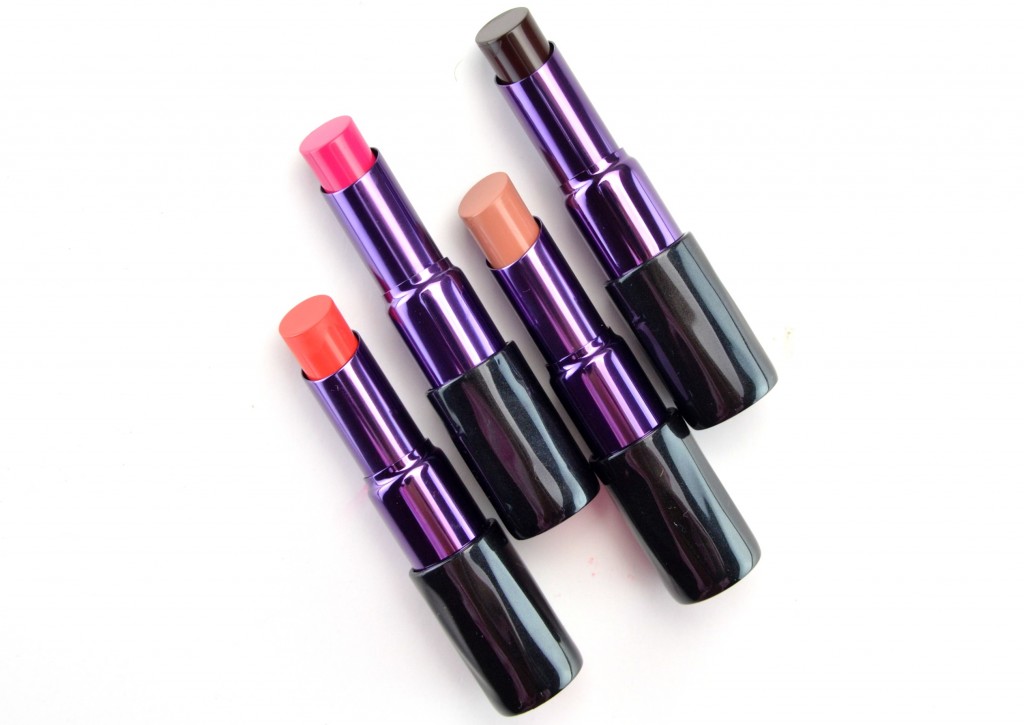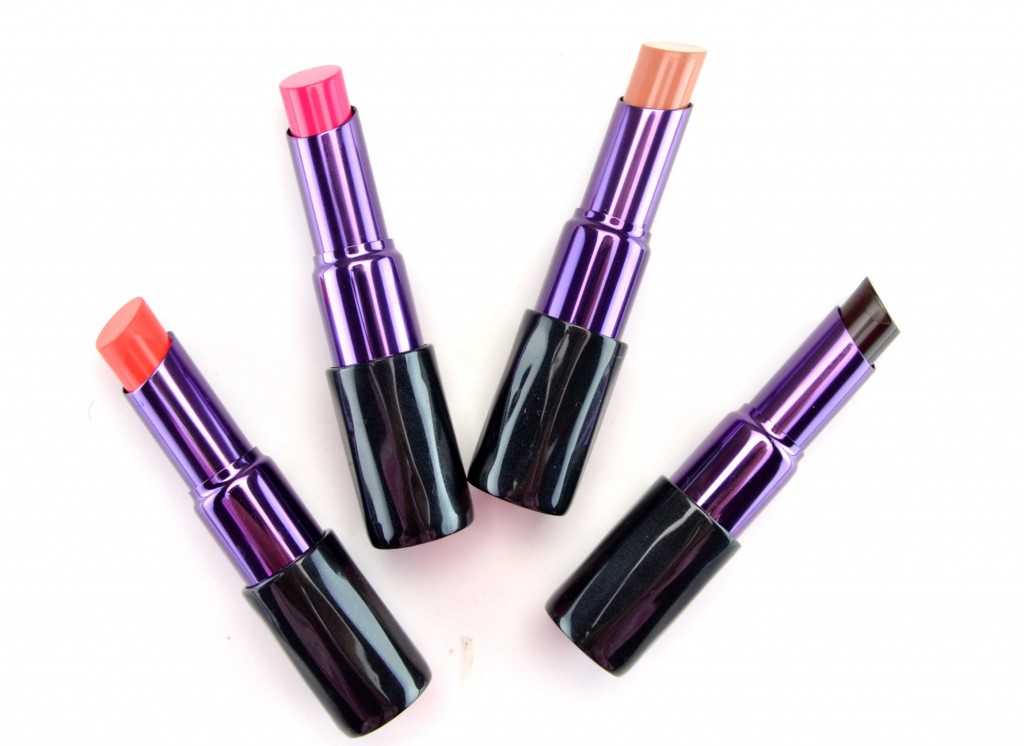 Urban Decay Naked Matte Revolution Lipstick in Tilt is a bright coraly orange with a matte finish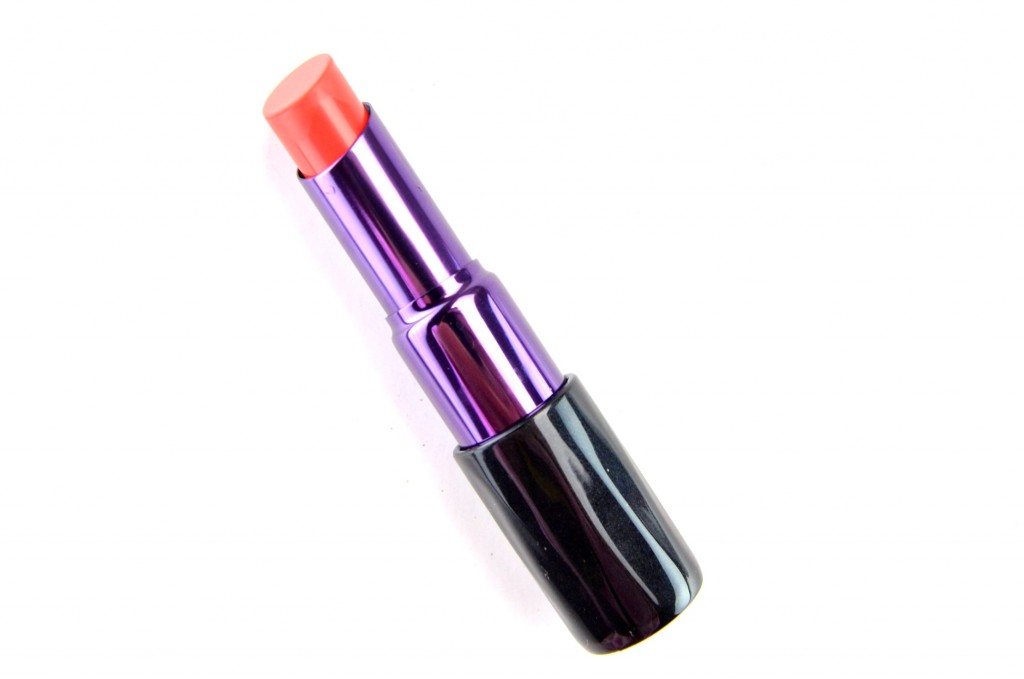 Urban Decay Naked Matte Revolution Lipstick in Menace is a bright, medium fuchsia pink, with a slight blue undertone and a matte finish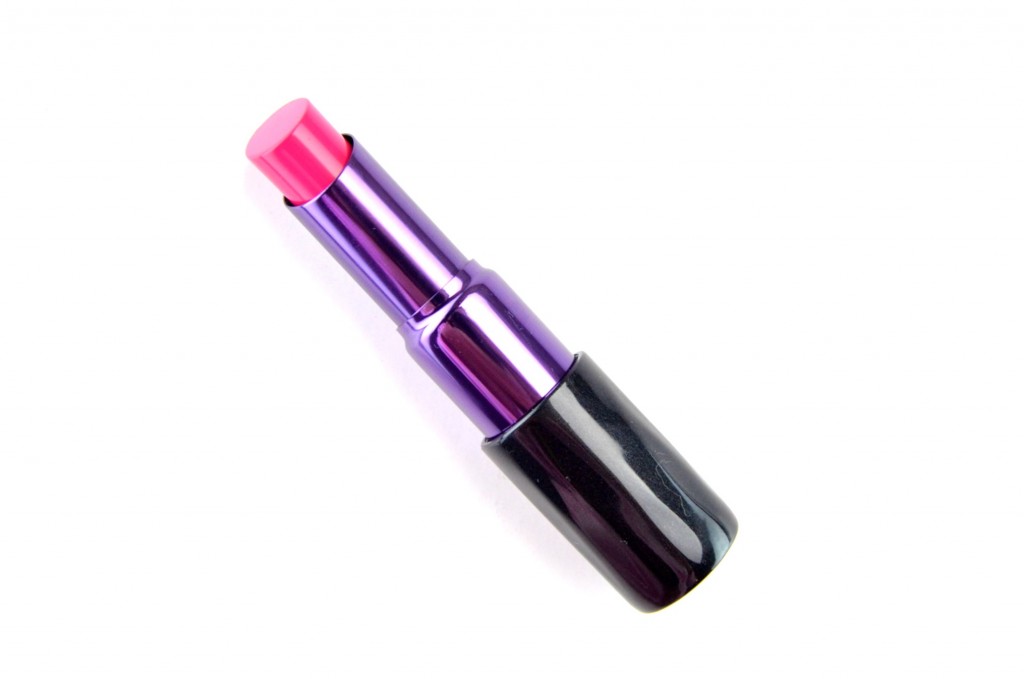 Urban Decay Naked Matte Revolution Lipstick in Stark is a light nude with a satin matte finish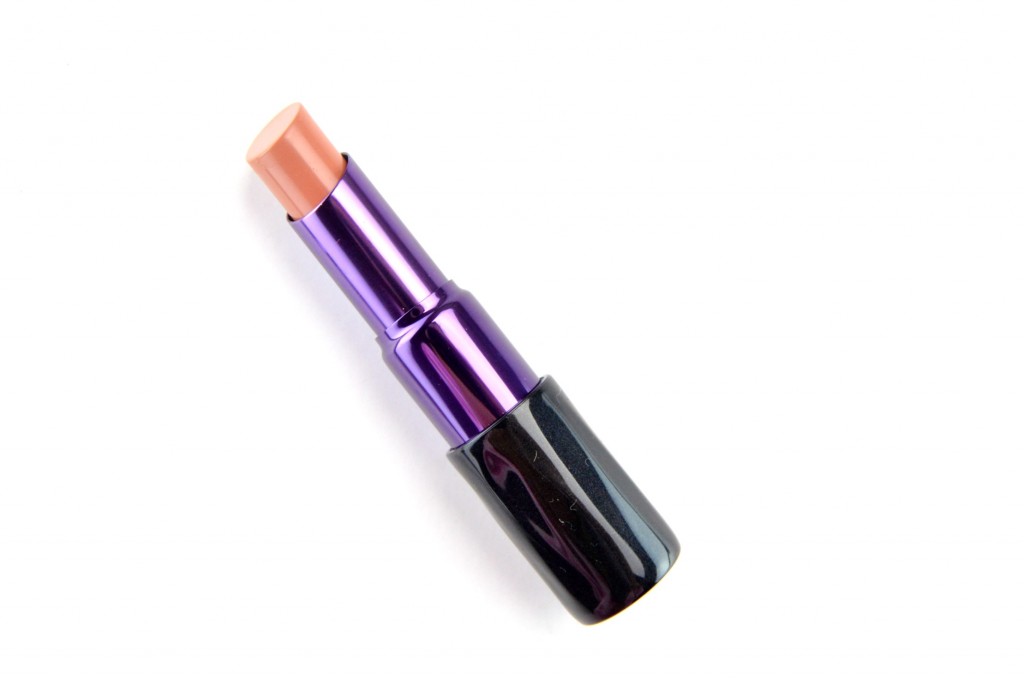 Urban Decay Naked Matte Revolution Lipstick in Blackmail is a blacken berry wine with a satin matte finish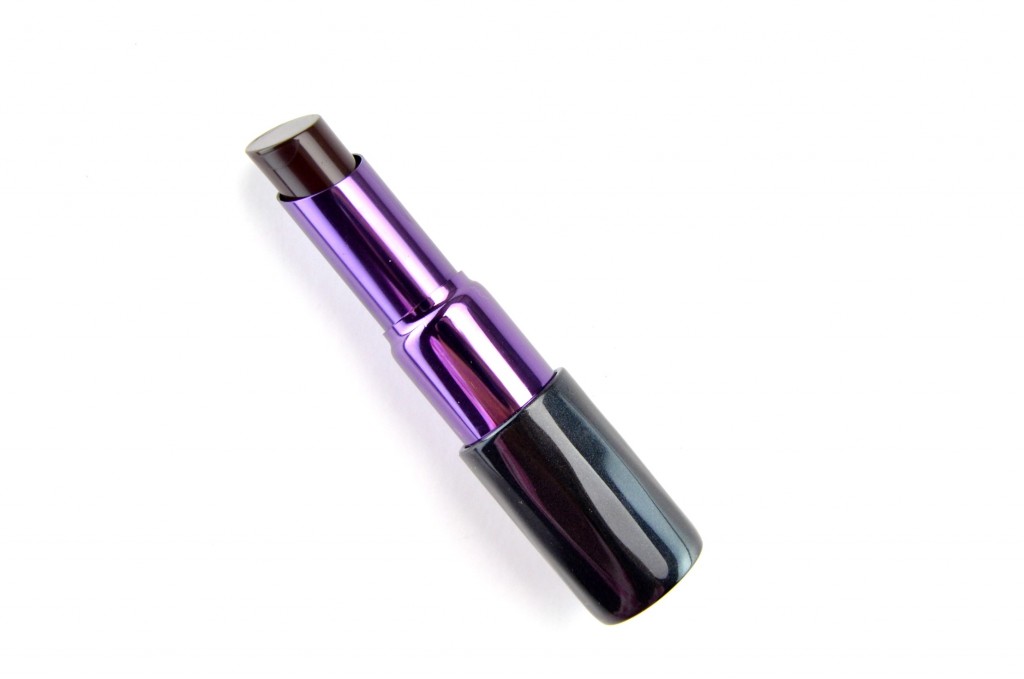 Urban Decay Naked Matte Revolution Lipstick in Tilt, Menace, Stark and Blackmail