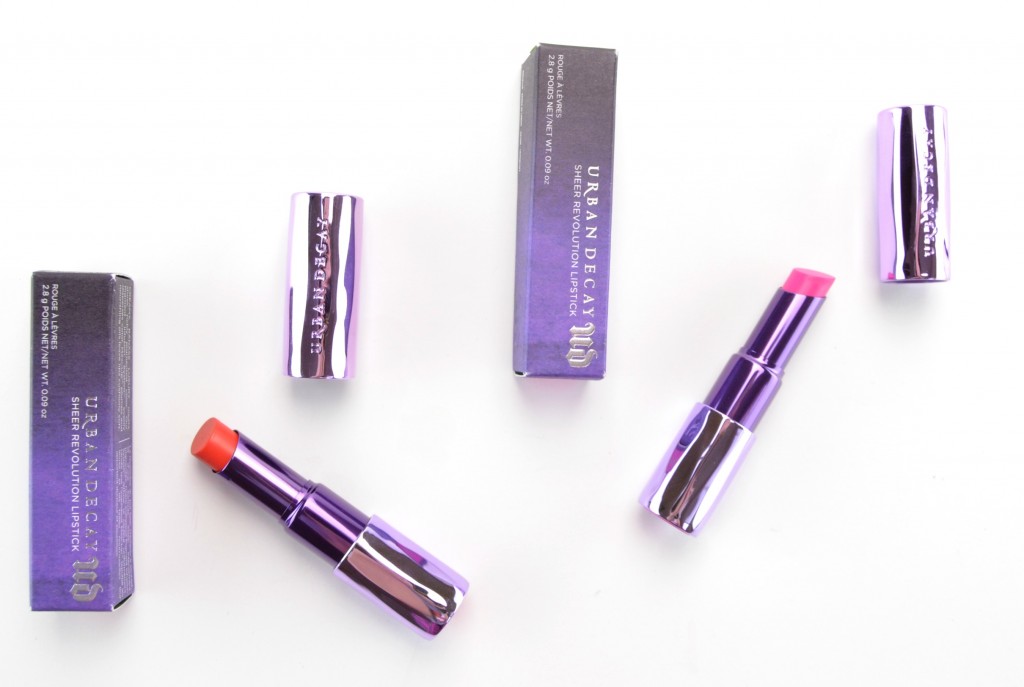 Hybrid Product
Urban Decay Sheer Revolution Lipstick comes with a brand new formula that's slight sheerer than the Revolution Lipsticks, but with the same great shine and moisturize as the Naked Lipgloss. You get the best of both worlds with this very clever hybrid product. It's formulated with "Maxi-Lip", which defines and hydrates the lips, while making them look fuller and plumper. It's infused with shea butter, jojoba oil, olive oil, babassu oil and vitamin C, to keep lips shiny and moisturized.
Urban Decay Sheer Revolution Lipstick comes in the most beautiful packaging I've seen in a long time. It's totally different and totally unique. Its chic and eye-catching purple metallic tube comes with the UD log embossed on the lid and along the side of the bullet. It has an extremely lightweight, creamy and smooth texture that literary glides onto the lips like butter. It provides a sheer and shiny finish, but with true pigmentation. It gives an even application each and every time and really seems to adhere to the lips.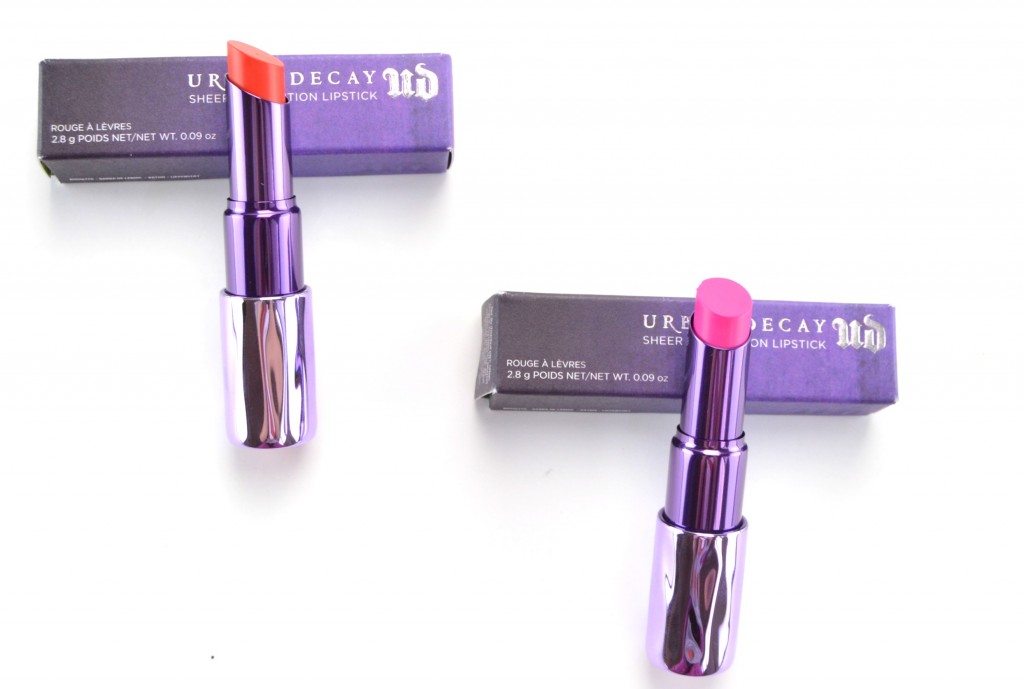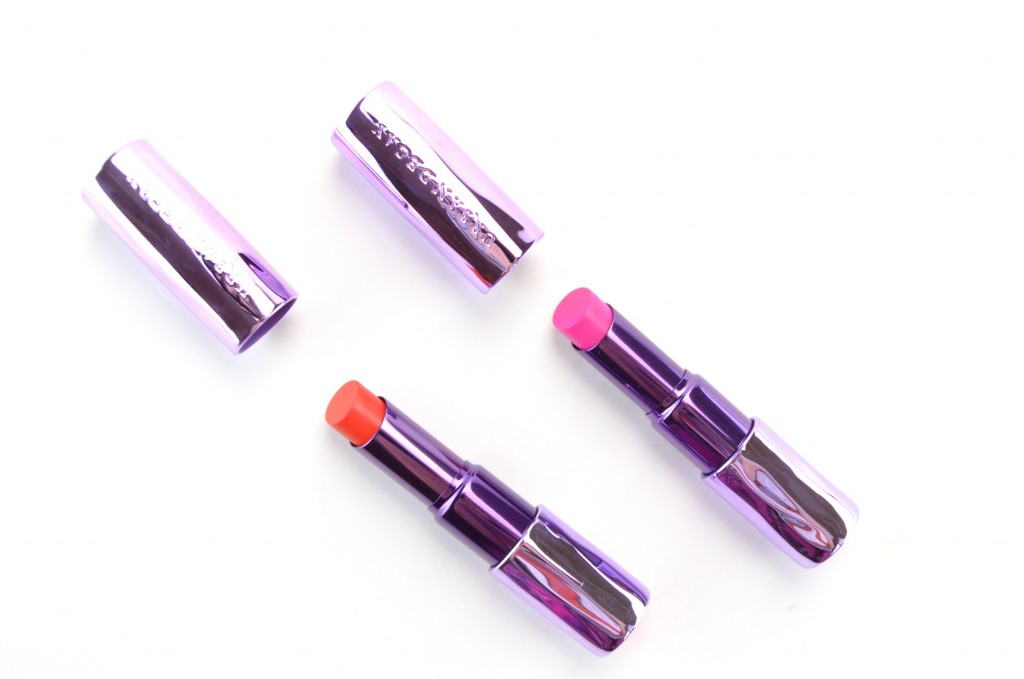 I seriously don't have a single bad thing to say about the new Urban Decay Sheer Revolution Lipstick. It's everything I look for in a good lipstick, creamy, smooth and highly pigmented. It's extremely soft on the lips, almost like a balm, without the heavy and thick texture. Although it does have a beautiful sheen to it, the opacity is still intense, with full colour payoff in a few swipes. It applies evenly and leaves my lips feeling highly moisturized and extremely comfortable to wear the entire day. It's never sticky or goopy and it actually stains the lips with a lovely colour, once the shine starts to fade.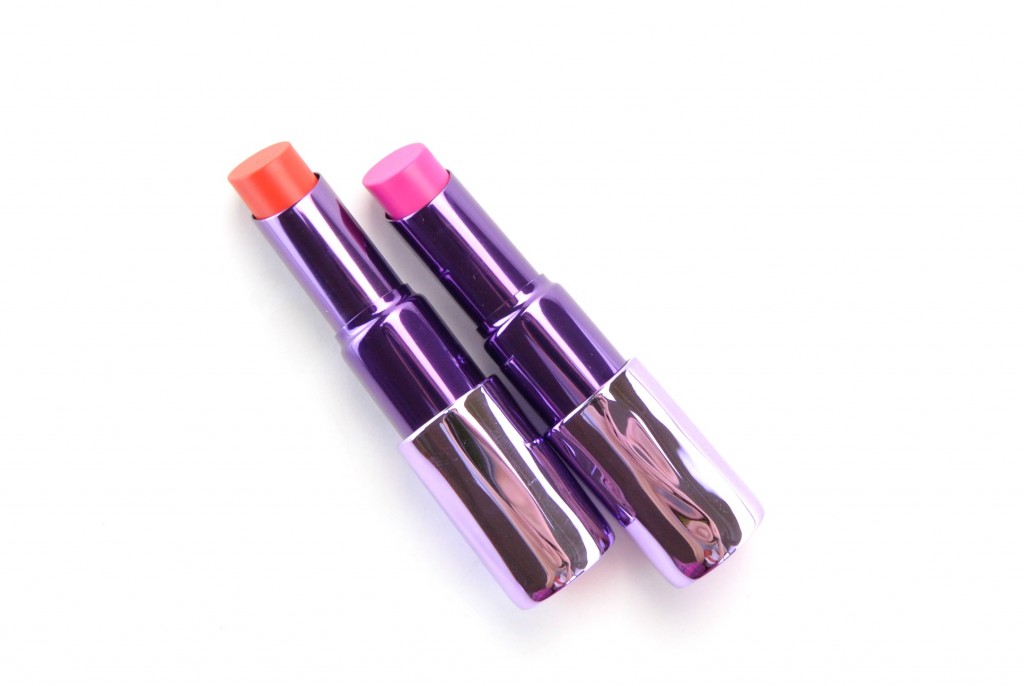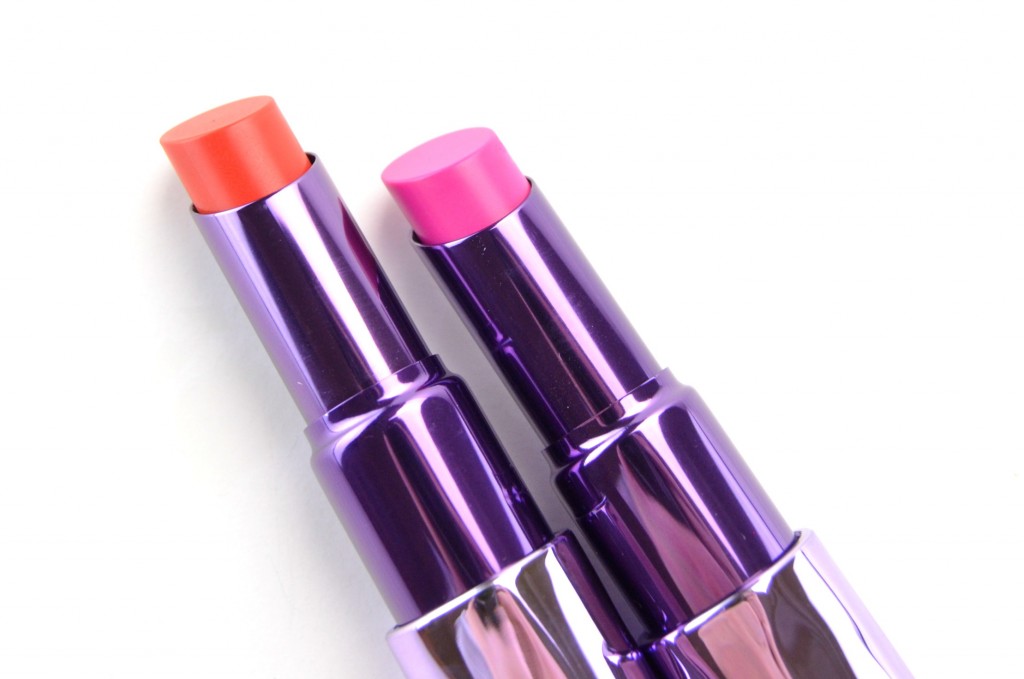 I love that Urban Decay Sheer Revolution Lipstick provides a high shiny, glossy, lustrous finish without having to apply a lipgloss overtop. Sometimes I don't have time to apply several products in the morning and this lippie looks perfect just on its own. No need to outline your lips with a pencil, it doesn't seem to bleed or feather outside the lines, nor do you need to apply a lipgloss overtop. Even though it's fairly sheer and glossy, it still seems to stay put for a solid 4 to 5 hours. It does an excellent job at sticking and gripping to the lips, even with eating and drinking. This easy to wear and extremely comfy lipstick comes in 10 shades for $26.
Urban Decay Sheer Revolution Lipstick  in Slowburn and Anarchy