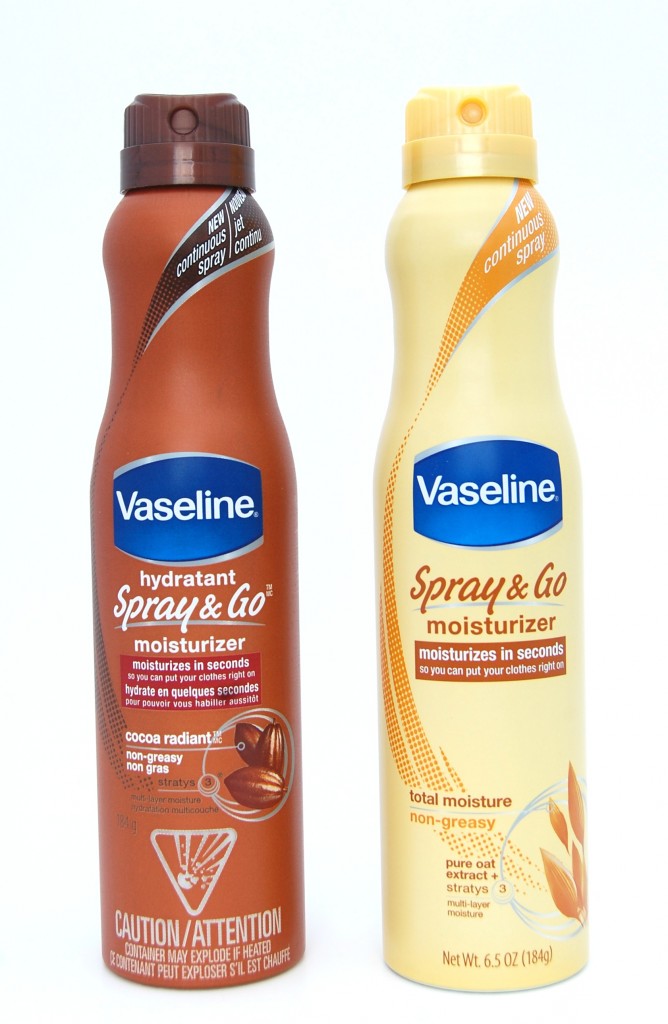 When it comes to moisturizing my body, I'm a little lazy. Sure I get sucked into buying all those fancy body lotions, body butters and creams, but I don't even want to tell you how many bottles I have in my bathroom right now. I have so many because I buy a bottle, use it once or twice, and then place it under the bathroom sink where it belongs. I think one of the reasons I hate applying moisturizer in the morning is because I always feel greasy or sticky afterwards and am afraid to put my clothes on right away and as much as the hubby would probably like me to walk around naked waiting for the cream to soak in, I like to get dressed right away.
Vaseline Spray & Go Moisturizer is a line of quick, convenient spray lotions that moisturize deeply and absorb into the skin within seconds. This continuous-spray system dispenses lotion quickly and evenly for all-over coverage and its unique formula includes Stratys-3®, a patented multi-layer moisture complex, so lotion absorbs into skin with a few quick rubs. Skin is instantly moisturized, not sticky or greasy. It comes in 3 formulas, much like the rest of the Vaseline family, Dry Skin, Aloe Fresh and Cocoa Radiant, has 6.5 oz worth of product which is enough for about 30 uses and retails for $8.99.

To use Vaseline Spray & Go Moisturizer you just unlock the top by twisting it, spray on the body parts you want to moisturize (the same way as you would a spray-on sunblock) and rub into the skin, it's as easy as that. It has a very lightweight texture to it, dispenses evenly with one all-over spray, moisturizes and absorbs quickly, leaves your skin feeling soft without being greasy and you can put your clothes on right after, which is a huge bonus for me.
I can't even begin to explain how much I love this product, sure it's quick and easy to use, but the highlight for me is, it's the perfect summertime moisturizer. For those living in Canada or any other place around the world where the summer humidity is sometimes so high you can barely breath and the last thing you want/ need is a heavy moisturizer on your skin, so when you step outside and start to sweat just a little, your moisturizer melts off your skin leaving behind a nasty film residue. But thanks to Vaseline Spray & Go Moisturizer you won't have to worry about it melting off in any conditions.
I also love that the convenient can allows for you to get in hard to reach places like your back, and since it absorbs right away you can apply it anywhere at any time. It's not as thick as a regular moisturizer, but still provides all the great benefits of a regular moisturizer giving you hydrating skin. I'm slightly obsessed with this at the moment and kinda enjoy the fact that I'm getting my daily moisture intake morning and night now.
Cocoa Radiant contains pure cocoa butter that leaves the skin feeling healthy, glowing and is my favourite out of the two I tested, just because I'm a huge fan of the scent. I will warn you, it isn't a light scent, you will definitely notice the smell of cocoa butter and so will those around you. It can sometimes interfere with perfume, if you choose to wear it, but in the summer this is a great option for those days when you want to skip a perfume. If your like me, and love the smell of cocoa butter, you're going to love this one.

Total Moisture contains pure oat extract and leaves skin feeling healthy and soft. Unlike the Cocoa Radiant, it has a nice light scent to it, almost like fresh soap.
Although I have not tried the Aloe Vera one, it contains pure aloe and leaves the skin feeling healthy and fresh. I think it would be perfect for taking with you on vacation as it's always refreshing to apply aloe after a long day in the sun.


Have you tried these yet, and if so, do you love em? Why did it take so long to come up with this and now I dont think I'll be able to go back to "normal" moisturizers again?