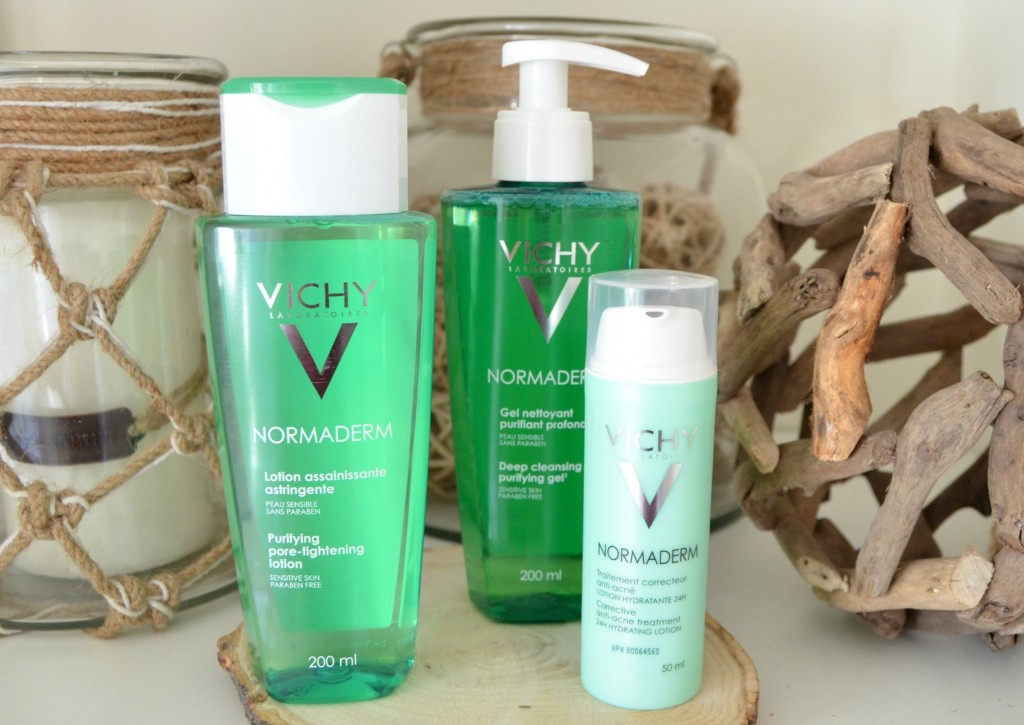 #vichyworksforme
It's not often that I repurchase an item, let alone an entire collection, but I've been hooked on 3 of Vichy Normaderm products for the past few months and will continue to re-buy them. This gentle, yet effective 3-piece system is designed to clinically reduce pimples and breakouts by up to 75%, thanks to its 50% more concentrated salicylic acid formula than before. Breakouts don't only happen to teenagers, it's an ongoing battle for more than 50% of adults. The stress of a new job, long, hot, humid summer days and even hormones can play a huge role in how our skin reacts, but that doesn't mean we can't win the war against blemishes. No matter if you're going back to school or back to work after the summer holidays, following these few simple "skin rules" and using the correct products, and you too can live a clean, pure and healthy life.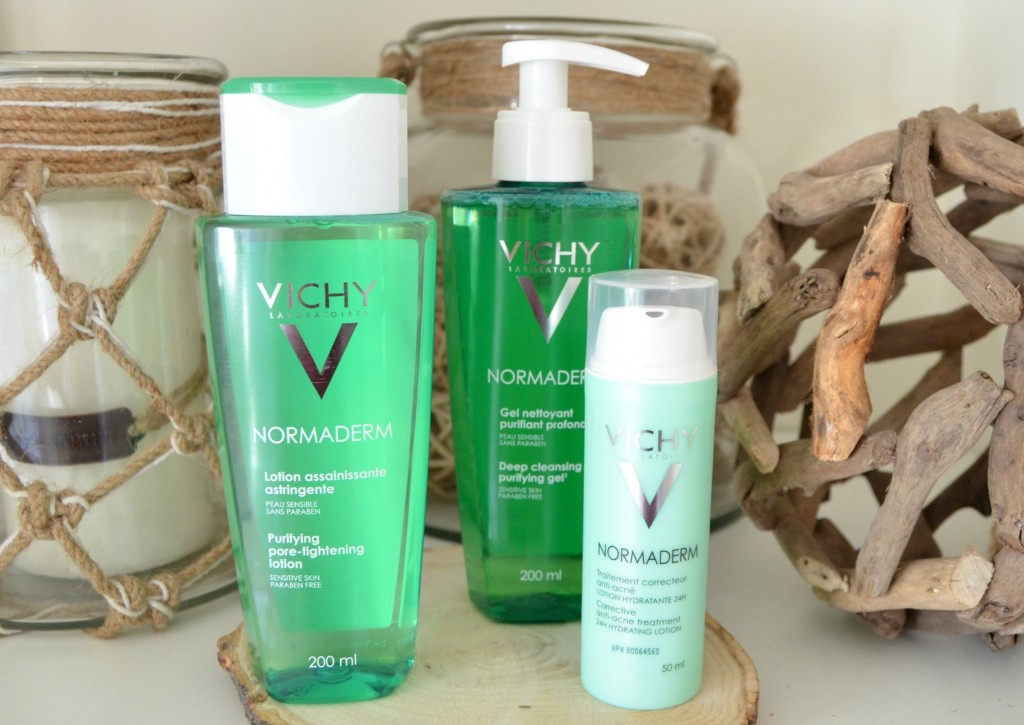 I highly suggest starting with a gentle, yet deep cleansing cleanser. The Vichy Normaderm Deep Cleansing Gel helps to not only cleanse the skin of dirt, oil and daily grime, it helps to rebalance oil. Unlike traditional deep cleansing products that often strip your skin of its protective barrier, leaving it vulnerable to bacteria and feeling extremely dehydrated, this unique gel-formula actually helps to smooth and soothe the skin. It helps to purify the skin thanks to its anti-inflammatory ingredients, yet doesn't leave the skin feeling tight or dry. It helps to unclog pores and instantly soothe inflamed, red and irritated skin.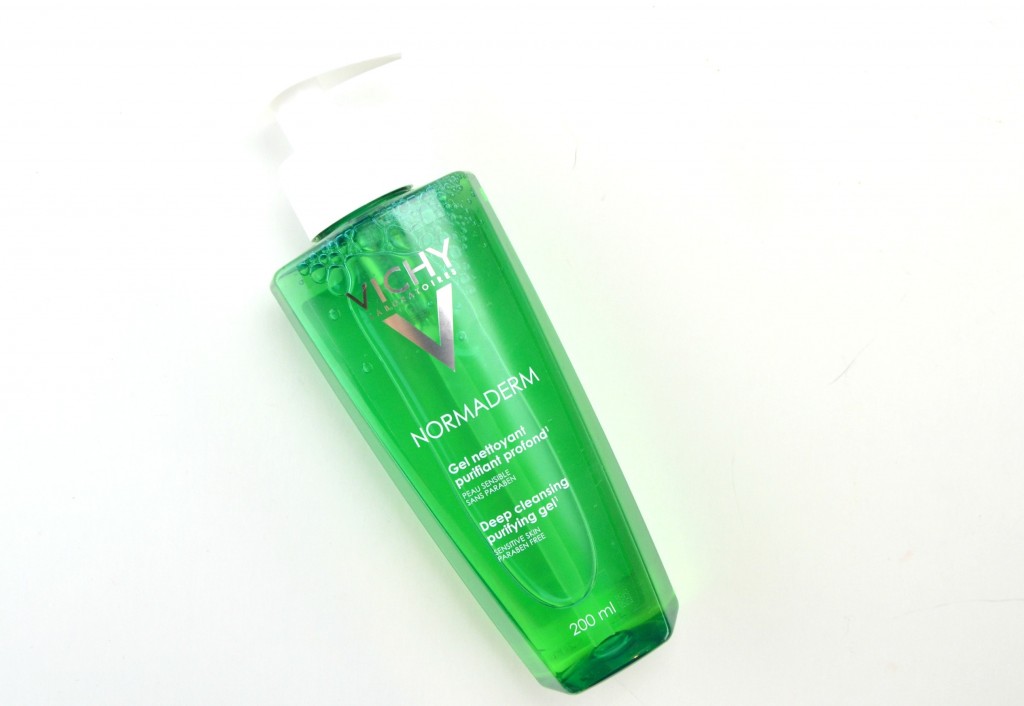 Although most acne prone skin people think it's necessary to use harsh exfoliators to sloth off dead skin cells, the fact is, that over-scrubbing can actually cause more damage to the skin than good. Vichy Normaderm Deep Cleansing Gel features salicylic acid, glycolic acid and micro-exfoliating LHA to gently exfoliate dead skin cells without abrasive ingredients like harsh micro-beads. By simply using your fingertips to massage the gel into the skin, this helps to immediately get the blood flowing and removes all dead skin, for a smoother, softer texture. This cleanser on its own is half the battle in preventing future breakouts.  It is velvety-soft, removes all impurities and leaves your skin feeling moisturized and ready to take on the day. It retails for $19.95 for 200ml.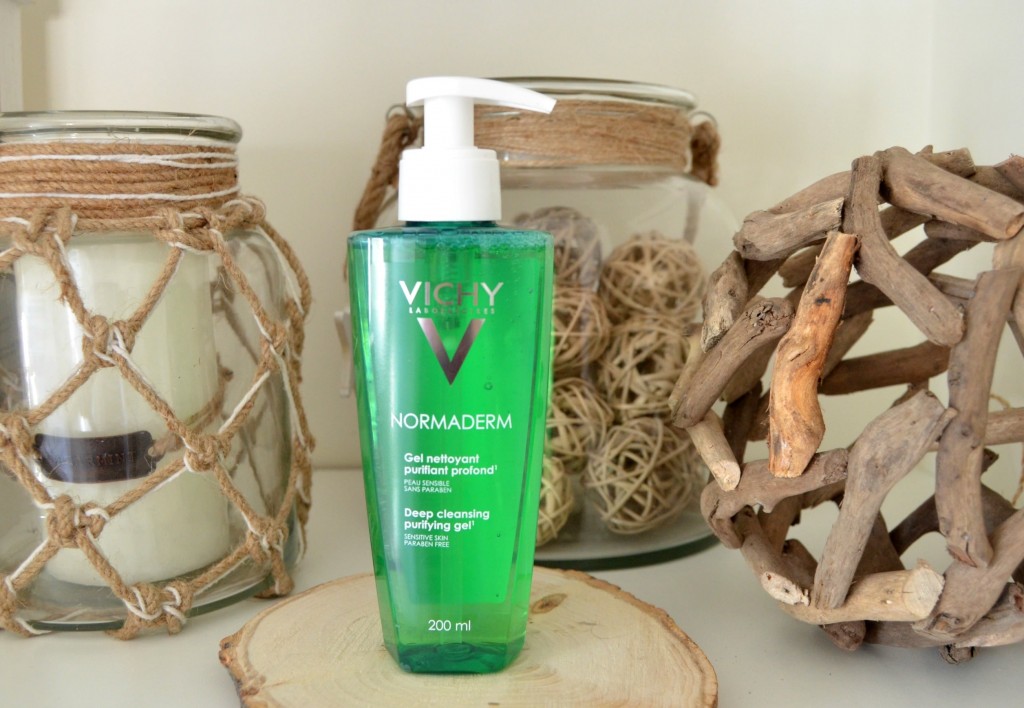 A toner is an important part of your skin care routine, but I find that most acne targeted toners tend to be too over-drying. Instead of reducing blemishes, these harsh toners actually trigger extra oil production, making the problem worse. Vichy Normaderm Pore-Tightening Lotion's unique matte formula helps to instantly unclog and tighten pores, all while keeping the skin incredibly hydrated.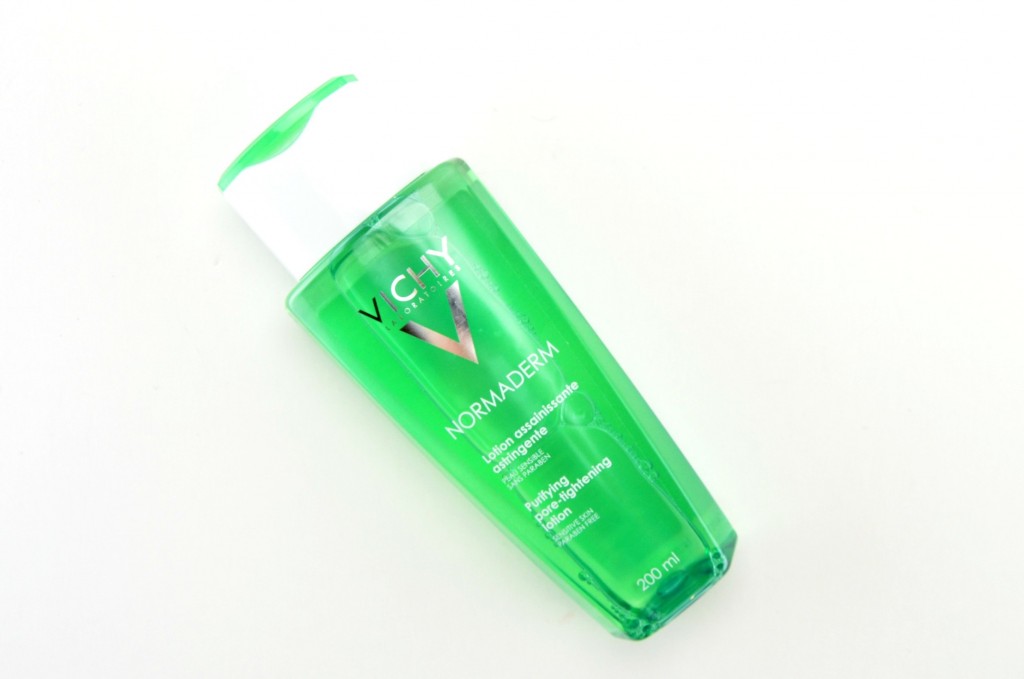 Vichy Normaderm Pore-Tightening Lotion's lightweight formula features glycolic and salicylic acid, both effective anti-acne ingredients that are completely mild and safe to use daily. Unlike traditional benzoyl peroxide toners, which only kill and target bacteria on the surface and completely suck all the moisture out of your skin, these natural ingredients help to eliminate impurities without leaving the skin tight or dry. It also contains mineralizing water to help provide a squeaky clean, completely smooth and refreshed finish that's moisturizing. Long go the days of itchy, flaky, red and irritated skin, just visibly smoother texture and tone, and less congested pores. It retails for $19.95 for 200ml.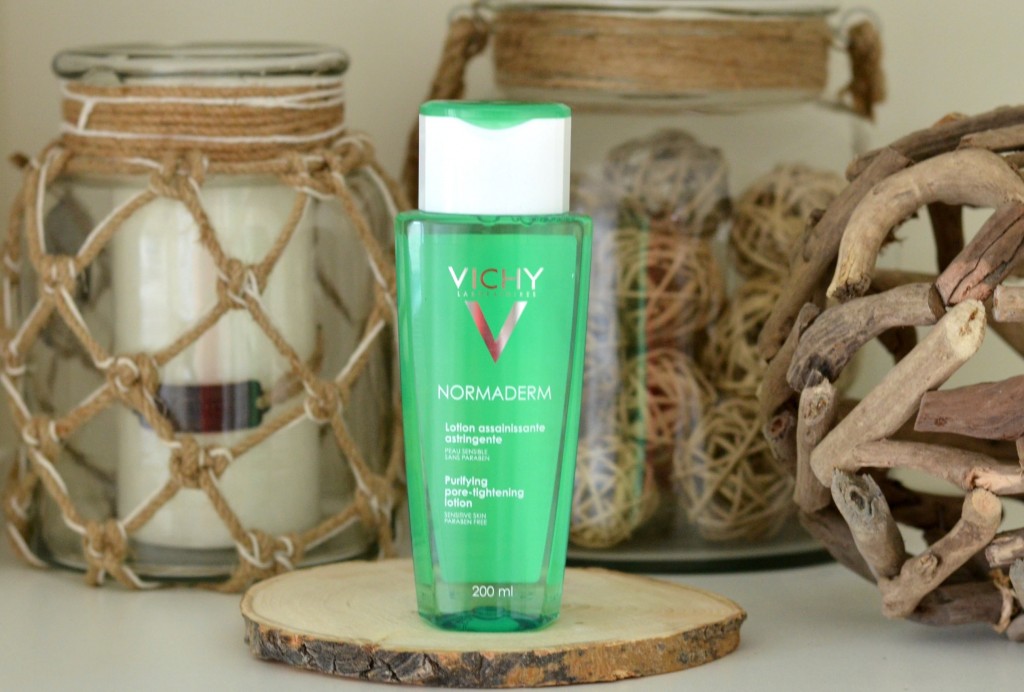 The star of the collection is the Vichy Normaderm Corrective Anti Acne Treatment, designed to visibility reduce pores, prevent future breakouts and diminish acne marks. It's formulated with LHA, an active ingredient that helps to stimulate the skin, increase cell turnover and kill bacteria within the pores. In conjunction with 1.5% salicylic acid, which helps to soften dry, scaly skin, resulting in a more refined texture, this unique duo is extremely effective when paired together. It also contains Phe Resorcinol and a new Air Licium technology formula that prevents all signs of acne, shine and redness.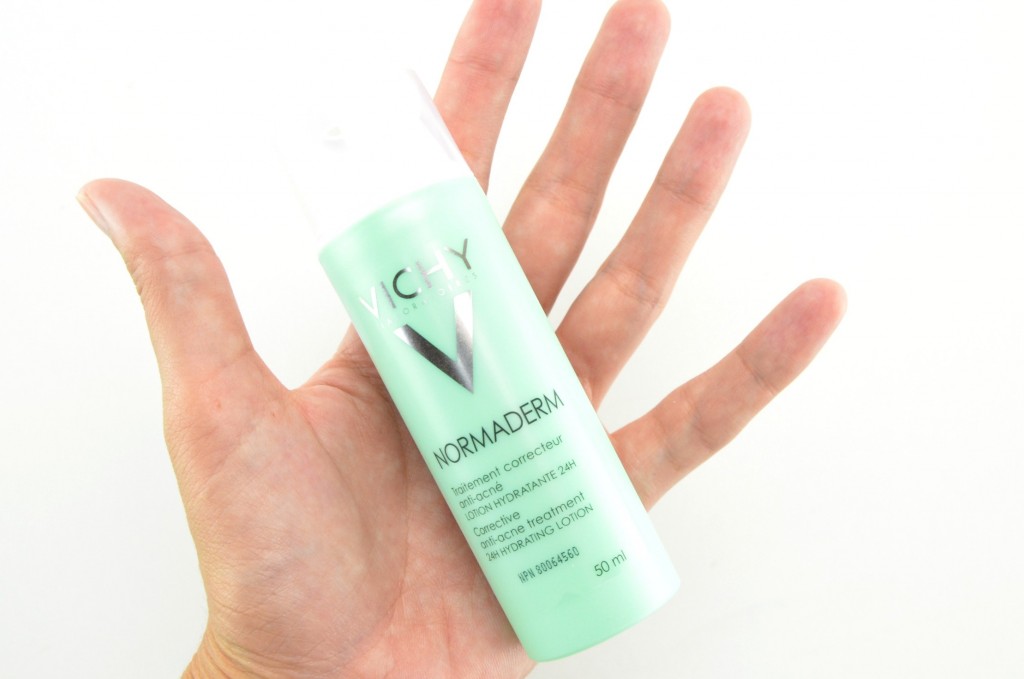 Vichy Normaderm Corrective Anti Acne Treatment is a quick and effective way to break up particles that block the pores and cause breakouts, along with helping impair the ability of bacteria to adhere to materials inside the follicles. After a single use, blemishes are usually reduced by 50% and by day 3, it's completely dried up the active pimple and made is visibly reduced. Not only does this smooth the skin's surface and reduce inflammation, it seems to effectively unclog pores, giving the illusion of smaller pores. It can be used both day and night, without the fear of it irritating or drying out the skin and it actually helps prep your skin for foundation and makeup. I love that it not only stops breakouts in their track and prevents future blemishes, but it doesn't interfere with my daily makeup application. It retails for $29.95 for 50ml.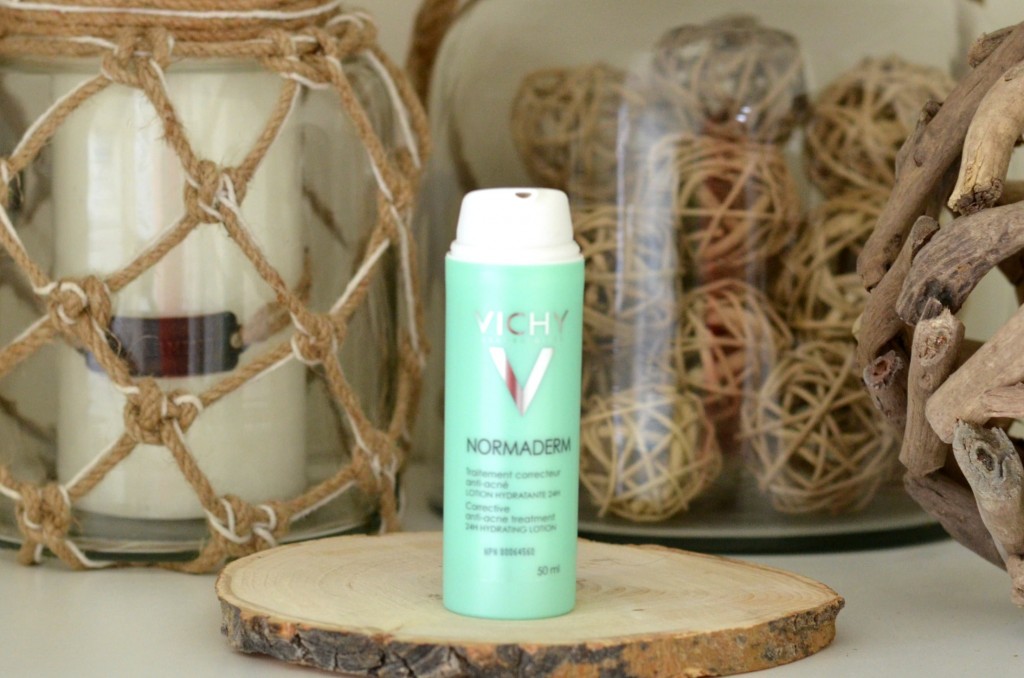 Not only have these products quickly and effectively cleared up my blemishes, it's left my skin incredibly soft and smooth. My skin texture has improved, my overall tone has been brightened and my skin hasn't been as dry (compared to when I use other acne fighting products). Skin has less lumps and bumps, is less irritated and red, and overall just looking healthier. In conjunction with this 3-piece system, don't forget to let your skin breathe every once in a while. Try to go without foundation at least once or twice a week. Remember to never go to bed with makeup on, change your pillowcase at least once a week and wipe down your phone, eyeglasses and sunglasses daily. Take time to clean your makeup brushes, I know it's a daunting task, but it's a bacterial feeding ground. Avoid leaning on your hands and stop touching your face, another hard one, but so important.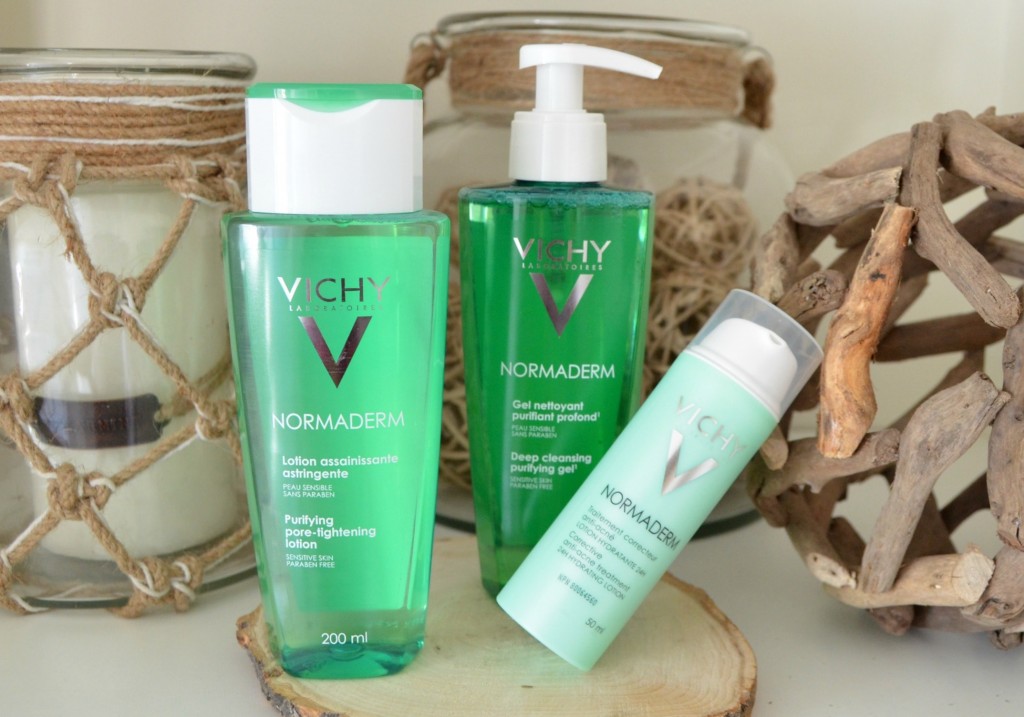 My friends at Vichy want you to have healthy, radiant, blemish free skin this Fall, which is why they are offering the chance for one lucky reader to win this entire 3-piece system (and the winner is……… Victoria Timmins), along with an amazing promo where you can get $15 off and free shipping! Simply enter below:  
To enter, follow both myself and  Vichy on Instagram and then tag a friend in this photo
You can also follow myself and Vichy on Twitter and re-tweet this photo
Or finally, you can also follow myself and Vichy on Facebook and then share this photo
If you're looking to outsmart acne, Vichy is offering $15 off and free shipping off the powerful Vichy Normaderm Deep Cleansing Gel & Vichy Normaderm Corrective Anti Acne Treatment duo – costing you only $34.90.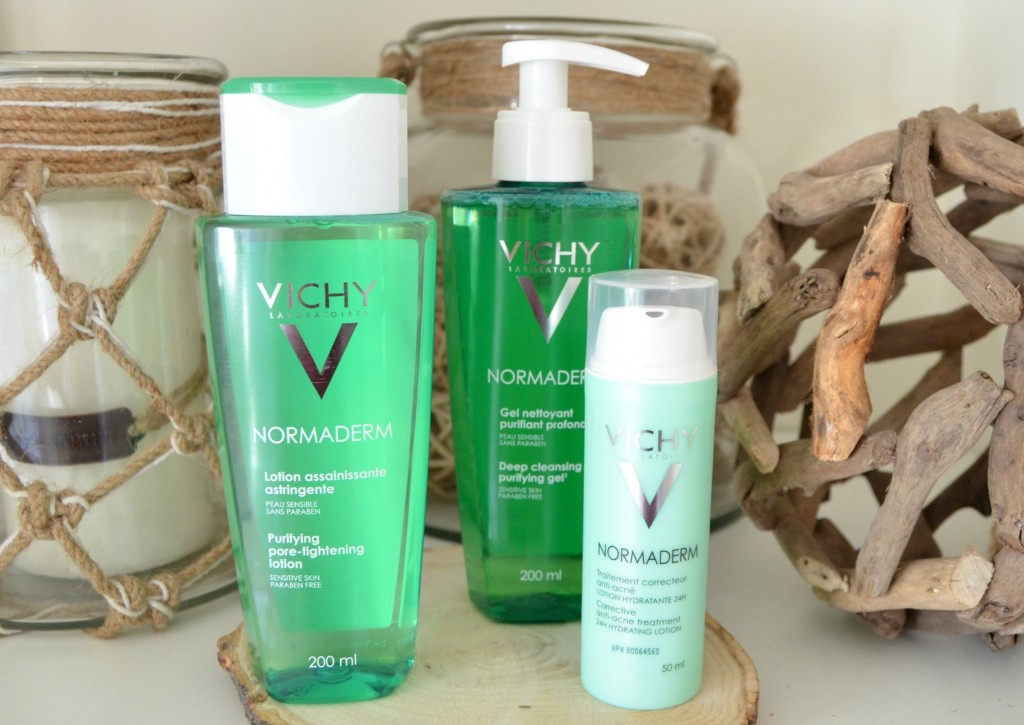 "Disclosure: This post was sponsored by Vichy, but all opinions on this blog are my own. I also want to thank you for supporting the brands that support my blog."