Must-Have Cosmetics for Winter
Winter is here, but is your makeup bag ready for it? As we jump into a new year, hello 2018, it's important to switch up your makeup products to best suit the colder weather. I hate to admit it, but as much as I love testing out new cosmetics, I often get stuck in a rut. I tend to reach for the same, boring, old products that I know work for my skin type and have a hard time switching up my daily routine. Since it's the beginning of a new year, I thought now's the time to take back control of my beauty room and start to have fun with makeup again. As much as I'd still love to continue rocking all my shimmer and sparkly shades that I've been wearing for the entire month of December, a new year, calls for new changes. Today, I'm sharing the new products that you'll find within my current makeup bag and on my makeup vanity. If you'd like to see a current skincare routine, just let me know.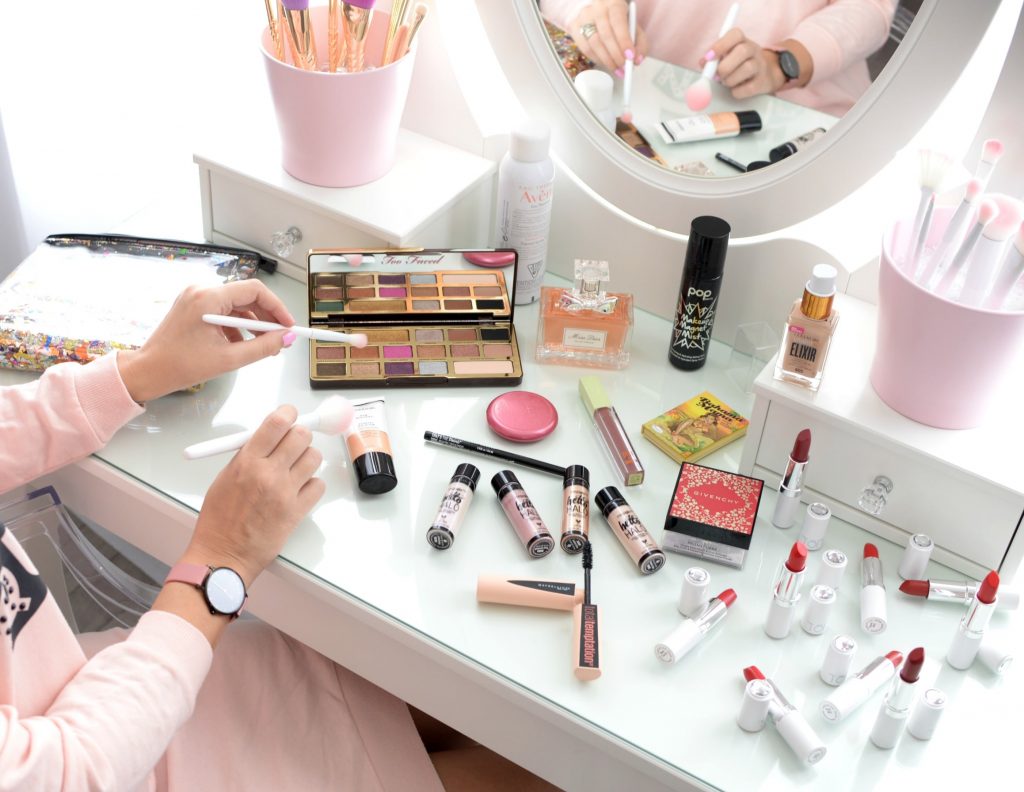 No matter how much of a rush I'm in, I never skip a primer. Not only does it help lock and seal everything into place all day, it helps my foundation glide on smoother. In the winter, my skin tends to be extra dry and dull, so I reach for products that can help moisturize and brighten my skin. The new CoverGirl Vitalist Go Glow is an illuminating lotion that's formulated with vitamins E, B3 and B5 to not only hydrate, but help add a touch of radiance to the skin. It has a lovely peachy undertone that instantly brightens, while its light reflecting pigments add a heathy glow to your complexion. Although it can be mixed in with your foundation or applied overtop, I actually prefer it under my makeup, to give that "lit from within" effect. It leaves behind a sleek and slick surface for your foundation to adhere to, while creating a smooth and soft finish that allows foundation to glide on like butter.

Foundation is an excellent way to even out skin tone, conceal redness, blemishes, dark circles, hyperpigmentation and any other skin issues you may be having at the moment. Since our skin tends to be a tad paler, and usually a few shades lighter in the winter, now's the perfect time to pick up a new foundation. In winter, look for a foundation that features moisturizing benefits, like the new CoverGirl Vitalist Elixir Foundation. Its unique vitamin infused formula not only provides a lightweight, full-coverage, luminous finish, it also helps to keep skin nourished and hydrated the entire day while avoiding oiling and conglomerating on the surface. Its rich and creamy texture glides onto the skin for a flawless finish that never looks heavy or caky. It's the perfect foundation for dry skin as it gives the appearance of a youthful, healthy, glowing skin that we all miss during the cold winter months. It retails for $13.99.

Keeping with the luminous theme, the limited-edition Givenchy Prisme Libre Loose Powder in shade Mousseline Pastel celebrates the Chinese New Year with its 4 complementary shades to create a matte, yet even and luminous complexion. Of course, all shades can be shaken together and applied all over the face to help even out your skin, but since I have fairy dry skin, I've been focusing it under my eyes and T-Zone to instantly add a touch of radiance. Its finely milled formula seems to almost disappear once applied to the skin, and although virtually undetectable to the naked eye, it provides a brightening, glowing, and almost halo effect to the skin. The tiny light reflecting particles help to add dimension and definition to your complexion and stops your makeup from looking flat and dull. It retails for $69.

I love a blinding highlight, but in the winter, I want my cheekbones to be seen from outer space. The new Wet N Wild Megaglo Hello Halo is an intensely, liquid highlighter that provides mega shimmer and shine thanks to its shimmering pearl pigments. It's also infused with Murumuru Seed Butter, Grapeseed Oil, and Vitamin E to help hydrate and nourish the skin to ensure your complexion is never flat, dull or dehydrated. It features a buildable formula, that although it's pretty extreme with only the smallest amount, you can easily build up the intensity with a second or third layer. It comes with a handy doe foot applicator for easy application and its highly pigmented formula is bold and intense in a single swipe. It does have a slightly sparkly, flecks of glitter formula that gives a hi-shine glow to the skin. It comes in 7 different shades and retails for $7.99.

We all want a healthy sun-kissed glow, even in the dead of winter. A bronzer is the perfect way to add some warmth back into your complexion and give the illusion that you just returned from the beach. I've gone back to a cult-classic, and a personal favourite of mine, The Balm Bahama Mama. It's the perfect golden brown to create a beautifully bronzed finish to the skin without it looking too dark or orang-y. It features mica and silica for a sheer, yet intensely pigmented wash of colour. It can be layered, as needed, to help create a customized and realistic shade of bronzer for your unique skin tone. Its matte finish is ideal for cheeks, down either side of the bridge of your nose, around the temples and can even double as an eyeshadow. It instantly creates that fresh-off-the-beach glow that we all desire during the cooler months. It retails for $20USD.

Our cheeks tend to be rosy during the winter, so why not intensify that with Stila Convertible Color Dual Lip & Cheek Cream in Fuchsia. Although it may look a little scary and intimidating in the pan, its creamy, translucent colour is actually quite subtle on the skin. It blends beautifully into the skin to create a gorgeous glow and a flawless finish. You can easily build up the pigmentation to give the appearance of blushing skin, or tone it down by using your fingertips. It honestly is the easiest way to create a natural flush cheek without having to brave the cold. It creates the illusion of healthy, glowing skin that stays put the entire day. Since it's a tad deeper and richer than my natural skin tone, it adds a youthful radiance to the skin that I adore. It retails for $33.

Pop Beauty Makeup Magnet Mist Energizing & Hydrating Setting Spray will help to ensure my makeup stays in place the entire day. It acts like a magnet to "fix" my makeup and create an invisible shield that will help to maintain a flawless finish well into the evening. It also helps to hydrate and nourish the skin, which will be an excellent pick-me-up midway through the day. It has a subtle minty scent that's quite refreshing and invigorating. It provides a slight cooling sensation that's perfect for when your skin needs a boost of energy. Unlike other setting sprays, this doesn't dry your skin out or cause breakouts. It's perfect for everyday, even those days when you're not wearing a full face of makeup. Its hydrating benefits boosts your skin's natural radiance for a healthy glow, while locking your makeup in place. It retails for $16.
I'm not quite ready to give up on all my shimmer and metallic shades. Since I'm going for a youthful, radiant and glowing complexion, the new Too Faced Chocolate Gold Metallic/ Matte Eye Shadow Palette is going to help tie my entire look together. Not only does this palette feature 16 stunning shades, it's infused with real gold and cocoa powder to give each shadow a decadent chocolate scent. Each foiled shade is created with real gold for an epic high shine finish that's sure to grab and demand attention. Of course, like all Too Faced shadows, each shade is velvety soft and smooth, intensely pigmented with full colour payoff in a single swipe. It's so secret that I'm obsessed with all my Too Faced Palettes and are the ones I reach for the most, but it's going to be fun to play with different finishes this month. It retails for $59.

NYX That's The Point Hella Fine Artistry Liner will allow me to create perfectly fine, ultra-sharp, crisp, clean lines this winter. Its fine tip ensures I get as extremely close to my natural lash line as possible to guarantee the appearance of thicker, fuller, multiplied lashes. Its easy-to-use felt tip makes it incredibly easy to create an array of both thick and thin lines, depending on my wants and needs. It allows me to be as creative as I want and show off my artistic flare. I can create intricate eye designs with a flick of a pen and create that perfect cat-eye with ease. The formula is richly pigmented, providing an intense black line, even when I'm drawing on an ultra-thin line. The felt-tip allows me to create seamless lines in a single stroke, without pulling or tugging on the eyelid. It dries within seconds, is budge-proof the entire day and is intensely black. The design allows me to go from the thinnest line possible at the inner corner of my eyes, to a thicker, bolder line as I apply outwards. It retails for $14.

A good mascara can awaken your eyes and give the illusion of longer, fuller, thicker lashes, which is just a few of the reasons I never skip this step. The new Maybelline Total Temptation Mascara features a creamy and almost whipped formula that's infused with coconut extract to not only nourish and soften the lashes, but helps to add mega volume and length. Its tapered bristle wand helps to create custom-lashes that dial up in volume in a single coat. By focusing on the roots of my lashes, trying to deposit as much of the product I can at the base, allows me to brush and comb up the rest, towards the tip of my lashes for a flirty, full of volume effect. For maximum definition, I go in with a second coat to thicken up each lash and give the appearance of longer lashes. It separates my lashes beautifully, so never do I have the fear of them looking clumpy or spider-like. It's smudge and smear-proof and holds a curl the entire day. It also doesn't seem to fade or flake for upwards of 24 hours.

Rich burgundy and blue-based crimsons tend to look better during the winter months than your bright orange and pink tones. Since I'll be playing with a lot of neutrals shades with the rest of my makeup look, it's fun to incorporate a statement lipstick. I love experimenting with darker lip colours, especially reds, during the long, cold winter months. TōN Cosmetics offers 9 different variations of reds to ensure you find your perfect shade. Take the TōN quiz and within minutes the brand will lead you to your ideal shade. I used to shy away from red lips, in fear it didn't match my skin tone correctly, but now I've found a few shades that match my personality, style and complexion perfectly. The formula is rich and creamy, the pigmentation is opaque in a single swipe and it keeps lips hydrated and moisturized the entire day. Each shade retails for $19.
On days when I'm looking for a little fullness to my lips, I'll turn to my trusty Pixi by Petra Glossy Lip Plumper. Not only does it feature peptides to help hydrate, firm and plump up the lips, it also contains aloe, jojoba and chamomile to help heal, soothe and moisturize. It offers a slight cooling and stinging sensation that delivers mega volume with a high-gloss and shinny finish. It begins to tingle upon first application, sort of like pins and needles, but will slowly subside. It instantly gives the illusion of fuller looking lips and does an amazing job at filling in fine lines, for healthier, smoother appearance. It provides a sheer wash of rosy colour that's incredibly lustrous. It also has a refreshing minty scent that's quite invigorating on a cool, crisp day.

To keep all my makeup neat and tidy in one spot, I'll be storing it in this fabulous Sephora Collection Let's Disco Confetti Travel Bag. Its large enough to no only carry all my must-have winter cosmetics, but my brushes and beauty essentials as well. Its playful metallic confetti design is just what I need to add a pop of fun to my every day makeup routine. It retails for $18.