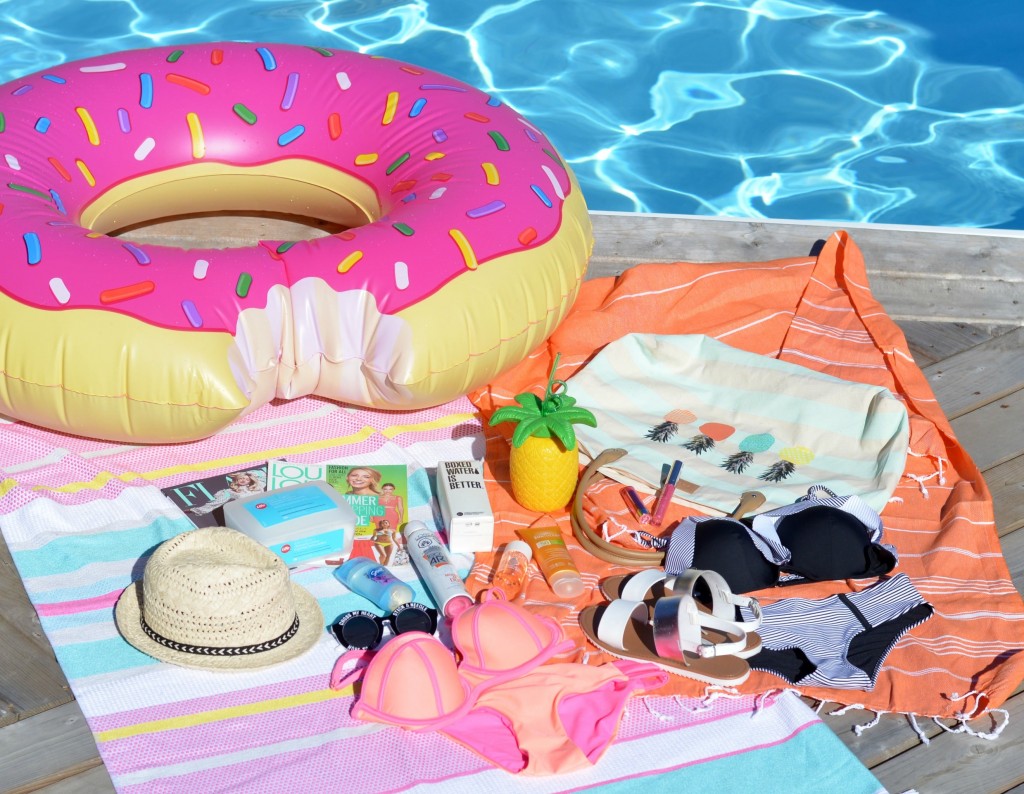 This girl would pick the pool over a white sandy beach any day. Even when Derek and I travel down south, you can usually find us poolside over the beach. I'd much rather soak in the sun's rays lounging by the pool, than the sandy ocean. There's something about the smell of chlorine that gets me super excited, and the fact my feet stay sand free, is just an extra bonus. Even when I was little I hated wet sand on my feet. I used to get my dad to carry me from the water to my towel, just so I wouldn't get my feet dirty and sandy. If you're anything like me, I usually forget a thing or two when heading to a friend's pool, which is why I now have a beach bag ready to go with my summer pool essentials in it. 
First up, a beach bag of some sort. My need to over pack doesn't stop at traveling, it easily rolls right into pool days. It I don't bring a large beach bag of some sort, you'll likely see me trying to juggle 15 items in my arms. This La Vie En Rose one just screams summer and it is neutral enough to go with everything.
Of course a towel is a must and for obvious reasons. This tends to be the item I forget, so this year I bought a few cute Turkish towels from Homesense in hopes to not only look stylish, but to never leave home without it again.
What's a pool party without a giant inflatable pool donut floaty? Summer is all about slowing down and unwinding, and there's nothing more relaxing that floating around the pool with an iced cold cocktail in hand.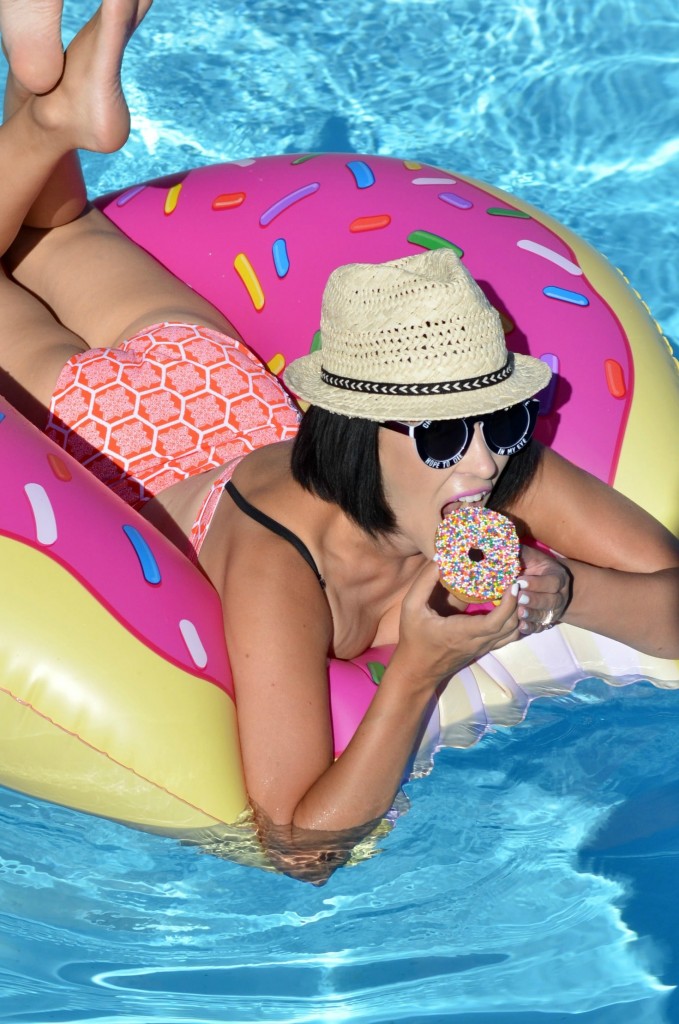 Speaking of cocktails, a refreshing drink is a must (or two, or three, or four) and there's something exciting about sipping your tropical concoction out of pineapple shape tumbles, am I right? Spending hours by the pool in the heat, sun and humidity is bound to leave you dehydrated, so it's important to stay liquefied. Cocktails not you're thing, Boxed Water has you covered.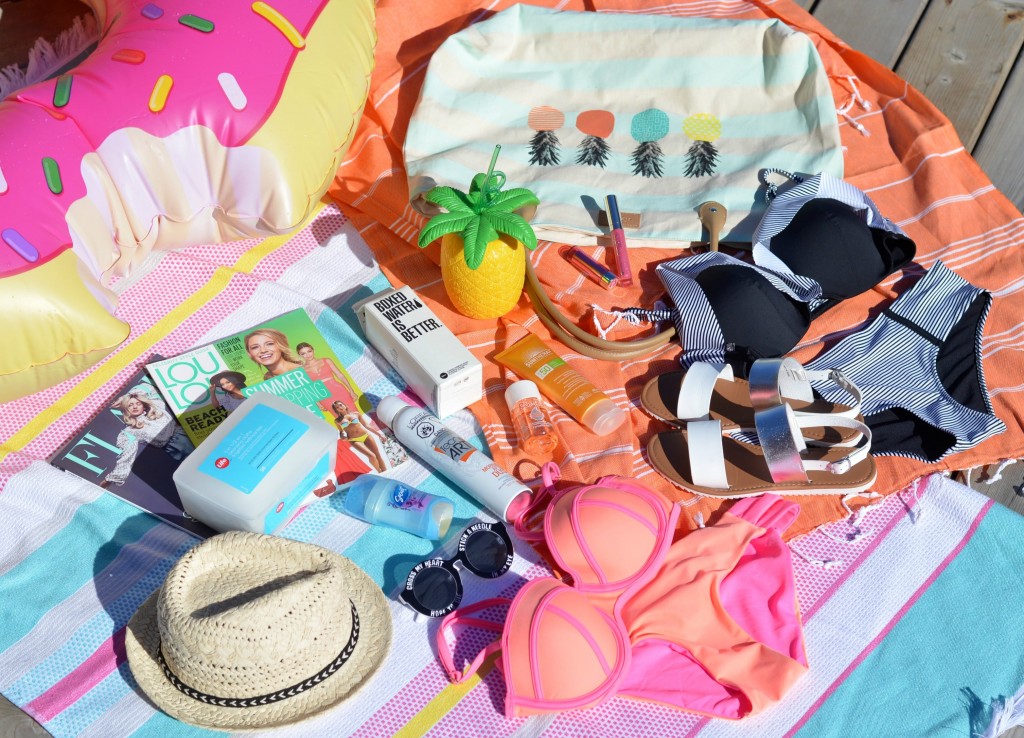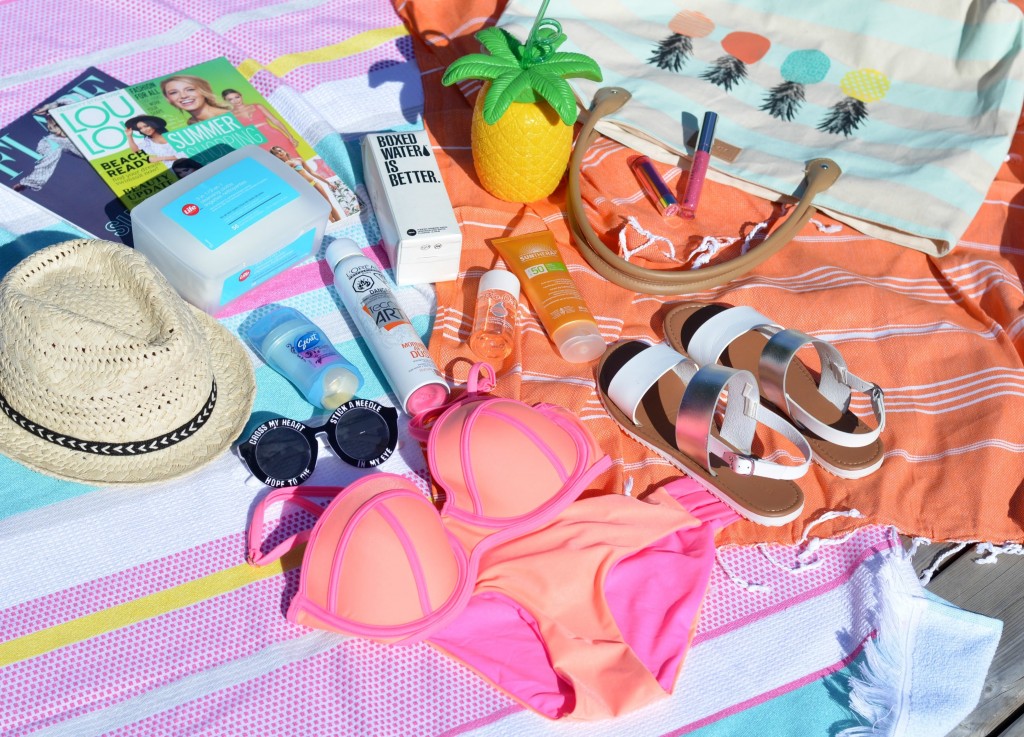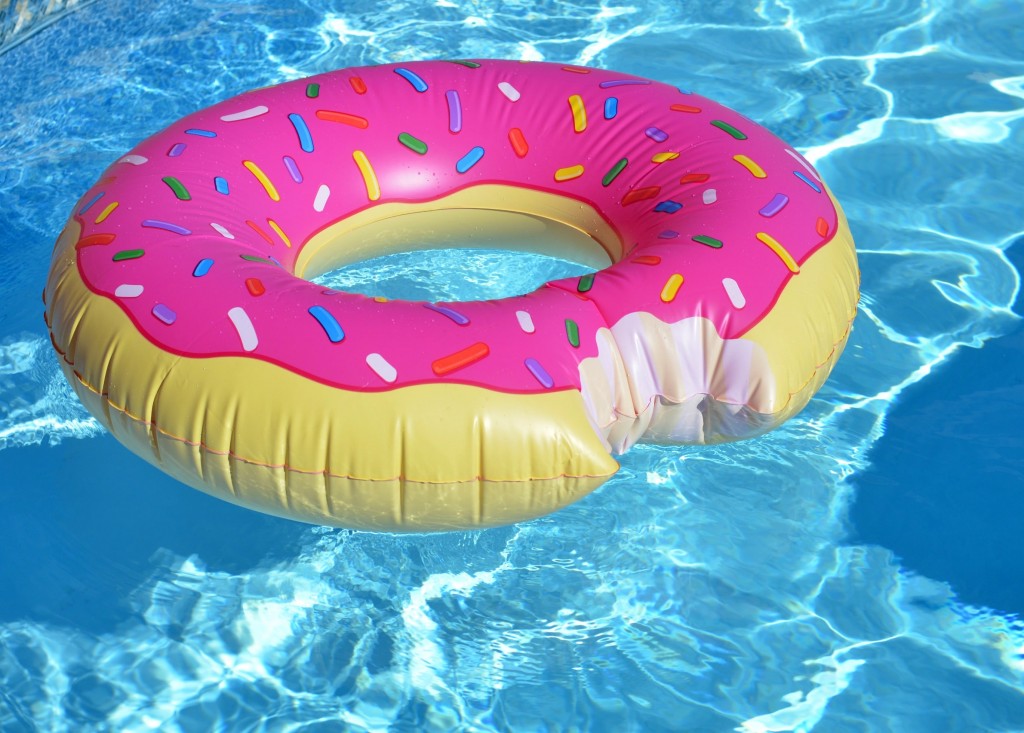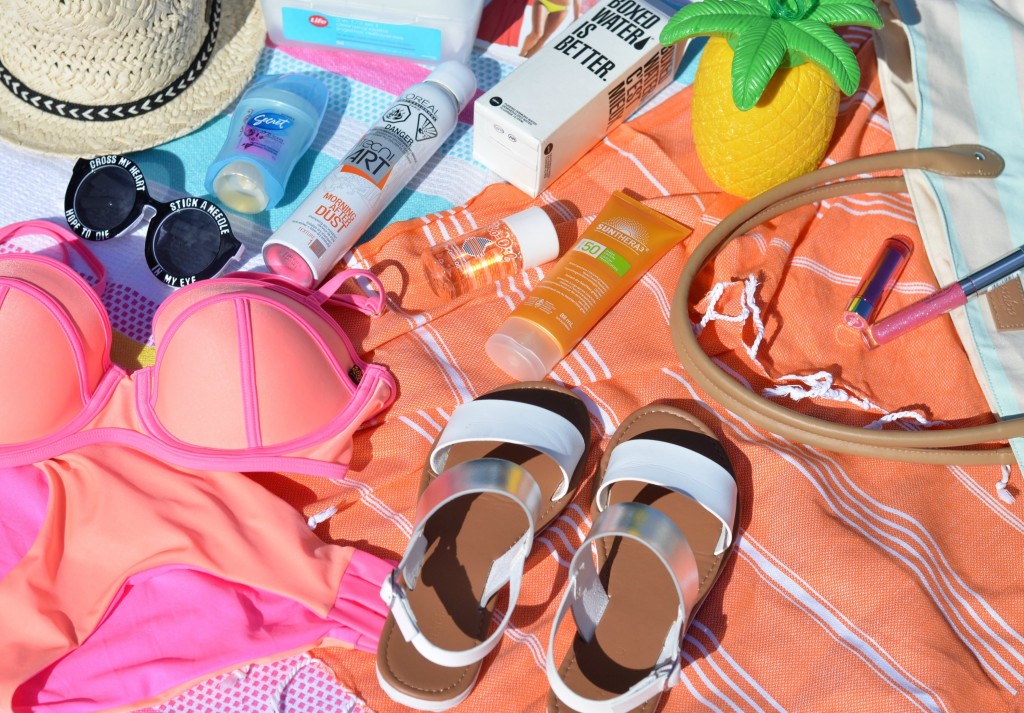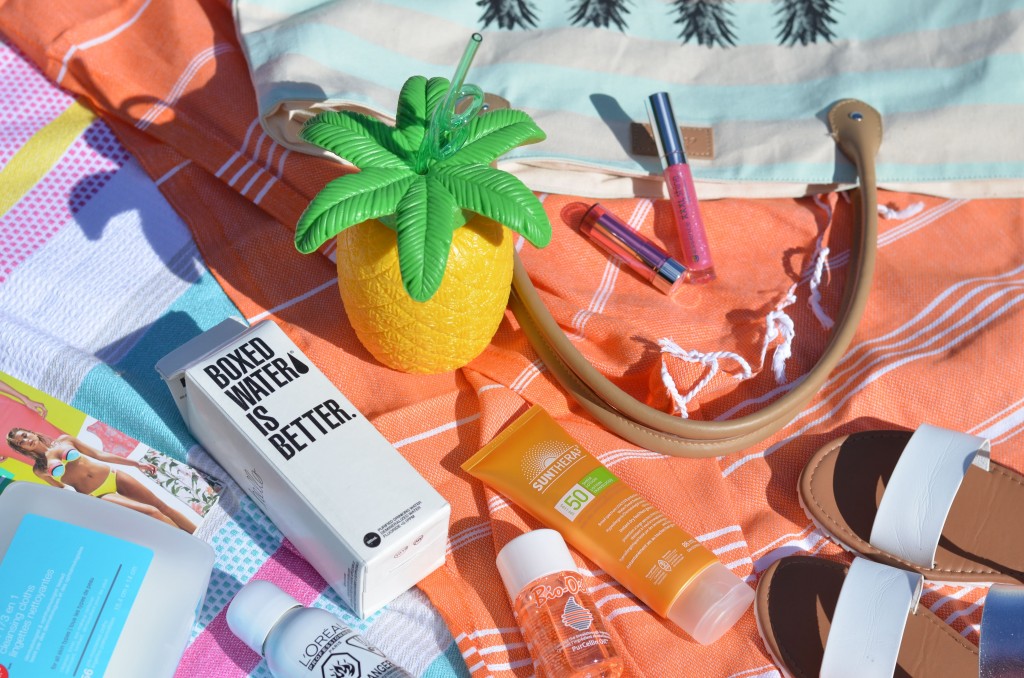 A cute bathing suit is a no brainer, and I love investing in a few cute ones each summer (cause they often fade from year to year due to the sun, chlorine and salt water). My go-to place to shop, La Vie En Rose. They always have a huge selection of suits, anything from solids, prints and patterns, to one pieces, tankinis and 2 pieces.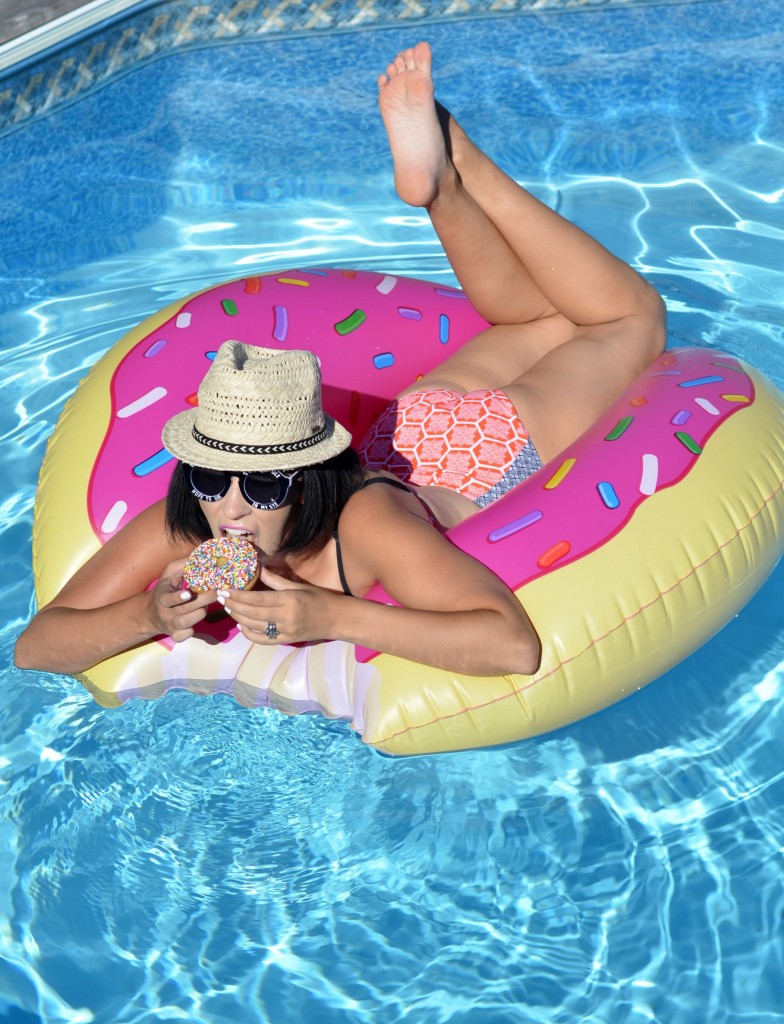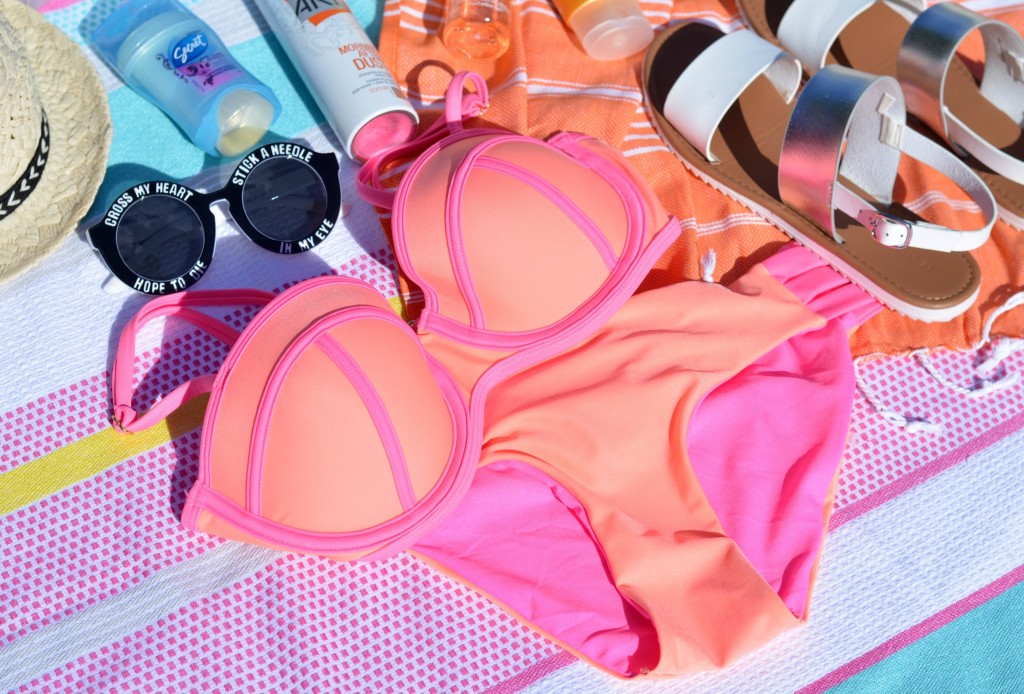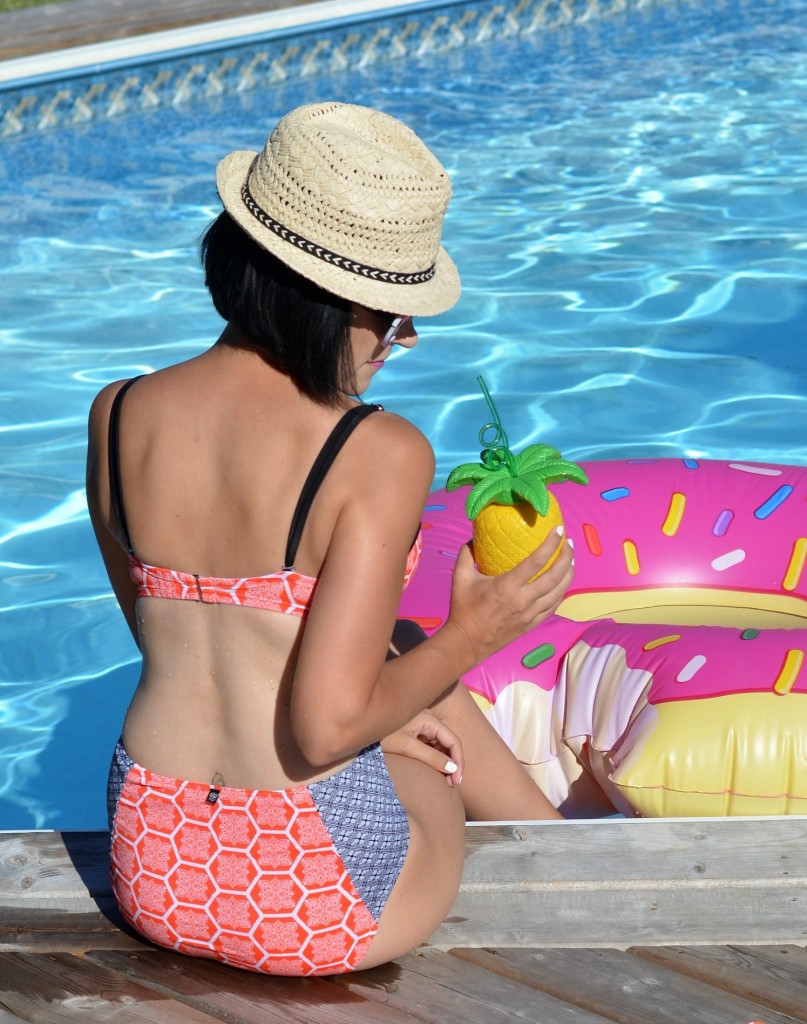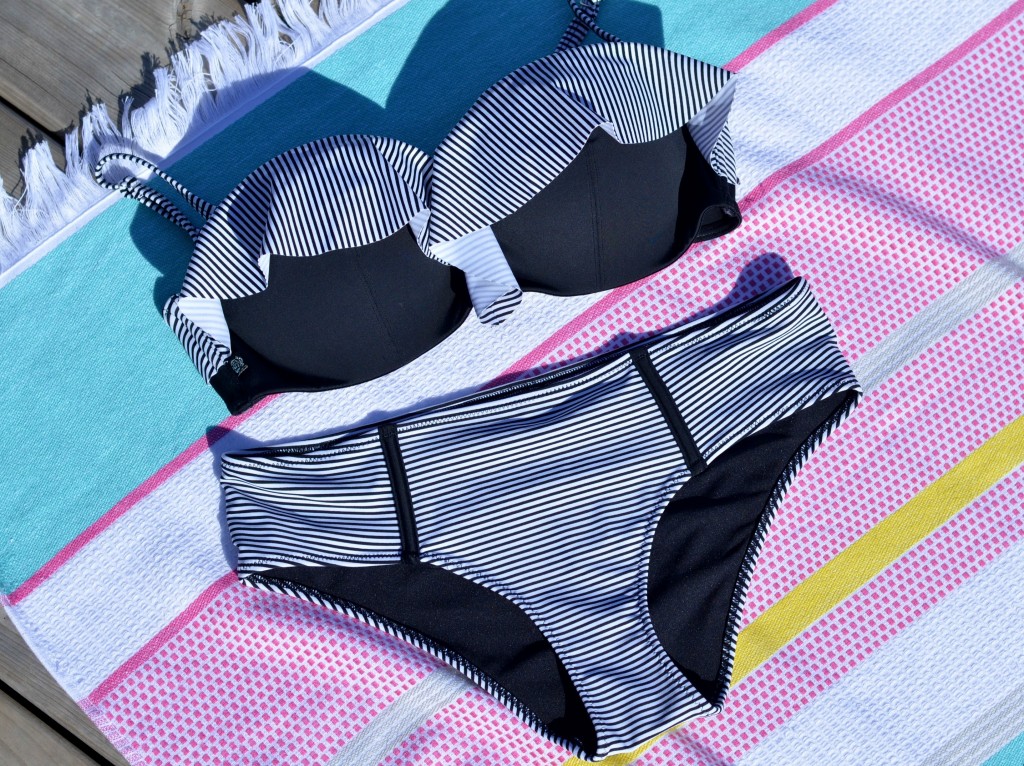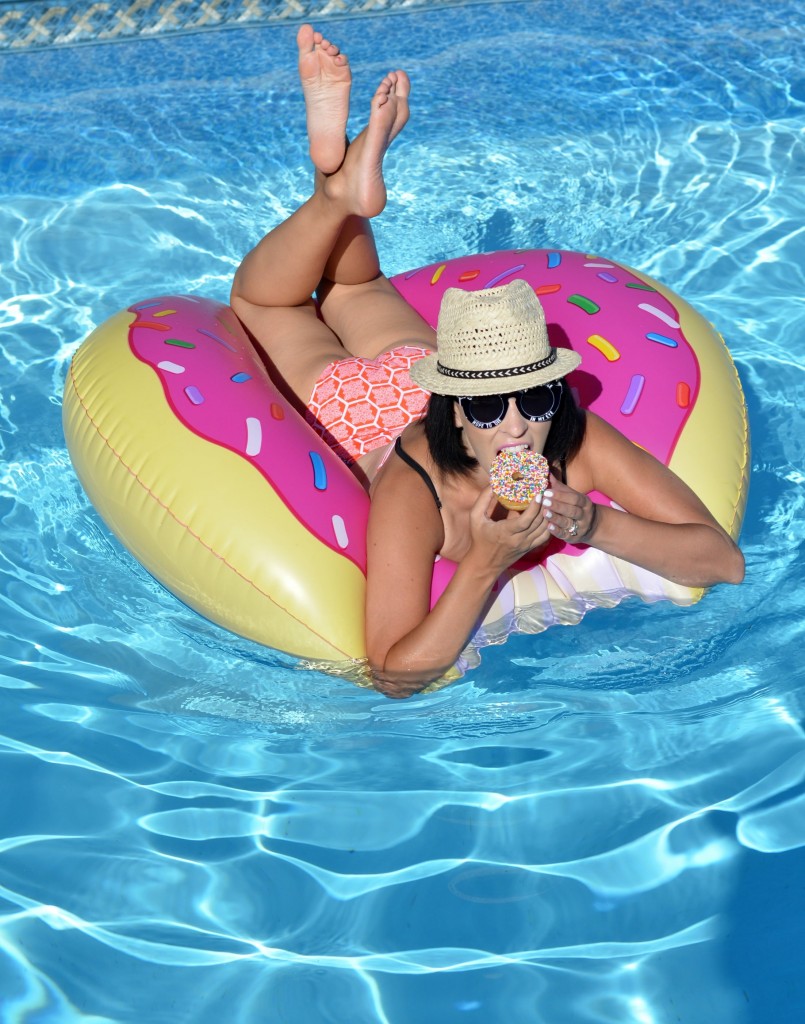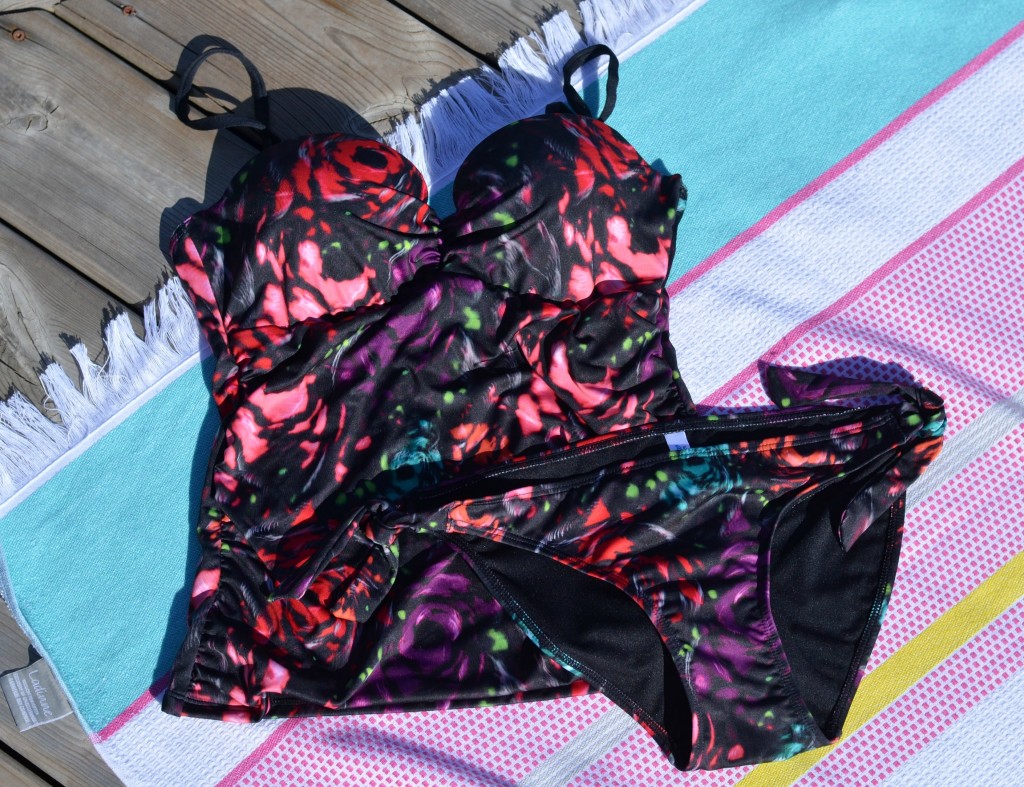 Secret deodorant is a given on any extremely hot day, not only does it give me the protection I need to help me keep cool, it gives me the confidence I need to take on any challenge.
Although you may look and feel fabulous lounging by the pool all day, sun exposure, added chemical destruction of chlorine and oversize hats, might leave your hair looking not so terrific. Dry shampoo will not only sort out any of your greasy roots, it also provides crucial volume and texture for limp-haired. L'Oréal Professionnel Morning After Dust is always by my side, not only is it completely invisible on my extremely dark hair, it provides my hair with a delicious perfume scent that's not too over powering. Over time, and with more uses, it can actually help to build up protective natural oils, which can help protect against chlorine. It retails for $23.
After a long day of swimming in the sun, skin often becomes dry, itchy and irritated which is why I rely on Bio-Oil to help add moisture back into my skin. I did an entire review on this miracle oil (which you can find here) but let me just say, it helps to keep skin super soft and smooth and replaces moisture lost. It's amazing on all parts of the body, from face, hair and nails, all the way down to your body and toes. It retails for $12.99 for 60ml or 29.99 for 200ml.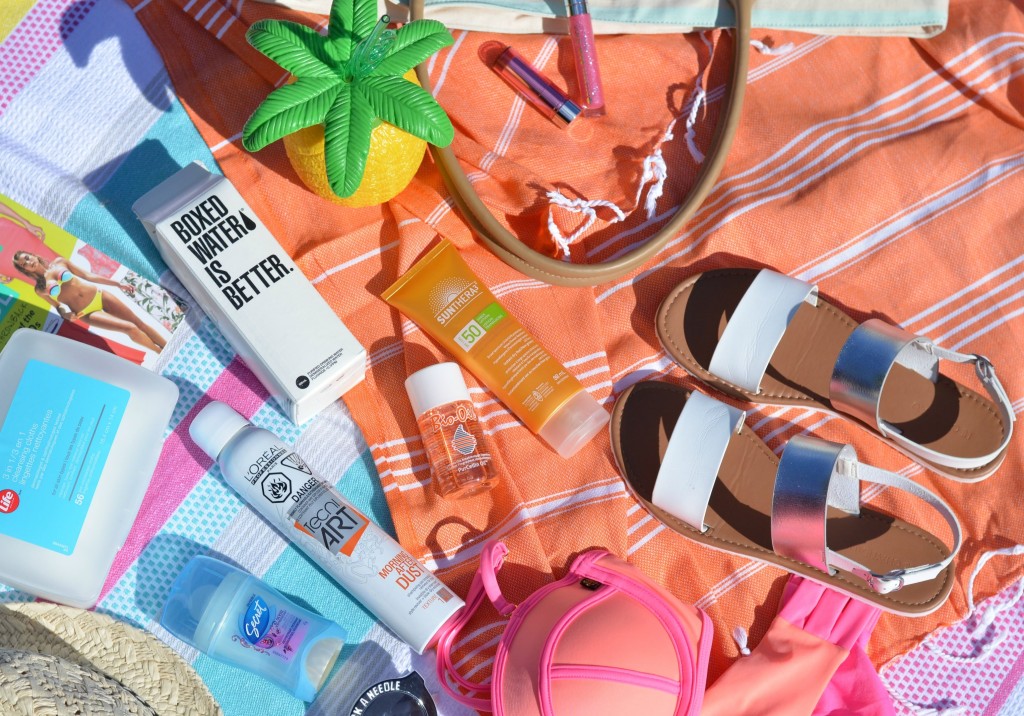 Sunscreen, another obvious one and the most important. I realize now how many people are getting skin cancer, along with premature aging from the sun, so I've officially become the sun police and I'm here to remind you to reapply. Sunthera3 Sheer Lotion SPF 50 is a favourite to bring to the pool, not only is it water-resistant, it's lightweight, non-greasy formula goes on dry and absorbs within seconds. It retails for $10.99 at Shoppers.  
Whenever I go to the pool with makeup on I usually bring Life Brand 3 In 1 Cleansing Cloths to wipe off my makeup before applying sunscreen and jumping into the pool. I love these ones cause not only are they affordable, they can double as napkin wipes for when you spill your ice cream cone. The pre-moistened cloths are gentle, yet effective, don't sting or irritate my eyes and remove all traces of dirt, oil and grime. They also work amazing at cleansing the skin of sunscreen at the end of the day.
I usually bring a light summer read (i.e. my favourite magazine at the moment) and although I never actually get around to actually reading them (too much time socializing and playing in the pool), it's nice to have, just in case.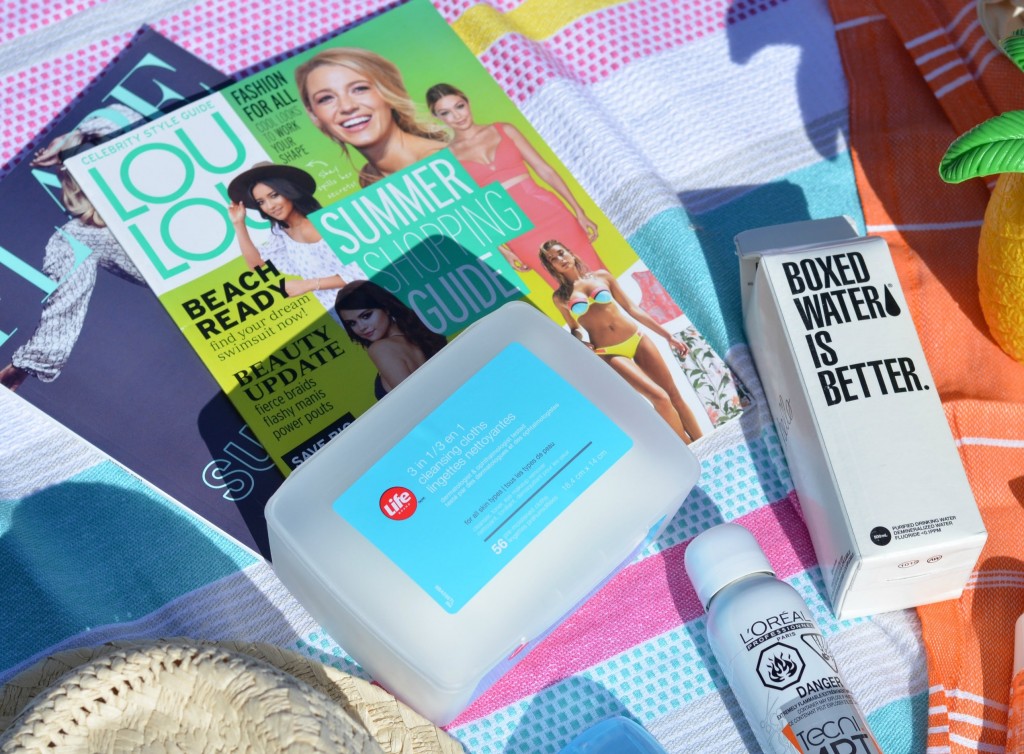 Essence XXXL Shine Lipgloss in Fabulous Fuchsia is that perfect sheer pop of pink your lips need on those no-makeup days. It's moisturizing, non-sticky, incredibly shiny formula provides a high gloss finish with a bit of hydration. Since its only $2.99 I don't have to worry about misplacing it or forgetting it by the pool. On days when I'm looking for a little more colour, I pair it with Essence Sheer & Shine Lipstick that helps to provide a gorgeous, subtle colour with a fantastic shine.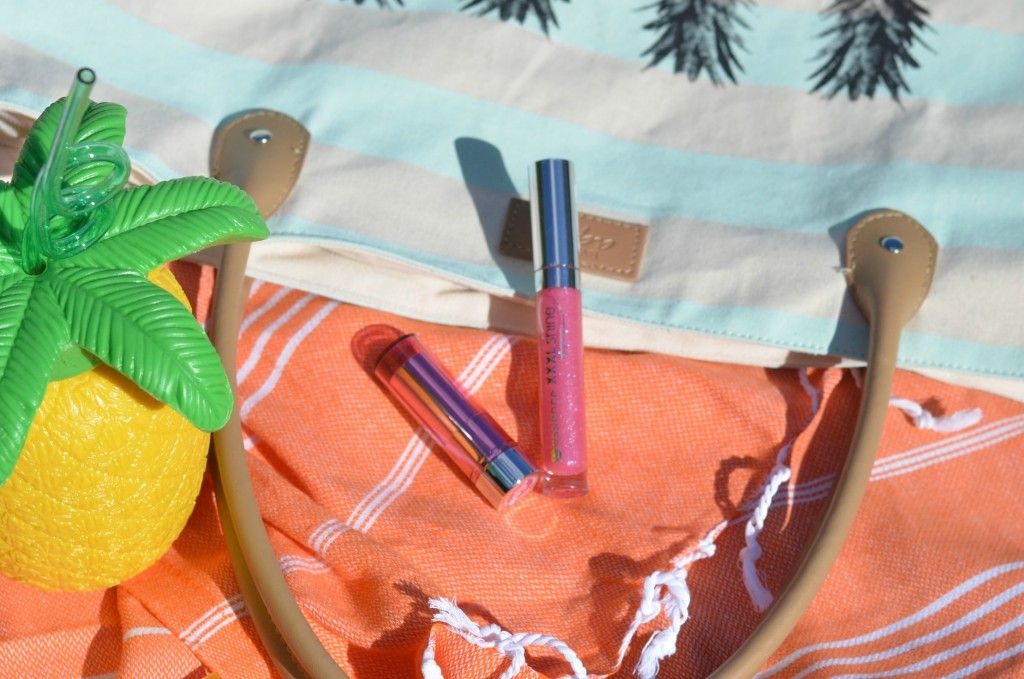 It's also smart to take breaks from the sun, cozy up under an umbrella or rock a trendy hat, like this Billabong fedora, so that you're not in direct sunlight for hours on end. As much as I love flip-flops, the thongs often hurt my toes after only a few short hours. These double band sandals from Le Chateau are not only chic and stylish, they're incredibly comfortable. I don't have to worry about getting them wet, as its leather-like material is extremely durable and its colour-block metallic design can easily take me from poolside to drinks on the patio with friends. Don't forget sunnies, it's so important for keeping the sun out of your eyes. Now's the time to have fun with your sunglasses, go for a bold and bright colourful pair or maybe even a statement pair like these one?