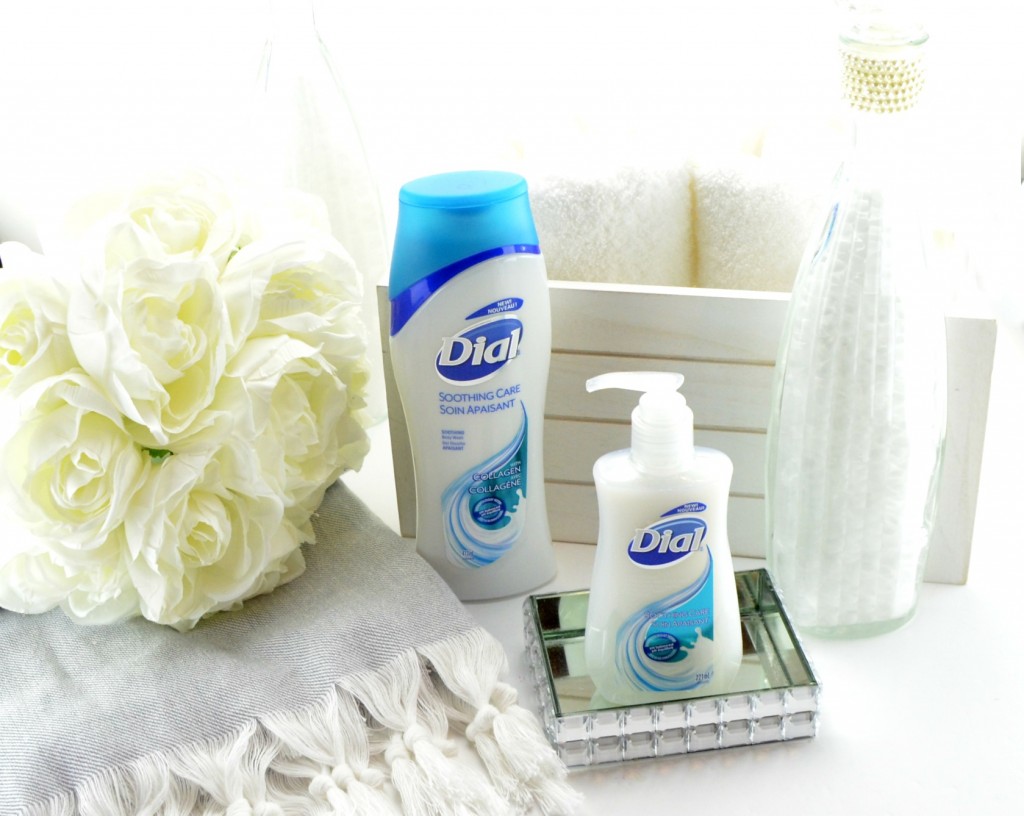 #DialSoothes
I made a promise to myself, that starting in the New Year, I'd take more time to enjoy the simple things in life. I'd learn how to relax, unwind, say no to things, and that it's perfectly okay if you didn't accomplish everything you set out to do that day. Running a fashion blog isn't your typical 9 to 5 job and it's never an 8 hour day. Even when I think I'm done "working", you can usually catch me reading emails, planning my next post, testing out the latest beauty products or searching womens clothing online for my next ootd. That being said, these past few months I've really learned the importance of taking care of my body and spending at least a solid 30 minutes a day to unwind and destress. This is usually late in the evening, before I hit my head to my pillow.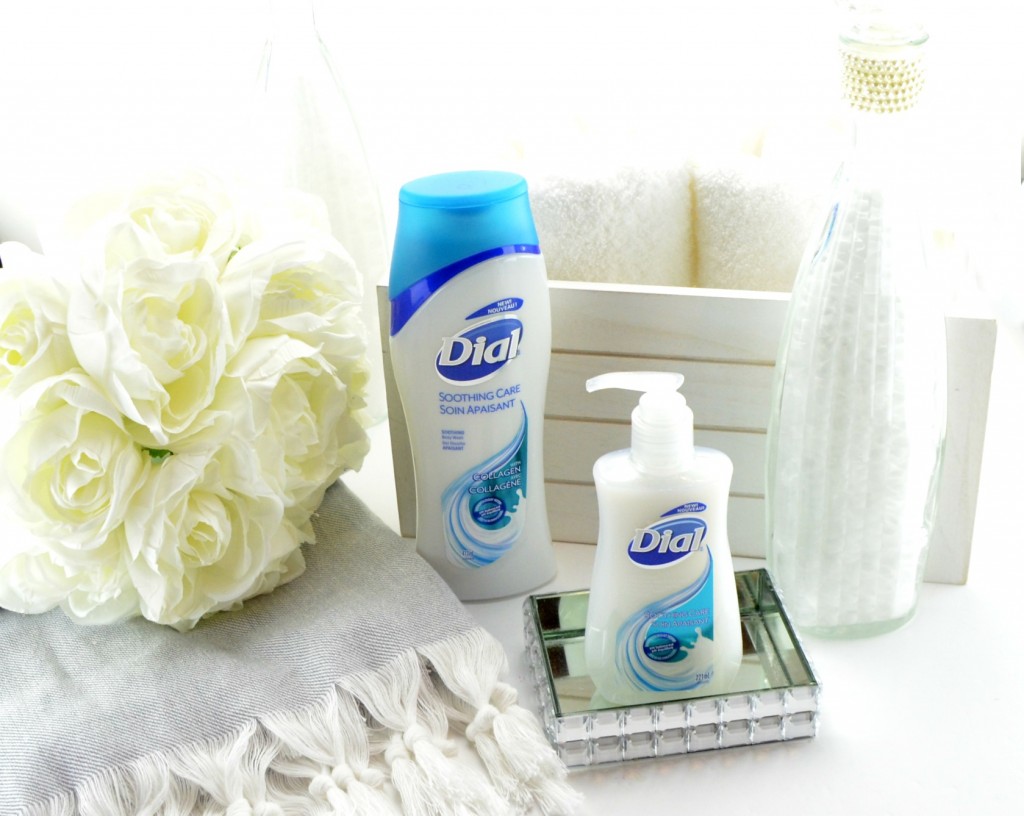 Around 10PM I usually plug-in my Saje aromaOm Ultrasonic Nebulizer, add a few drops of my Tranquility essential oil (that helps to support a deeper, more restful sleep), and head into the bathroom to take off my makeup. I start with my favourite cleansing oil to remove most of the makeup, before going in with a cleanser and my Clarisonic. I'm currently testing out a new skincare line (that I'll be sharing on the blog soon), but before I hop into the bath, I always feel the need to wash my hands. I know that seems a little OCD, but I hate having the feel of the cleansing oil on my skin while getting into the bath.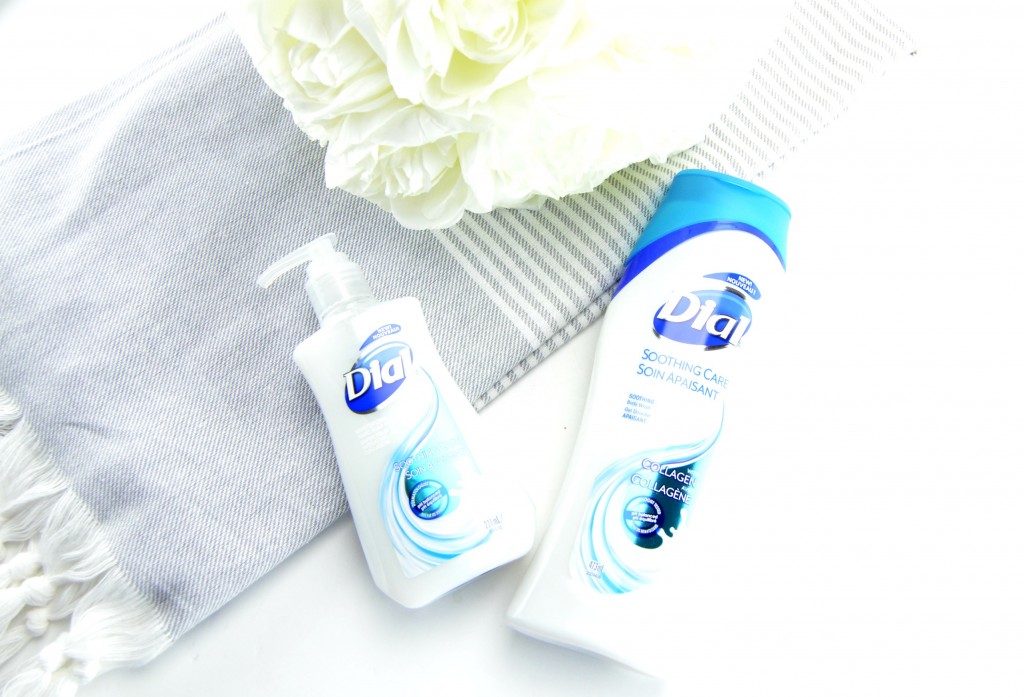 I've recently discovered the new Dial Soothing Care Collection and I'm already in love. Not only is it created with collagen to help moisturize and cleanse the skin, it also helps to leave your entire body incredibly calm and balanced. It's dermatologist tested and gentle enough for even the most sensitive skin and safe enough to use daily. The Dial Soothing Care Liquid Hand Soap comes in an easy to use pump-style that's perfect for placing at the side of your sink for quick cleansing.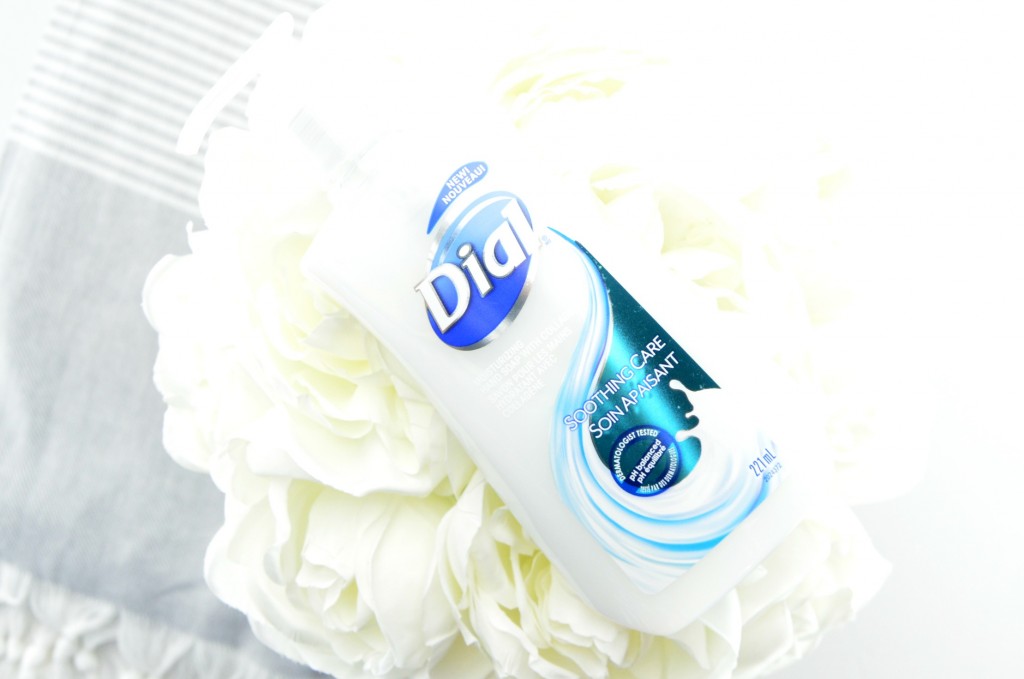 After the makeup is off I start to run a hot bath. I tend to like a lot of bubbles in my bath, which can often aggravate my skin and leave it irritated, but by adding a small amount of the Dial Soothing Care Body Wash into hot running water, it not only instantly creates a ton of rich, creamy bubbles, it's non-irritating on my delicate skin. I then, of course, add a few more drops to my pouf to really help cleanse the skin and wash away daily grime. It gives a little extra boost of hydration to keep my skin moisturized the entire evening, cause let's get real, I'm too lazy to apply a body cream late at night. It washes clean away without feeling oily, yet it instantly gives that super squeaky clean feel with a soft, smooth and silky feeling.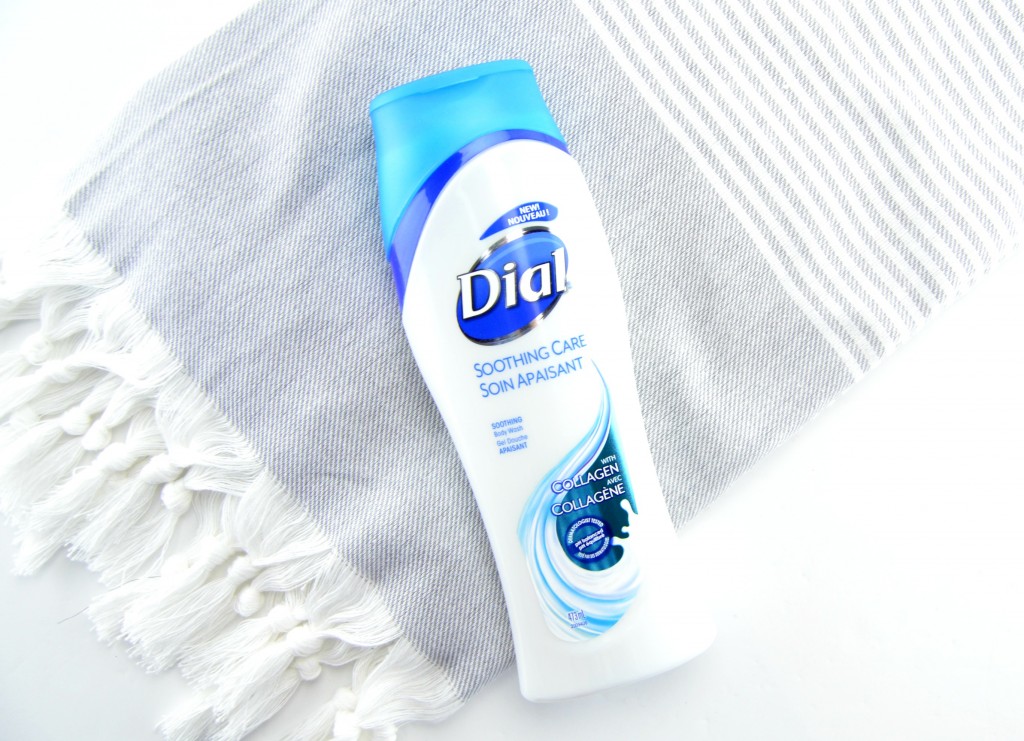 After getting out of the bath, I toss on my favourite flannel jammies and hop into bed. I've been "trying" to get into this tea trend that everyone raves about, and when I do take the time to relax with a warm cup, it really does help to relax and soothe my stomach before bed. Derek usually hops into bed around 11 where we either catch up on our favourite YouTubers or watch reruns of Seinfeld or Married with Children. The Nebulizer, combined with the relaxing scent of the Dial Soothing Care, helps to create that perfect soothing and calming environment that leaves us drifting off to lala land in no time.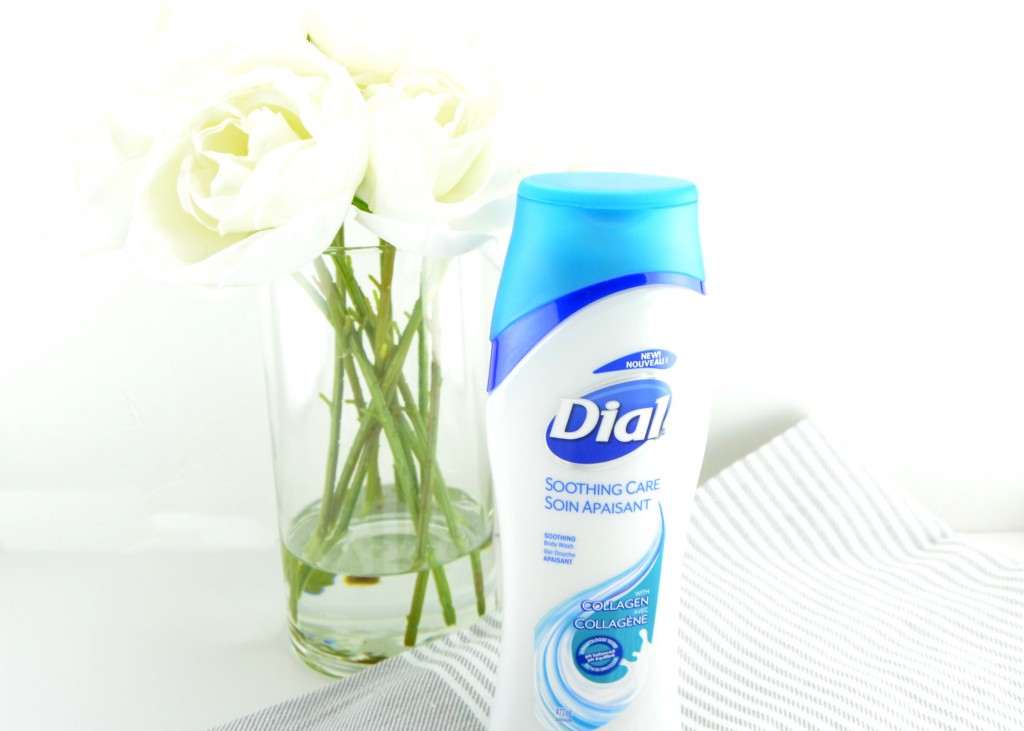 Make sure to stop by your local Shoppers, Walmart or Loblaws to get your hands on the new Dial Soothing Care Collection, I promise you won't be disappointed. Dial Soothing Care Body Wash retails for $6.99 for 473ml and the Dial Soothing Care Liquid Hand Soap is $4.99 for 221ml.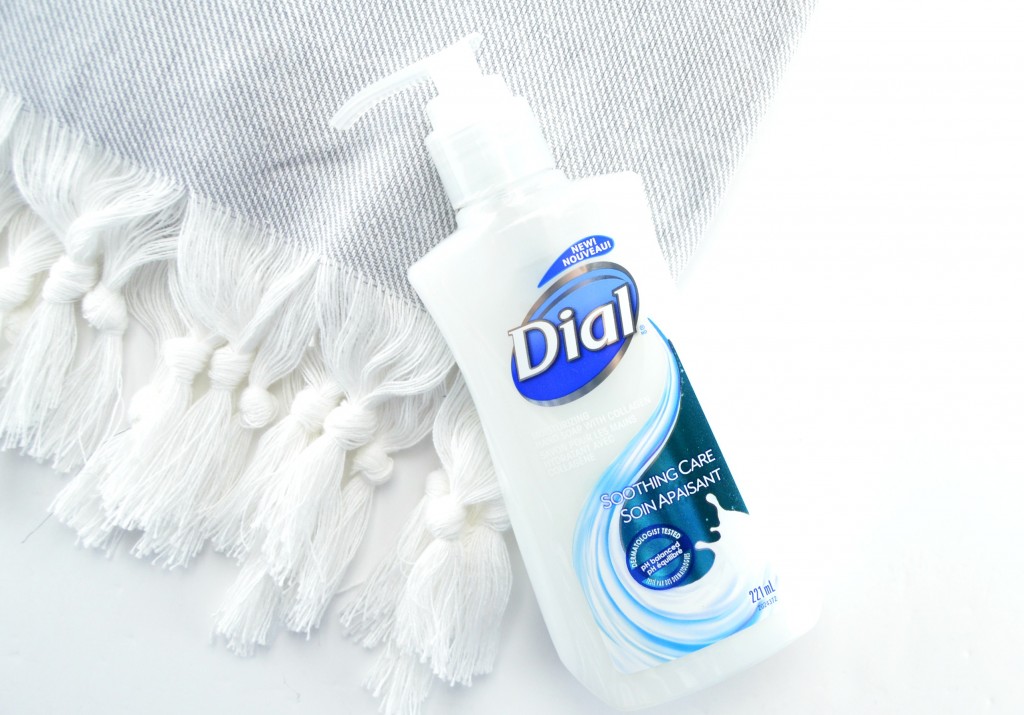 "Disclosure: This post was sponsored by Dial, but all opinions on this blog are my own. I also want to thank you for supporting the brands that support my blog."