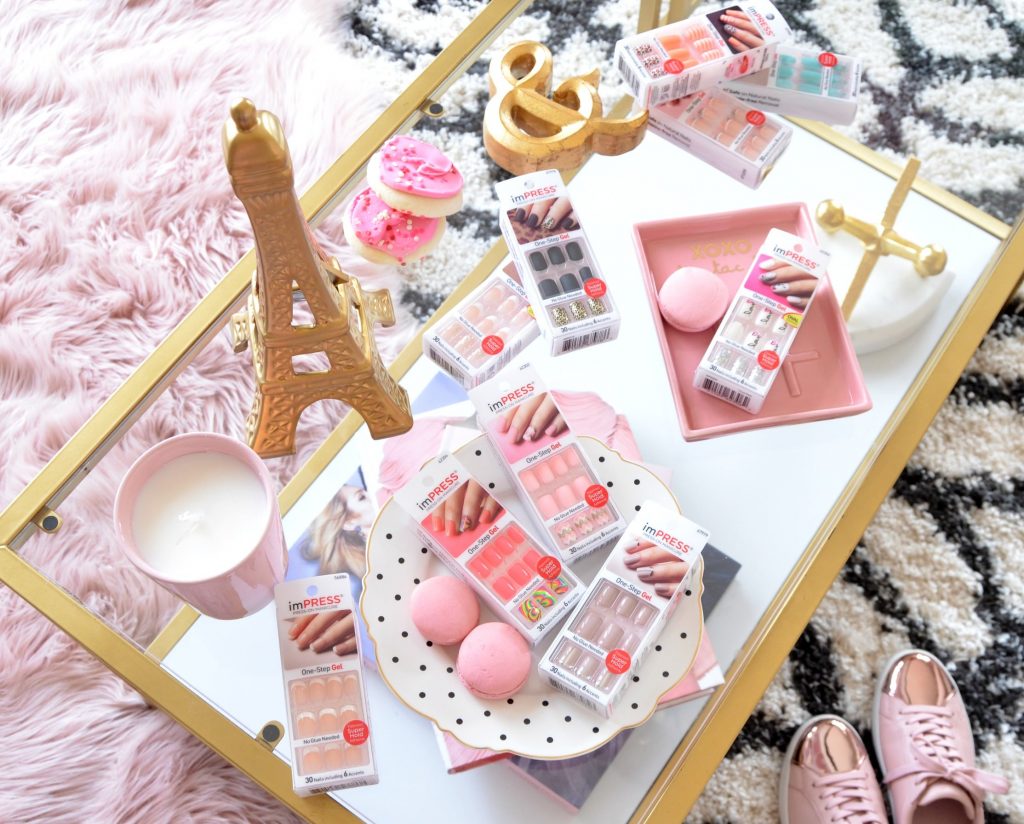 imPRESS Press-On Manicure
Who's got time to go to the nail salon weekly for a manicure, not this girl. I'm incredibly lazy and don't want to spend hours in a chair getting my nails done. I wasn't born with strong beautiful nailbeds and my nail polish colour doesn't seem to last longer than a few days. I also don't have a steady hand and struggle painting my nails. I'm not very creative when it comes to mastering nail art, but I still like to have fun with my nails.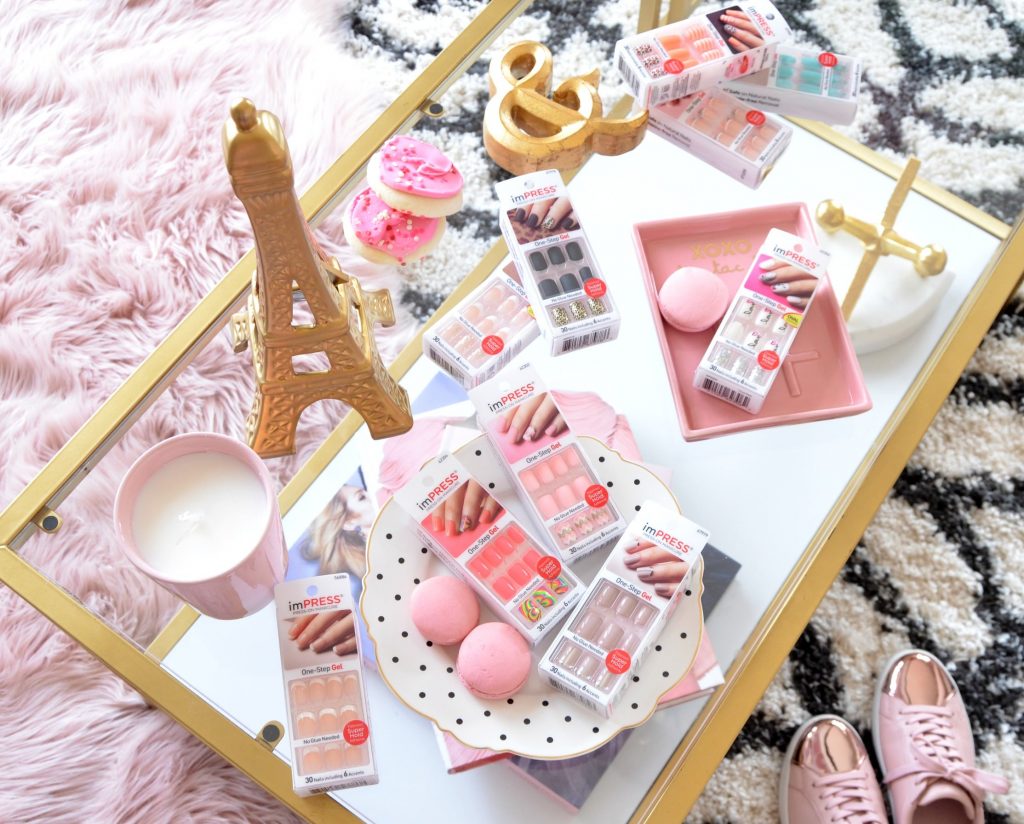 Hack number one is a quick and easy manicure. Glitter nail polish is your safest bet when you're in a hurry and don't want to fuss with your polish. It's usually easy to work with, in the sense that it's pretty forgiving. You don't have to worry about multiple layers or the fear of it looking patchy. With that, comes the dreadful removal process. Try soaking a few cotton balls in 100% pure acetone and leaving it on each nailbed for a few seconds. The polish should absorb into the cotton balls, allowing you to easily peal off the glitter.  
Hack number two is all about prolonging the wear time of your polish. Soak a few cotton balls in vinegar and rub onto each nail bed. Then apply your polish as normal. The vinegar not only helps to clean your nails, it helps the polish adhere better.
Hack number three is going to help you speed up the dry time. You've probably heard about those expensive top coats that claim to help dry your nails faster, but did you know regular cooking spray oil can have the same effects? Simply spray on, wait a few short minutes and your nails will be completely dry.
Hack number four can help if you smudge your nail before it's dry. Licking it or even licking your finger and gently smoothing it over the smudge area can help smooth it out. Although it won't look perfect, it will save you time in removing and repainting the entire nail again. The saliva reacts to the polish and helps to soften and blend out the surface.
Hack number 5, press-on nails. They've come a long way since the 80's. Quick, easy and all from the comfort of your own home.  It's a convenient, no muss, no fuss way to achieve salon quality manicures at home. When I'm looking for press-ons, I always reach for imPRESS Press-On Manicure by Broadway Nails. Each kit comes with 30 nails, in 12 different sizes. 24 of them are usually solid, shiny shades with 6 accent designs to have fun with. The more packages you buy, the more creative you can get. I love mixing and matching different kits to create my own, unique and one-of-a-kind manicure.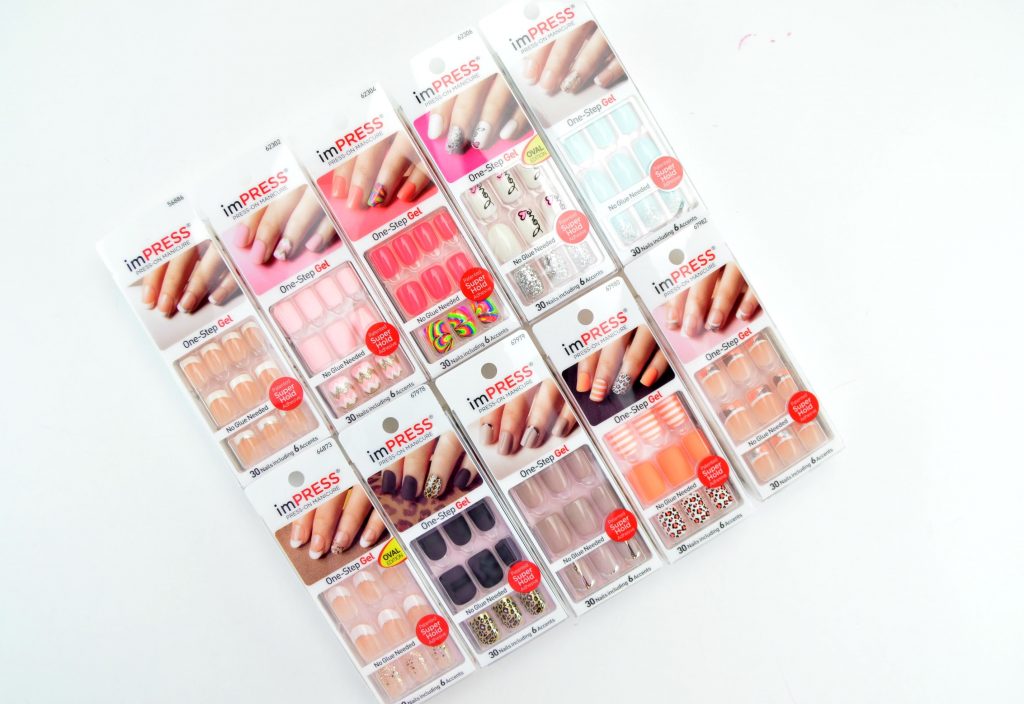 To start, prep the nailbed with the prep pad included in each imPRESS Press-On Manicure kit. This ensures a clean, smooth surface to work with and prolongs the wear time of your manicure. You then find the appropriate press-on nail size to fit each nail, peel off the back and stick. I like to press on the nail for a few seconds, just to ensure it adheres beautifully to my nailbed. Of course, you can then clip and file your nails to your preferred length and style, although the shape and length is always perfect for me.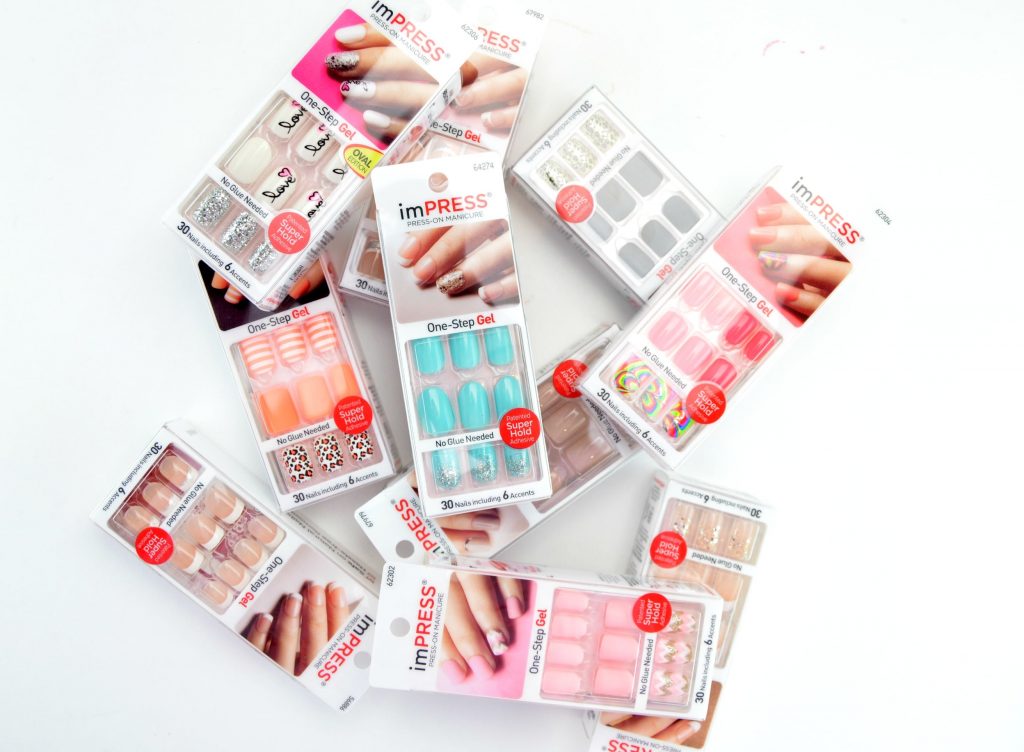 ImPRESS Press-On Manicure by Broadway Nails feature a unique advanced adhesive technology that helps guarantee your nails look perfect from the day you apply them to the day you want to remove them. It doesn't damage your natural nailbed and lasts upwards of 7 to 10 days. I'm incredibly "impressed" on how long they last on my nails without popping off. For something that's easily removable, they surprising stay in place all week. This spring, the brand has released an array of bright and cheerful colour palettes in this season's hottest trends. You can now have fun with colours, prints, patterns and trends without running to the salon. It retails for $9.99 at your local Walmart and London Drugs.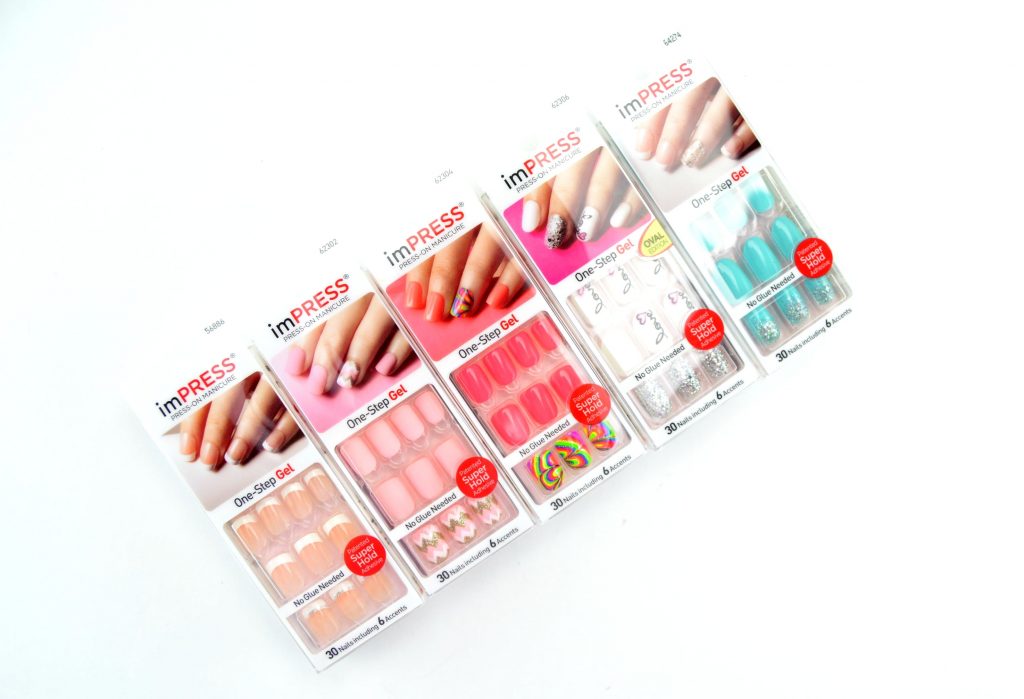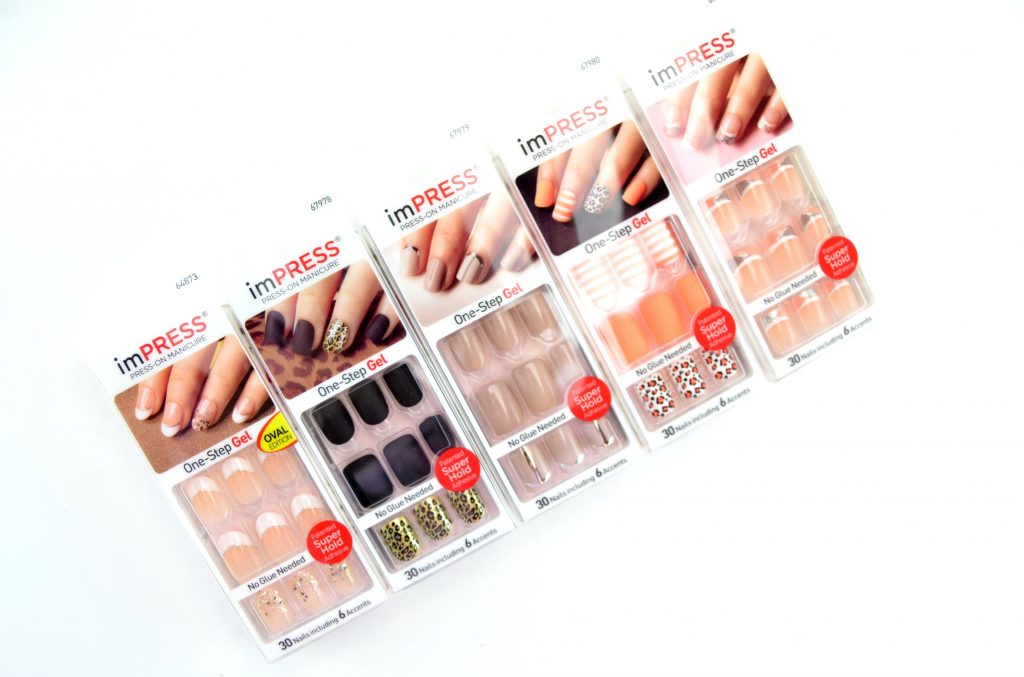 ImPRESS Press-On Manicure by Broadway Nails in Rock It, Symphony, Boogie Down, Flash Mob and Gossip Girl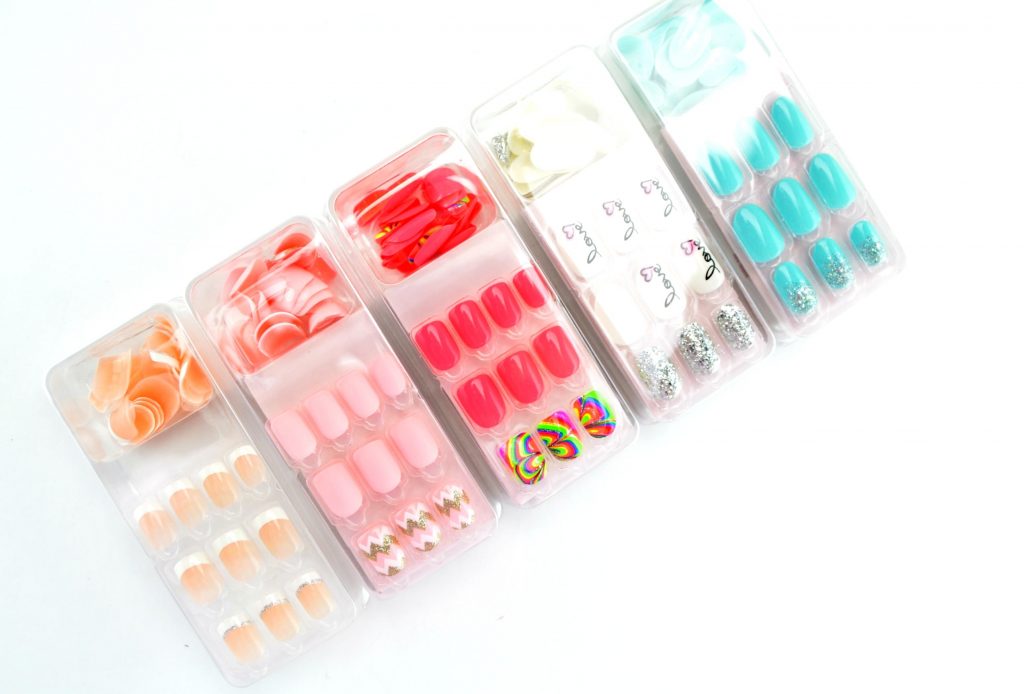 Next up we have, ImPRESS Press-On Manicure by Broadway Nails in Pop Star, Claim To Fame, So Unexpected, Scantily Clad and Bad Romance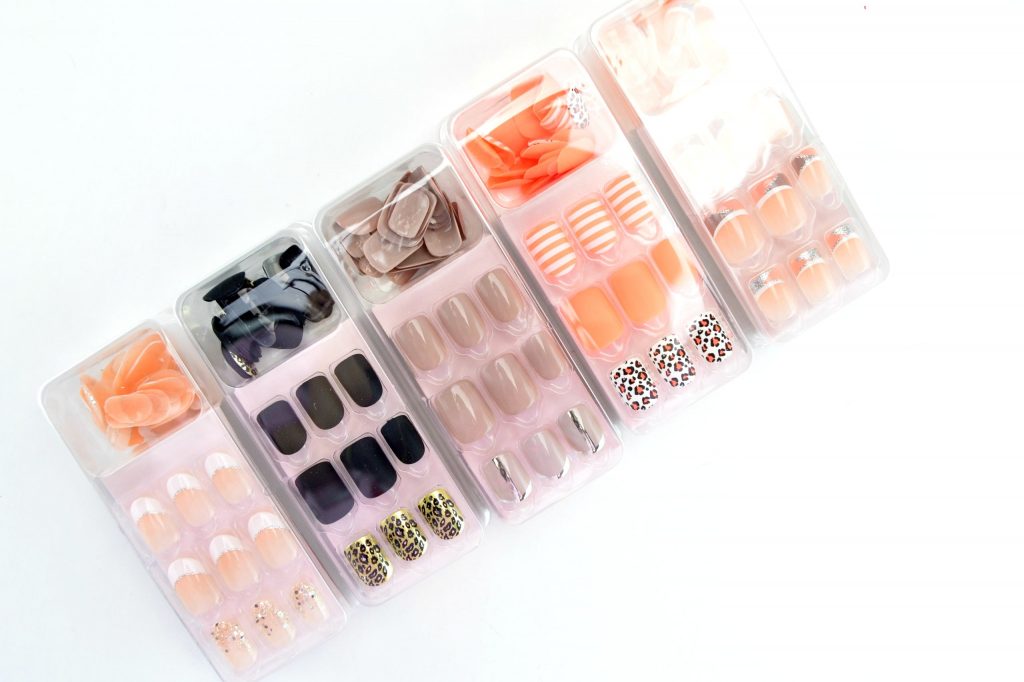 ImPRESS Press-On Manicure by Broadway Nails in Claim To Fame and Flash Mob