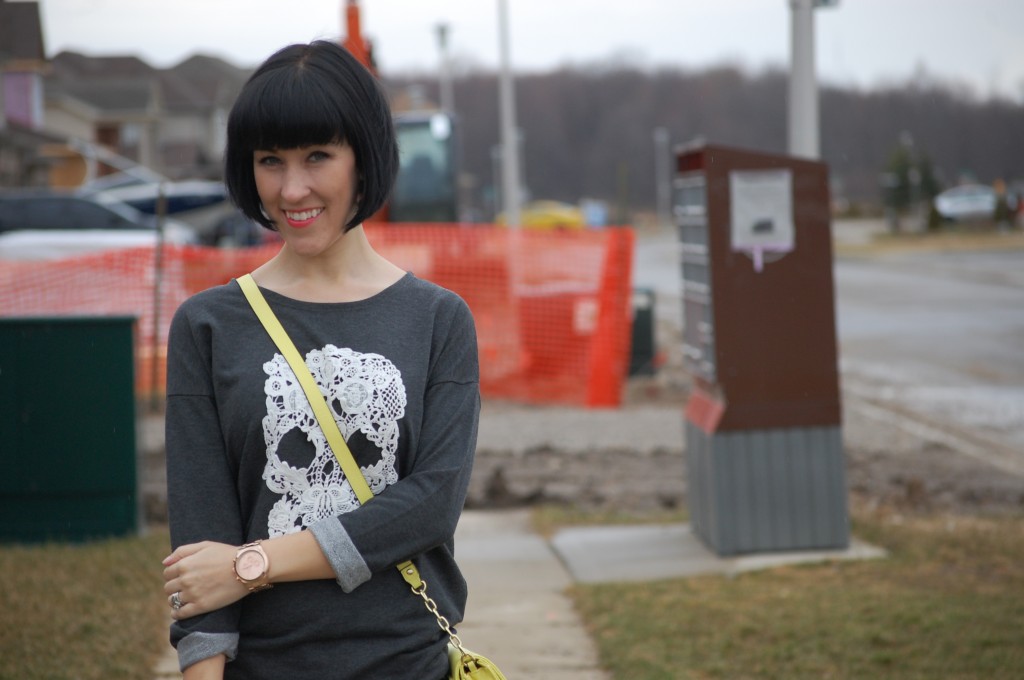 If you were to asked this girl a few years ago if she would ever wear flats, the answer would be as simple no! Fast forward a few years, and thanks to this Canadian Fashion Blog, you now find me rocking flats at least a few times a month.; this may not seem to be a lot for most people, but for a girl who couldn't go a day without her heels, this is really branching out.
I guess one of the main reasons I don't really like to wear flats is because I'm short (about 5'5) and again for some people you may not feel this is "short" but to me when I look in the mirror my body always looks out of proportion without my heels on, am I weird for thinking that? I do know when I wear flats they have a tendency to make my legs appear shorter, so for a girl who wasn't blessed with mile long legs, this is just one of the reasons why I stick to heels.
Now after saying all that, I find myself look at more and more flats in the stores this past year, loving  studded flats, like I'm wearing today, also still in love with the ballet flats, womens oxford shoes and thong sandals for summer 2013.
This past month I've been eyeing a few pairs of Tory Bruch flats, but can't bring myself to buy a pair. Tell me, which flats are on your wish list for summer 2013? Do you love any of the Tory Bruch flats/ or shoes this season?

Sweater- H&M- $25- Feb 2013
Purse- Target- $30- in stores now
Watch- Aldo- Gift from hubby
Ring- Stella & Dot- Free for hosting a party
Jeans- Smart Set- $56- June 2012
Stud Shoes- The Bay- $69- Oct 2012