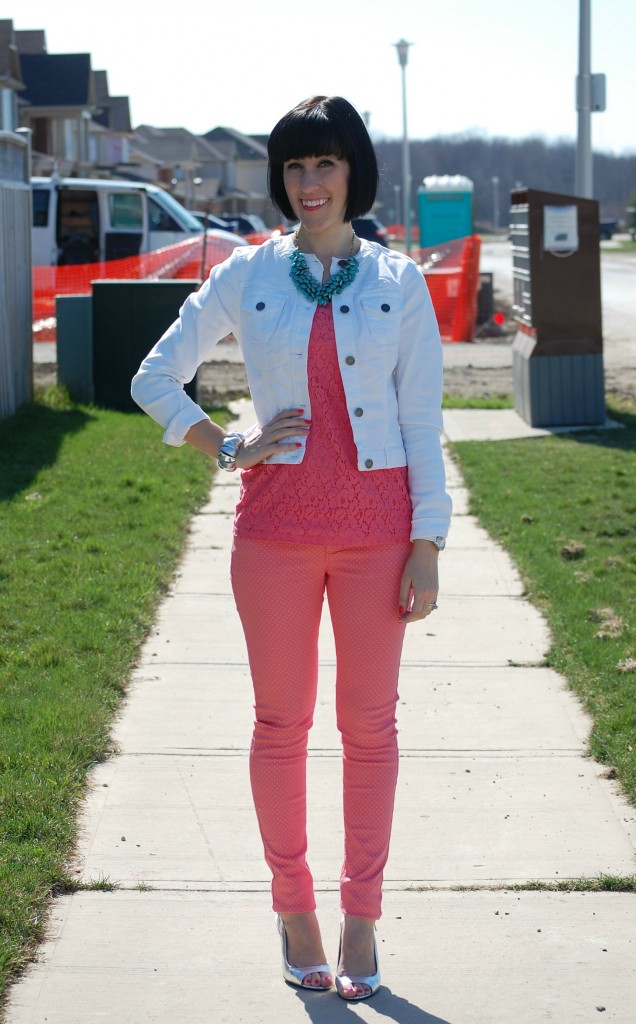 Pinky Pink, it's all about pink in this outfit, bring on the pink! I really am a fan of rocking the monochromatic look this season using the same colours and today I thought I would try a summery work look using pink. As a kid I was obsessed with Barbie, tutus, playing dress up in my mom's closet; describing me as a girlie girl is an understatement. I wanted everything to be pink, pink clothing, pink bedroom, pink school supplies, pink accessories; I even wanted my bathroom pink (which I never got). I think by the 7th grade I hit that "I'm too cool attitude" and wanted everything black but by the time I hit high school that all black was out the window and I was back to playing with colour (and never looked back). 
Even now I know I should invest in more black, every time I look in my closet to find a neutral I only seem to have about 5 or 6 black pieces to pick from. I guess its just when I go out shopping, I'm drawn into the colour section and when I do find a cute black piece I find myself talking myself out of it, saying it looks to "boring". I know this may come as a shock to most people, as I hear more women saying "I have no colour in my wardrobe" but for me its more easy to shop colours than it is to shop neutrals…. does that make me weird?
Tell me, what is your favourite colour in your wardrobe?
Lace Racerback Cami- Smart Set- $25- in stores now
Necklace- H&M- $15- May 2012
Jacket- Smart Set- $56- May 2012
Watch- Guess- $199
Bracelet- Cleo- $15- Aug 2012
Polka-dot Jeans – Smart Set- $55- in stores now
Shoes- Guess- $60- 2009