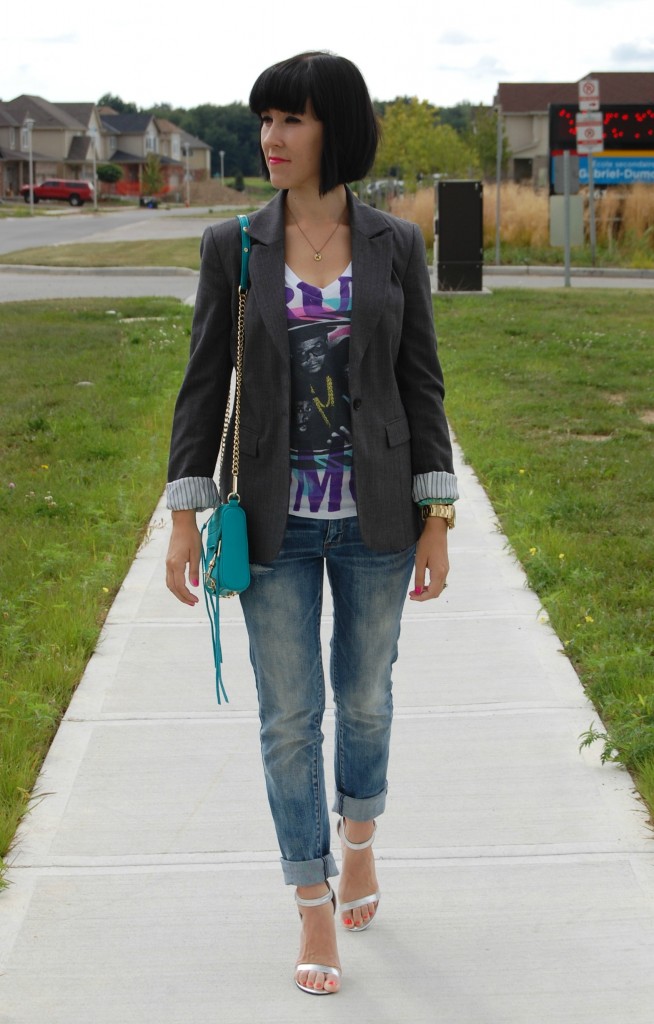 Fashion Magazine Style Panel Question this week is how to wear a logo tee so I knew I had to break out my Run DMC tee for this. I've been a fan of the logo tees since my early teens when I went to my first rock concert and picked up a No Doubt t-shirt. Back then I would pair it with denim and some converse sneakers and would be out the door. Now in my early 30's, I still love a good tee, but am always looking for a more "adult" way to wear them. If I'm going for a comfy, casual look I will pair it with some boyfriend jeans, but dress it up with a killer pair of heels and add some sophistication to it by adding a blazer.
See my Fashion Magazine Style Panel post here

I would like to know, are you a fan of the logo tee, how do you dress them up and what was your first "band" tee that you remember?
Tee- Forever 21
Blazer- RW & Co- $88- October 2010
Purse- Rebecca Minkoff
"A" Necklace- Smart Set- $10- May 2013
Bracelet- Aldo (set of 2)- $15- July 2013
Watch- Guess- Gift from the hubby
Jeans- American Eagle- $59- December 2012
Shoes- UrbanOG- $35- online now