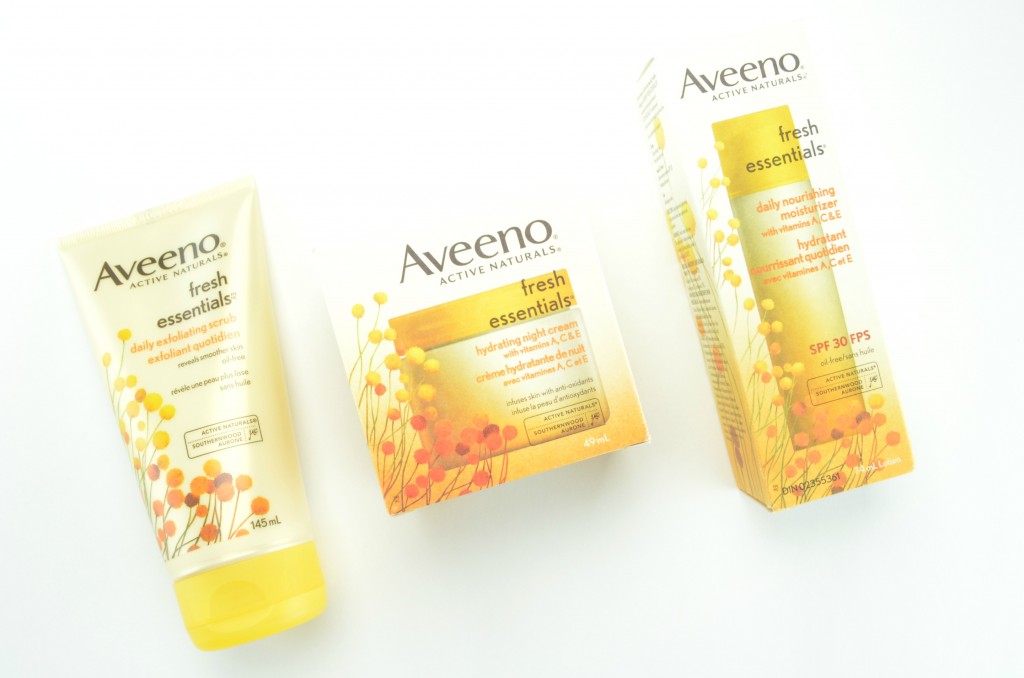 #FreshEssentials

From poor diet (especially right after the holidays), to sun exposure (don't think you're not getting sun even in the dead of winter), to a hectic lifestyle and lack of sleep, our skin is robbed of essential nourishments and hydration, leaving it noticeably tired, dehydrated and full. The new Aveeno Fresh Essentials help replenish skin's natural moisture with active natural ingredients, southernwood extract and vitamins A, C and E for refreshed, rejuvenated and radiant look skin in days. This 3 piece collection features an Aveeno Fresh Essentials Daily Moisturizer SPF 30, Aveeno Fresh Essentials Daily Exfoliating Scrub, and Aveeno Fresh Essentials Night Cream.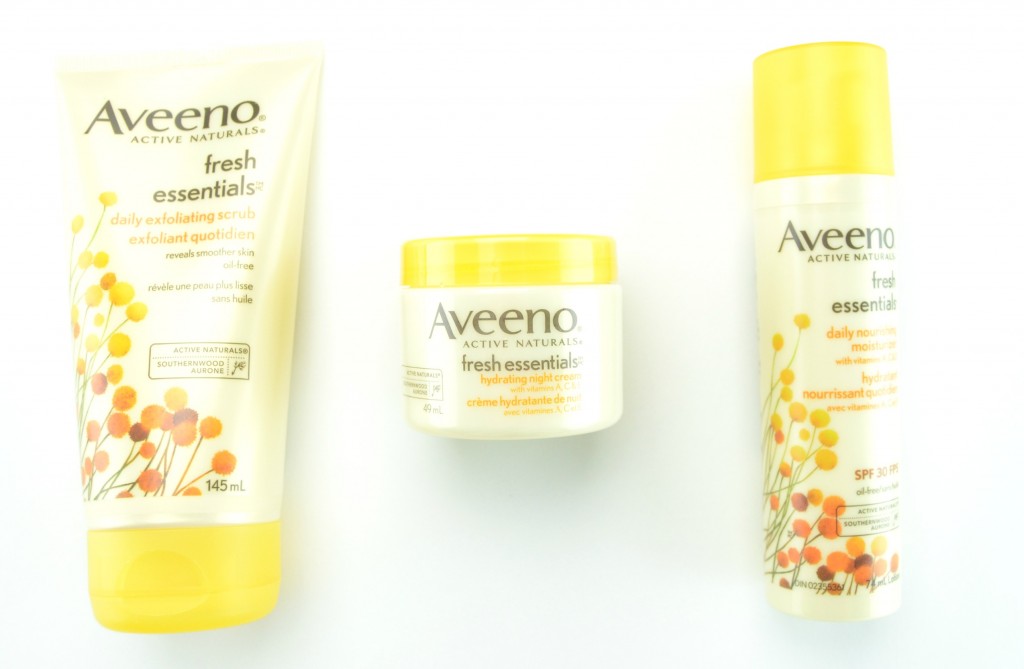 Aveeno Fresh Essentials Daily Moisturizer SPF 30 is enriched with anti-oxidants and vitamins to help replenish moisture to dry, over-stressed skin. Its conditioning emollients help to soften and smooth the skin, while southernwood extract help to strengthen skin's natural moisture barrier to keep skin extremely hydrated throughout the day. As an added bonus, it helps protect skin against UVA/ UVB rays with SPF 30. It has an incredible weightless texture that is rich and creamy and applied like butter. Its silky formula absorbs within seconds without feeling oily or greasy and keeps skin moisturized with less flakiness or dry patches only after a few days. It has a refreshing and citrusy scent that awakens the senses in the morning.
For someone that often forgets to apply SPF, especially in the winter months, Aveeno Fresh Essentials Daily Moisturizer SPF 30 has a strong enough SPF to help protect my skin from the harmful sun rays, even if I forget to apply my sunscreen. With a lot of built-in SPF moisturizer, it usually comes with a thick, goopy, almost impossible texture to blend into the skin, and often leaves a white cast on the skin, but this isn't the case with this moisturizer. It works wonderfully under my foundation without leaving an oily residue like other SPF moisturizers or effect the longevity of my makeup. It does an excellent job at keeping my skin hydrated throughout the day and actually locks in moisture. I also can't believe one pump is enough to cover both my face and neck. For someone that tends to over-do-it on moisturizers, one pump is actually enough to keep me quite satisfied. It retails for $19.99 for 74ml.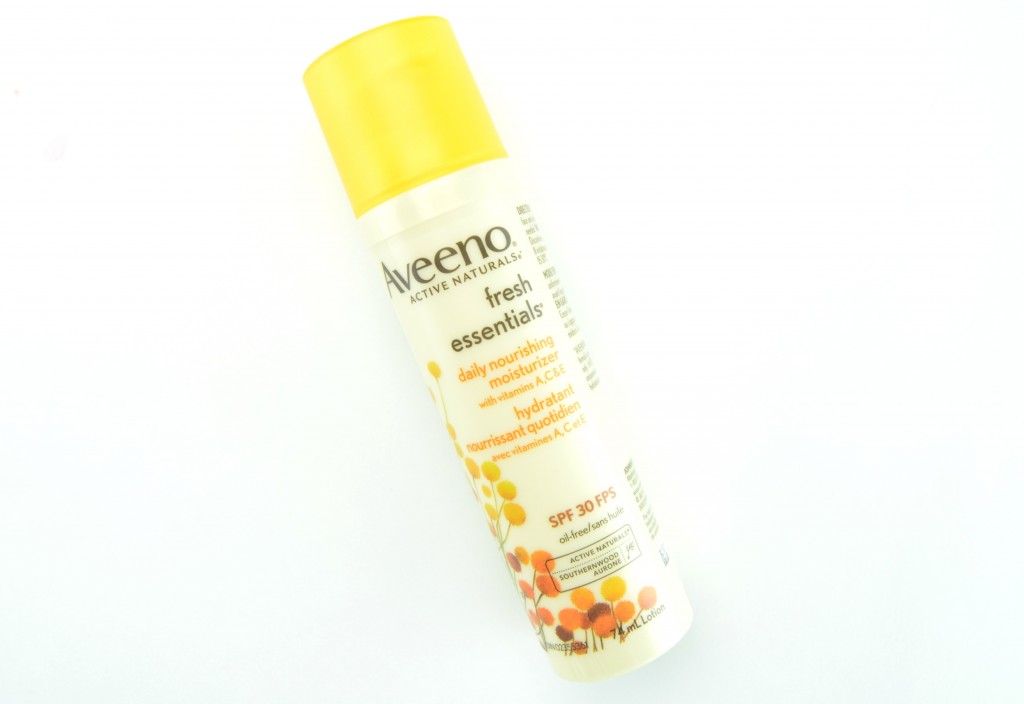 Aveeno Fresh Essentials Daily Exfoliating Scrub is a daily scrub enriched with natural luffa and coconut pulp to gently remove dead skin cells, dirt, oil and makeup from the pores that can cause breakouts. Its anti-oxidant formula helps to reveal a fresher-looking, smoother skin in days. Its rich and almost crystal like formula buffs away any dry and dull patches with its grainy texture that helps smooth and moisturize the skin for a glowing and radiant finish.

For someone that usually uses an intense and abrasive exfoliator, I was excited to see if this gentle, yet effective, Aveeno Fresh Essentials Daily Exfoliating Scrub would hold up. It did. Since my other exfoliators are somewhat harsh, I only use them once or twice a week, but this scrub is safe enough to use daily, which I've been doing. Its tiny micro beads gently massages into the skin and helps keep skin incredible soft and smooth without turning it red or irritating the skin. It does a wonderful job at polishing away pore-clogging impurities for a brighter, more balanced and smoother finish. If you're someone that suffers from acne or have sensitive skin, this will help prevent new breakouts and reduce redness. It retails for $12.99 for $145ml.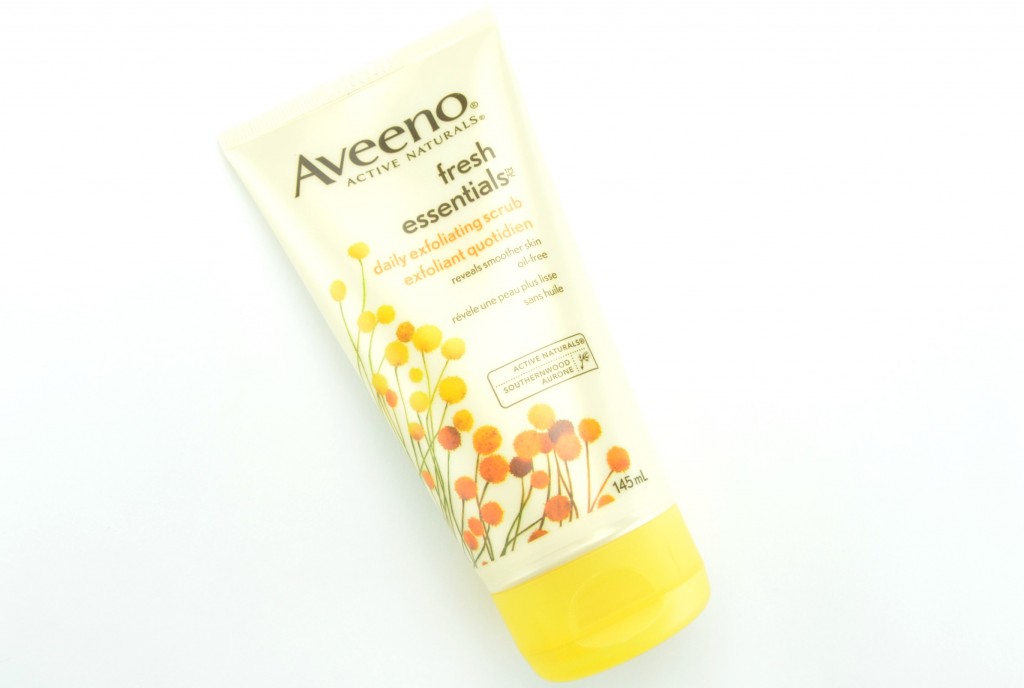 Aveeno Fresh Essentials Hydrating Night Cream is also infused with antioxidants and vitamins to help hydrate and replenish skin's moisture barrier while you sleep. It helps to get rid of dryness for a refreshed, renewed, soft and smooth skin in the morning. It too is extremely lightweight, but with a slightly thicker consistency and takes a bit longer to absorb into the skin. Although it doesn't fully blend into the skin, it acts as more of a mask to restore and rejuvenate the skin while you sleep. It doesn't feel greasy or oily and doesn't leave a mess on your pillow, just smoother, highly hydrated skin in the am.
A good night cream is something I never forget about, and this Aveeno Fresh Essentials Hydrating Night Cream is now a new favourite. Its extremely thick texture acts as the perfect nighttime mask to really lock in moisture and keep the bad stuff out. Not much to say, besides it works. It smells amazing, very calming and soothing, perfect before bed and it leaves my skin looking and feeling hydrated and refreshed in the morning. Even though it doesn't completely absorb into the skin, it doesn't clog my pores. It really helps to clear up any dry patches and nourish my dehydrated skin. It retails for $19.99 for 49ml.