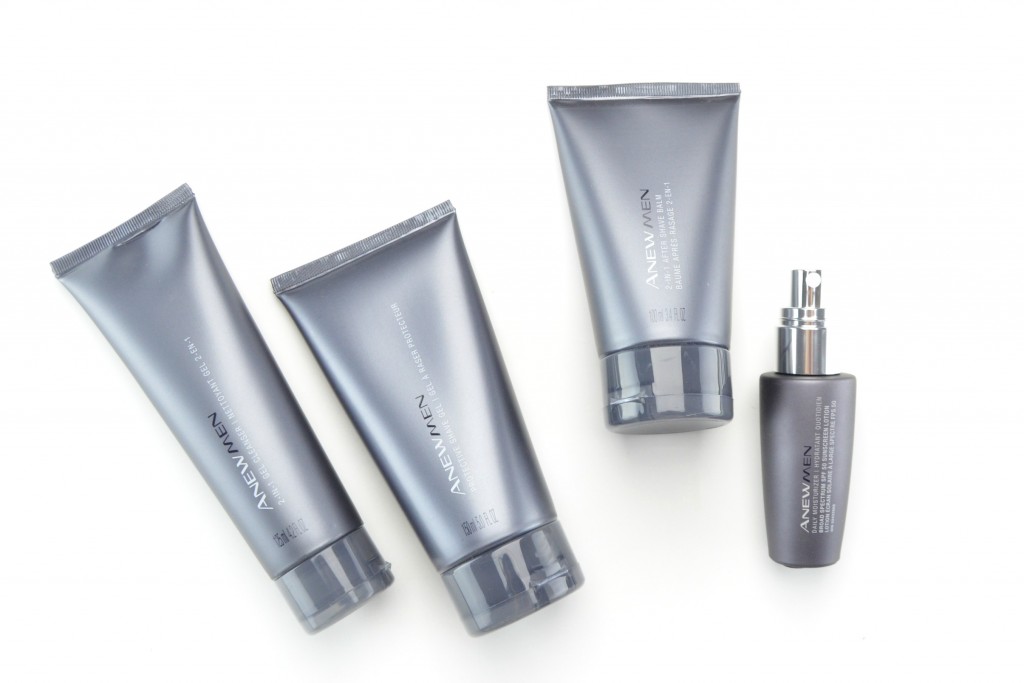 Easy, Effective, Essential
I know we all still have Mother's Day on our minds, but it isn't too soon to start thinking about all the amazing dads out there. Derek has been busy testing out the latest Avon Anew Men Skin Care Line, which will be released in June, just in time for Father's Day. This new 4 piece collection was designed specifically for men and features a gel cleanser, protective shave gel, 2-in-1 shave balm and a daily moisturizer with SPF. It kept even the manliest man in mind thanks to its sleek, matte black packaging. Avon knows men don't like to spend a lot of time in the bathroom, nor do they like complicated 10 step programs, which is why this program is easy, effective and essential in any guy's life. Avon believes all men deserve to have great skin.

Avon Anew Men 2-in-1 Gel Cleanser has an innovated oil-free cooling gel formula that not only cleanses the skin, but exfoliates it too. It deeply cleanses the skin of all dirt, oil and impurities and gently exfoliates the skin to slough off dead skin. Although it doesn't come to a rich and creamy lather, Derek says it's extremely hydrating and feels soft and smooth on the skin. It washes clean away, with a smooth and squeaky clean feel, without feeling tight or dry. It also has a refreshing, invigoration, yet calming scent that instantly wakes him up in the morning. It retails for $12 for 125ml.

Avon Anew Men Protective Shave Gel is infused with aloe and vitamin E to help protect and provide an incredible close and comfortable shave. This lightweight, almost lubricated lotion helps ensure the razor glides across the skin easily and smoothly, preventing razor burns, irritation and provides an extremely close shave. It gives an almost protective natural barrier on the skin, which allows the blade to glide across like butter, without pulling or tugging on the skin. Derek said over time it seemed to soften his whiskers, while conditioning the skin for a smoother, softer shave each and every time. Since it doesn't foam up like traditional shaving creams, you're able to see exactly where you're shaving, which helps to prevent nicks and cuts. Its gel-like texture doesn't clog his blade, nor does it cause breakouts. It has a light and refreshing scent and retails for $12 for 150ml.

Avon Anew Men 2-in-1 After Shave Balm is a soothing and calming lotion that instantly helps to minimize irritation from shaving. It's lightweight, creamy texture absorbs within a few short minutes and leaves skin feeling extremely moisturized. When paired with his daily moisturizer, it helps to prolong hydration without feeling too heavy, greasy or sticky. He's noticed less dry patches and flakiness since using it and its invigorating scent helps to really jump start his day. It retails for $12 for 100ml.

Avon Anew Daily Moisturizer Broad Spectrum SPF 50 is a lightweight daily moisturizer that helps to provide 24 hour hydration, along with antioxidant and an extremely high SPF 50 complex. Derek says it applies evenly and absorbs within seconds, is non-greasy or oily and leaves behind absolutely no residue. It seems to penetrate deep into the skin to provide intense moisturize that really does last throughout the day. Since he's not one to reapply a moisturizer in the evening, this one does a wonderful job at keeping his skin hydrated and comfortable the entire day and well into the evening. His skin is left feeling incredibly smooth, soothed, soft and ready to take on the day. It retails for $35 for 30g.